Kenya
We landed in Nairobi, Kenya. But only after a 3 hour flight from Orlando to New York, an 8 hour plus flight from New York to Zurich, and an 8 hour plus flight from Zurich to Nairobi. Whew! Fortunately my dear wife made certain that we had sufficient lay-over time at each stop; plenty of time for irritants such as customs and multiple security checks, as well as time to have a snack and relax a bit.
The only thing we can say about New York is we've learned the routes through the facility and get around handily. As for Zurich, the best we can say is bring your wallet - $5.00 for half a cup of rotten coffee or a Coca-Cola Light! As for Nairobi, we didn't really see anything other than the city from the bus as we went to the hotel and the from the the safari van on the way out to Mount Kenya. Our impressions of Nairobi center on dust, dust and more dust, terrible main roads, crowds of folks waiting for vans for transportation - which vans ran wild, over curbs, on the medians, and on the shoulders. Imagine a nine passenger van with "seats" for 12 or more. The worst driving seen while in this country; all the other vehicle's drivers were pretty polite and considerate. They do use the Philippine passing custom - if you are passing a vehicle and it appears an oncoming vehicle will be close to a collision with you, whomever hits the bright headlights first has right-of-way. We learned that Kenya has about 35% unemployment, so one can imagine what one might see in the way of housing and such. This definitely is a country that needs to build an infrastructure.
We really didn't get a good look at anything on the way out until we were well out of town. And here's what the roads are like:
There were only two roads one could ride on safely and comfortably. One was the Chinese highway and the second the Italian highway. The Chinese appear to have the contracts for most of the road repairs and building in Kenya and from everything we heard, they've done a good job. As for the Italian highway, more about that as discuss leaving Kenya.
Having said all of this, two things:
PLUS: The country is beautiful! The guides we had were personable, well versed, experienced, had a terrific sense of humor and a joy to be with. The Kenyans we met were uniformly friendly and pleased we were here to visit. Most people speak both English and Swahili skillfully, as well as their tribal language and local dialects. The children are both beautiful and friendly, as children have been every where we've gone. They wave and smile as we pass. They are a bit embarrassed and shy if approached, but warm up immediately. As they get older they grow more reserved.
Kenya, if you do your homework, is a wonderful place to visit, but we cannot speak for the cities as we spent little or no time in them. The country is green and lush. The soil, except in the higher altitudes, is dark and appears to be easily worked, which is good as the vast majority of the agricultural work is done by hand, mules and oxen. This soil is the type my Grandfather in Kansas would say, "Soil so fine that you could plant pebbles and harvest boulders." As one leaves the city the clothing is less modern and more colorful. Yes, the Masai do wear those blood red robes about their shoulders and women do wear the colorful clothes that are stereotypically African. The foods locally grown and sold in town markets and along the road is simply beautiful - Oh, the bananas! What entrepreneurs! While people are very poor, if one has a cylinder of oxygen and acetylene, one sets up along the road in town as a "welding shop". If one has bicycle parts, some tools and space to lay them on the ground, it is a bicycle shop. Kenyans may not have much, but they are proud, hard working and striving to make a living. I would go back in a minute - and plan to when the grandchildren are old enough to travel that far.
MINUS: A country lacking infrastructure and a middle class, and all that the lack of both means. There is no drinkable water suitable for anyone not raised there. The dust and smoke from a thousand sources fill the air and permeate clothes, hair and vehicles. I will never smell smoke without thinking of Kenya. Dust is a way of life. While the roadsides were maybe not as badly trashed as seen in parts of Mexico, there was trash (mostly plastic and paper) along all the roads - even way out in the remote areas - with the notable exception of the parks and reserves. Water is scarce, even for the tourist. We found the water provided by the lodges and hotels to be half of what was supplied in every other country where local water was unsafe for visitors. Water supplies were a constant concern. The Kenyans drink from the few sources of water in their area, carrying it for miles on their heads, bikes and animal propelled carts, and we saw no water in the streams and rivers that was not cloudy and muddy - not to speak of the animals sharing the water with them. Kenyans must spend their time walking long distances go anywhere or to acquire anything. If one cannot walk in Kenya, one cannot survive for long. We decided that at our age we could not survive a week in rural - maybe any of - Kenya. The life of the populace seems incredibly difficult and we have never had to experience the simple act of survival as they do on a daily basis.
WARNING: DO NOT, I repeat, DO NOT go to visit the parks and reserves in Kenya by car or van if you have a problem with your neck, back, hips or any part of your body that cannot withstand repeated and unending strong jolts, bumps and shocks as you hold on for dear life on the what passes for roads in Kenya. The best roads have pot holes - sometimes 8 feet long, 5 feet wide and a foot deep. Not one, but a number in a row, serial, distributed in such a way across the roads as to make them impossible to miss. Going to the median or roadsides are no help, as so many have used them to miss the pot holes, they one are now as badly destroyed. To put it simply, there is nothing I can say to adequately describe the impossibly poor quality of the roads. There is absolutely nothing in your or my experience that can be remotely compared! More on this as we describe the Mora Road trip.
~ ~ ~ ~ ~ ~ ~ ~ ~ ~ ~ ~ ~ ~ ~ ~ ~ ~ ~ ~ ~ ~ ~ ~ ~ ~
Below one will find a number of pictures of our Kenya trip. These pictures are restricted to travel and rest stops and such. The pictures of the animals, parks and reserves are found in their appropriate pages.
Please remember most of these picture were taken "on the "run" from the back seat of a vehicle on "road" that had more bumps than levels. Sorry for all the pictures - when you get tired, just hit the back button on your keyboard.
The scenery
Towns
Special Locations
The Roads
Road Blocks
~ ~ ~ ~ ~ ~ ~ ~ ~ ~ ~ ~ ~ ~ ~ ~ ~ ~ ~ ~ ~ ~ ~ ~ ~ ~ ~ ~ ~ ~ ~ ~ ~ ~ ~
OK, before we start, a couple pictures that can't seem to find a correct place in the organizational scheme, and amuse us: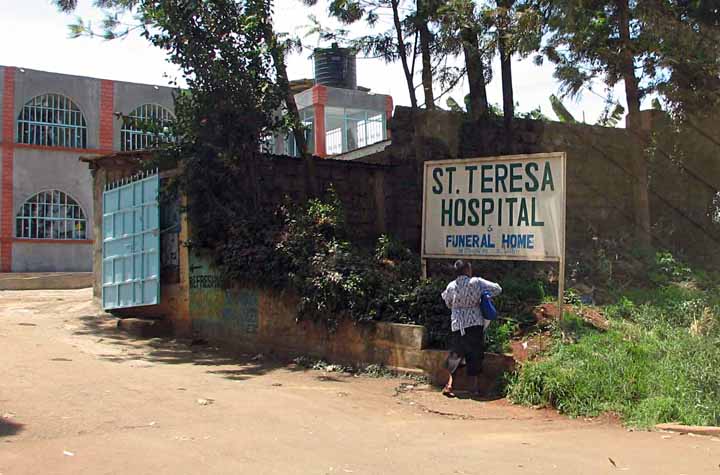 This picture caused no end of laughter and smart-ass repartee.
Its not often that one finds a hospital and a funeral home in the same building.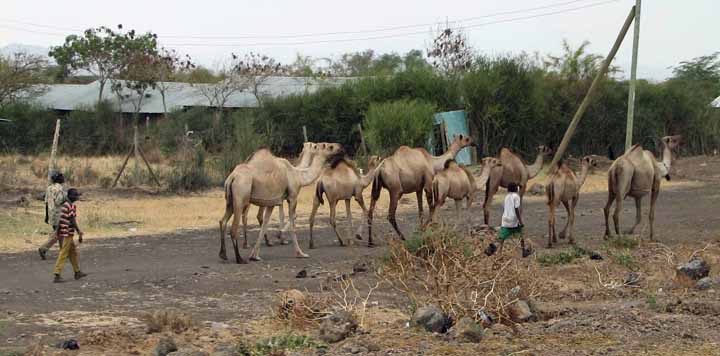 Definitely not part of the number of wild African animals we saw on the trip.
These are "political" camels. We understand Egypt has given some camels to Kenya
in hopes of offering a better set of work animals, requiring less water and care, as well as encouraging more commerce between the countries.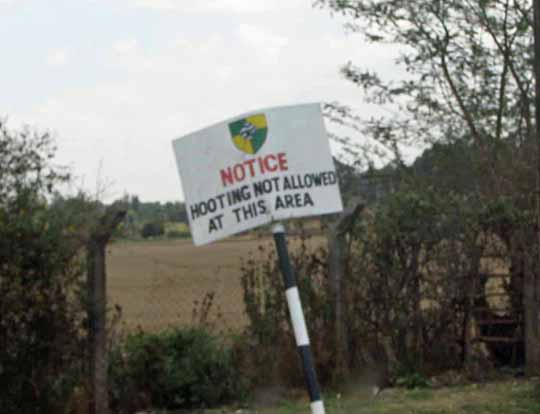 You are now on notice - We absolutely allow no hooting in this area!
Consequently, if you make negative comments or laugh derisively at the pictures,
your Internet connection will be lost and you will be placed on our NO VISIT list.
~ ~ ~ ~ ~ ~ ~ ~ ~ ~ ~ ~ ~ ~ ~ ~ ~ ~ ~ ~ ~ ~ ~ ~ ~
SCENERY
The scenery along the roads varied considerably as we left the city, into the lowland country and then on the way to higher altitudes. The city was very crowded and dirty, The countryside was green and full of fields of crops. Some of the commercial fields were enormous - I hesitate to guess just how large. Some fields were 100 foot by 100 foot garden type plots, others were between the side of the road and the nearest fence.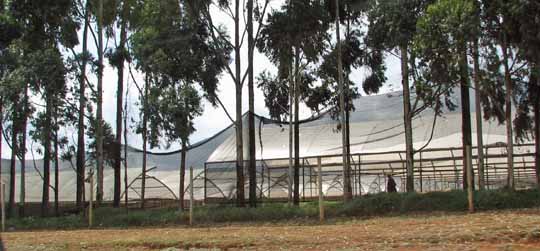 Commercial agriculture was fairly centrally located - one would expect it to expand.
Any number of covered plants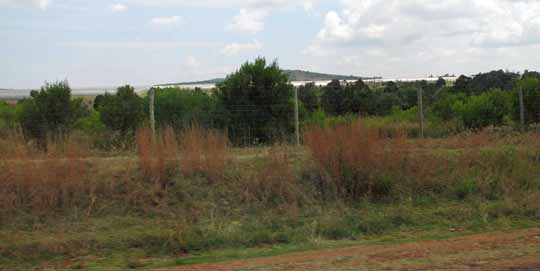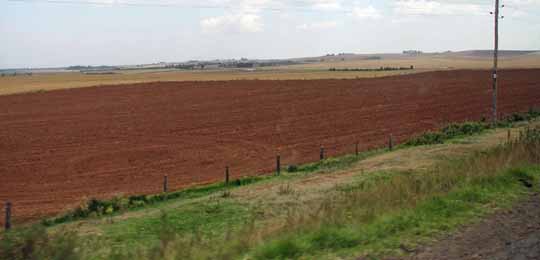 as well as large plowed fields ready for seeds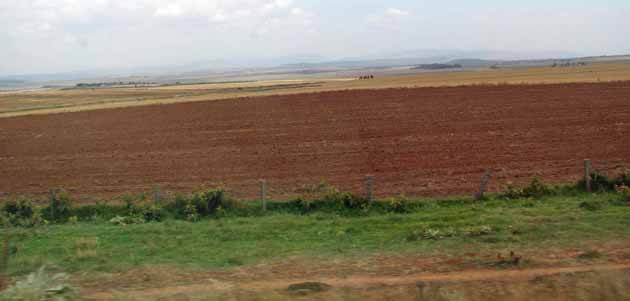 Large grain fields already harvested, both wheat and corn

Which leaves a ambitious farmer the opportunity to raise crops on "free " land located on the shoulder of the road, along land that the commercial business have seen as a good crop growing area.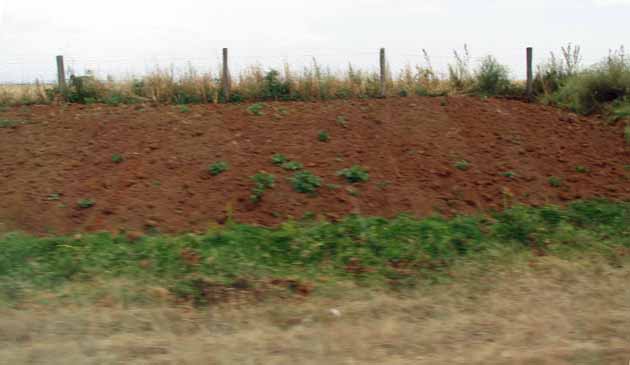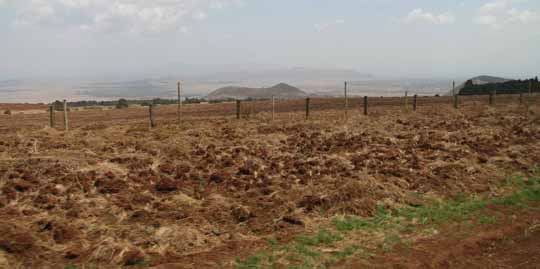 It appears a new crop has been introduced - trees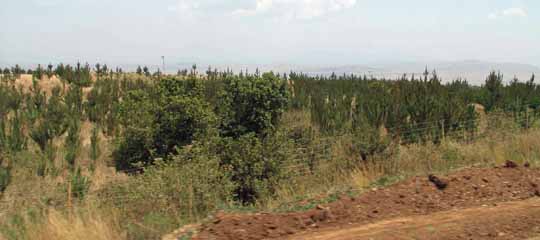 Some areas are more established and better organized than others. The tree crop being pushed by the government is eucalyptus trees.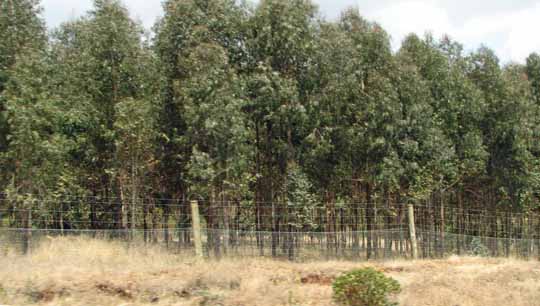 Yet, many crops are grown just anywhere they fit - worked by hand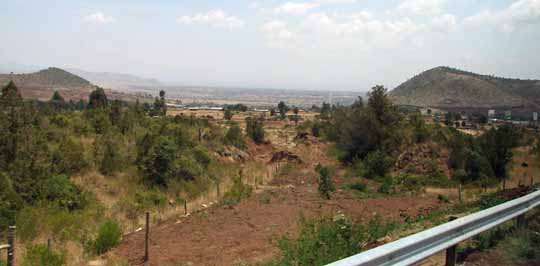 There are cities, towns, villages and what one might call private holes or even homesteads. The vast majority of the people in the country live in smaller villages or tribal units. Please keep in mind that Kenya is very tribal oriented.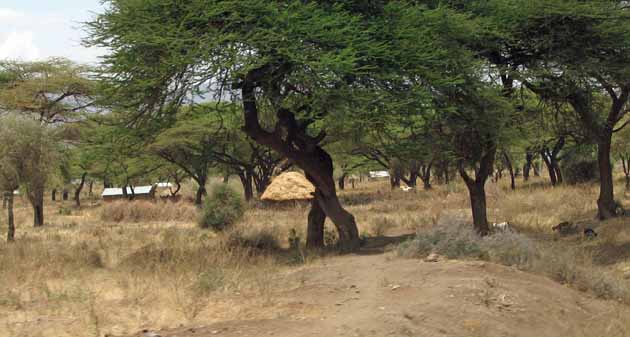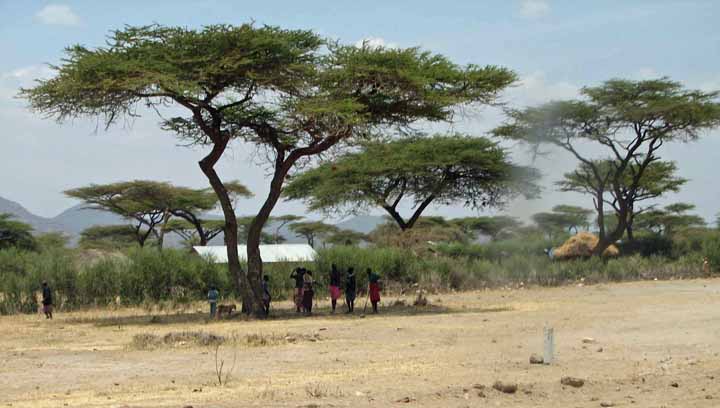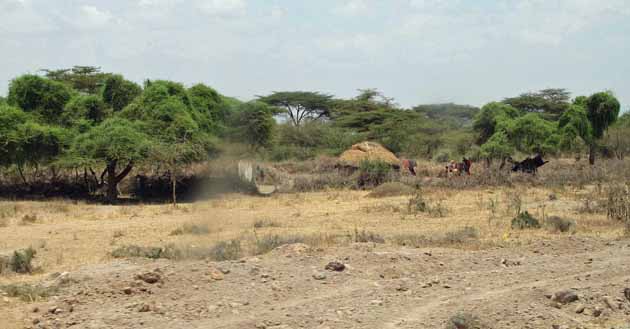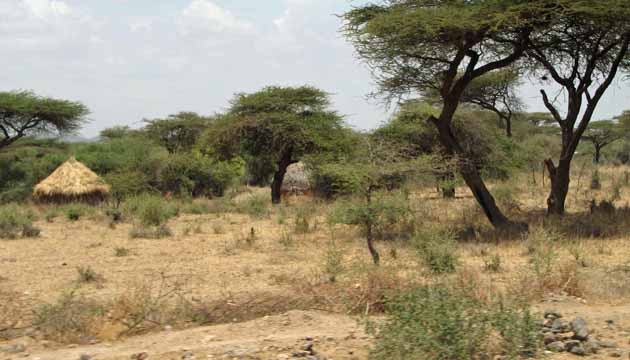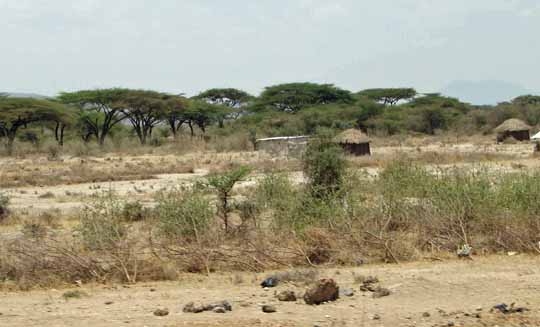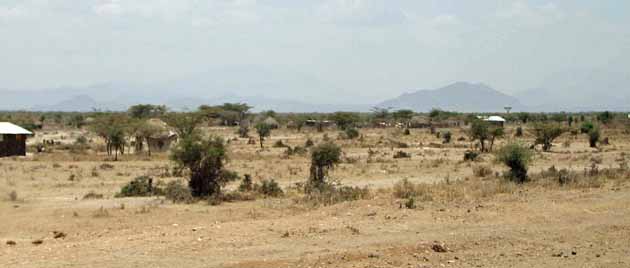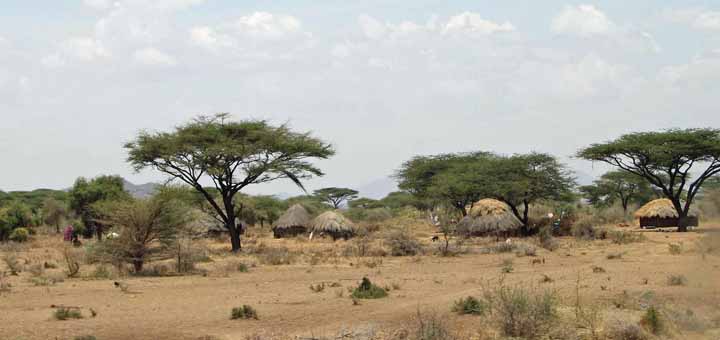 Cows and goats are everywhere. They are the primary currency in the outlying areas - remember the tribal base of vast majority people living out here. Cows and goats are wealth. I took these pictures, not because the animals were on the road, that occurred often, but because the young boy acting as shepherd actually had a Masai spear.
We saw boys, and a few girls, as young as maybe five or six, being shepherds. In one case the boy could not have been more than four or five, and he had three goats. We felt he was getting on the job training. Representatives of this same age group were often seen walking alone along the road or highway carrying small loads - - one learns responsibility awful early in this country.
Oh - you NEVER see a Maasai man or boy without his stick! Doesn't matter if there's not a cow or goat in sight - if he's in the country or the city - he has his stick. I did see a number of instances, in the country only, not in the city, where a spear was carried.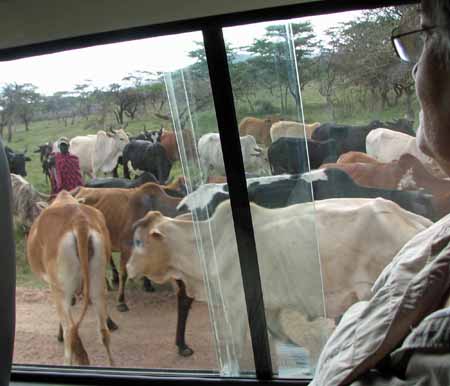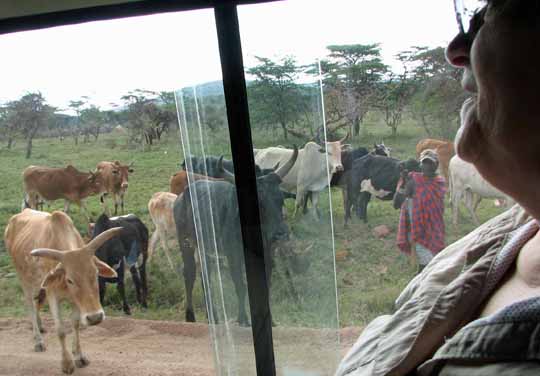 The water holes are very few and far between . Most were dry or had no more than a pool of water, perhaps 15 - 20 feet in diameter. The water hole below was an exception in that there was no-one gathering drinking water from it or washing clothes in it.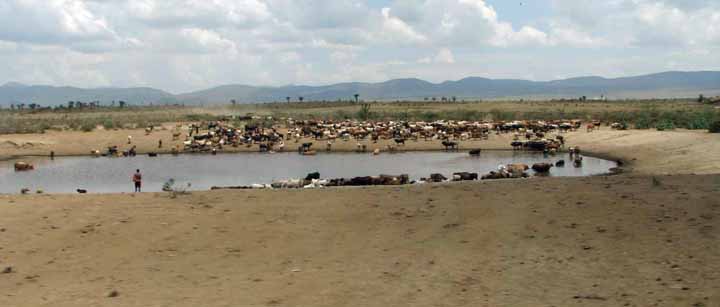 As we get closer to higher altitudes, the lush farmland gives way to a volcanic desert-like environment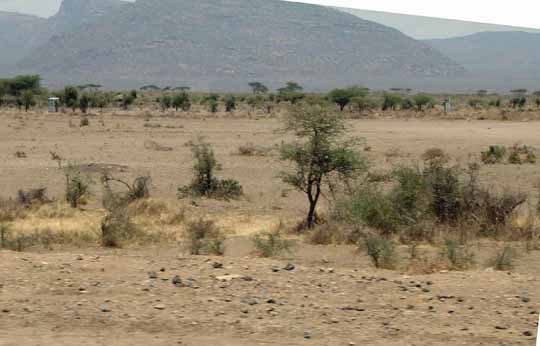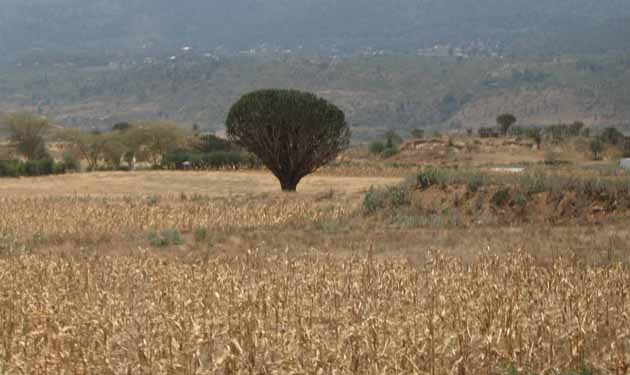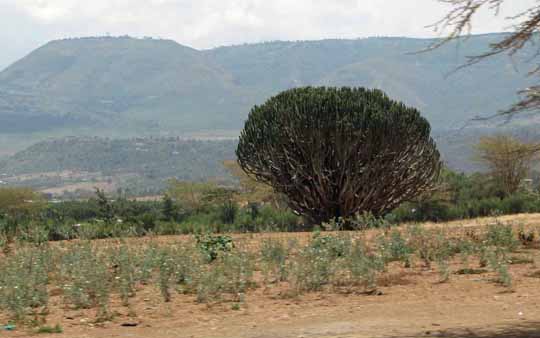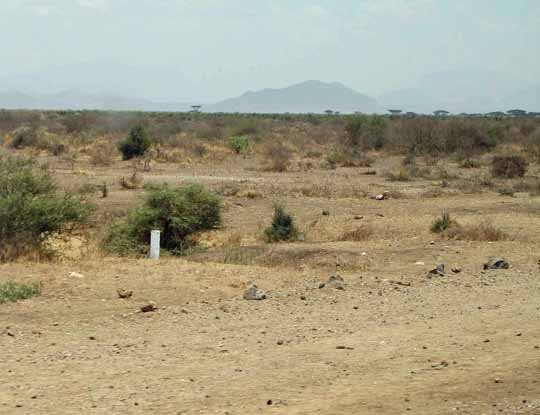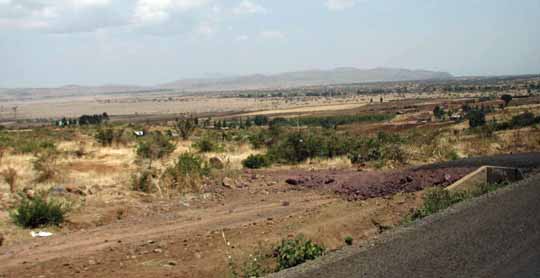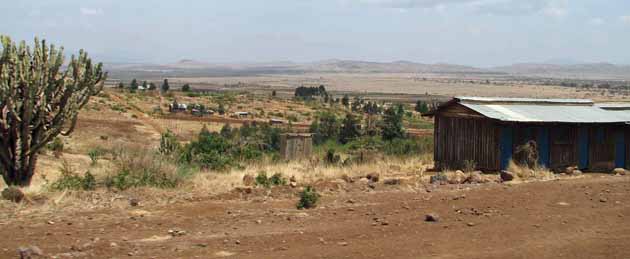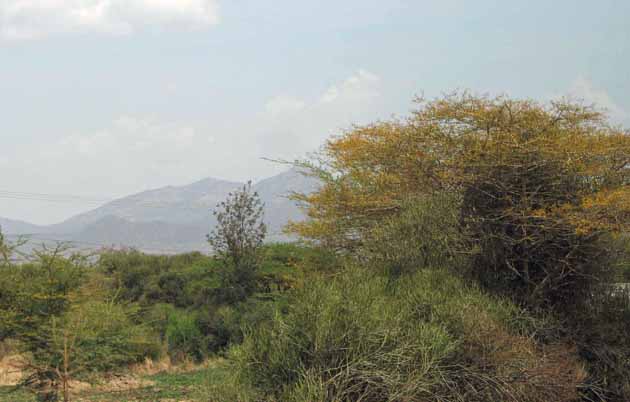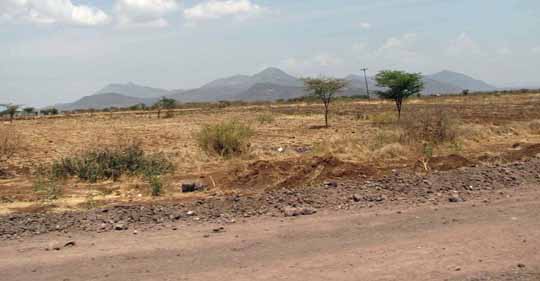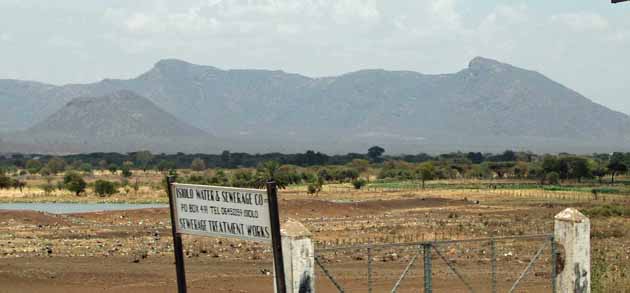 Very quickly, even before getting out of the city, one saw signs for churches and schools. For the most of the trip, I'd guess you could not go further than 1/4 to 1/2 miles without a sign for a church. I don't think a denomination was missing. The churches we did see were anything from straw huts to pretty modern buildings. The vast majority were of the one-room cinderblock or wooden sided shacks. I did see both a mosque and a synagogue. Pictures of the signs are pretty awful.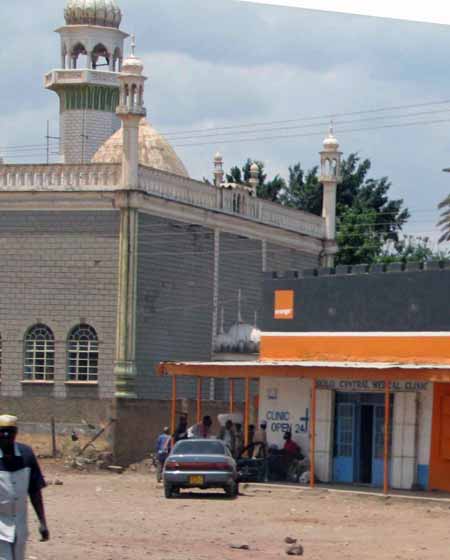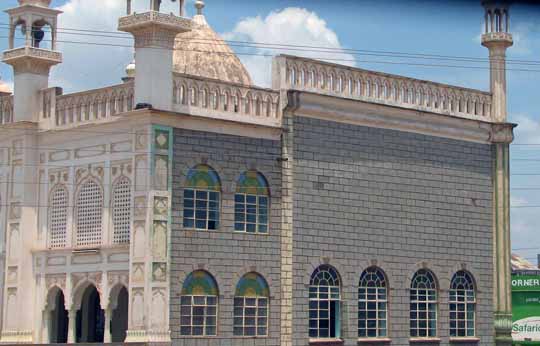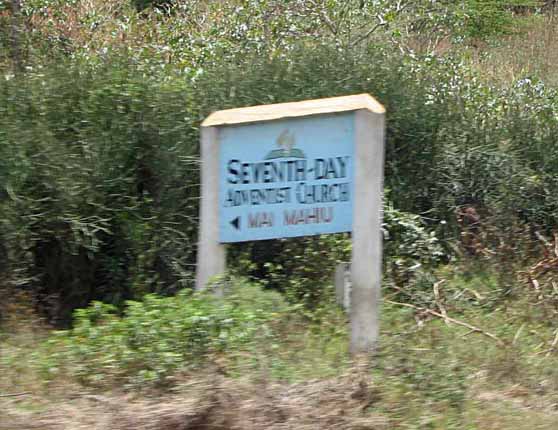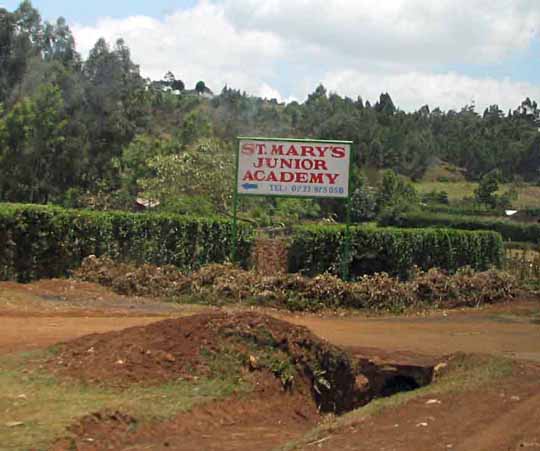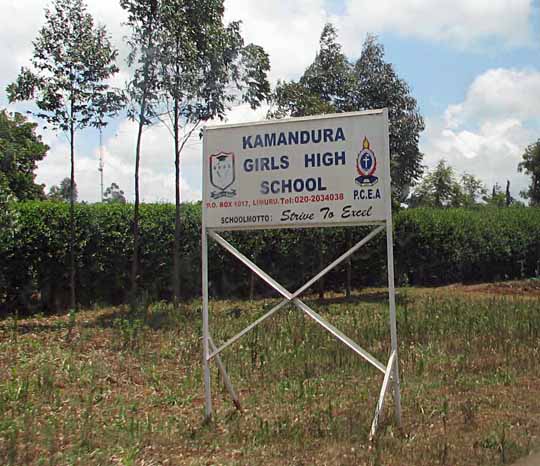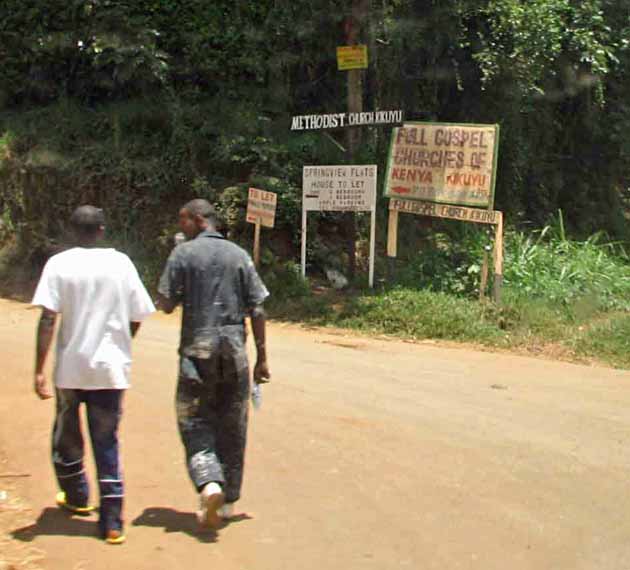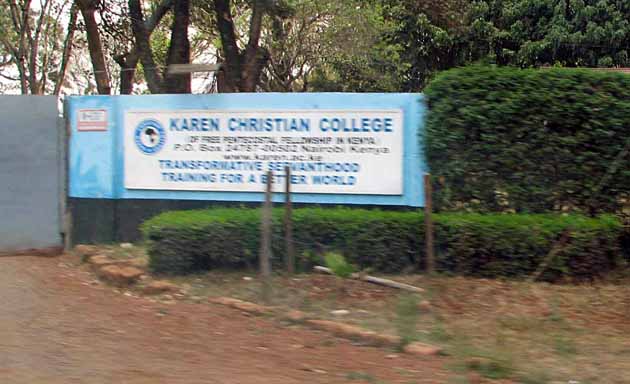 The most unusual church was this one below. It was but in 1942 by Italian prisoners of war. It is on the Italian Highway, which was built entirely by Italian POW's. It remains one of two of the finest, real, actual highways in all of Kenya. Although a tourist stop, the chapel quickly was closed as a church as it only seats 17 people.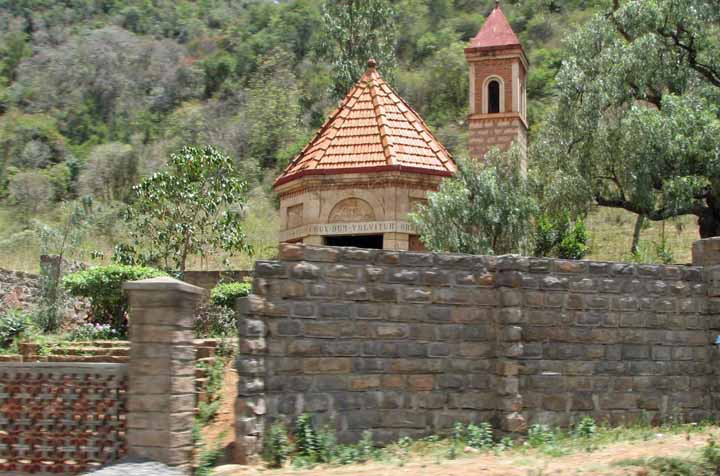 We did see a remarkable number of flowers, plants, bushes and trees.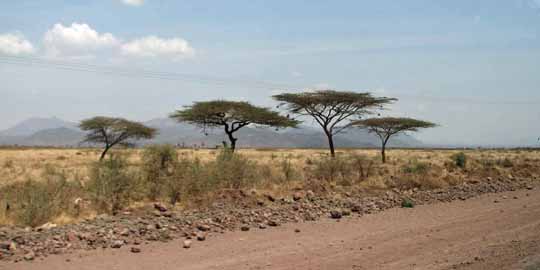 I think these Moro trees to be the iconic African tree. I cannot see one without thinking of Africa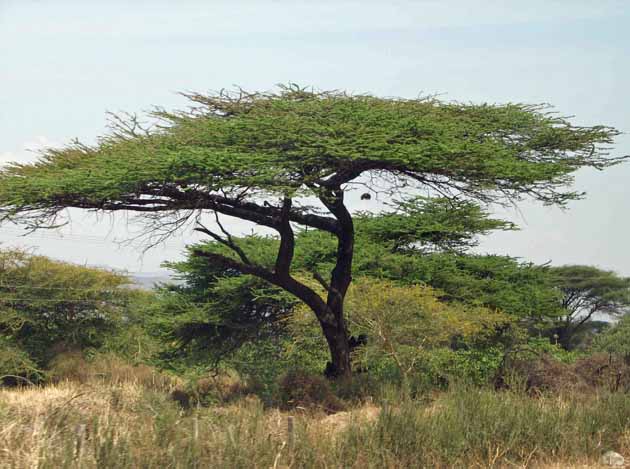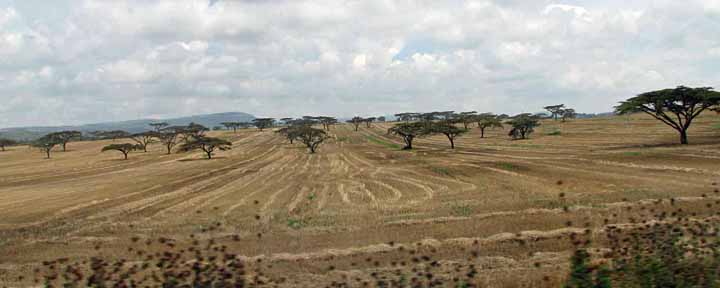 This tree is also found almost everywhere, regardless of the type of land
It looks very much like a cactus - however I never got close enough to make certain.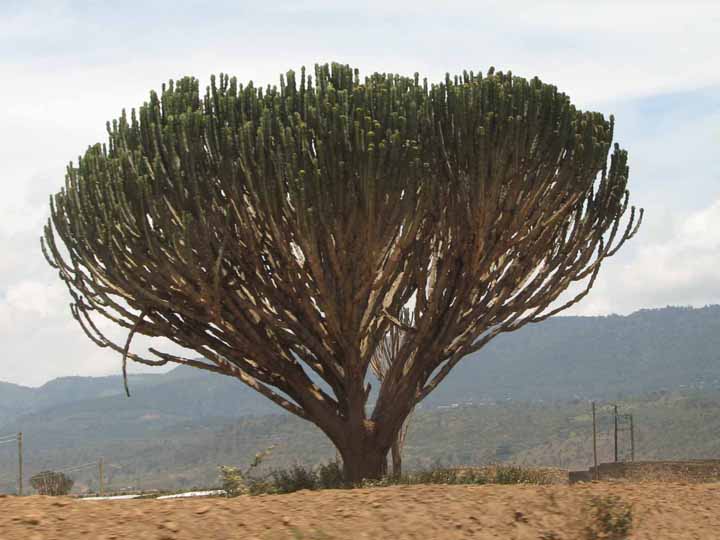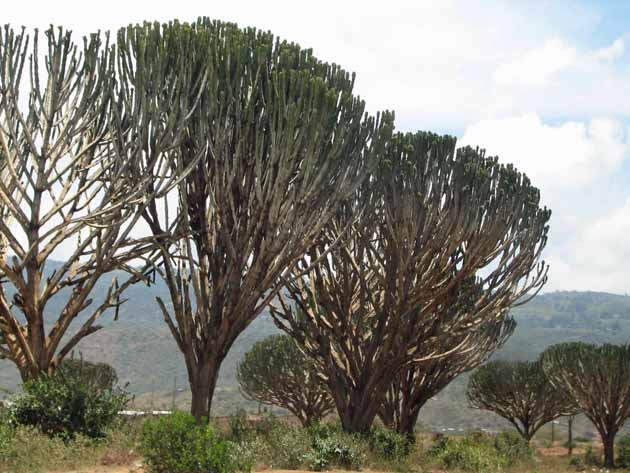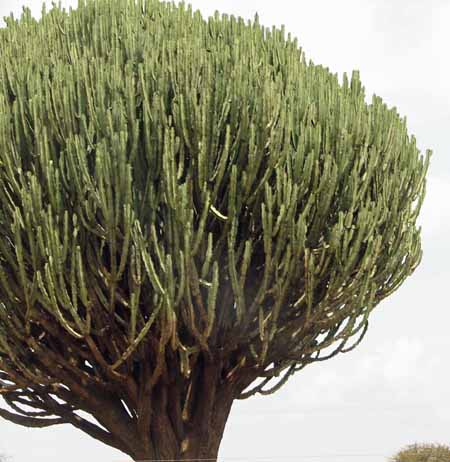 So, we saw tree along the road that appeared to have something on their branches. We wondered if they were parasites such as Air Plants or Spanish Moss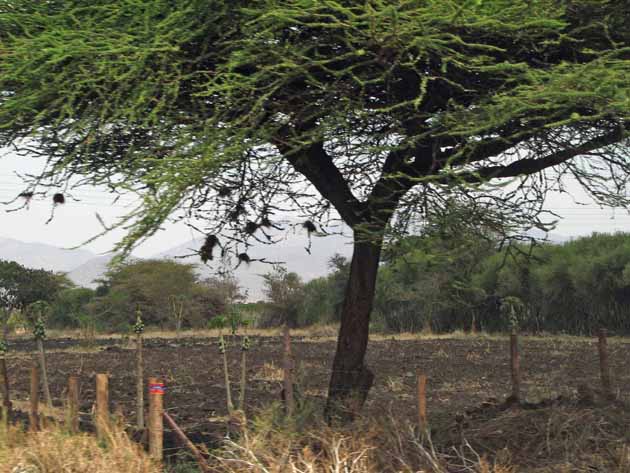 At a bathroom stop at a shop we saw a tree with the explanation -
Spinner Birds.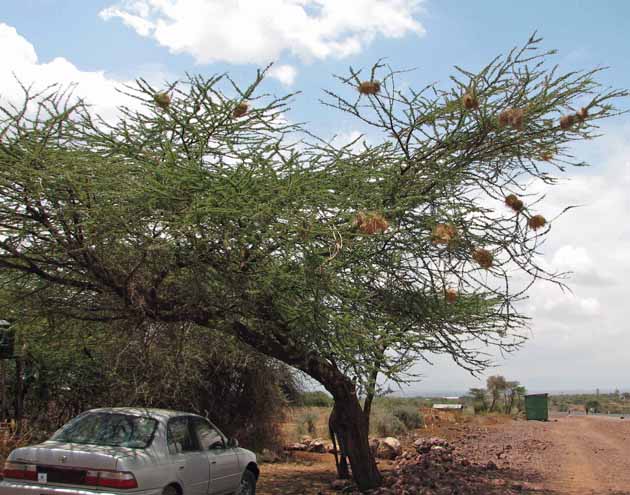 The male weaves a nest for the female to lay her eggs. She examines the work and if she doesn't approve, she tears the nest apart. In the course of the trip we saw a number of nests torn and on the ground.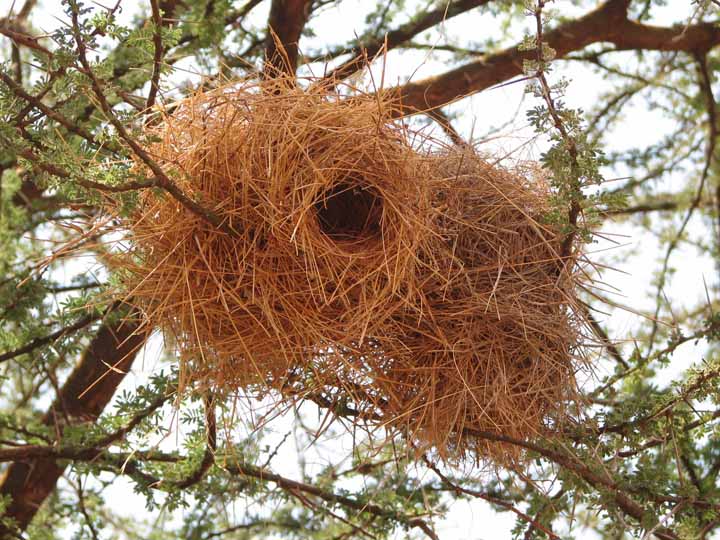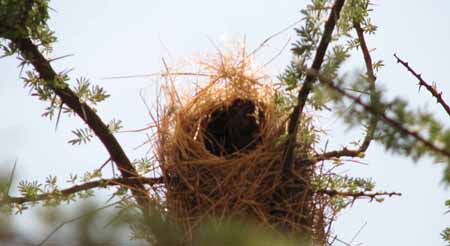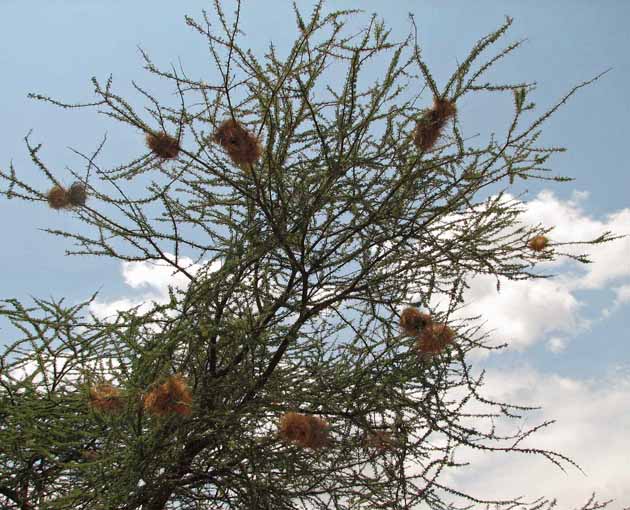 Pictures of these jacaranda trees were simply beautiful. The pictures do not come close
to accurately offering their true color.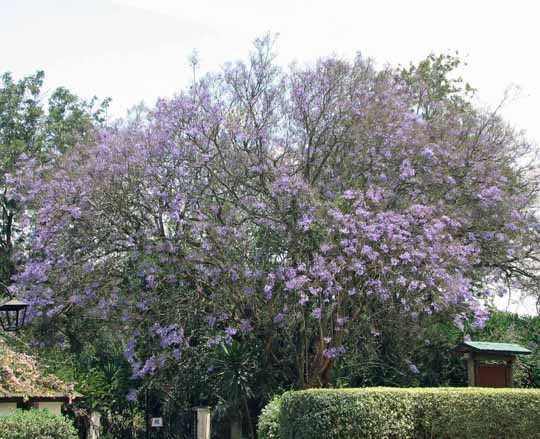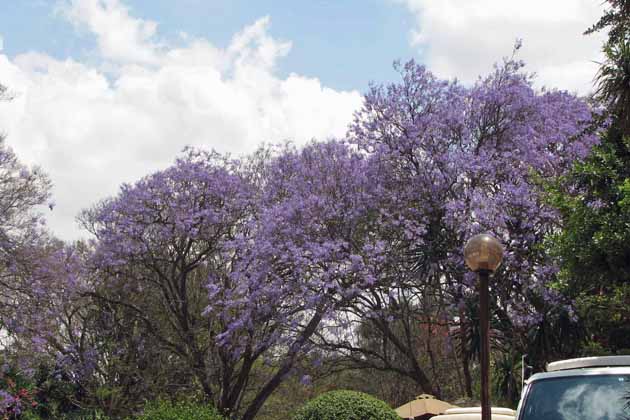 Towns
The small towns we went through were very poor, with small shops strung together a short distance from the road. Between the road and the shops was often found a dirt area perhaps 50 feet wide where individuals sold a eclectic variety of products or offered a wide variety of small business services, like wielding or bicycle repair. Both were folded up and hauled away at night.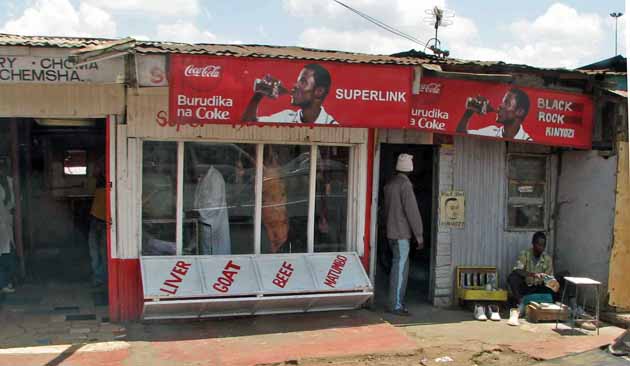 No, not a motorcycle gang. At specific areas around town one finds a grouping of motorcycle riders. They are selling rides to people.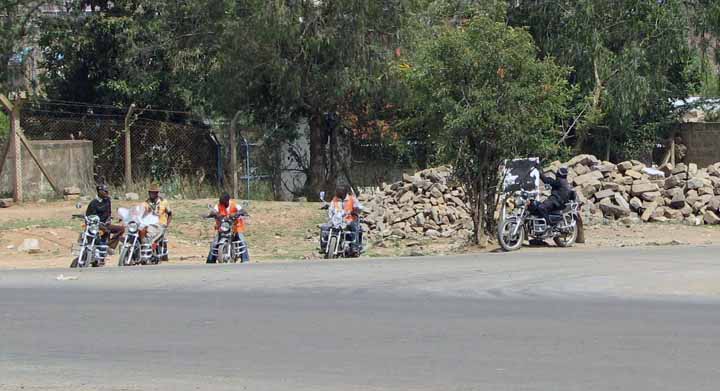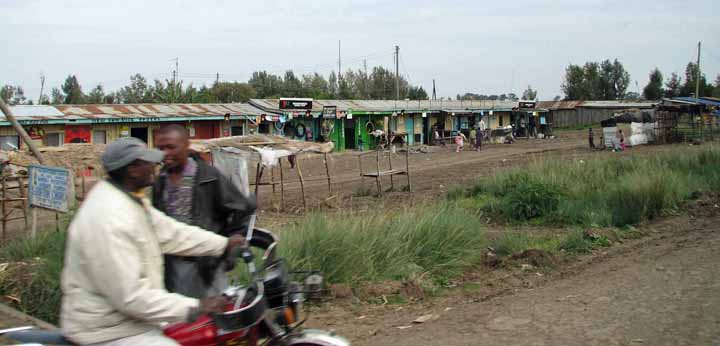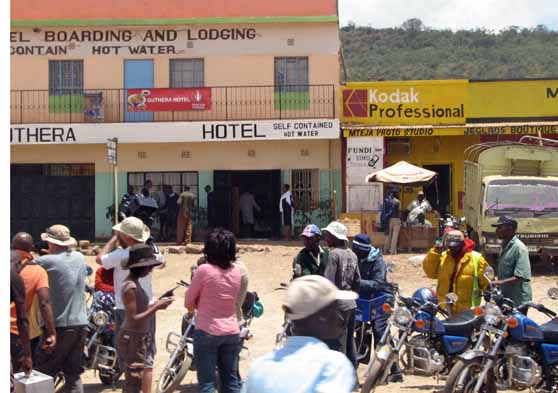 The primary mode for obtaining a ride is the public van. This is one of the better ones. Most were 9 passenger vans with "seating" for 12 to 15 people. There are busses, but few and far between - consequently, very full and crowded.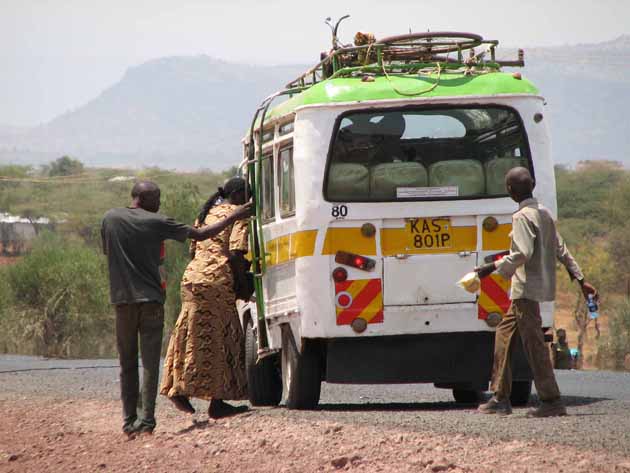 Many homes and building in Kenya were built of adobe. Here a pile is a prediction of a new home.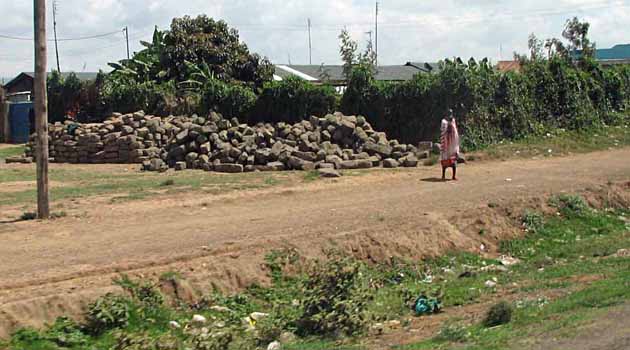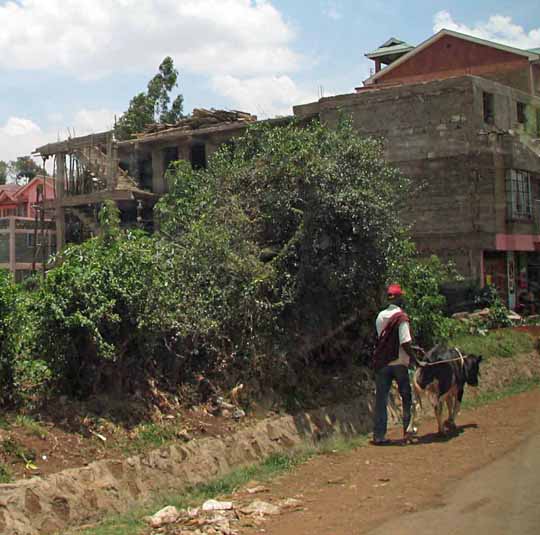 Although I saw larger buildings being built, I got only one fairly good picture - the purpose of the picture was to show the scaffolding were made of bamboo tied together. Not only this three story building, but I saw a building at least 12 stories high with nothing but bamboo scaffolding.
These pictures pretty accurately portray the conditions found in the villages.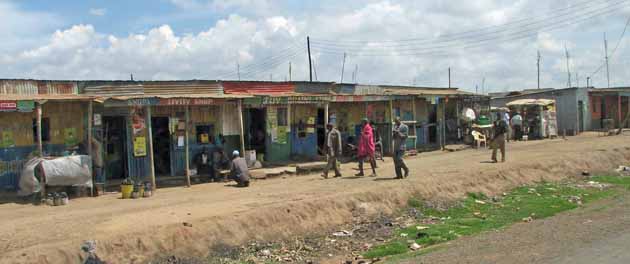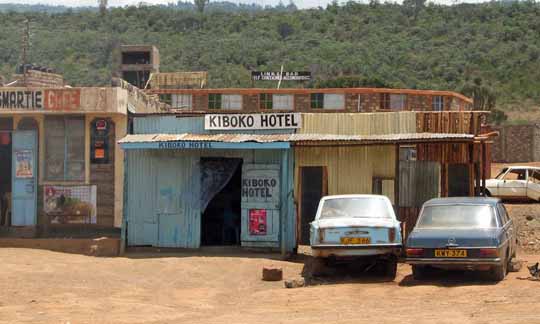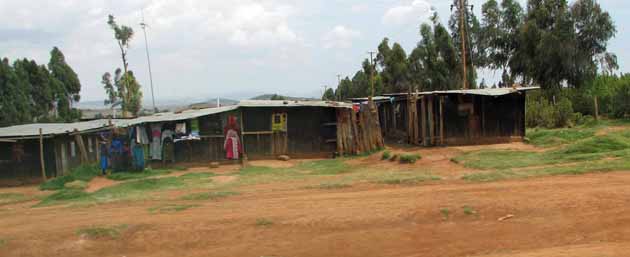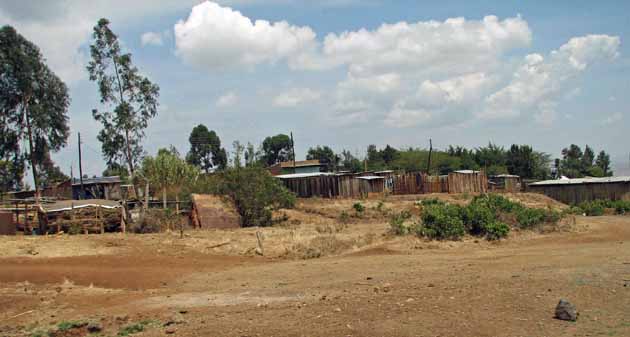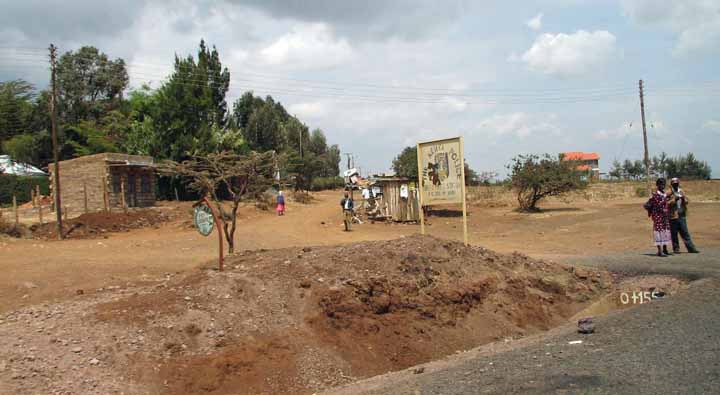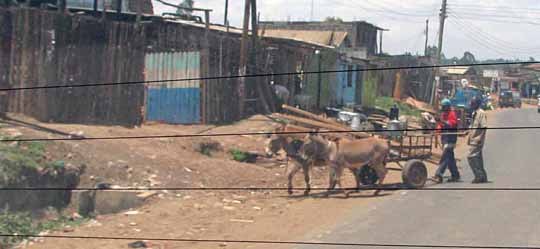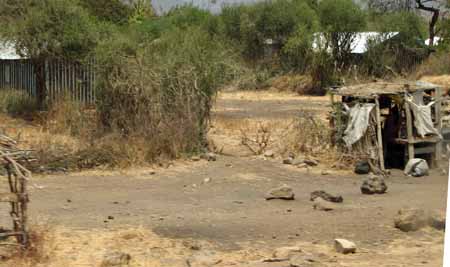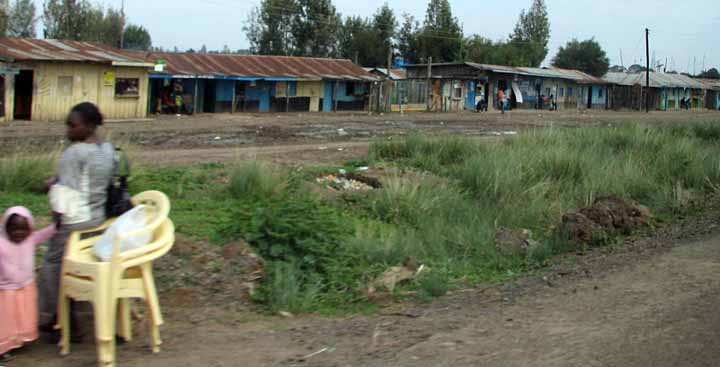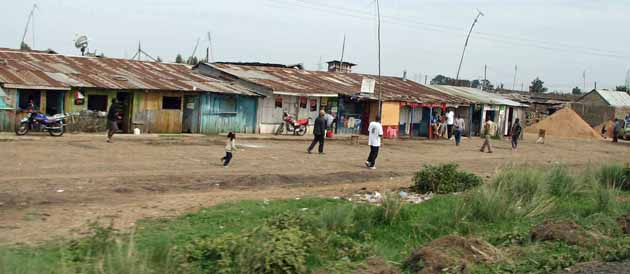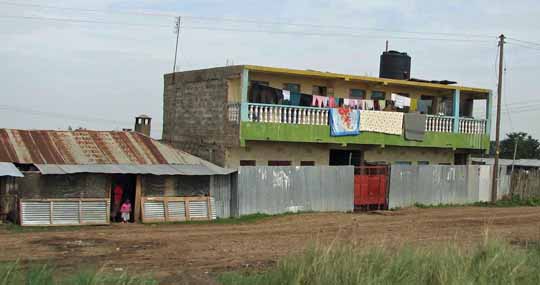 But not to give the impression that everywhere in every town was found the environment seen above, there were exceptions. In one town Hodge had to stop to pick up some high blood pressure medicine. The place we stopped had several shops and was clean and neat. It also had this bronze elephant - I had to get pictures.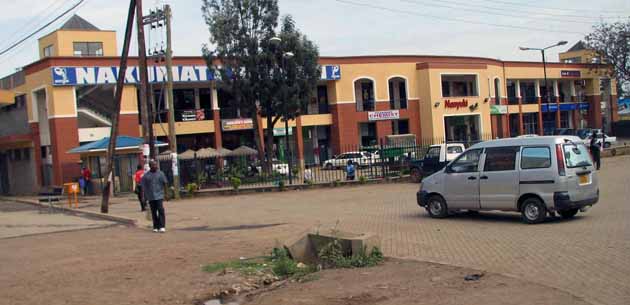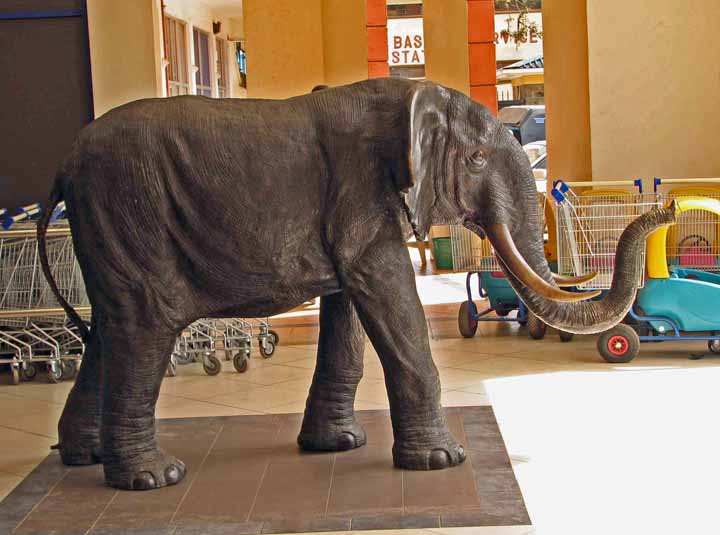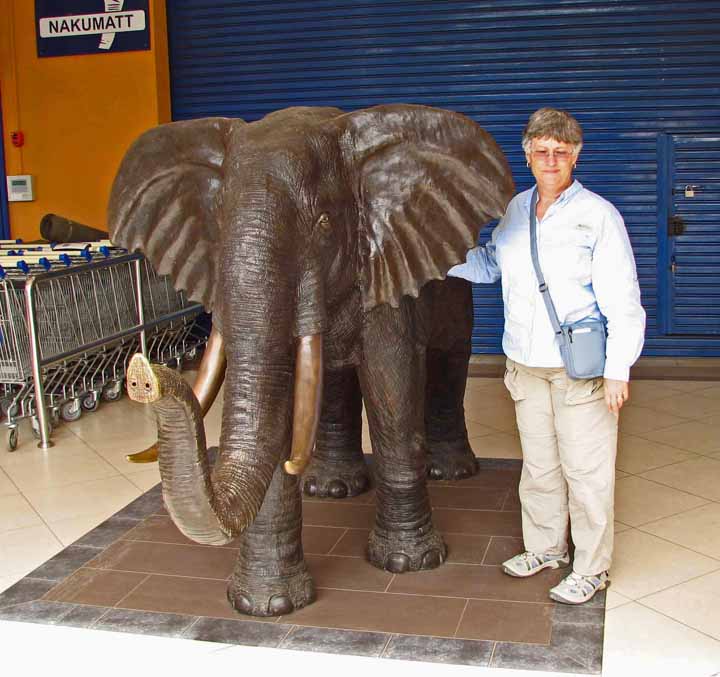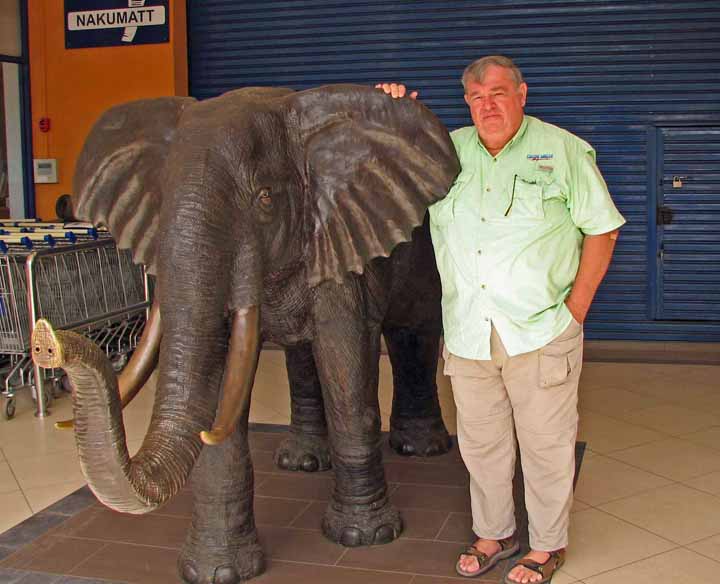 Not to miss an opportunity to have a Coca Cola Light,
we followed Pam and Charles into Sherlock's Bistro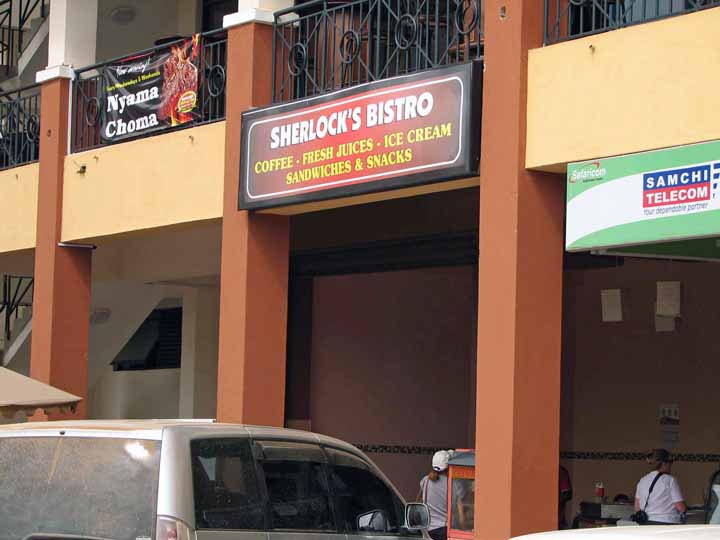 After a cool drink, Jackie waits patiently with the van .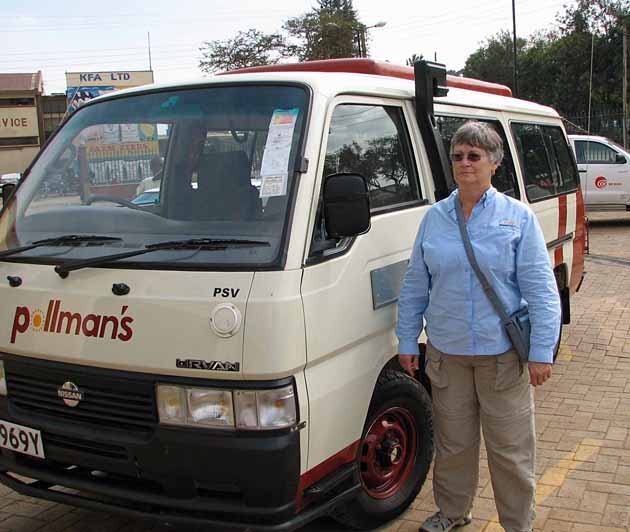 From there to a gas station. There were not terribly many gas stations, but then, in proportion to the population, there were not many automobiles. Most of the transportation we saw were tourist vehicles and the public vans.
This gas station was one of the cleaner and neater seen.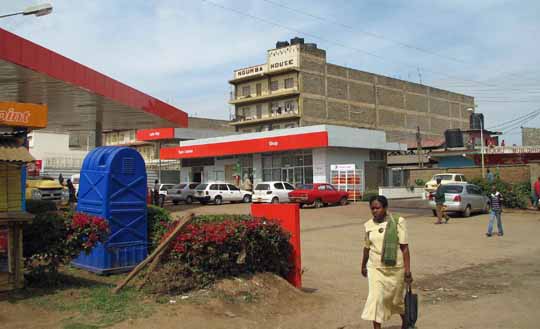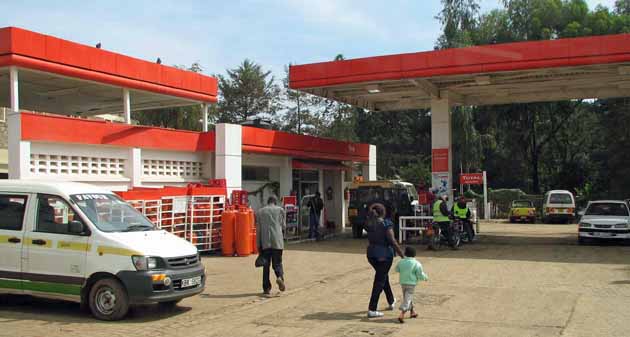 And then back into the scenes in the towns.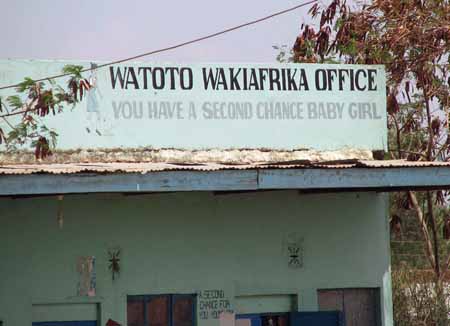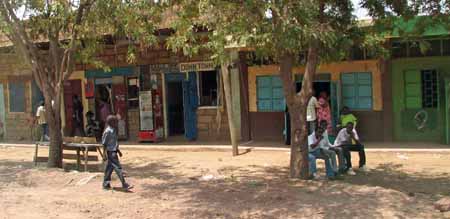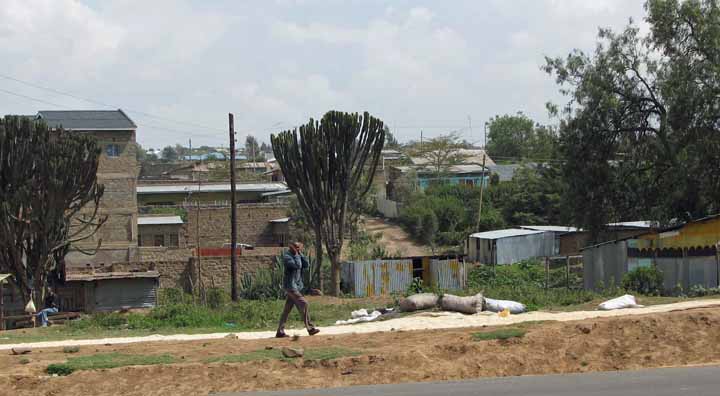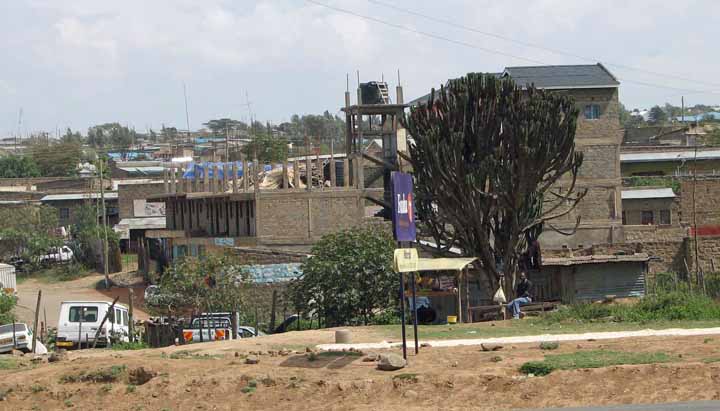 As one goes further in the country, the towns, shops and living quarters become smaller and poorer.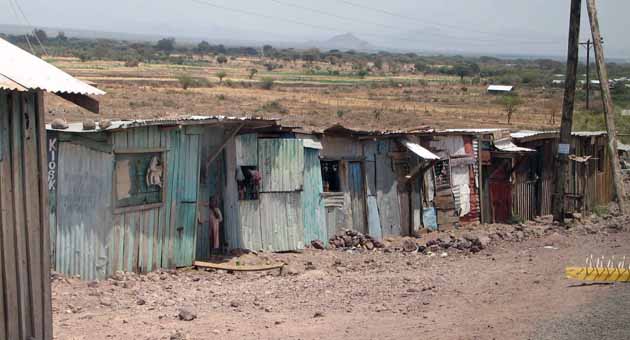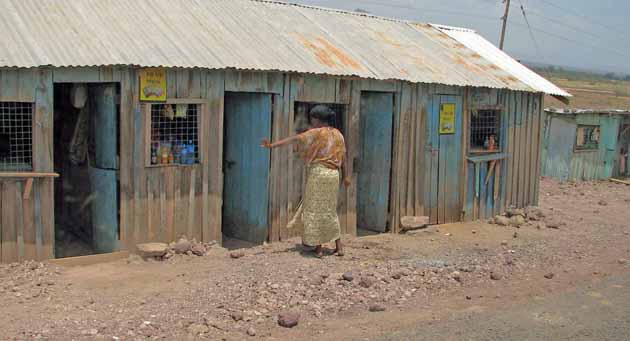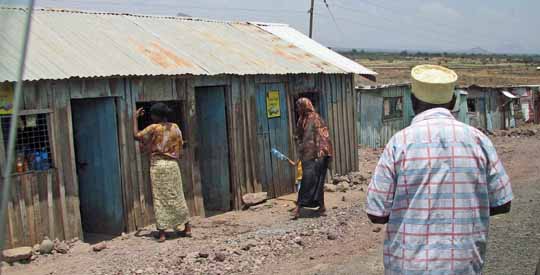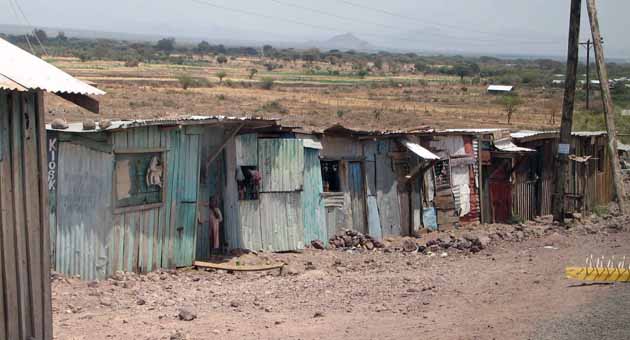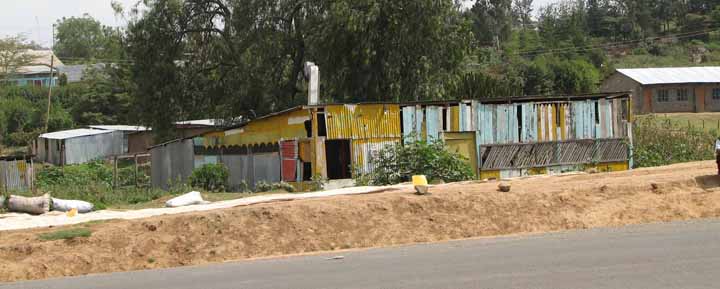 Lining the side of the road were a variety of places and methods of selling almost anything. We saw produce, banana (what bananas!), home made charcoal, sugar cane, even furniture. The produce was beautiful. What was particularly interesting were the market days in the towns and villages.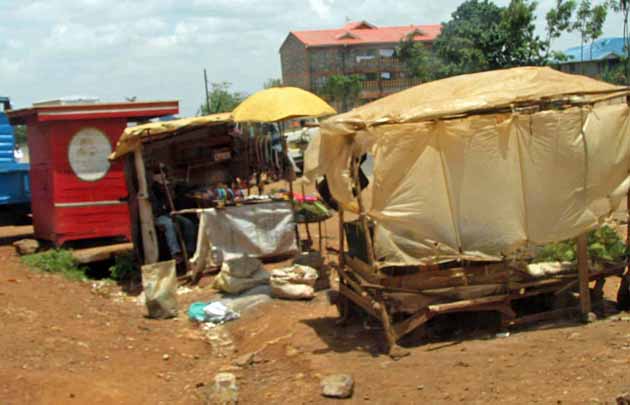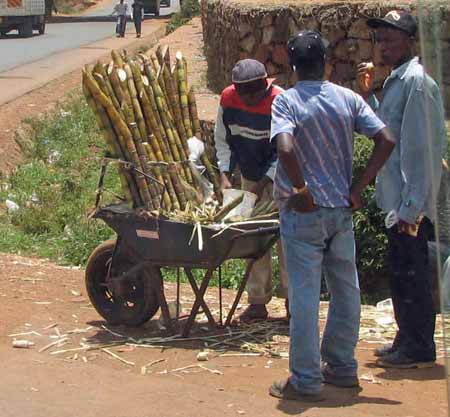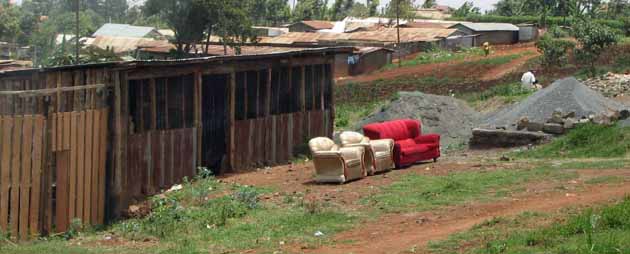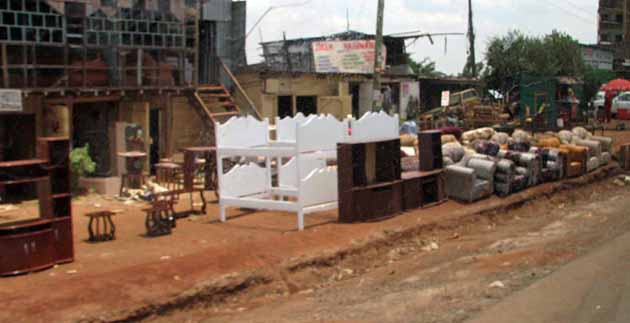 And of course the tourist souvenir shops!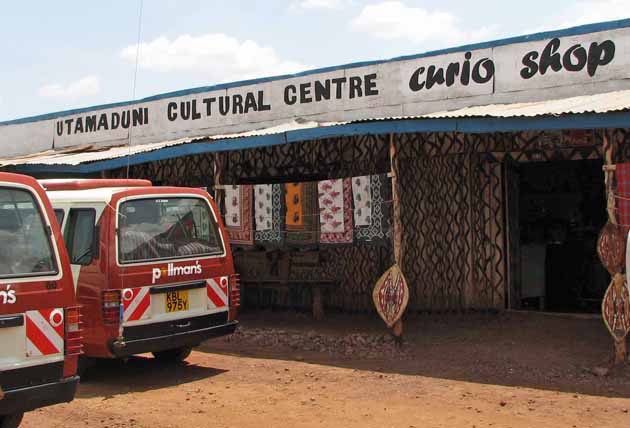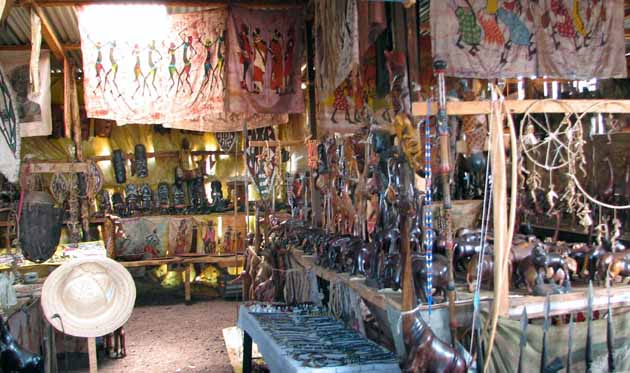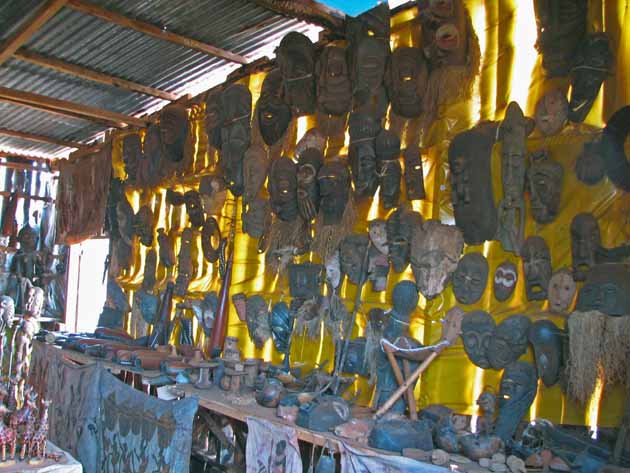 No, not shrunken heads - masks. There were all types of masks, mostly animal masks. We brought several home. These particular masks were in a shop which had antique Maasai goods.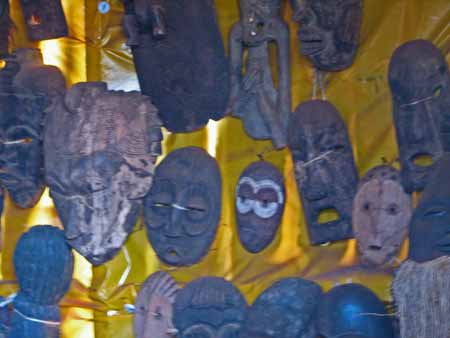 Shops along the Great African Rift had a lot of sheep and goat skin products - anything from rugs to hats and gloves.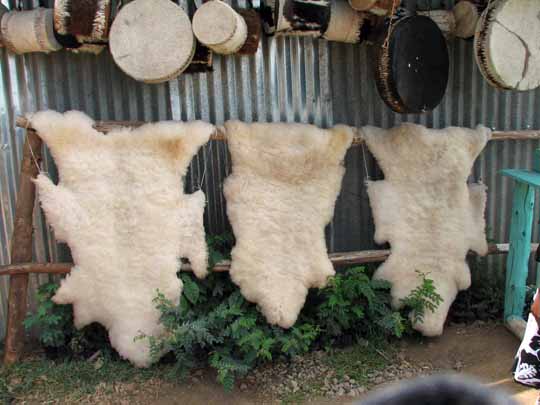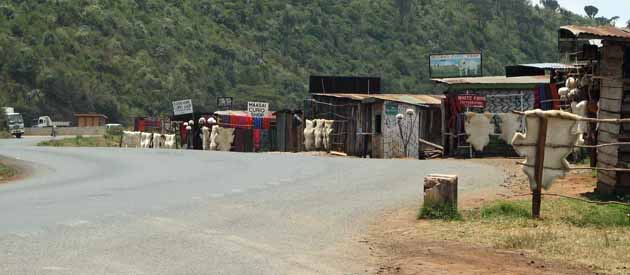 Special Stops and Places
The last day in Kenya included a number of stops near Nairobi. Special Stops included a nice residential restaurant for lunch, a stop at the Kazuri Bead Factory, the Blixen Museum, home of Karen Blixen, the author of Out of Africa, the Langata Giraffe Center for the rare and endangered Rothschild Giraffe, and finally the Carnivore Restaurant that night for dinner.
We start with lunch in this splendid setting.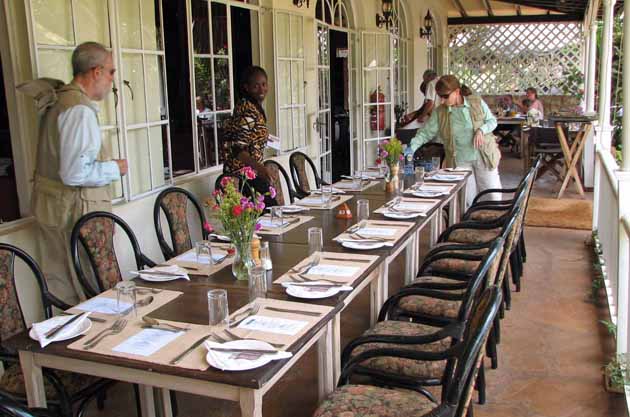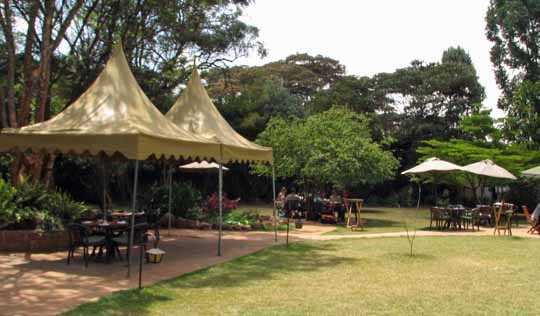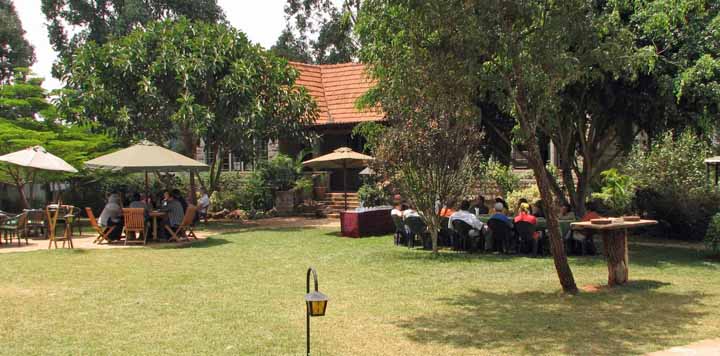 On to the Kazuri Bead Factory. We were told by a friend who has volunteered to work in Kenya each summer for maybe ten years, to visit this factory if we could. They are famous for their beads and ship all over the world. While we were there I looked at the outstanding order list on the wall and it included 15 countries and perhaps 1/2 of the production going to the United States.
Please read he above to understand why this factory is so revered.
(by the way, when asked, after 4 hours on Kenya's roads if we wanted to stop at a factory,
we rather unanimously voted no. We stopped anyway. In the end, quite of bit of money was spent on their merchandise.)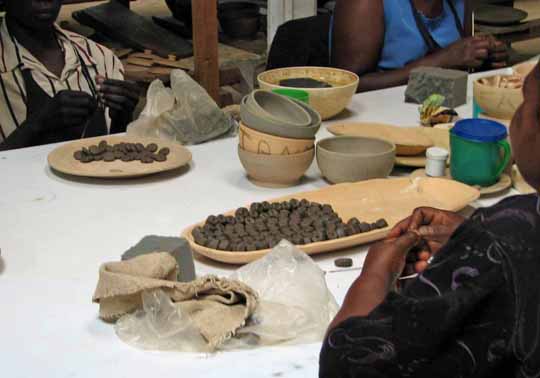 These ladies are forming each bead by hand from processed clay.
While not as well known for their plate ware, we were shown the bowls ready for glaze.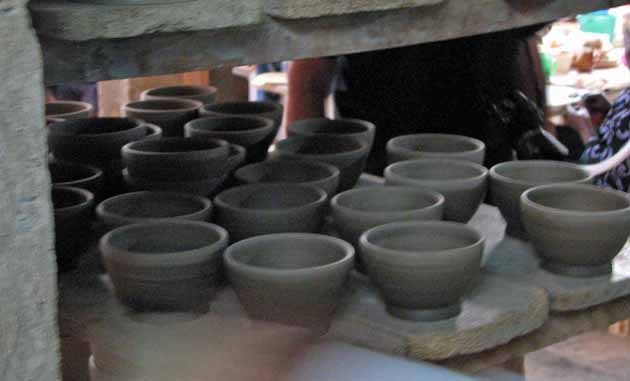 Glaze is painted on each bead - including intricate designs.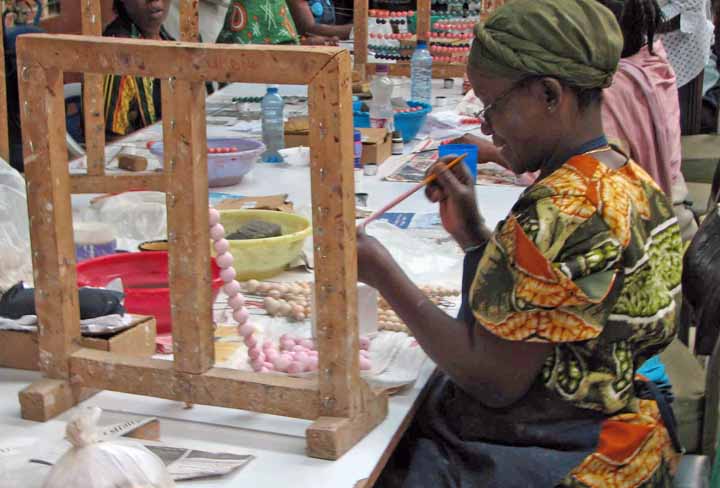 The beads are placed in the kilns after every bead is hand prepared on individual wires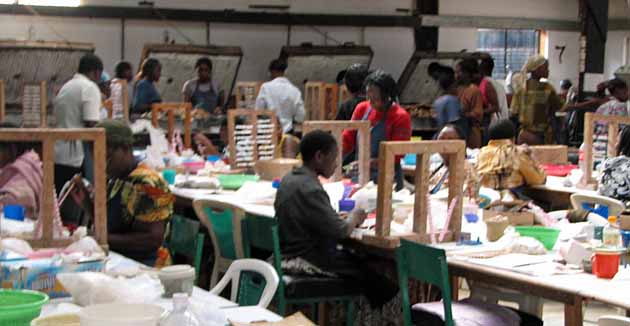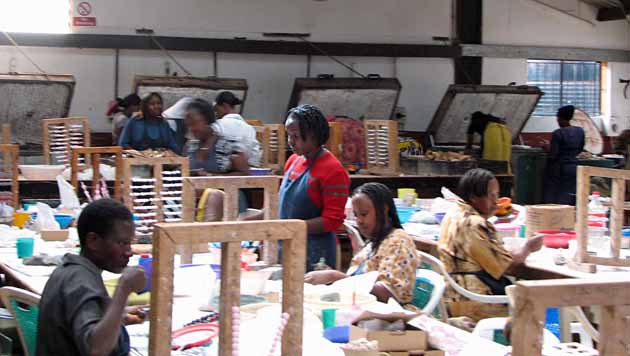 The finished beads are hand strung according to written directions from each buyer - as seen on the papers before the women.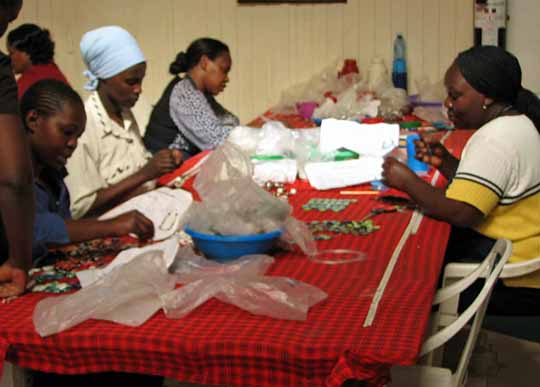 And about here I filled the chip in my camera and could not take any more pictures. They would have included the finished products ready for packing and the factory store. We purchased any number of items, including 100 loose beads for our granddaughter to string.
And off we go to the Blixen Museum.
I hate to admit how ignorant I am. This name - "Blixen" meant absolutely nothing to me. I couldn't imagine what type of museum we would find. Fortunately I was with a pretty well informed group who easily recognized the name and knew much of the history of Ms Blixen and her home.
The Karen Blixen Museum in Africa was near Nairobi, and was her home, called "Mbogani" between 1917 and 1931. It was, at that time in the middle of a large coffee plantation of about 5000 acres, of which 600 acres were in coffee and the remainder allowed to remain wild. The home was donated by the Danish government to Kenya and opened in 1986, following the popularity of the 1985 movie, Out of Africa. Nowadays the museum is situated in the suburb called Karen, and you hardly find coffee there, but plenty of rich houses and a lot of horses.
This museum was not used for the filming of Out of Africa, as the pictures were taken in her first farmhouse, called Mbagathi, nearby, where she lived between 1914 and 1917. Much of the furniture in the house is props provided to the museum by the filming company.
We wondered just why Ms Blixen is so revered by Kenyans. During the tour of the home, we were told she employed (and Iíve forgotten the actual number) perhaps 2,000. She provided each with medical care and provided schools for the children. She was violently and very vocally opposed to the British method of dealing with Kenya. She was very outspoken and strongly committed to Kenyans.
Now we know why she remains so revered in Kenya.
The grounds are beautifully maintained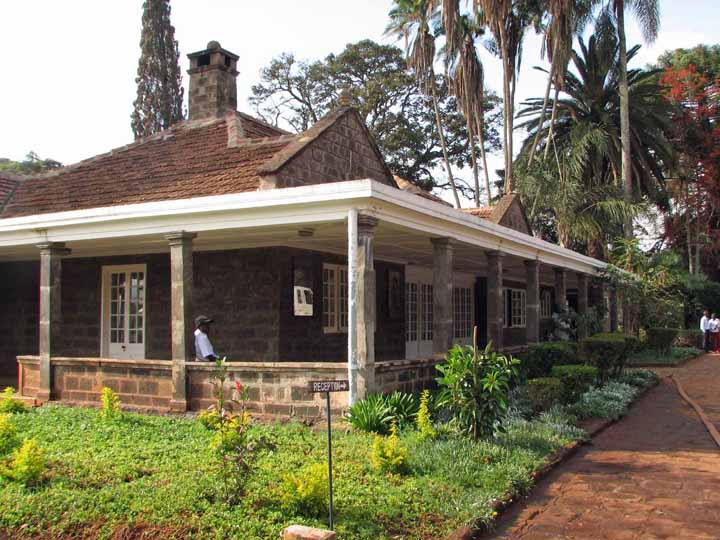 A clock over the main door.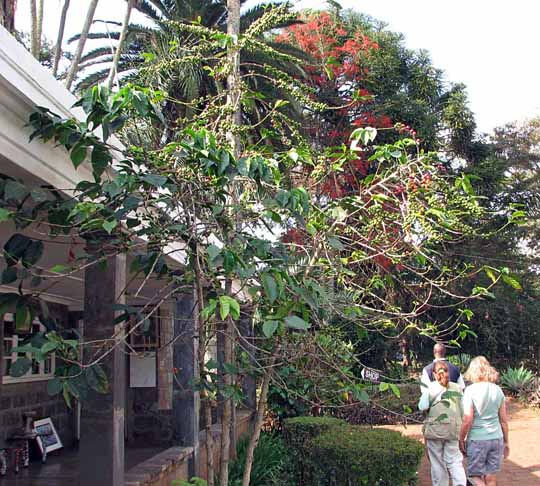 One of the very few remaining coffee trees
Coffee beans on that tree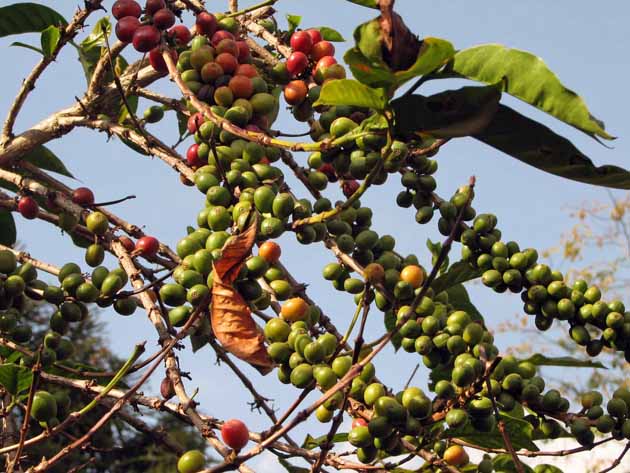 Eucalyptus trees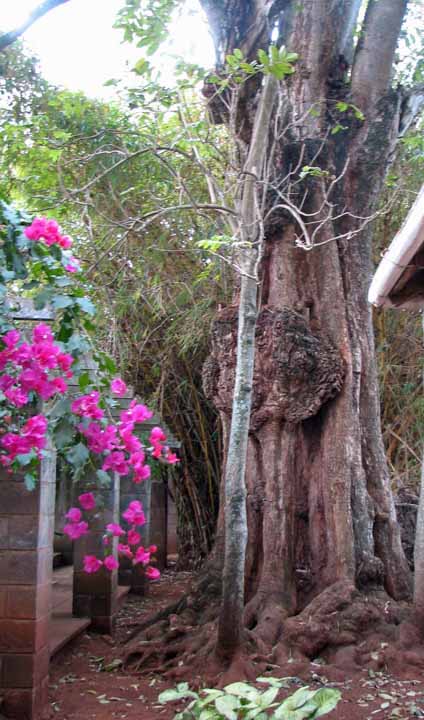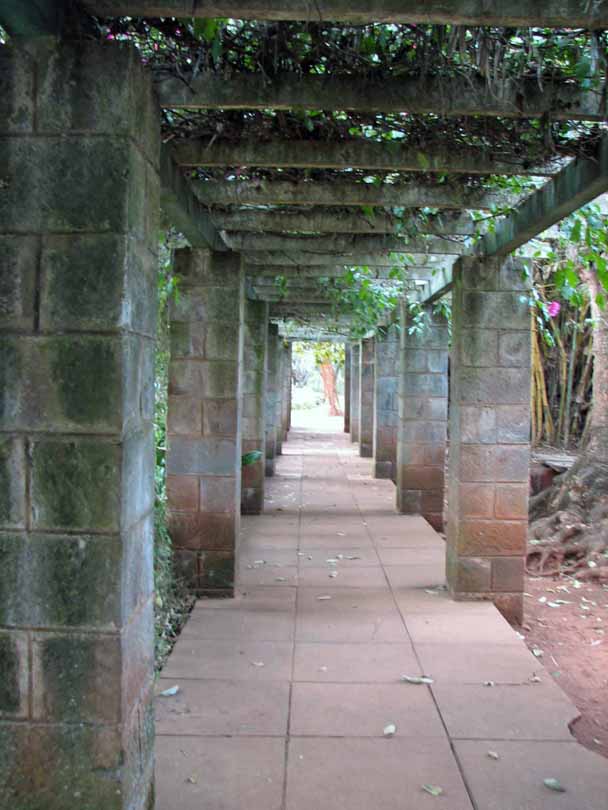 A breezeway beside the house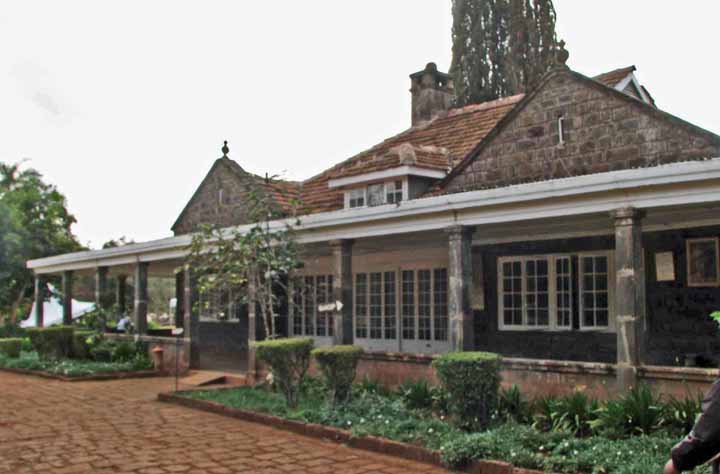 Mbogani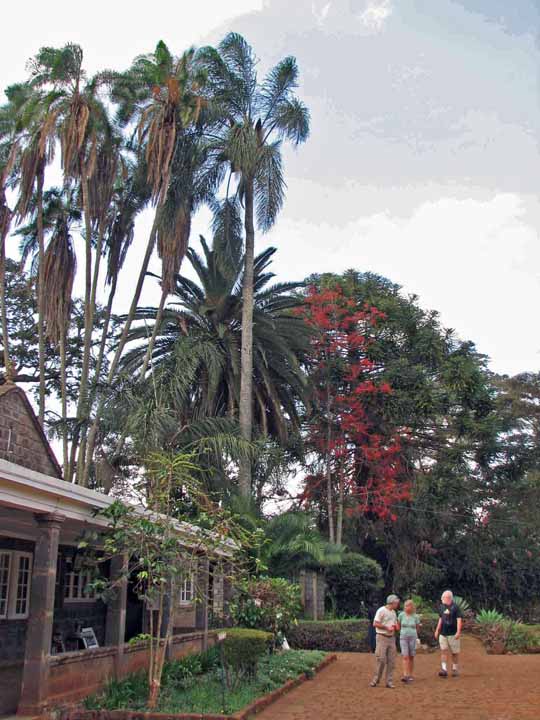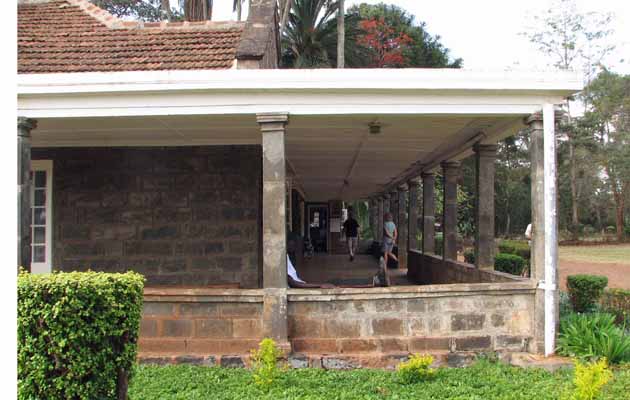 Her lover was buried on the top of the hill to the right. The natives say that years and years ago, the people became wicked, dirty and lazy. God knelt down and hit the earth with his fist. He said this would happen to all who did not go back to following his ways. Over the wedding tents (this a popular wedding location), you can see where God's knuckles hit the earth.


More beautiful grounds.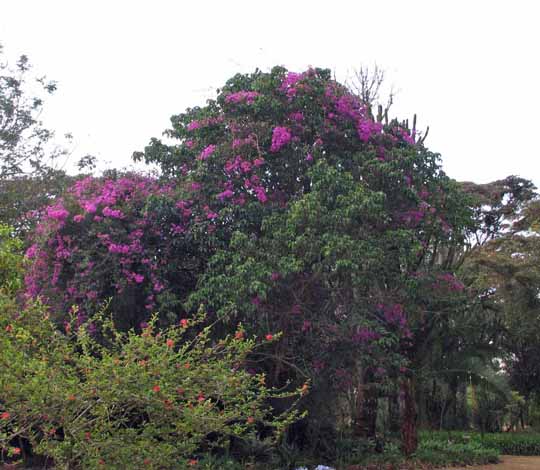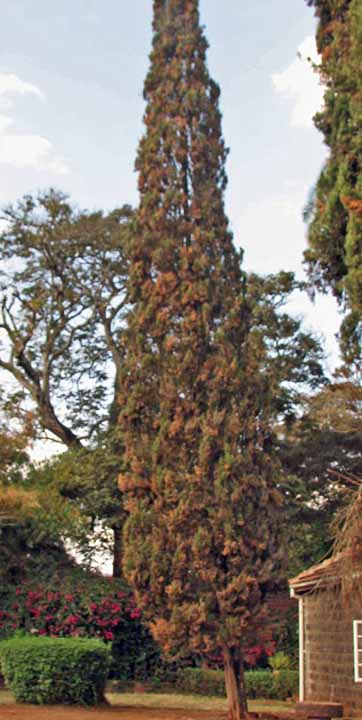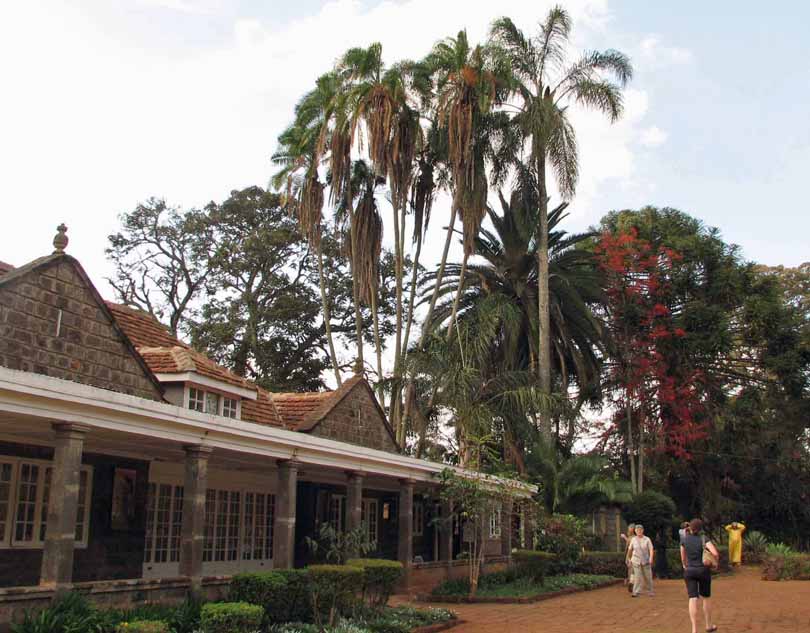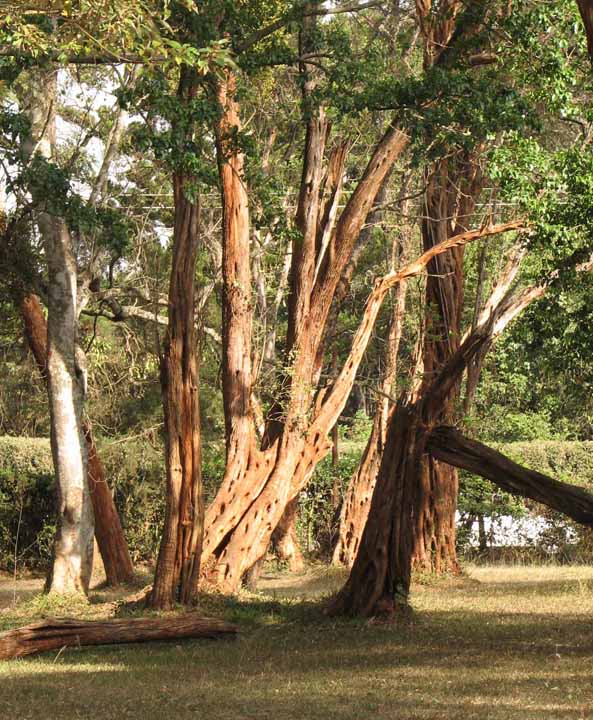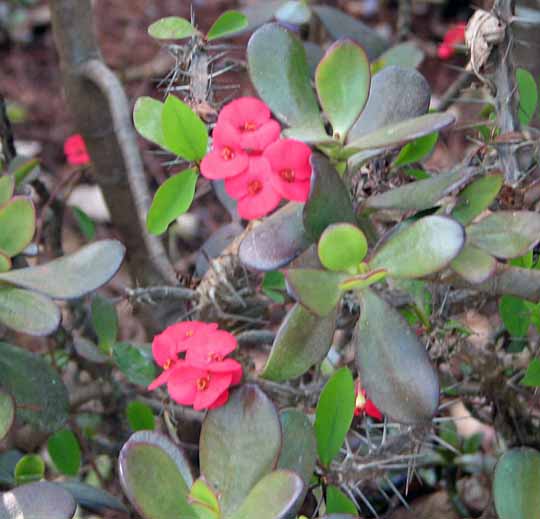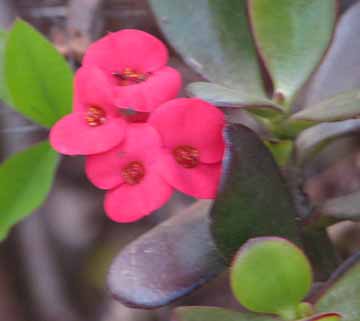 And now to the Langata Giraffe Center
(These were the only animals in captivity we saw the entire trip)
AND
The most amusing Rothschild Giraffe pictures involve kissing the giraffe. Please visit the
"Fellow Travelers" page to see them!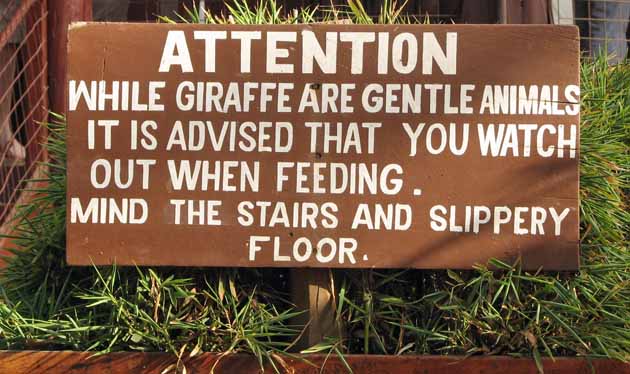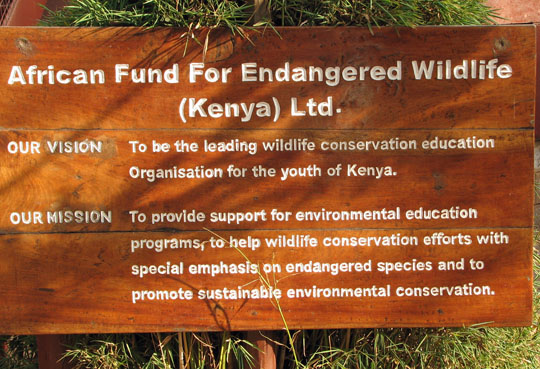 This center is founded and supported to protect the rare and endangered Rothschild Giraffe. The Rothschild Giraffe or Baringo Giraffe was found in abundance in Uganda as their original or primary home. Uganda is bordered on the south by Tanzania. The southern part of Uganda includes a substantial portion of Lake Victoria, which is also bordered by both Kenya and Tanzania.
When Idi Amin Dada ruled Uganda with the military for over eight years, Amin's rule cost an estimated 300,000 to 500,000 Ugandans' lives. He forcibly removed the entrepreneurial Asian minority from Uganda and devastated the economy. This relates directly to the endangered status of the Rothschild. His army was directed to use the giraffe for target practice.
Very few were left, and a number were captured to be raised and bred in safety at the Center as their wild population only numbers about 500.
The Baringo Giraffe is one of the 9 giraffe species that live in Africa. While, like other giraffes, it has brown markings, its patches are darker than the Somali giraffe's and tidier and less jagged than those of the Masai giraffe. Recently it has been proposed that the Rothschild Giraffe is actually a separate species from other giraffes and not a giraffe subspecies because this is the only subspecies to be born with five 'horns'. Two of these are 'true' horns at the top of the head, common with all giraffes. The third horn can often be seen in the centre of the giraffe's forehead and the other two behind each ear.
They are also taller than many other subspecies, measuring up to six meters tall (20 ft). This therefore qualifies them as the tallest mammals in the entire world.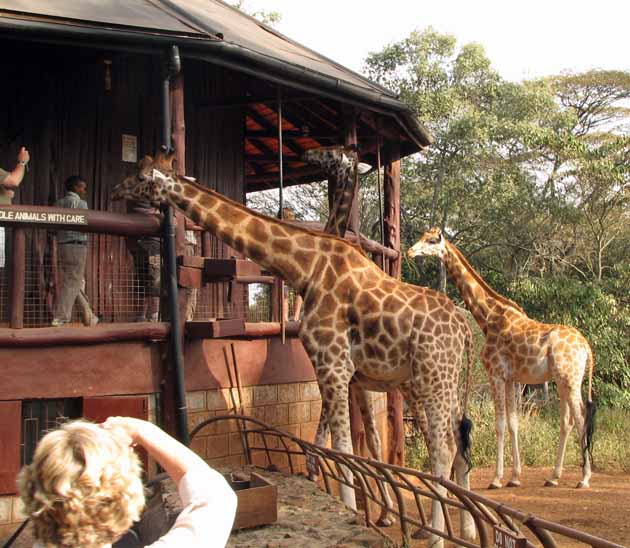 The Rothschild's waiting to get their treats. The one in front is the big buck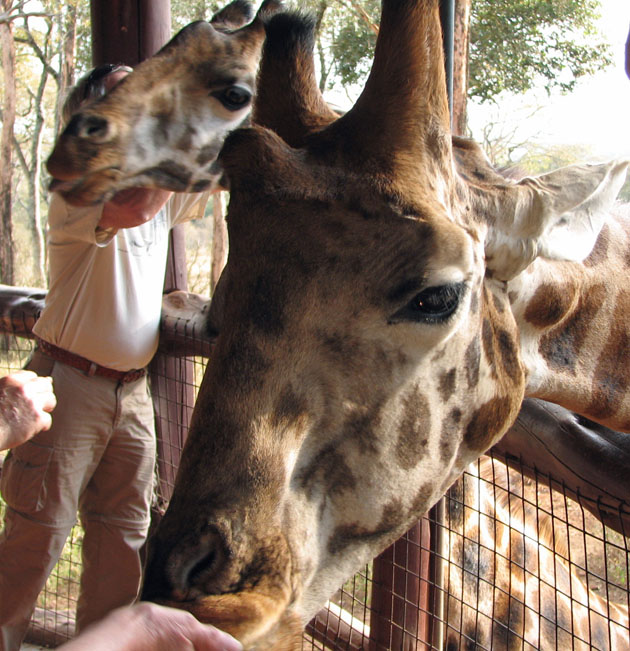 They are very gentle and look forward to licking your hand to get the treat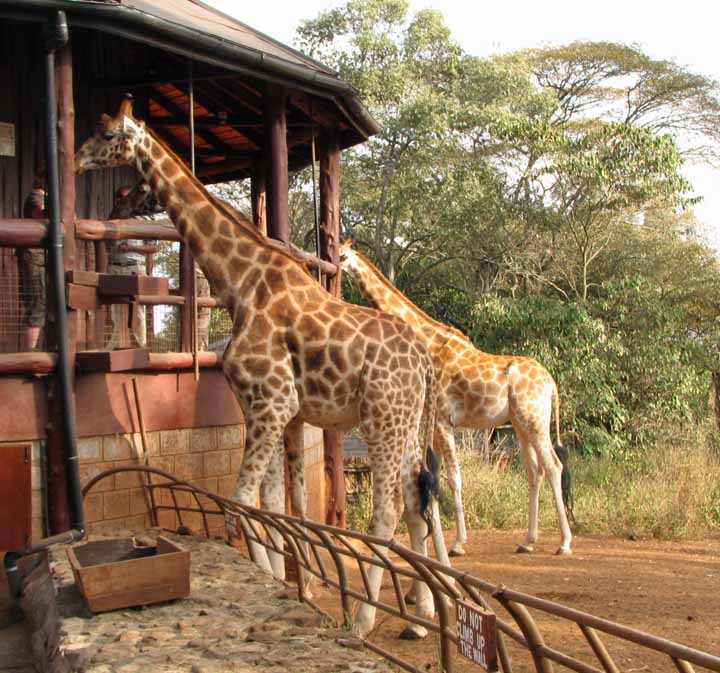 It only takes one visitor to attract the beggars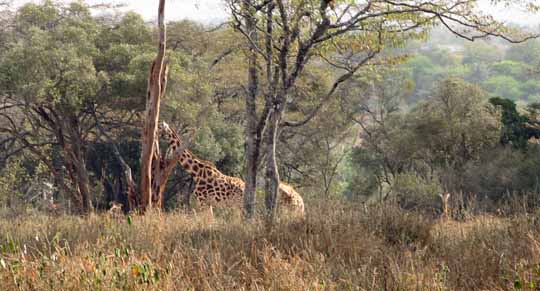 They are in a very large compound and blend in well with the brush and trees.
Here you can clearly see the horns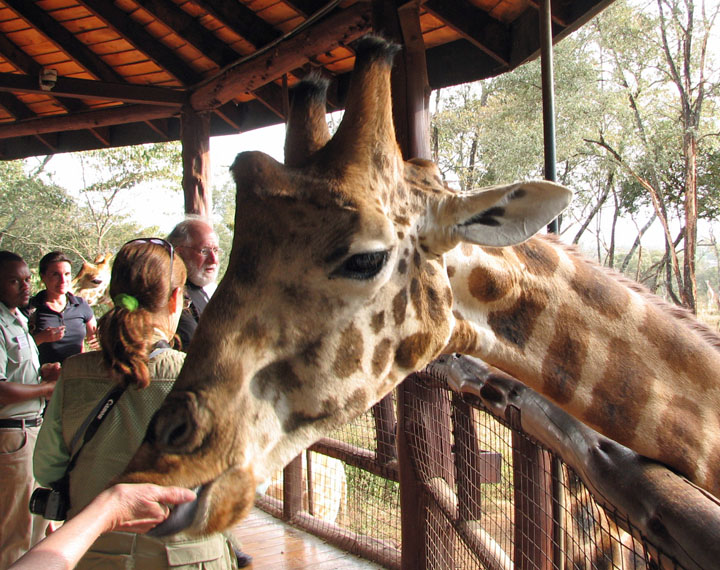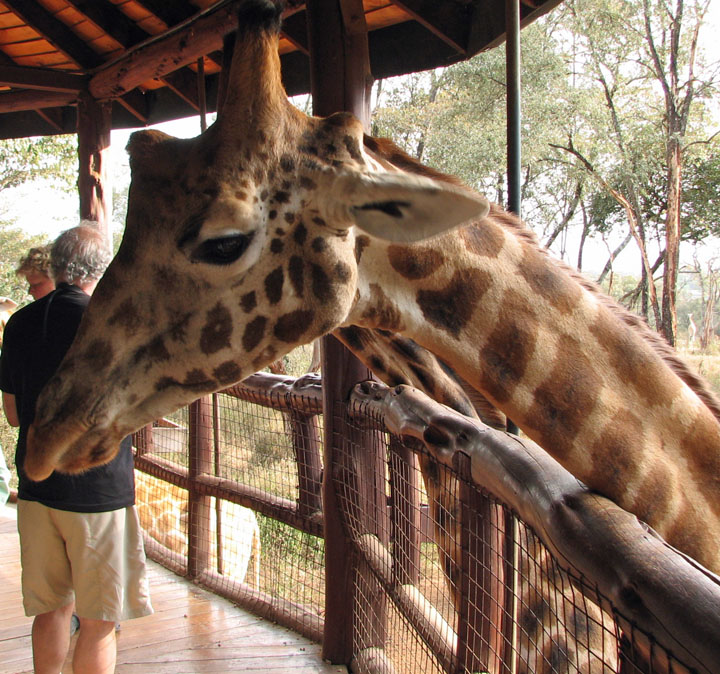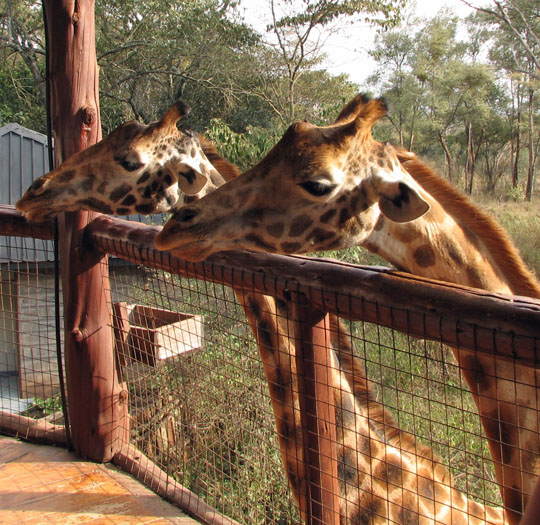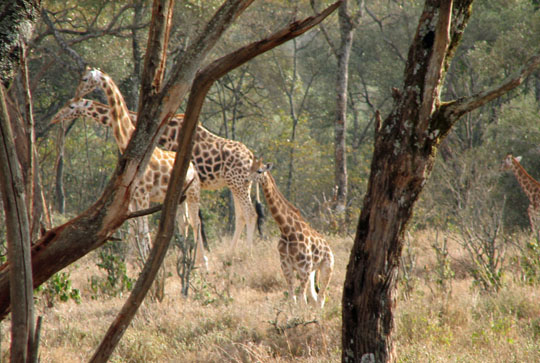 In comes the baby - everyone coos!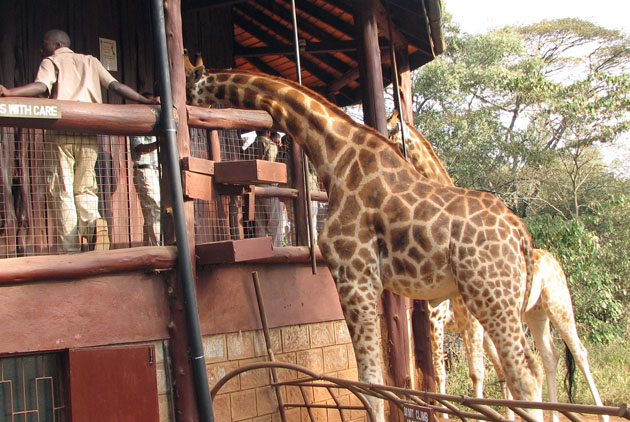 The seniors are taking all the treats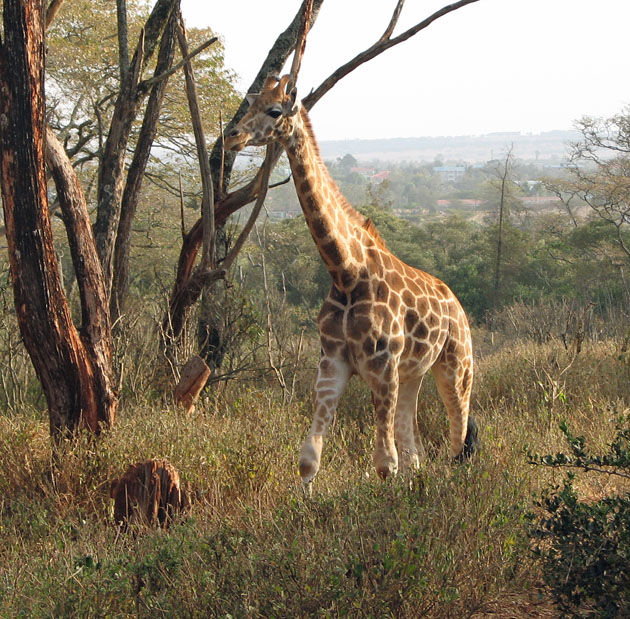 Baby is attracted to the treats and the others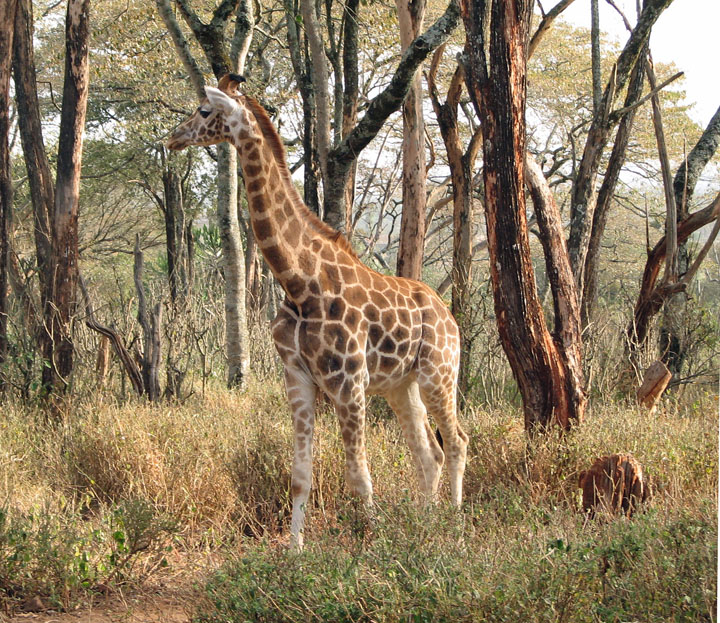 Coming in!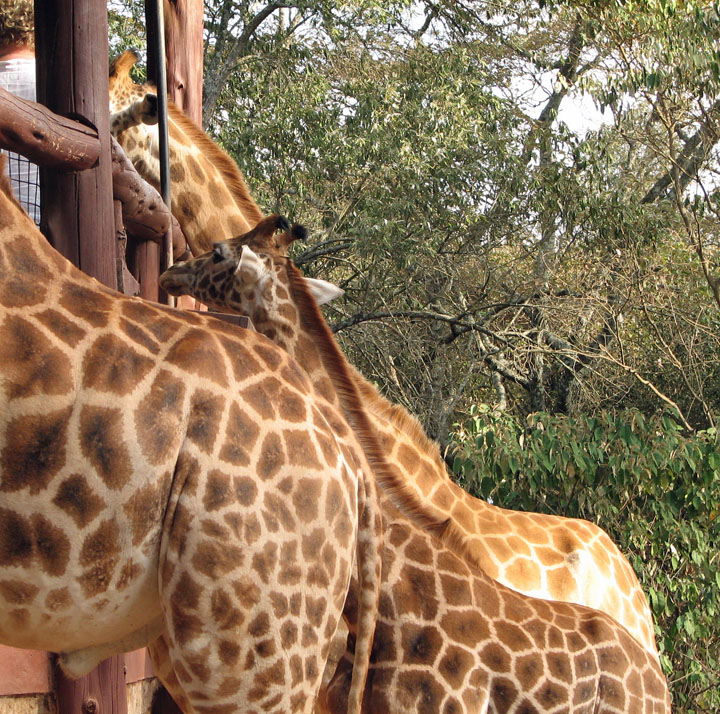 Trying to shoulder her way into the crowd
Success - a few treats !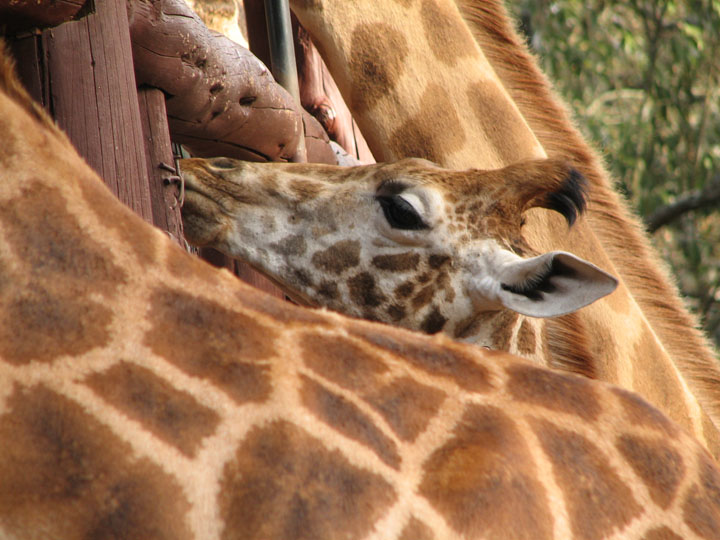 "I'll get my share", she says.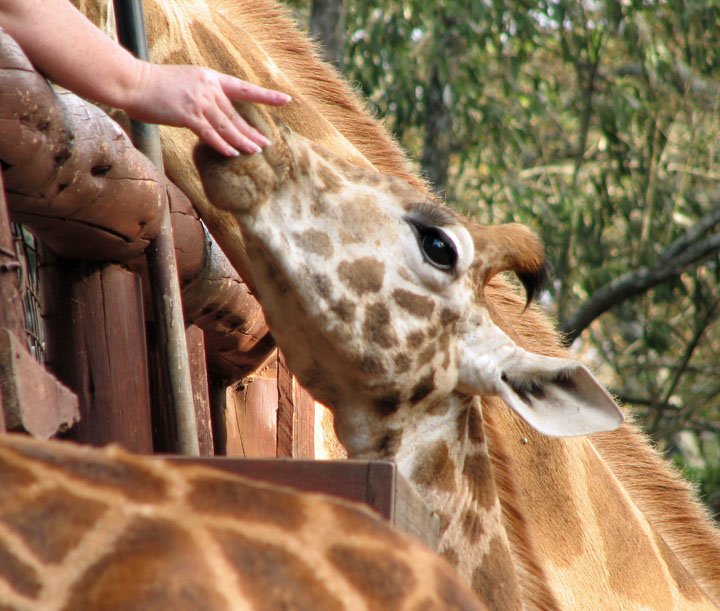 Jackie watches the action from near the hand washing station and the snack bar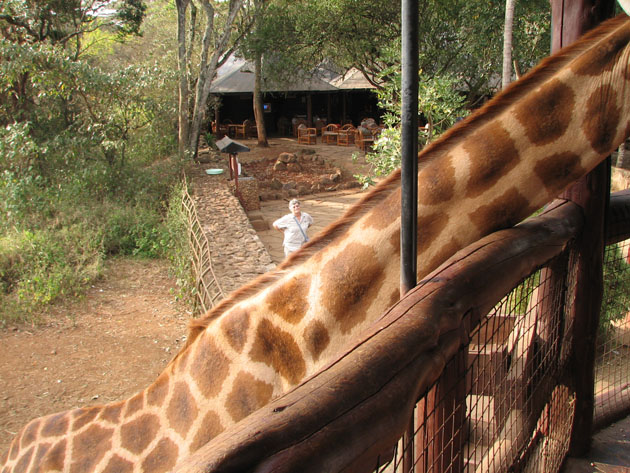 And Now We're Carnivores!
And at last, the day wears down. For several companions, this is their last night in Kenya. The remaining eleven of us are off to Tanzania tomorrow at 7:30. We're lucky, the folks leaving are out of here at 3:30 am!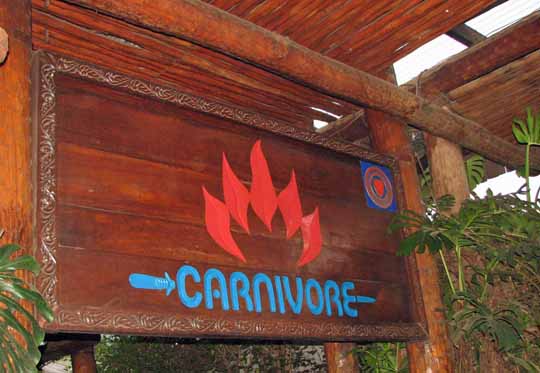 The Carnivore Restaurant is a must for tourists - however the majority of the folks there appeared to be local or part of a wedding party. The meals looked expensive - you'll see in a minute - but the full course meals we had would run about $31 USD.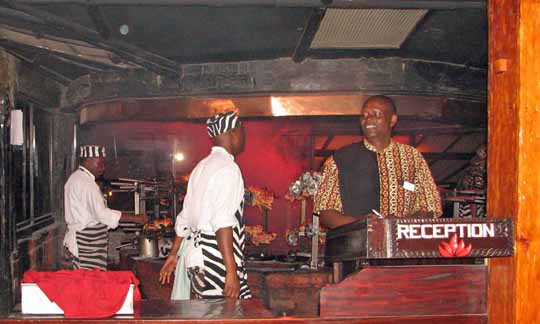 You go in to the reception desk, behind which is a circular grill full of firewood and coals. Its perhaps 15 feet in diameter. It, in turn is surrounded by meat on spits.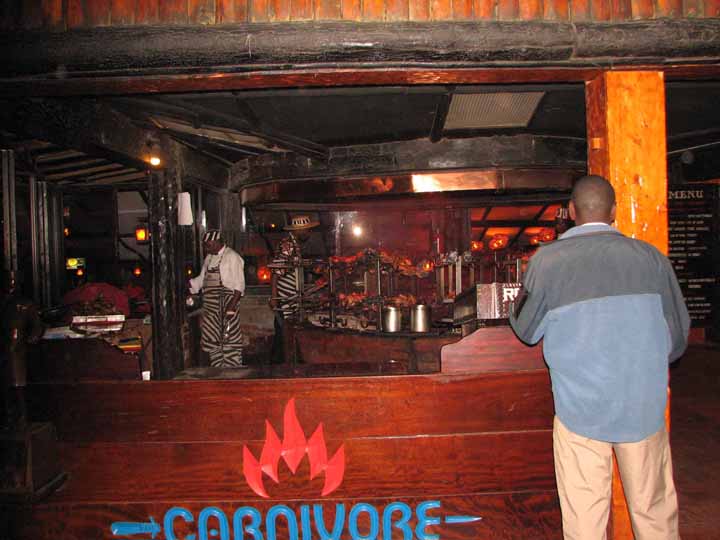 Looks bit like Hell when pictured without flash, doesn't it?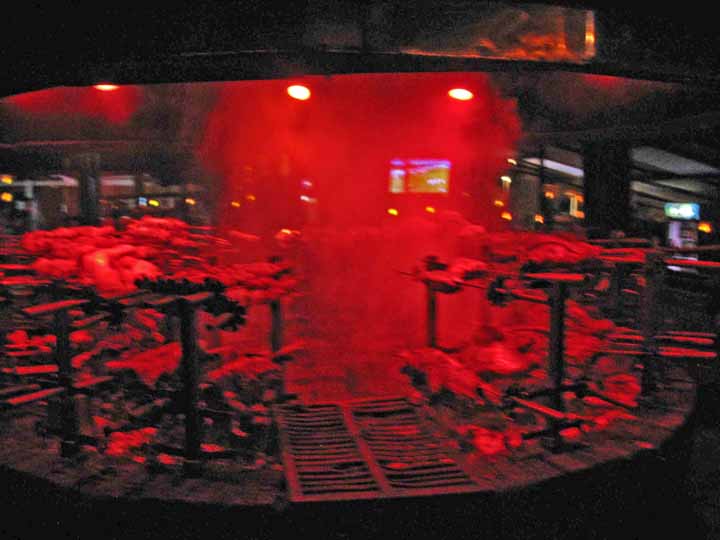 We're gathered around the table, not certain about what happens next.
We were given a small Kenyan flag on a pole. We were told we would be served continually until we surrendered. Surrender is signified by toppling the flag flat on the table.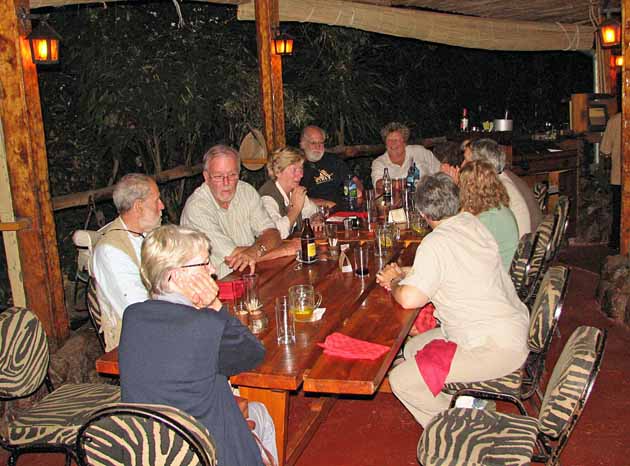 Yes, there was full house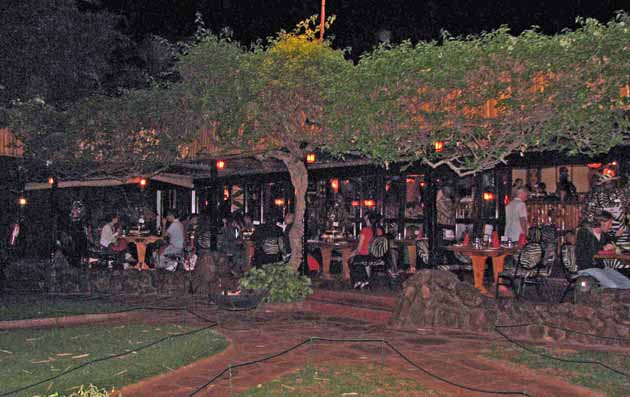 We were brought some breads, potatoes and an unusual salad. A number of us were daring and purchased a drink. It had rum, a freshly squeezed lime and lime juice, honey and some other things I've forgotten. not bad!
And now we find out about the spits of meat. A server would bring over a spit with a meat on it - the meats included pork sausages, lamb sausages, lamb legs, beef, turkey, chicken, ostrich legs, crocodile and ostrich meatballs, and more. A few moments later another server would come with his spit. After several rounds, the server would come up and take requests. By the way, the ostrich was great.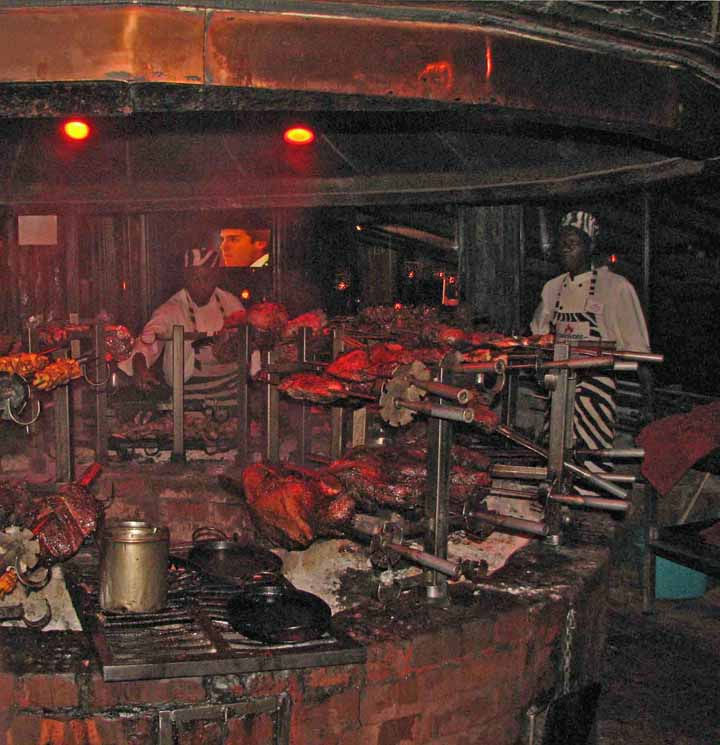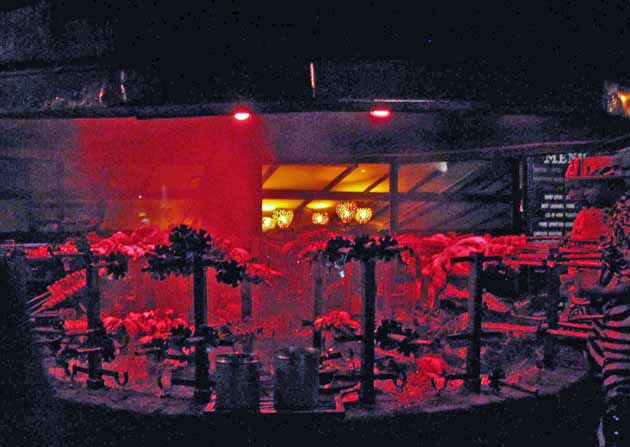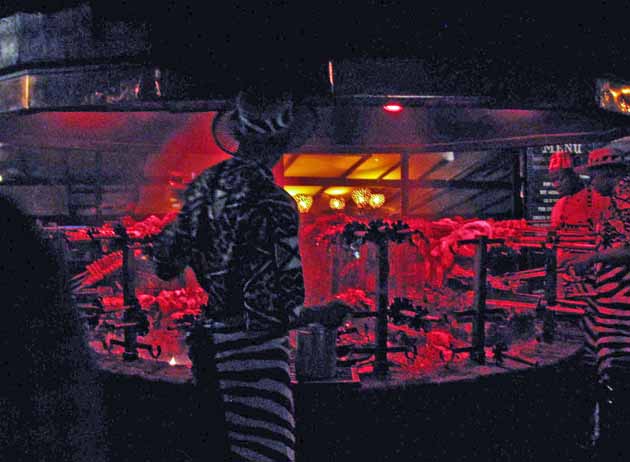 None of us were willing to go to the Simba - but ready for repacking for Tanzania and on to a short night's sleep.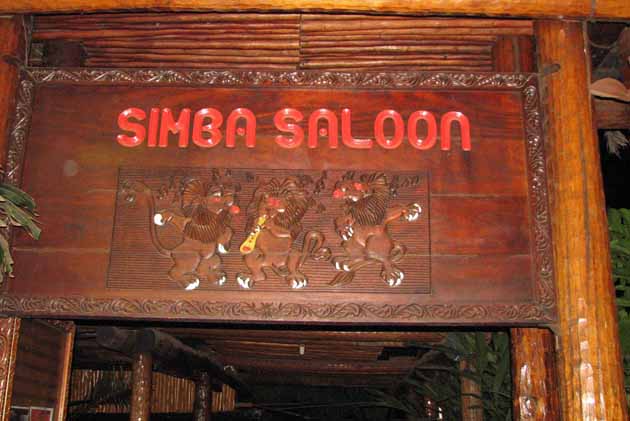 Roads
Yes, we have pictures of the roads. They were difficult to take - again from a back seat and while being a victim of the roads.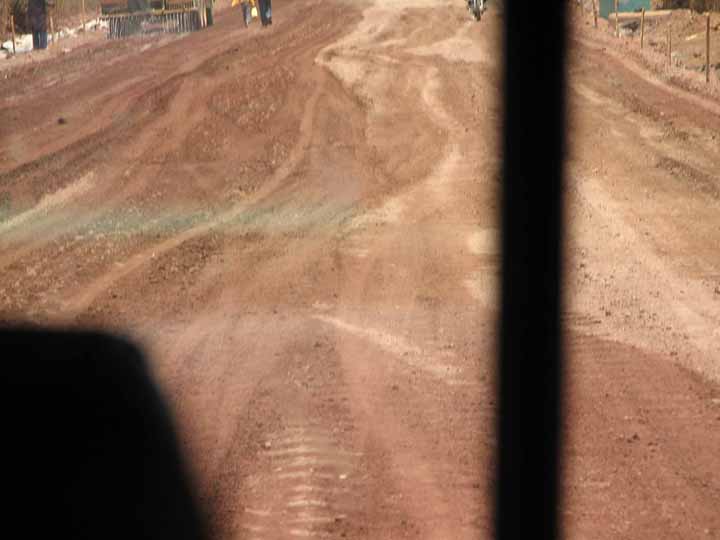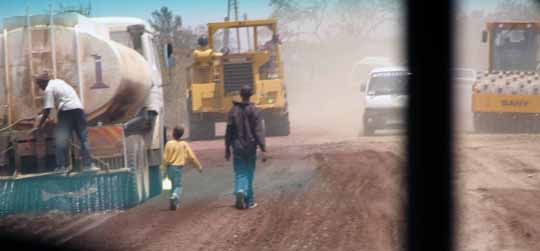 Road Blocks
Jackie and I have always said during a trip, "Timing is everything!" Pure luck, being at the right place at the right time is better than any planning one could possibly do. Timing has allowed us to get much more out of every trip than we could have ever planned for.
And so it was throughout this trip - you'll be able to tell from the animal pictures. BUT let's start out with the first unplanned activity: The Masai Road Block on the Moro Road.
The Maasai Roadblock on the Moro Road
We come to a stop; vans cars and busses up the hill before us - all stopped. .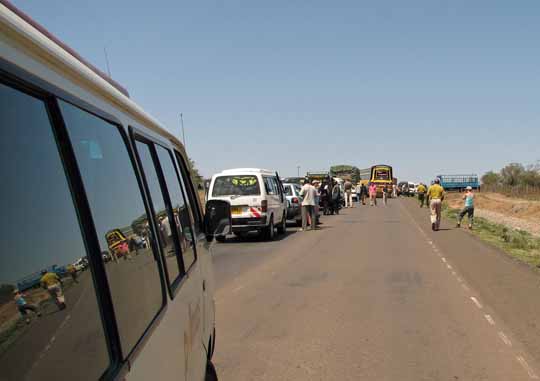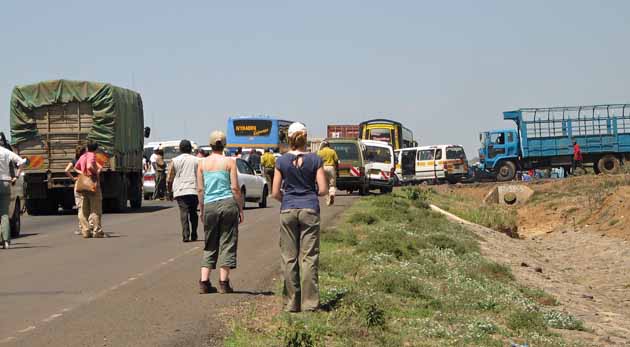 We walk up, but see only a confusion of vehicles.
Down the road, more vehicles pile in behind us.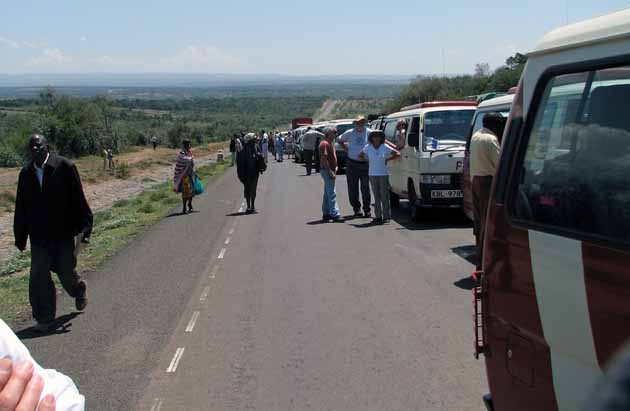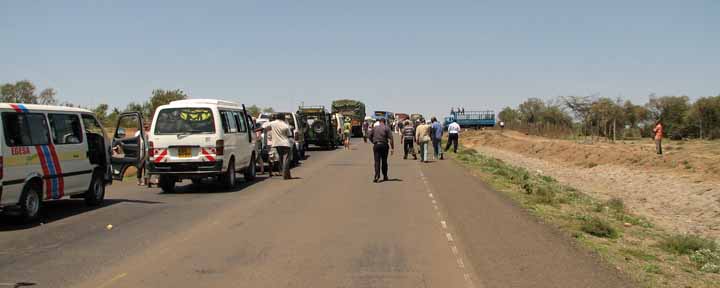 While some wander, some "stand guard" while their companions pee in the bushes.
We learn three Masai hit by a truck late last night. Two died. They were selling charcoal on the side of the road - not beside the road, but on the road. The Masai are furious and want some action taken. Until it is taken, they will not permit any traffic to move on the Moro Road.
Negotiations with the government and road officials are going on. What is making this even more complicated is there are two Masai tribes each with their Tribal Elder, and those two Elders cannot agree. One elder wants "humps" put in immediately - or no traffic will pass. A "hump" is very much like one of our traffic bumps - on steroids. A hump may be 12 or 15 inches high, and 6 feet wide. One never speeds over a hump - one stops and slowly drives over it - even Hodge. The other Elder wants the road closed - period. He wants it torn up in its entirety.
After a hour or so, it really doesn't seem that long since we have been there, traffic starts to move and we're on out way. As will any rubbernecker worth his salt, pictures of the wreck follow. The Masai will not permit the truck to be moved.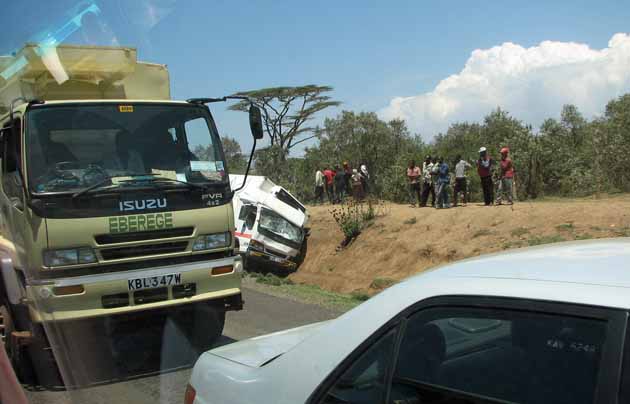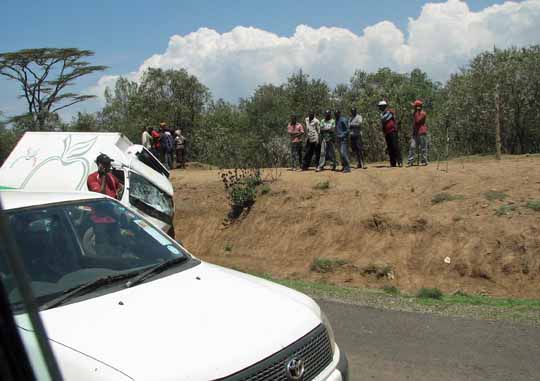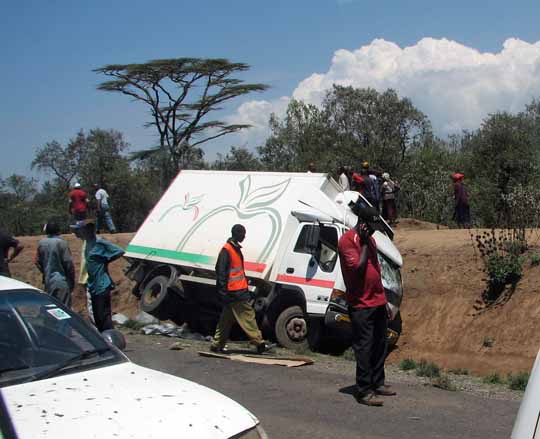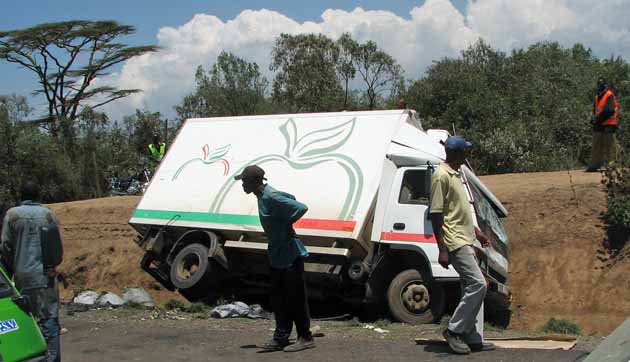 ~ ~ ~ ~ ~ ~ ~~ ~ ~ ~ ~ ~~ ~ ~ ~ ~ ~ ~~ ~ ~ ~ ~ ~ ~ ~ ~ ~~
So we've had a terrific visit in this part of Kenya, Masai Mara, and we're headed to a new location. However, we have to go back on the hellish Moro Road.
We get to approximately the area of the Maasai Roadblock, and we hit another road block. We think it is a continuation of the Maasai Roadblock, but its not. Hodge is very silent on the cause. However, the night before he asked me for picture you will see later, of a guide's van with a sheared axle. Now that I think about it, I feel certain that Hodge and his fellow guides have been talking about more than animal sighting locations on their radios the last few days. There has probably been some heavy duty planning sessions going on. It seem just too coincidental that all these guides and all these tourists, along with local sign bearing personnel just happen to show up at the same time. Anyway, We're in the Guide / Tourist Road Block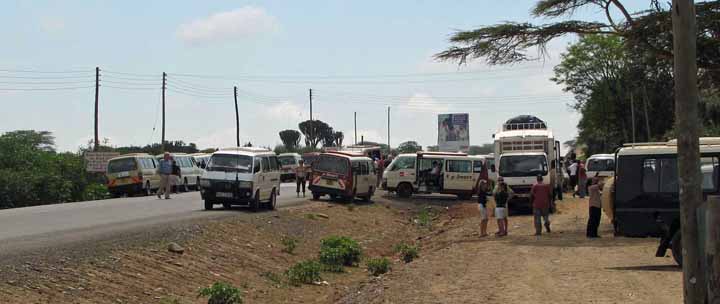 Again, cars, vans and busses - but primarily tourist safari vans - block the Moro Road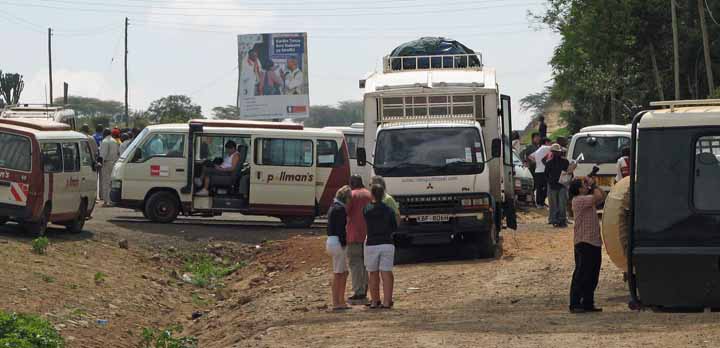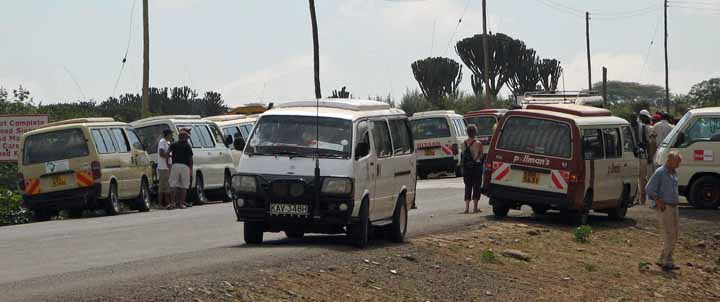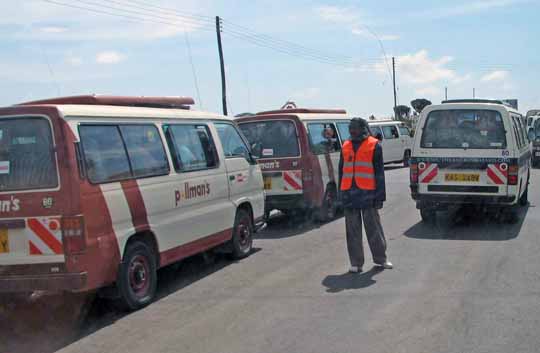 Gee, the guides seem to have something to discuss!
Hodge is to the right.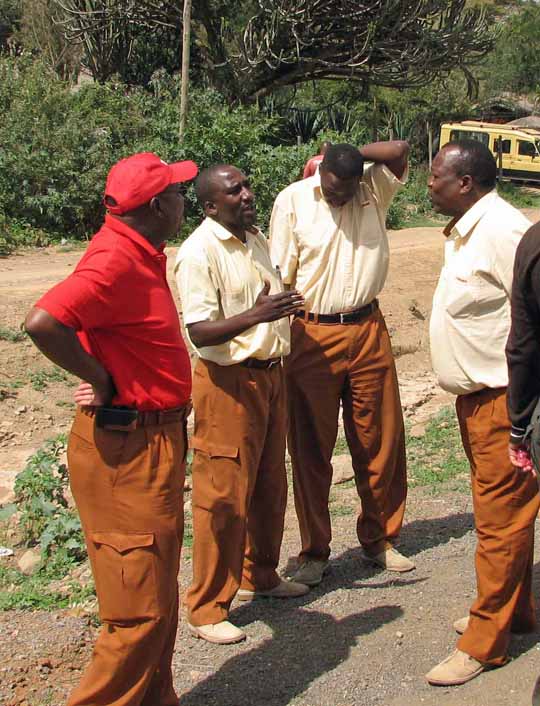 Tourists, as usual - like me - have their cameras out.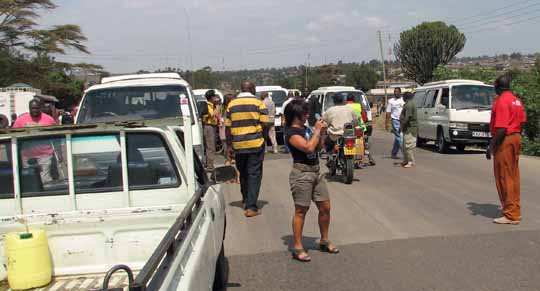 We find that this is a protest by both guides and tourists
regarding the lousy condition of he Moro Road.
The protesters, along with chants and shouts, point out that this almost non-existent Moro Road is costing Kenya millions of lost tourist dollars. Visitor, like me, are warning potential tourists that they are taking their health in their hands when traveling these roads.
The guides are losing their health, their potential earnings and their vehicles because of the road and then the loss of tourists. The protesters want some of the vast millions of dollars in tourist money to be invested in this road - and want to know where the tourist money is being spent by the government.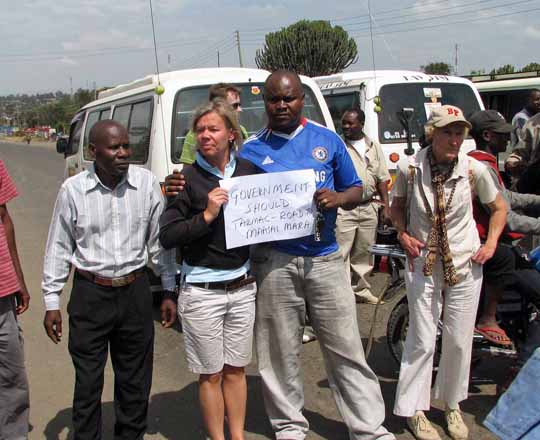 Guides and tourists protest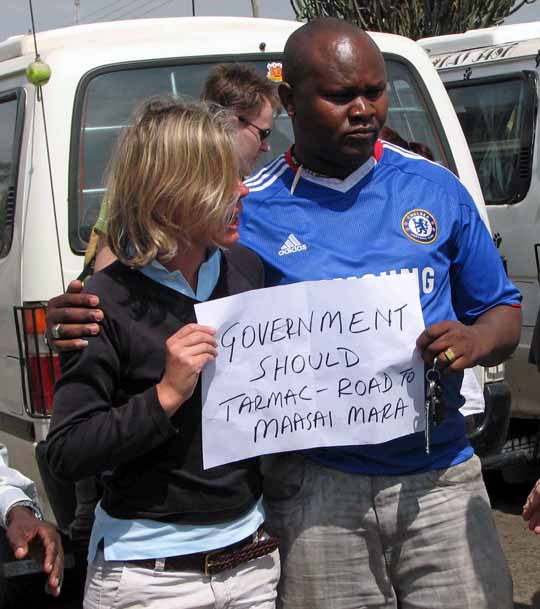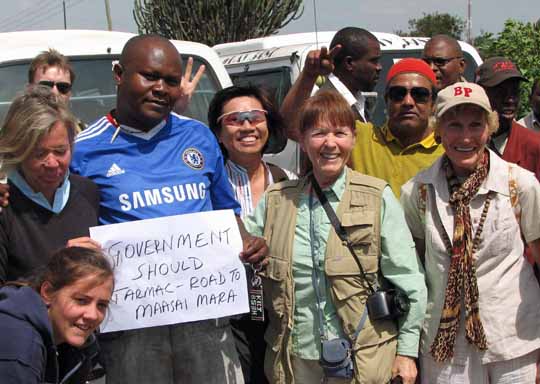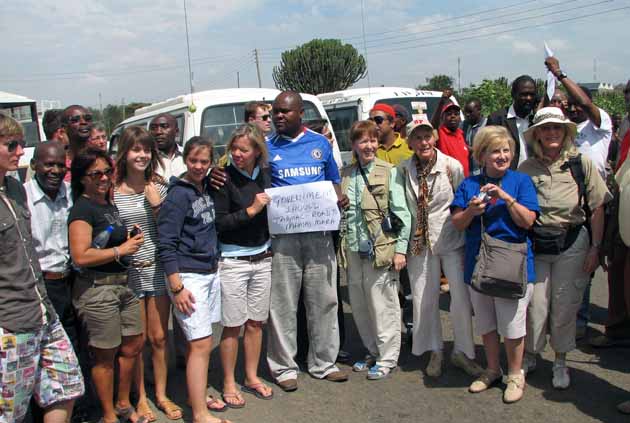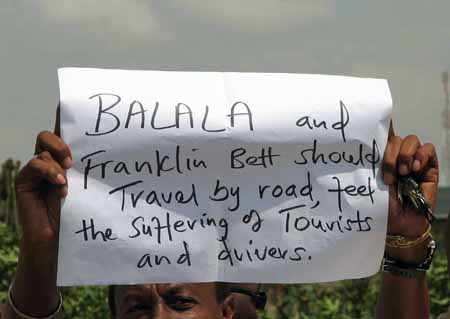 ~ ~ ~ ~ ~ ~ ~~ ~ ~ ~ ~ ~~ ~ ~ ~ ~ ~ ~~ ~ ~ ~ ~ ~ ~ ~ ~ ~~
So, we pass this Guide / Tourist Road Block, and we've gone only abut ten miles when we hit another road block:
The Aids / HIV Awareness Roadblock
OK, this was more a march and awareness parade than a road block, but they blocked the road for a while, none-the-less. This was a group on foot and in pick up trucks, trying to make the community more aware of both HIV and Aids - Both have reached epidemic proportions in Africa.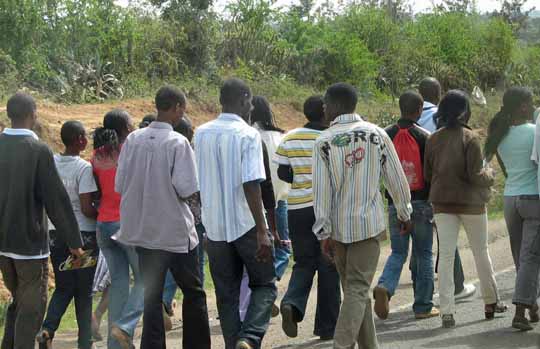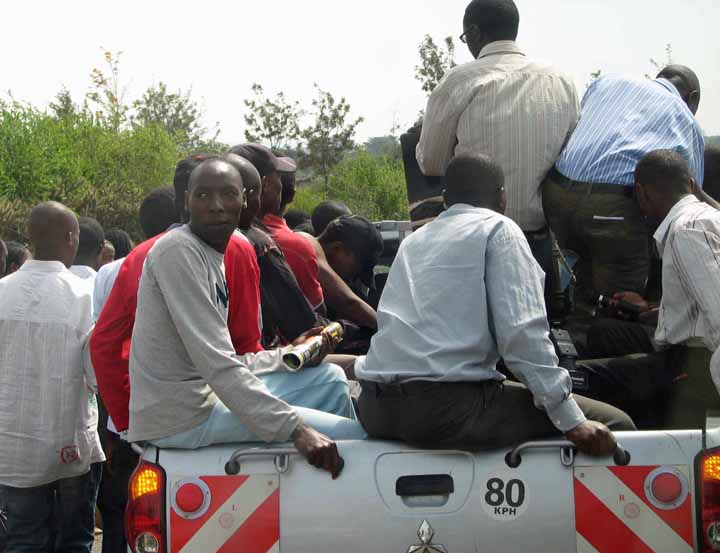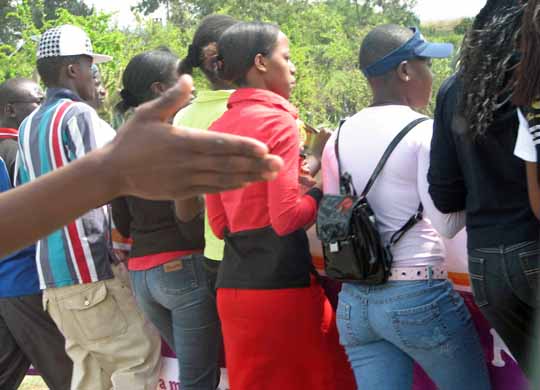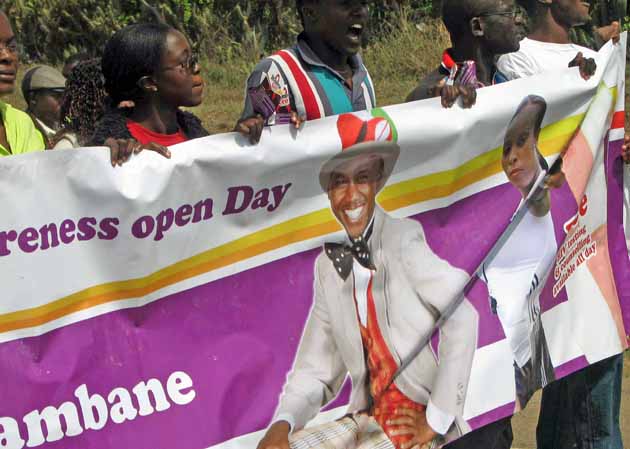 ~ ~ ~ ~ ~ ~ ~~ ~ ~ ~ ~ ~~ ~ ~ ~ ~ ~ ~~ ~ ~ ~ ~ ~ ~ ~ ~ ~~
So all this road block business is over, right? But no! Just a few miles down the road, at the next village, we are stopped again for the
National Wash your Hands Awareness Parade
Like before, this is more of a parade than a road block. But we did have to stop and let the road clear. This group is primarily made of of children. They have marched down the road with small banners and are going to a large field next to what appears to be a school.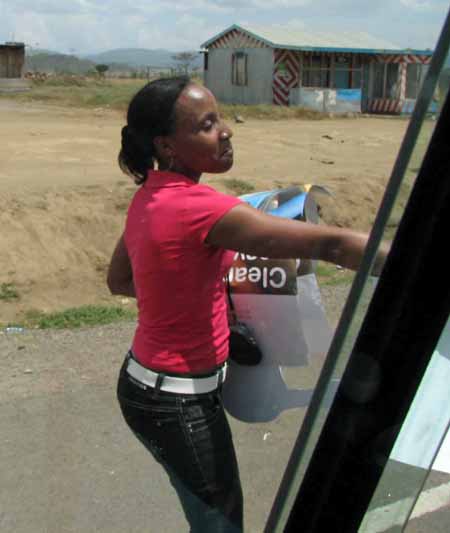 Showing us the banner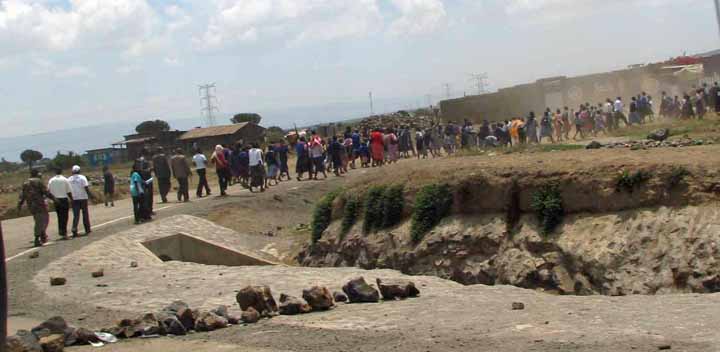 The children march to the field - stirring up the ever present dust.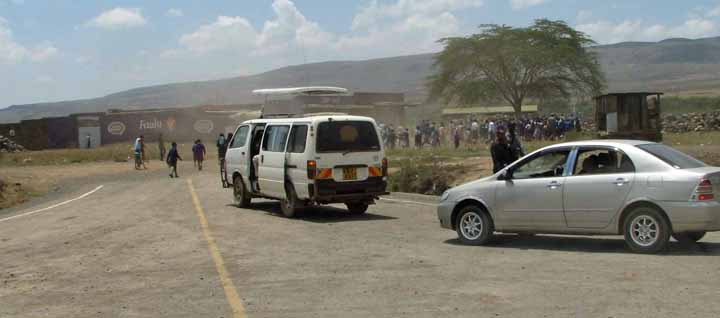 ~ ~ ~ ~ ~ ~ ~~ ~ ~ ~ ~ ~~ ~ ~ ~ ~ ~ ~~ ~ ~ ~ ~ ~ ~ ~ ~ ~~
So FINALLY we get finished with the Moro Road
and are off to new adventures and animals on our Kenya Safari