Ngorongoro Conservatory
A World Heritage Site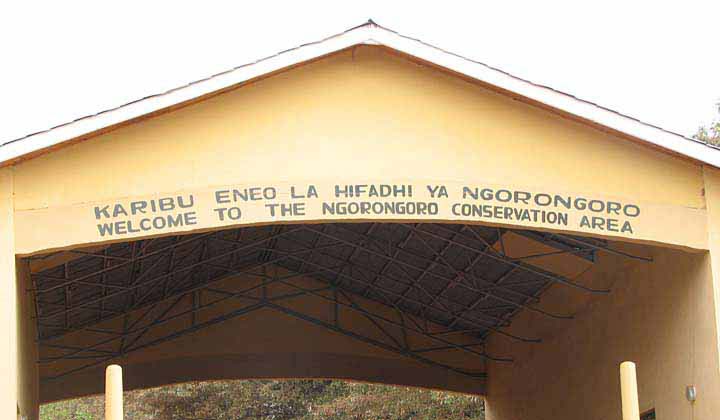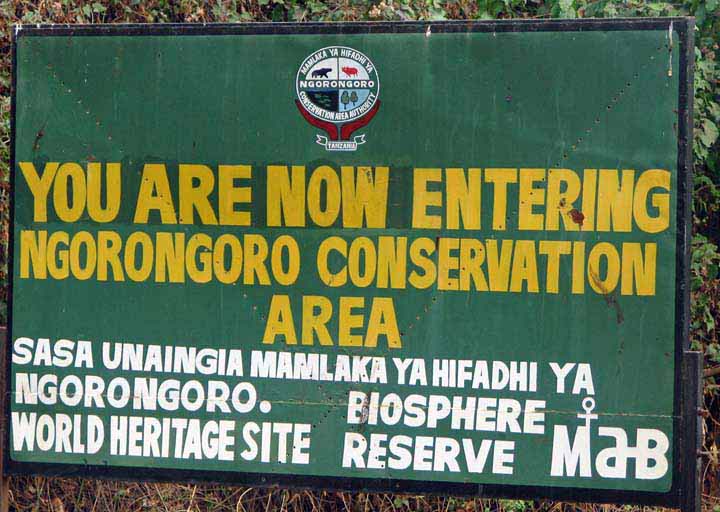 The gateway to the Conservatory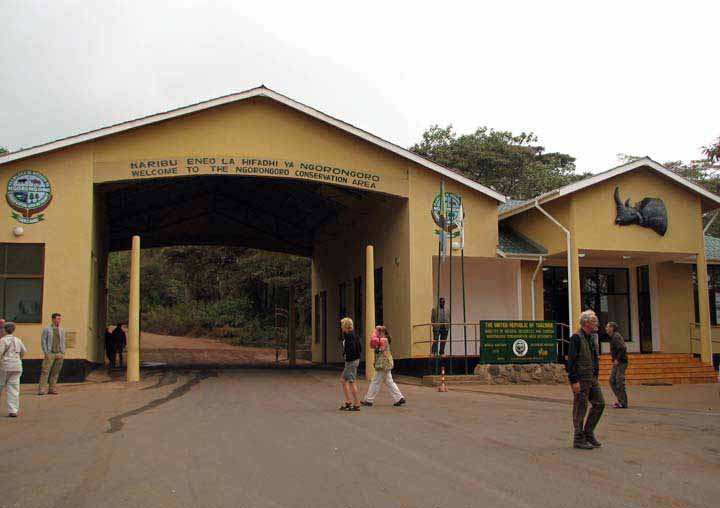 A museum is on the left hand side of the gateway.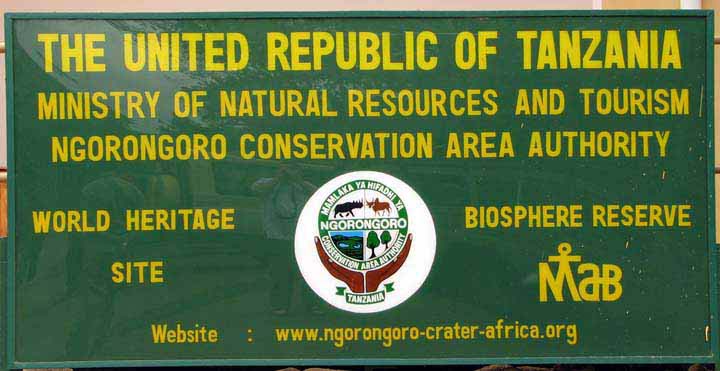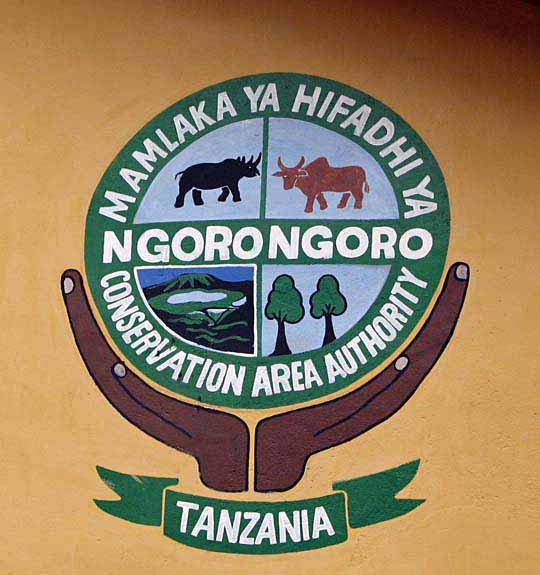 In it are descriptions and models of the crater. This caldera is one of the most perfect in the world. It is 1,800 feet high and has a floor of 263 square kilometers. There is a road going around the circumference, but only three roads into the caldera. One is down only, one is up only, and only one is two way. They are very strict about allowing people in and Samuel said to tour the displays because it would take a while to get our entrance papers.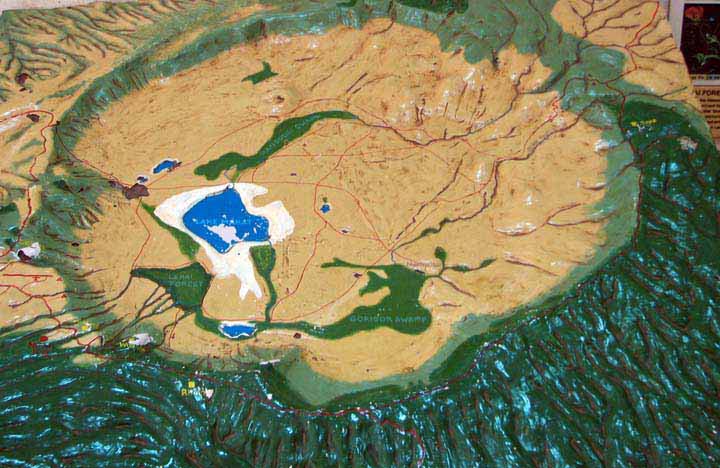 The road to the top of the caldera from the entrance. Dust - turned the vegetation red.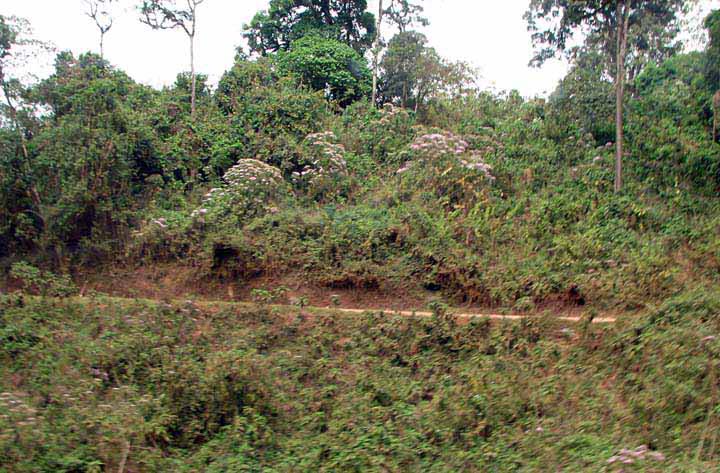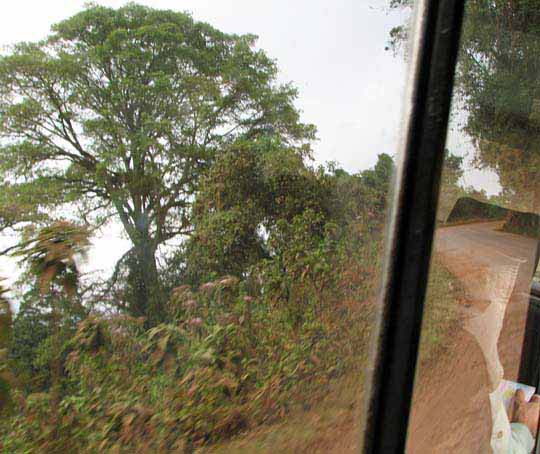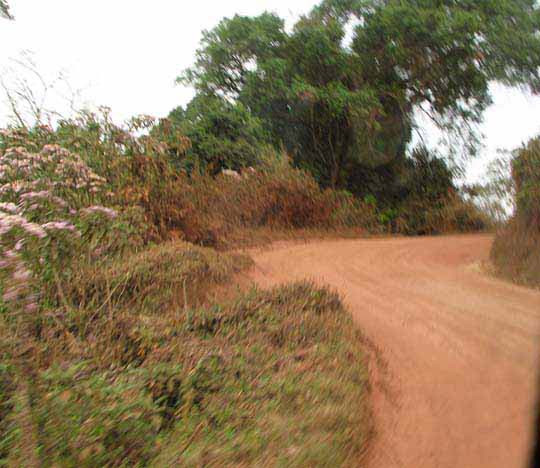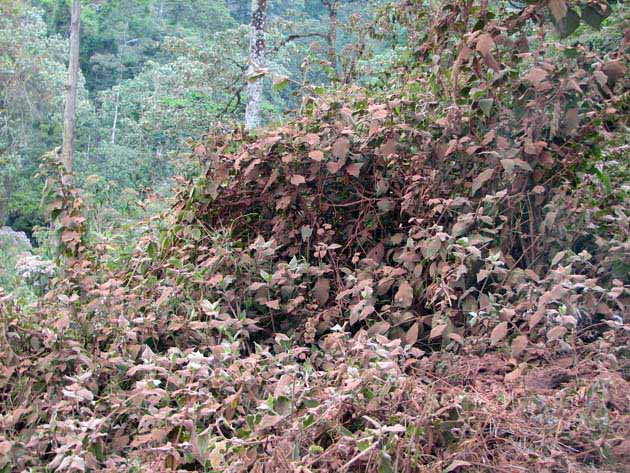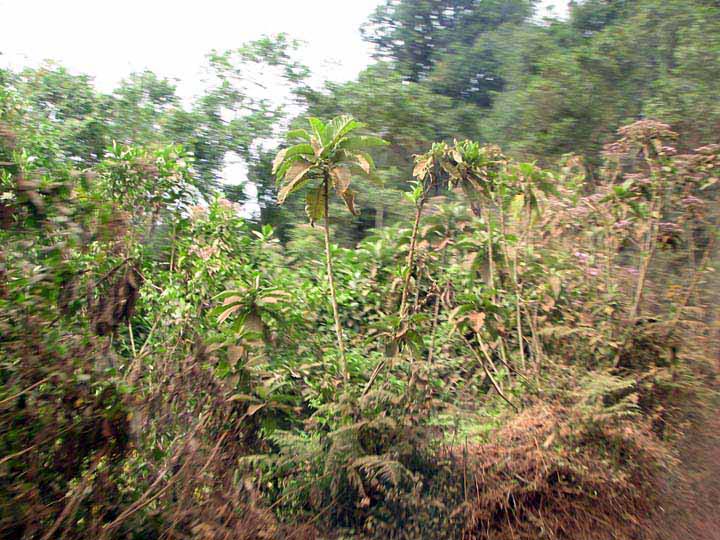 The top of the caldera - looking down into the floor of the volcano field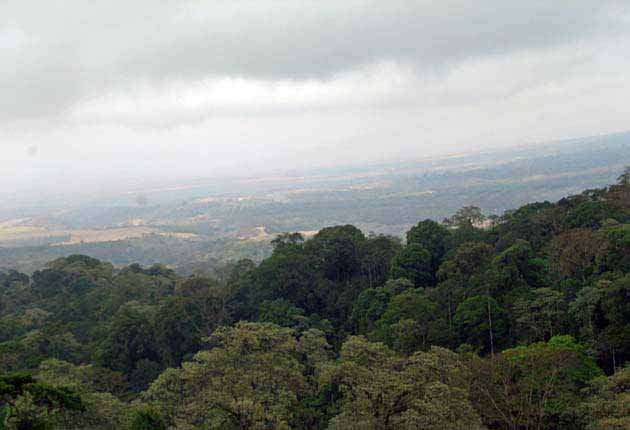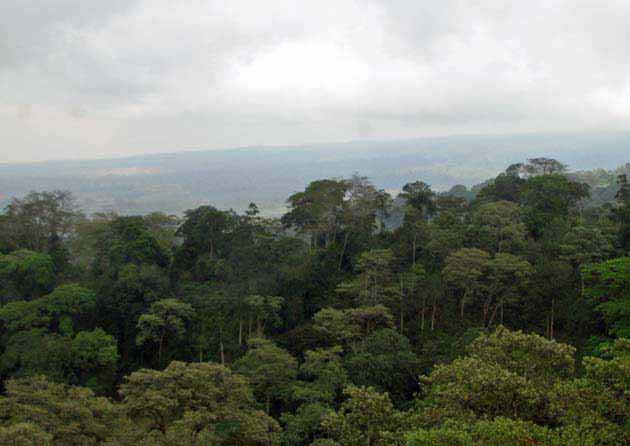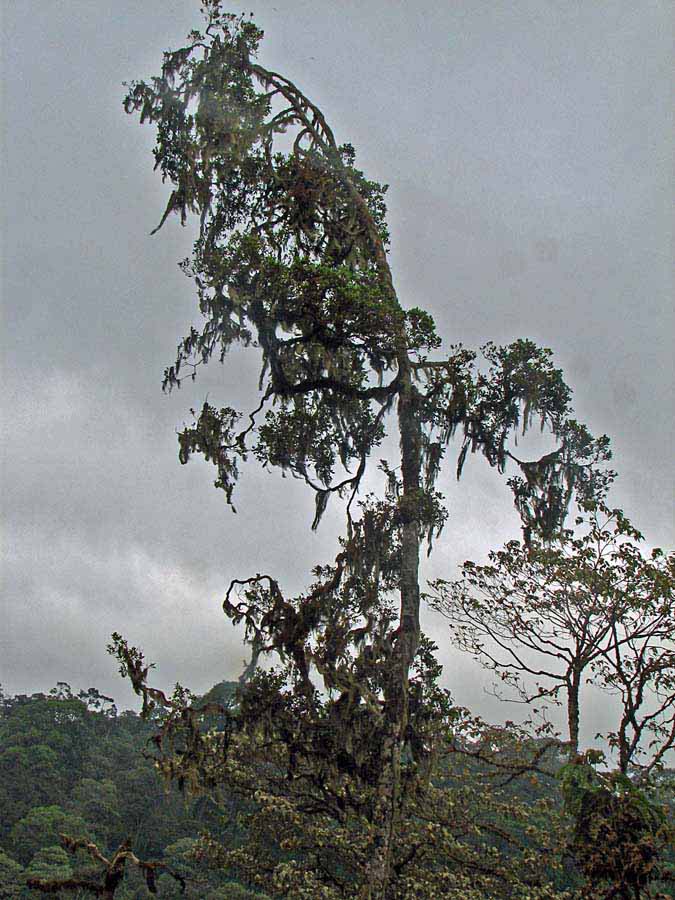 The clouds breeze by, and its a bit chilly.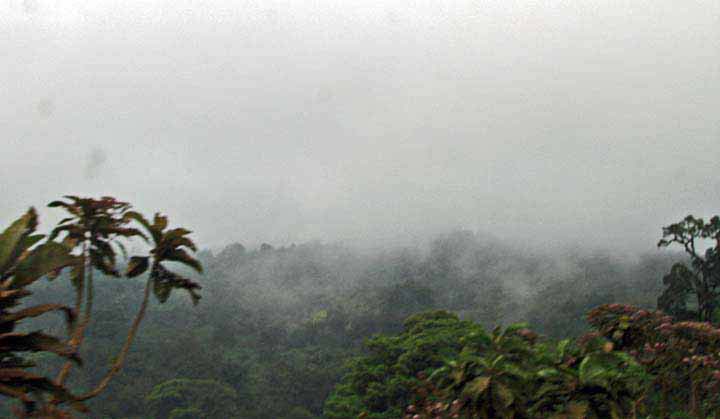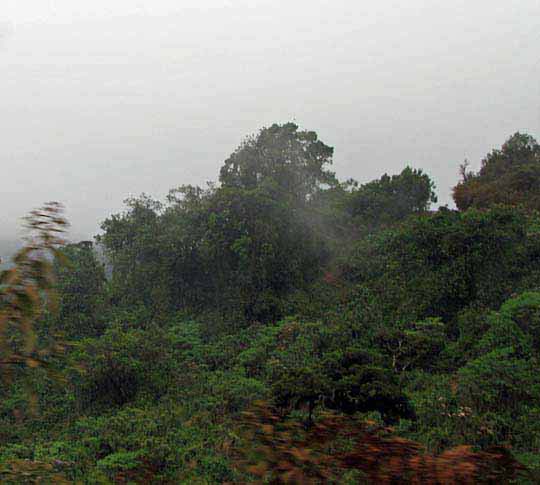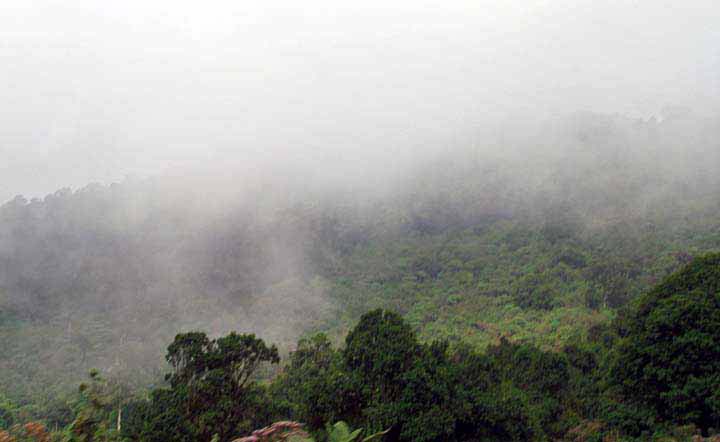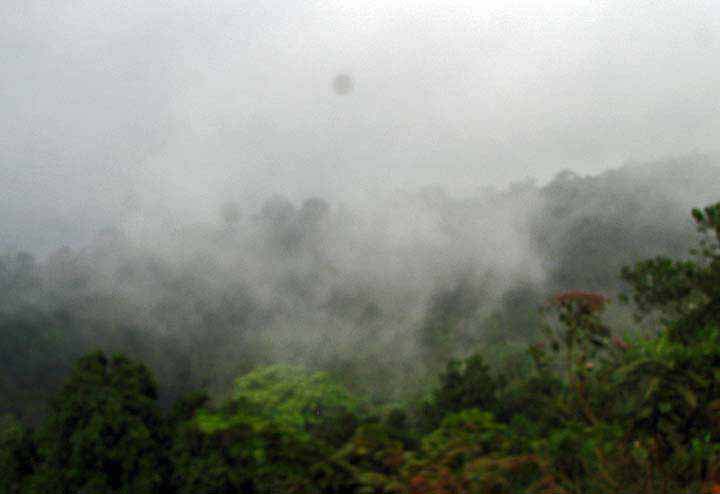 Clouds sweep over the edge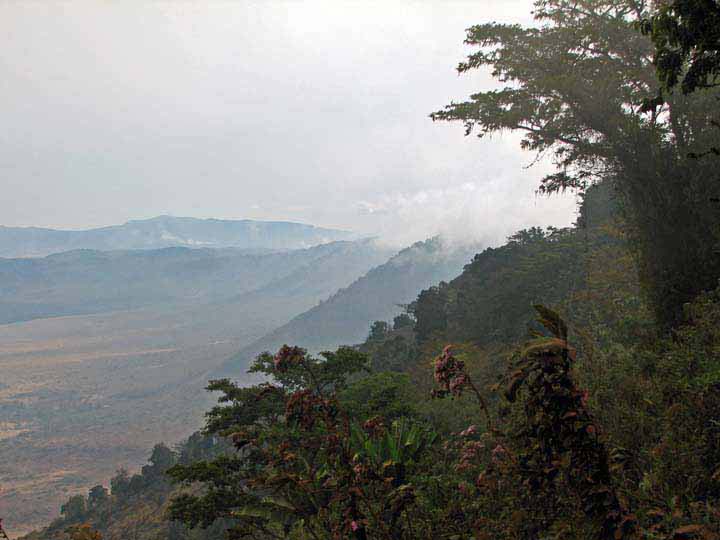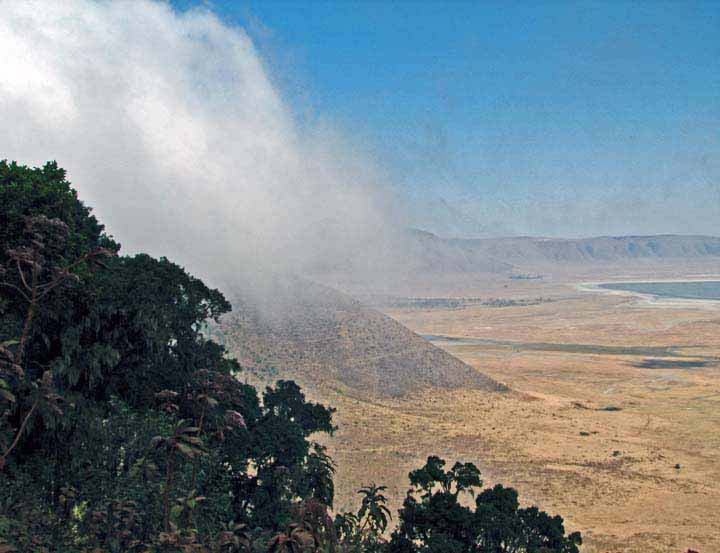 The lake below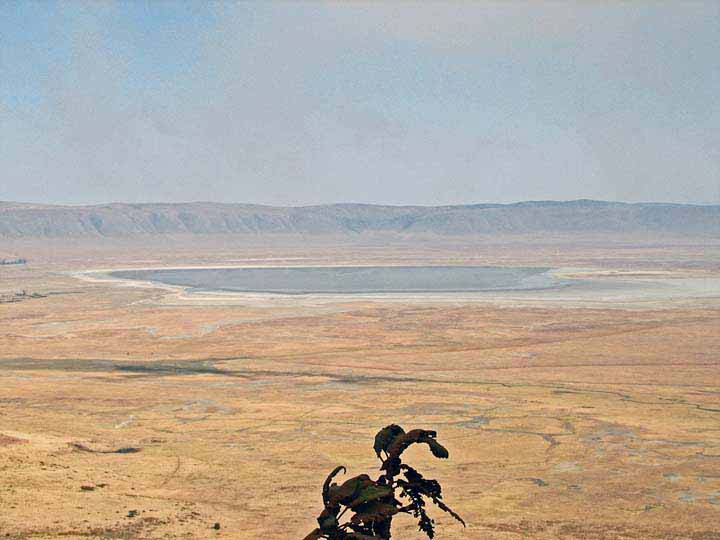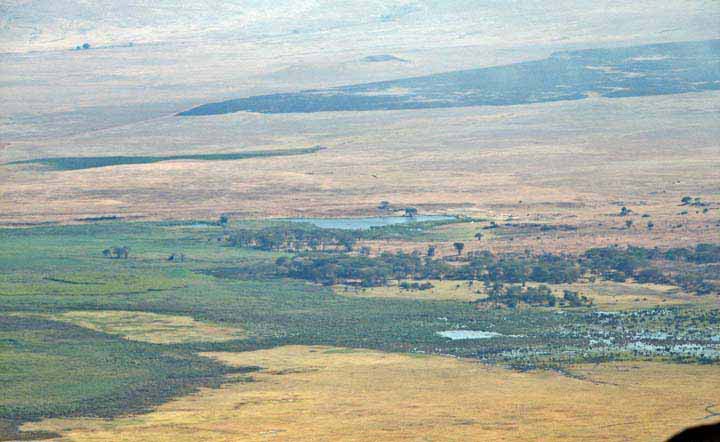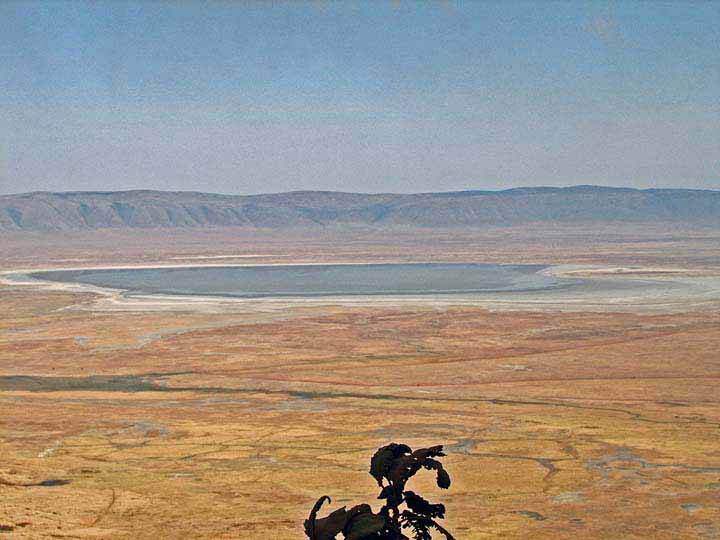 The crater is a cross rods to other sites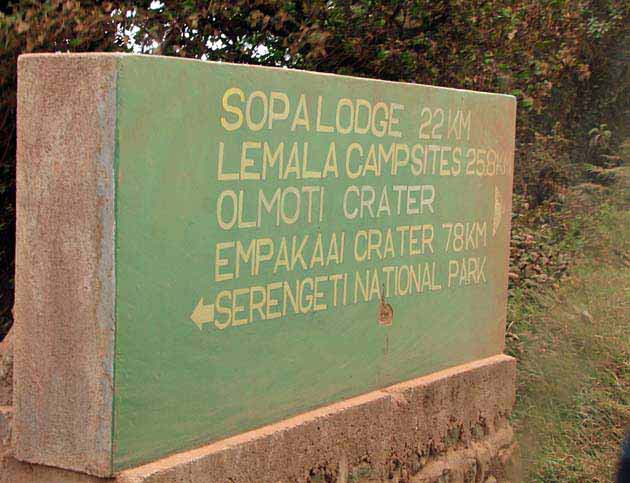 We continue around the circumference - it seems we'll never get to the lodge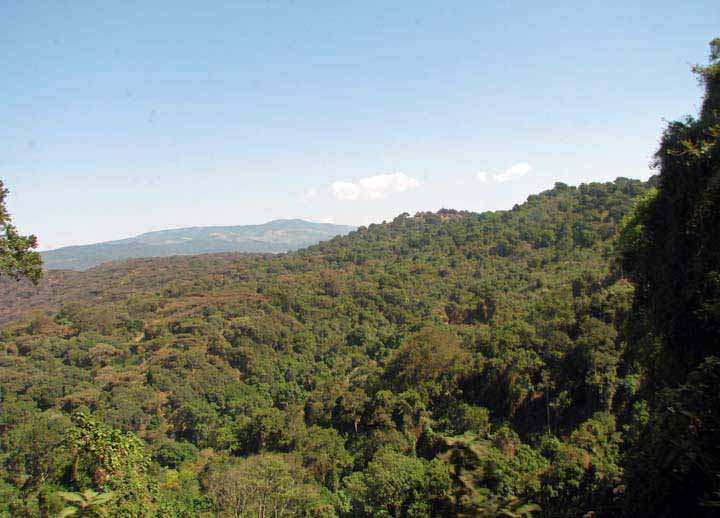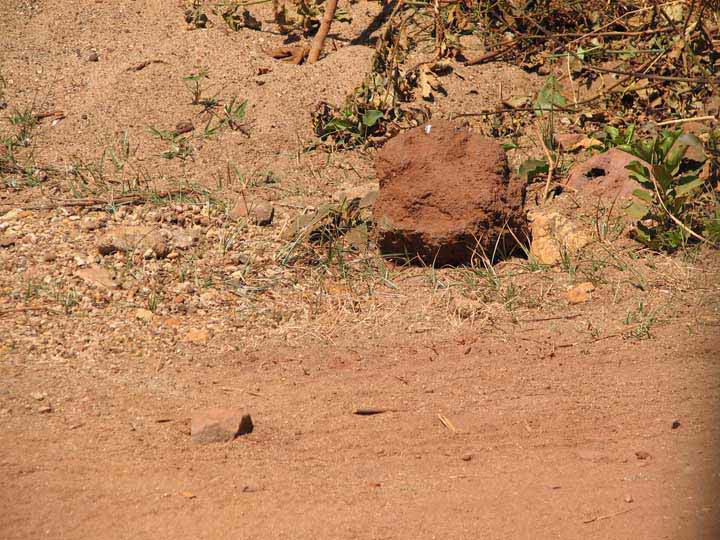 Samuel tells us that theses rocks on roads that seemingly come from no-where, are actually put there by elephants. Drivers then have to stop and push / carry them to the side of he road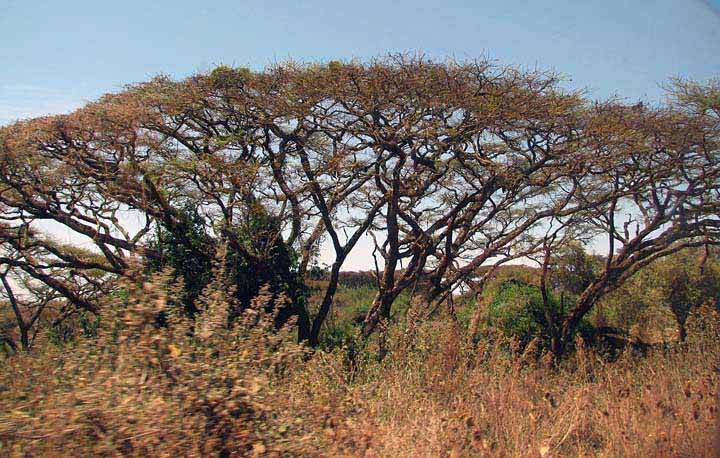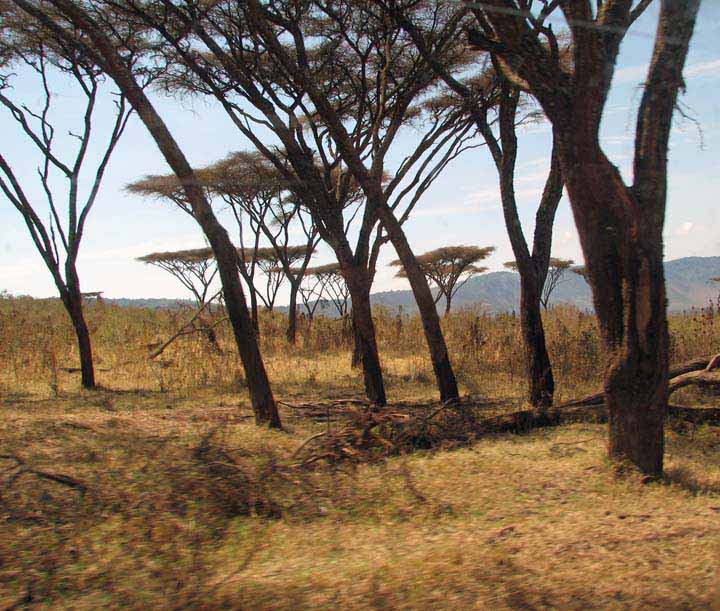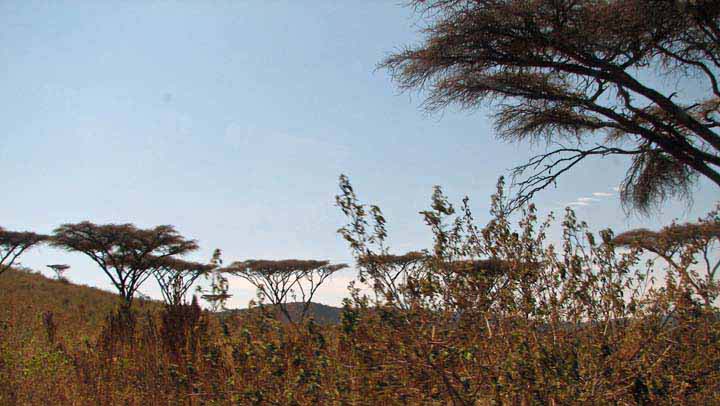 I remark, as we see several plumes of smoke, "I'd hate to known as the guys who set fire to a World Heritage Site".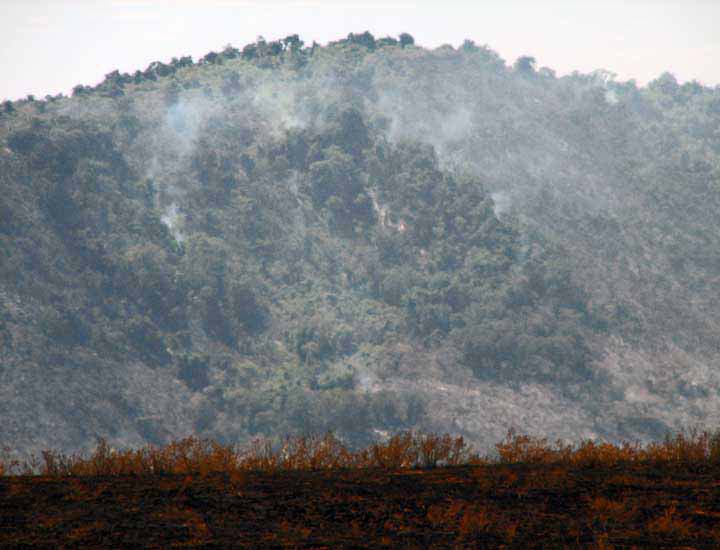 We get to the lodge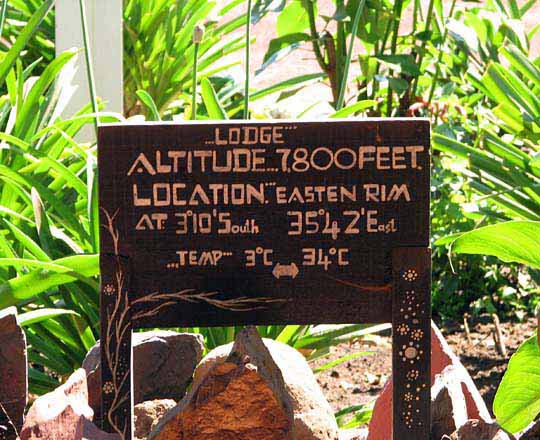 And go down for our initial safari
Burnt grass, huge sections of the plain is burnt!
Samuel tells us then that approximately half of the plain is deliberately set afire each year.
There is always enough left for the animals here - all the animals except one leopard, are resident.
The burn off allows new sweet grass to grow as the rainy season gets here.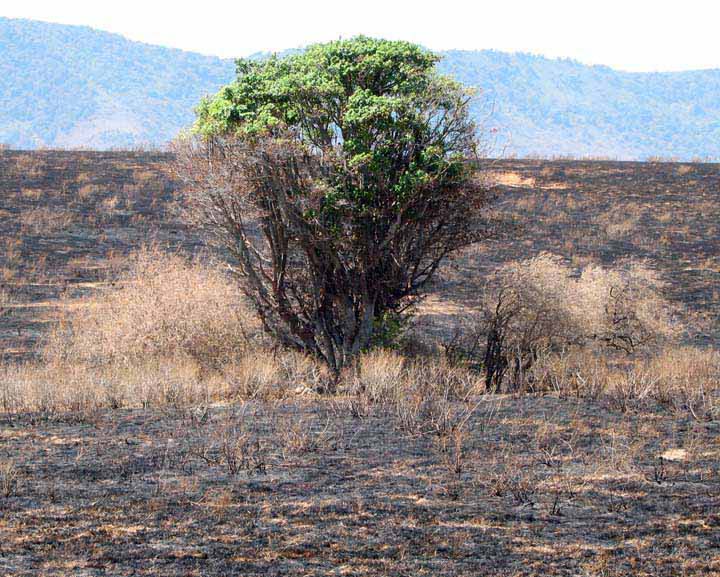 Shortly after entering the burnt section, we look across a ravine and see another honeymoon situation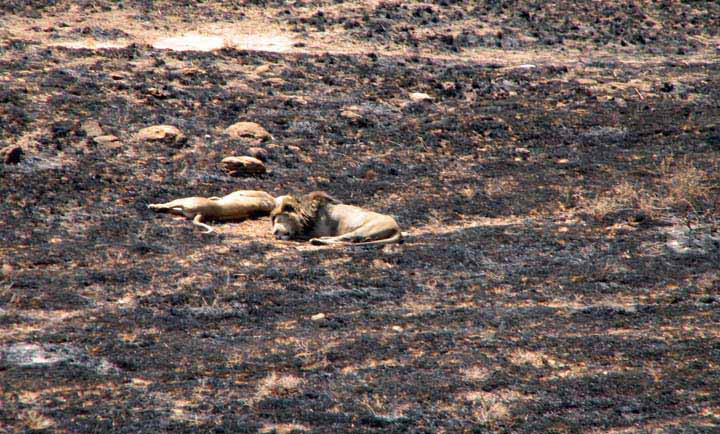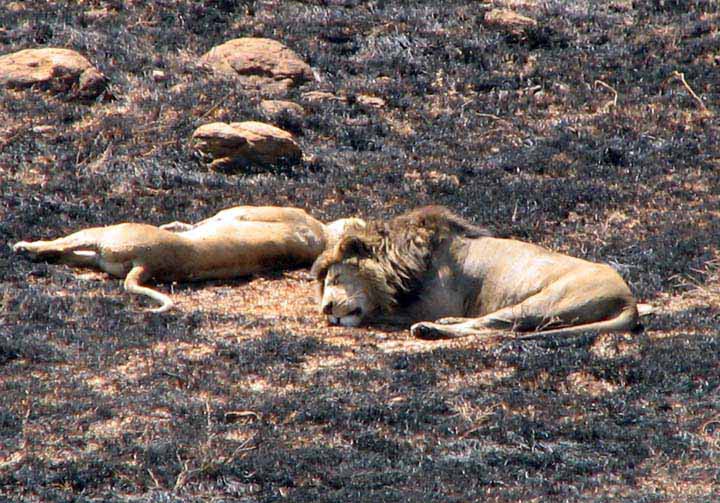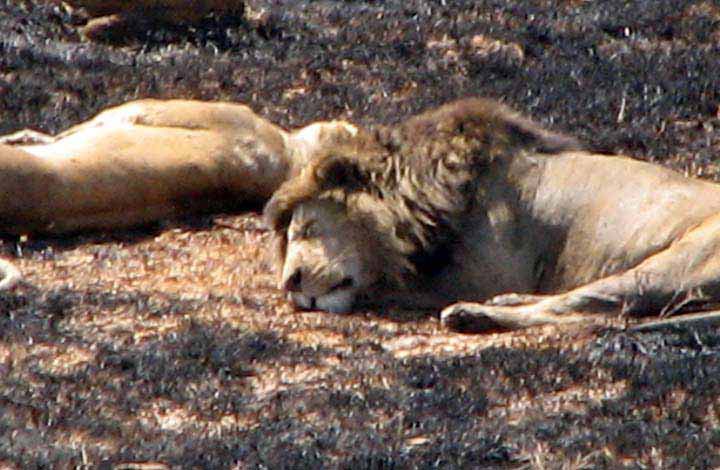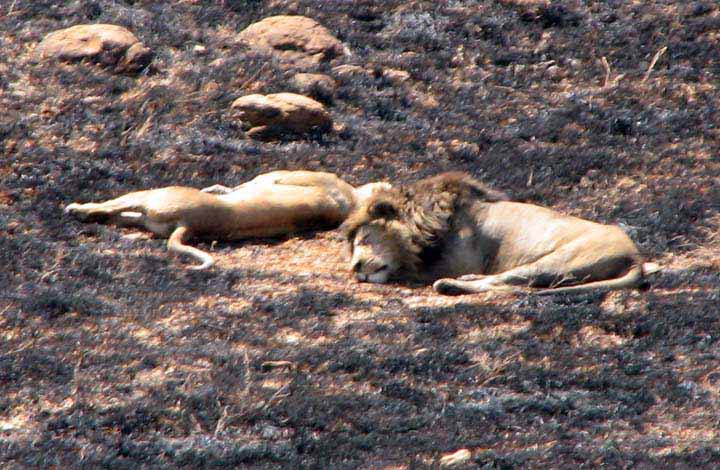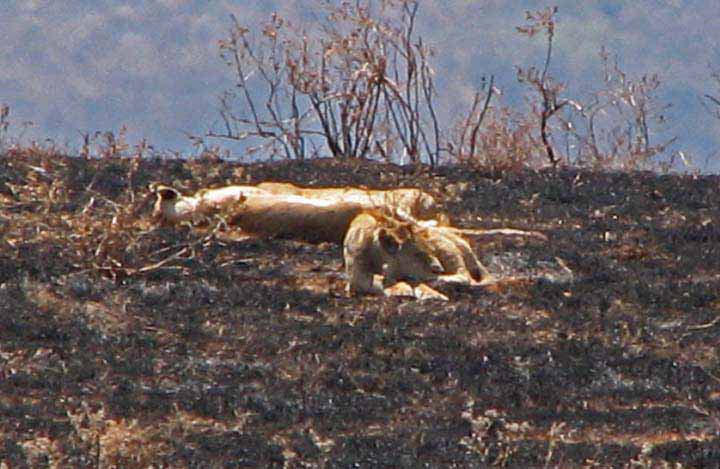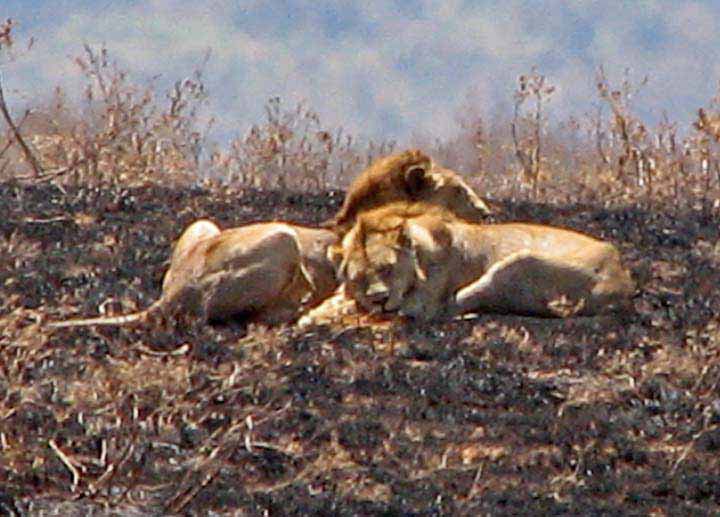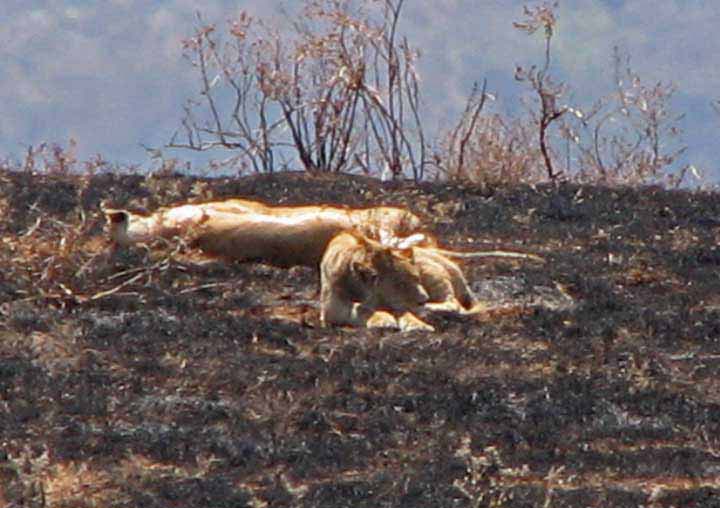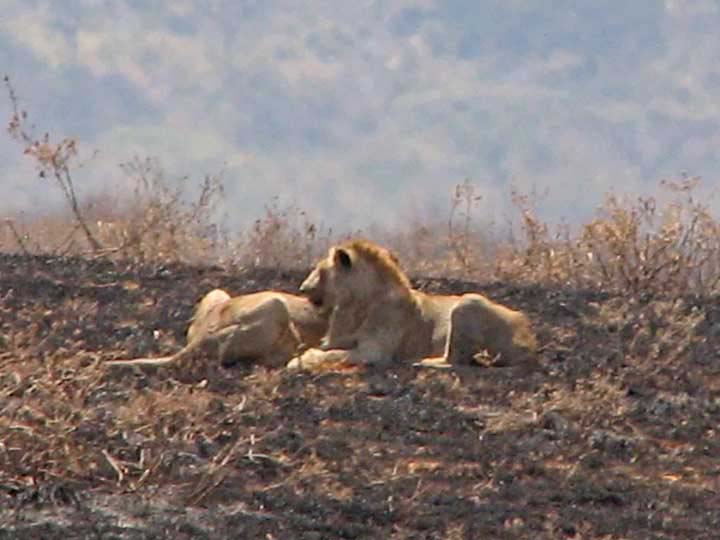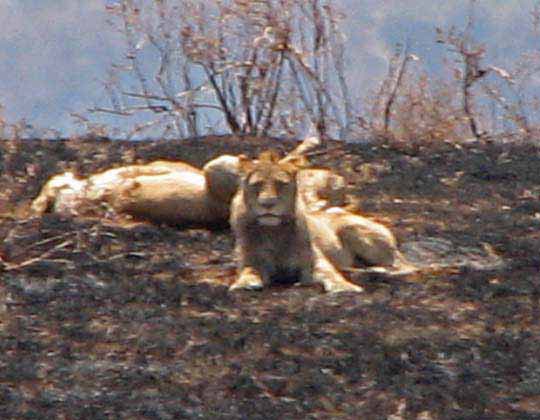 Down and across the dusty trail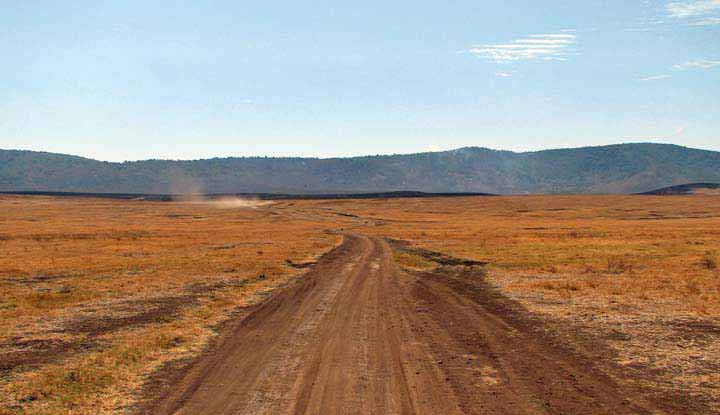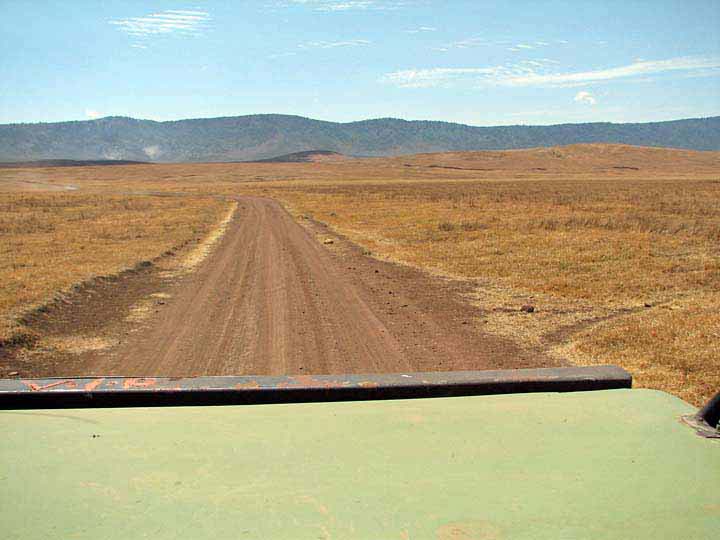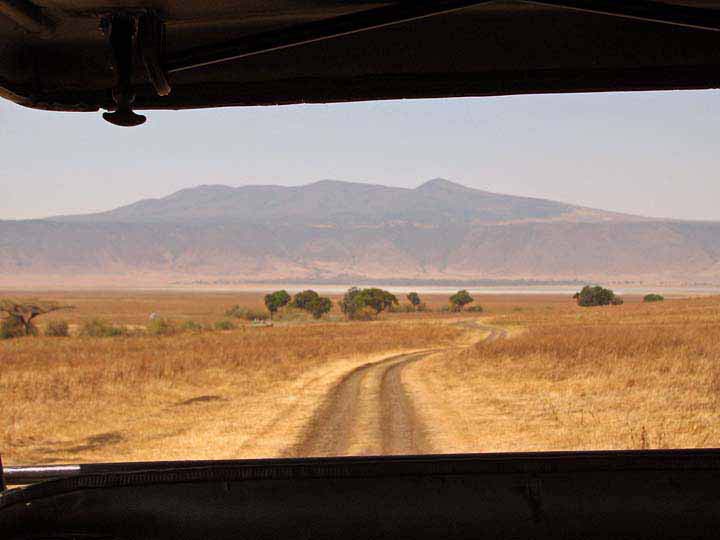 A herd of elephants and wildebeests in the distance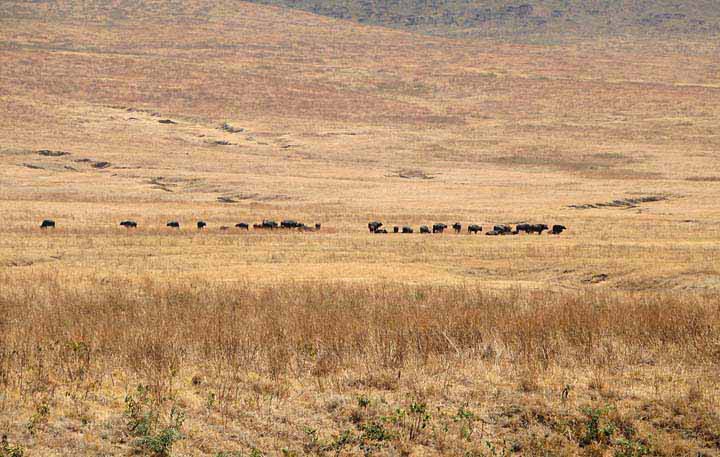 There is water in the streams, but little - and few streams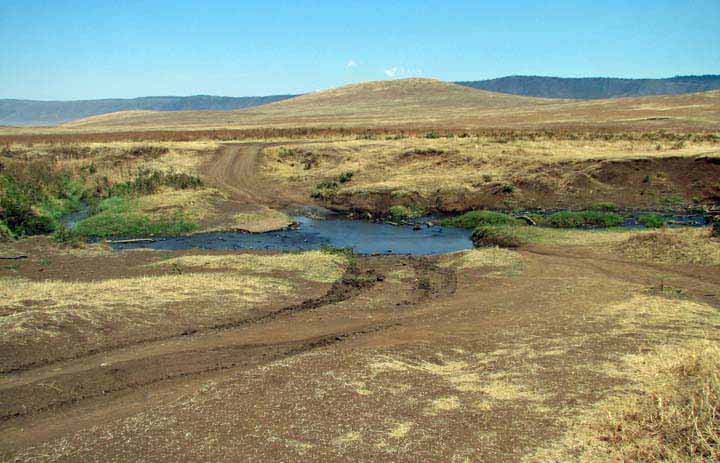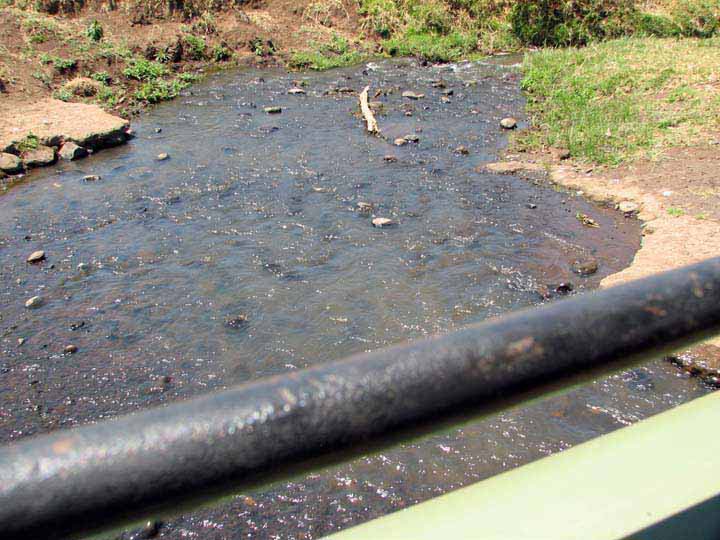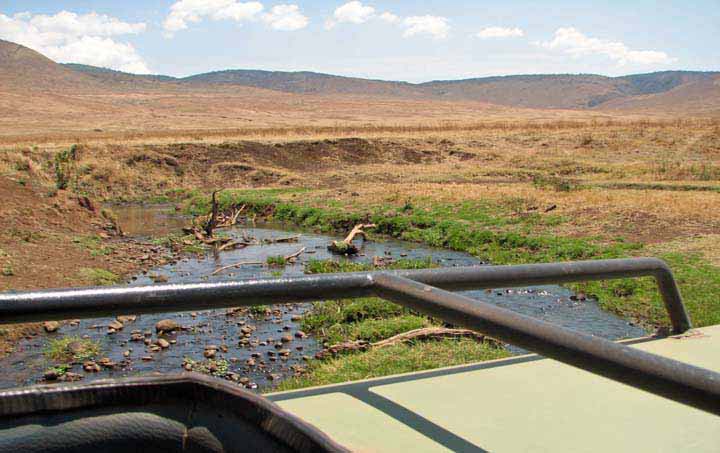 Someone had a Cape Buffalo for dinner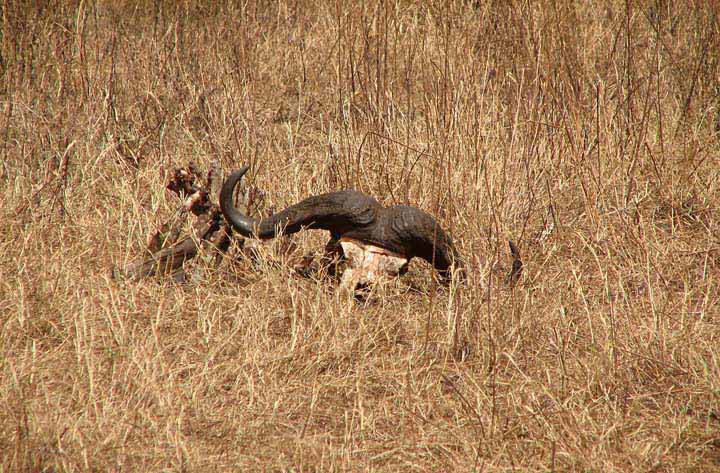 We see a male ostrich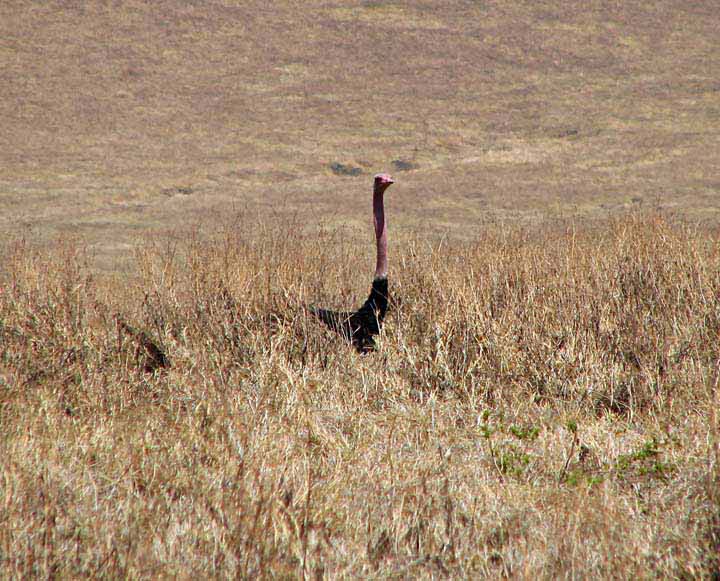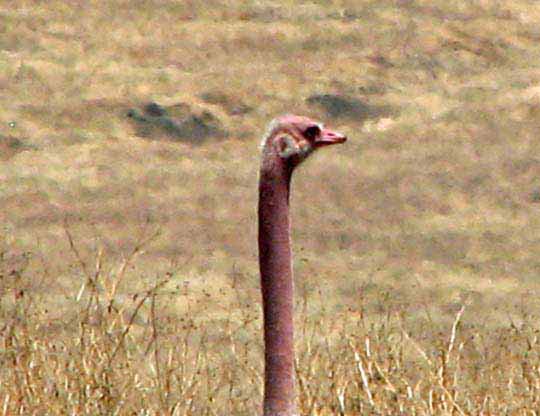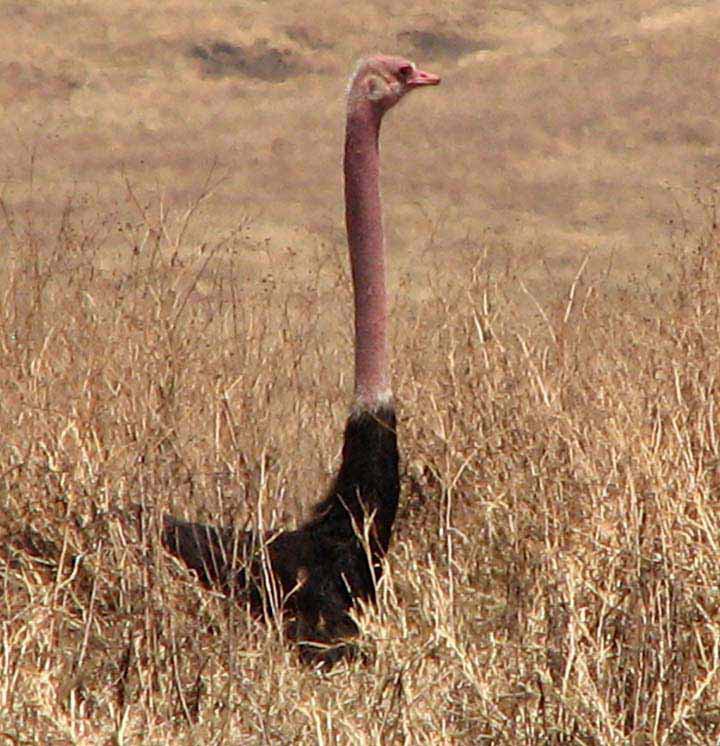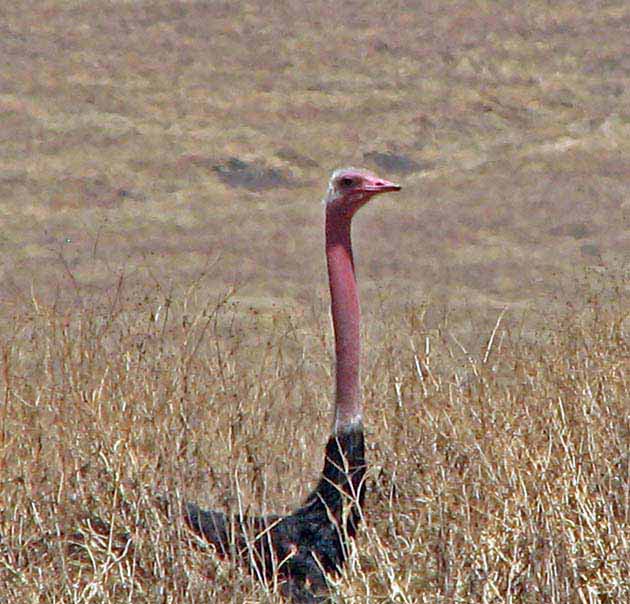 Oops - a crowd - must be something to see!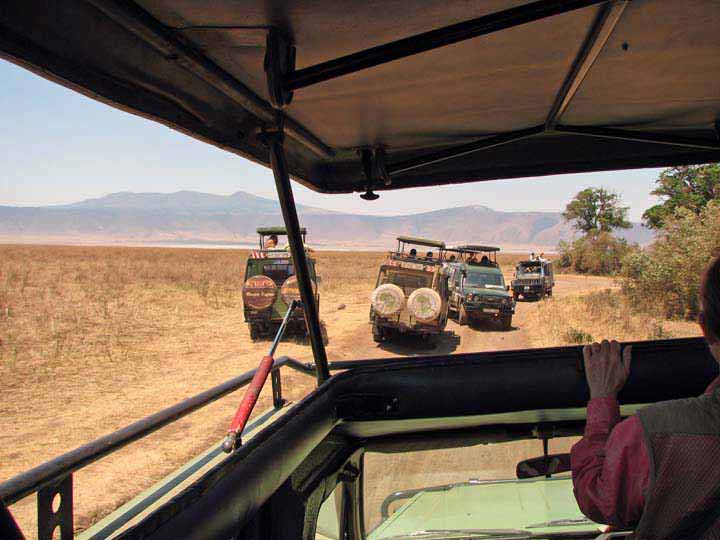 We've found lions!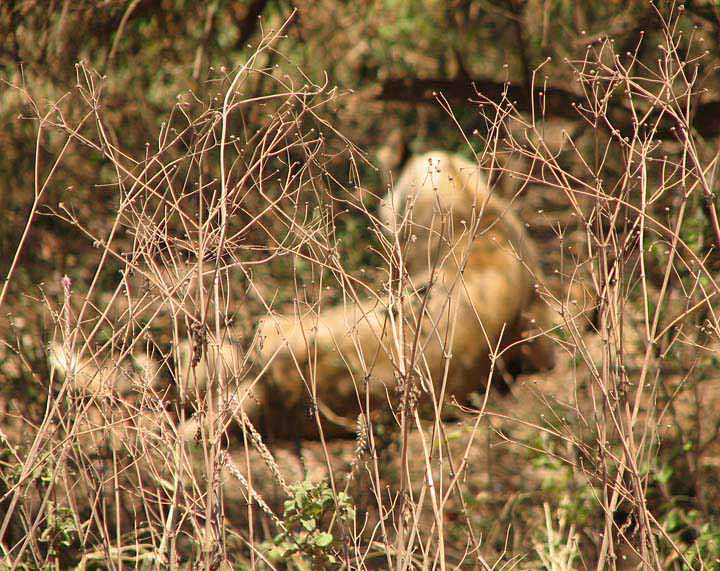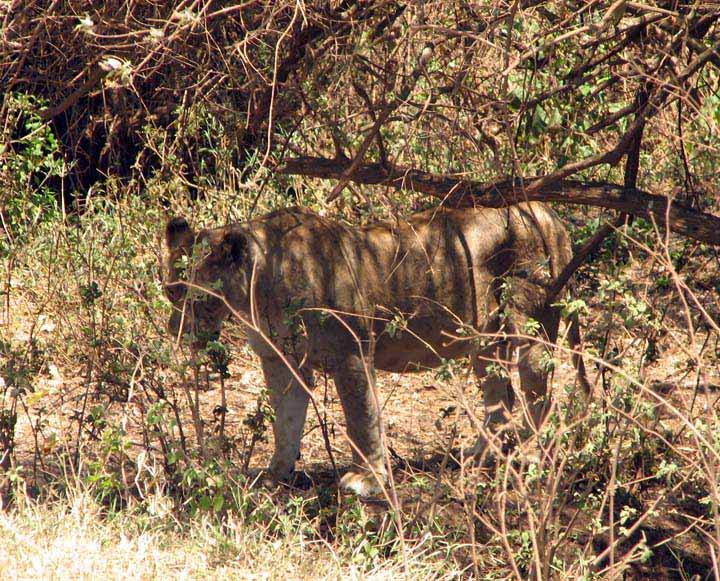 I'm watching you, watching me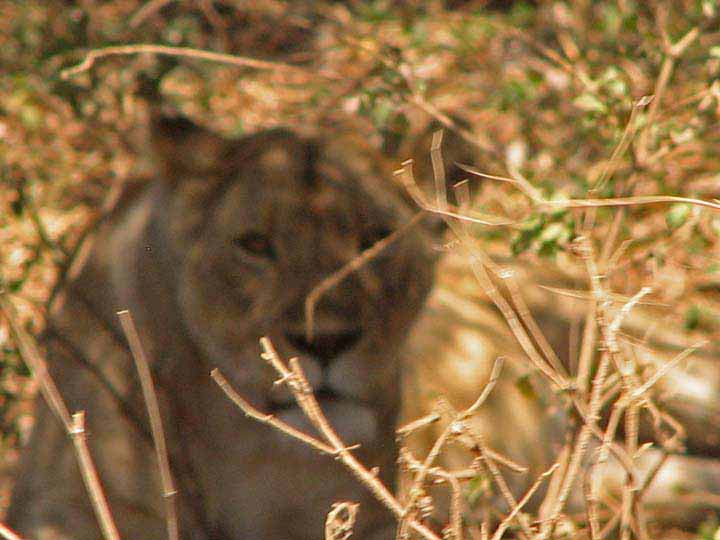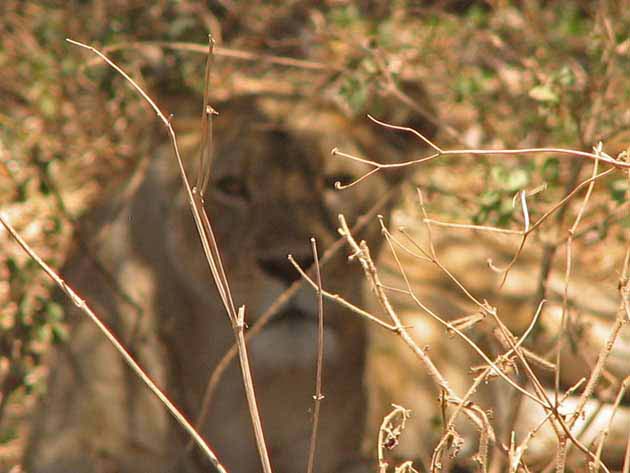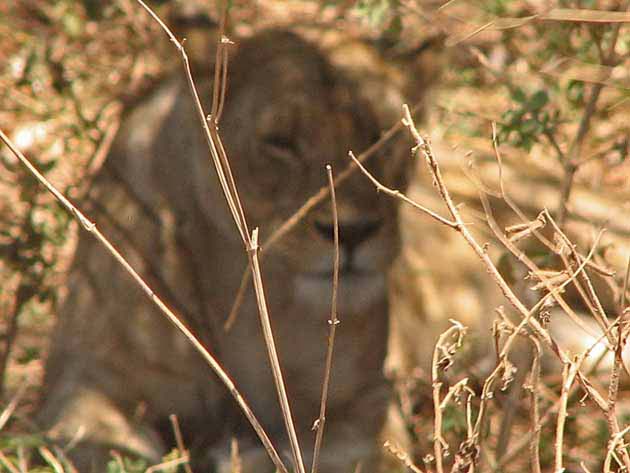 Watch all you want - I need a nap!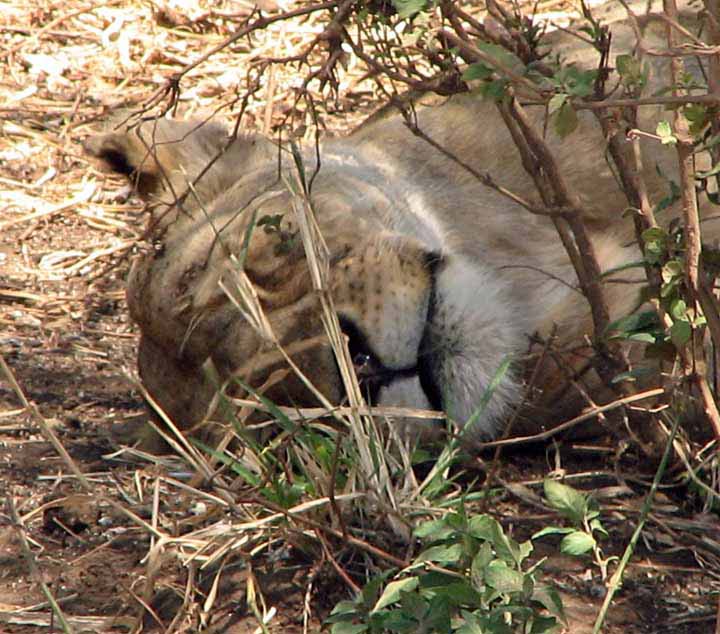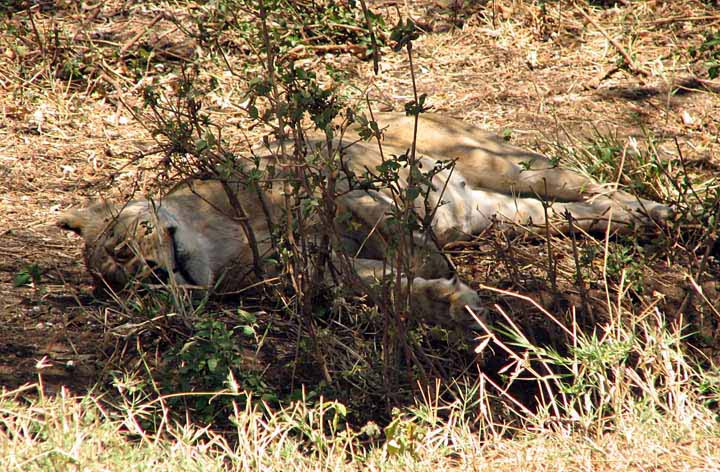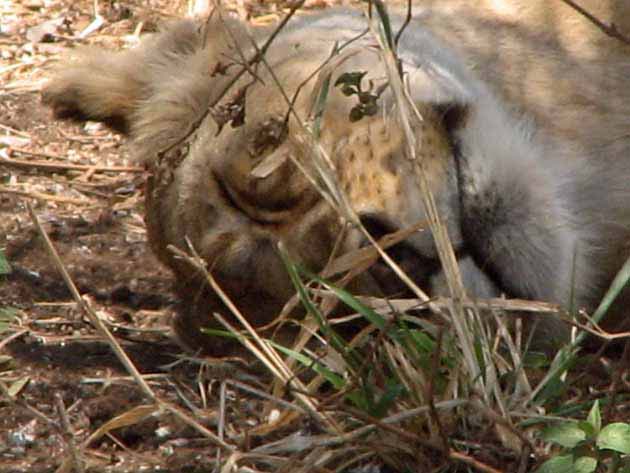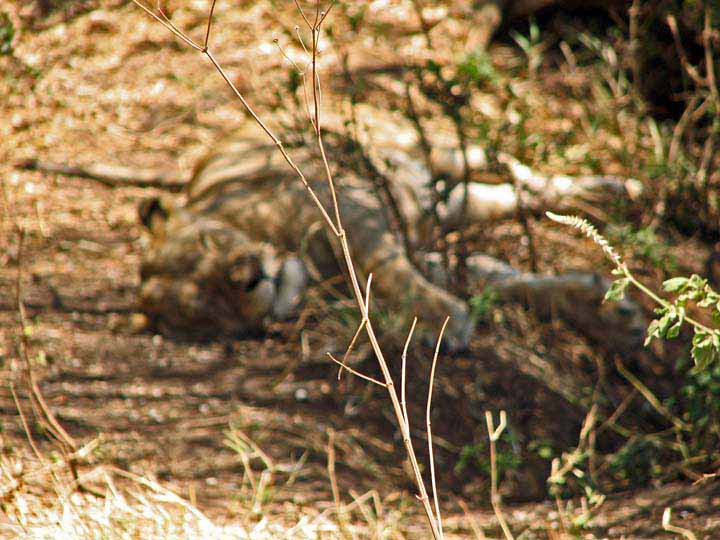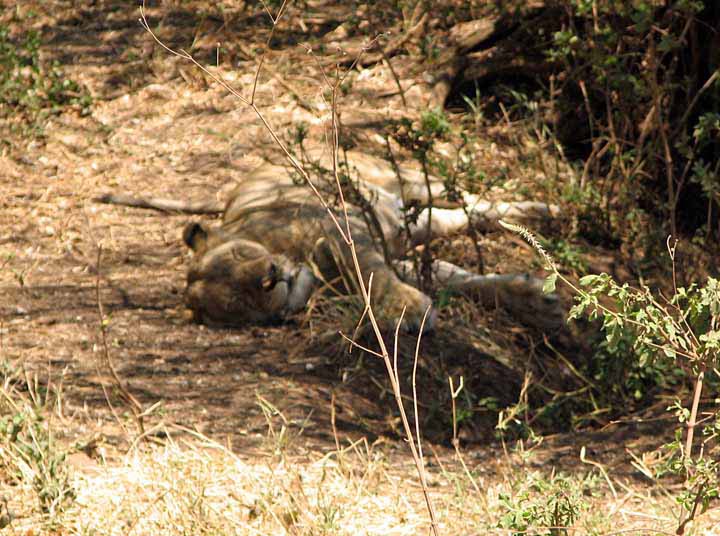 Elephants at work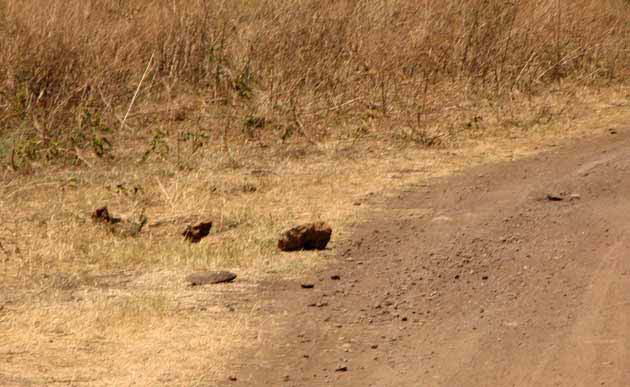 Game trails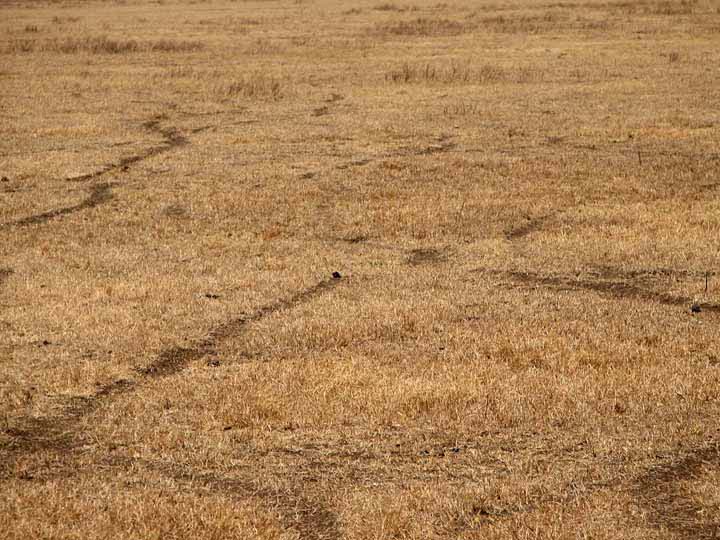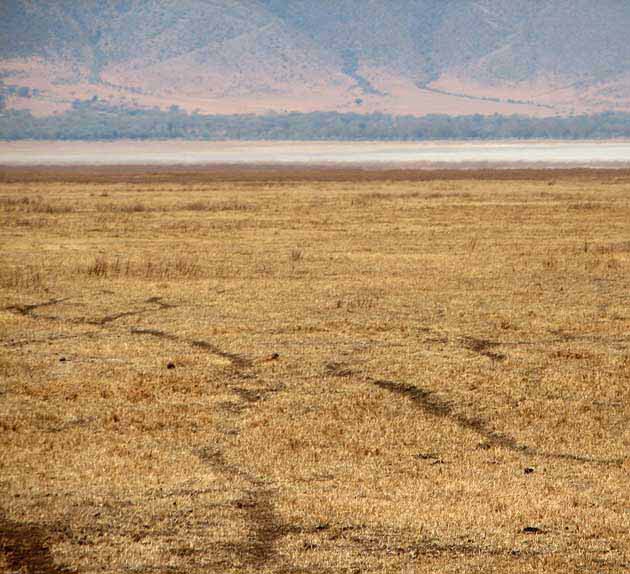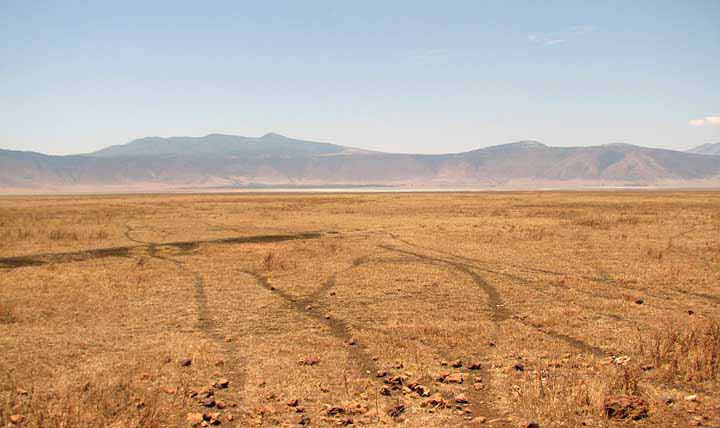 A Secretary bird
Not too friendly looking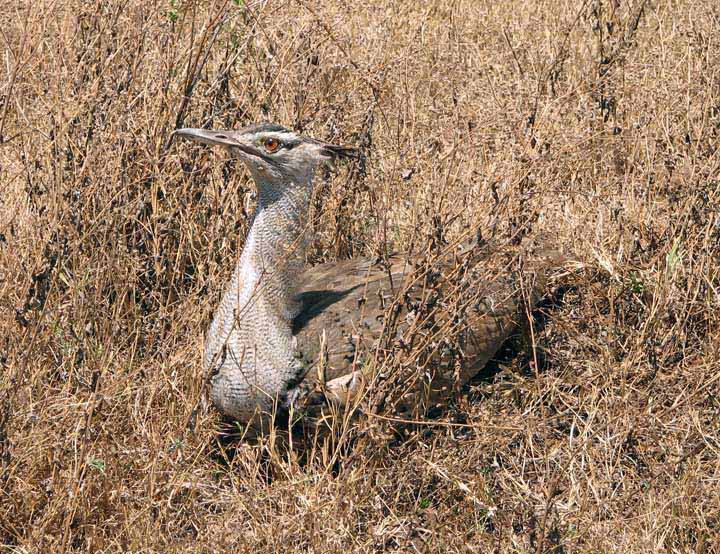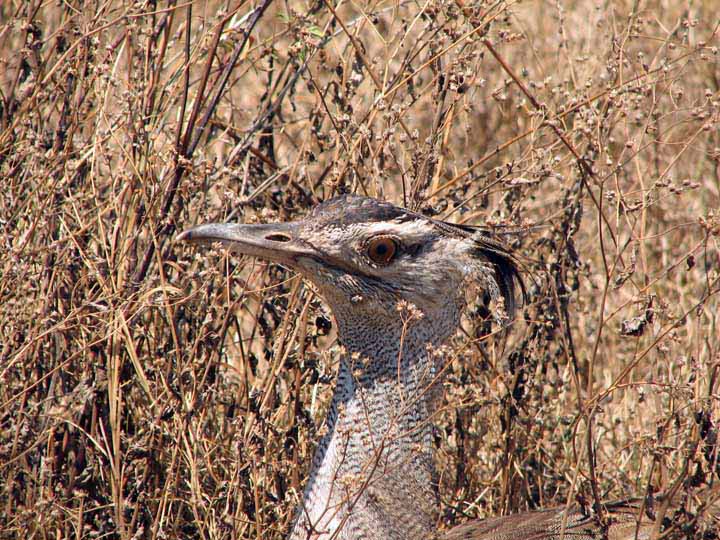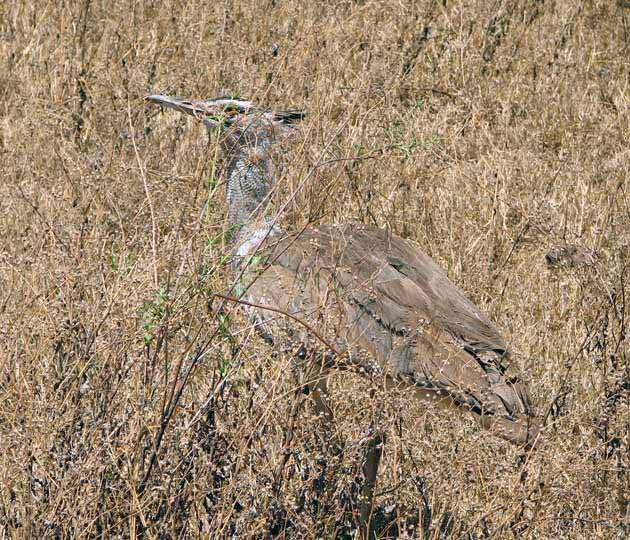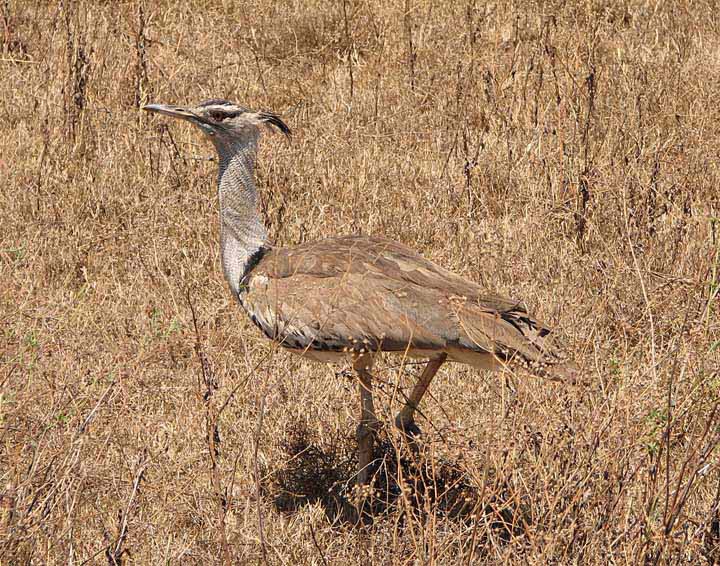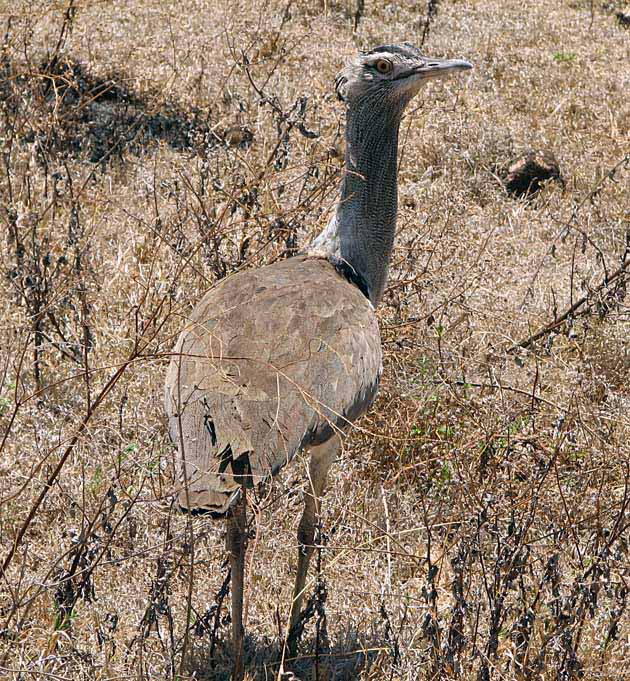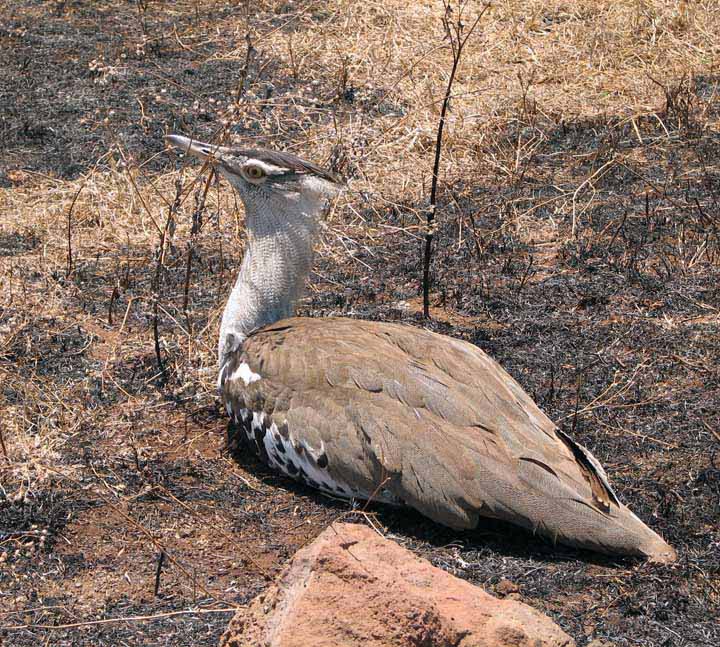 No too easy for a predator, or us, to spot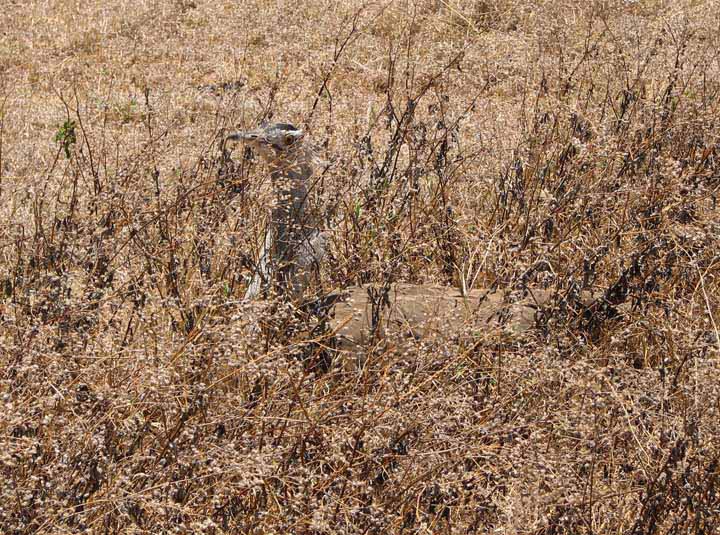 A slash of burned grass across the grasslands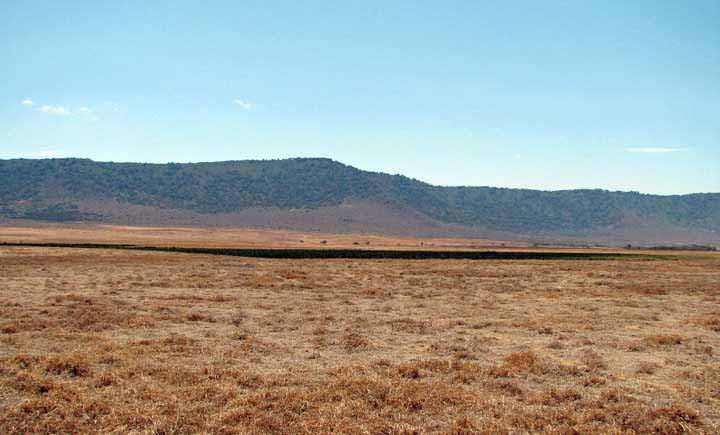 Herds spread as far as the eye can see, these closer and a line further on the slope of the caldera wall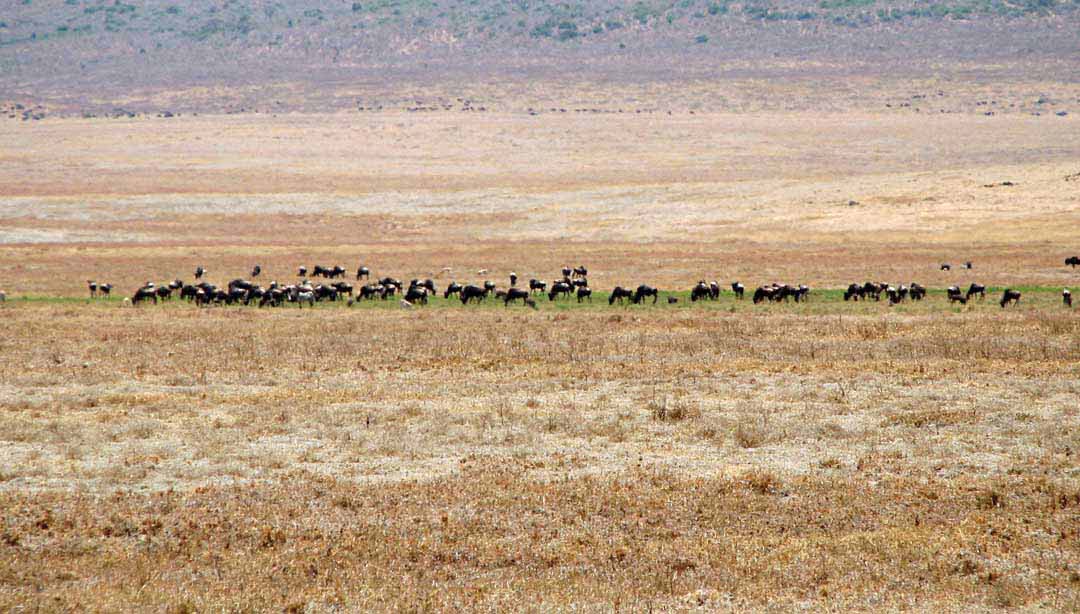 Some Crowned Cranes.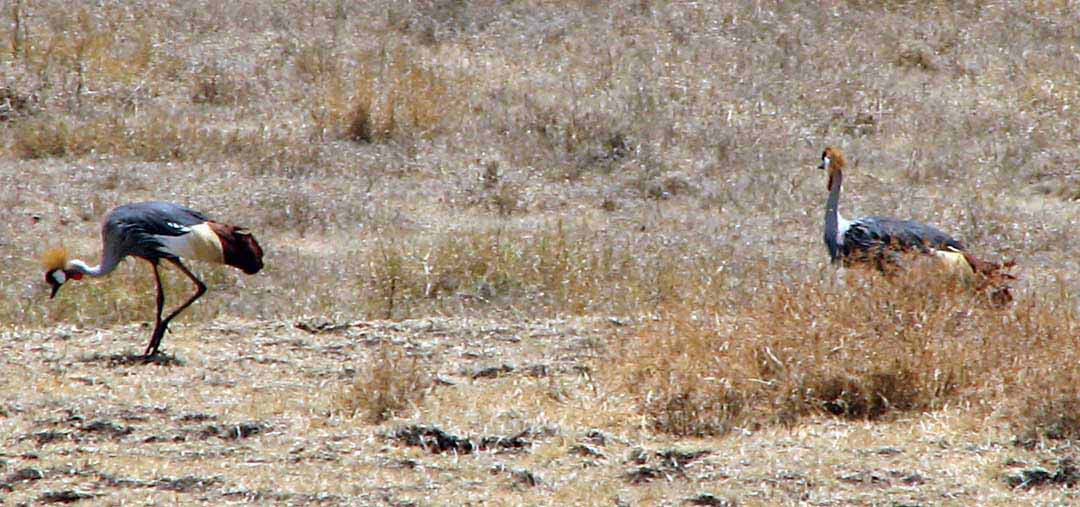 They brought one in at our local zoo and had a couple attendants stay near it to watch it to see if it would accept the other animas in the field. You'd be surprised at how large they are.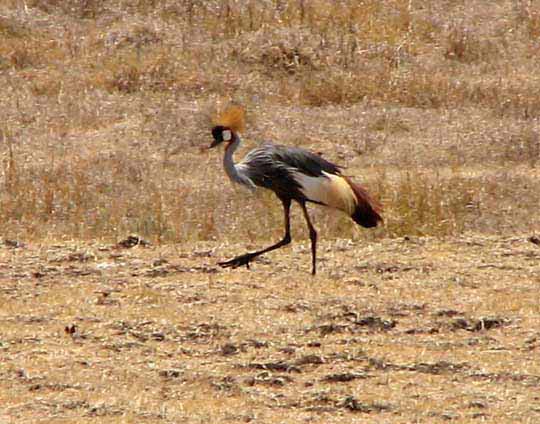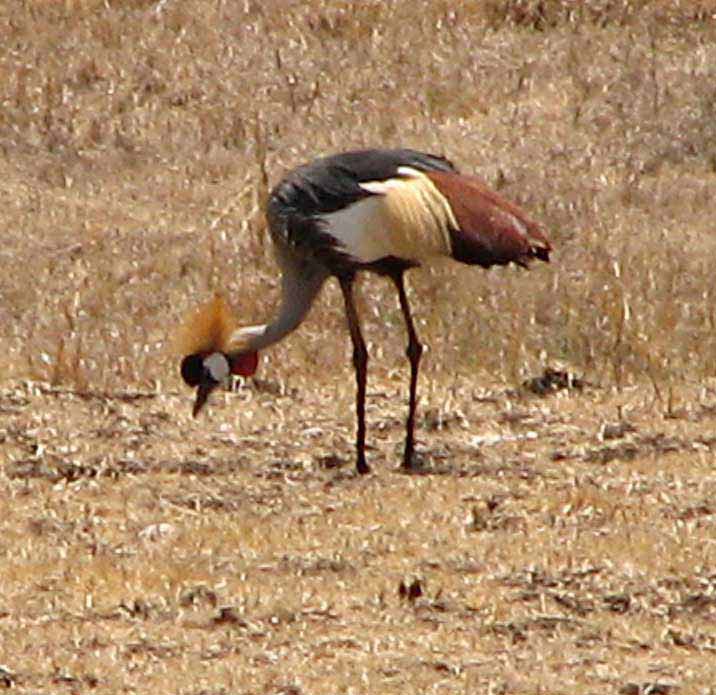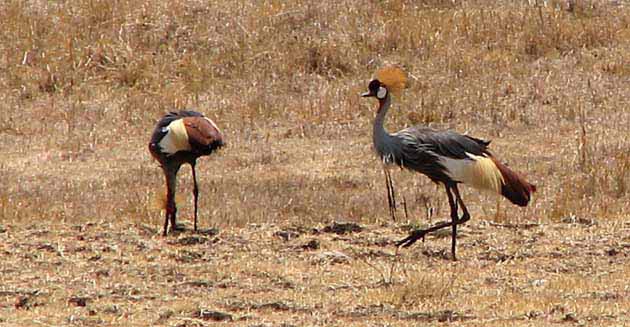 We see a grassy section ahead - the only green we see on the entire floor of the caldera.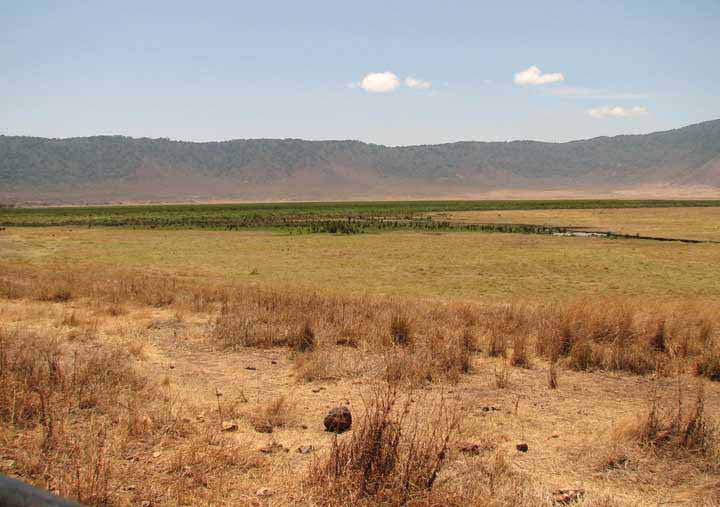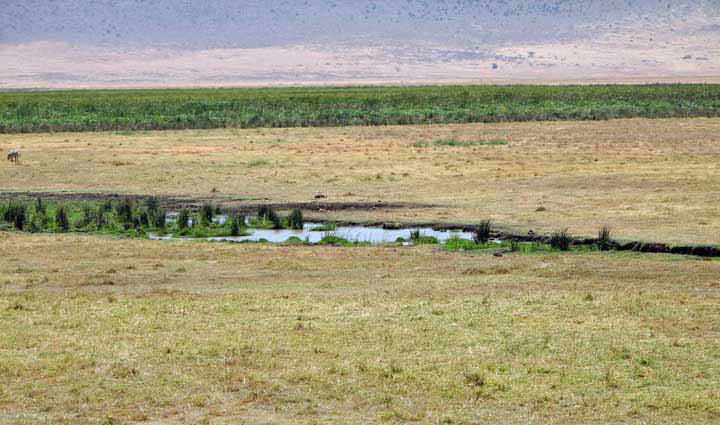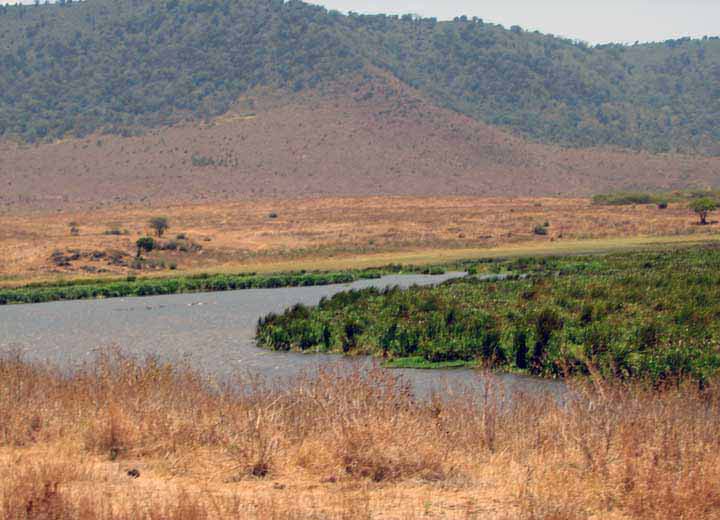 We are shocked to see very few animals around it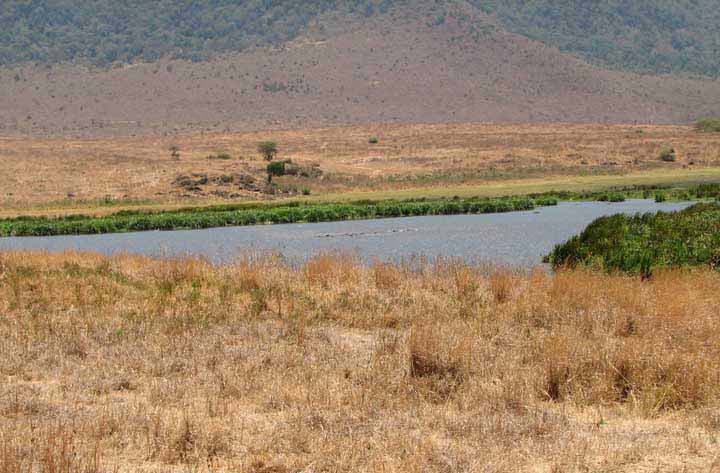 The plain is so very dry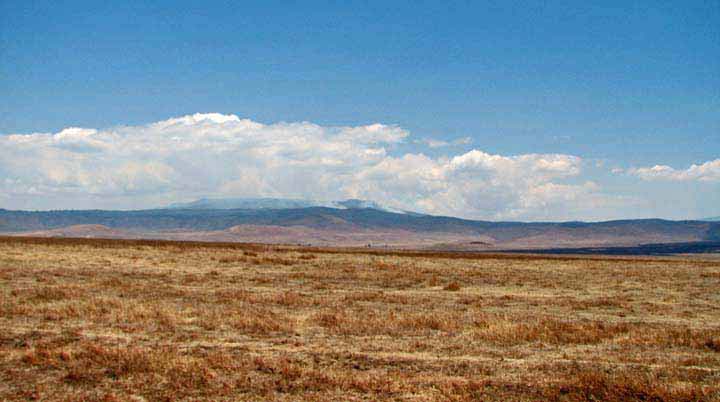 And the hills are aflame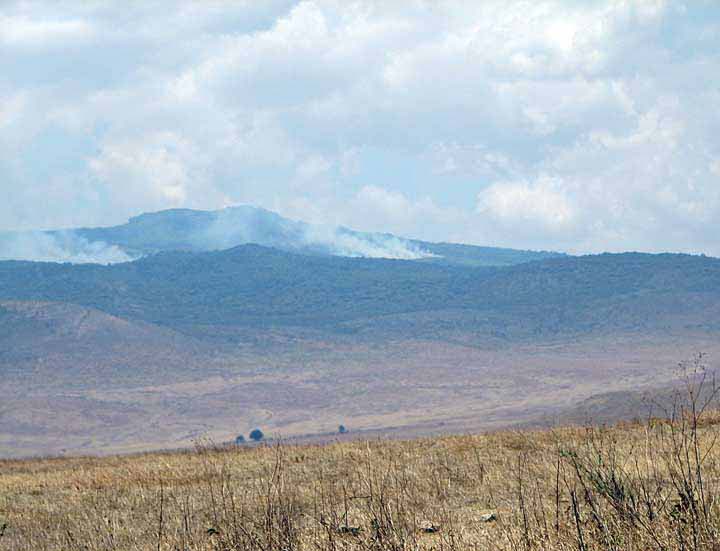 We came upon a small lake. We were issued box lunches so we could stay out all day - the trip back up to the lodge was very time-consuming.
On the lake we saw a ___________.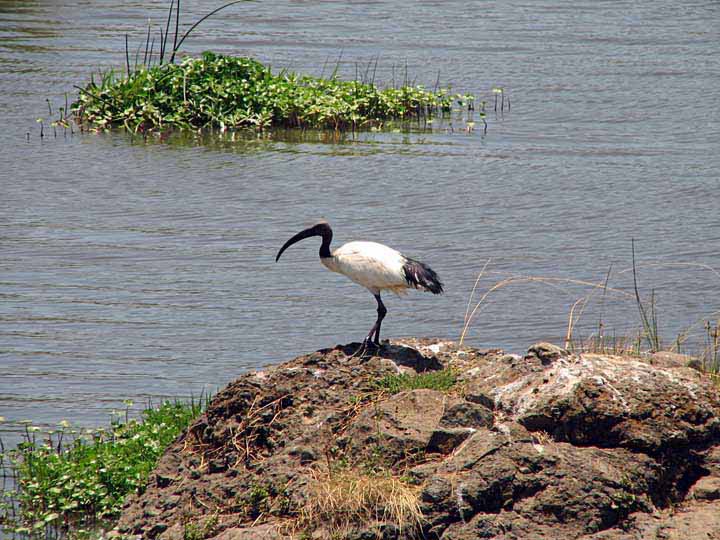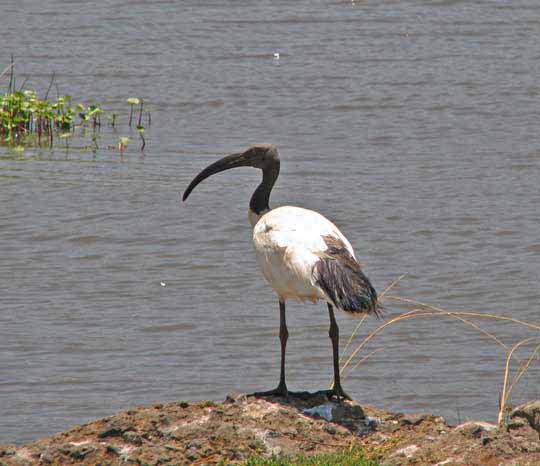 This tree was found by everyone to be very photogenic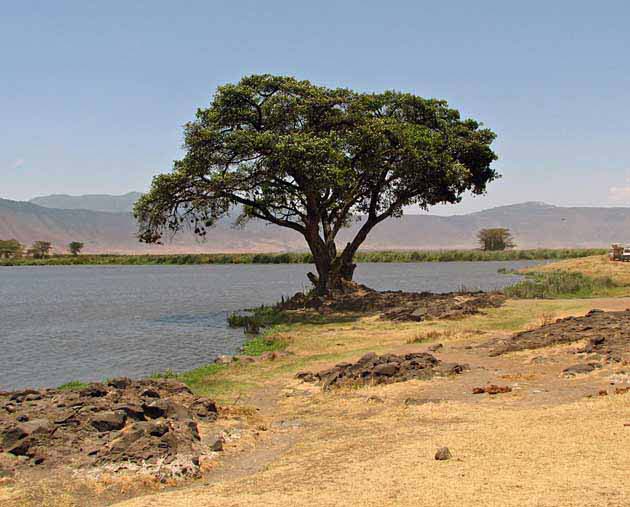 We were warned by both our guide book and by Samuel to watch out for these ____________ Hawks. They know people eat box lunches here. Consequently, they dive down to snatch food from your hands - leaving serious cuts and claw strikes.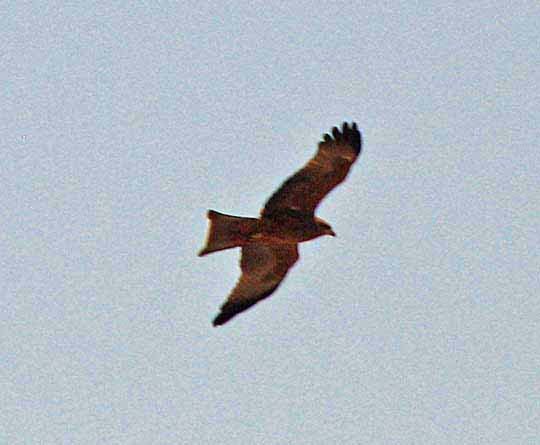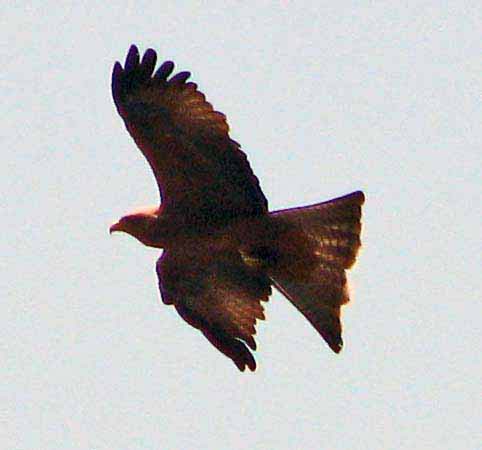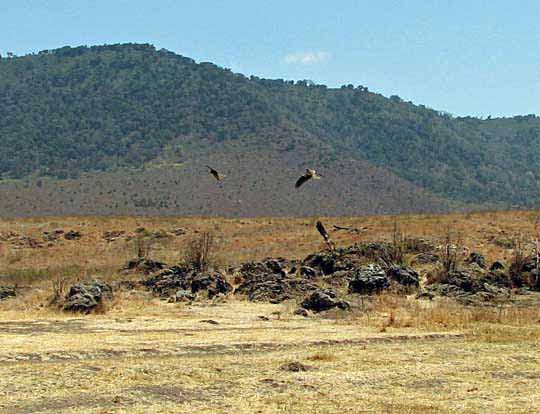 Yep, they flew all around us and the vehicles. Whirling and diving.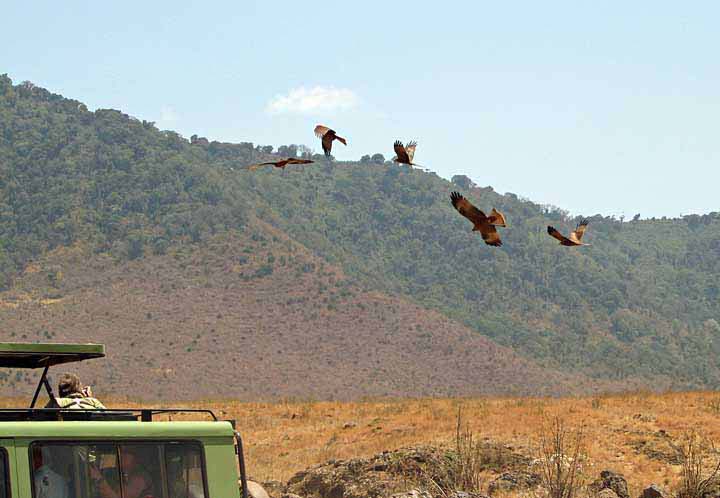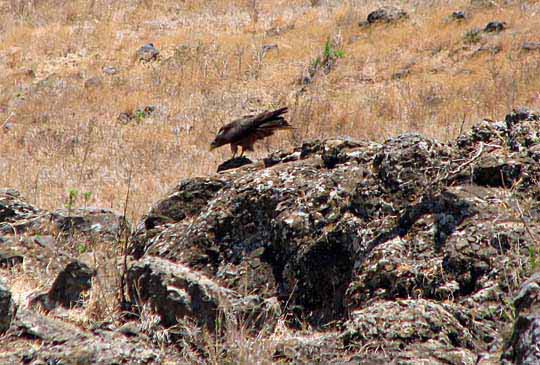 This one was successful.
In the lake were hippos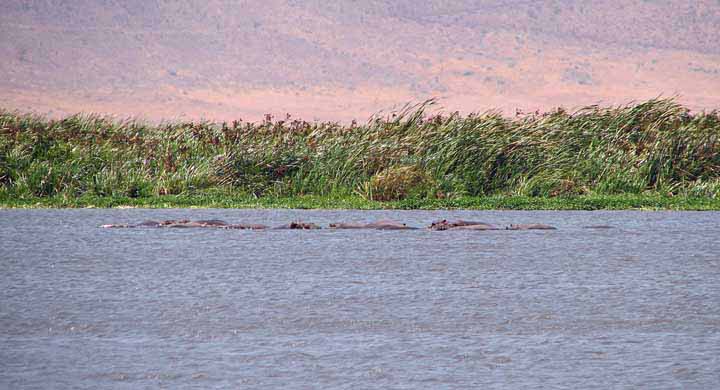 Looked like a great landing area and place to rest its weary wings, eh?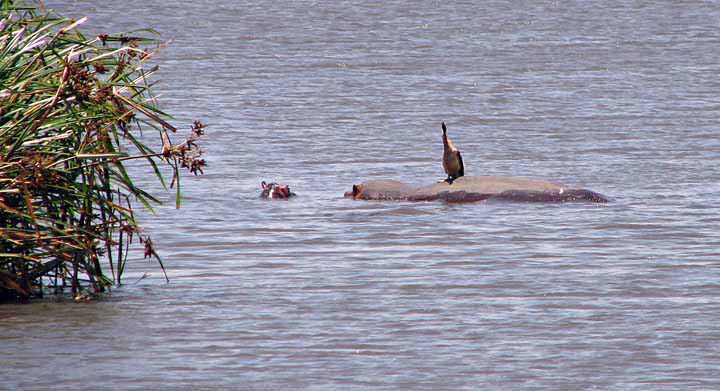 The fires keep burning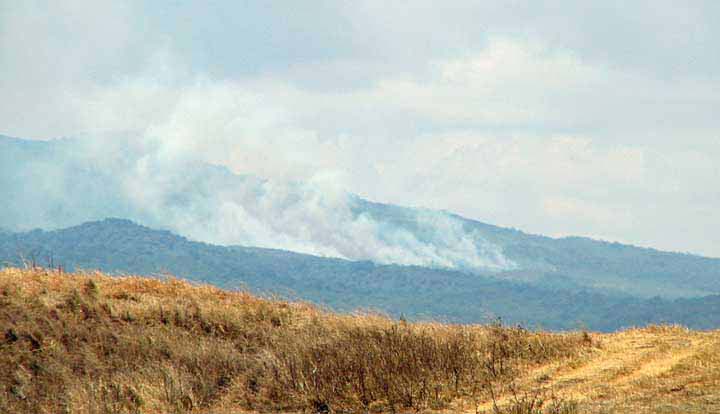 At another small wet area, we see ostriches sitting on nests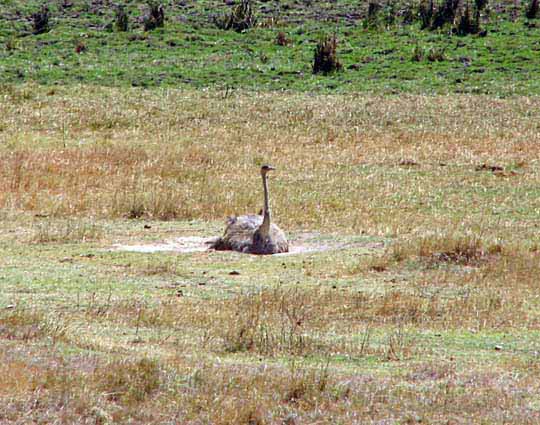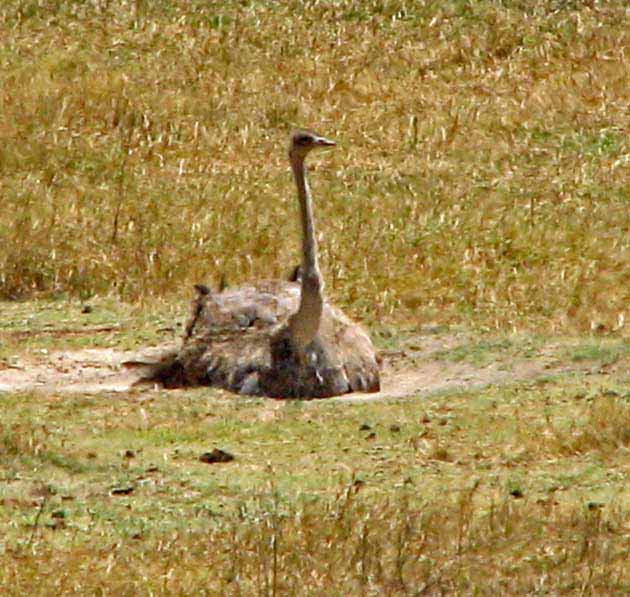 I took this picture for no other reason than to attempt to indicate just how large an ostrich is.
The two animals to the left are fully grown Zebras

Ugly is as ugly does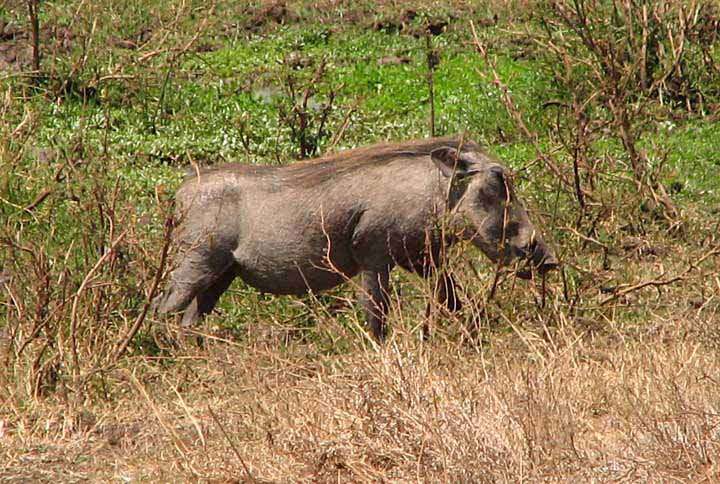 With these pictures I attempt to show rocky and dusty, but actually pretty smooth the trails were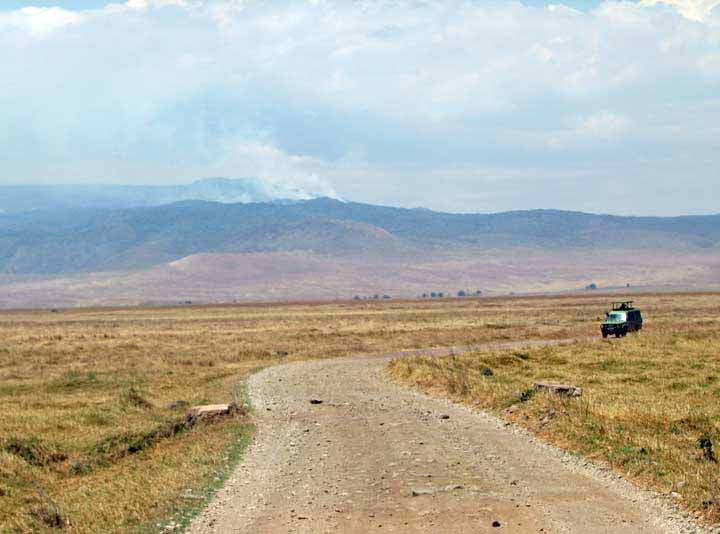 Because this is volcanic rock and dirt, the colors of the dirt change to reflect the mineral content of the volcanic output.
I was attempting to show the difference in color over a very short distance exposed by the trail.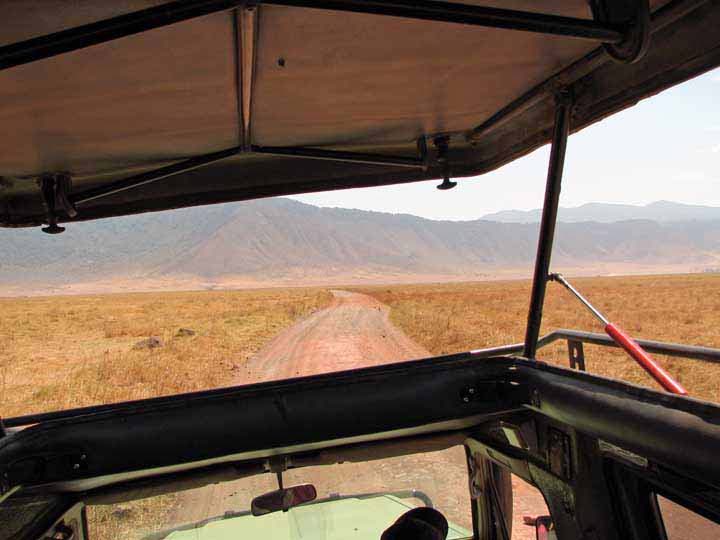 I think you can make out the white, grey, green, tan and red segments that are exposed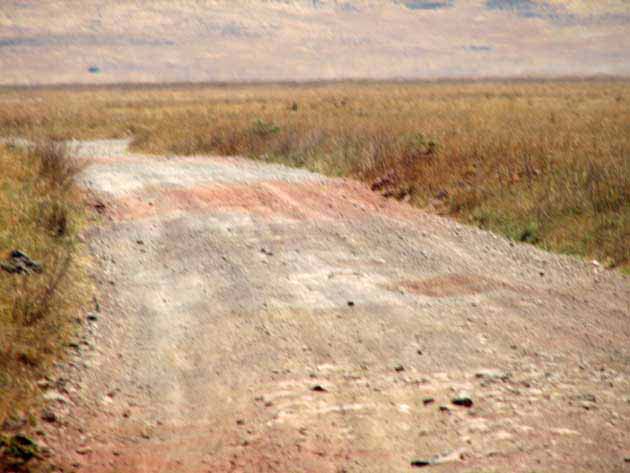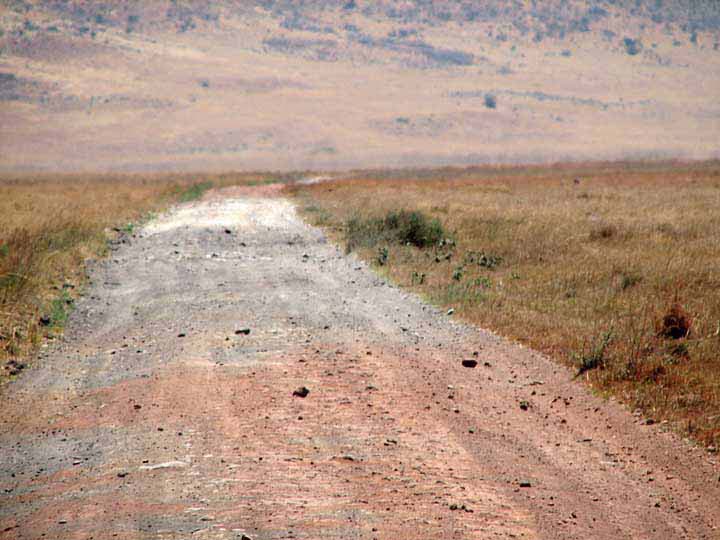 Hot, dusty and windy. Out in Kansas we called these dust devils.
These are by far and away the largest I've ever seen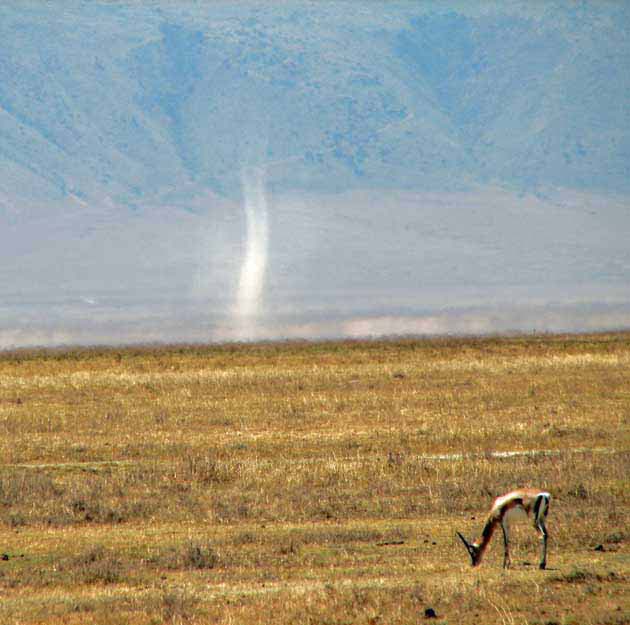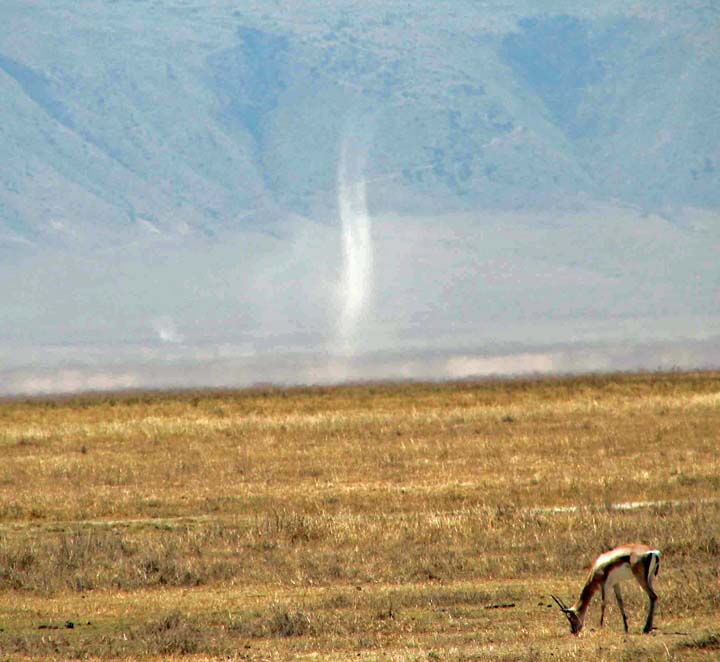 The abrupt side of the caldera.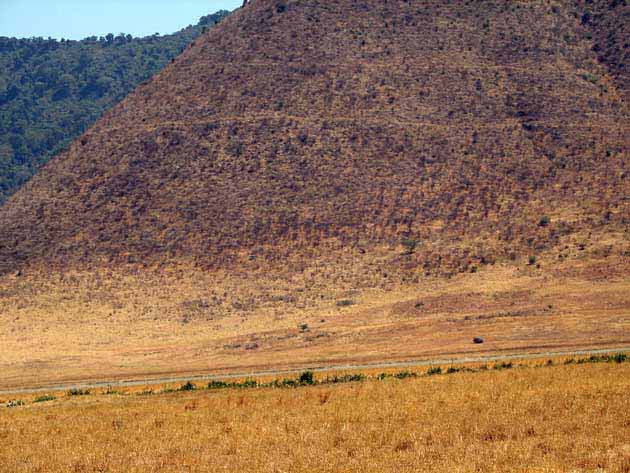 There were herds of Zebra
You probably already know that, just as with fingerprints, no two Zebra's marking are alike.
Here a mother and colt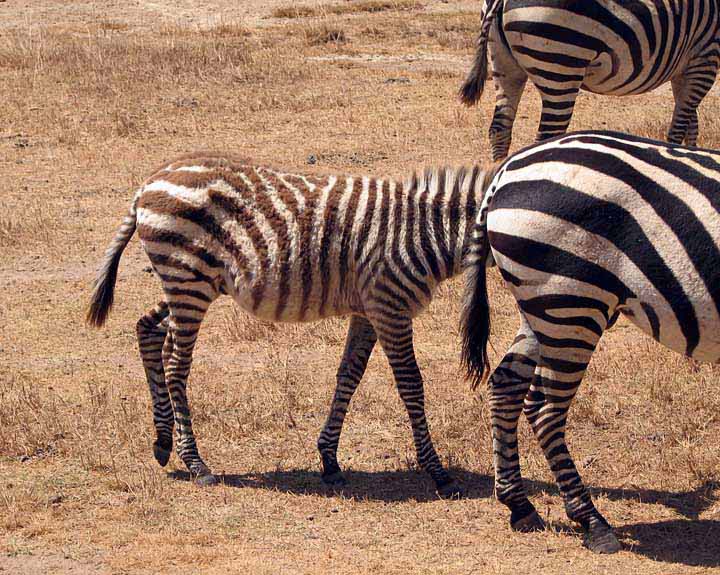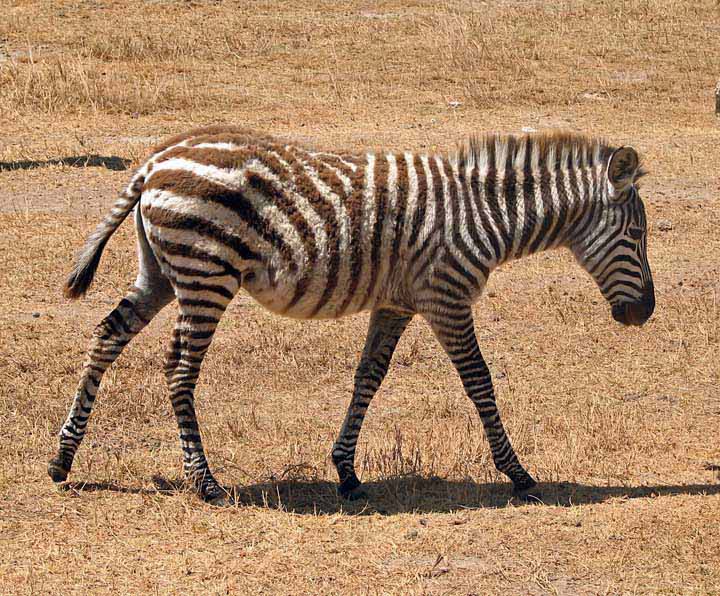 Younger zebra can be spotted as they have browner, somewhat fuzzy hides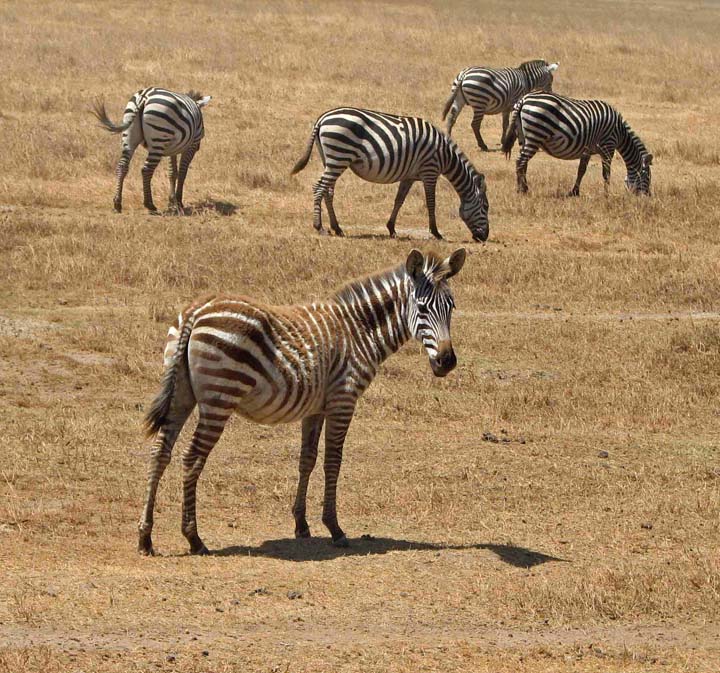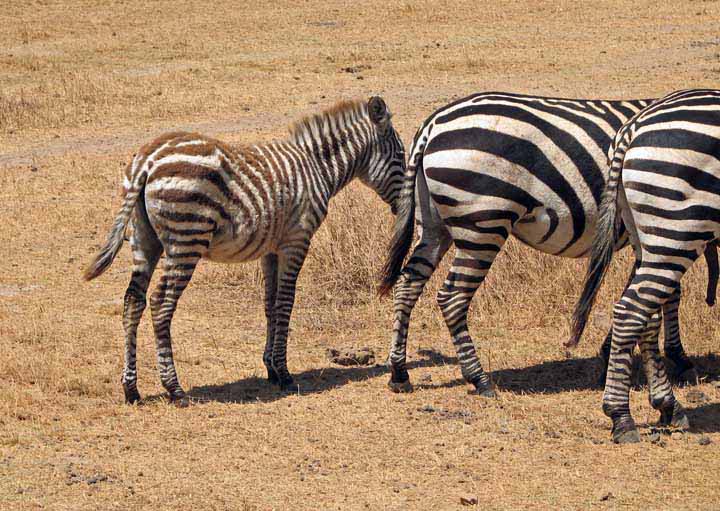 A furry little young Zebra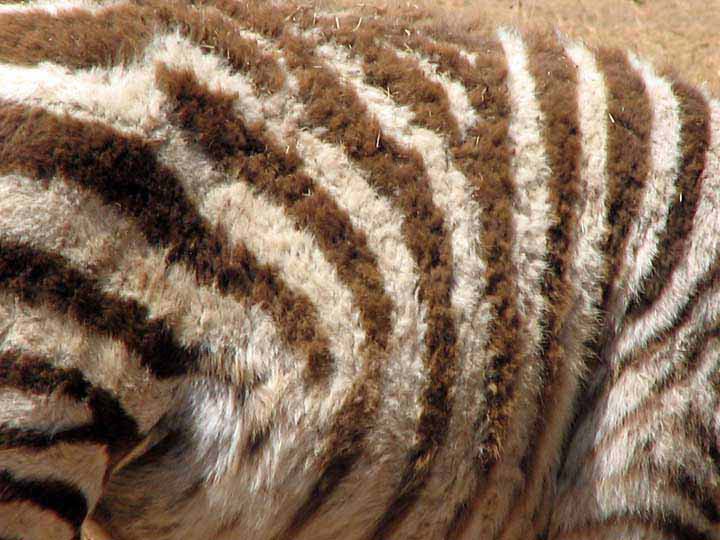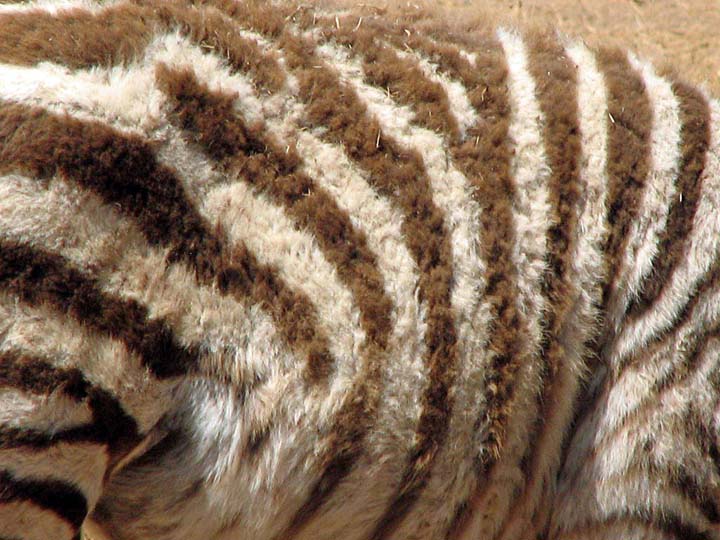 Zebra with Coke's Hartebeest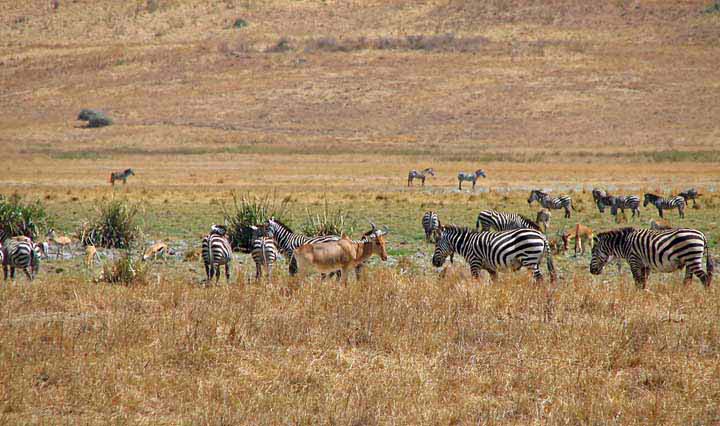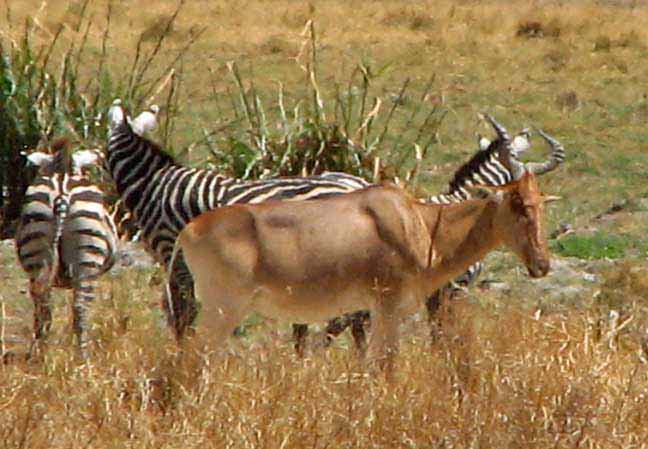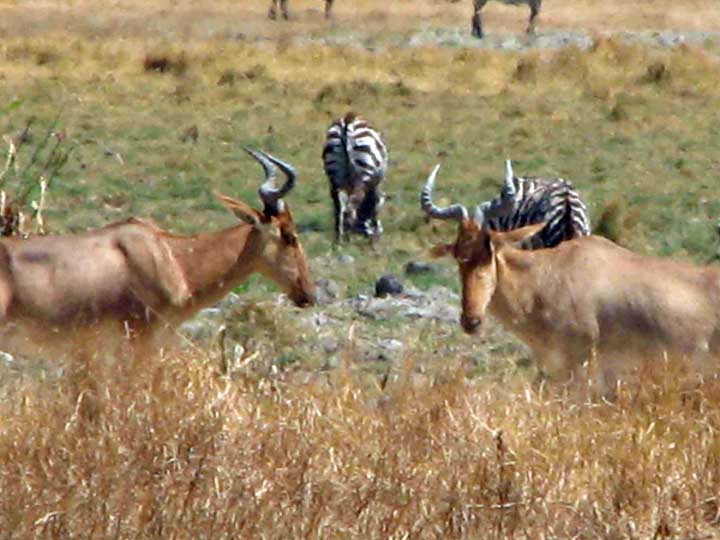 Dust? What dust? Just don't get that damn close!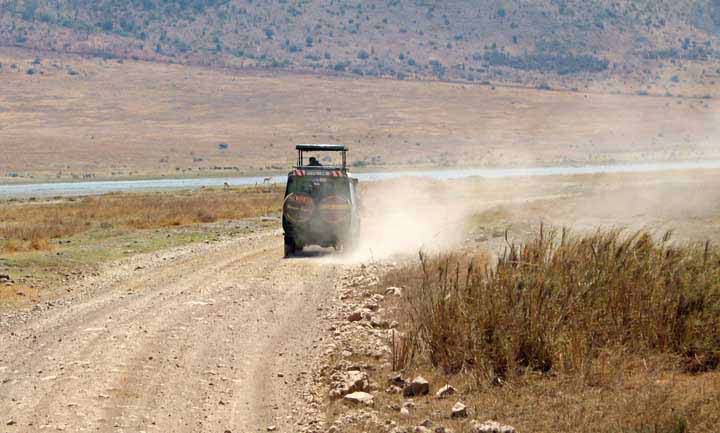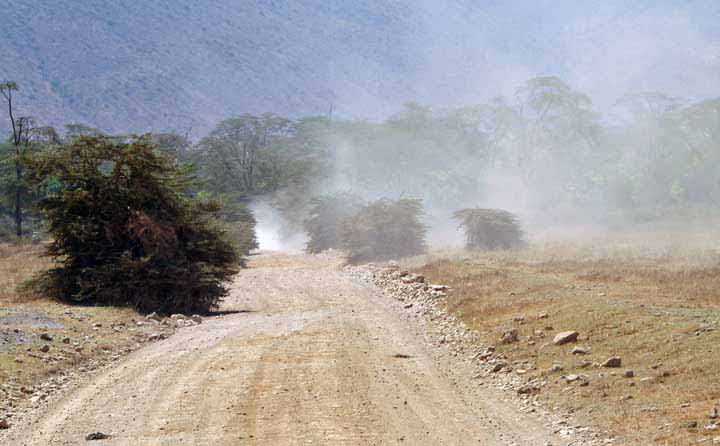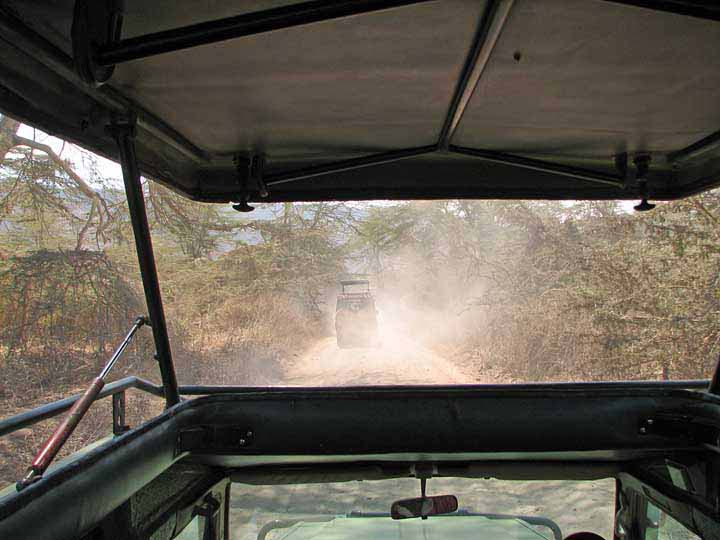 Some of the very few trees on the floor of the caldera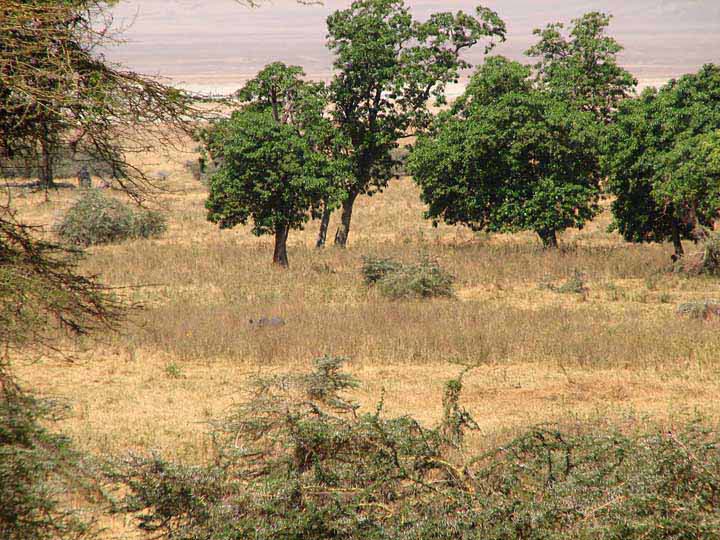 And the Vultures take advantage of them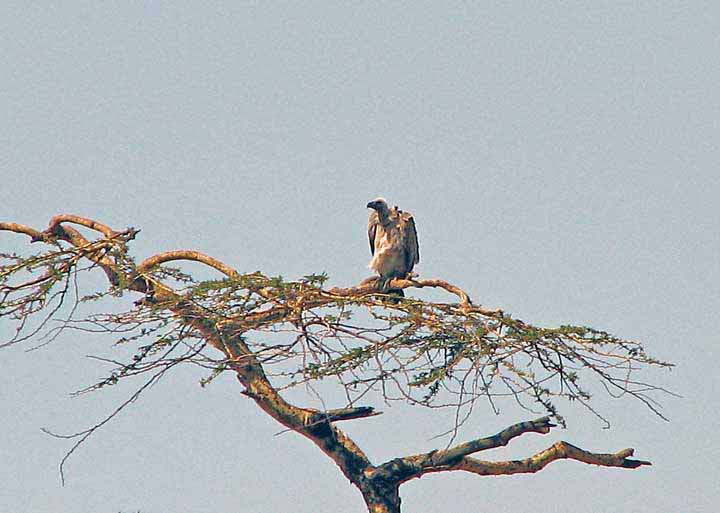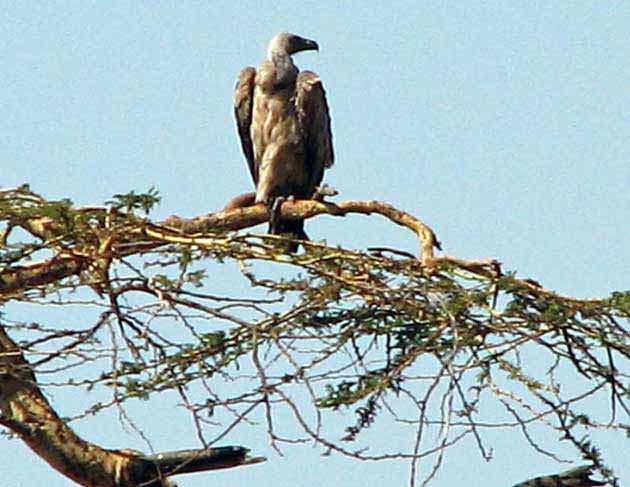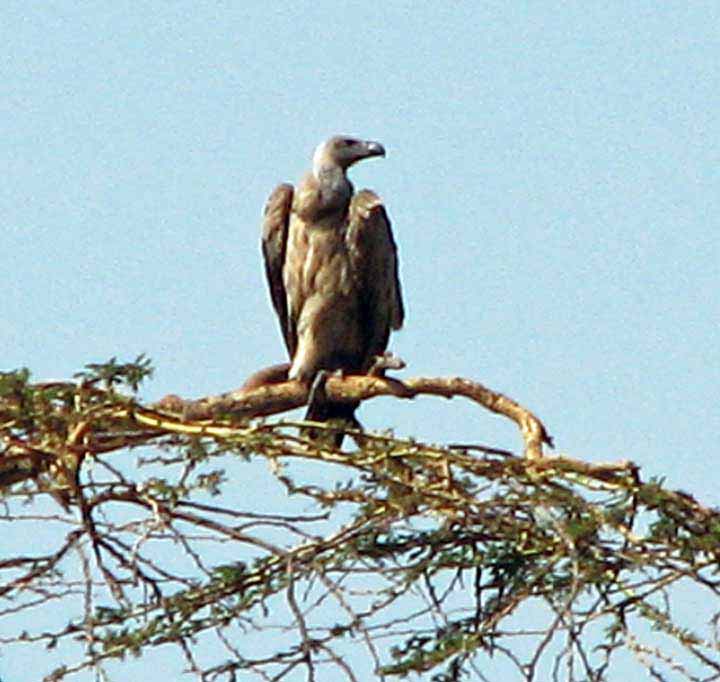 A strange tree that caught my eye. Look how twisted the trunk is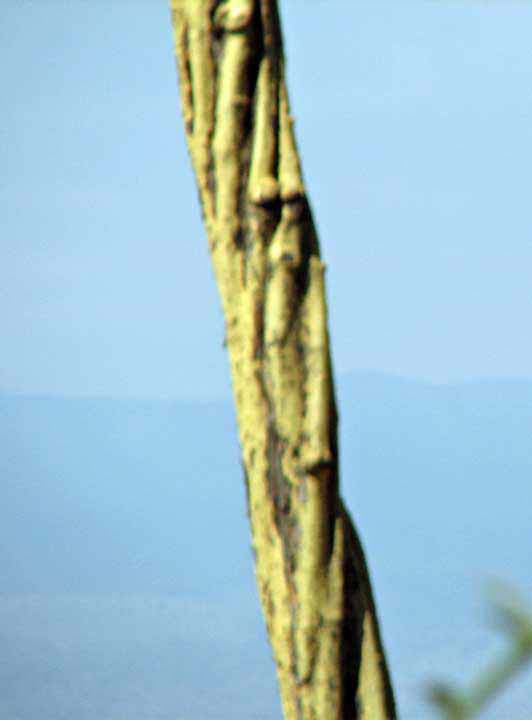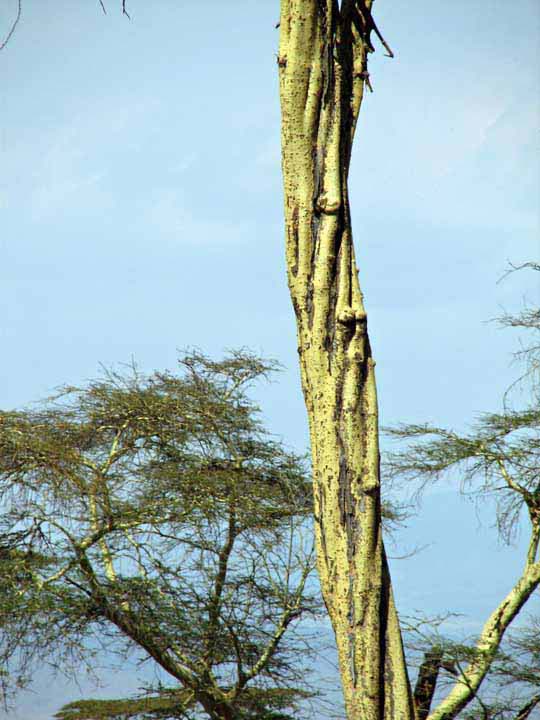 Antelope resting in a shallow dug out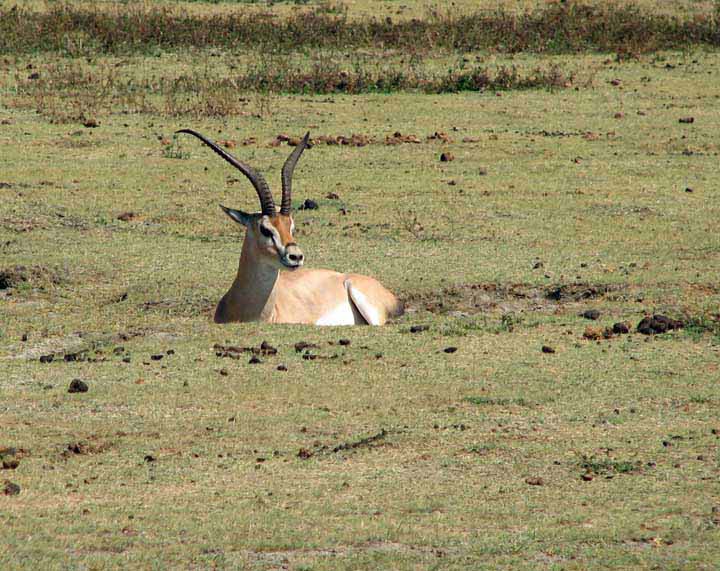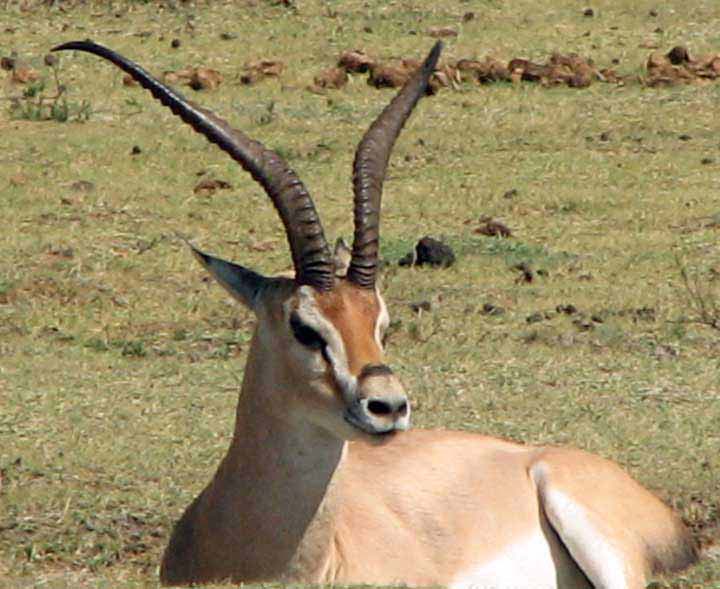 The Wildebeest resting also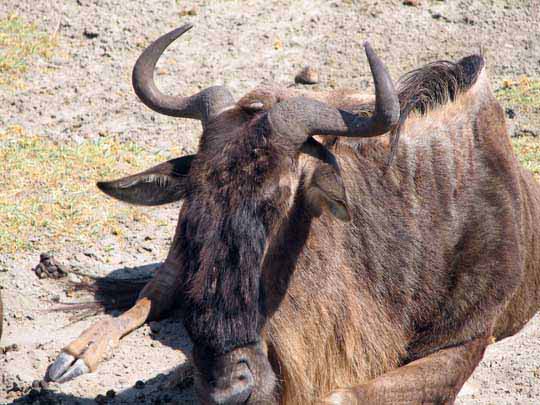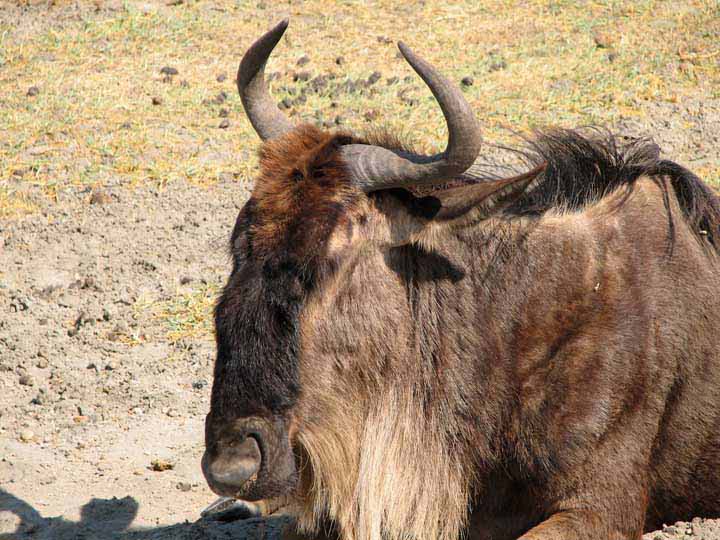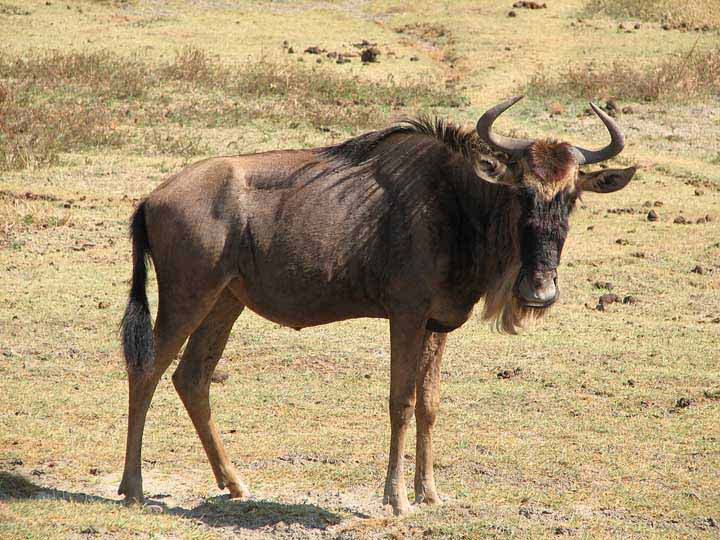 I have a very interesting story about this particular Ostrich
I first saw him in the far distance running up a hill. Our trail took us away from the hill and about an half mile down the road. I look up and here he comes, still running at top speed, over and down the hill towards us.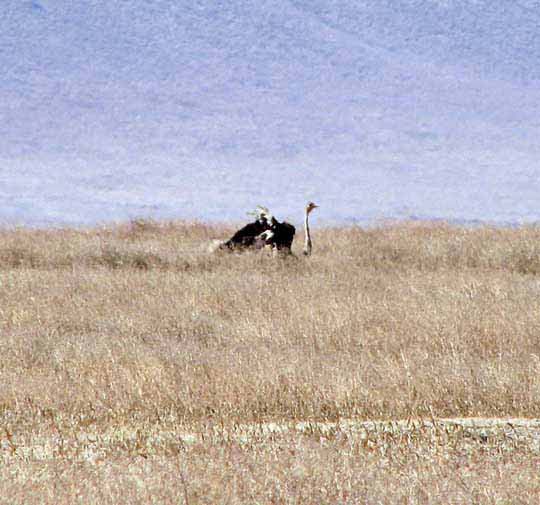 Only then did the see the female
He makes a mad dash for the female, and has his way with her. (I have this piece of jungle porn as a film)
The mad dash!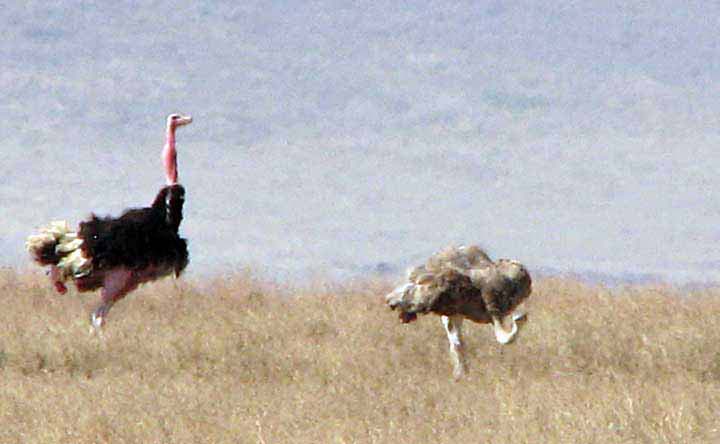 After they have shared that moment, she walks away and fluffs her feathers.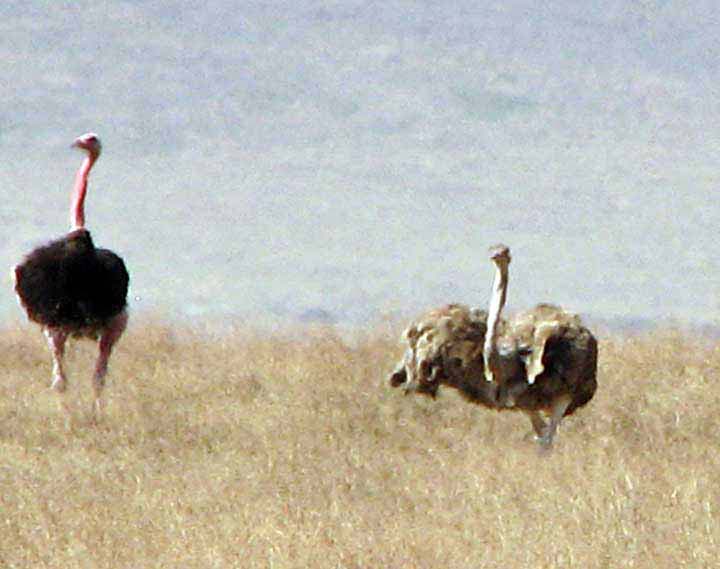 They then go their separate ways - as if they had never seen each other.
Question - how did he see her, and does he always run maybe a mile & 1/2?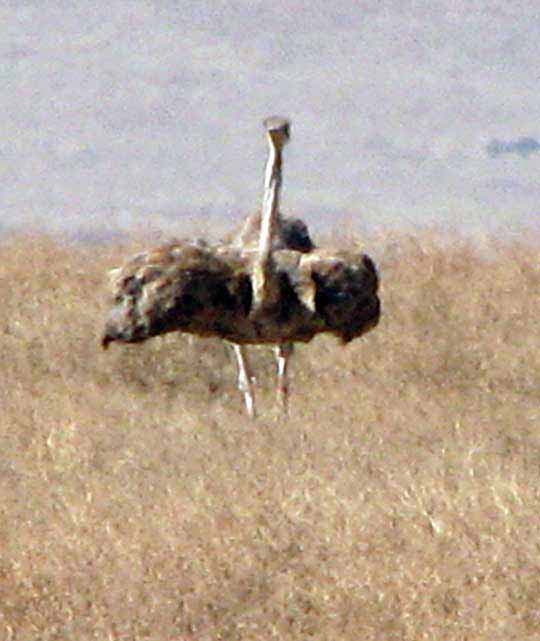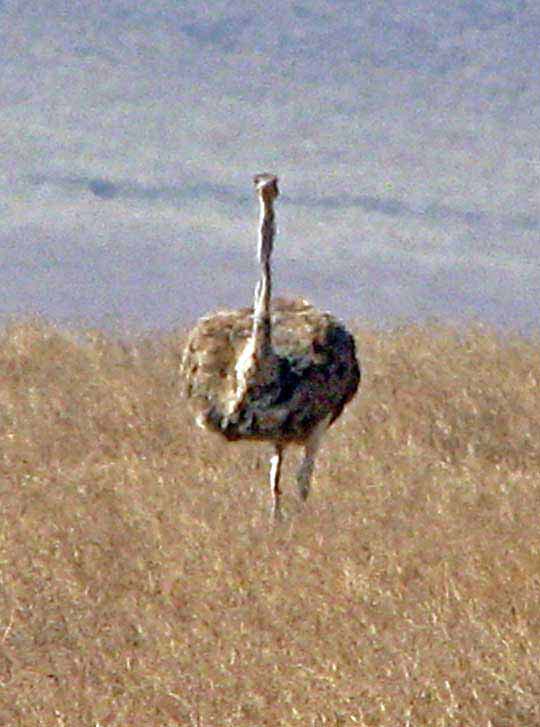 More Ostriches, Zebra and Thompson's Gazelles in front of the lake full of Flamingos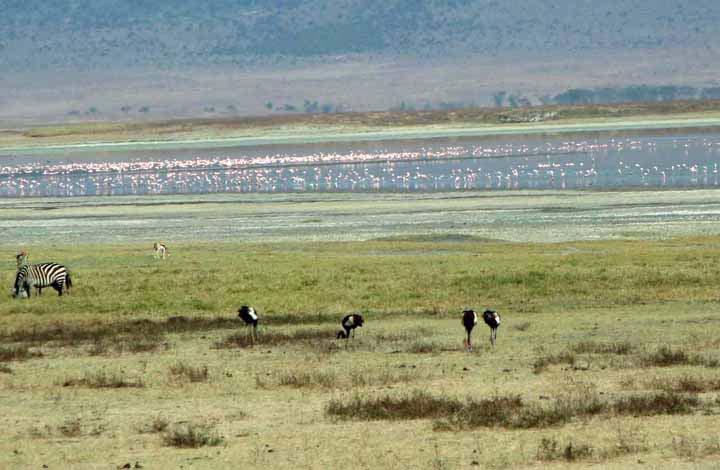 Zebras and Flamingos, quite a color contrast.

A rarer sight, and something Jackie wanted very much to see - a Hyena
As I expected never to see another, I might have gone a bit overboard taking pictures.
I was correct - this was the only one seen the entire trip in Africa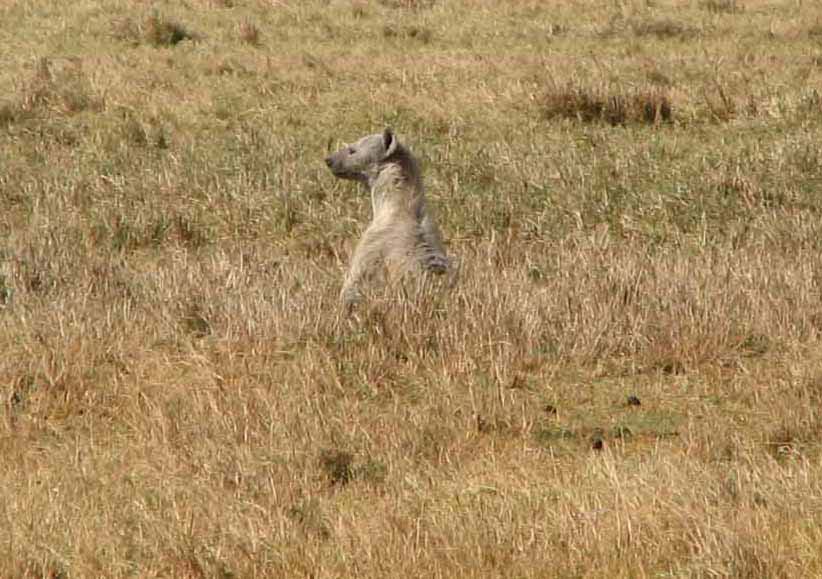 He was watching something. We never discovered just what it was.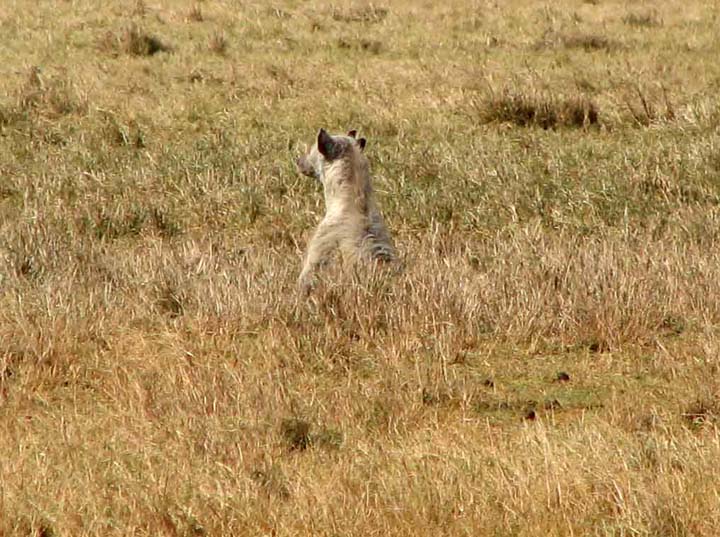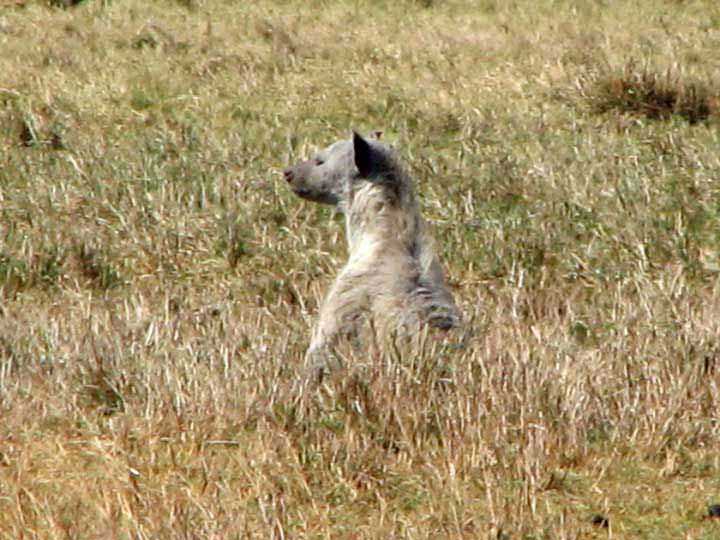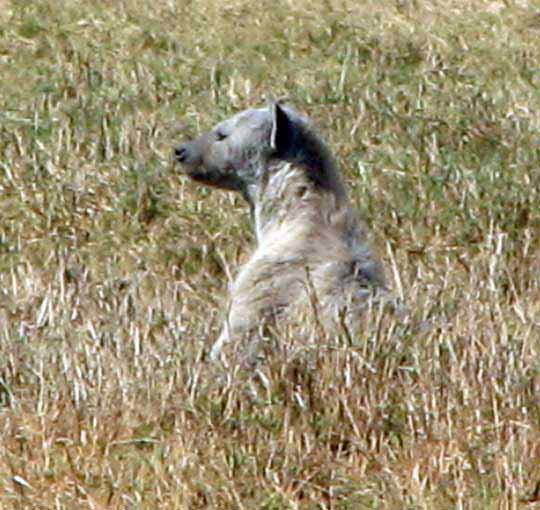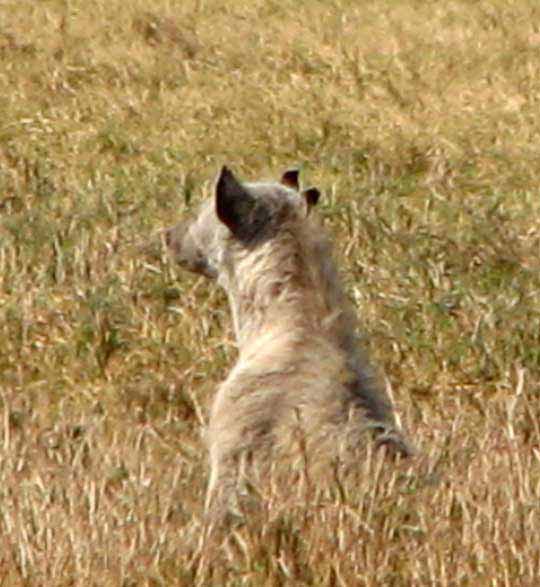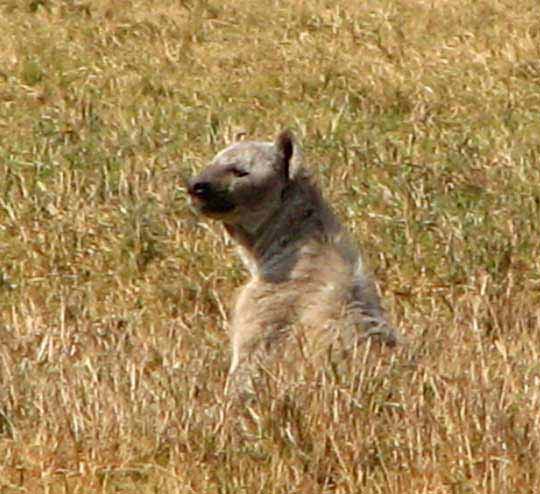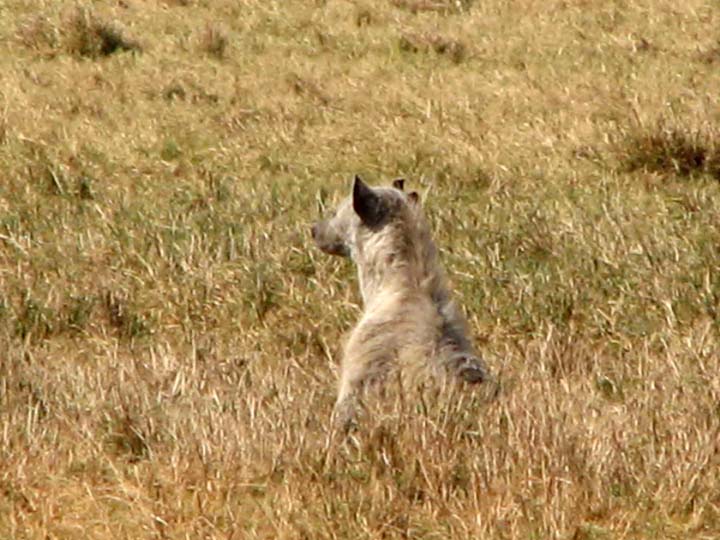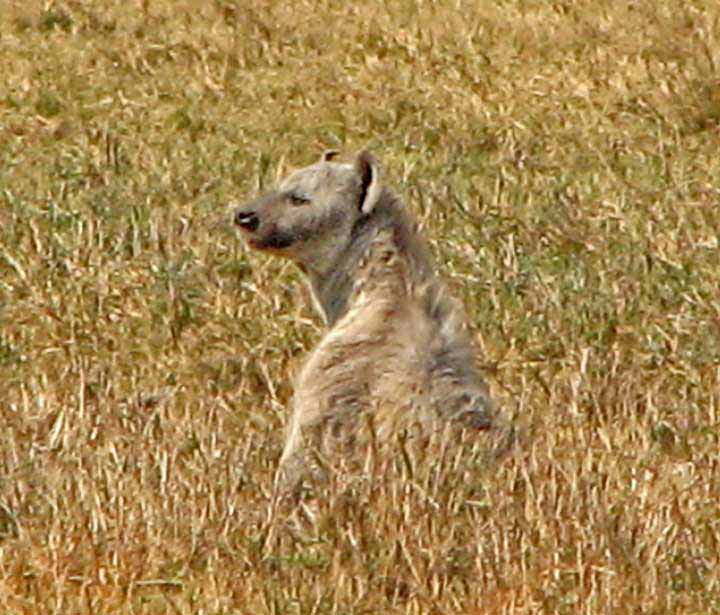 We thought he was watching this gazelle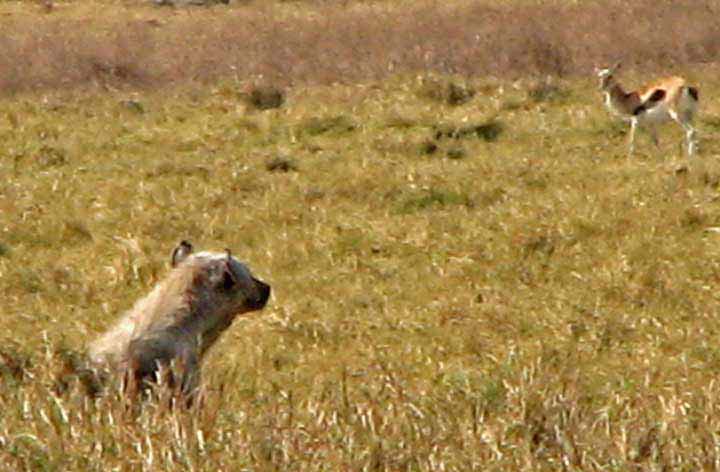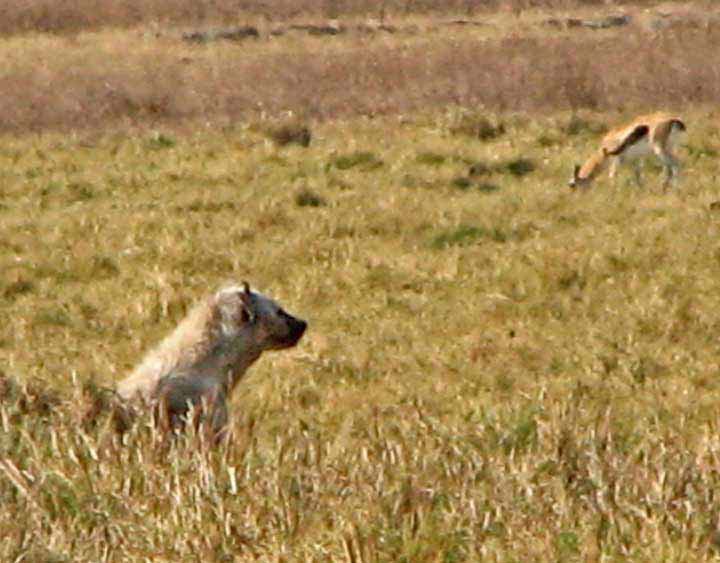 But he simply walks away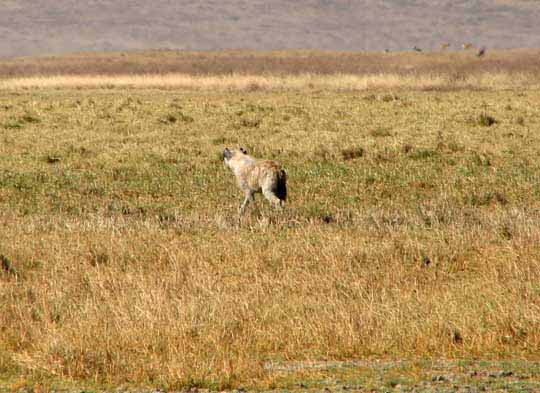 Some more Crowned Cranes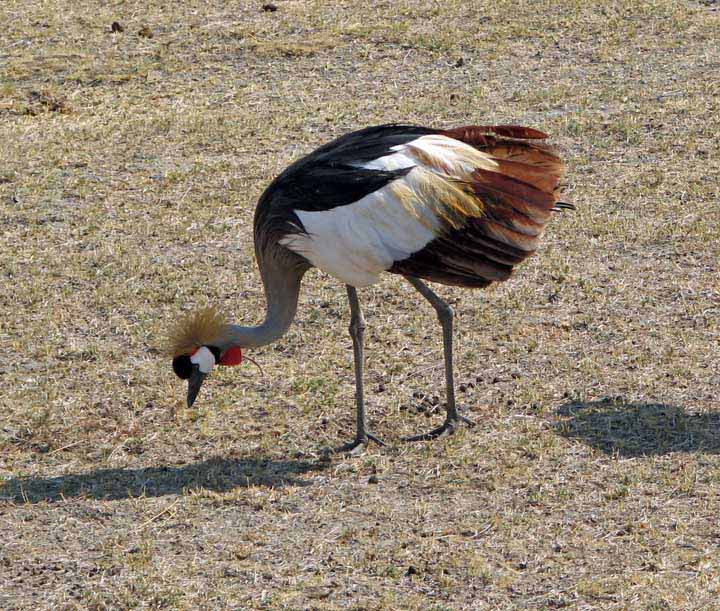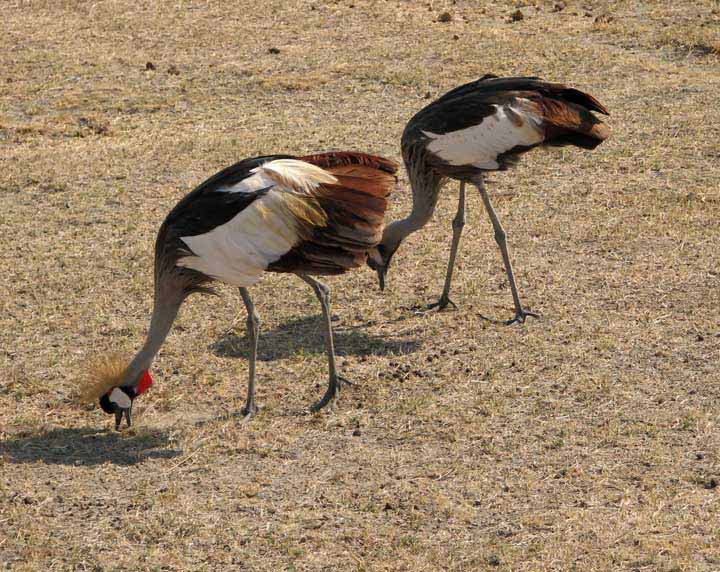 Flamingos on the lake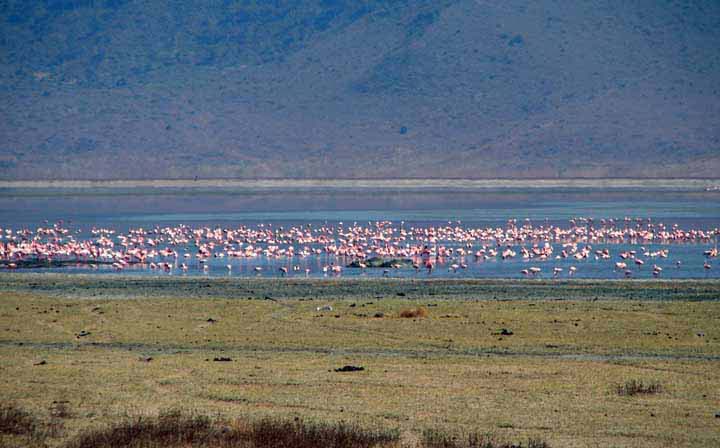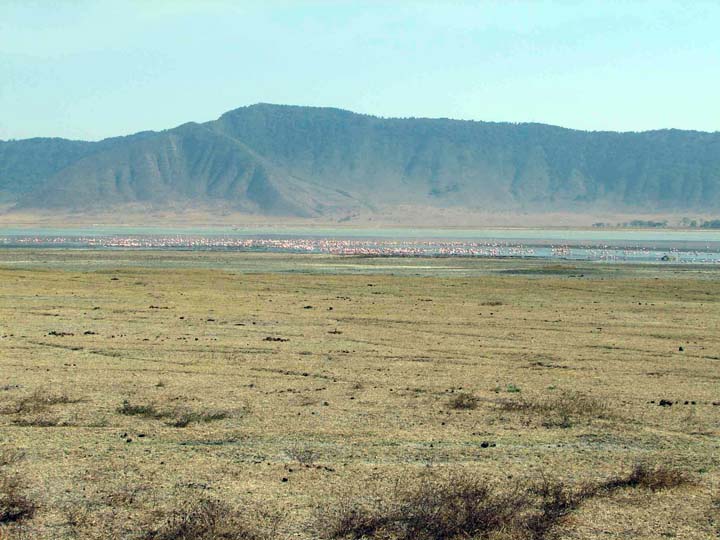 Cape Buffalo and nursing youngster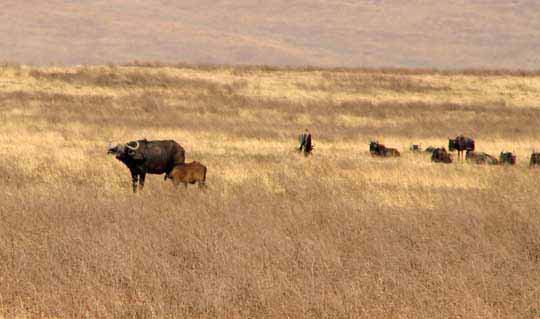 A wet area with a heron and Cape Buffalo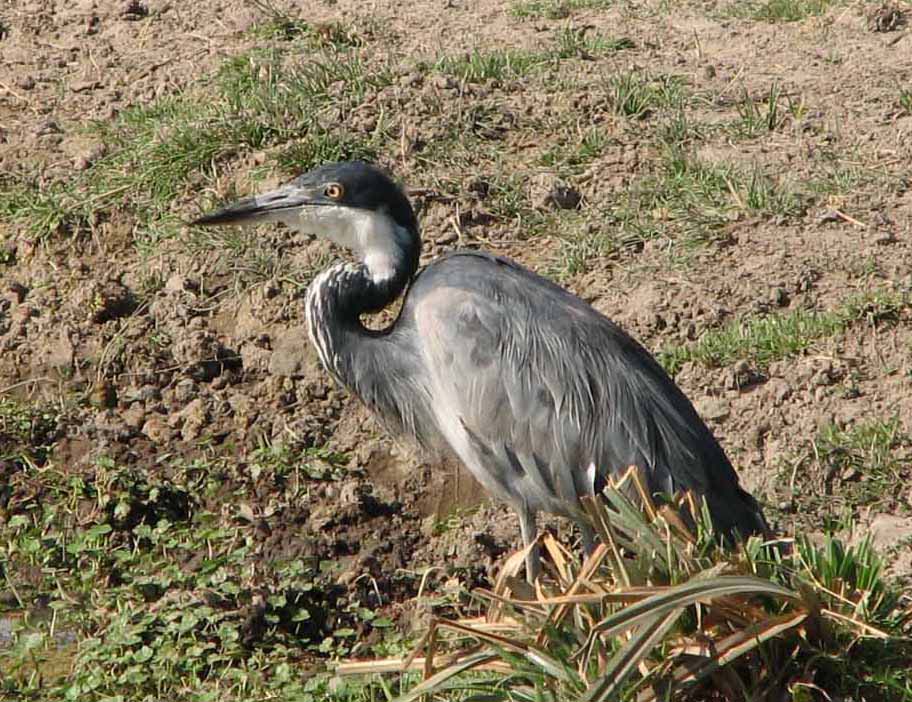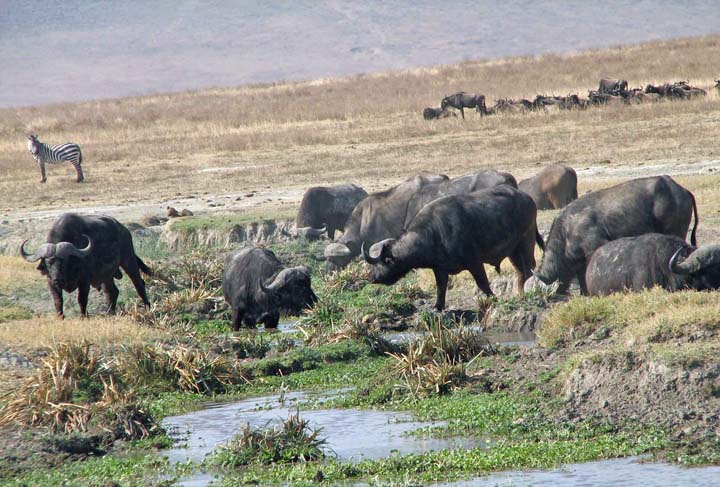 Don't know if you can see that spot, mid picture at about eleven o'clock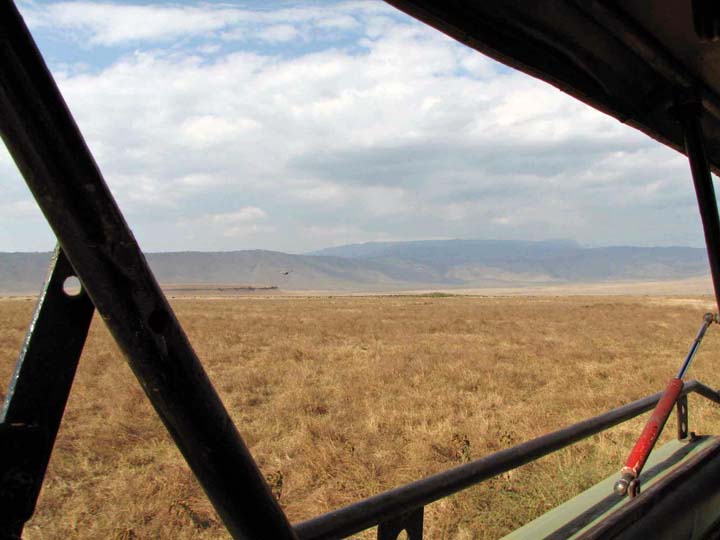 Its a hawk I saw drifting on the thermals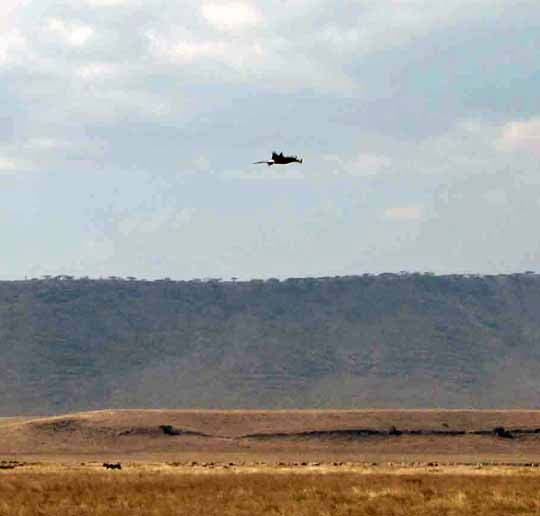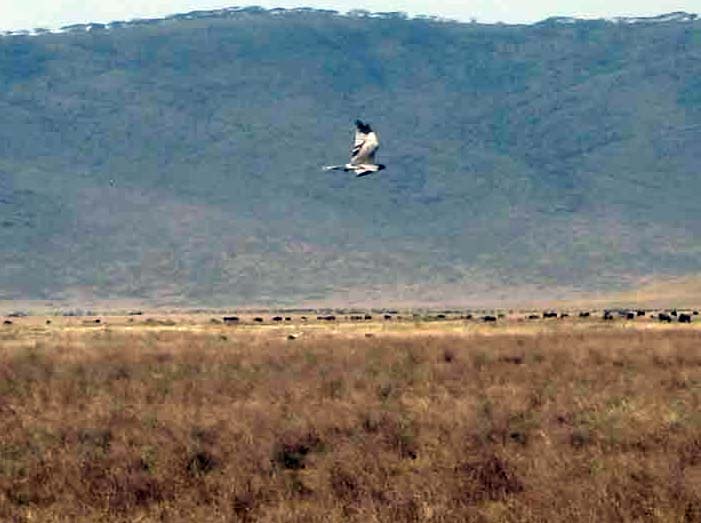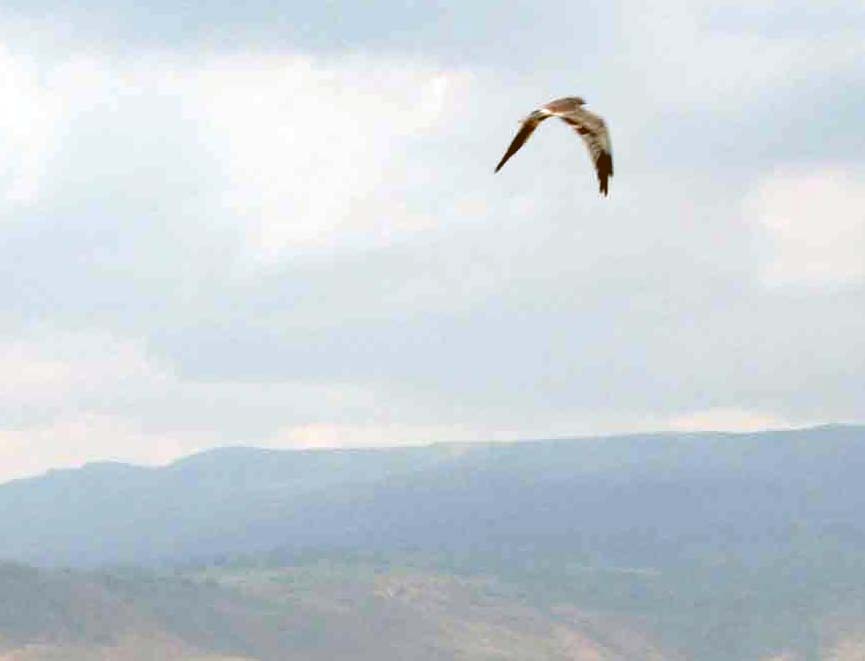 A Zebra on a "Rubbing Stone".
I'd never heard of a rubbing stone before. Samuel told us that there are not that many, so consequently, they are very popular. The Zebra is taking advantage of the rubbing stone to scratch his ears and neck.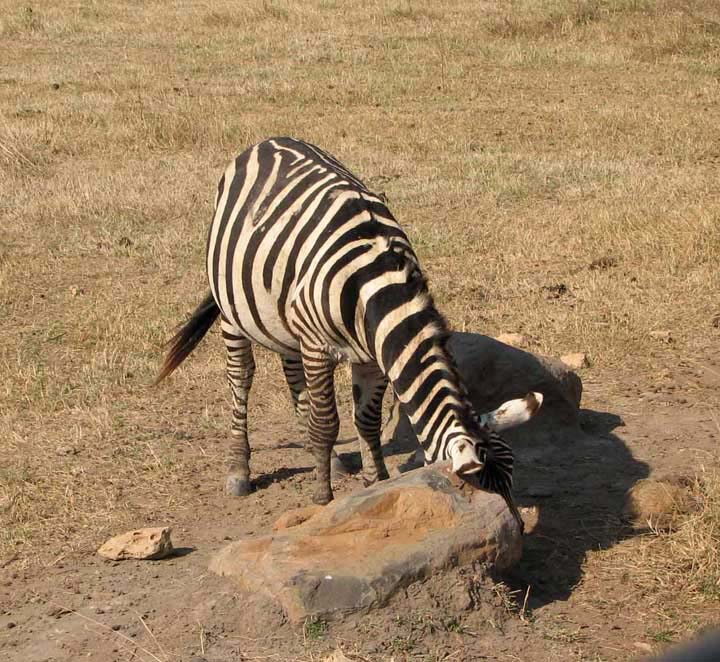 Samuel told us there's pretty famous one he'll show us later.
This Zebra shows the wear and tear of a number of bites and kicks.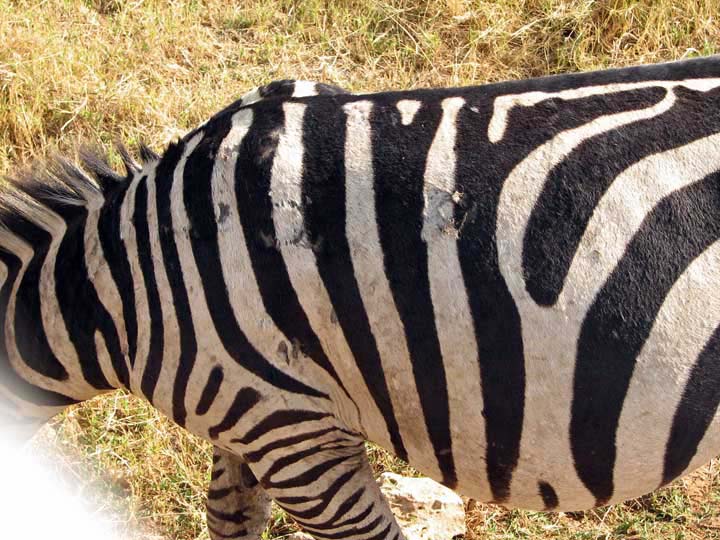 A more peaceful moment - as the young Zebra nurses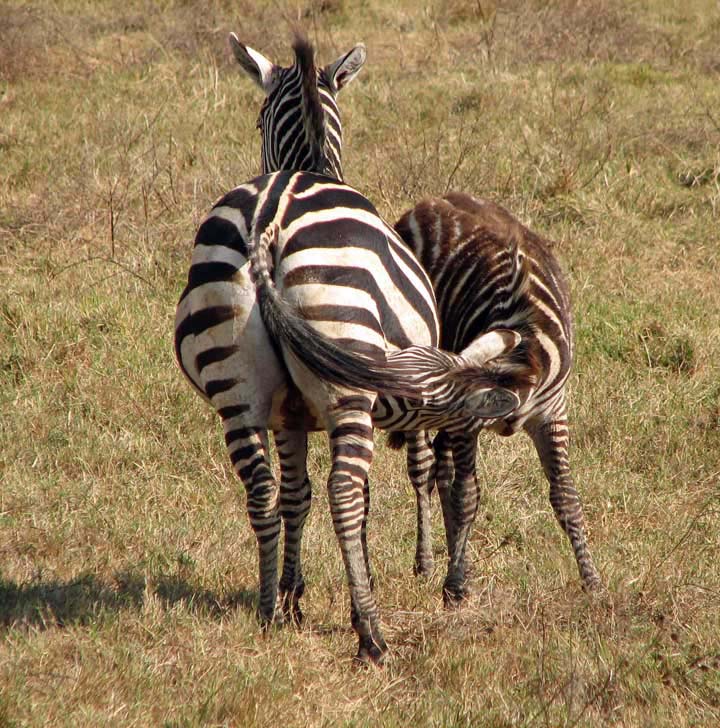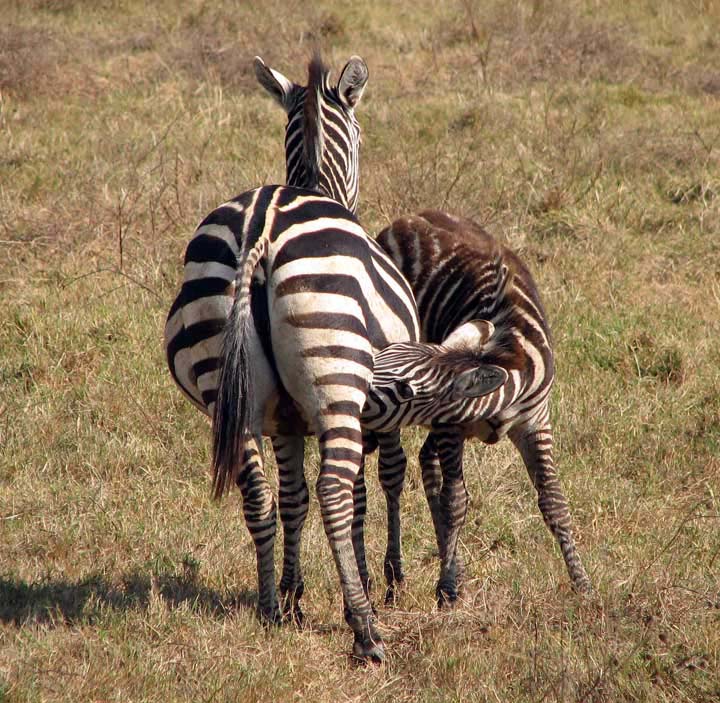 Zebras can eat on a plain where all other grass eating animals have given up. They have a flat, straight set of upper and lower front teeth. They cut the grass by moving the teeth side to side. They can eat grass as short as 1/4 inch. If there's no grass to be found, they have been known to keep alive by eating their own waste - as it is comprised mostly of grass that has not been completely digested.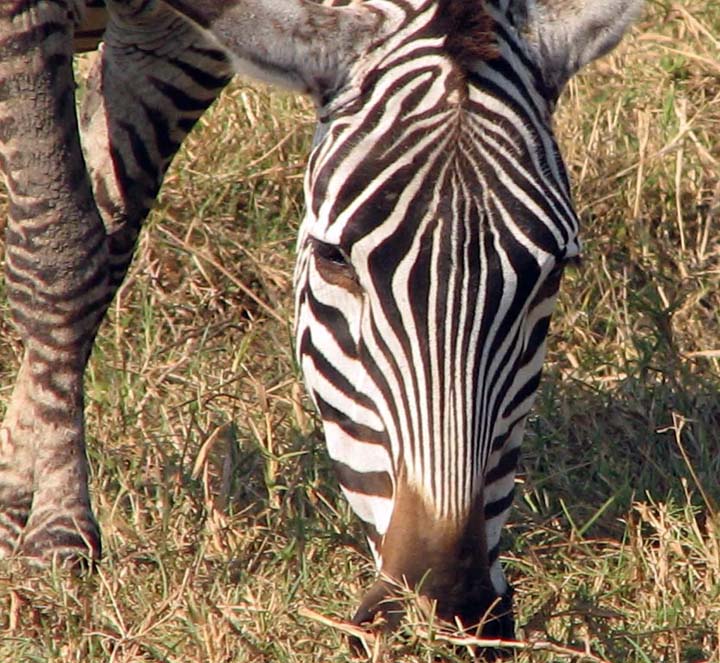 Samuel's more famous Rubbing Stone
You can see the depth of the path around it as animals circle the stone to scratch.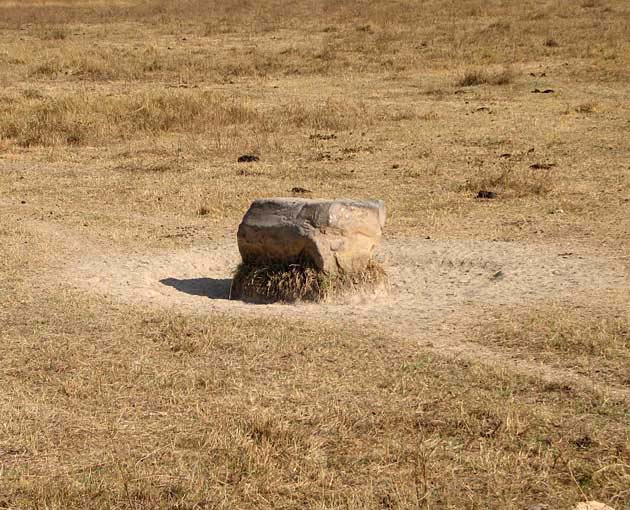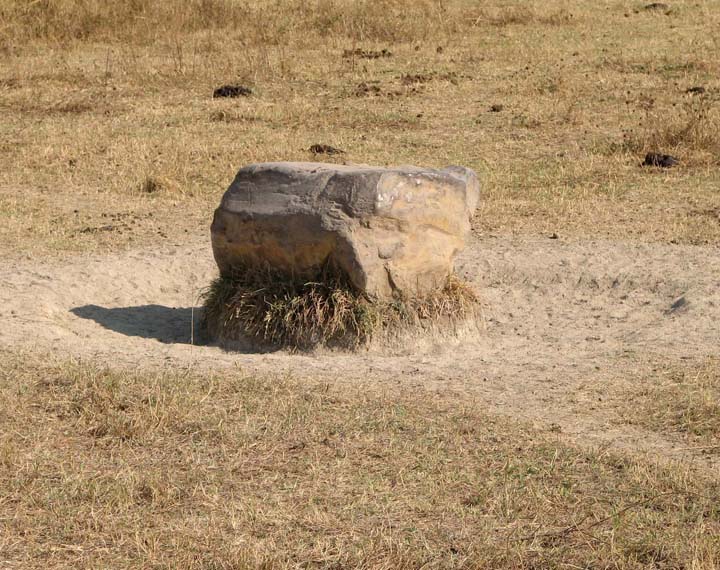 Additional Wildebeest for dinner
I believe it was Pam who told me that while on migration, Wildebeest have perhaps 800 births a day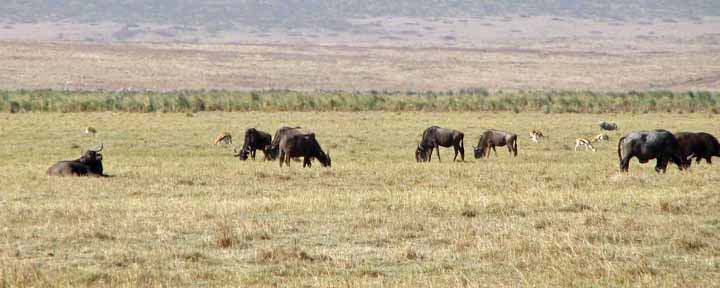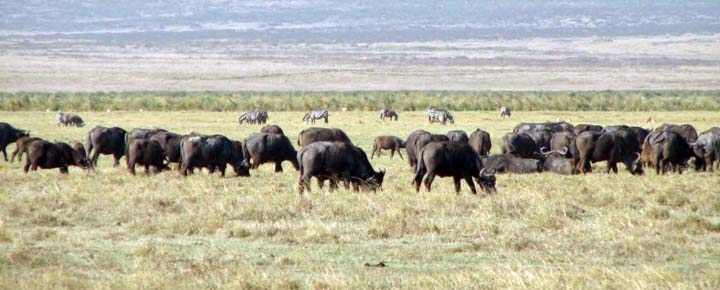 Cape Buffalo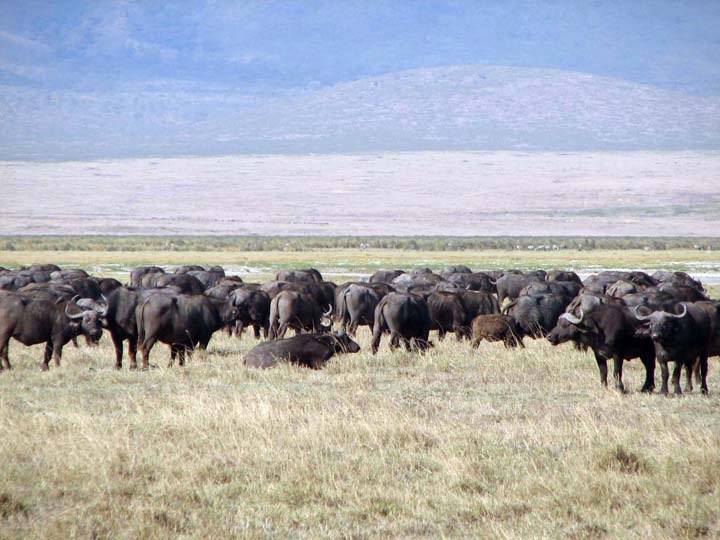 What horns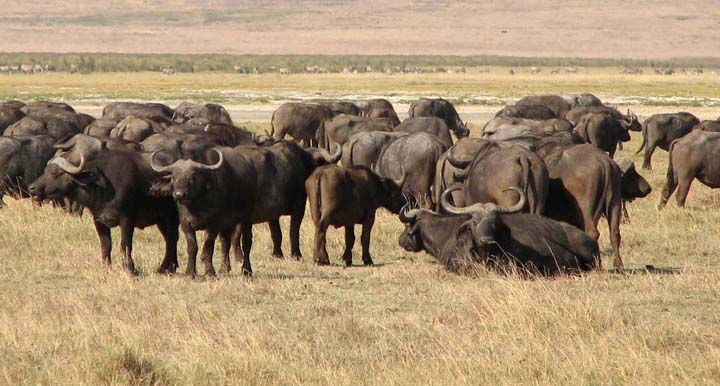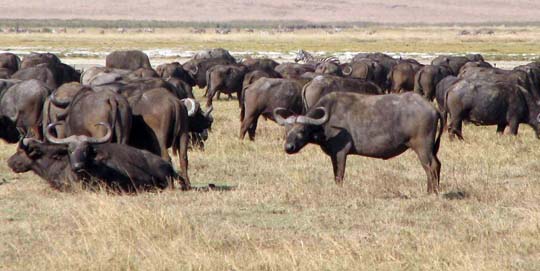 Herds of animal surround this wet area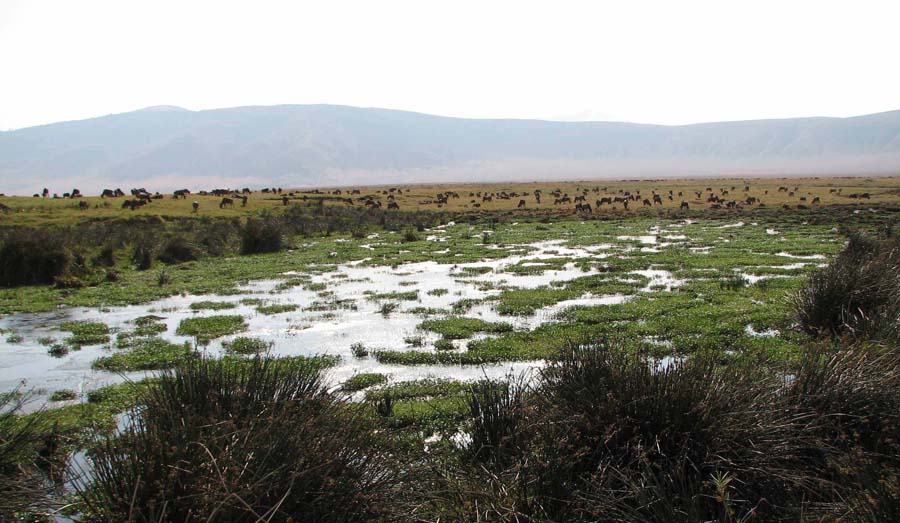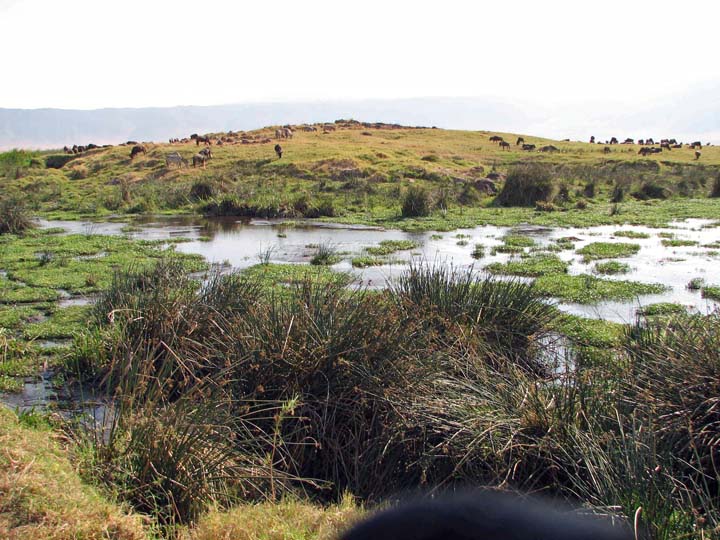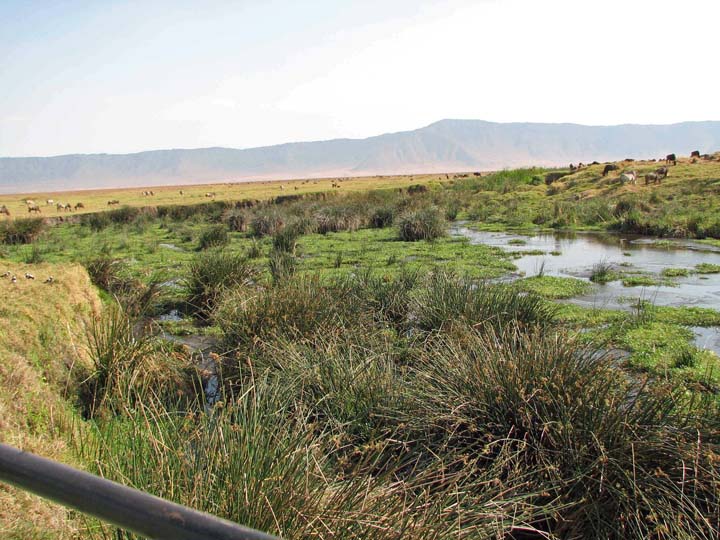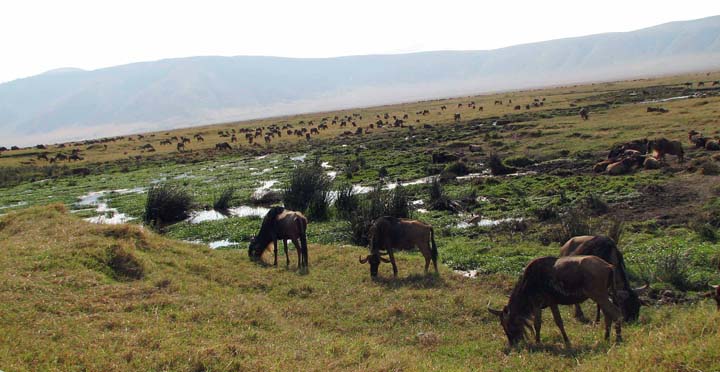 Even Ducks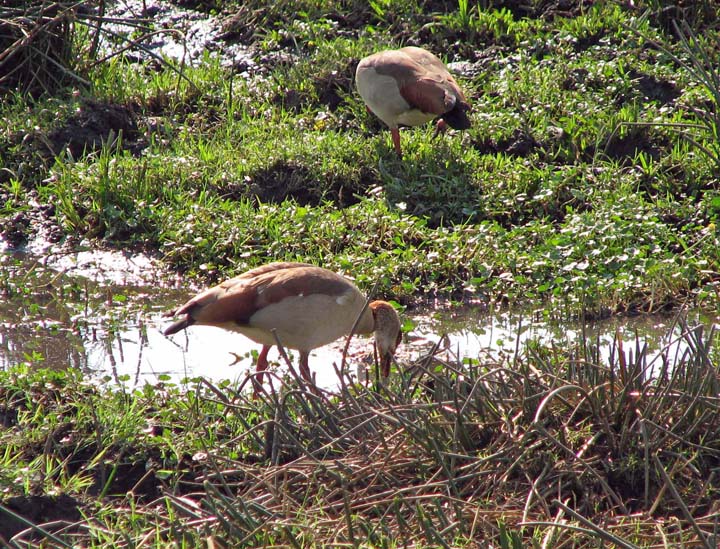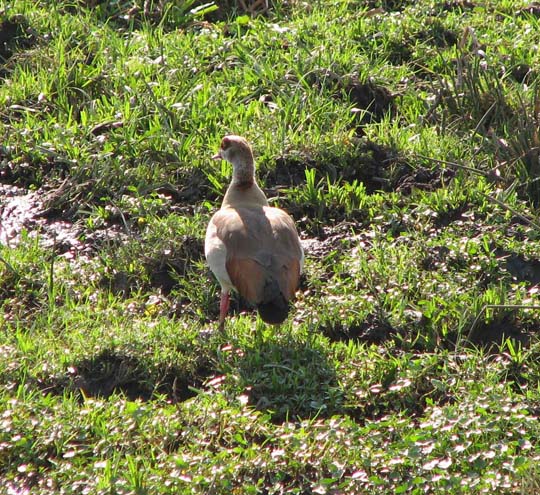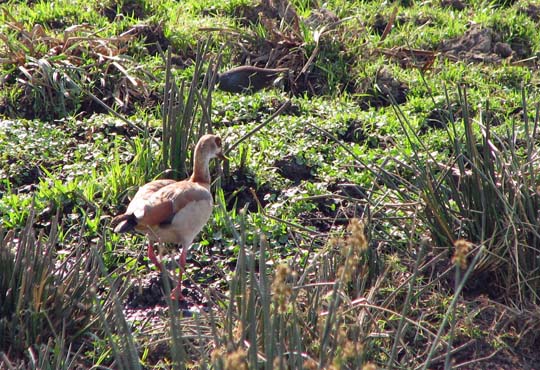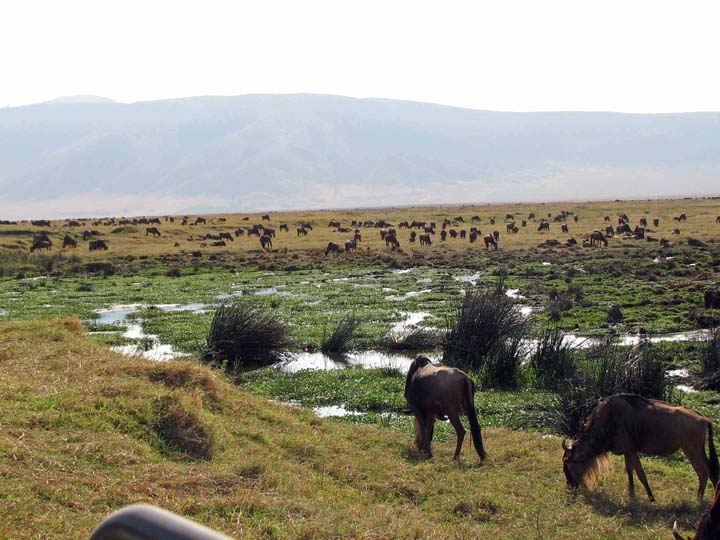 Secretary Birds are here also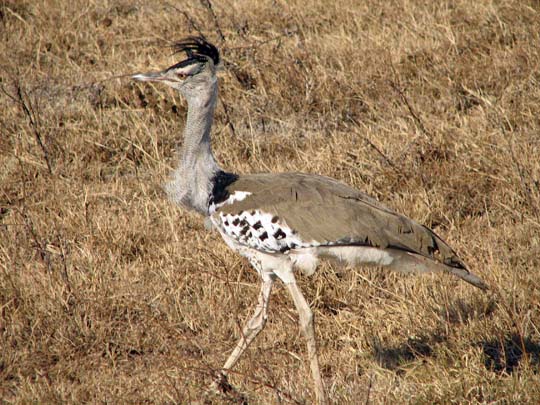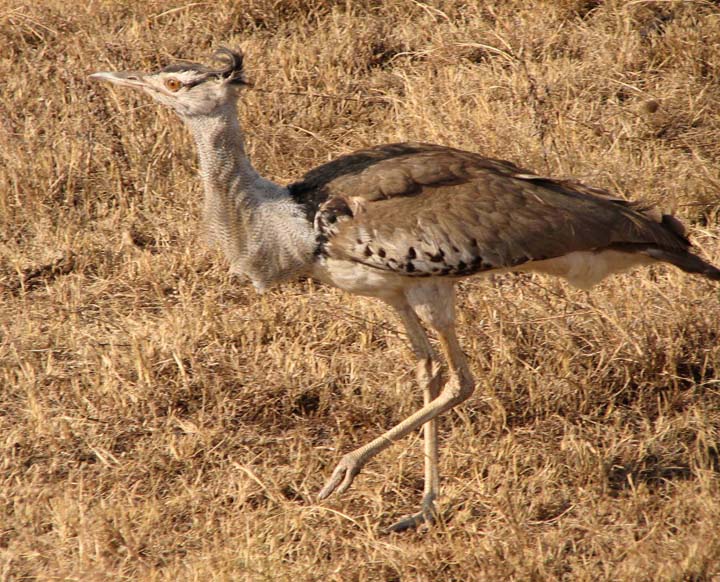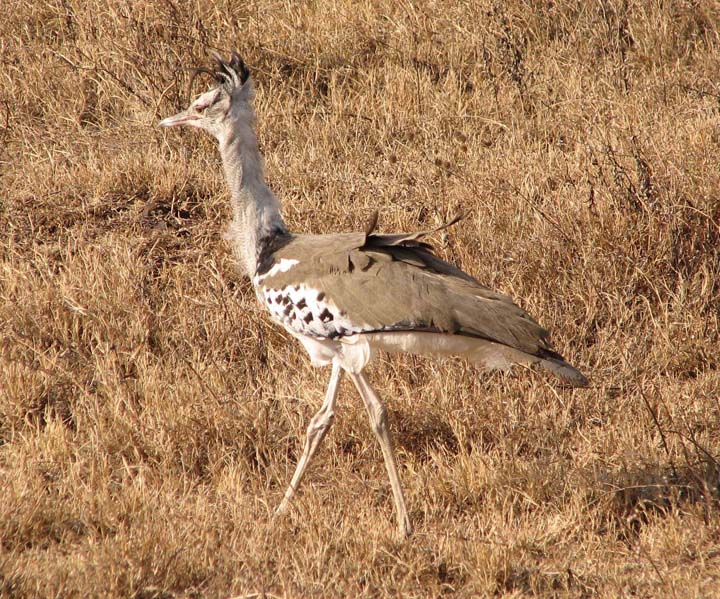 A lone male ostrich just about out of eye sight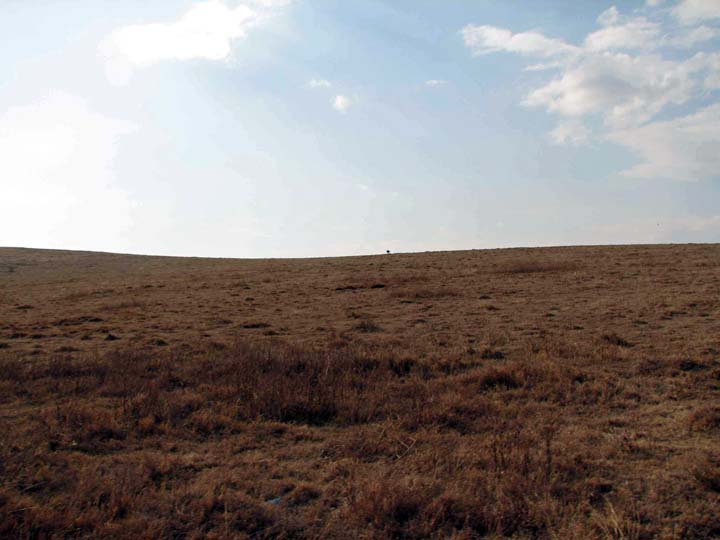 A Jackal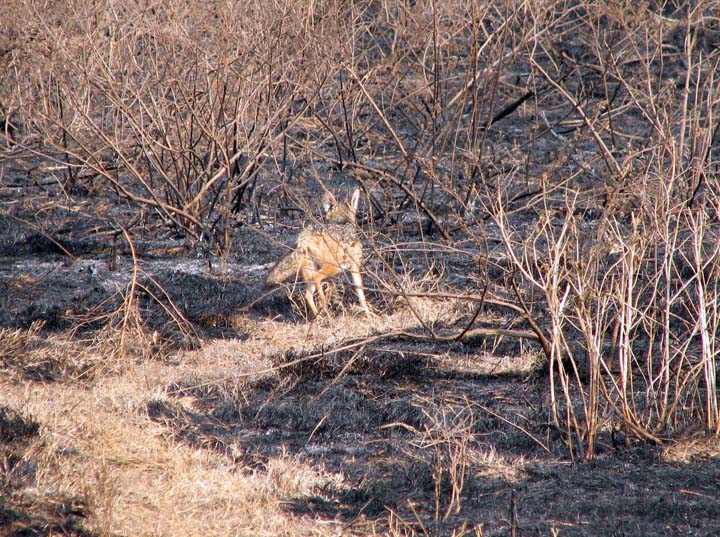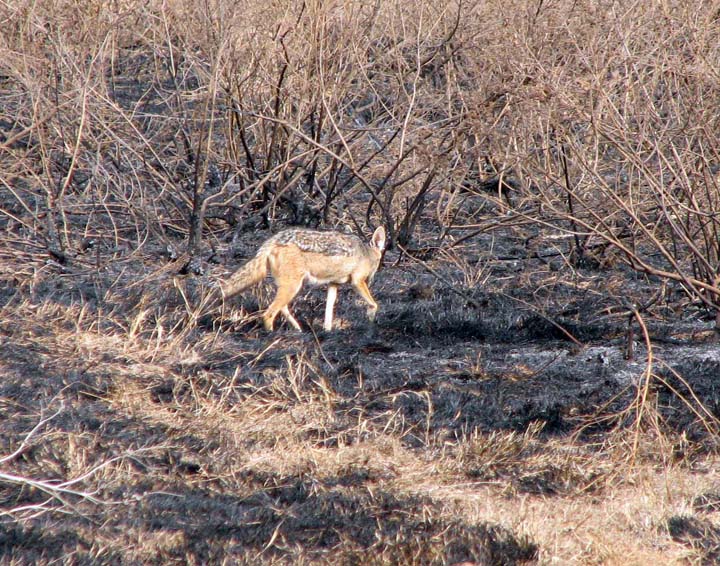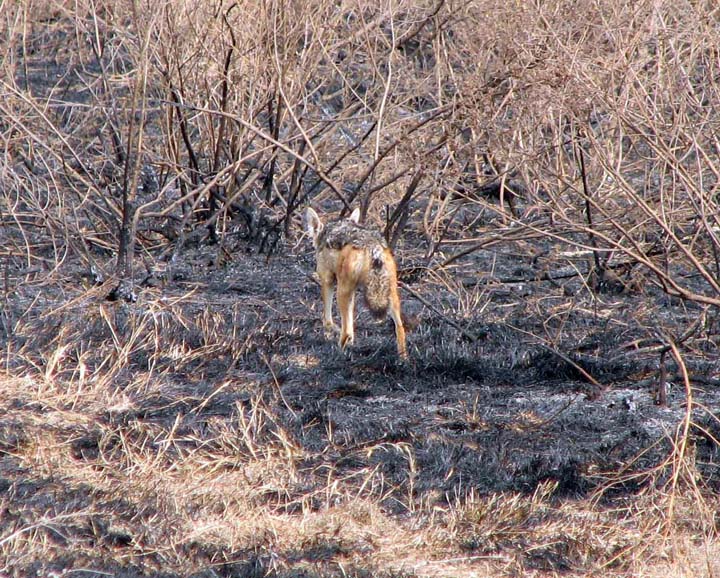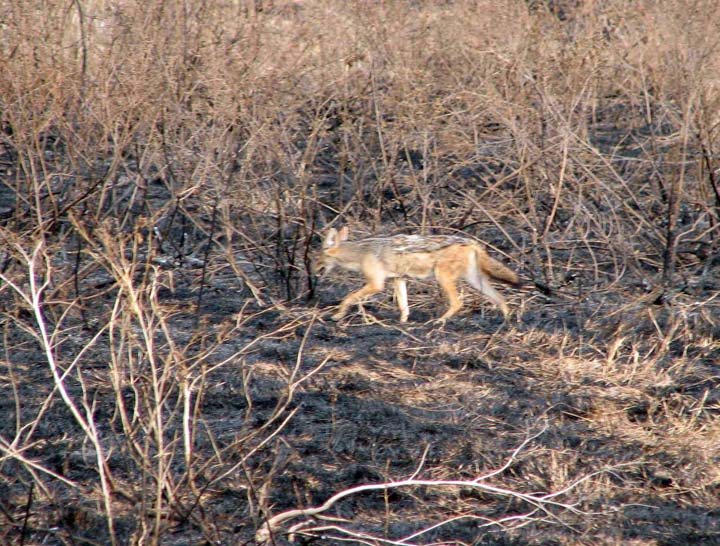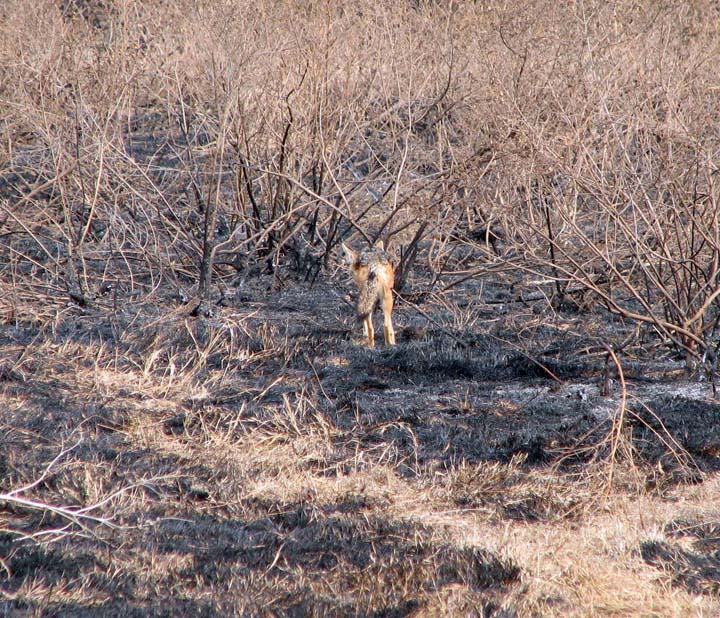 Animal trails through the burnt grass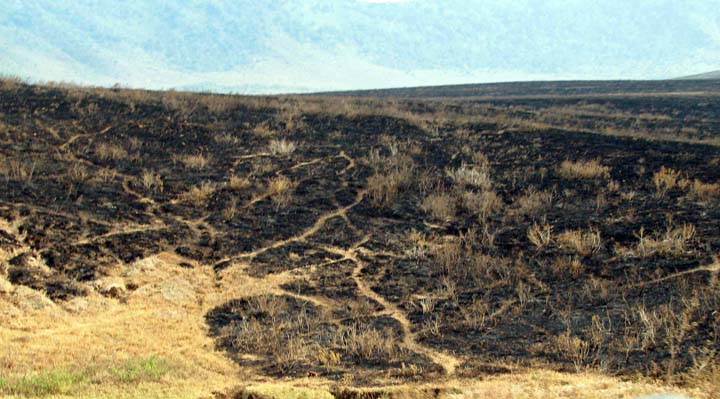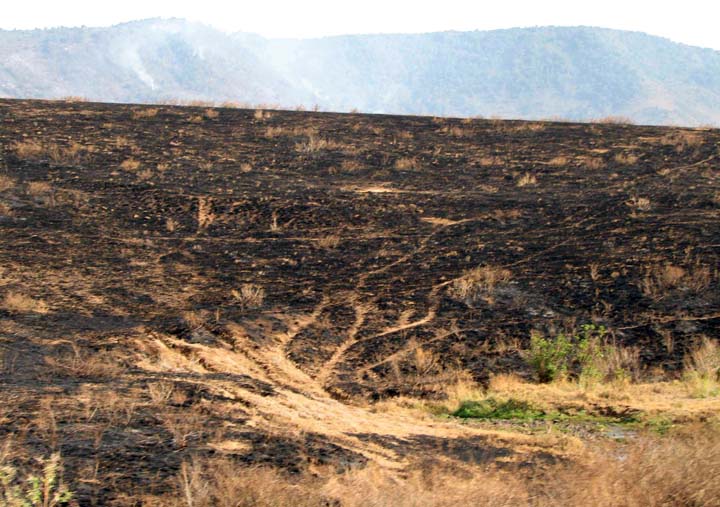 Not a honeymoon. This male has two females in his harem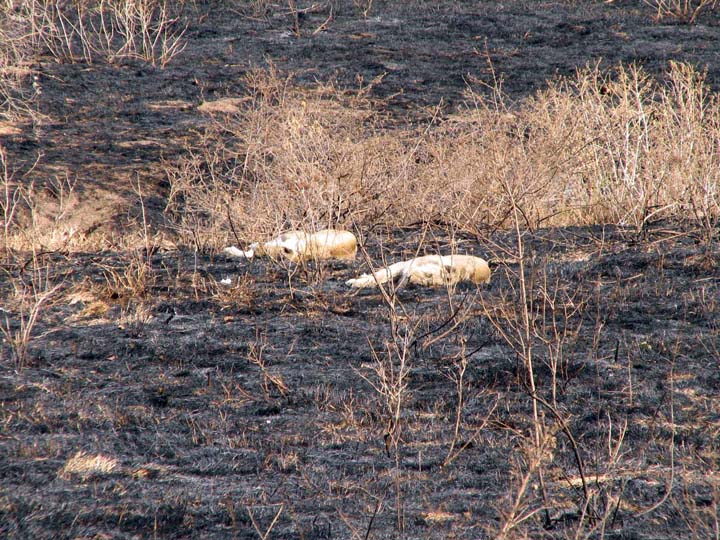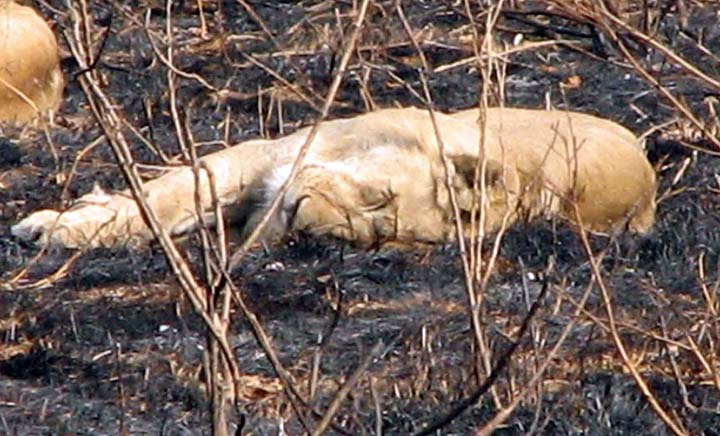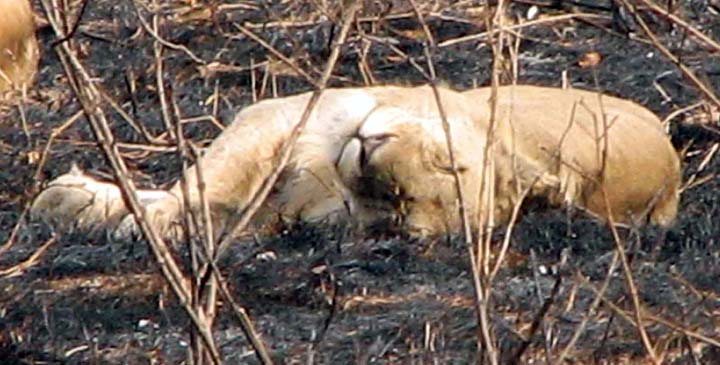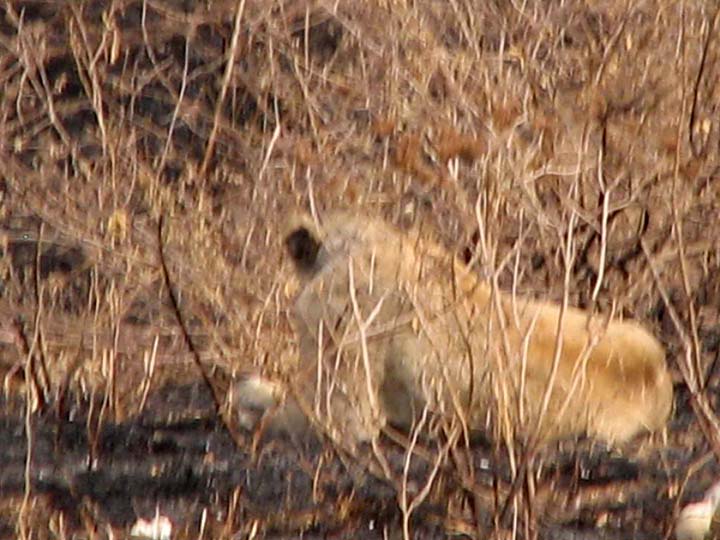 They slept a while and then first one female and five minutes later, the second female, left to hunt.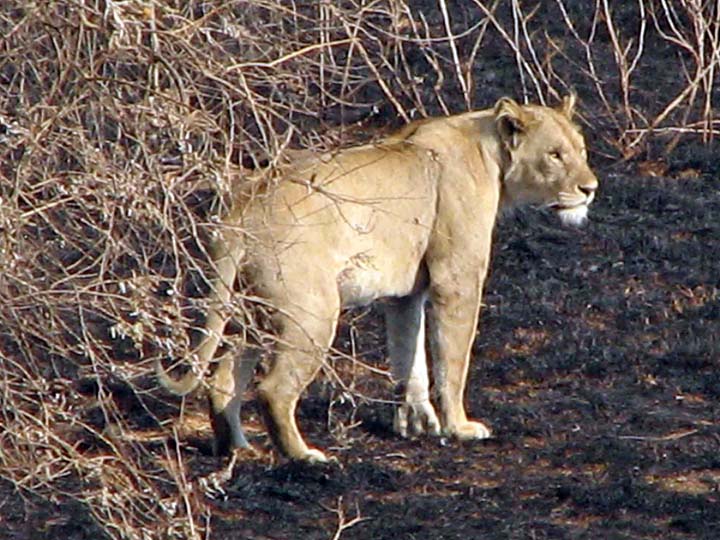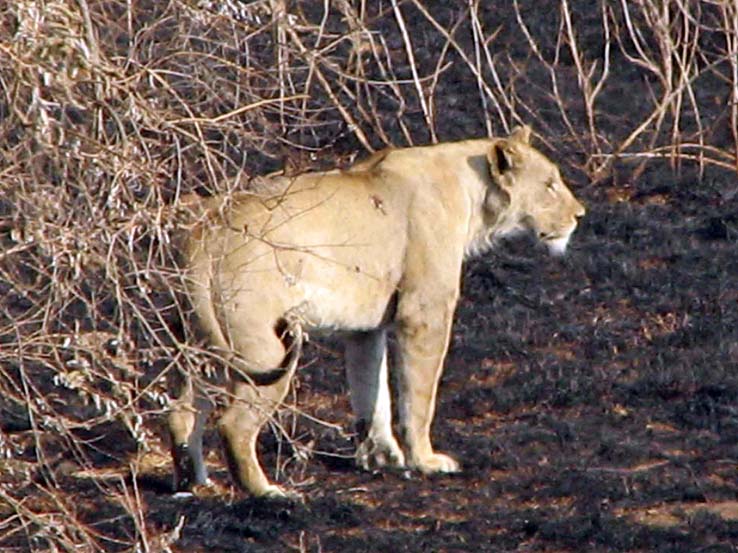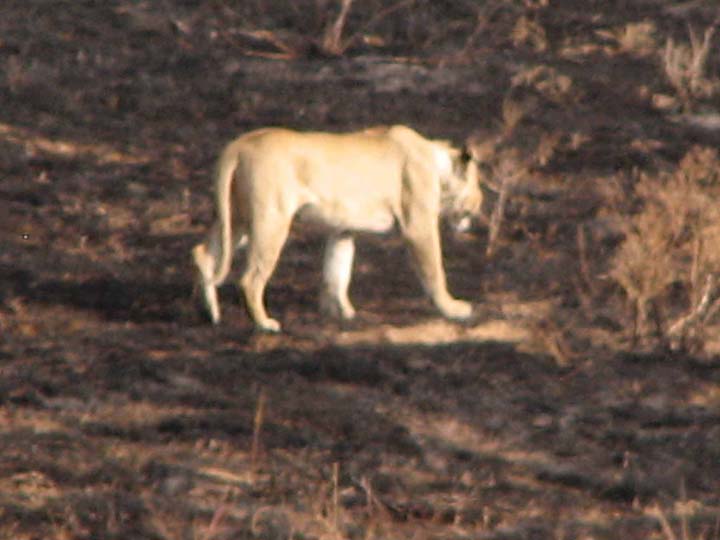 Our cabin at the lodge - huge!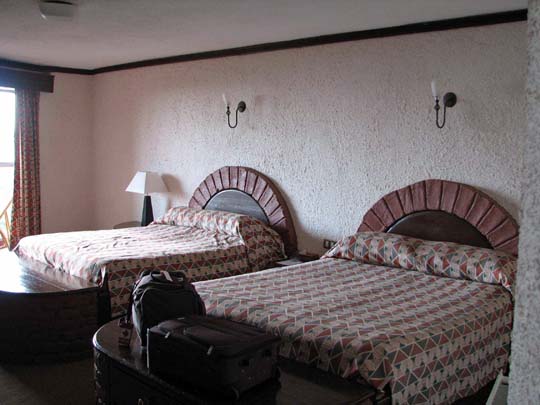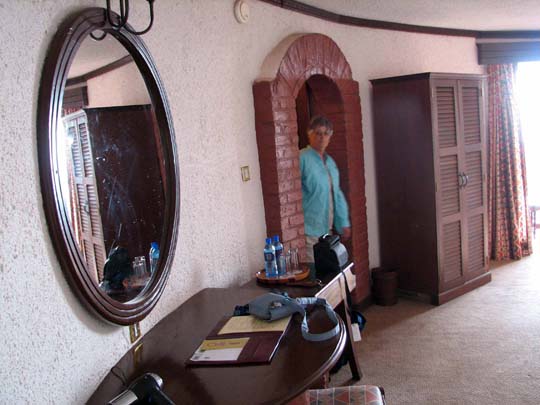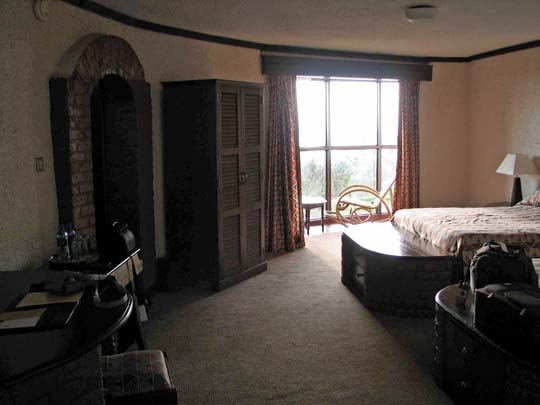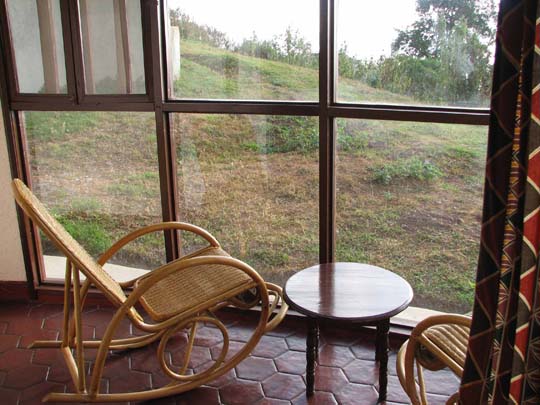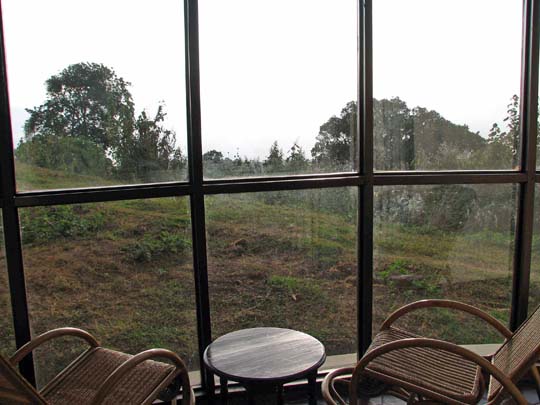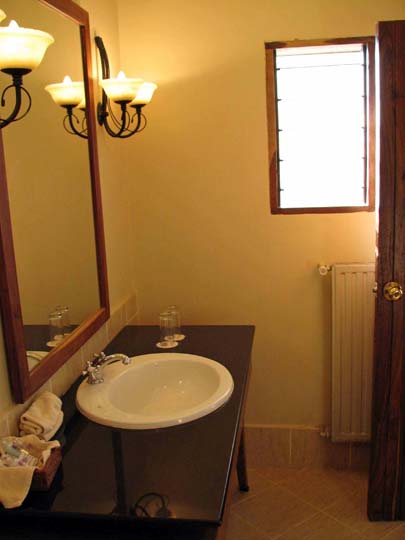 The view that evening from the porch of the lodge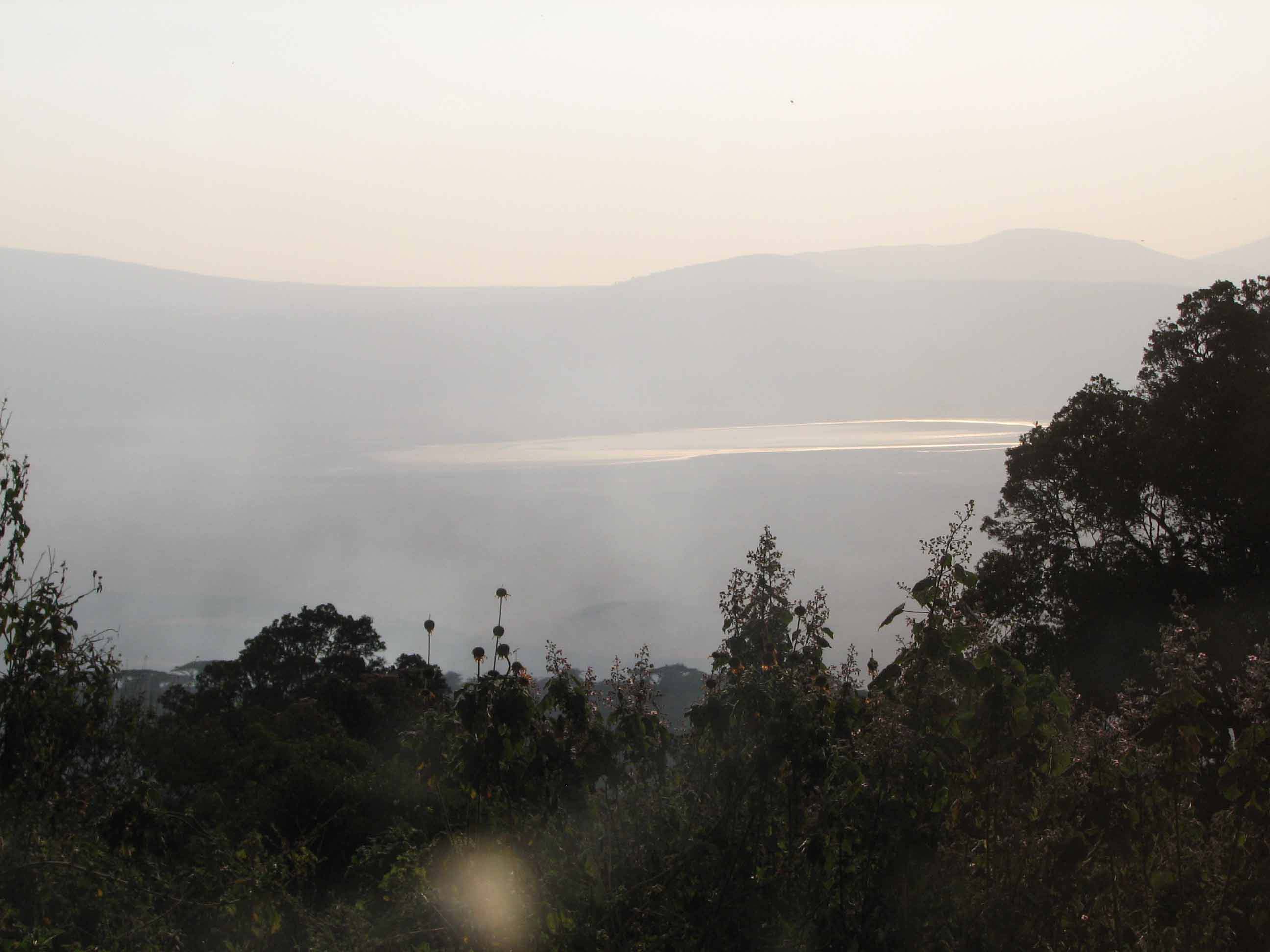 Sunset our last night there - a cool drink, surrounded by our fellow travelers, on rocking chairs!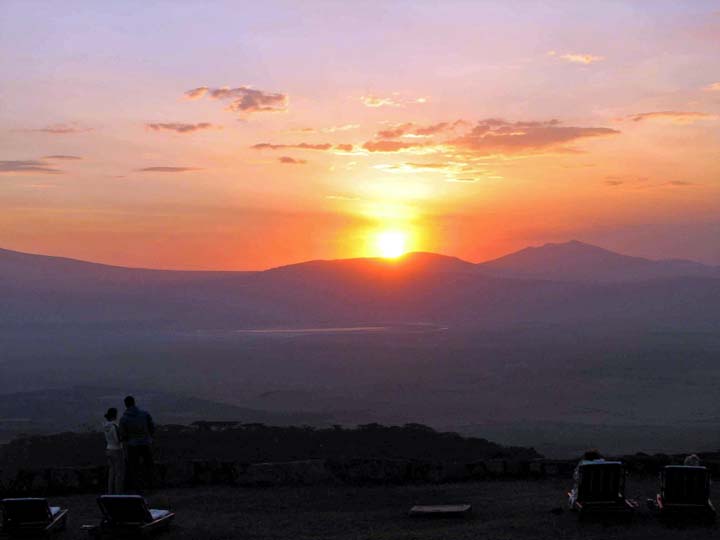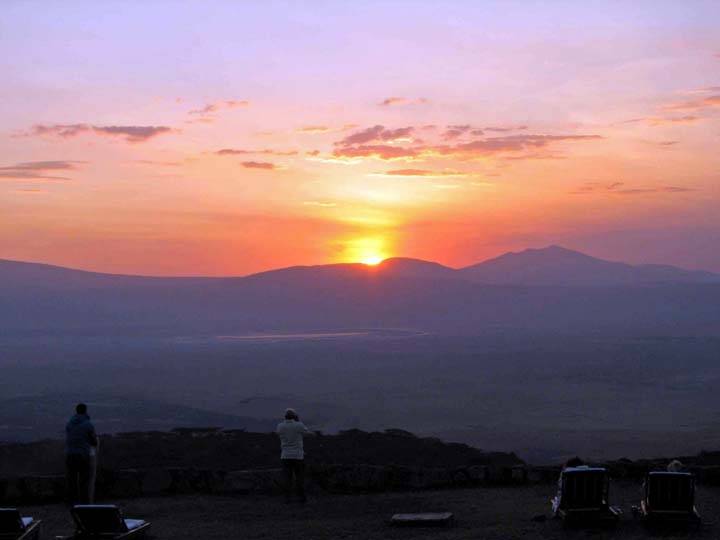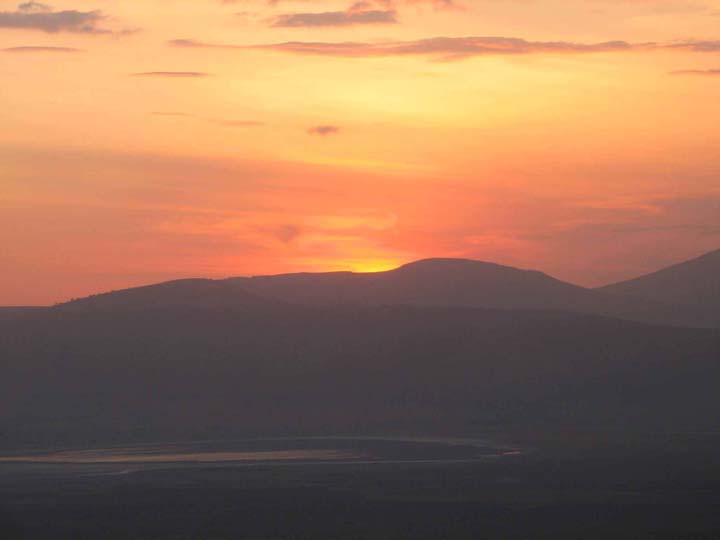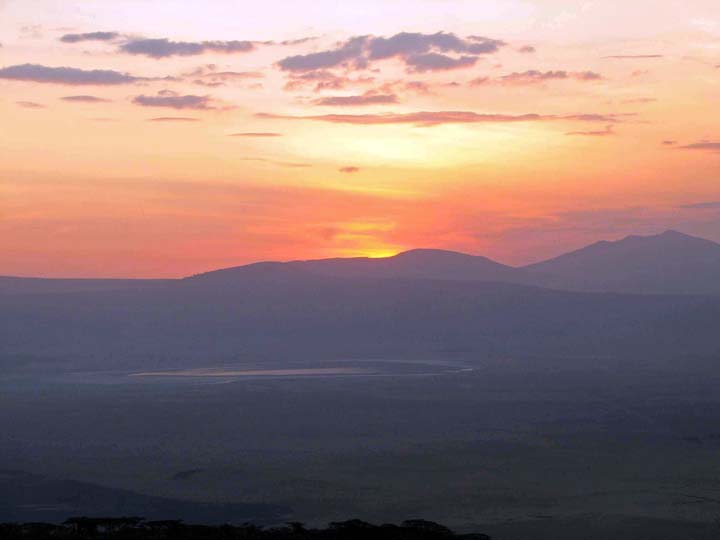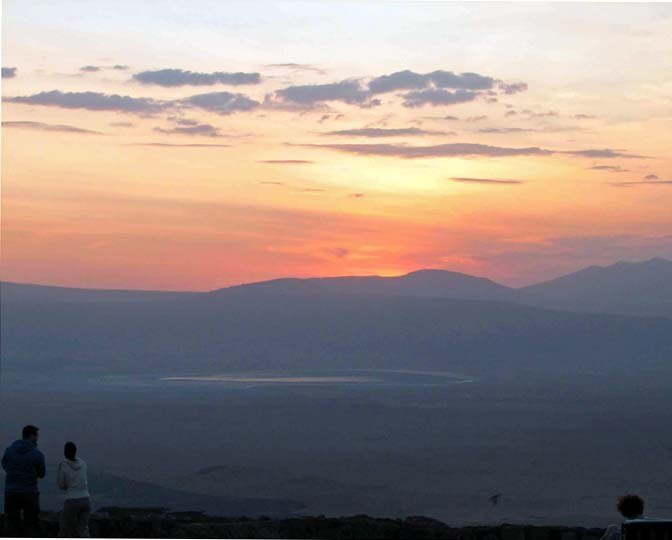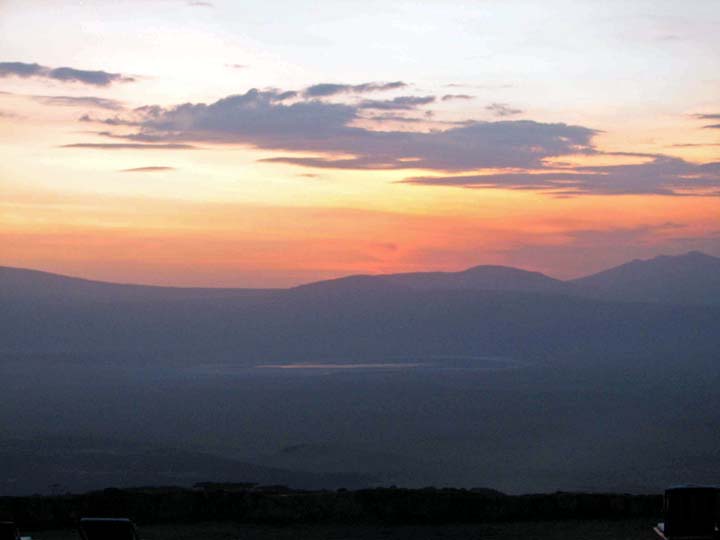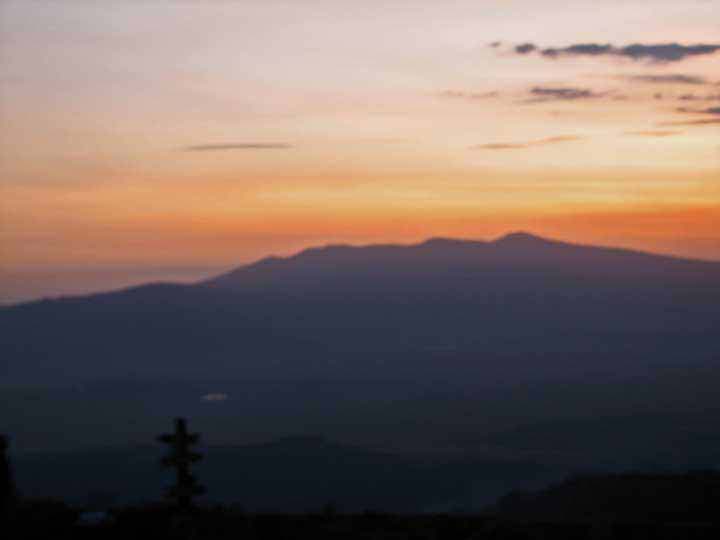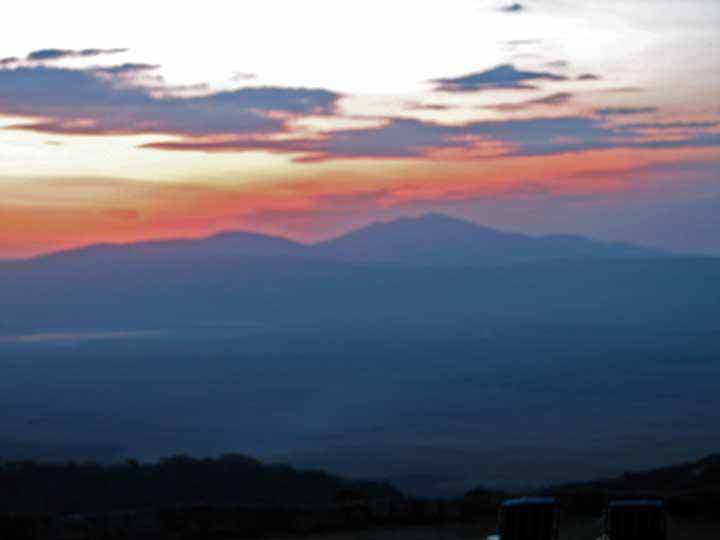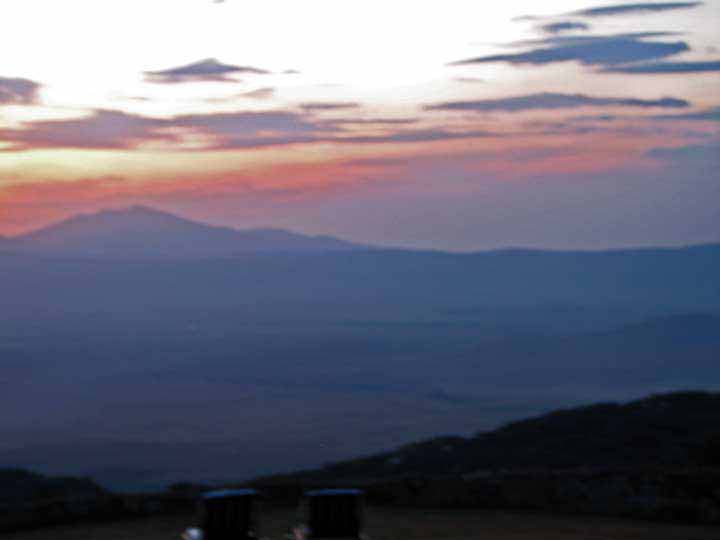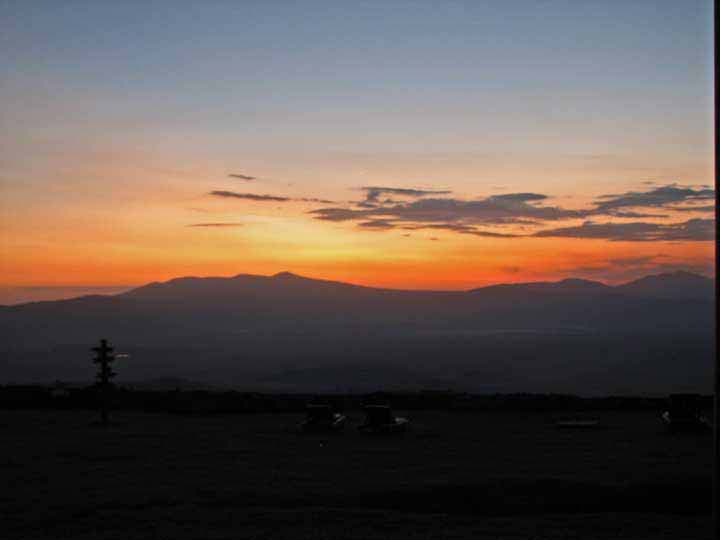 The kitchen crew sing and dance - putting on a real show after dinner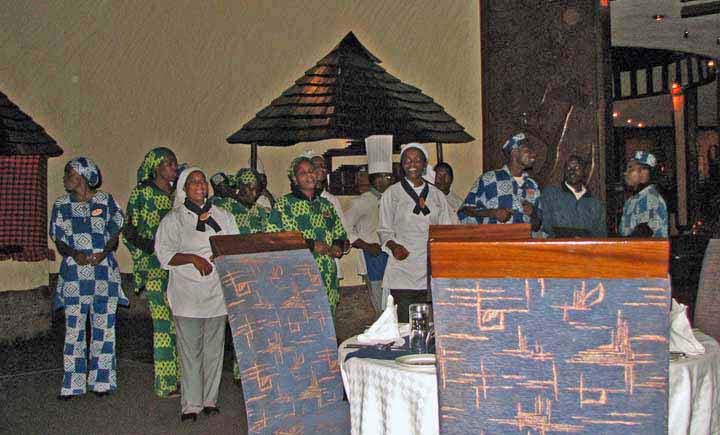 The next morning, we get up and look out to see the weather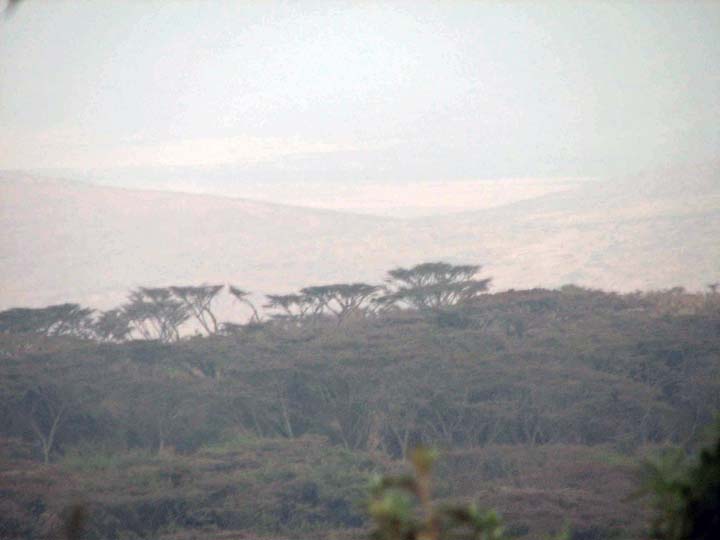 What we see is an emaciated Cape Buffalo, eating as much and as fast as he can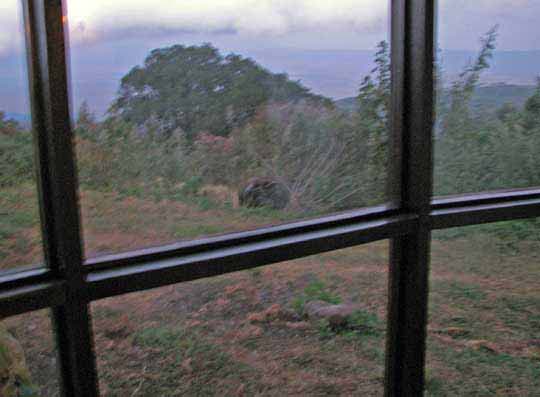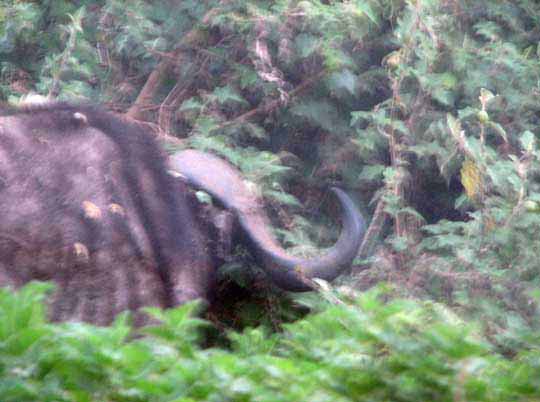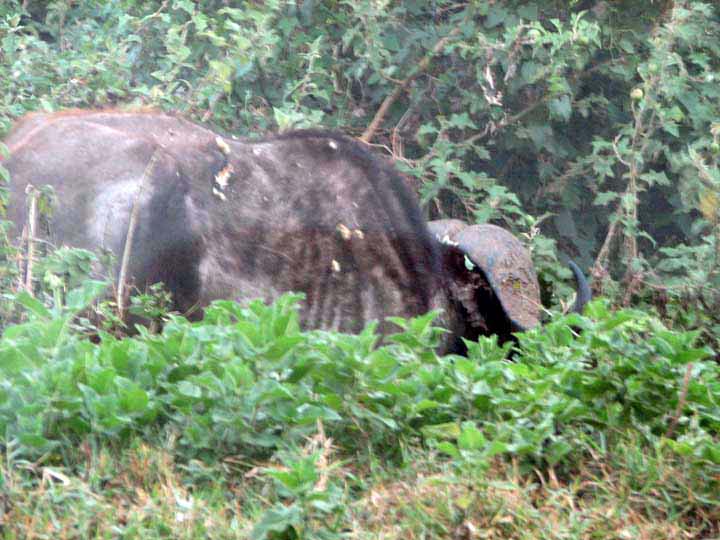 We go to breakfast, share tales of our morning buffalo and ask if we're ready to start the long trip home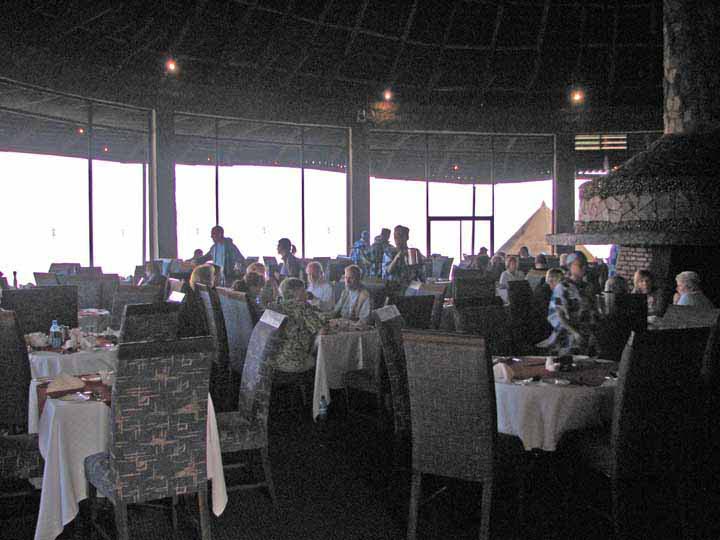 A few pictures of the great lodge
The unique ceilings, and the carved posts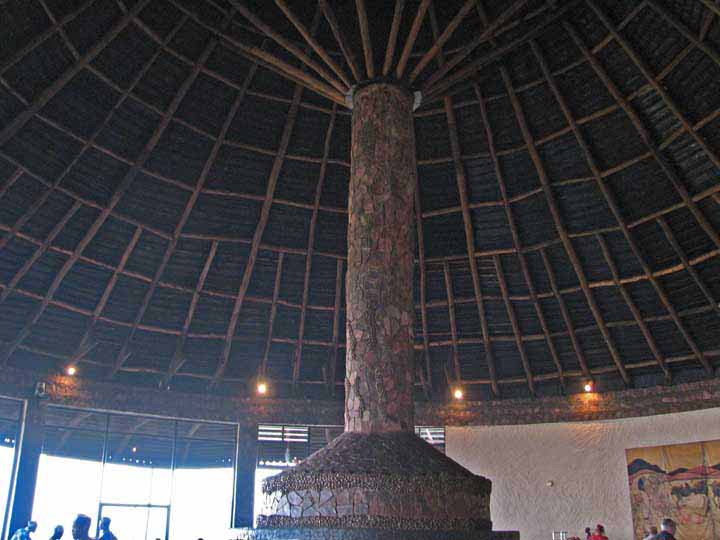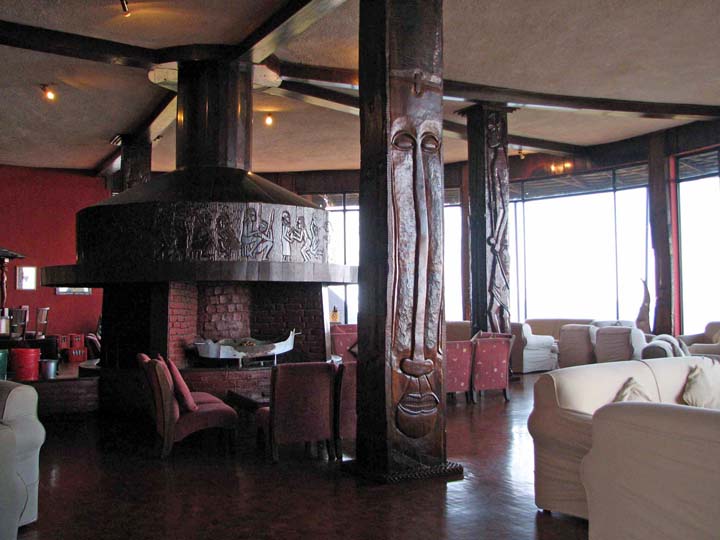 The rear entrance, grounds and porch area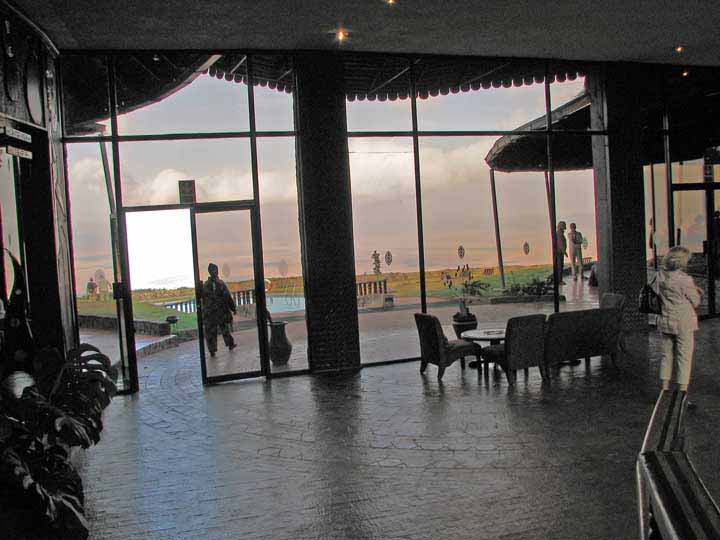 The gift shop area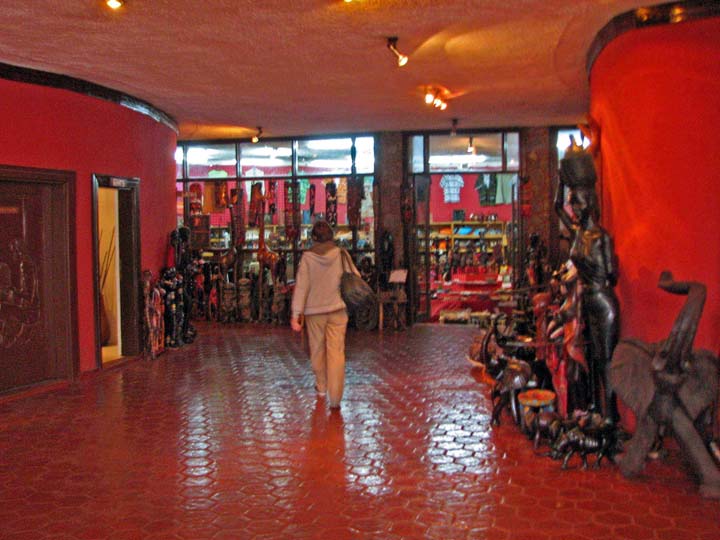 The registration area where our bags are ready to be placed in the vehicles for the last time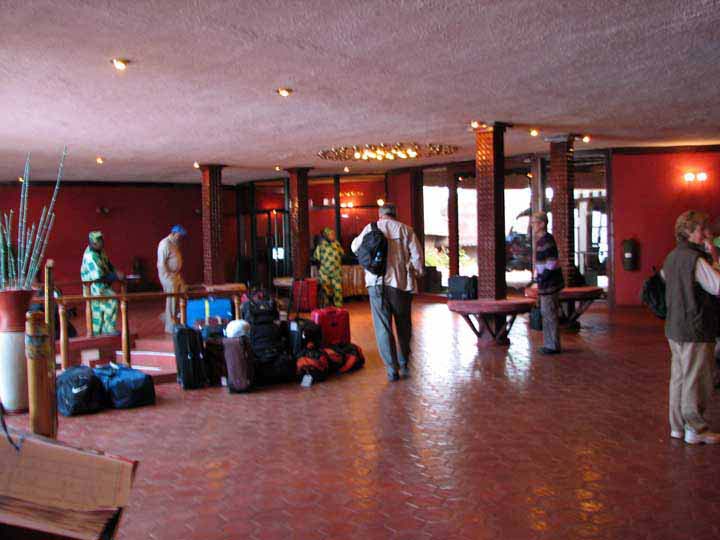 Now it starts - the long trip home.
~~~~~~~~~~~~~~~~~~~~~~~~~~~~~~~~~~~~~
The Road / Airport / Flight to Nairobi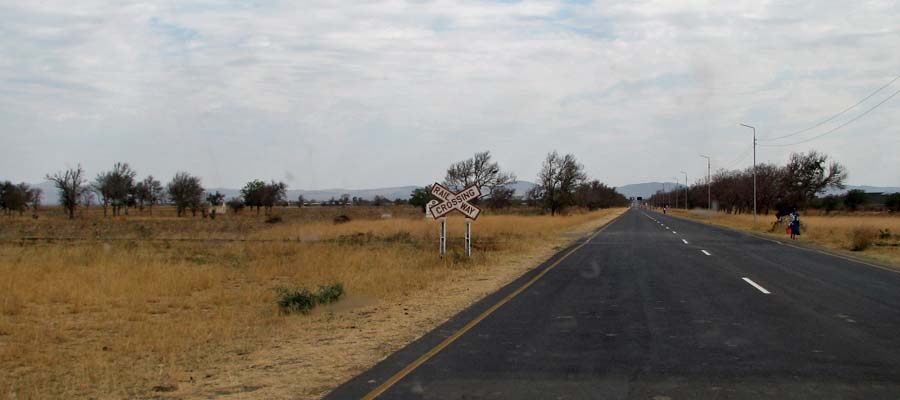 So we're on the road to the Kilimanjaro Airport, a bit nervous about the flight: were we actually scheduled, did they have an aircraft, was it another Piper Cub type thing - would Jackie get on it?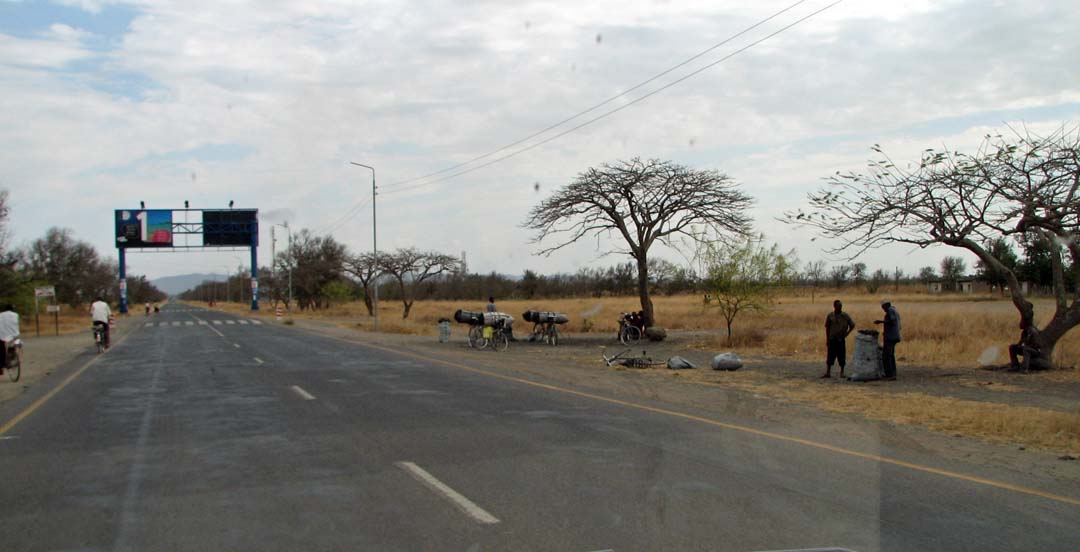 Just put side the main road gate - our last walkers.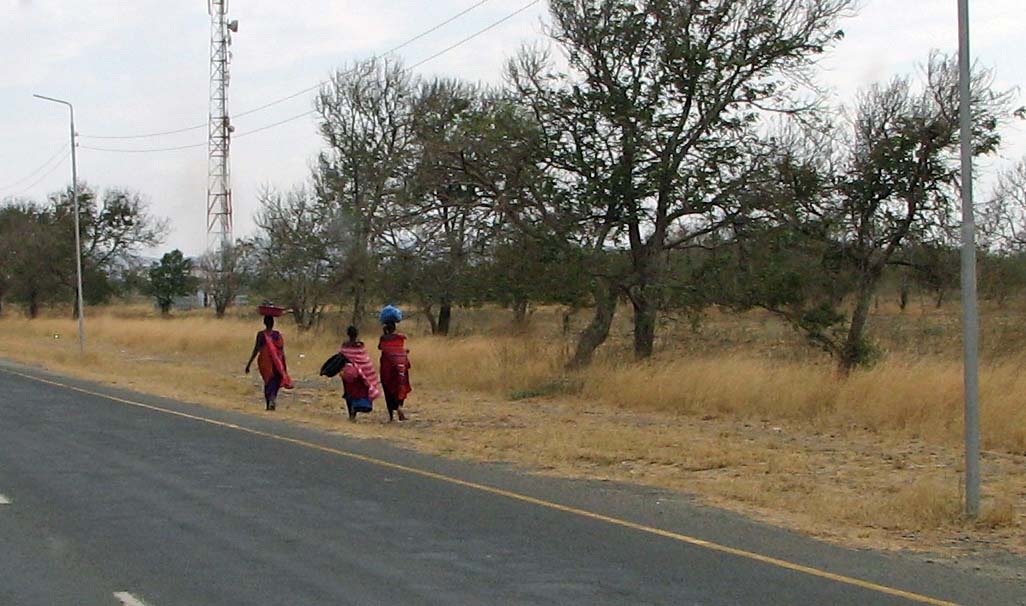 The main road's gate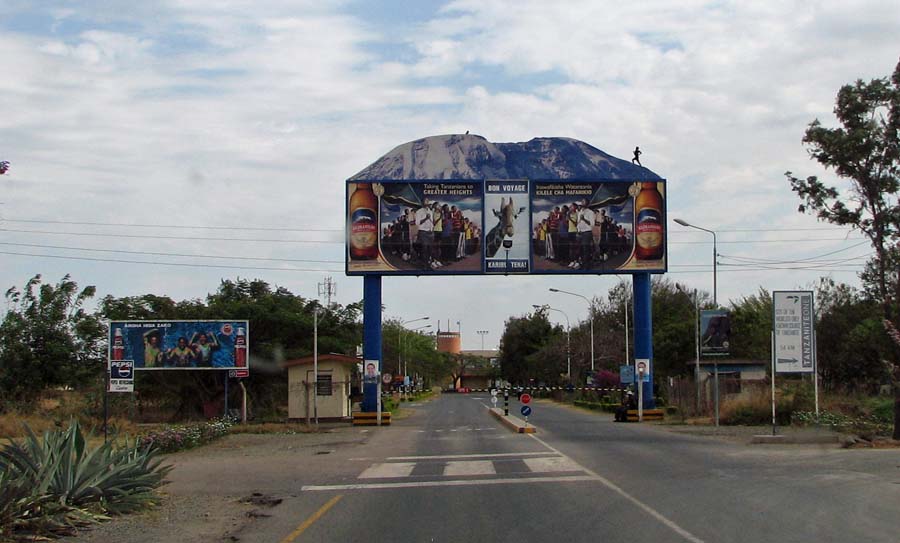 The Kilimanjaro Airport, again - Nairobi bound.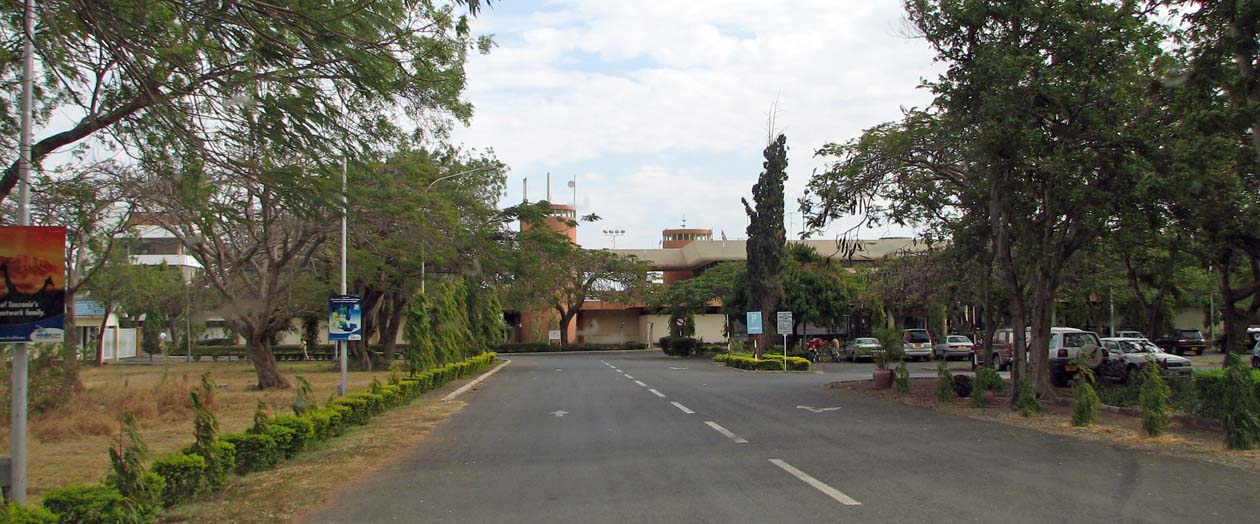 We arrive to find a bit of confusion. We hear rumors again and again, but no real info. The latest rumor was there were a group of Somalians trying to fly out - but without passports and proper documentation. And, as luck would have it, there were a group of Somalians in the small airport - in a separate room. We noticed, before they were segregated, they, men and women, wore exactly the same white ropes and each had a brand new pair of identical high-top basketball shoes. Hmmm
They did not fly with us from Kilimanjaro,
BUT - When we got on our flight for the first leg of the trip home from Nairobi - there they were. Sitting beside and in front of us. Hmmm

Our airplane - again Jackie was not happy. But it had TWO engines!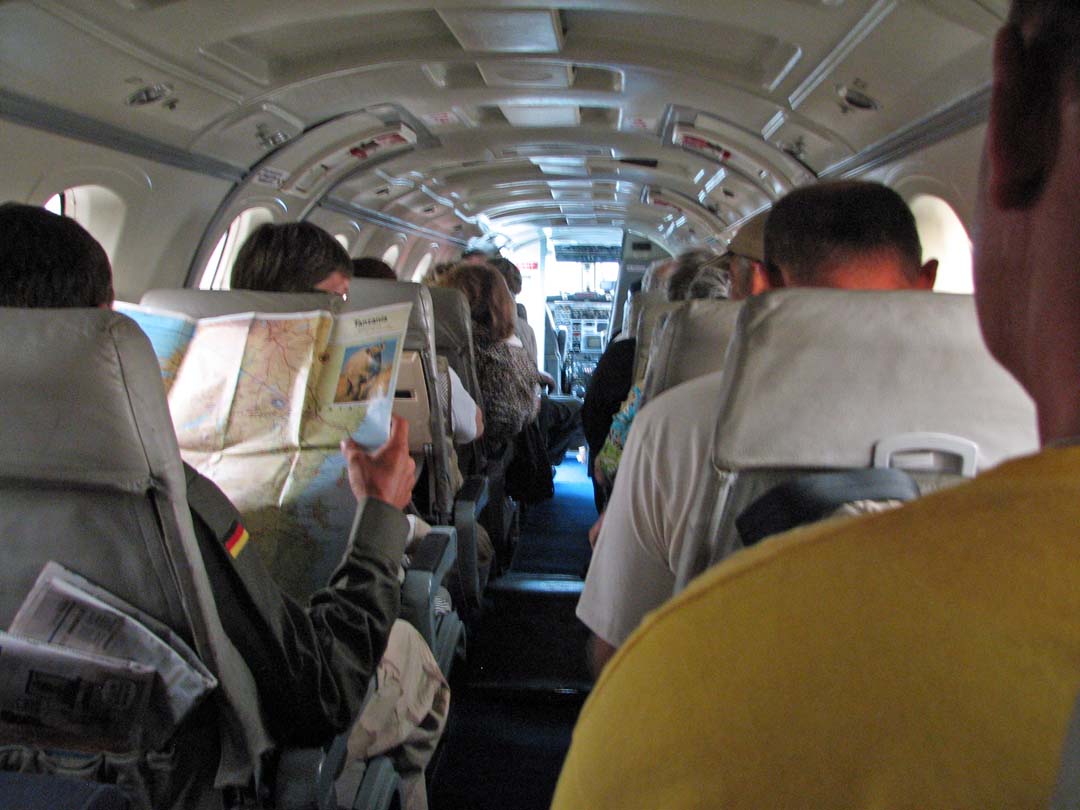 Notice the ceilings - you had to bend over double to climb in - no mean feat for my slender build. I sat in the back seat this time.
Looking down to the small town and villages below.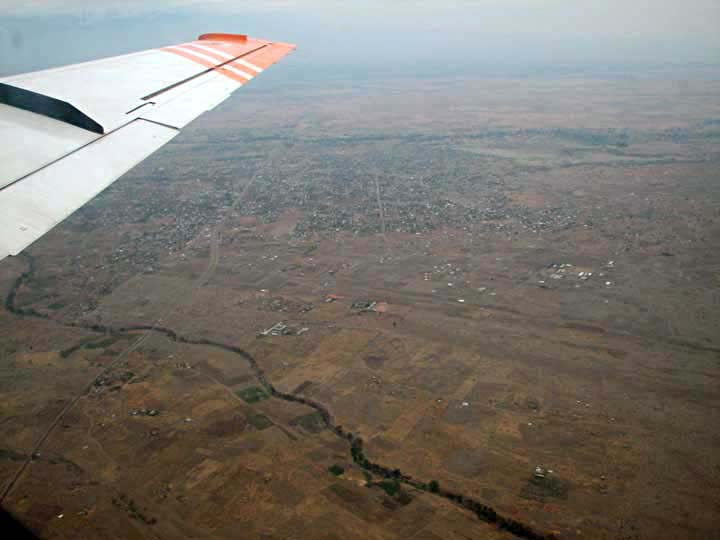 Notice the arrangement of huts in the villages below.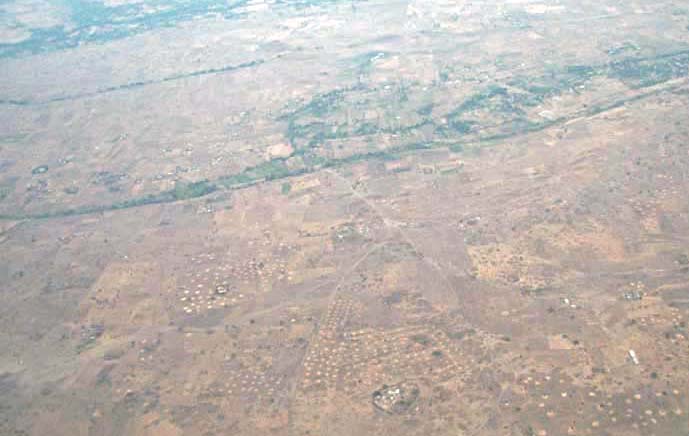 Beautiful weather - smooth flight.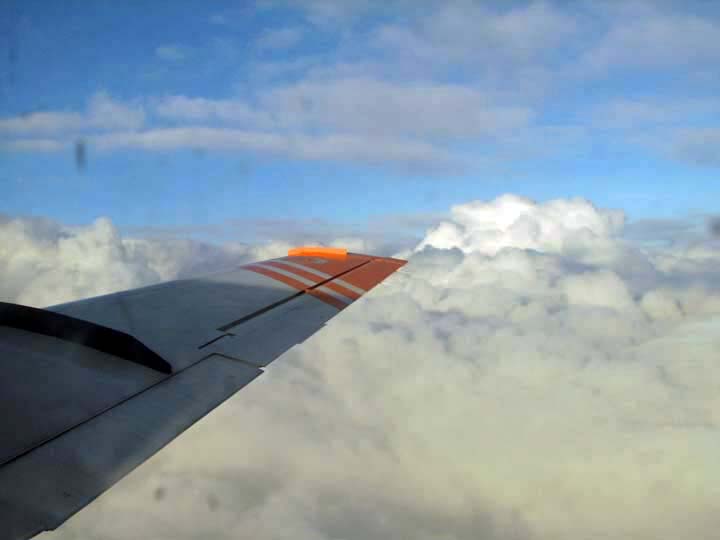 Mount Kilimanjaro from the window -
We made it about 11,000 feet this flight!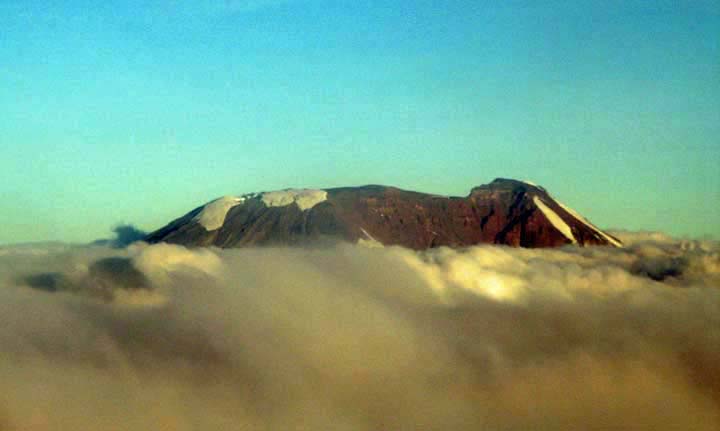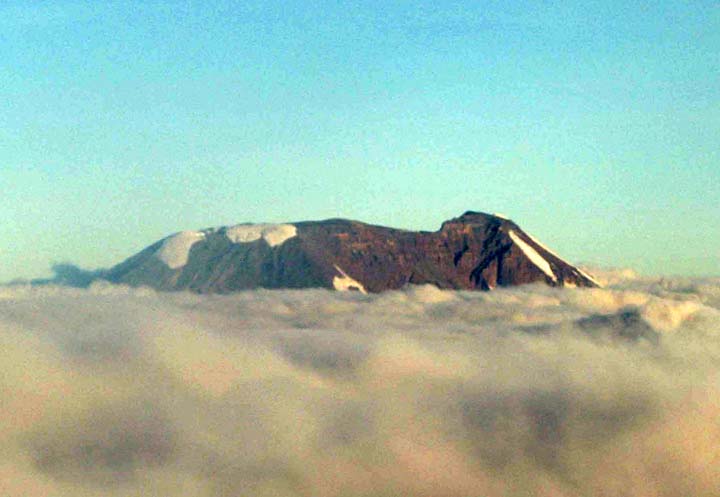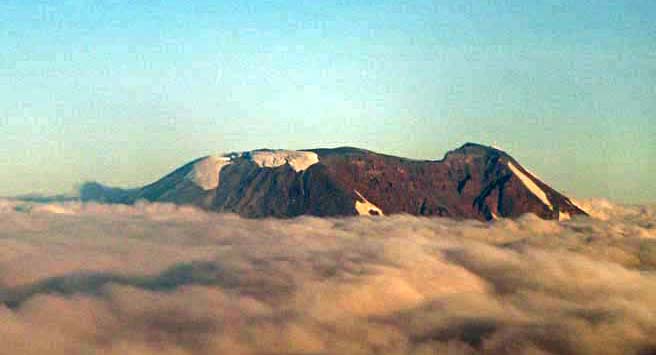 The moon over Africa.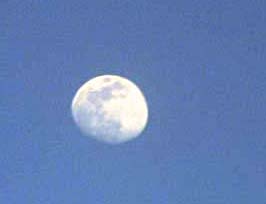 ~~~~~~~~~~~~~~~~~~~~~~~~~~~~~~~~~~~~~
Return Trip Summary:
A four hour drive to the Mount Kilamanjaro airport.
A 90 minute flight to Nairobi.
An hour or two wait at Nairobi airport.
An eight hour flight to Zurich.
Four hours at Zurich airport.
An eight hour flight to New York.
A three hour wait at he New York airport.
A two hour flight to Orlando.
An hour's drive home.
Jump in bed - the hell with unpacking!
And would we do it again. You bet'cha ! I want to make serious plans to take my granddaughter Sofia and grandson Theo to Africa for pretty much the same trip when I turn seventy. I told Hodge and Samuel to take care of themselves because I want them to be our guides again.
~ ~ ~ ~ ~ ~ ~ ~ ~ ~ ~ ~ ~ ~ ~ ~ ~ ~ ~ ~ ~ ~ ~ ~ ~ ~ ~ ~ ~ ~~ ~ ~ ~ ~ ~ ~ ~
Thank You Africa !