Samburu Game Reserve
Before starting to describe our time in the Samburu Game Reserve and the Samburu Simba Lodge, there are a couple things I like for you to read. The first is a short section from our primary guide book - DK Eyewitness Travel - Kenya, 2009. We read a number of portions of this guide, especially those referencing places we were to visit.
Sarnburu-Buffalo Springs-Shaba
National Reserves
The one part of Northern of Kenya that attracts visitors in significant numbers is this trio of ecologically affiliated and unfenced reserves, which collectively protect 440 sq km (170 sq miles) of semiarid savannah flanking the Ewaso Nyiro river. Their ecology is defined by the contrasting habitats of riverine forest along the Ewaso Nyiro and austere acacia scrub and rocky slopes extending outward from it. The reserves probably offer the best chance of sighting leopard in Kenya, and lion, elephant and buffalo are also quite common.

The main attraction, however, is a host of dry country specials absent or rare in most other East African
parks. This includes mammals, such as Beisa oryx and gerenuk, and a long list of birds of which the cobalt-chested vulturine guinea fowl is the most spectacular.
Then, strangely enough, I read the article below as I completed editing and inserting all the pictures I intended to share. As we go through this section I will attempt to reflect upon the paragraph below at several points.
Head north from Nairobi toward Mount Kenya and almost invariably you'll hit weather. Fog, rain, hail, even snow, all unusual for the equator but a blessing for Mount Kenya's farmers, who export coffee, roses, green beans and peas to Europe. Once you pass the mountain and descend onto the dusty Samburu plain, however, the weather evaporates. The first town you reach is Archer's Post, a collection of dusty shacks around a truck stop. From here, says elder Leadisimo Lehgalee, 69, the Samburu are forced to watch the daily deluge over Mount Kenya while enduring a drought on their land that began in I997. Inevitably, jealousy and desperation turn to enmity. "We rob them," says Lehgalee. "And they rob us back. We raid each other's cattle, and we fight, we kill, and we die. That's the Samburu life."
Time Magazine – Dec. 13, 2010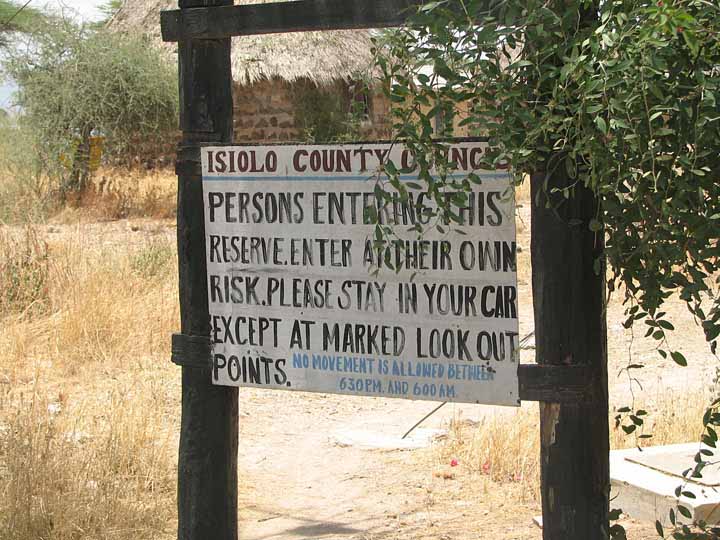 Yes, they mean it.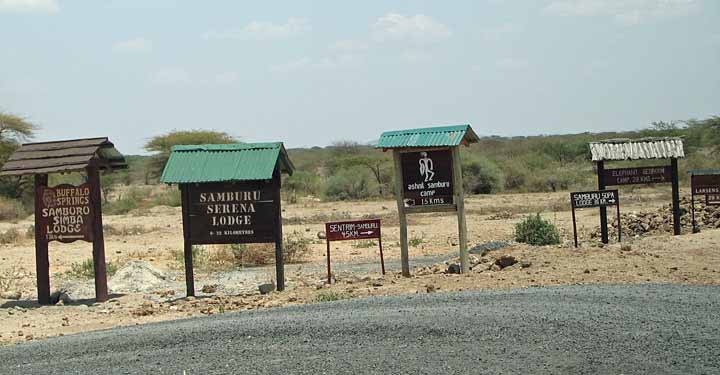 We'll take the "road" to the left - as we're in Kenya, even "trail" is a misnomer. As you see. we'll actually be near Buffalo Springs, and we're not the only lodge in the Reserve.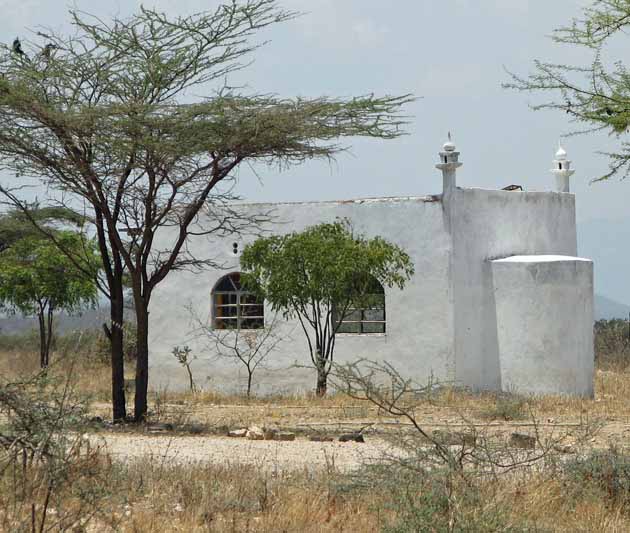 A curiosity. Although Kenya is said to be a Muslim country, I think that is entirely incorrect. This is one of only two mosques we saw in Kenya. This one was just outside the entrance gate to the reserve. There were no homes around it.
Dry, dry, dry. These words would come to mind a hundred times as we traveled. Here is what some of the country in the Reserve looked like.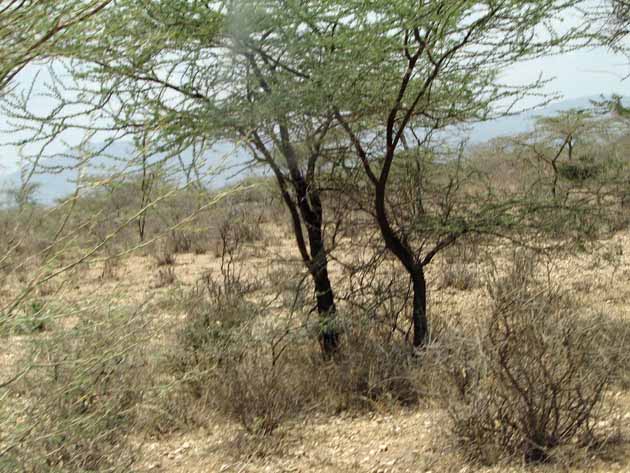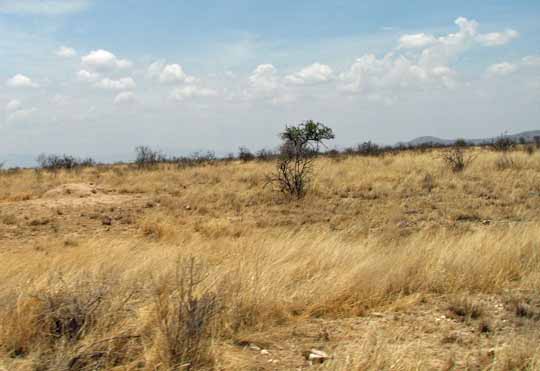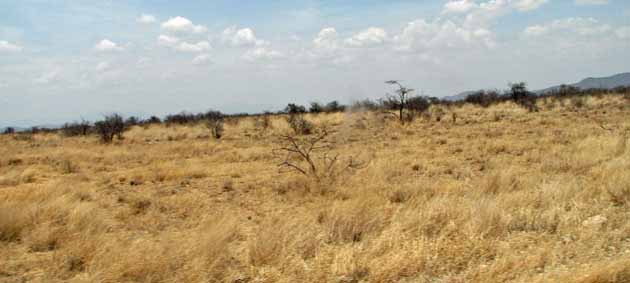 We come upon the lodge.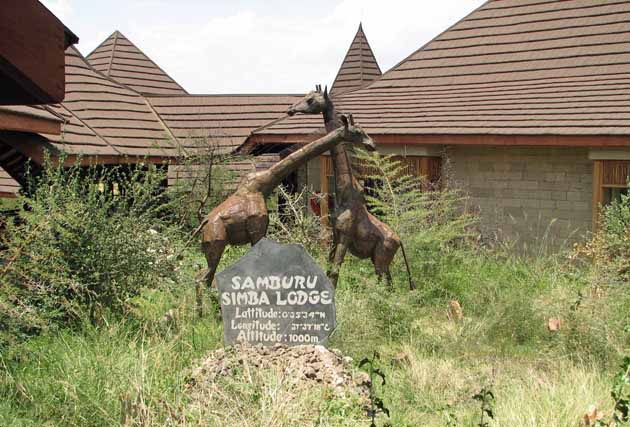 As with every lodge - a real eye-opener. Well built, beautiful, artistic.
The Reservation Desk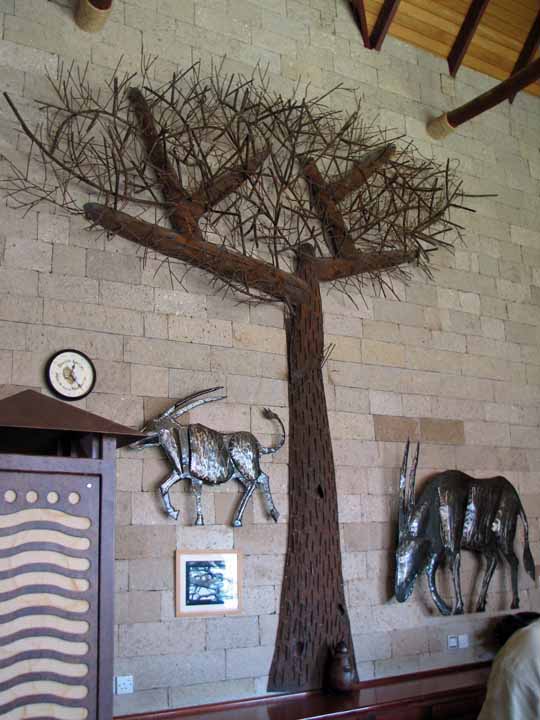 And off we go!
A NOTE: OK - I admit it - We took too many pictures. However, as many as we will share, there were at least as many we discarded. The "picture problem" was simple to define: Each time we saw something we thought it was spectacular - Each time we saw an animal, we thought we might never see another - Each time we saw one of the Africa Big Four, we stayed for an extended time for pictures, and if you have time for pictures, especially of things you may never see again, you take pictures.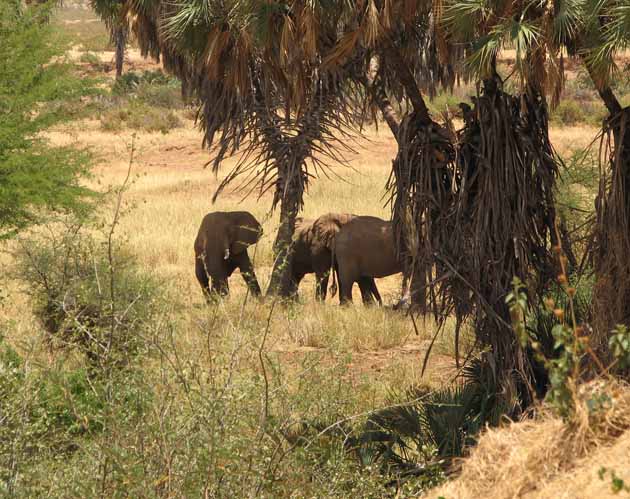 And you can never have enough elephants! Ask Jackie.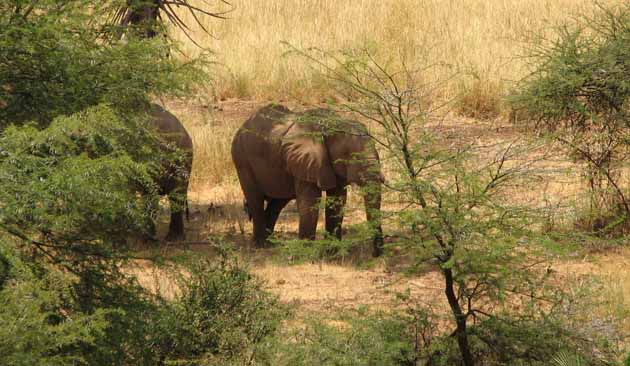 These were just below our room - taken from our balcony.
We walked up to the main section of the lodge, looked over the rail (no walls in the lodge) and there were baboons.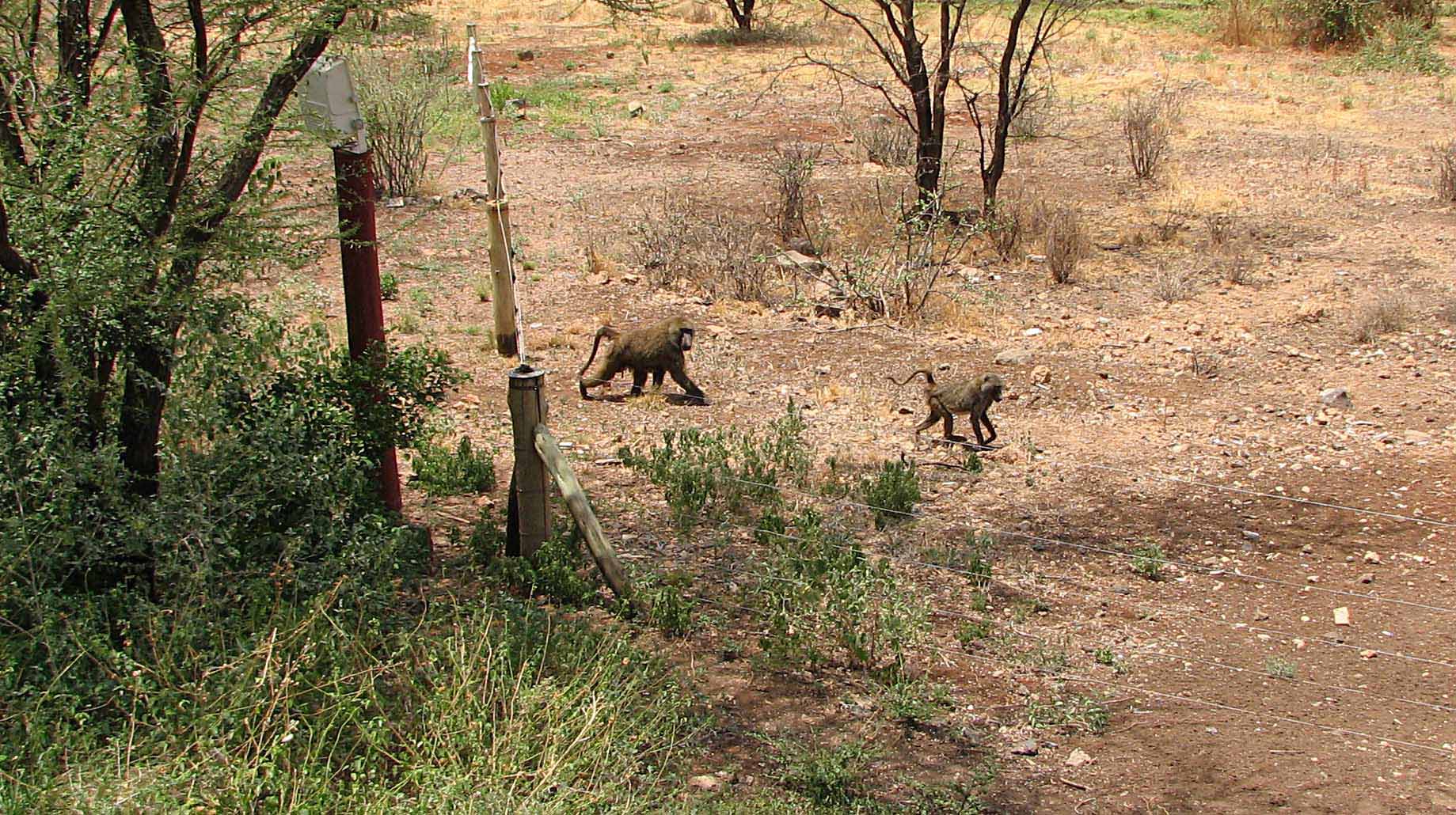 One male One female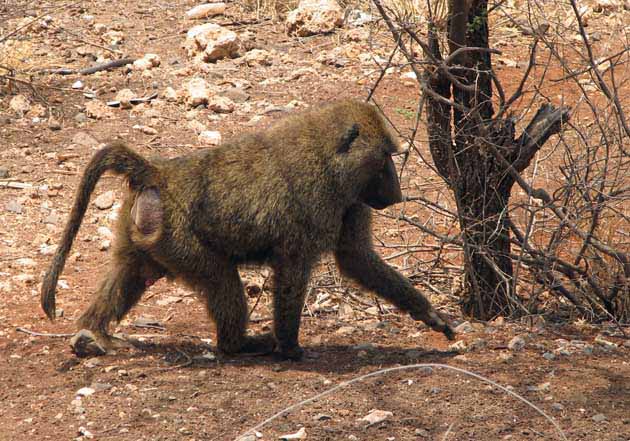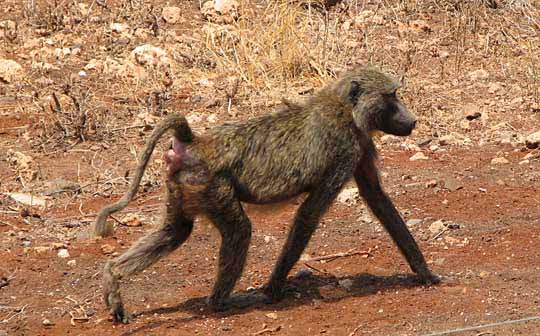 They walked around a bit and then he proceeded to bite & beat her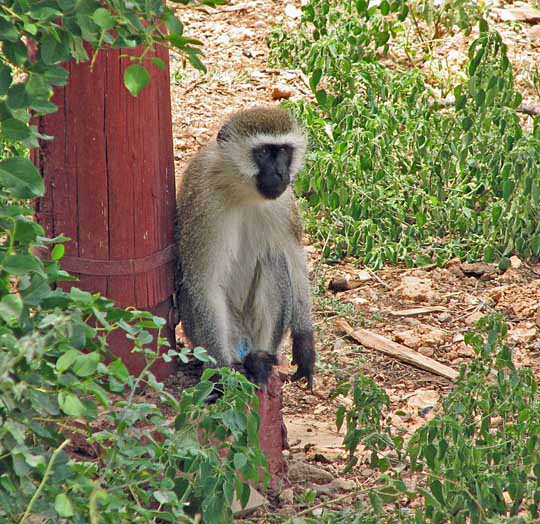 Our old friends, the Sykes Monkey
The lodge had a large platform. Each time a group would come in, they would throw a load of bread on the platform and every kind of bird would fly in.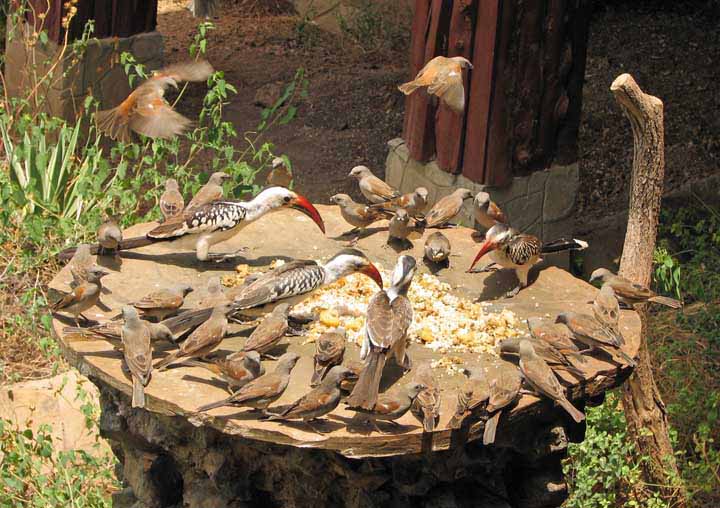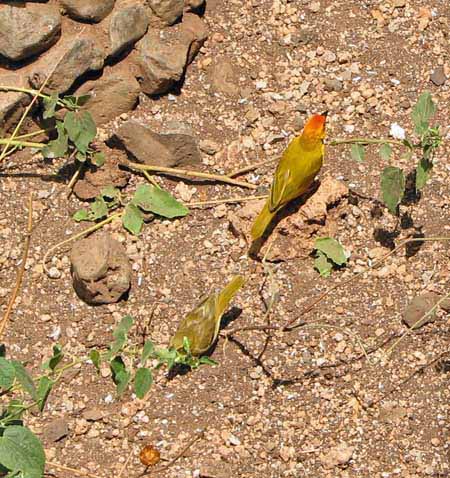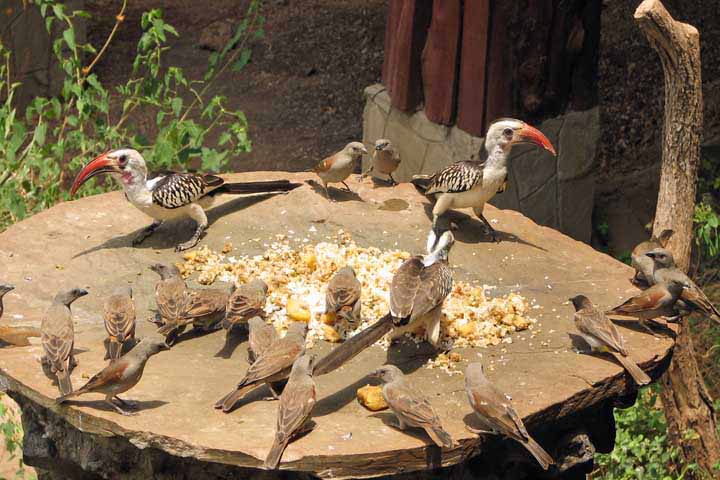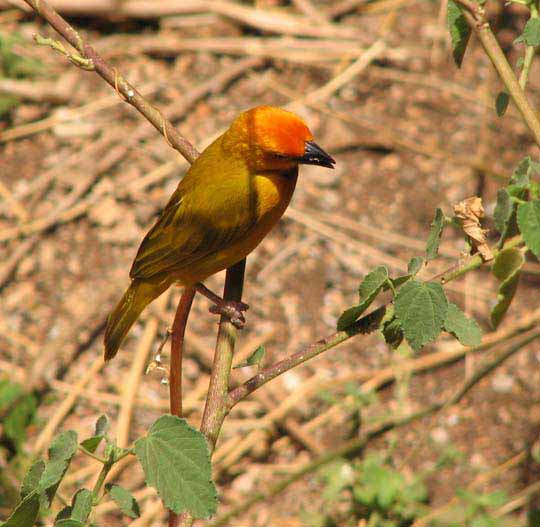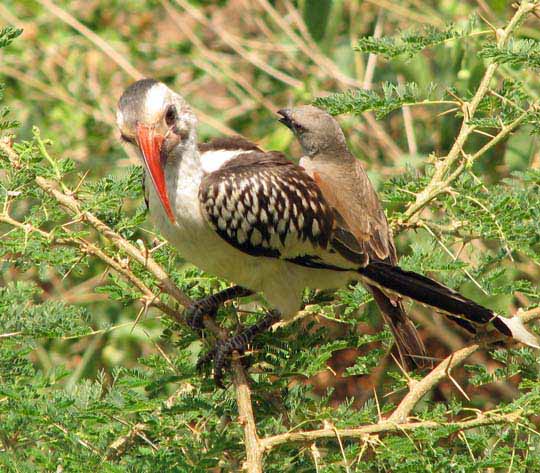 One of our favorite bird pictures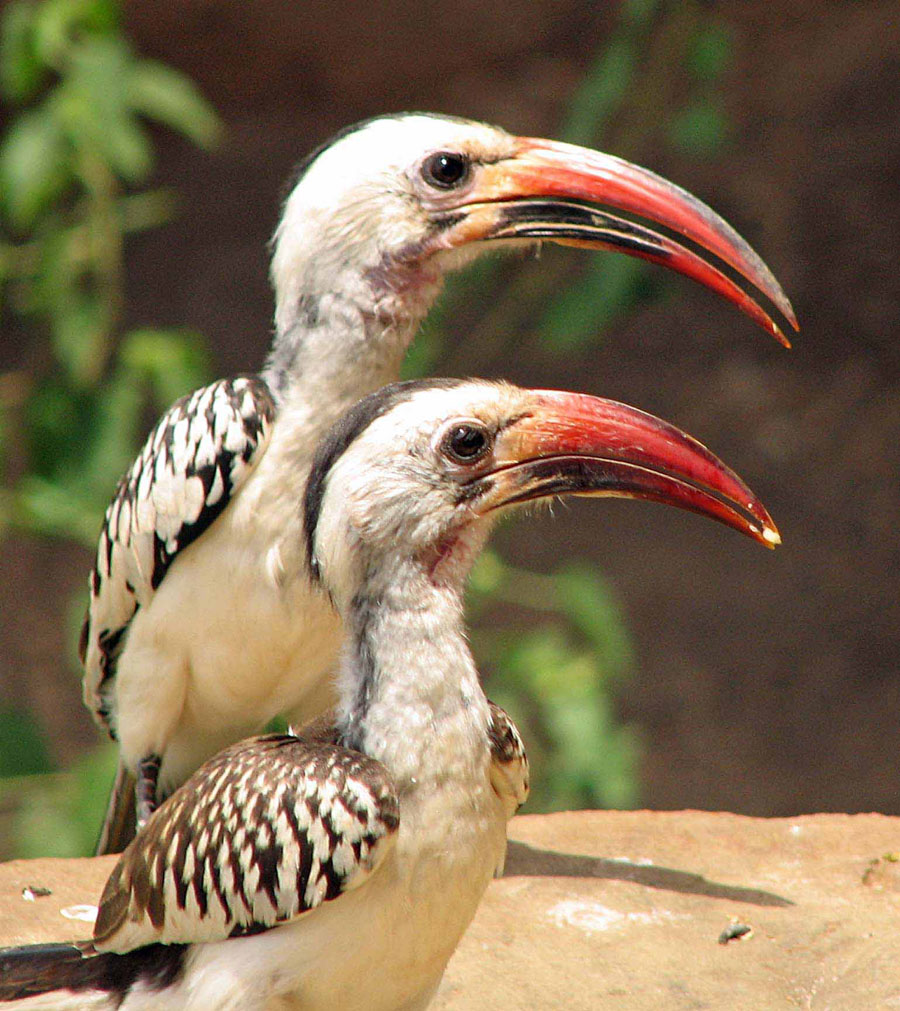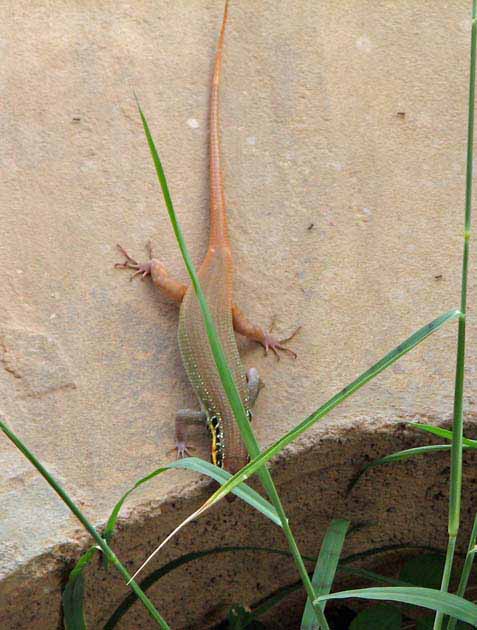 And there were lizards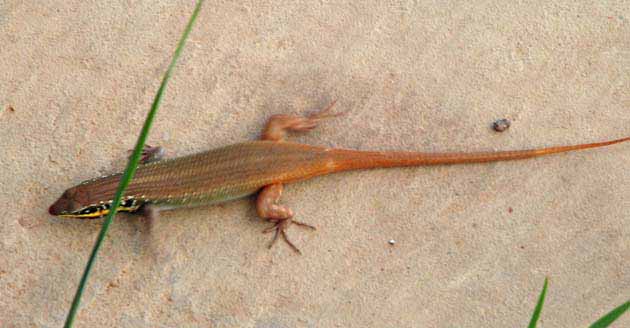 The front gate to the lodge area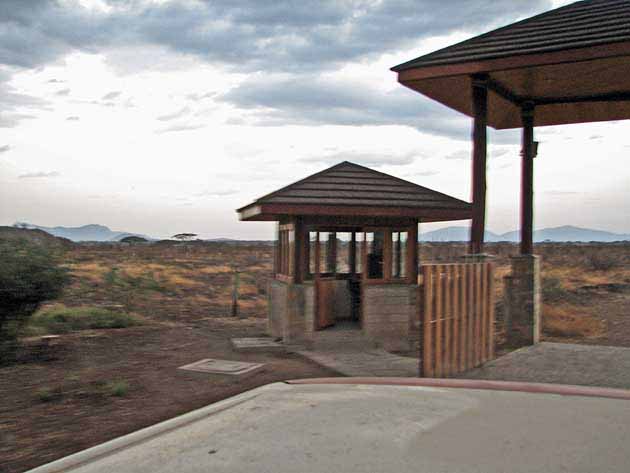 And we start our first safari with Hodge as our guide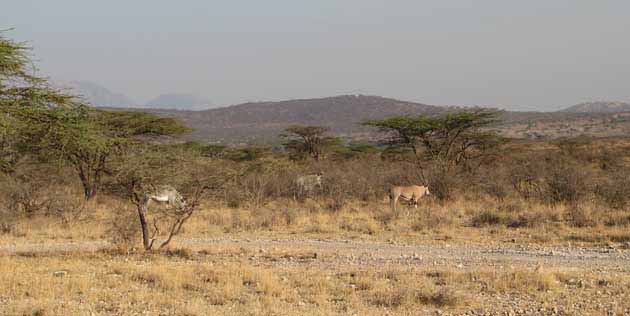 First we see zebras - you cannot image the excitement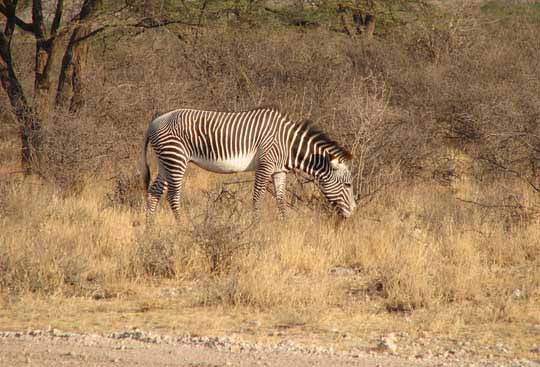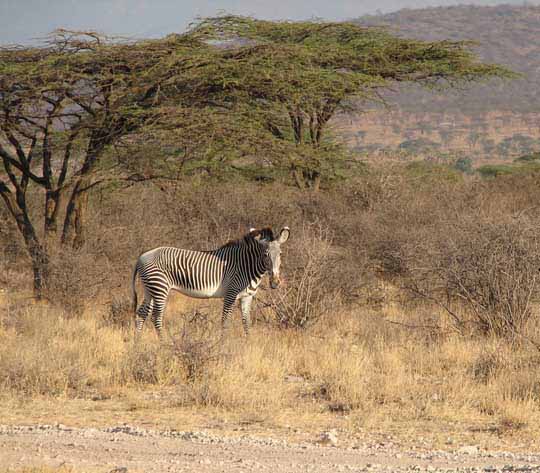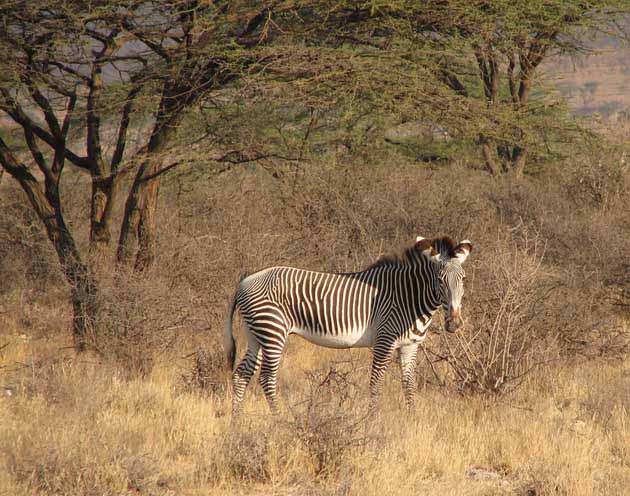 Then across the plains to find whatever we can see. These trees are icons for Africa in my mind -
Do you see the termite mound?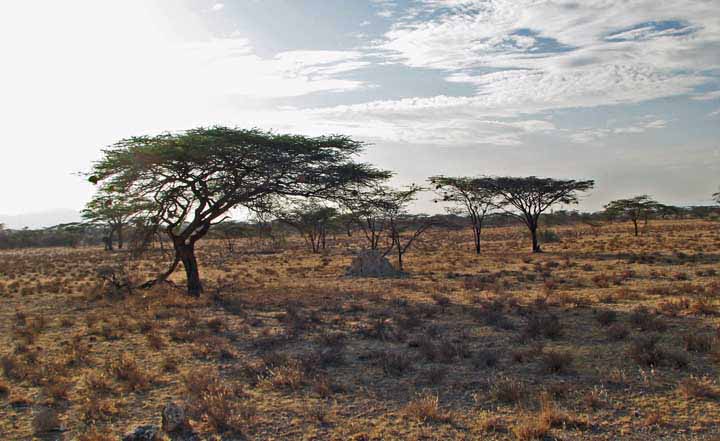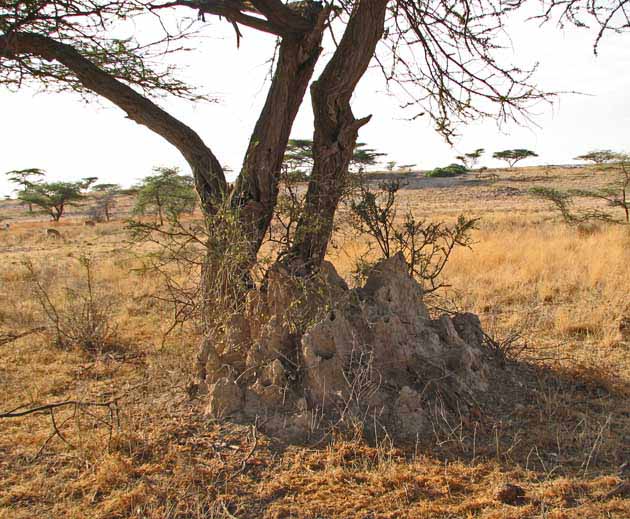 If not the one in the center of that photo, here's one up close
And we see our first Common Oryx.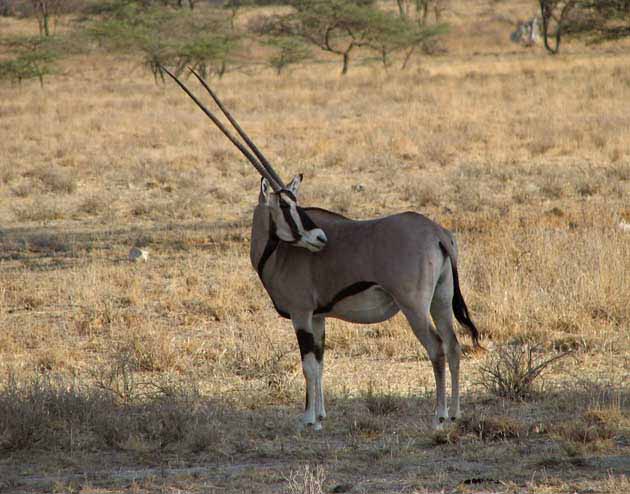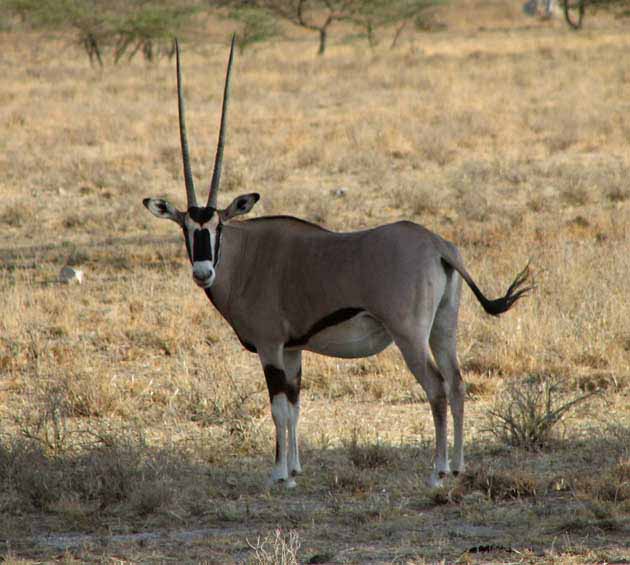 And there's a herd of them (a herd?)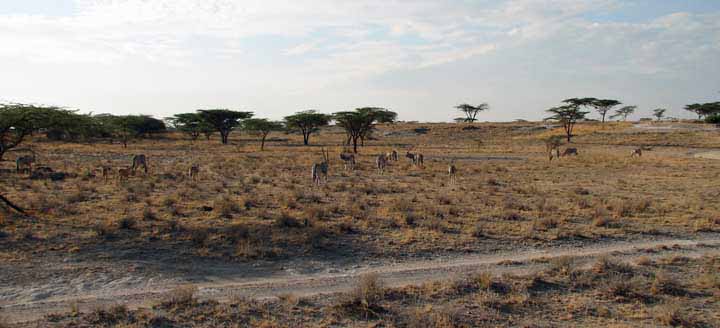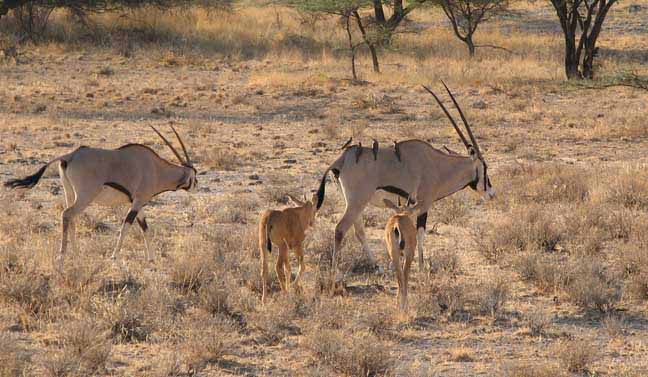 We were amazed, starting with this initial sighting, at all the young we saw - of every specie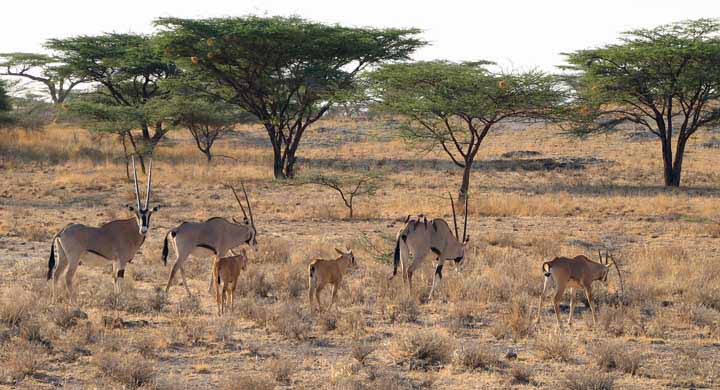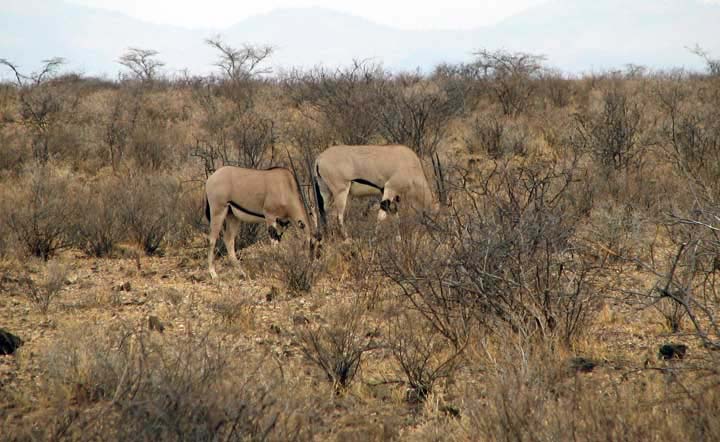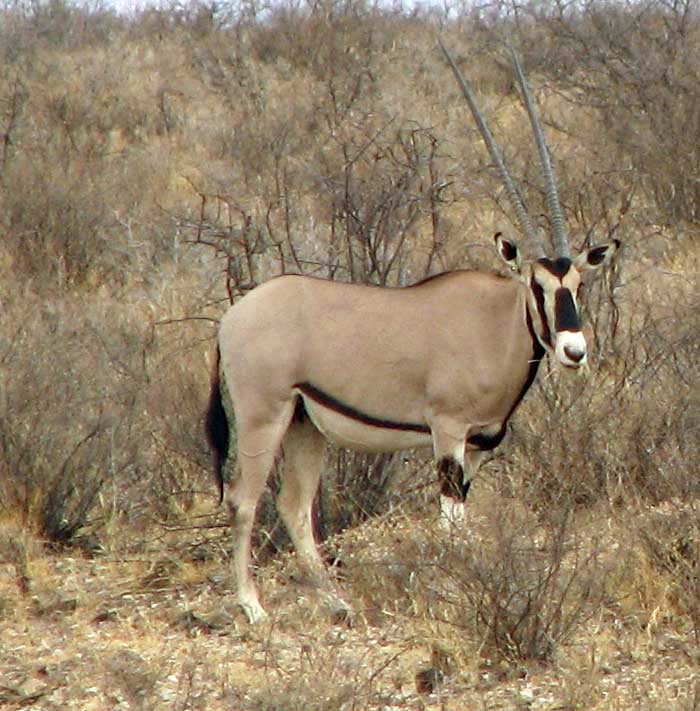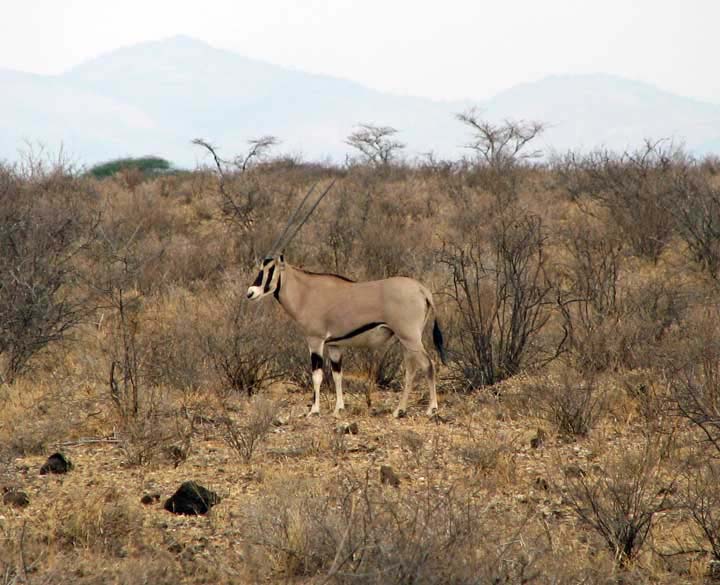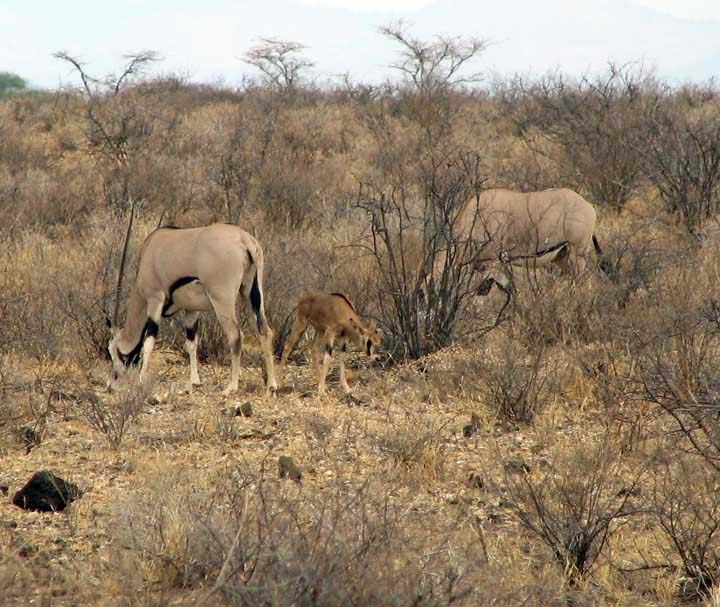 Again, the African Icon - the Mara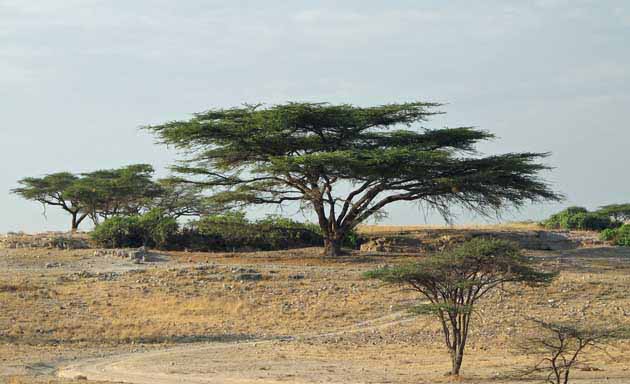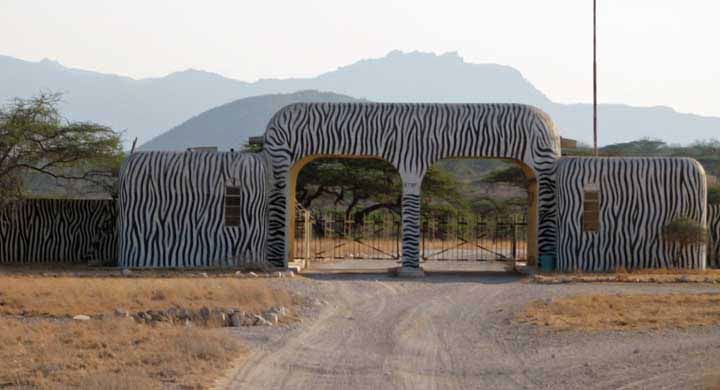 This is Archer's Post. Named after a small village near by, this was at one time a trading post.
There are only two bridges across the Ewaso Nyiro, and the one we would use at Buffalo Springs was washed out. As we're in the midst of a seven year drought, how long ago was it washed out, we wonder.
So we bump and grind 20 kilometers away from our lodge to the only other bridge - under construction.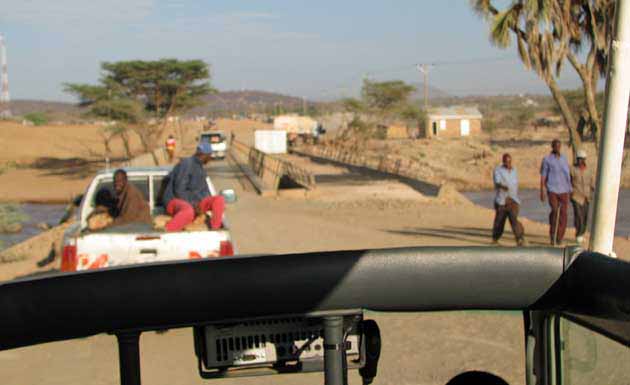 Although we can see the Ewaso Nyiro from our balcony, this is our first of several up close views.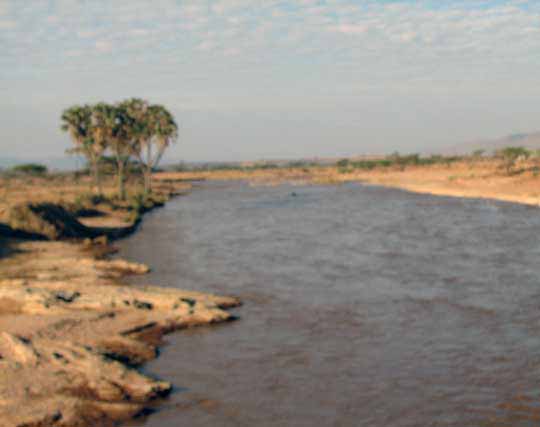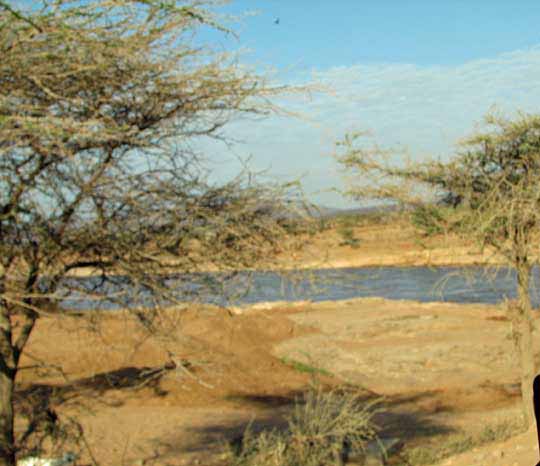 An excellent piece of road ahead. Yep, that is a huge rock on the left, and to its right an even larger pot hole, and to its left, some dirt that someone at some time will fill the pot hole. Maybe that'll last a week or two.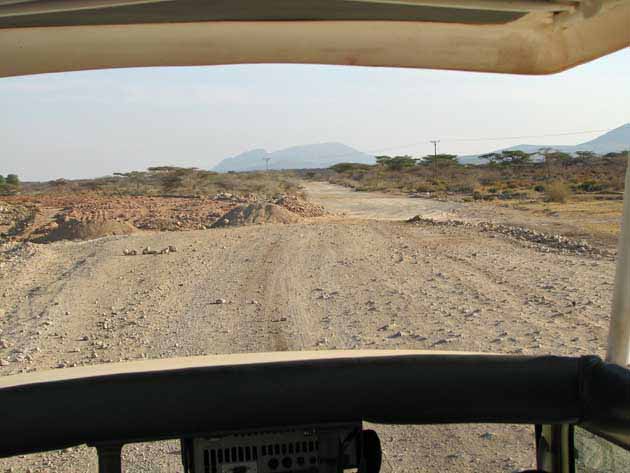 Got too close to the van in front - cough, cough - choke, choke. Well, get use to it!
If you slow down, we'll get a bit less dust - see how far ahead he is?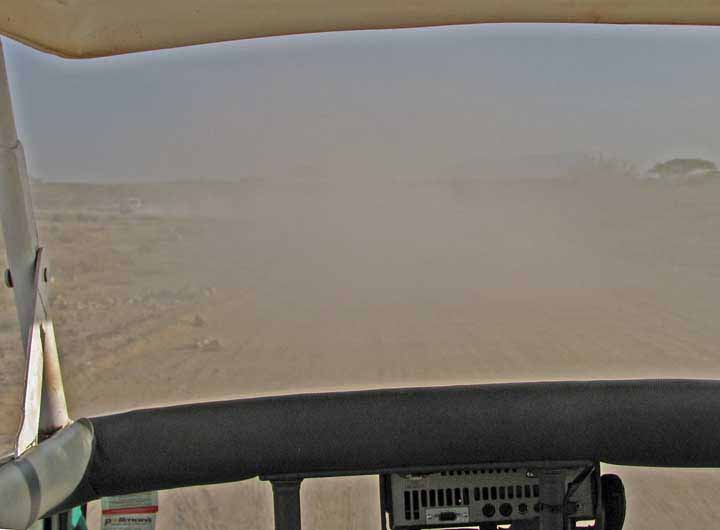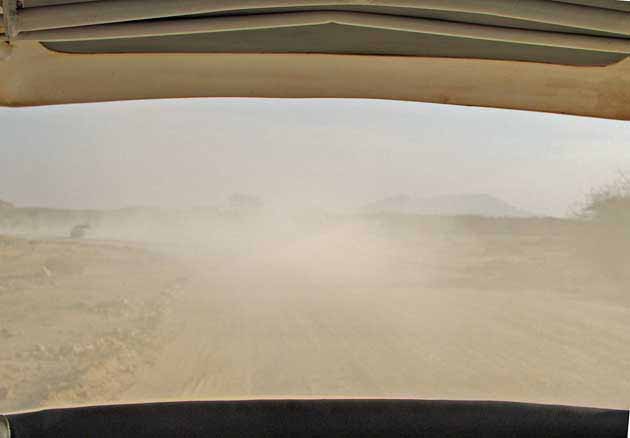 This sign is just outside, to the right, of this entrance. "Where Nature Defies Itself" concerns a legend here. The legend goes thus: A lioness killed a hartebeest to eat. The lioness looked up and saw the deer's small fawn. Rather than have the fawn for dessert, the lioness raised the fawn as her own.
I heard two endings to this story: 1) after the fawn was grown, the lioness ate it. 2) As the lioness could not feed the fawn, it later starved to death.
Anyway - Samburu, Where Nature Defies Itself.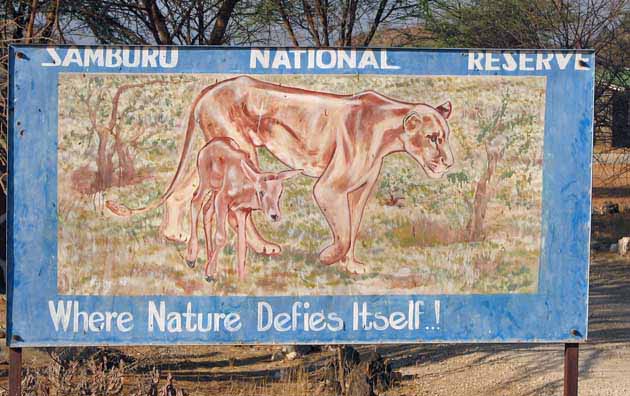 The entrance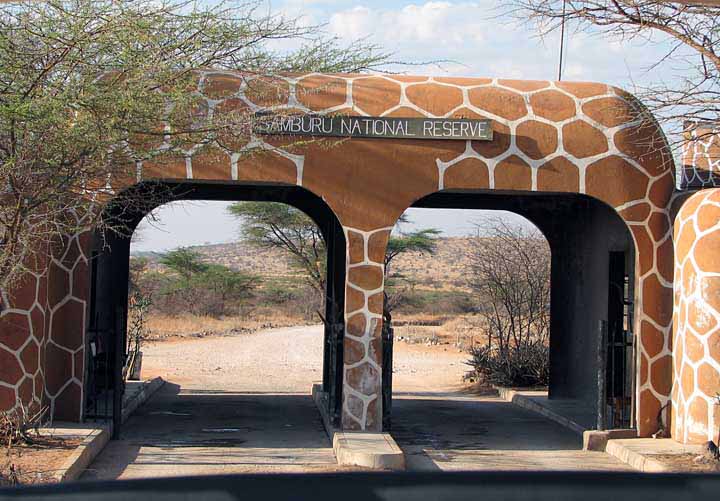 The warning sign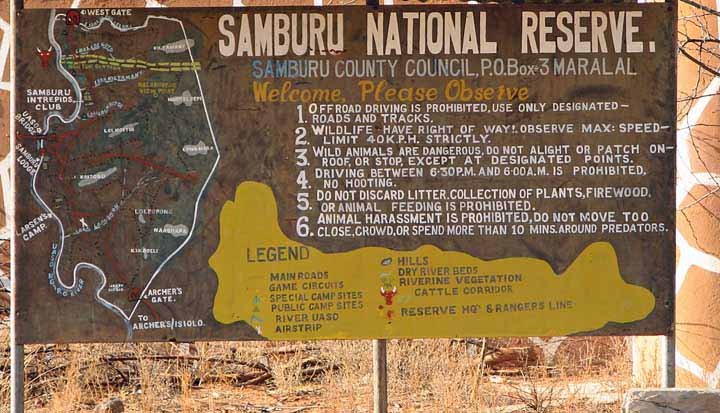 And we see a solitary zebra, hiding from the hot sun, in the shadows.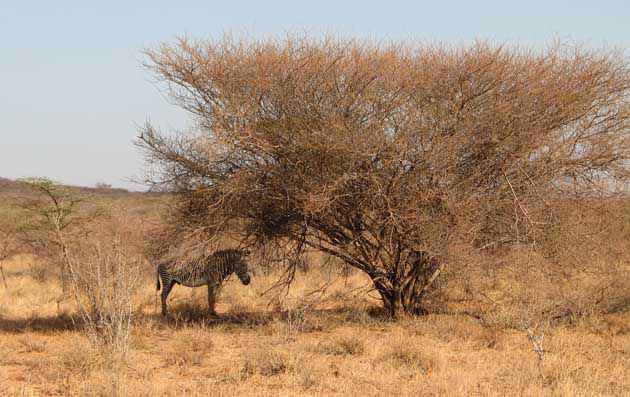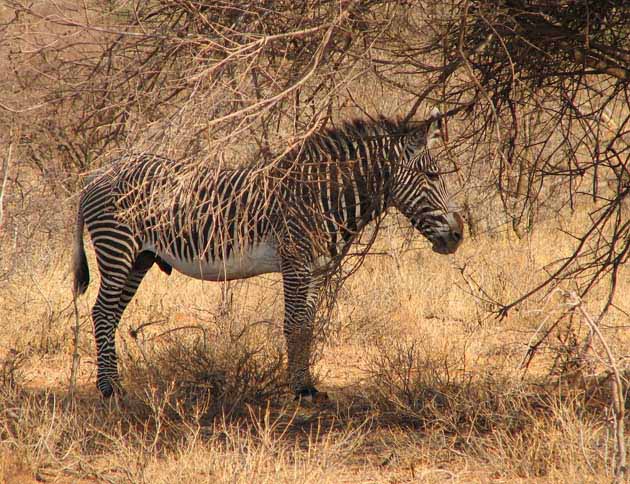 A herd of Water Buck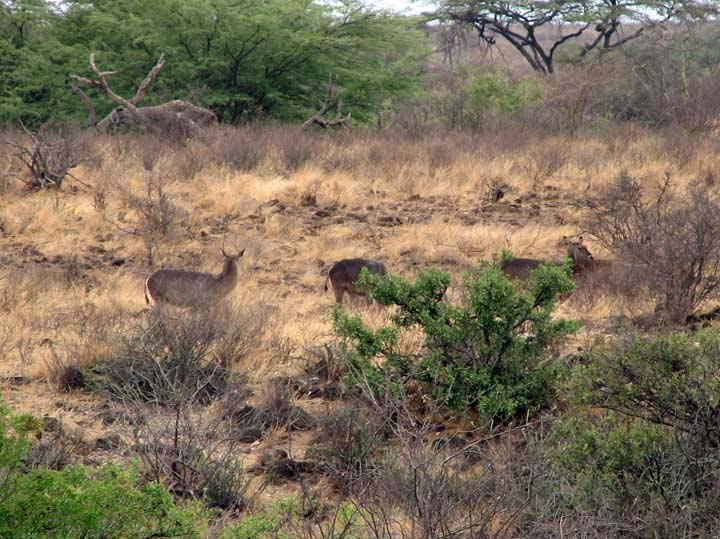 These are Grants Gazelles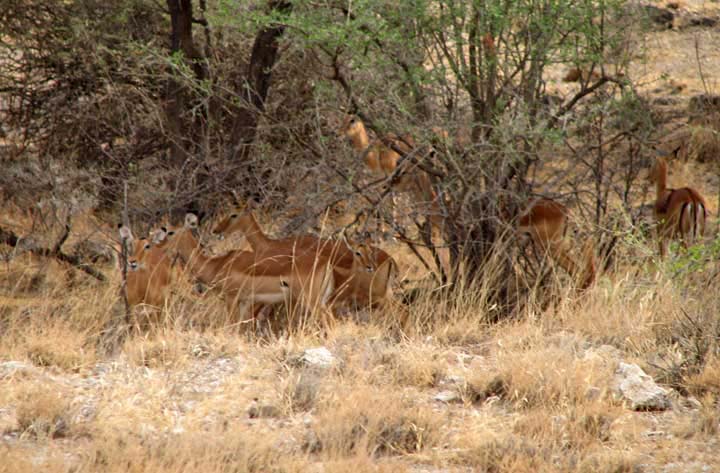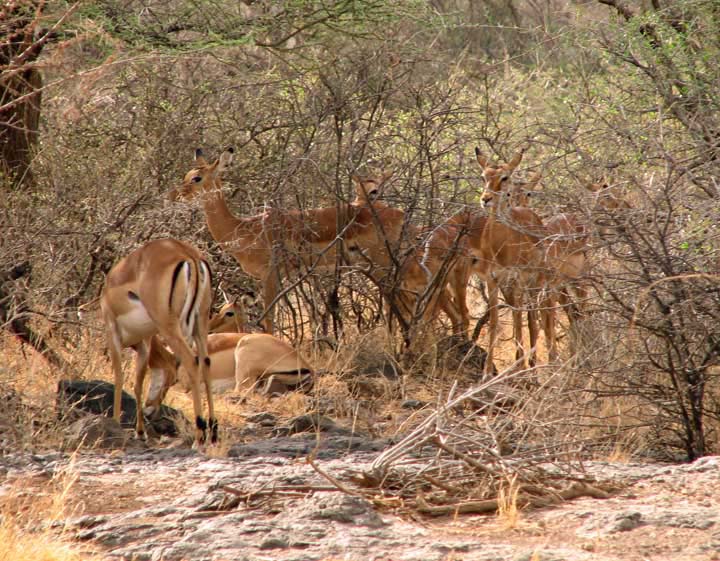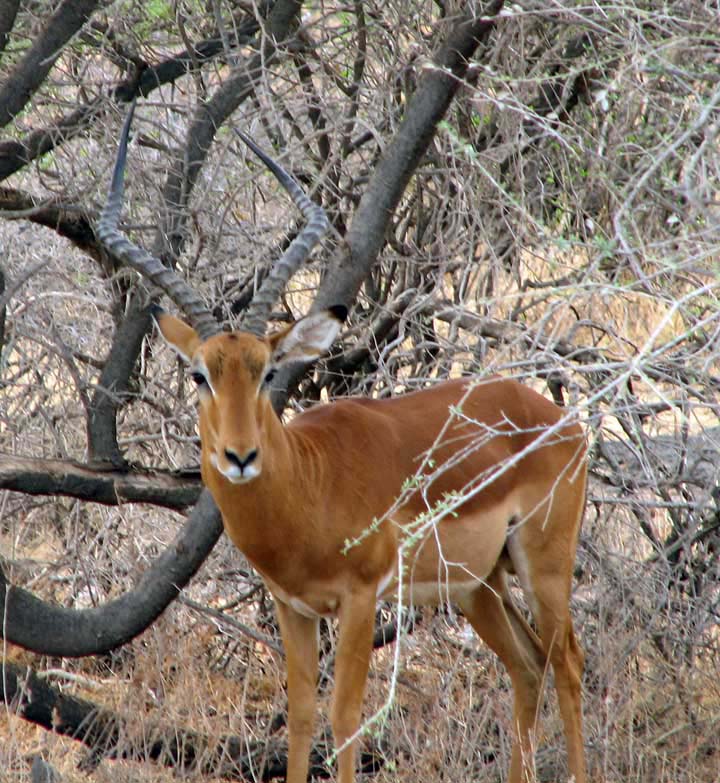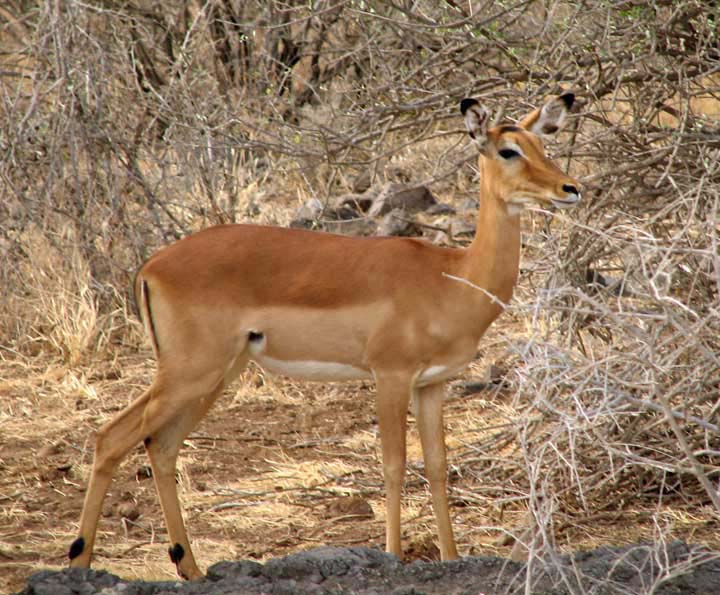 Some colorful vulture guineas.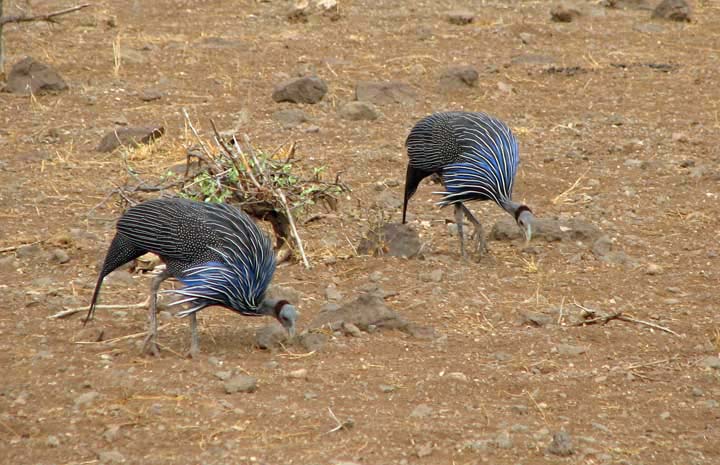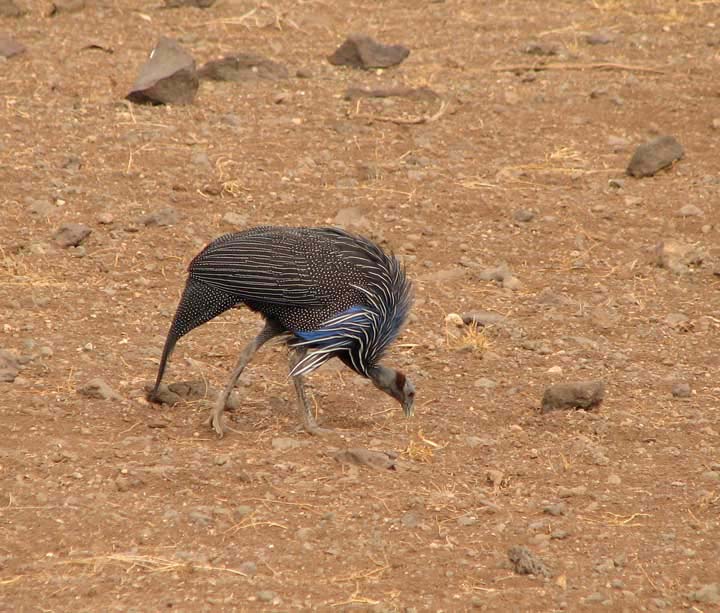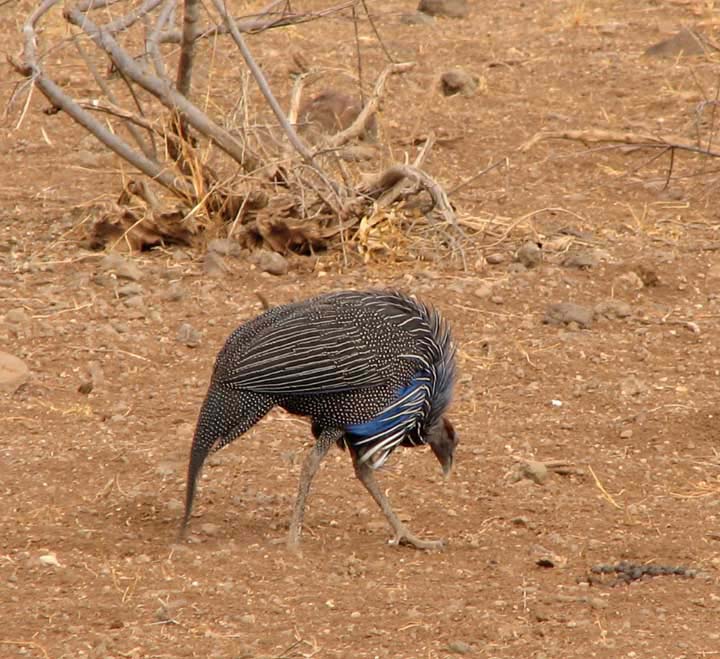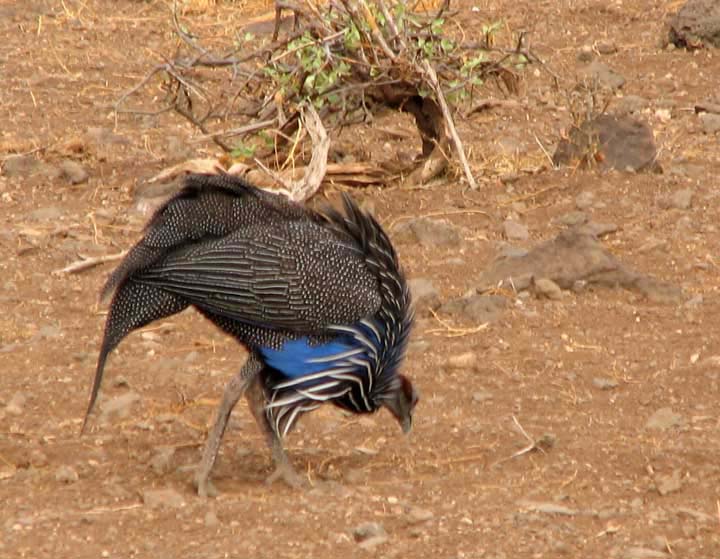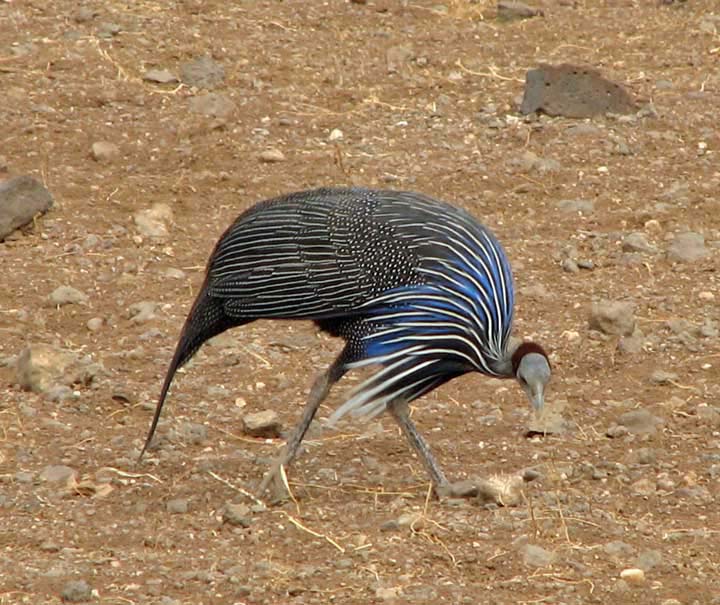 There's elephants out here somewhere -
No other animal leaves s game track like this!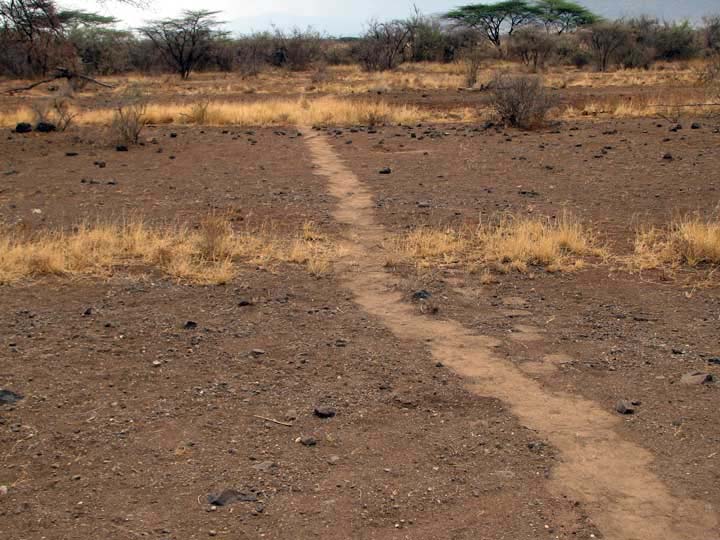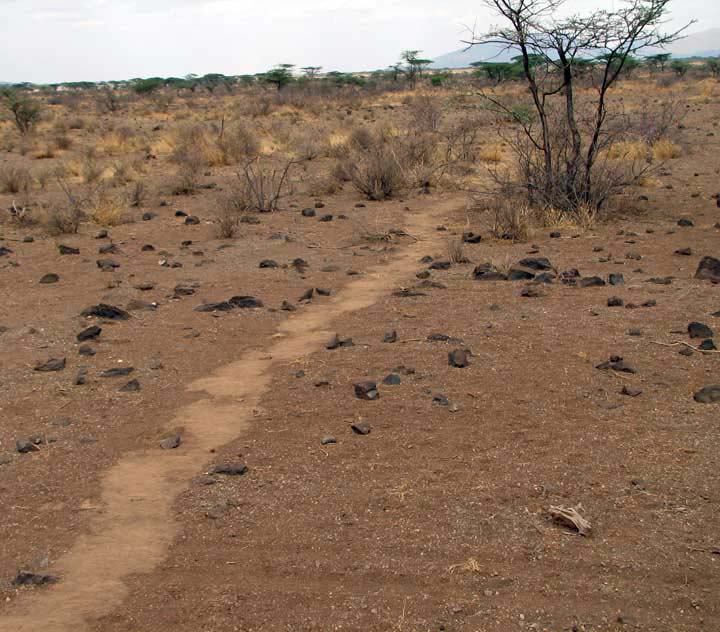 We couldn't believe our eyes. Jackie shouts, "I think I see something in the bush!" This
sight was so contrary to normal, we initially had difficulty recognizing it and understanding what we saw. .
It is a Gerenuk.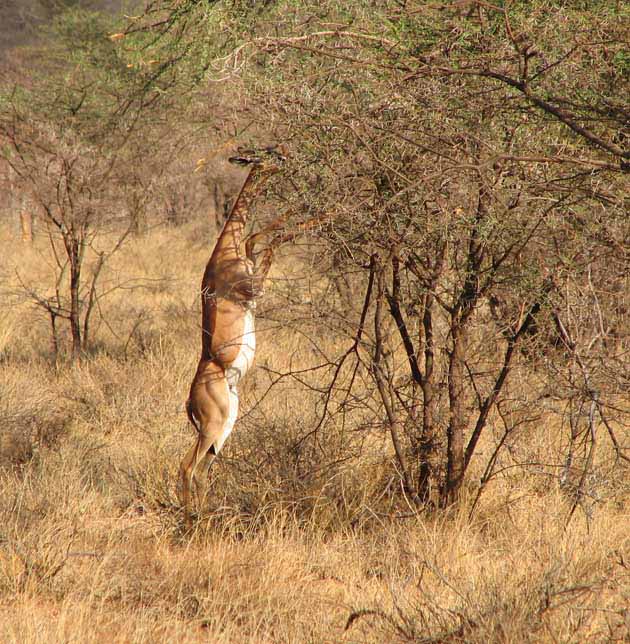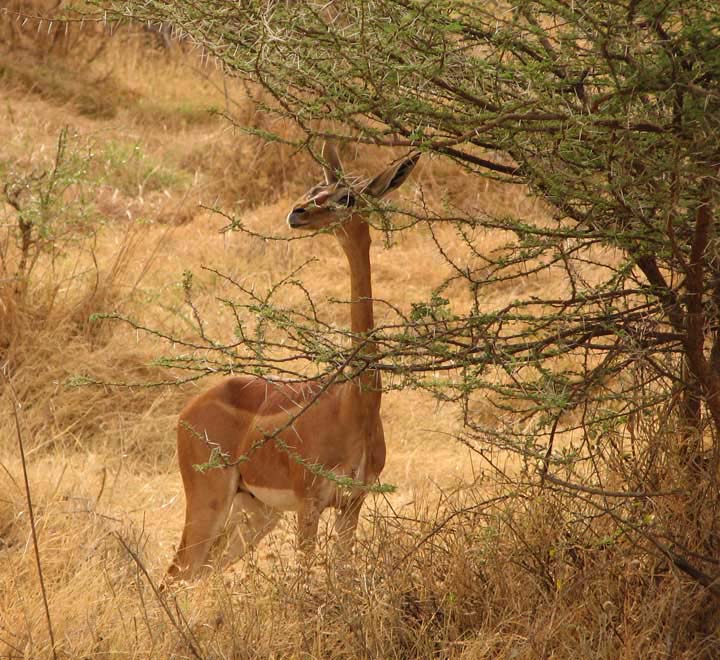 Almost looks like it should be part of the Giraffe family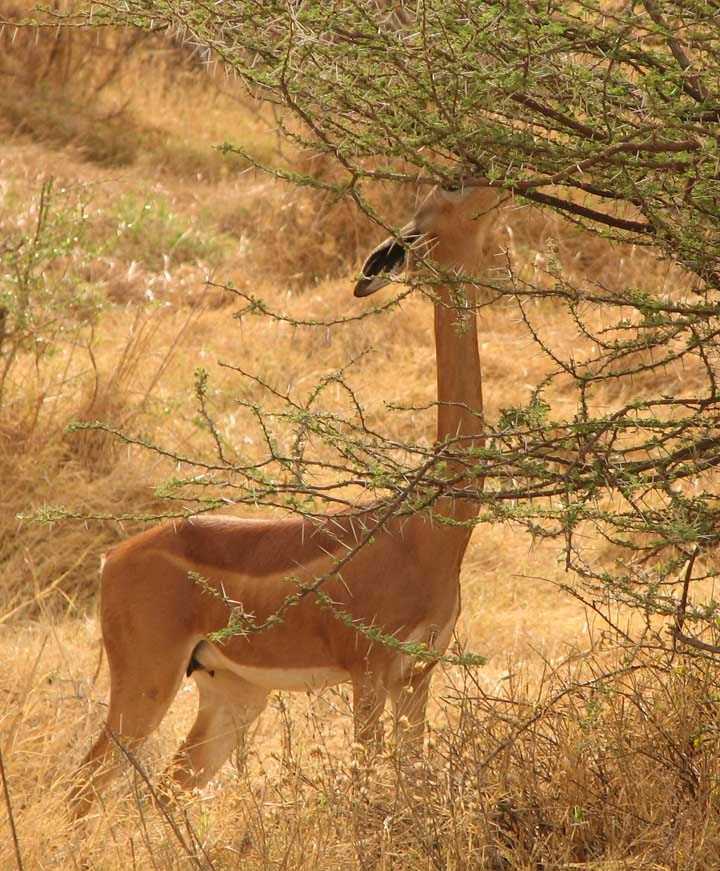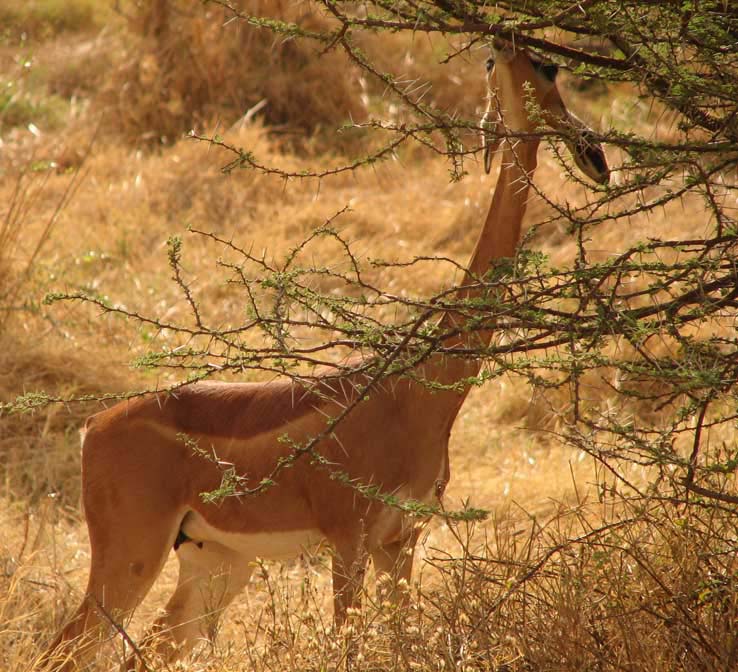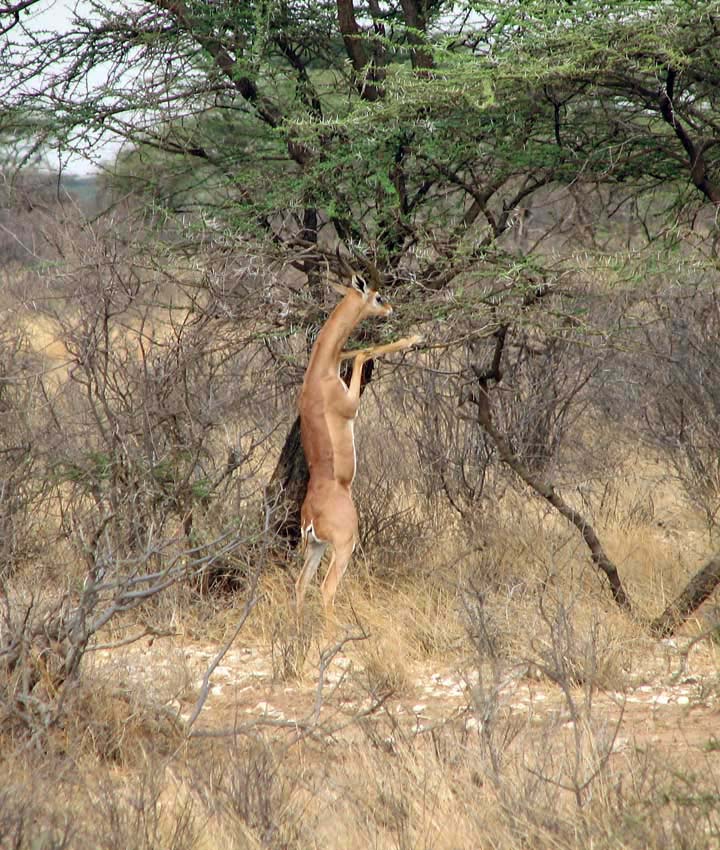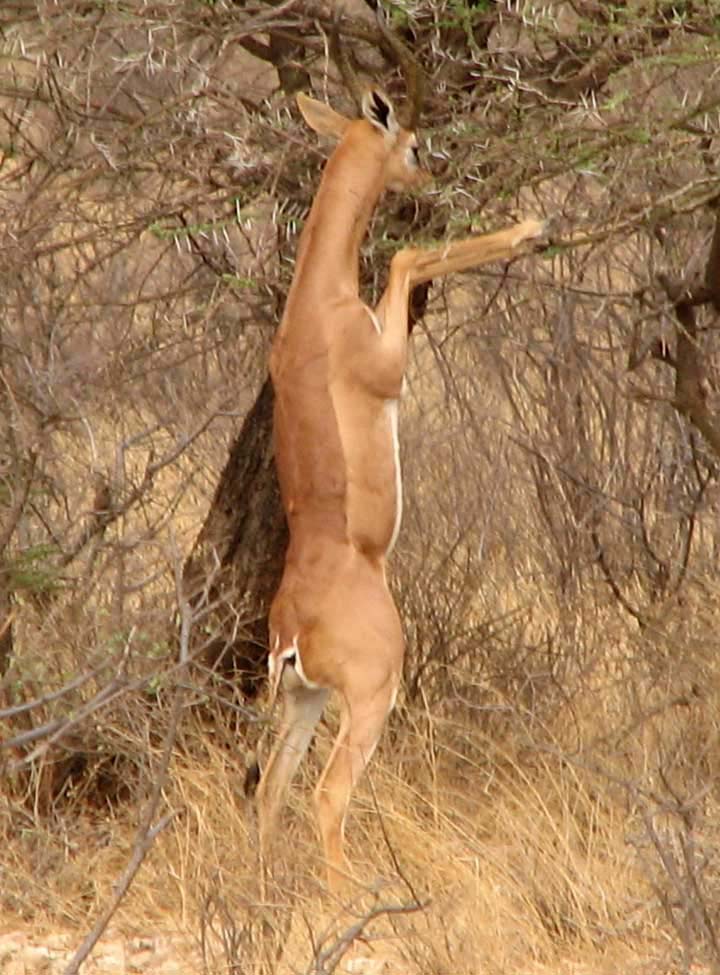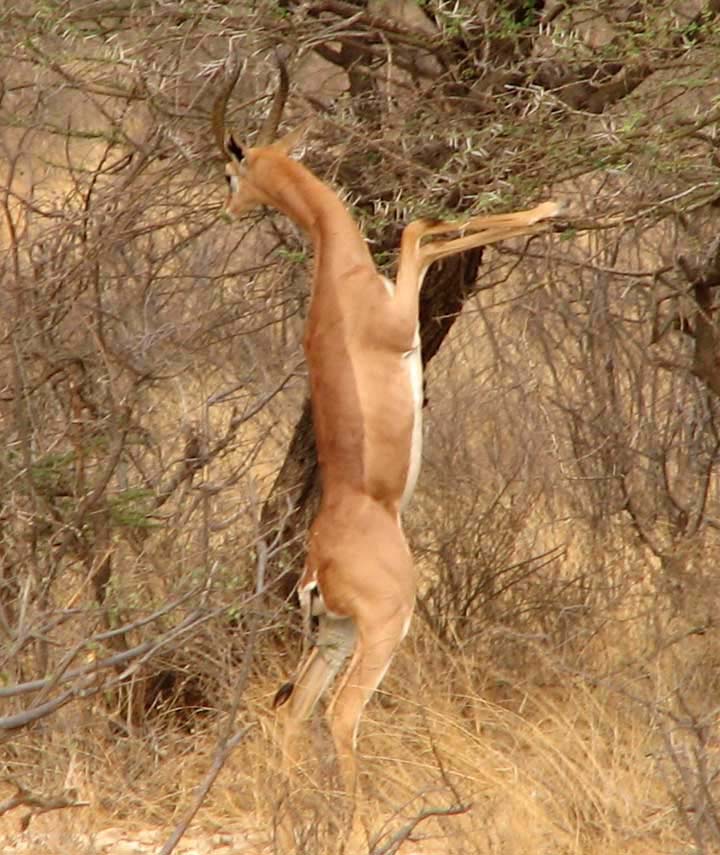 And we see a lone Grevey Zebra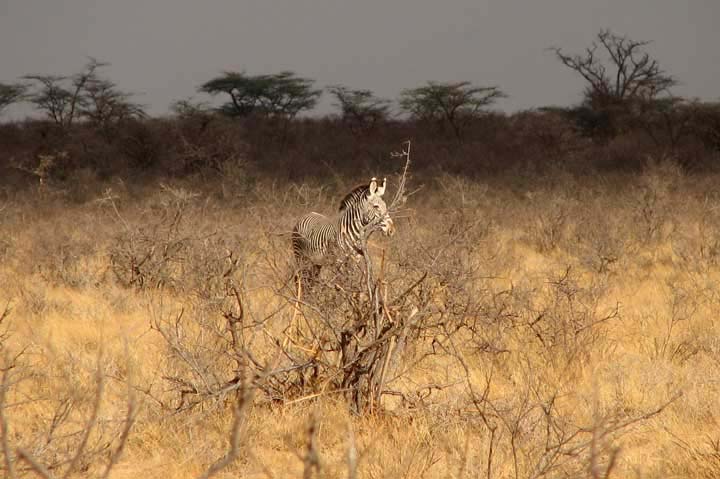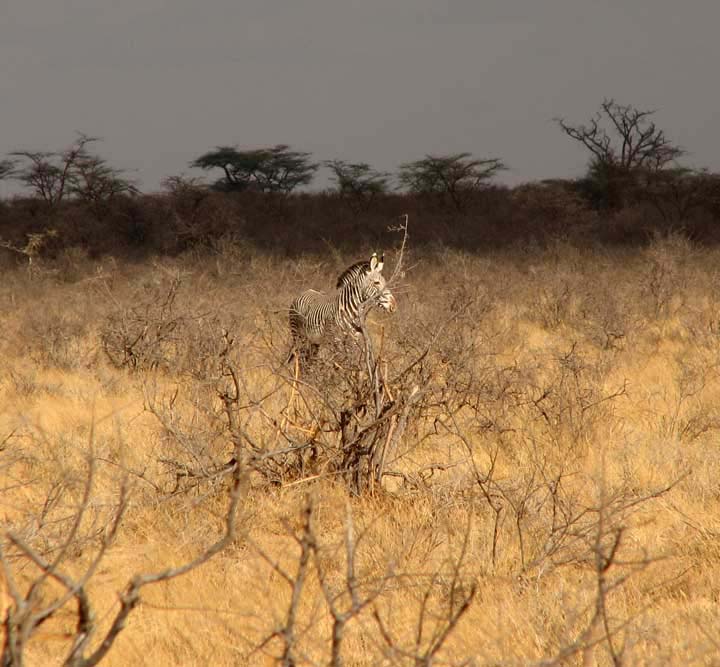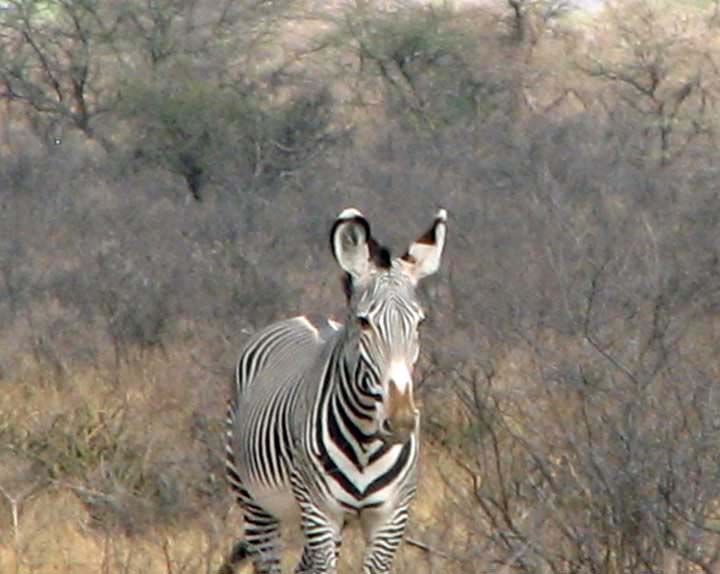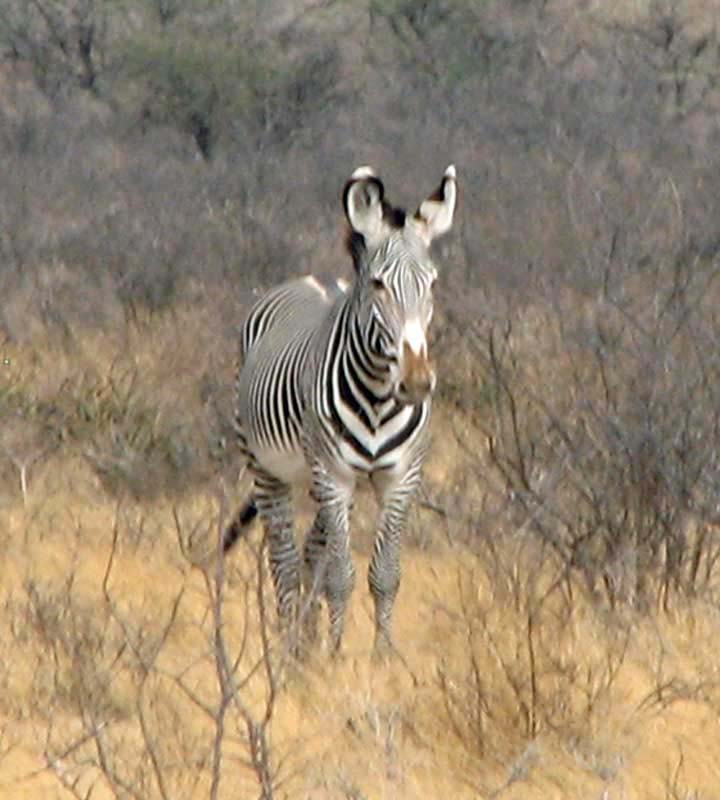 And this tiny bird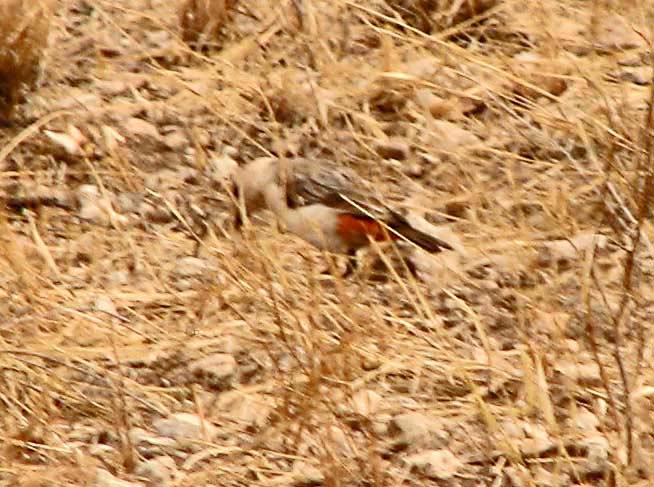 Termite hills seem to be everywhere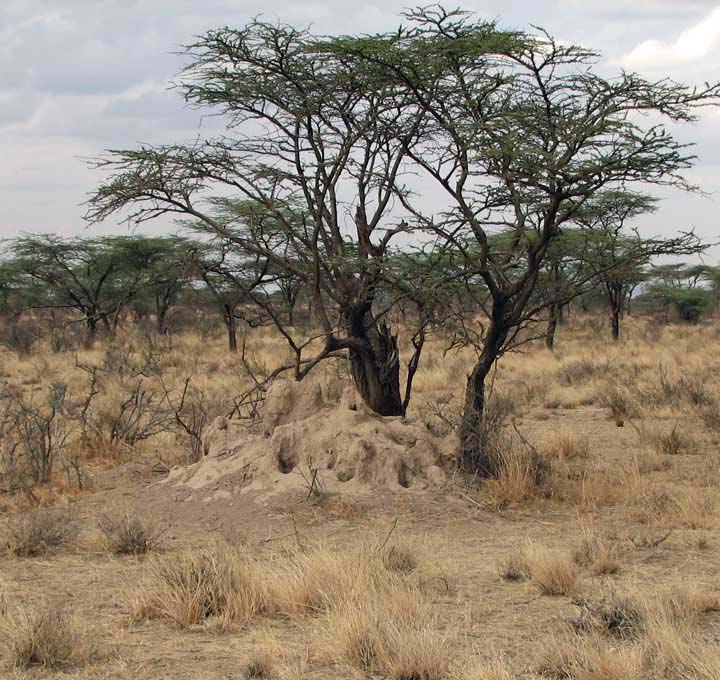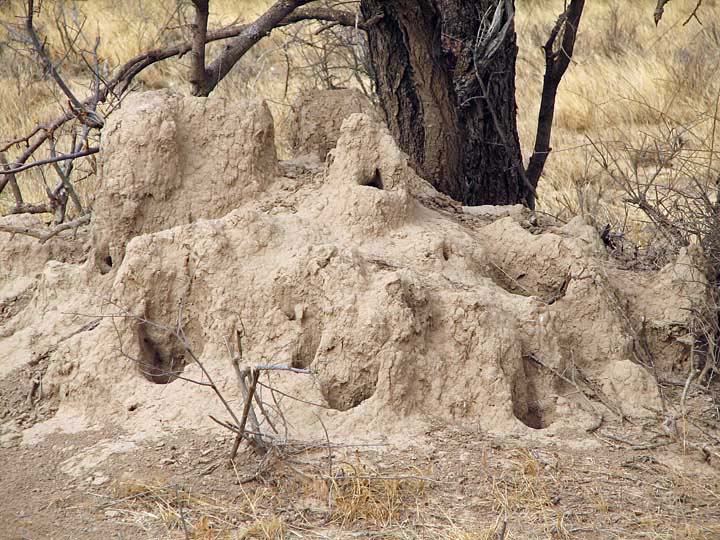 More termite mounds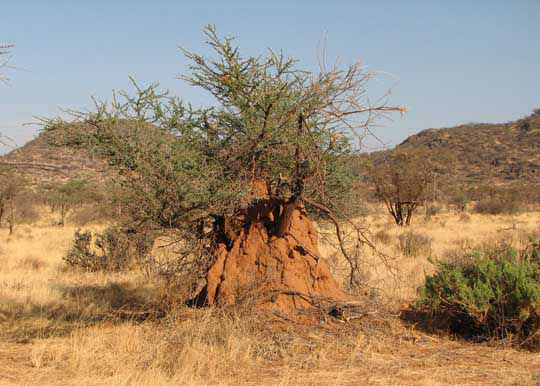 Down the road we go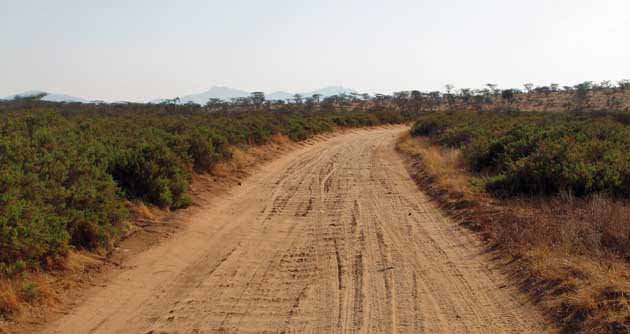 We're not alone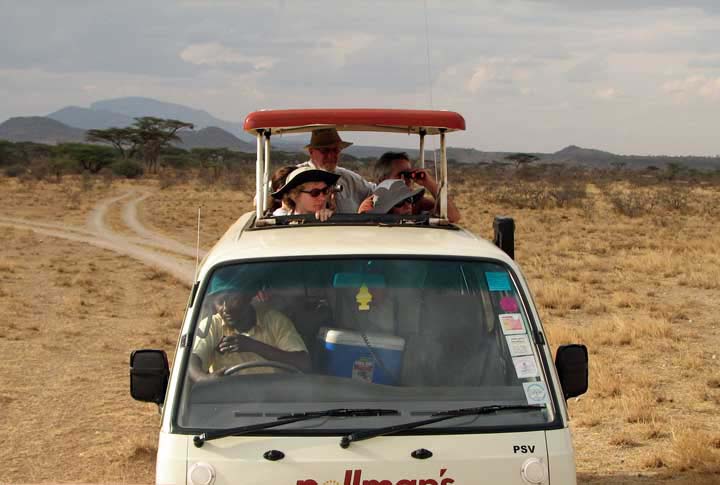 Look carefully - a hidden Dik Dik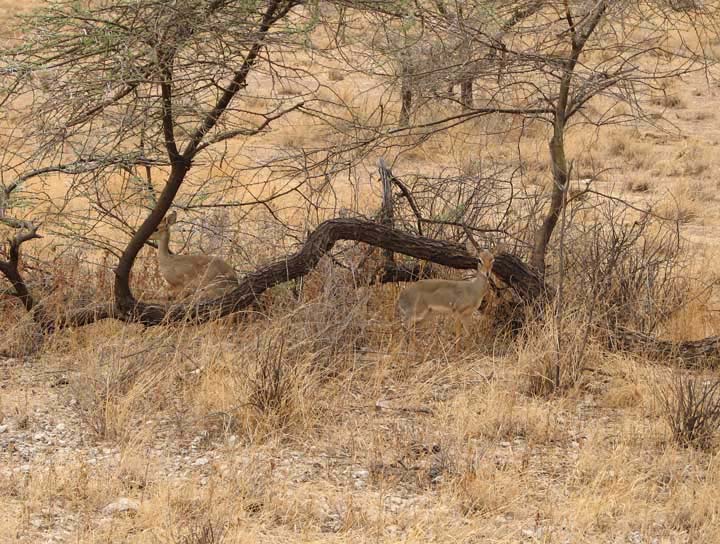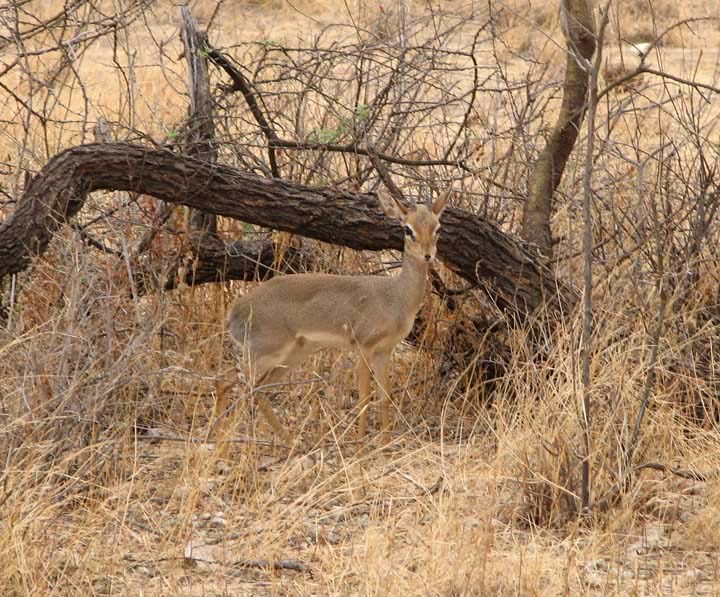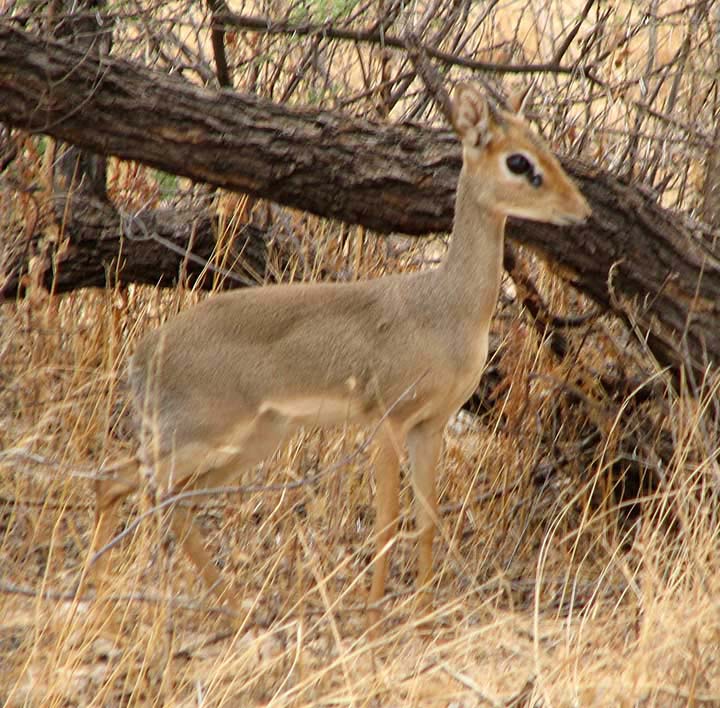 More waterbuck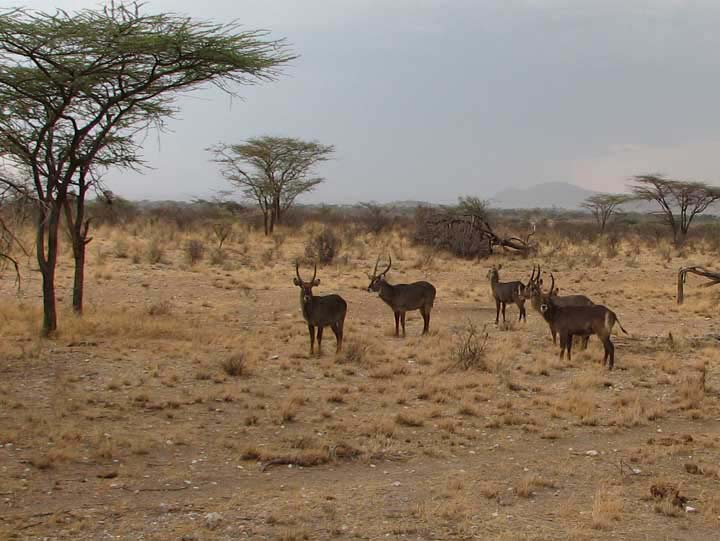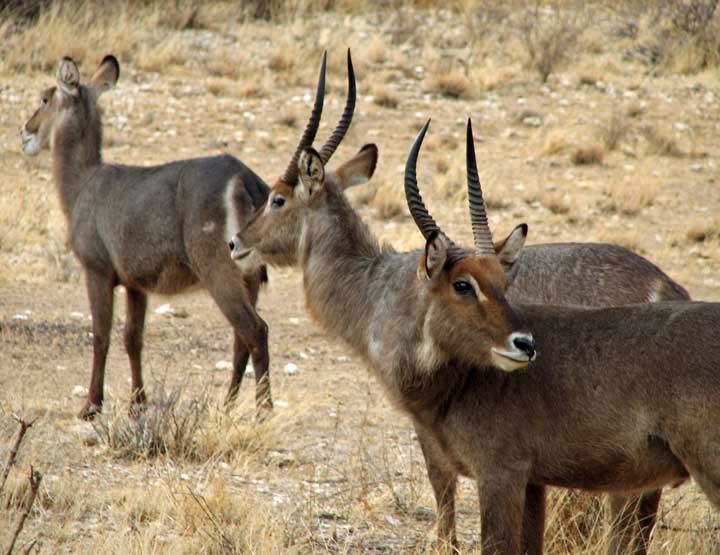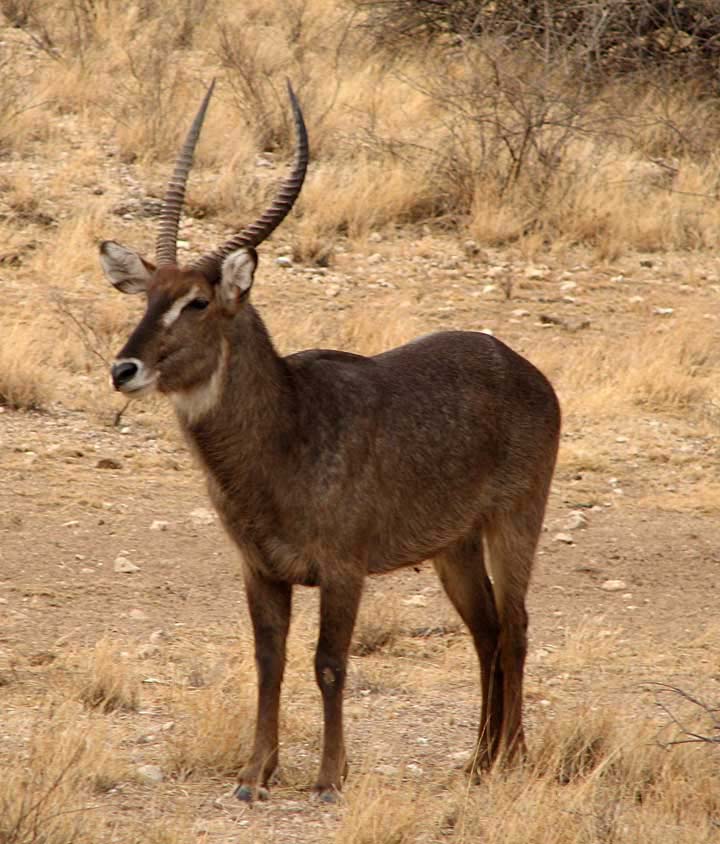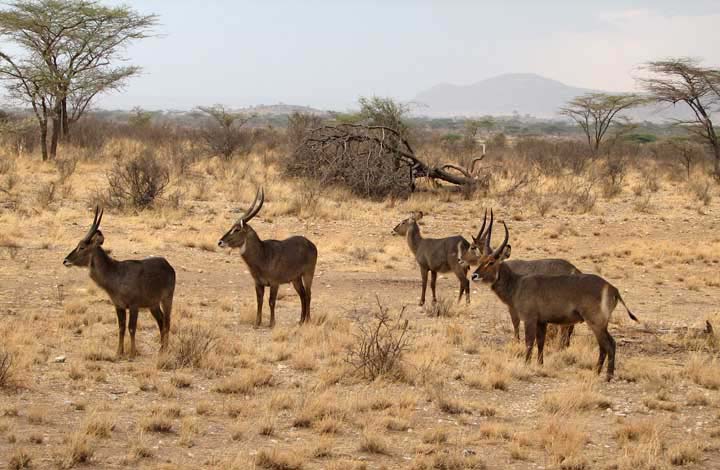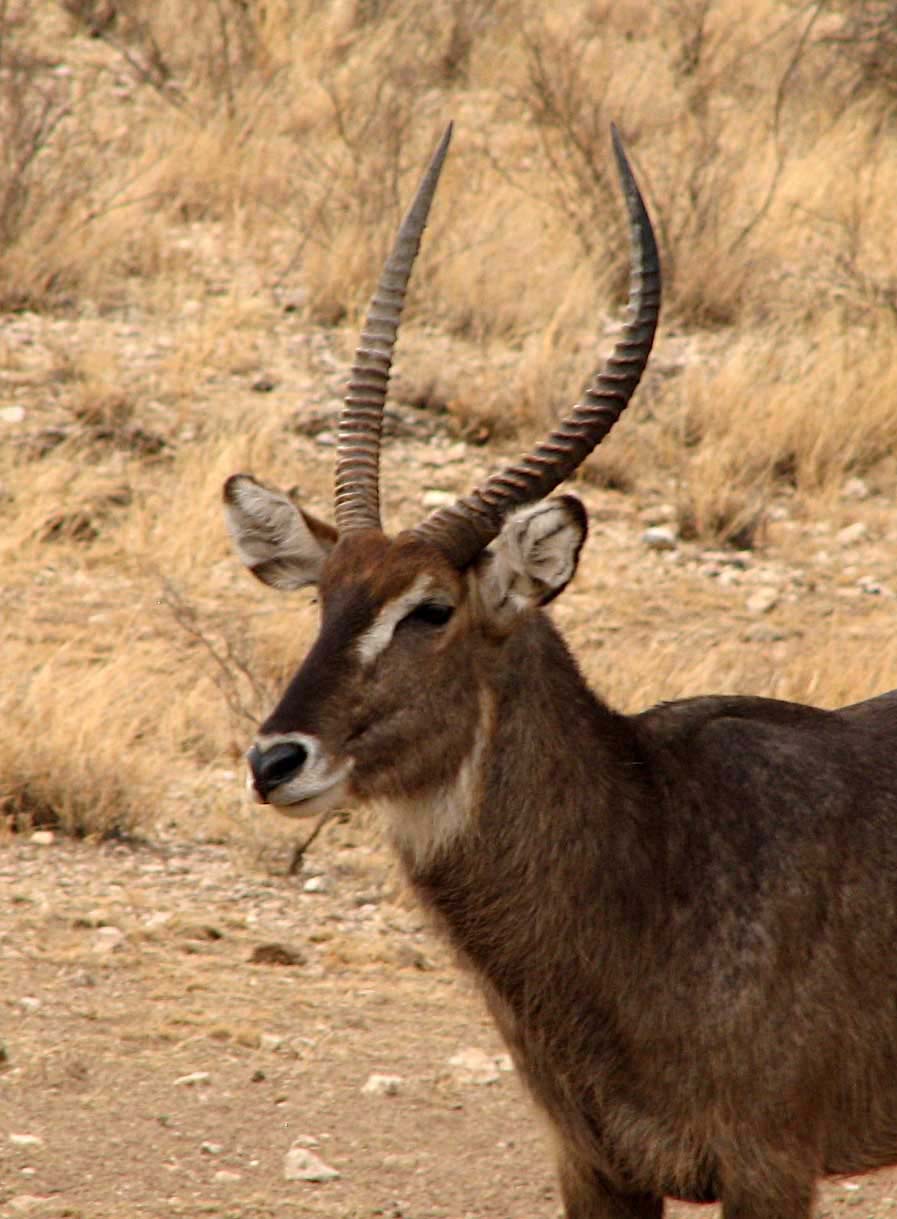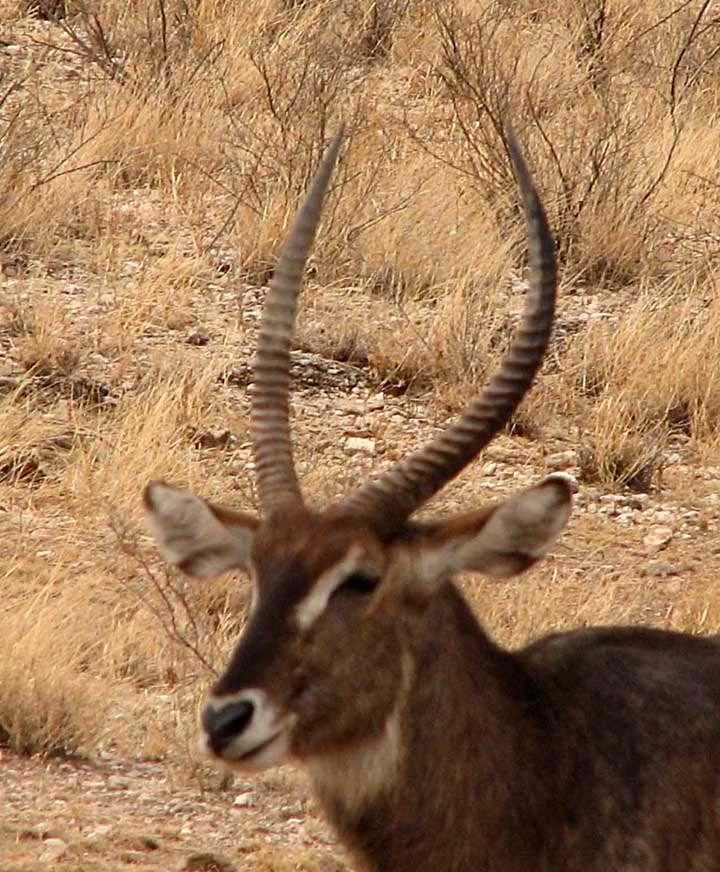 A patch into which you do not want to fall !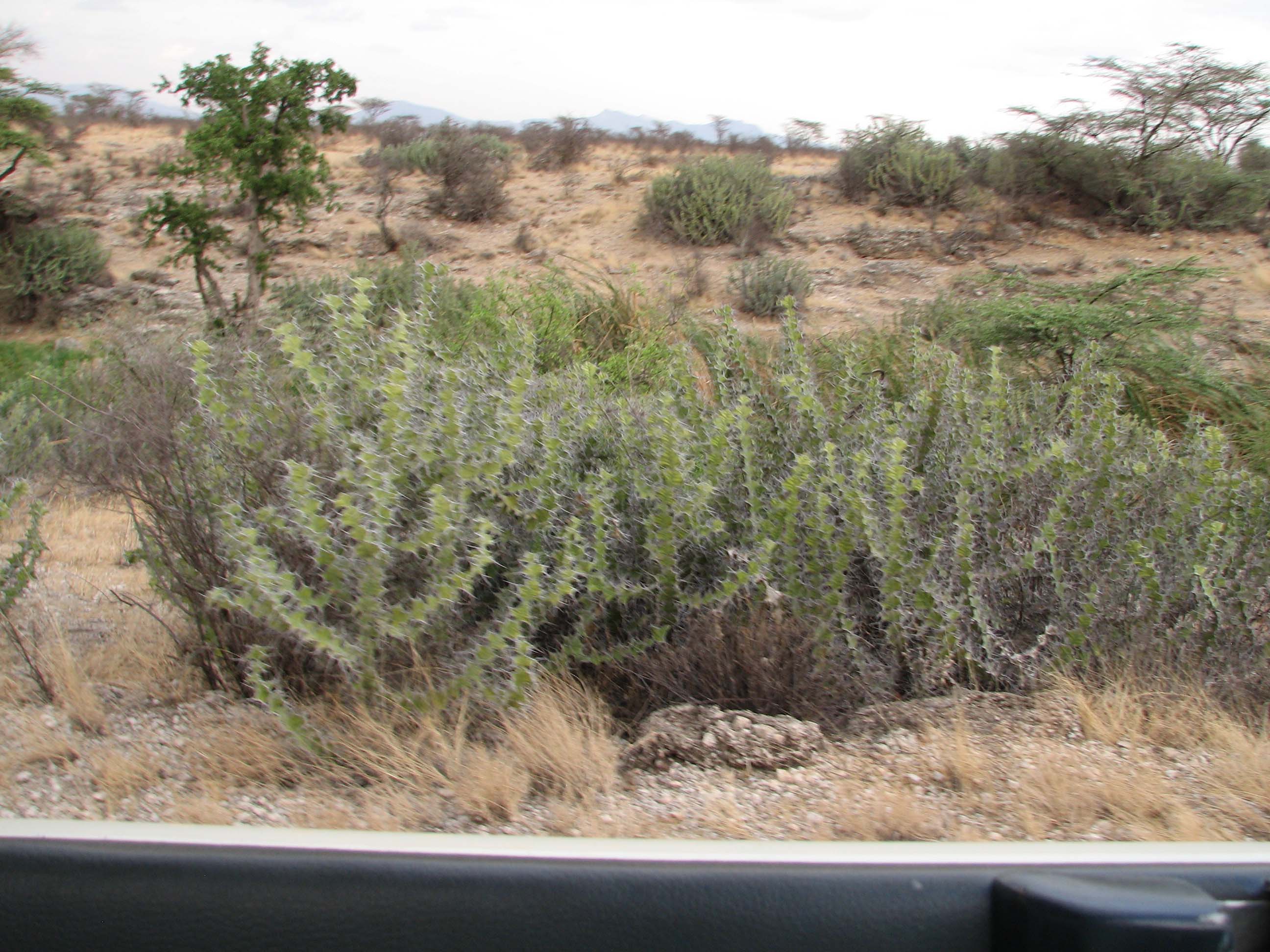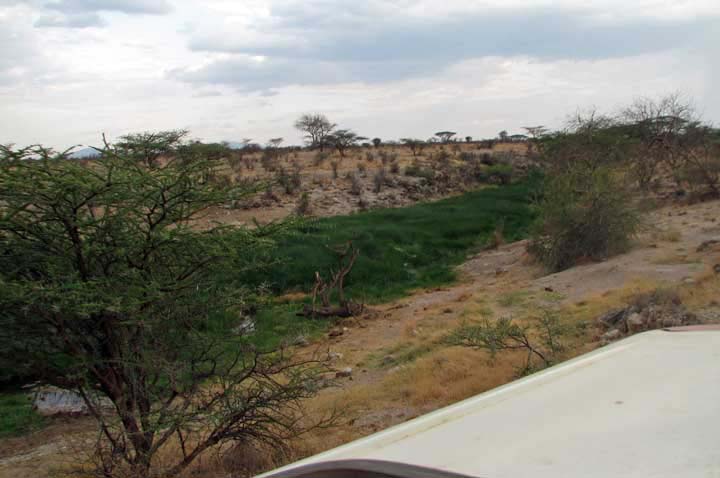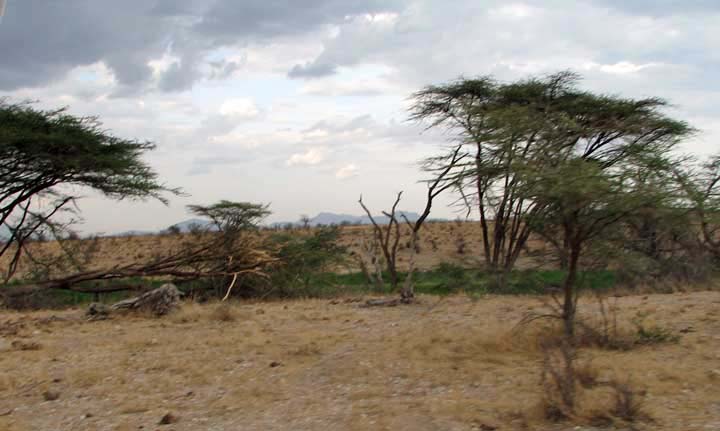 Down the stream, in a big patch of brambles .........
Our FIRST Lions !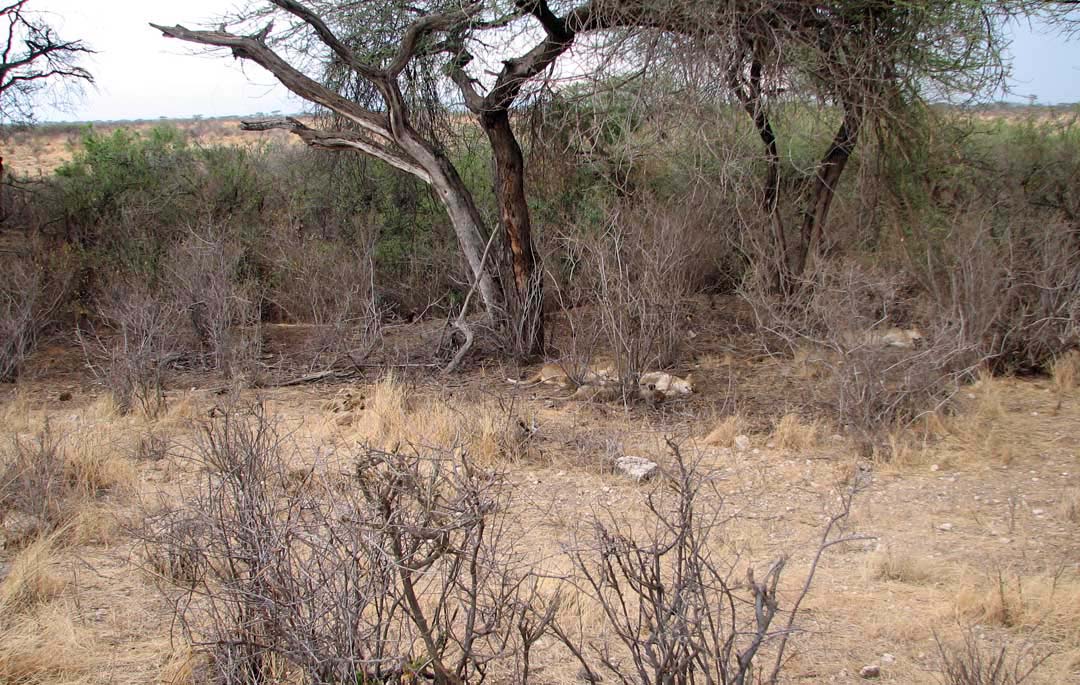 Couldn't get too close - but these are lions!
So We'll take pictures anyway.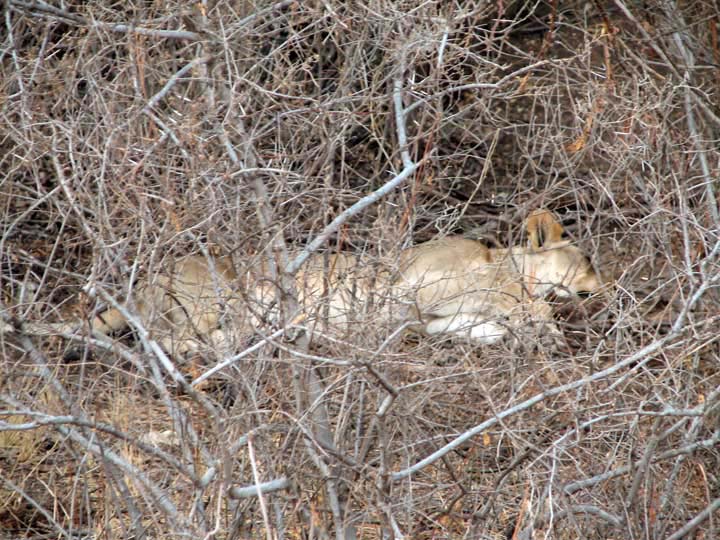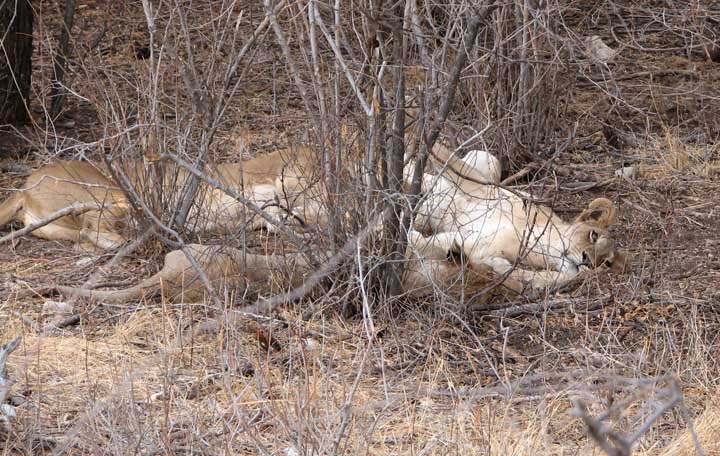 OK - It seems this is one of their 16 hours of sleep a day.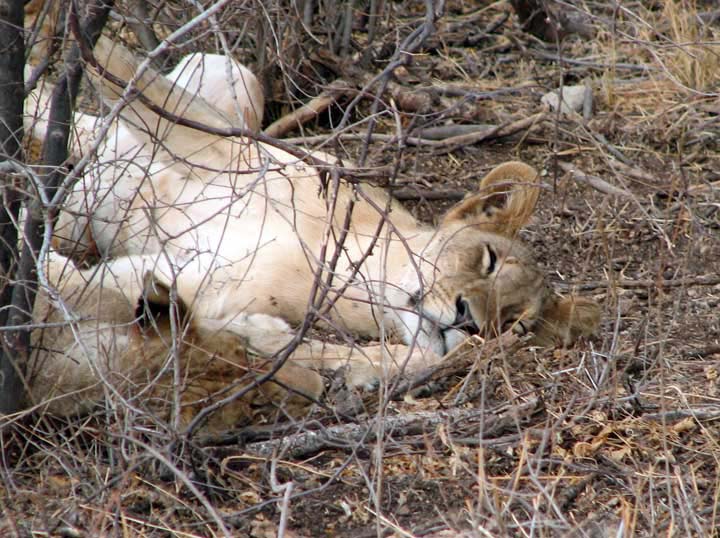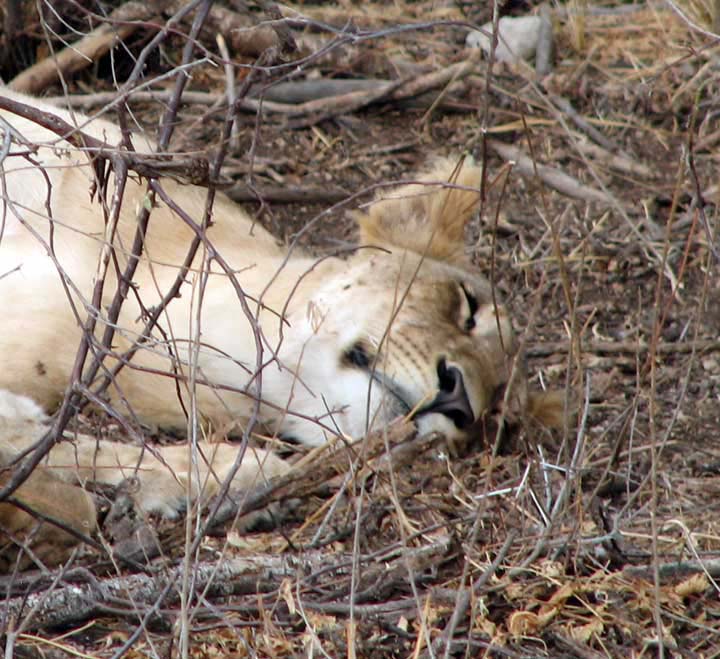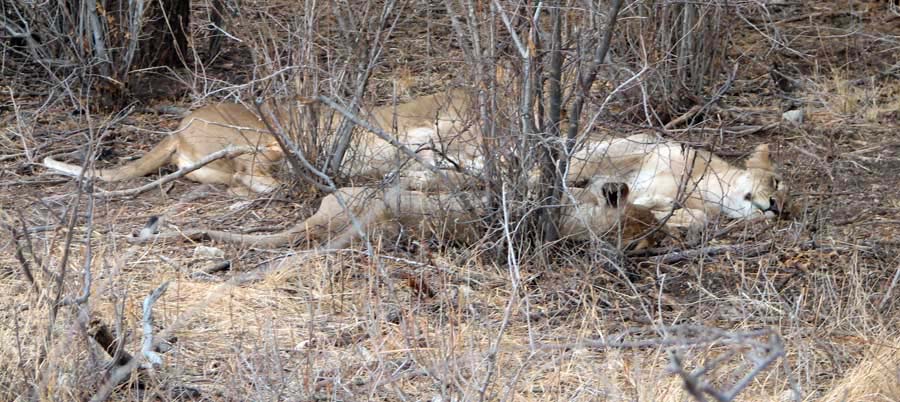 Well, someone is awake - but not much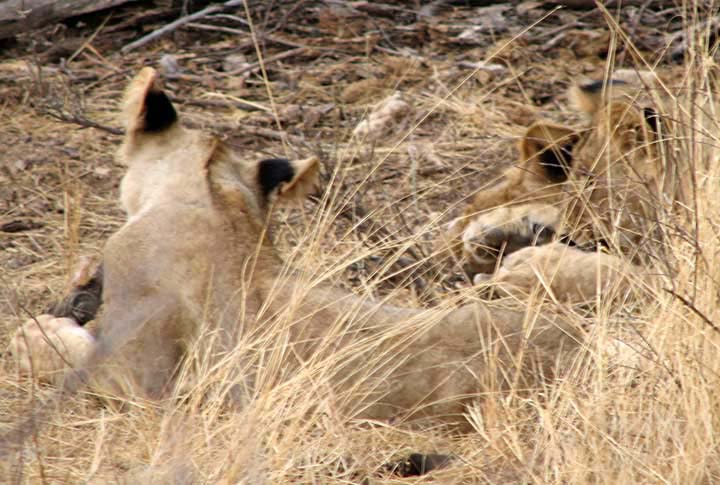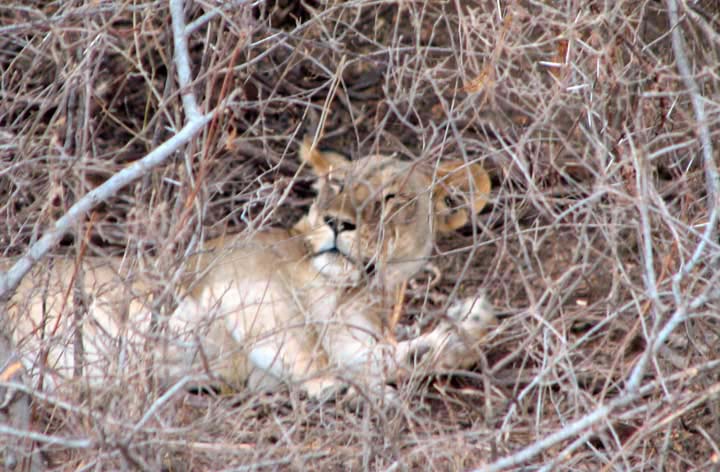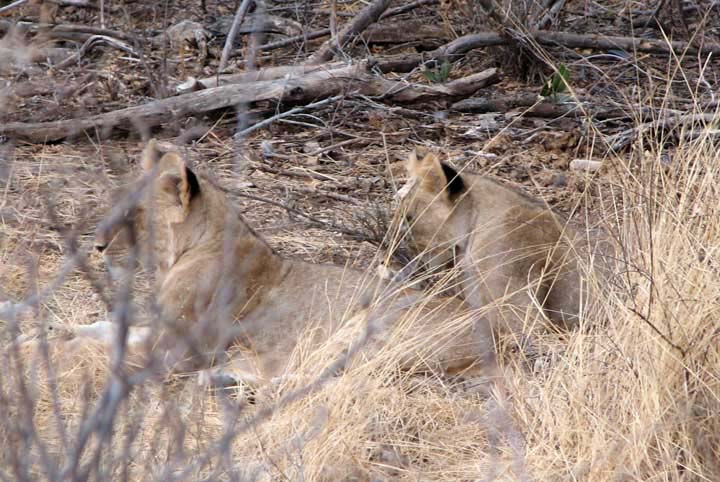 I'm no expert, but the scientific name for this can only be called a "Glob of Lions"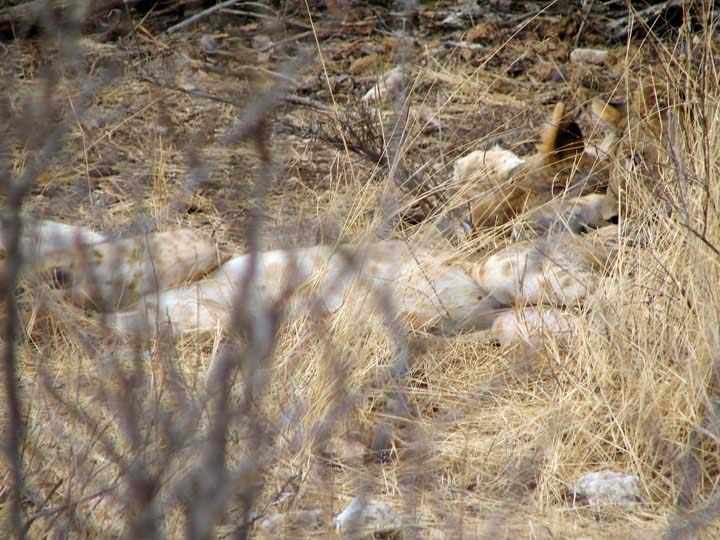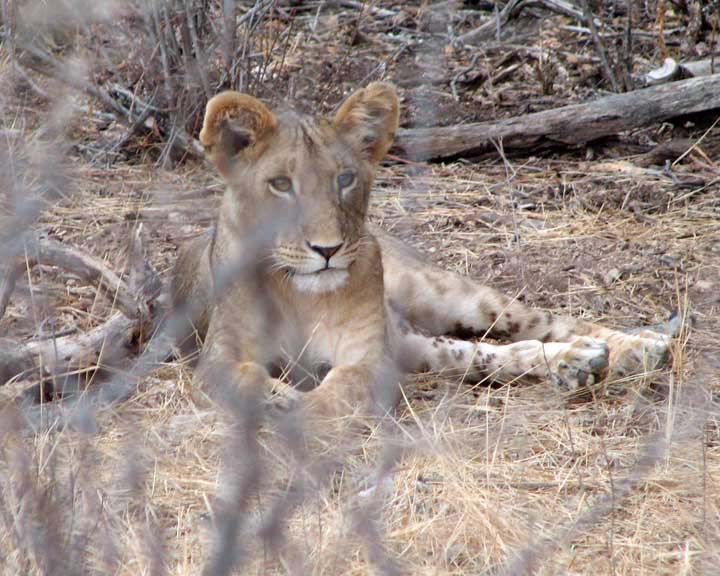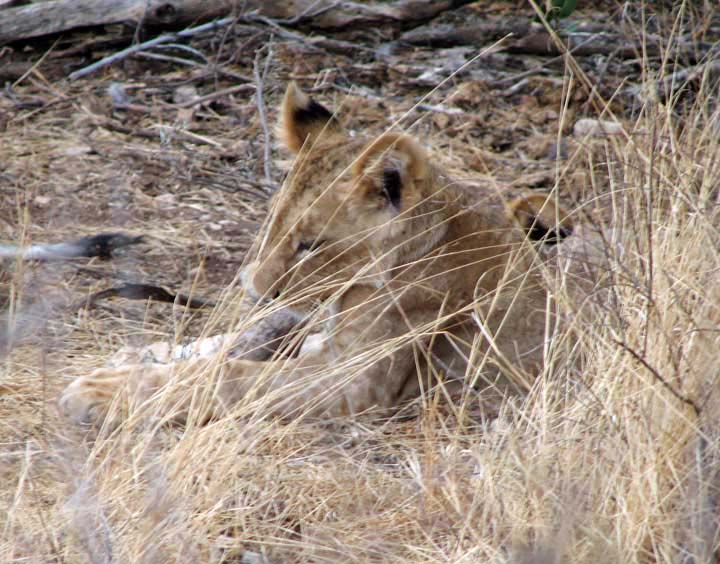 A cute cub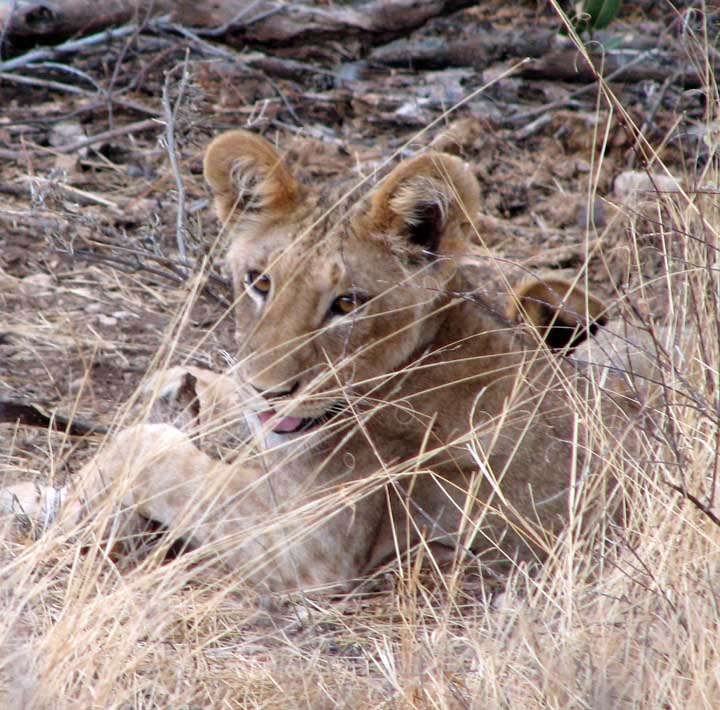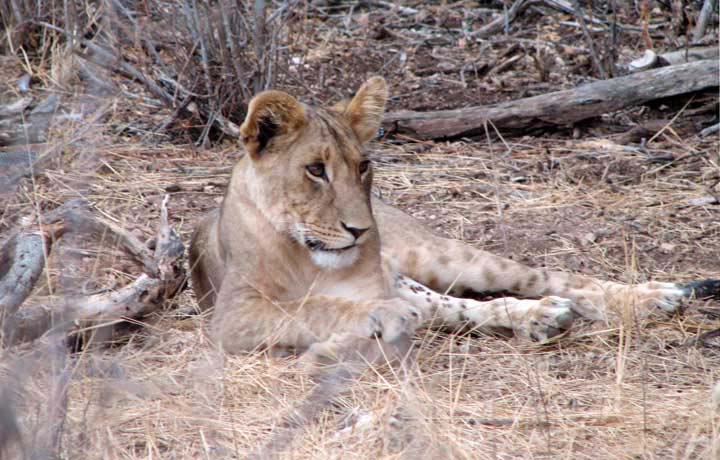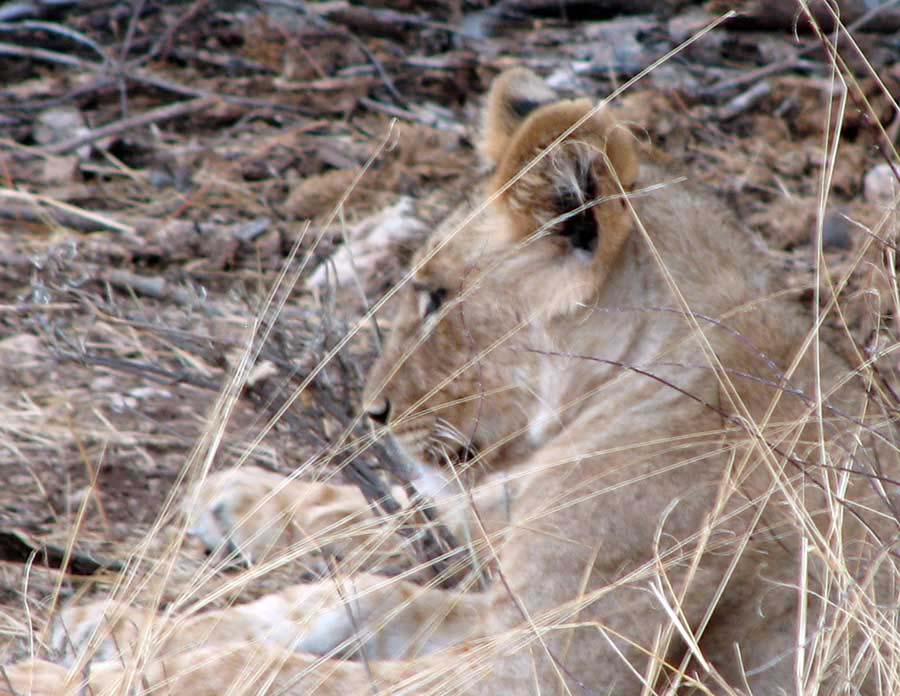 You can get too close!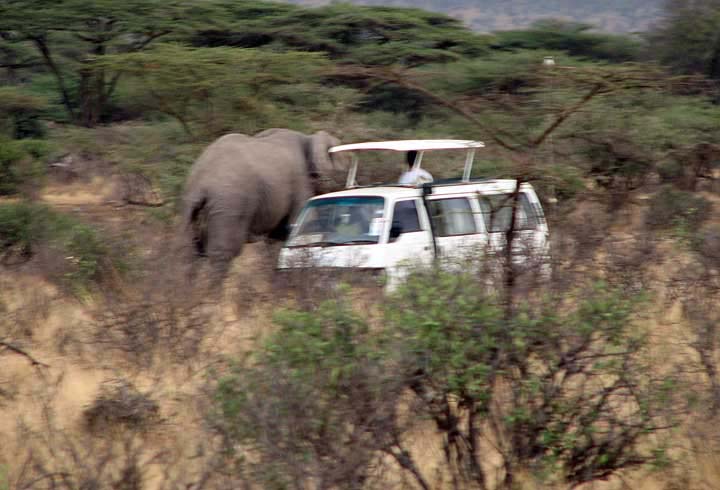 We come across a stunning location for a panorama shot.
Three layers of mountains in the background - each with their unique shades of color.
The scenery and then the elephants encompassed by it, make for what I believe some of our best pictures.

First - the scenery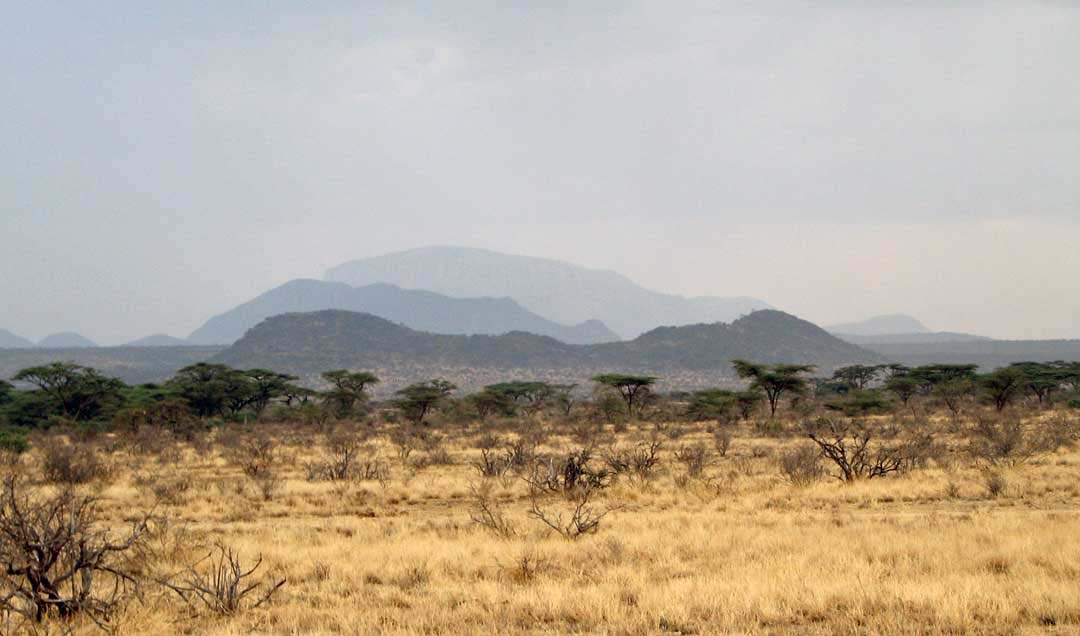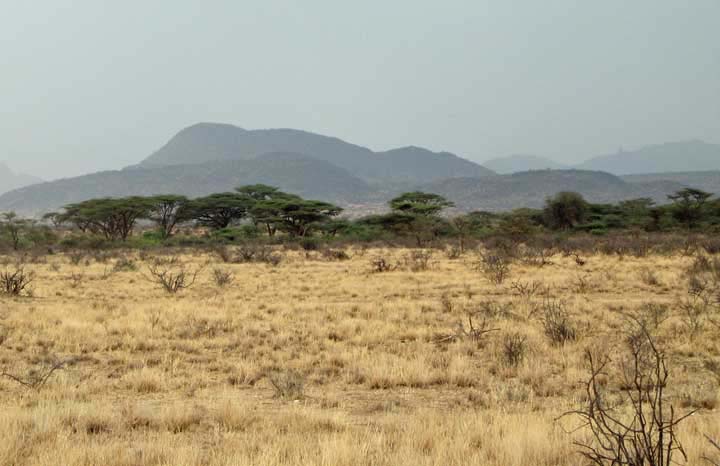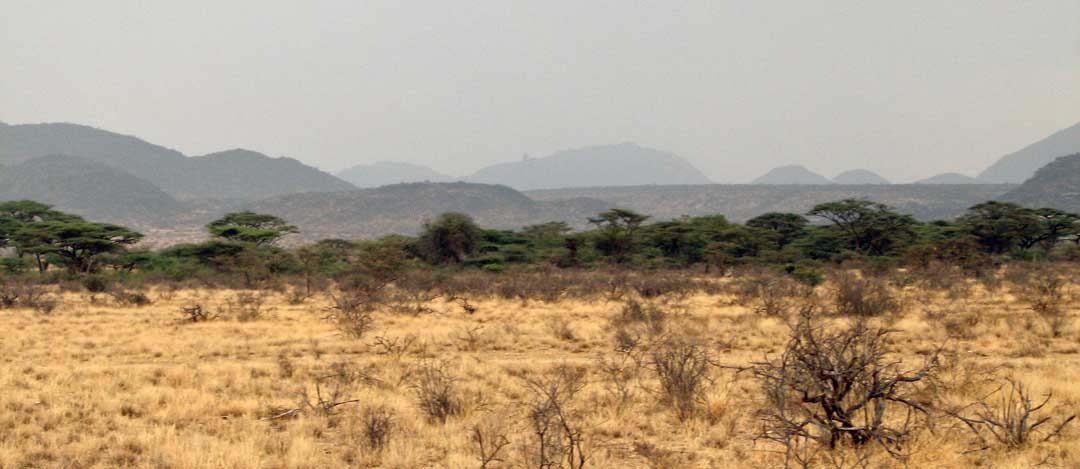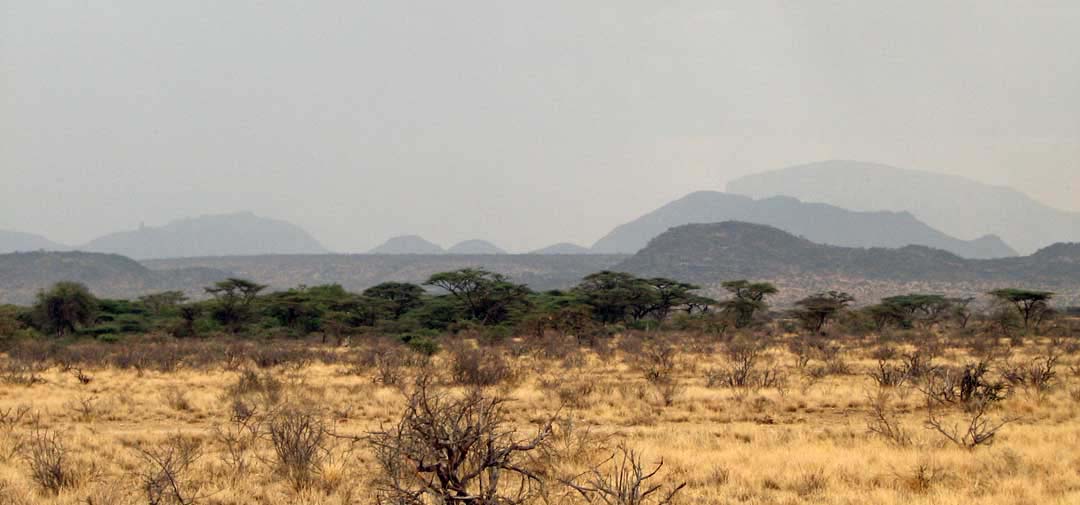 Add elephants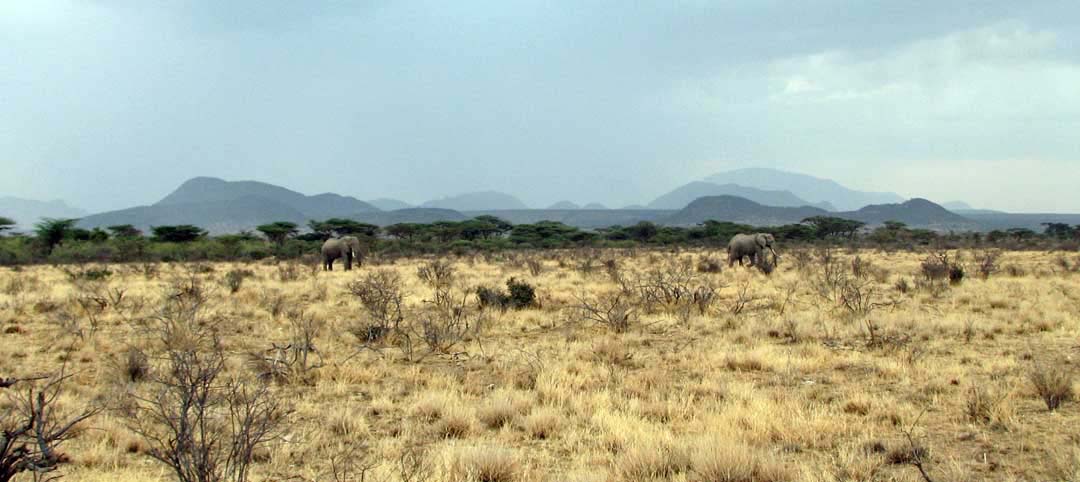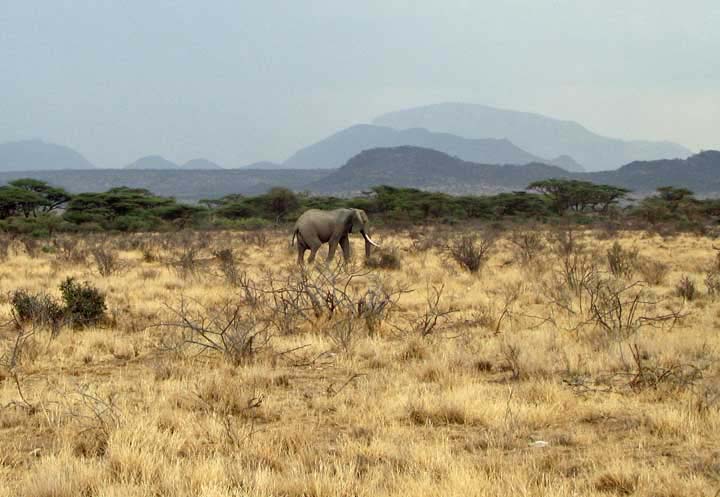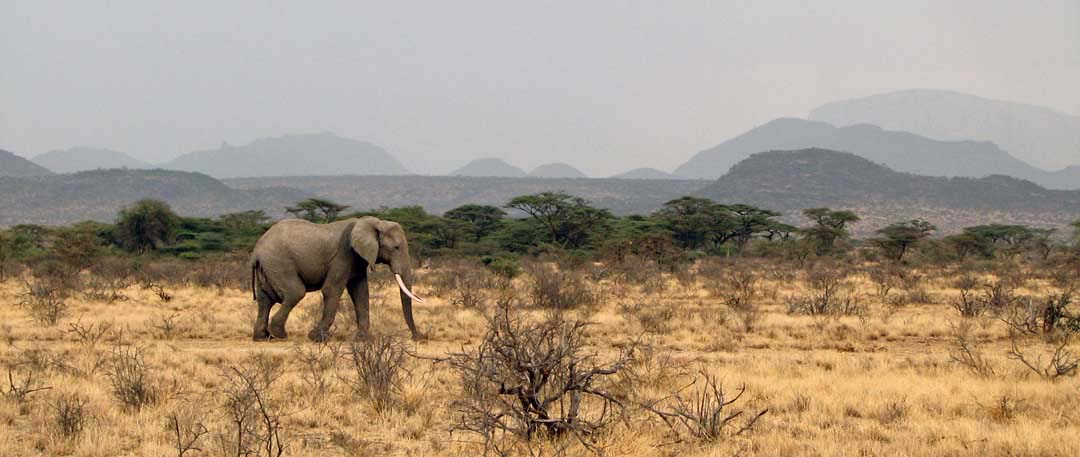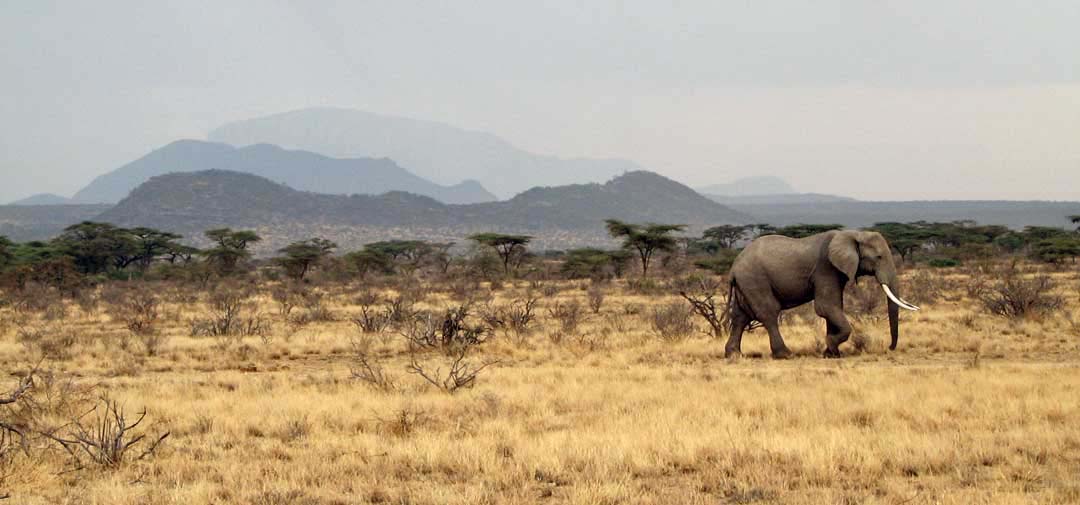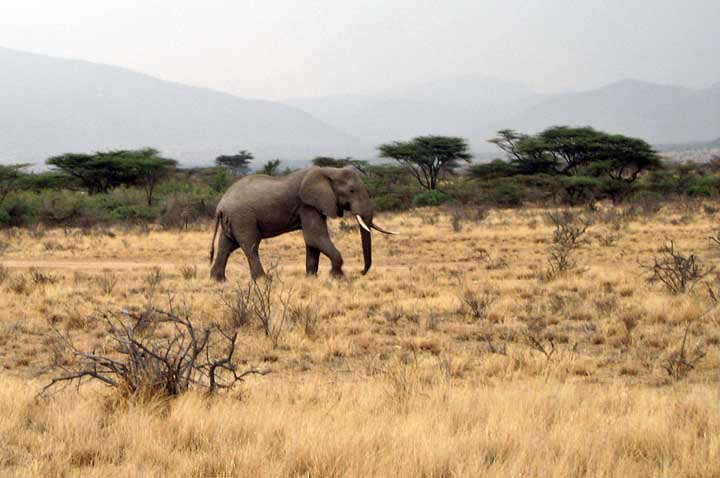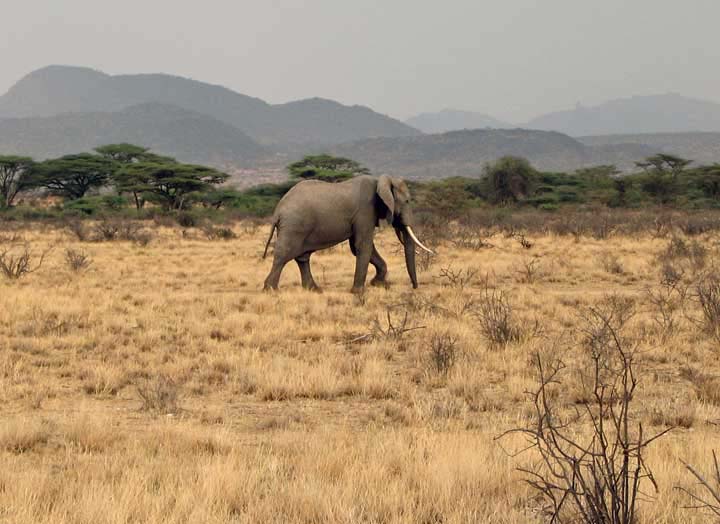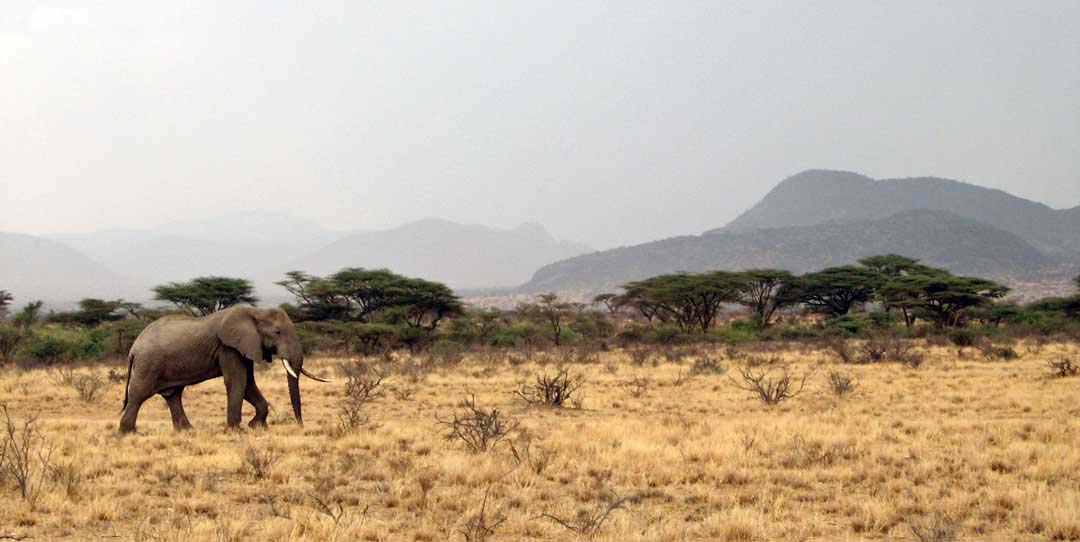 This scenery below is not quite a beautiful as those above,
BUT
You can't have too many elephants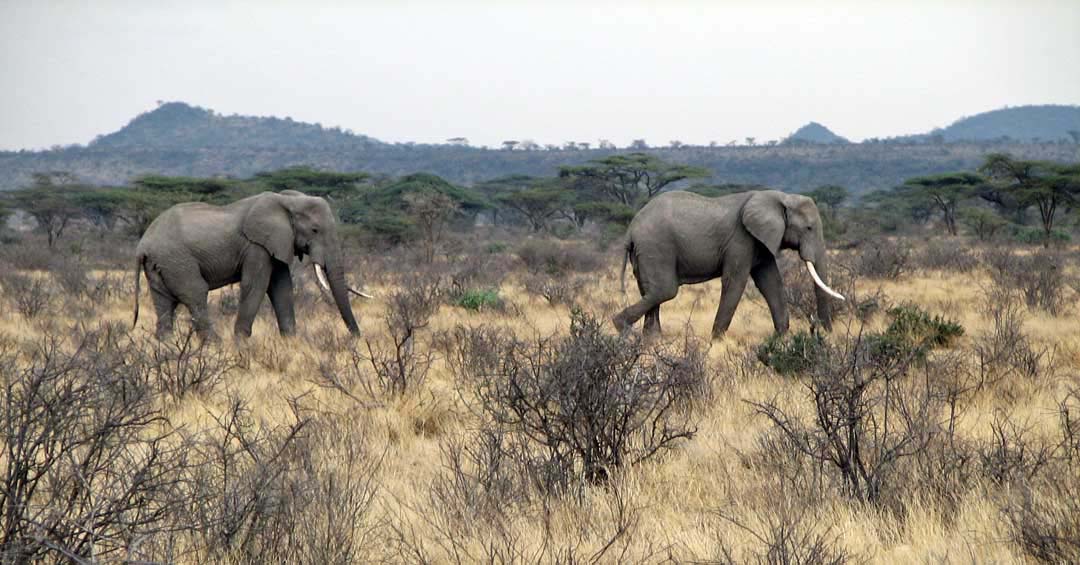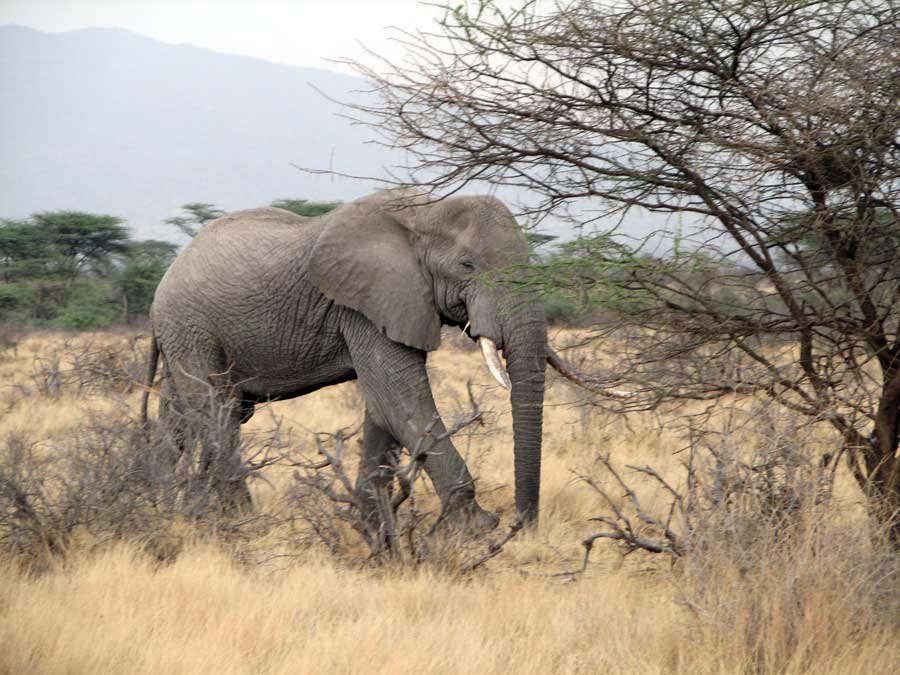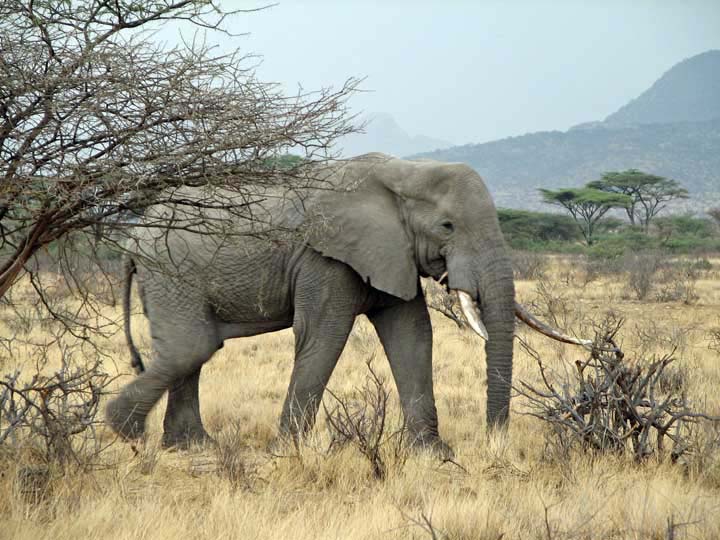 This tree is not long for this life -
Elephants doing what they do best!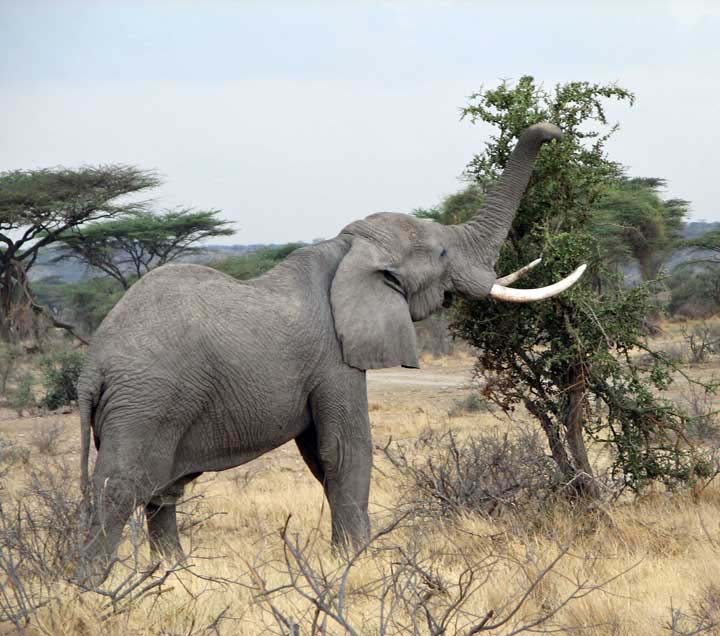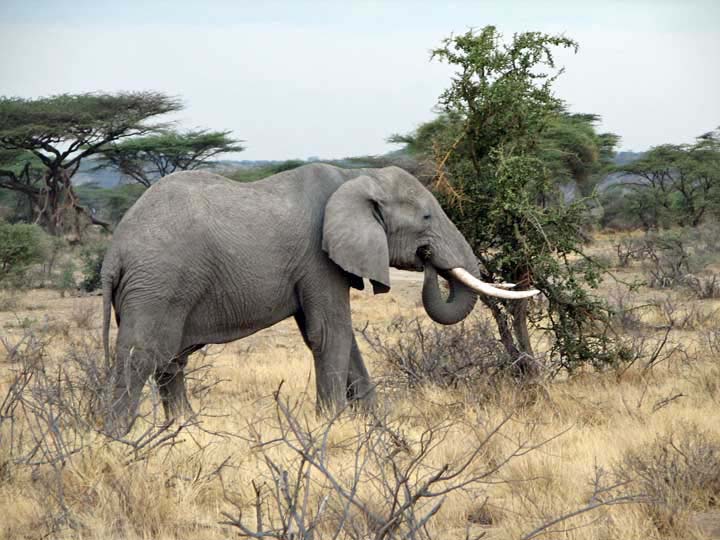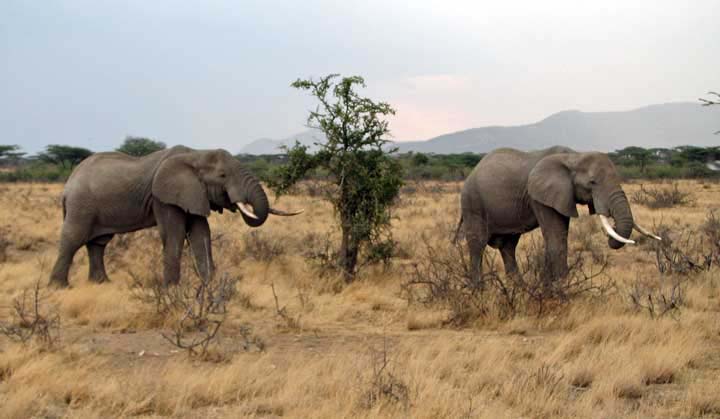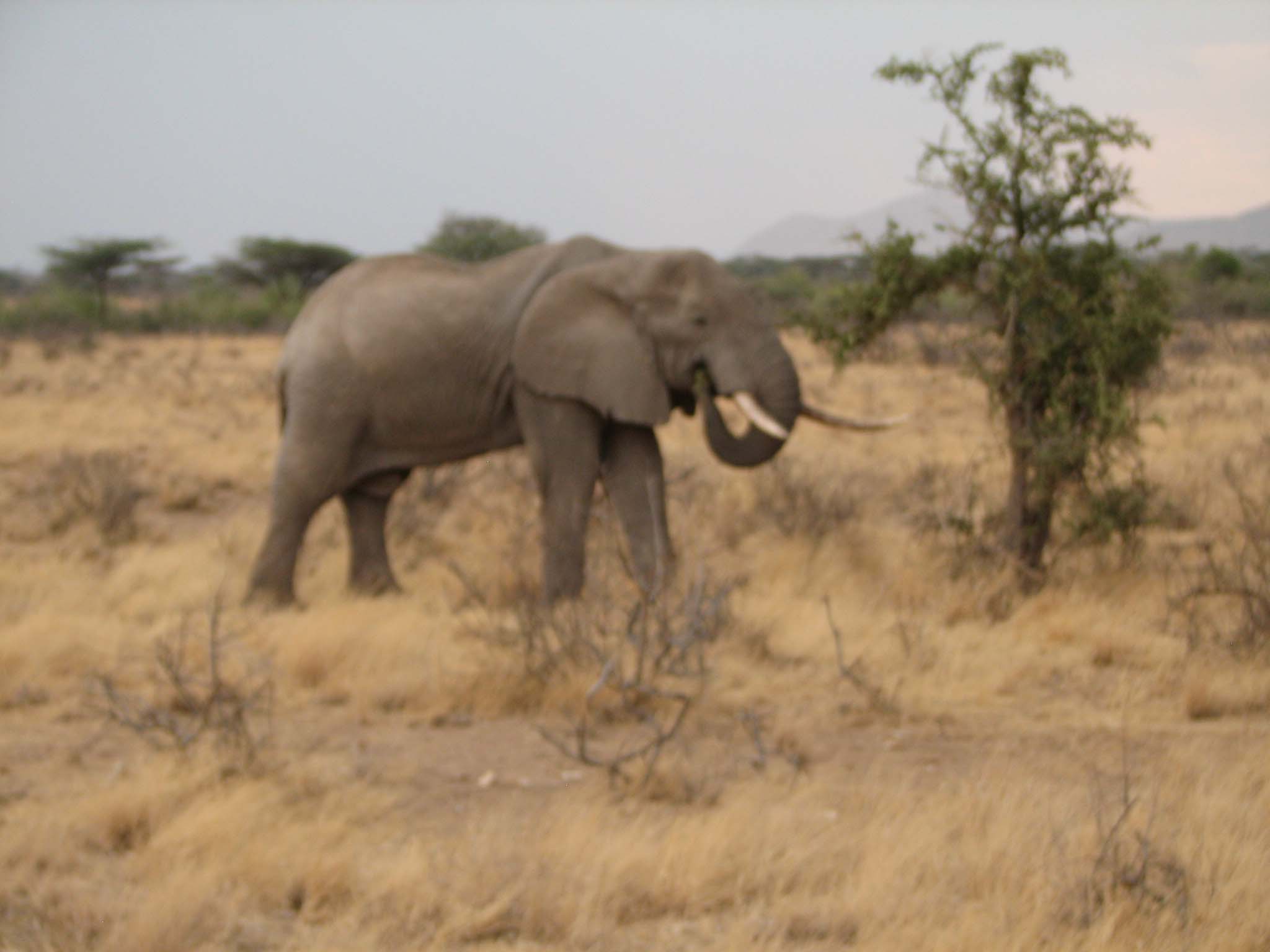 Yes, they do get close - and they pay no real attention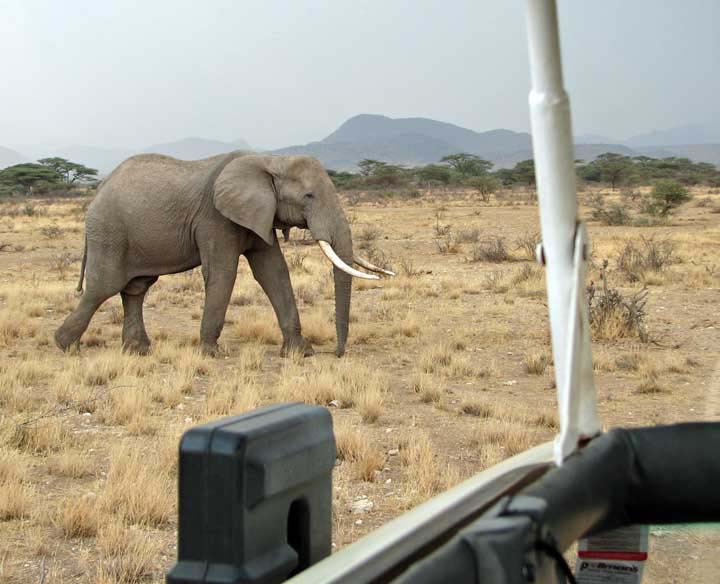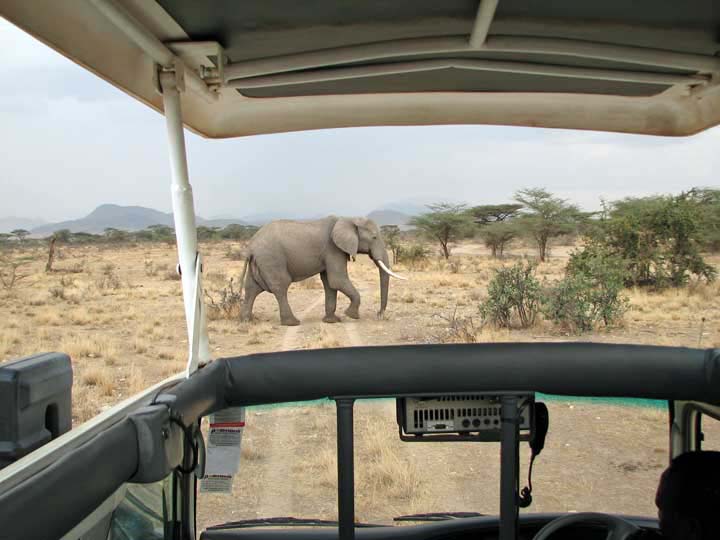 What all could be hiding in the 3 to 4 foot tall brush?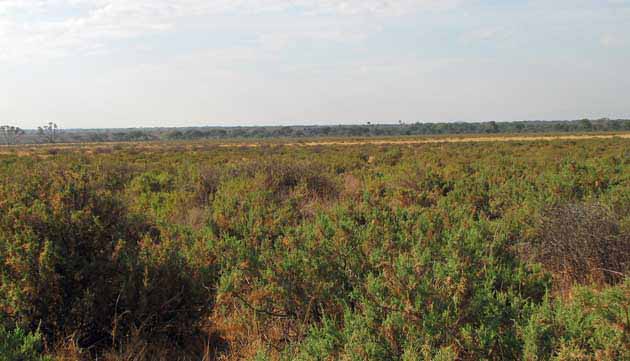 Not these elephants!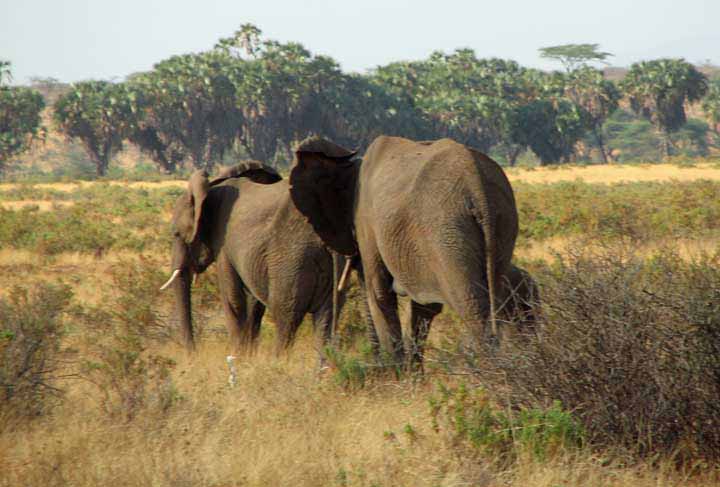 But this waterbuck almost pulls it off!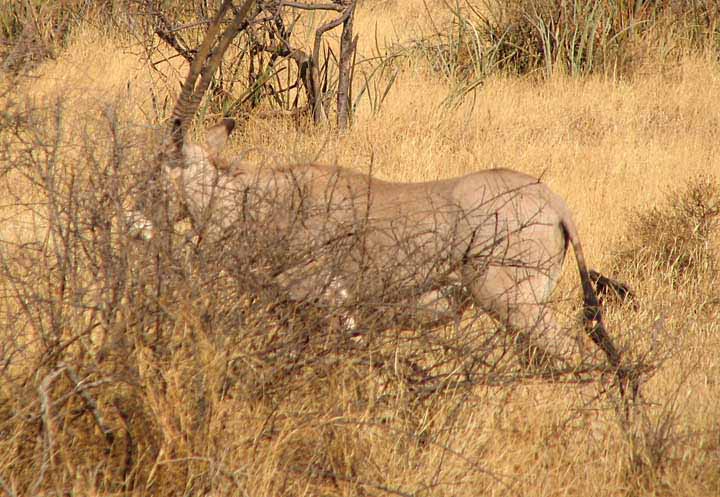 As do these birds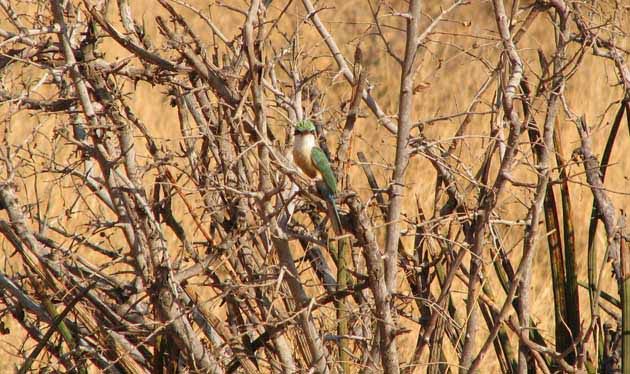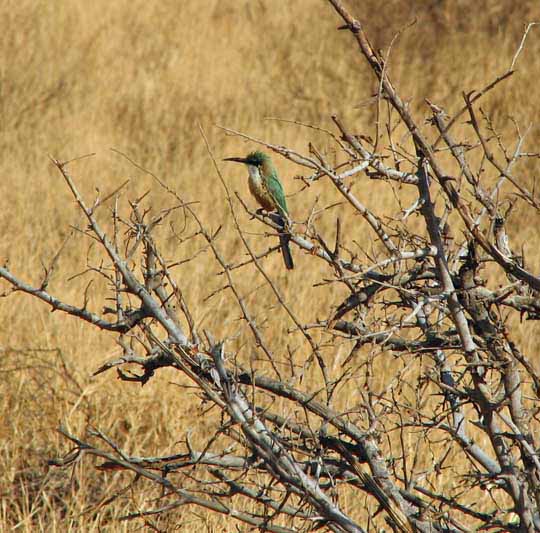 And these Grants Gazelles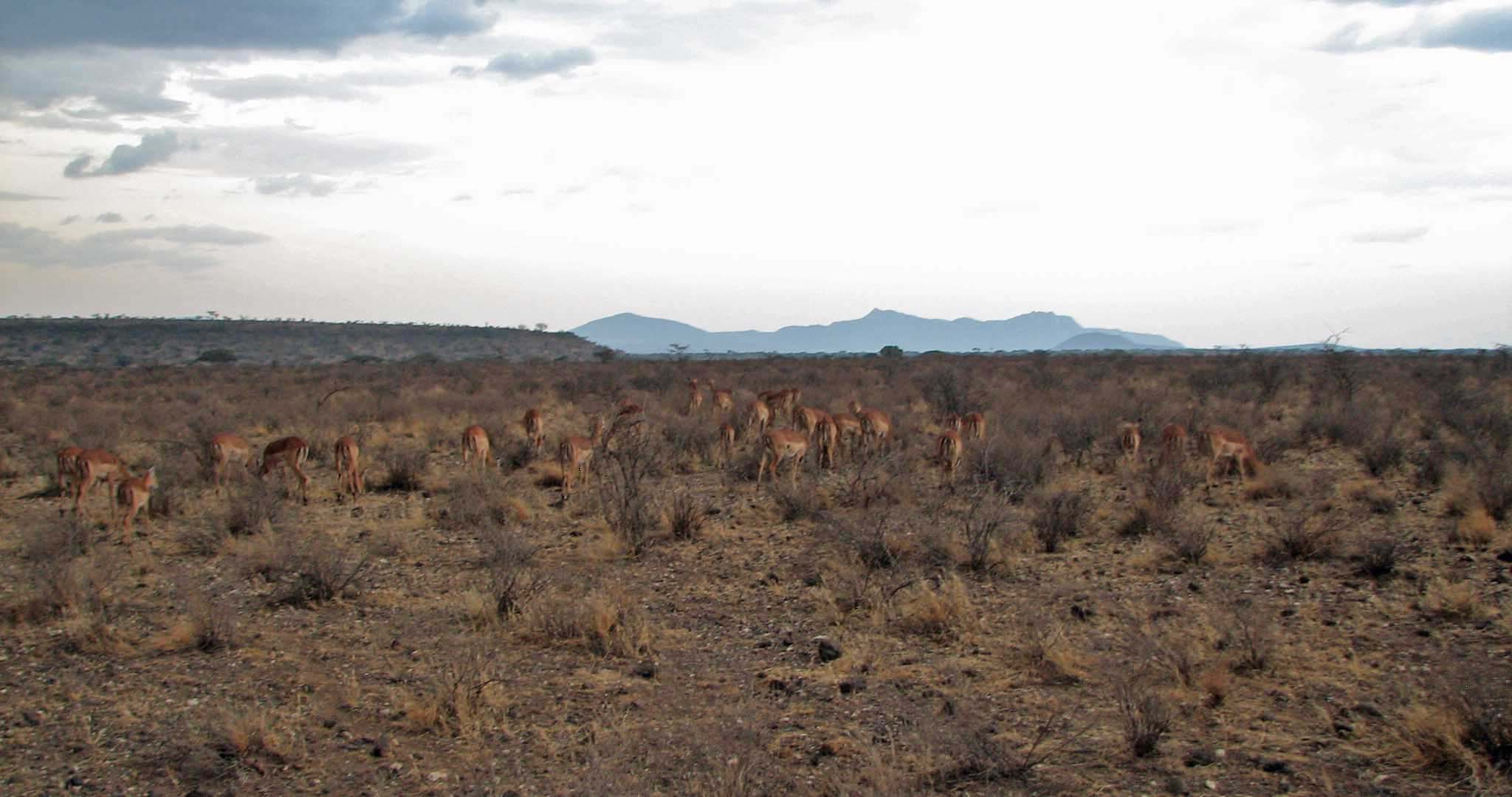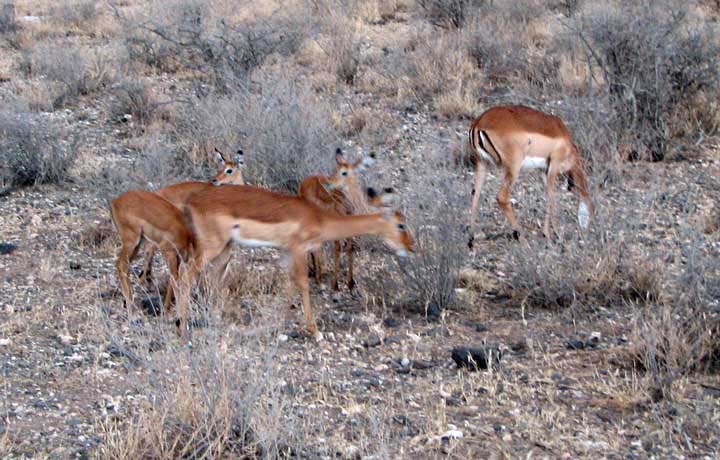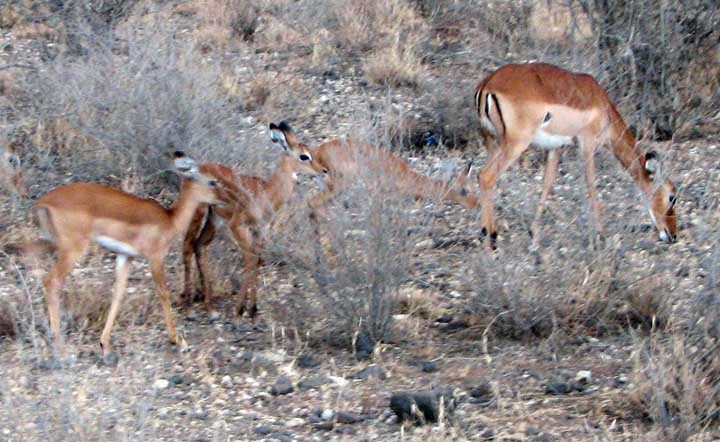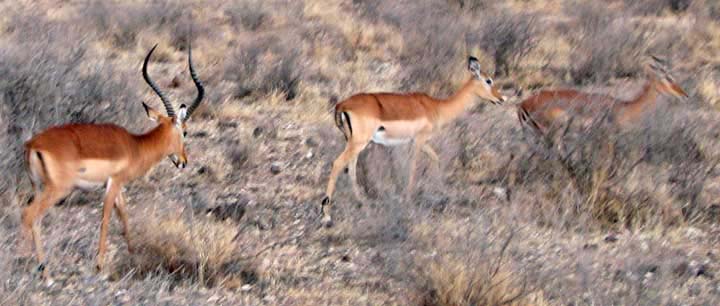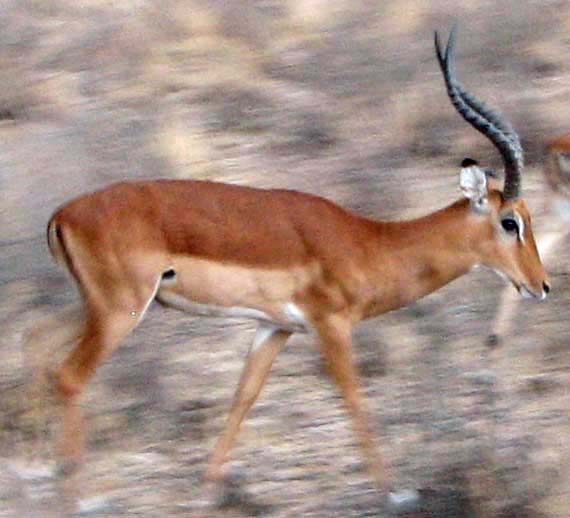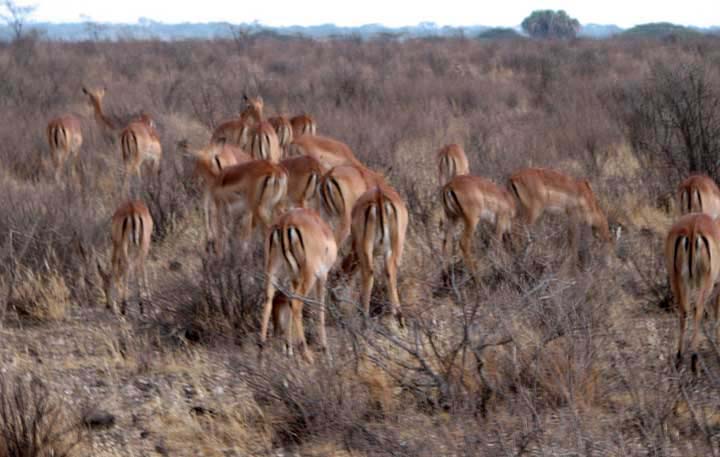 See all the McDonald's Arches?
But the elephant has no where to hide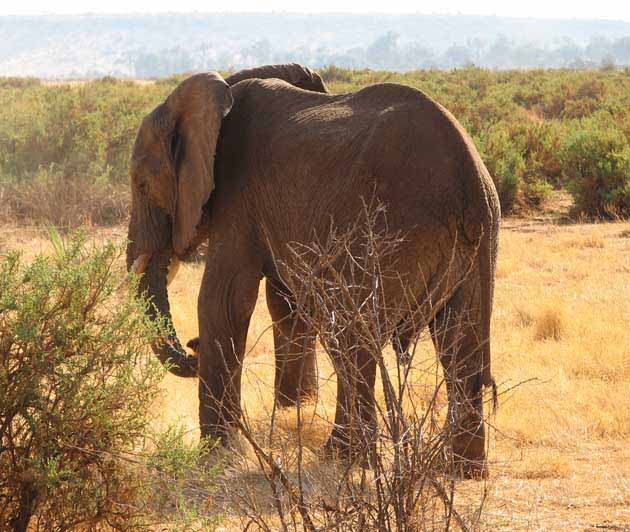 So down to the Ewaso Nyiro he goes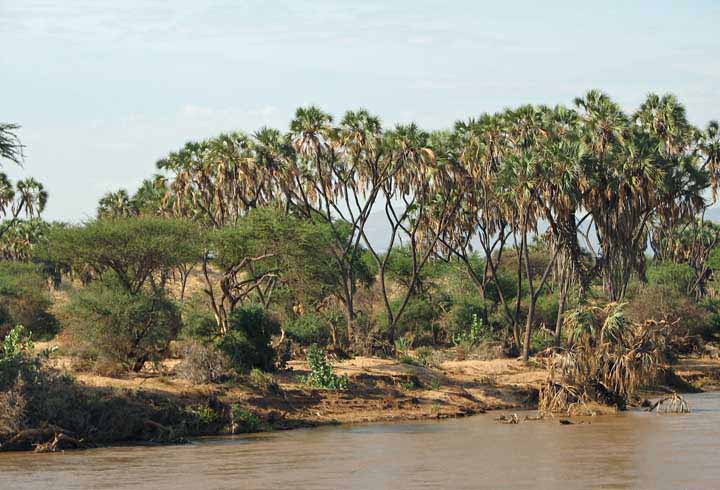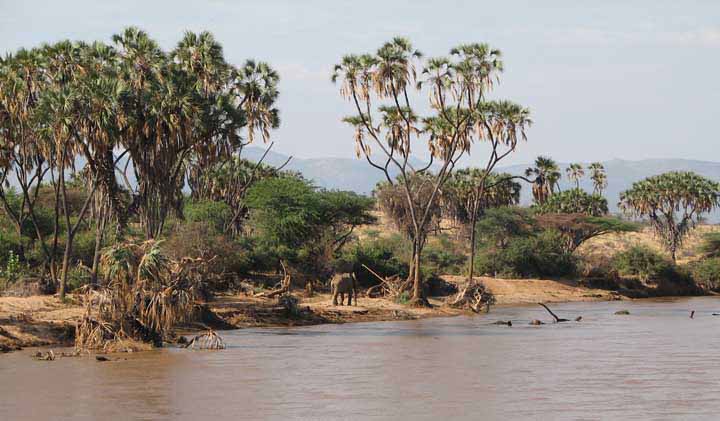 We see another on the other side of the river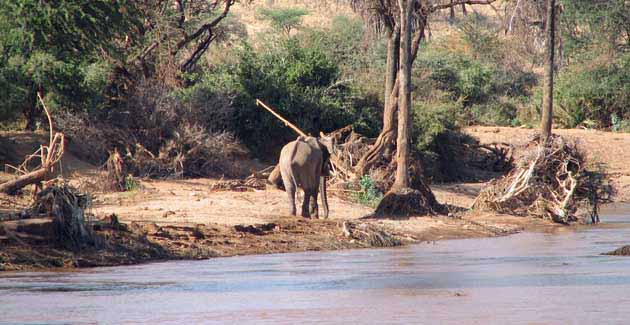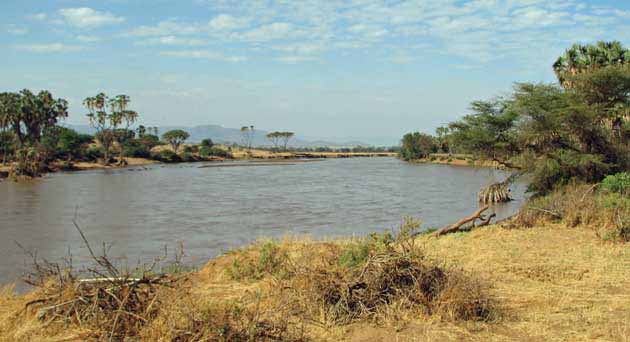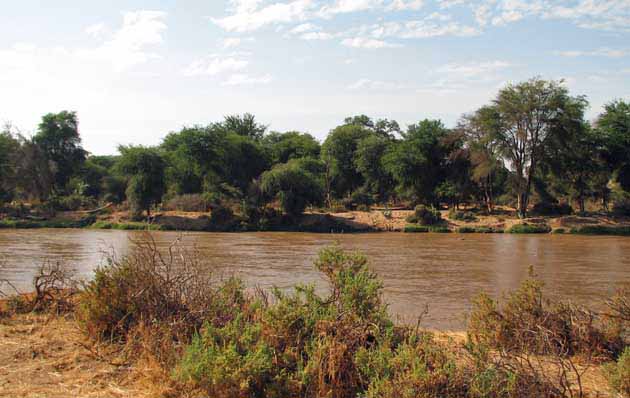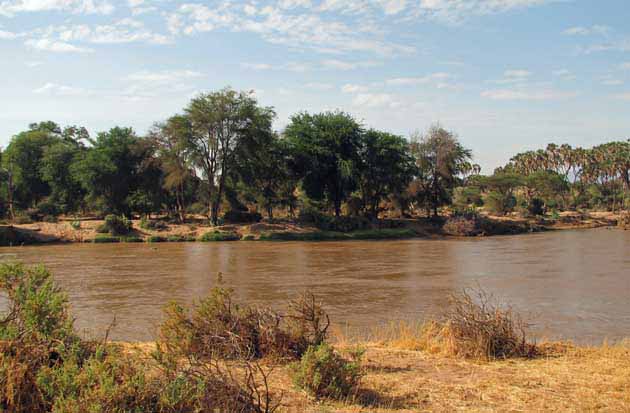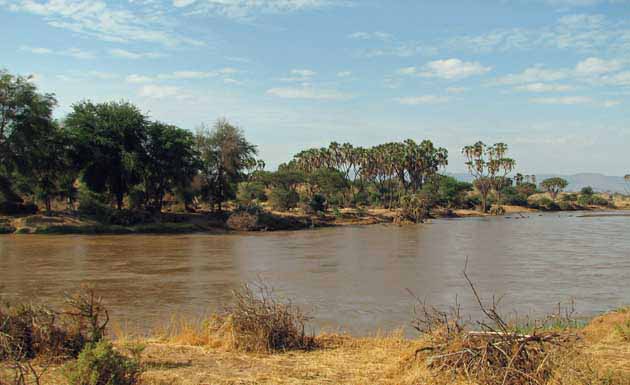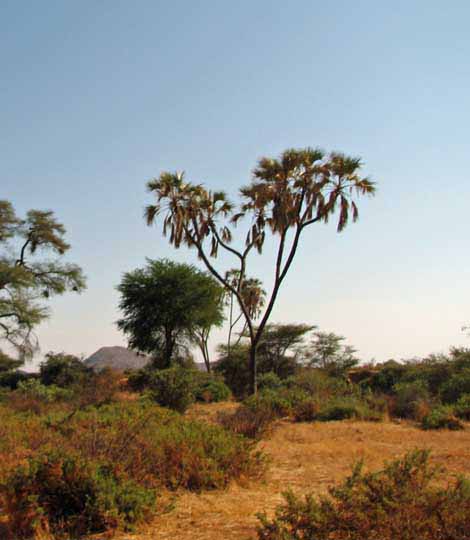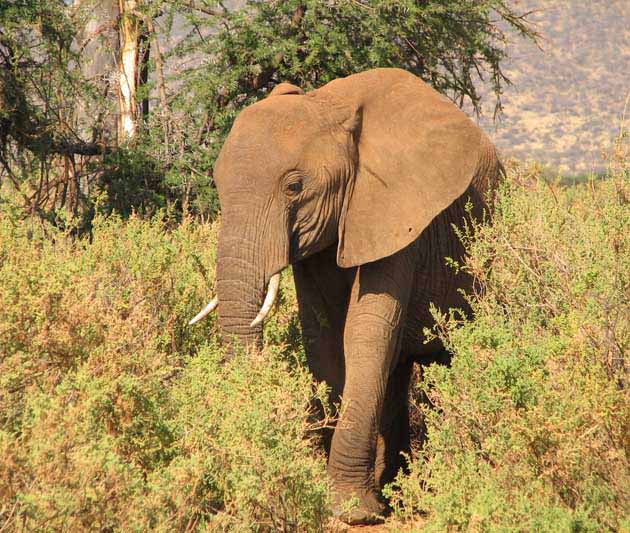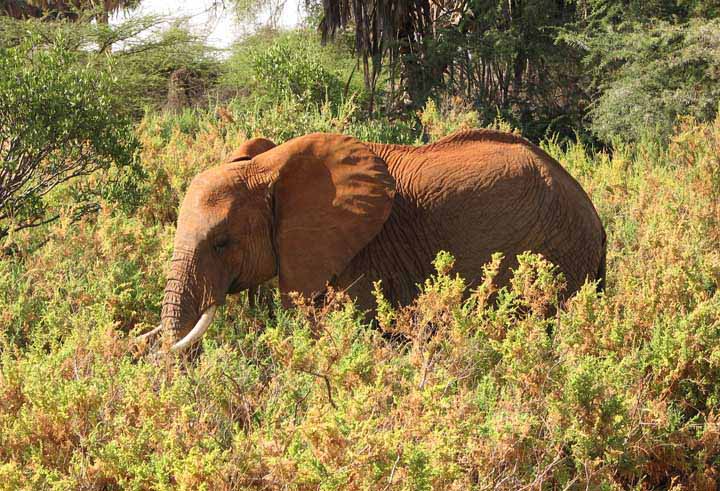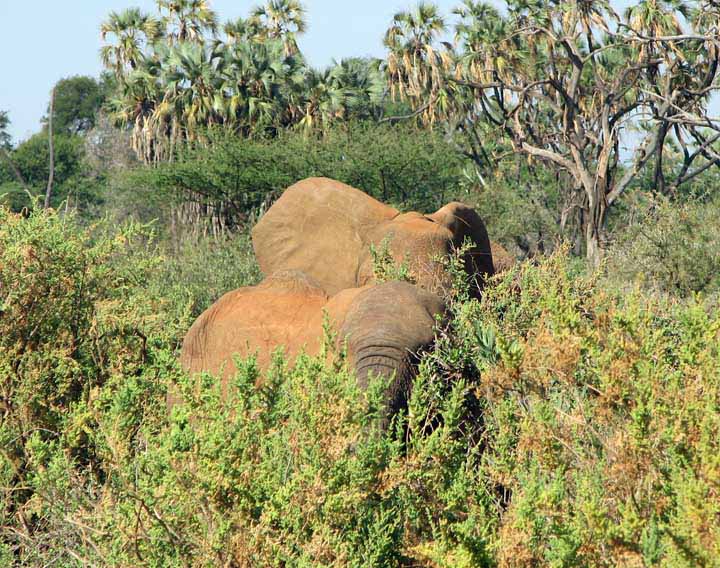 The elephants are not always far away in the brush -
kind'a close enough for you to want to keep your arm inside the vehicle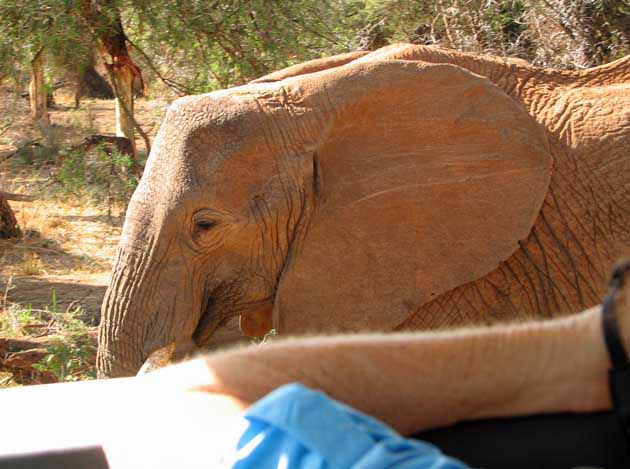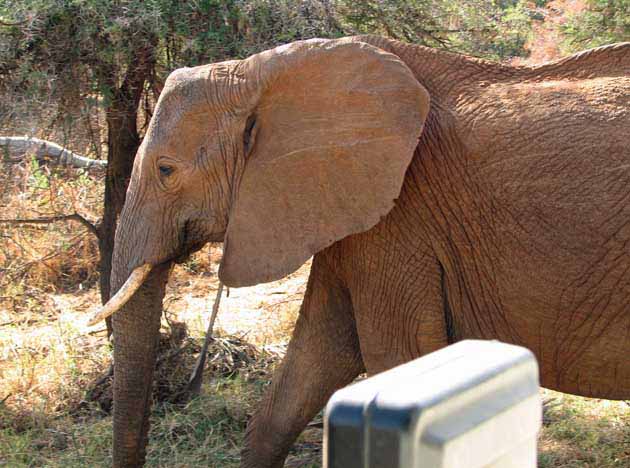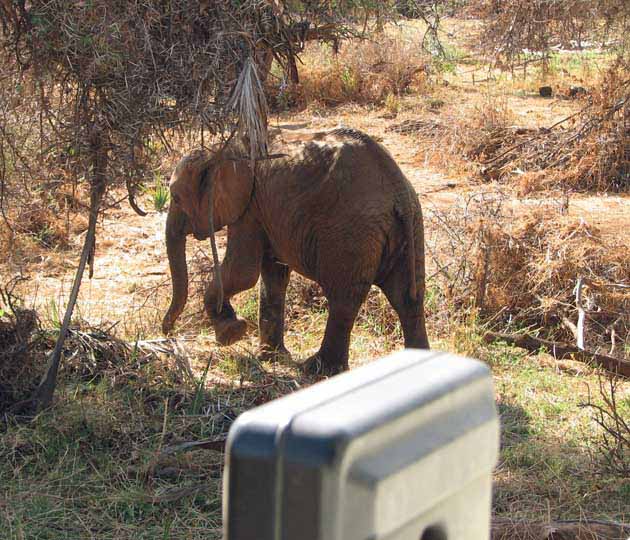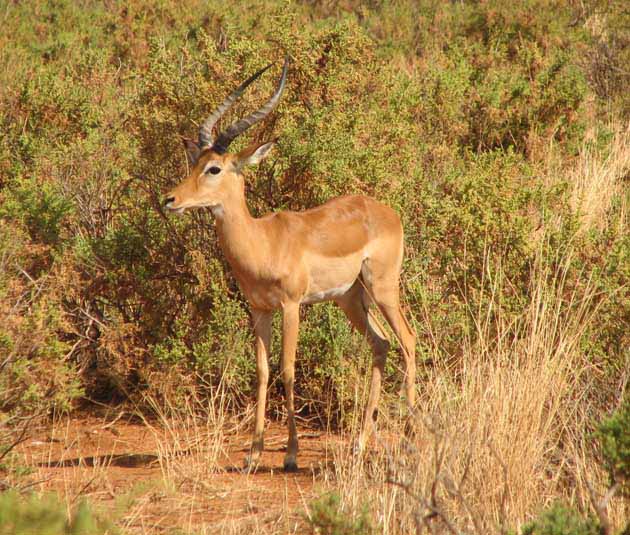 A Grant's Gazelle watches us a we get closer to the river.
A solitary elephant and a troop of baboons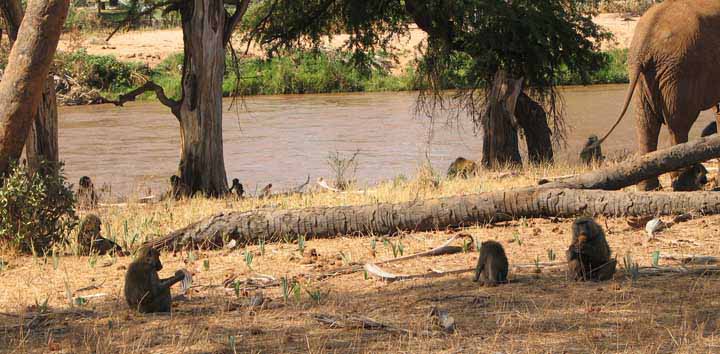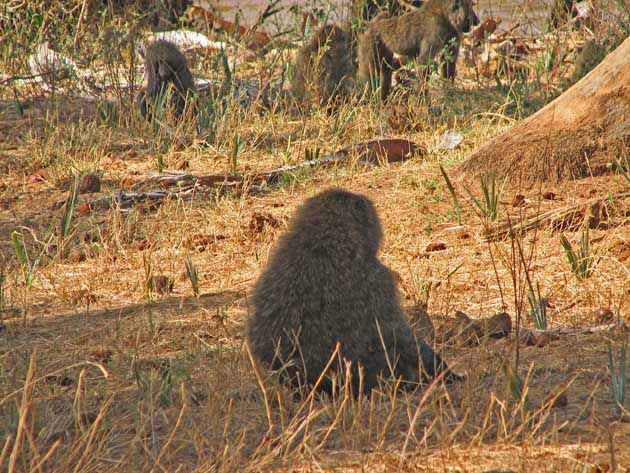 This is what elephants do best - tear trees to pieces!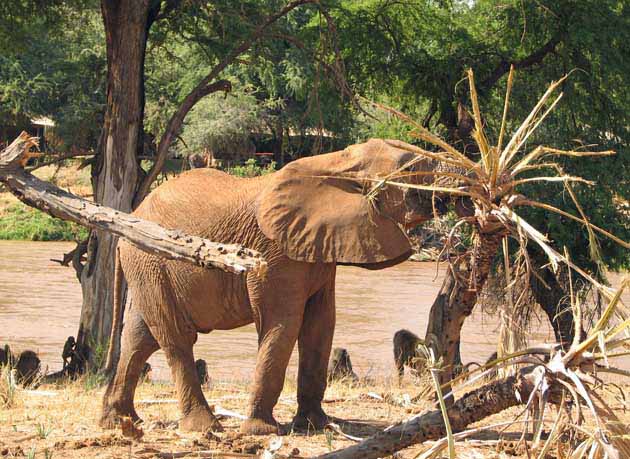 Baboons doing what they do best - look for food, take care of the youth, groom and climb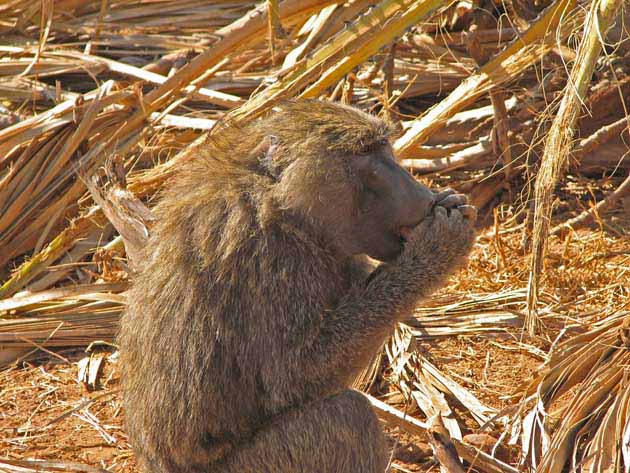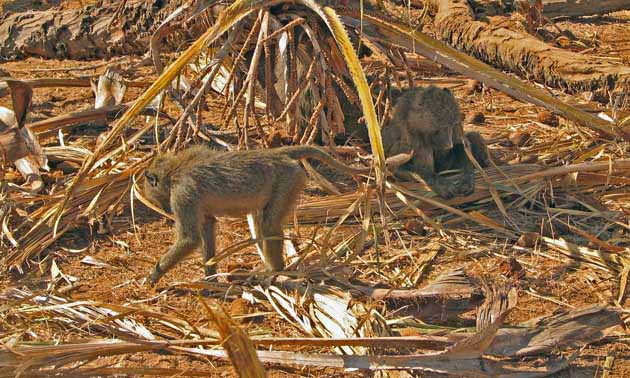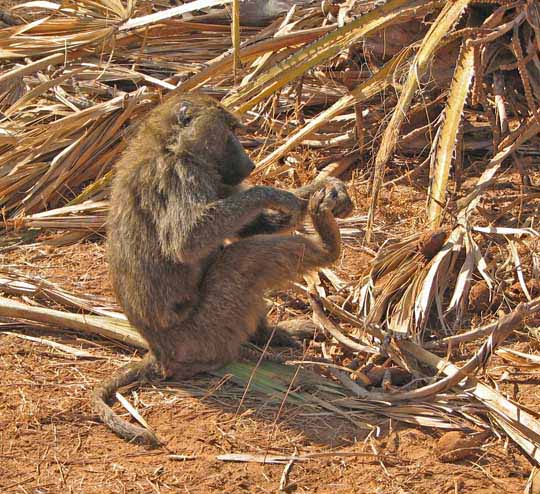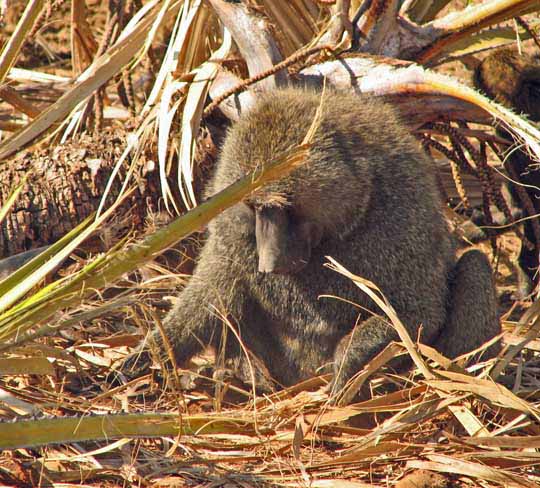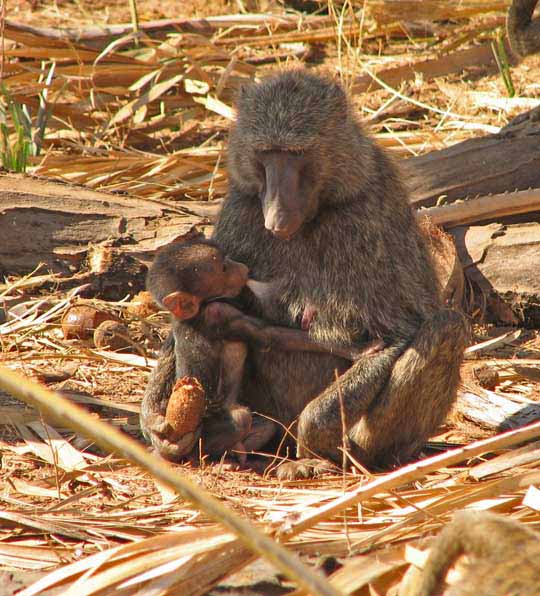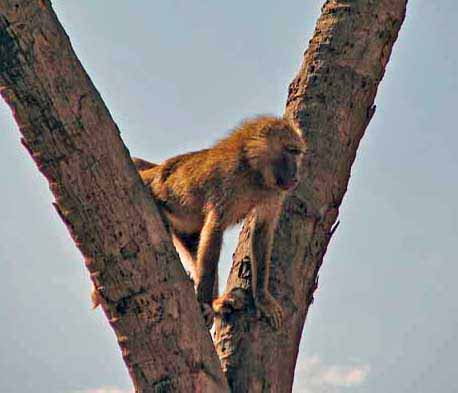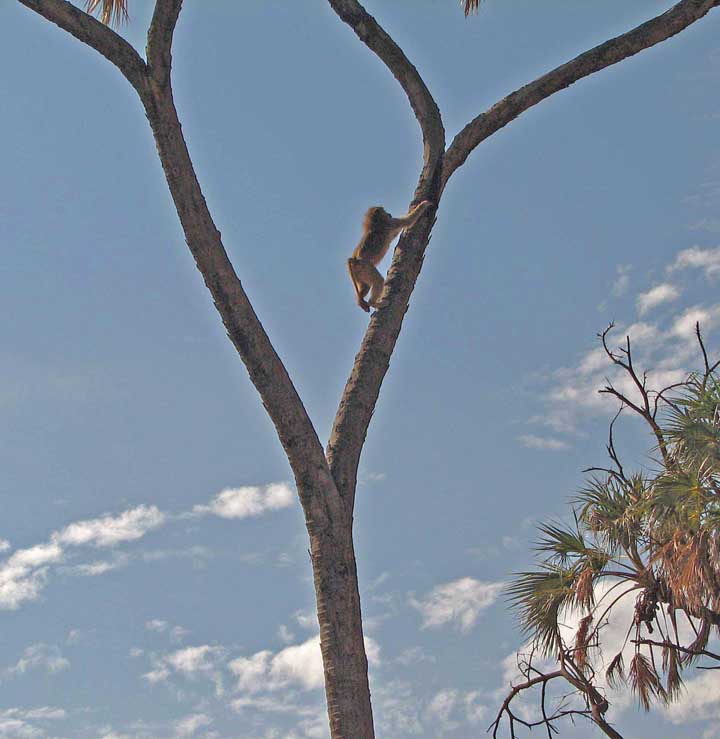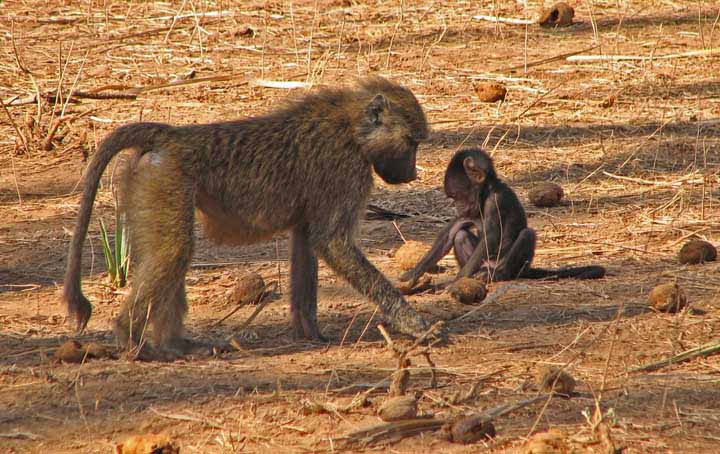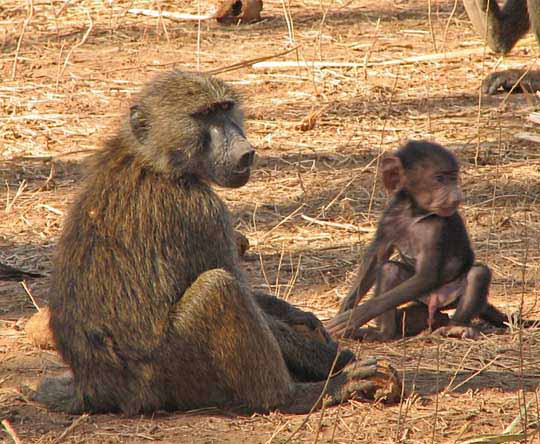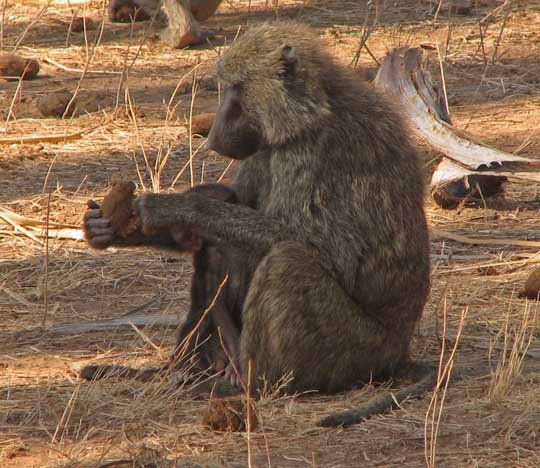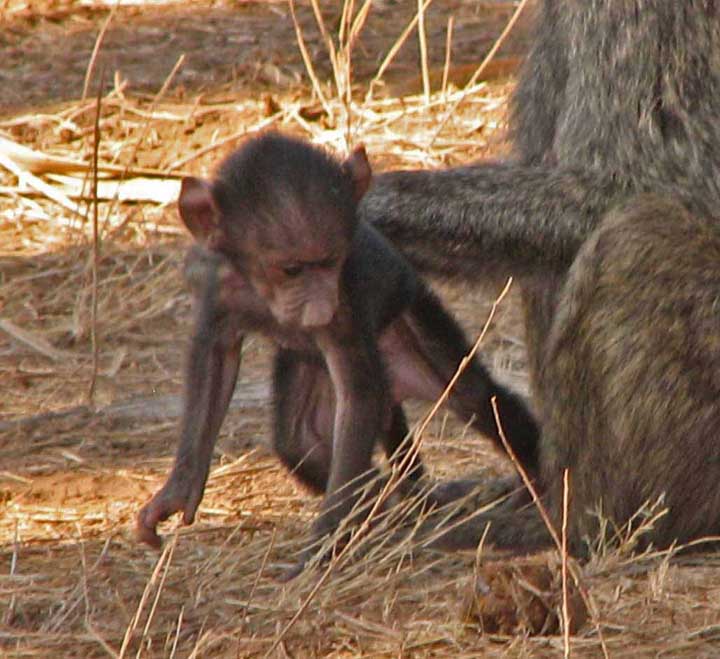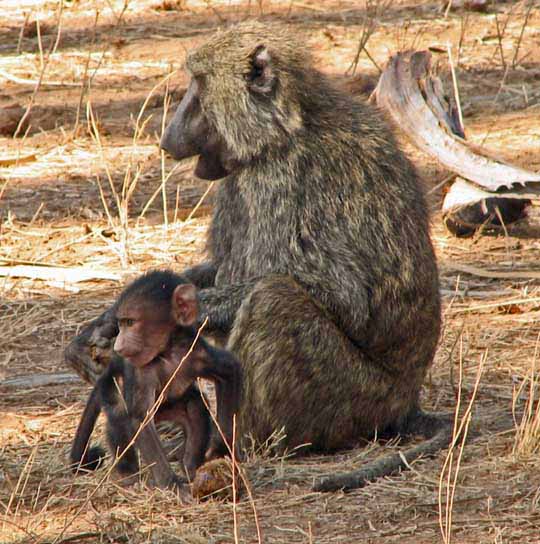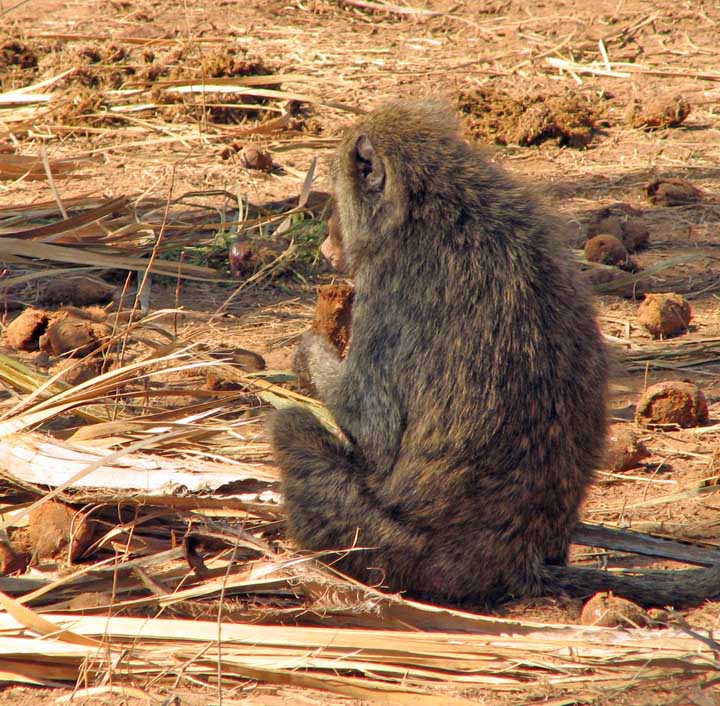 And we go down the plain - with beautiful mountains in the distance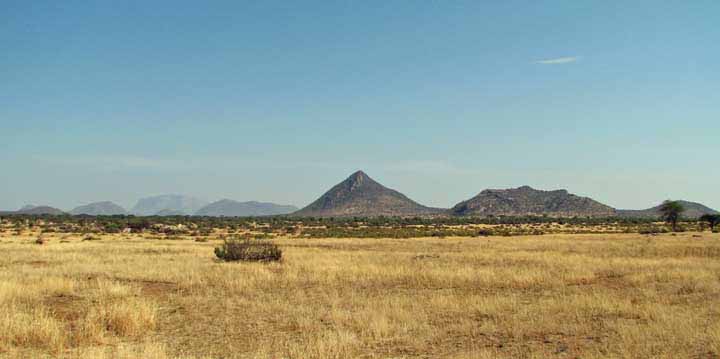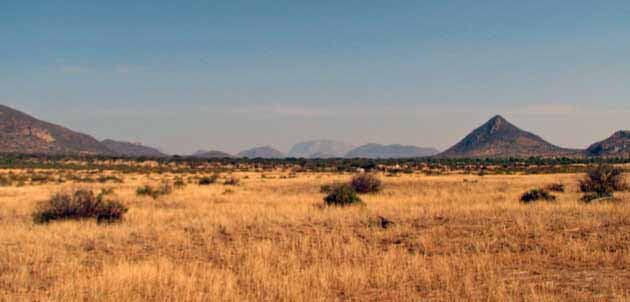 And animals dot the plains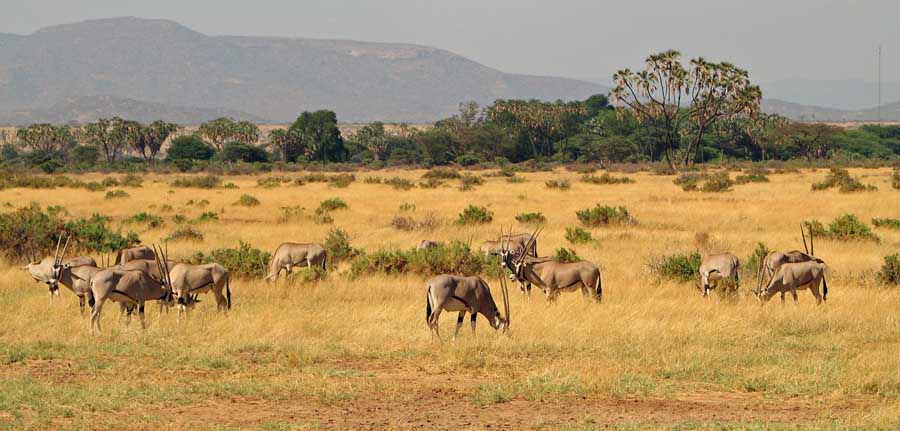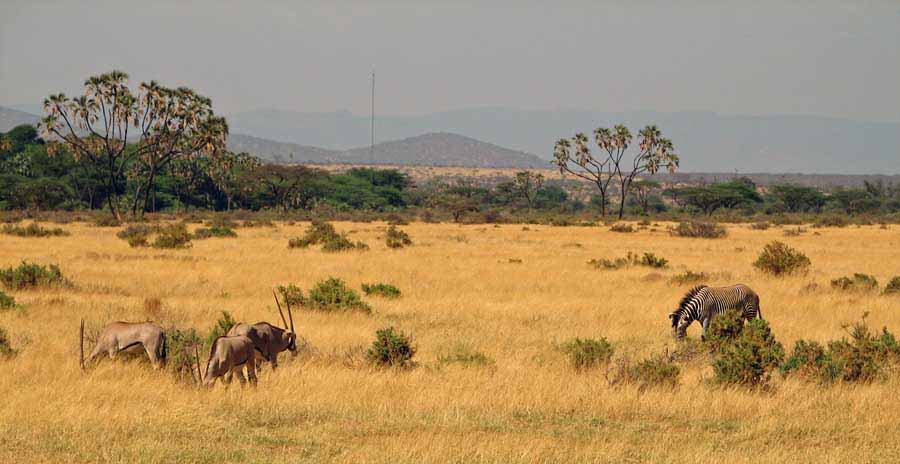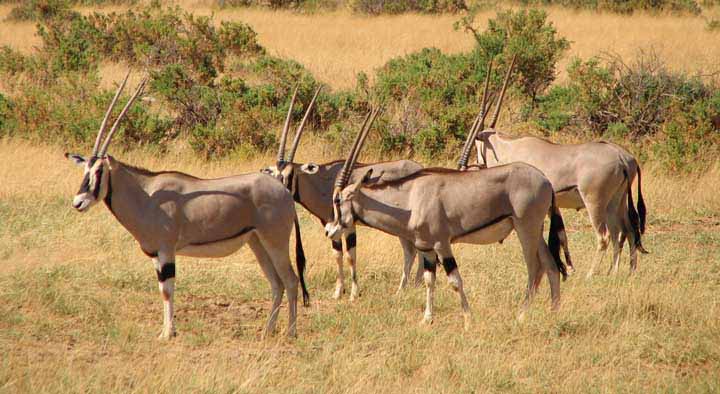 Is there something in the brush - Yes - a Dik Dik. They stand maybe 18" tall. They are small enough to be an appetizer for any carnivore - but the strangest story is that birds of prey swoop down, grab the Dik Dik and fly high enough to drop them to their death so they can then eat them.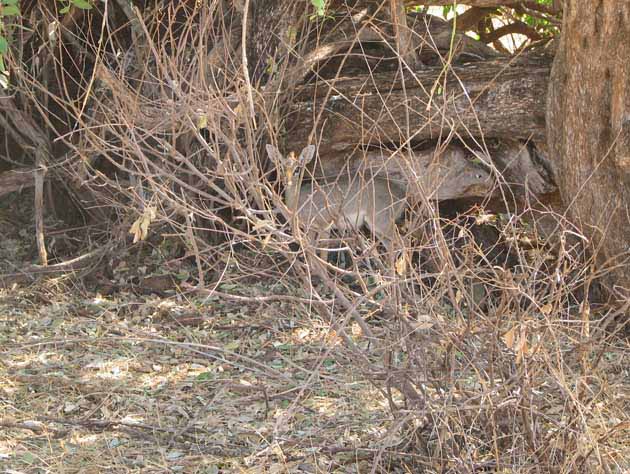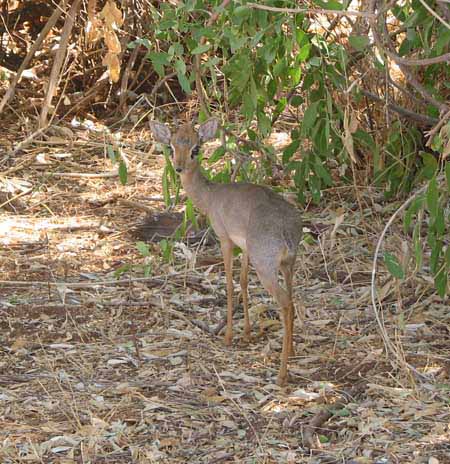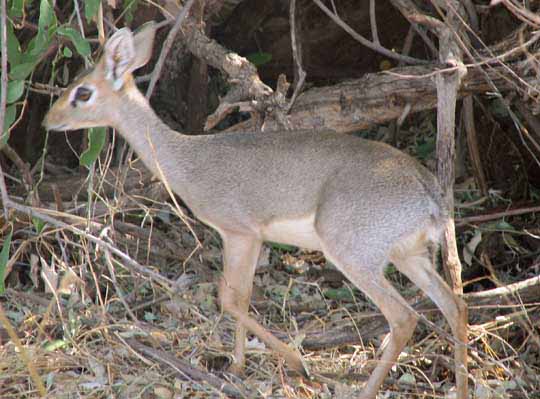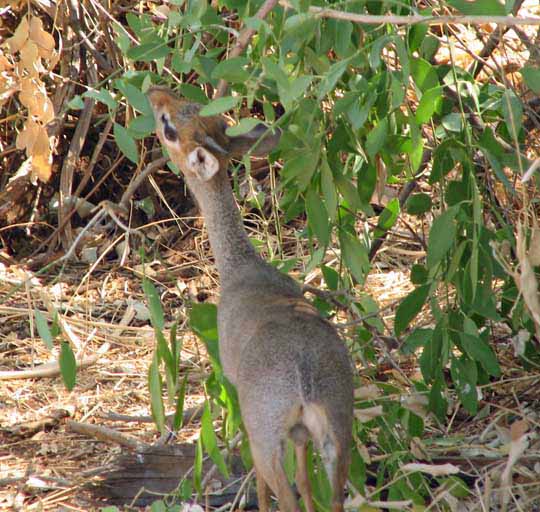 And a stunning bird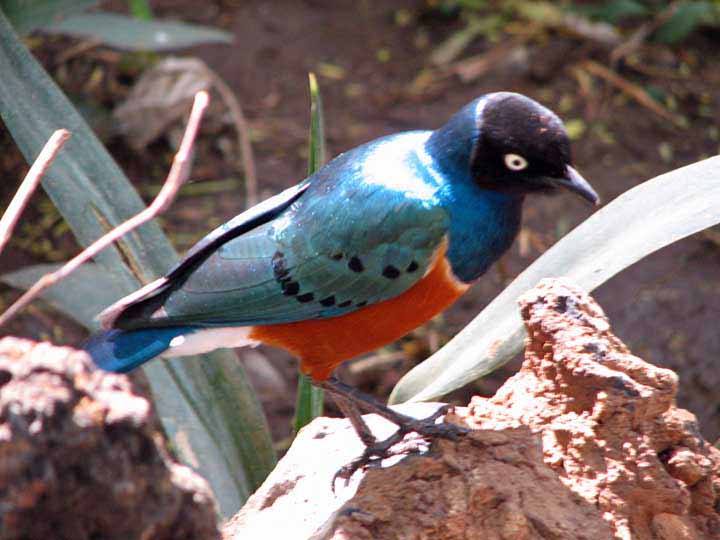 And the monkeys are all around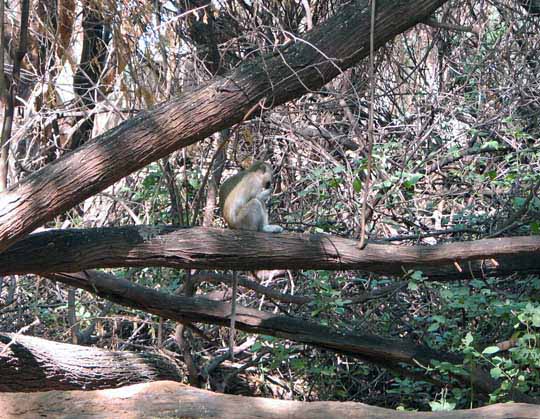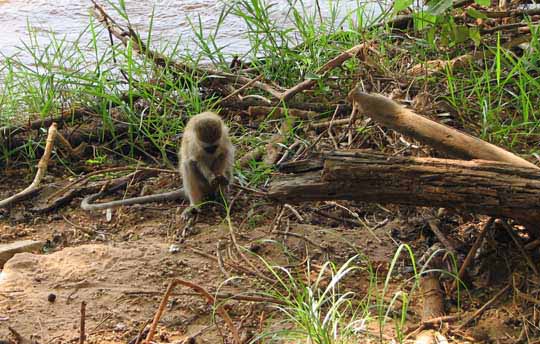 A bird of a different type - doing what it does best!
This is a bit grim. As we went down the trail another vehicle from our group had stopped. As we pulled up, they started on their way. As we looked all around, we could not find whatever they had stopped to watch. They called back "Look in the bush!" Only after a careful look were we able to see the _____________ hawk camouflaged in the branches. He was not about to leave as he had a fresh kill. OK, kind'a grim and we took too many pictures!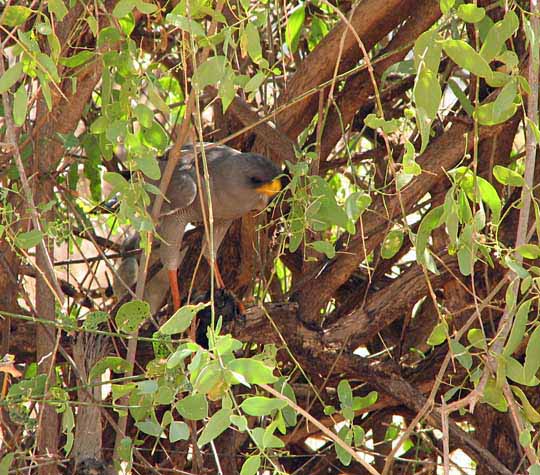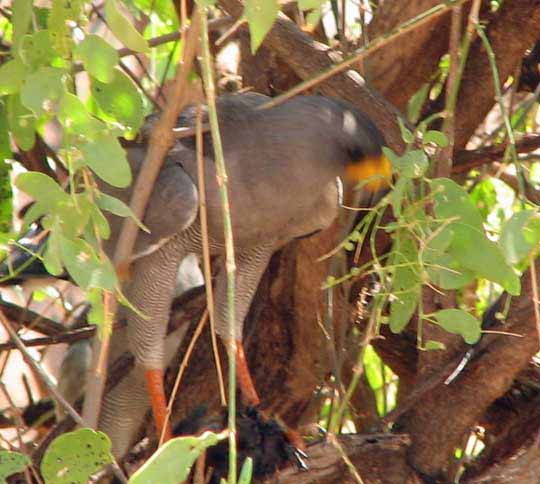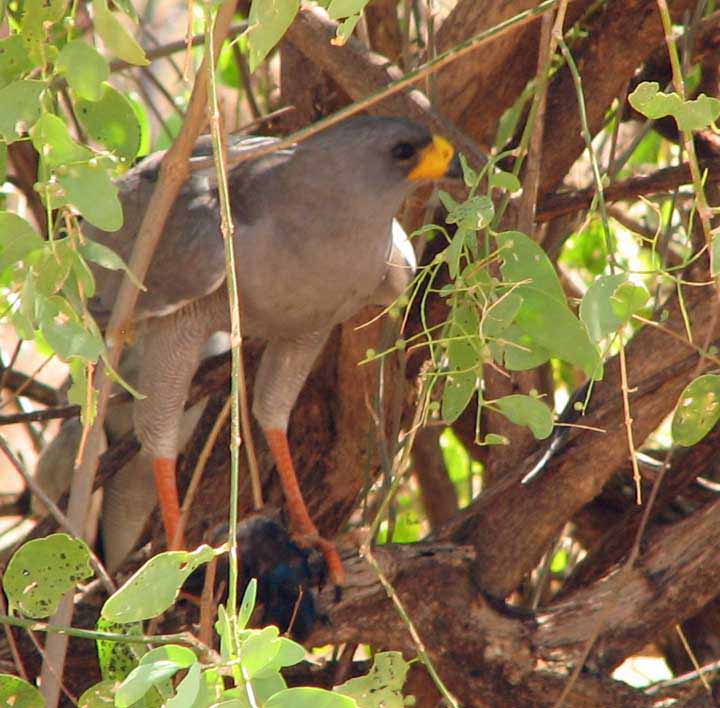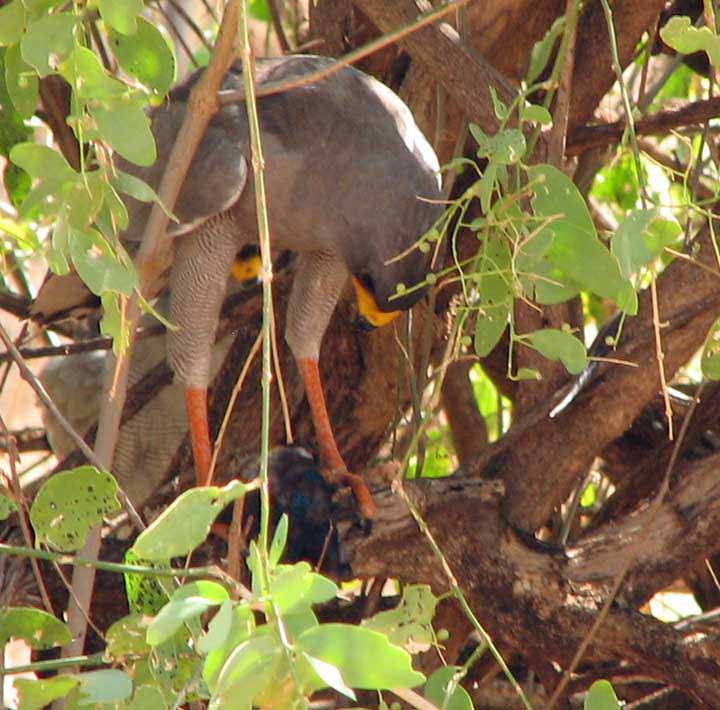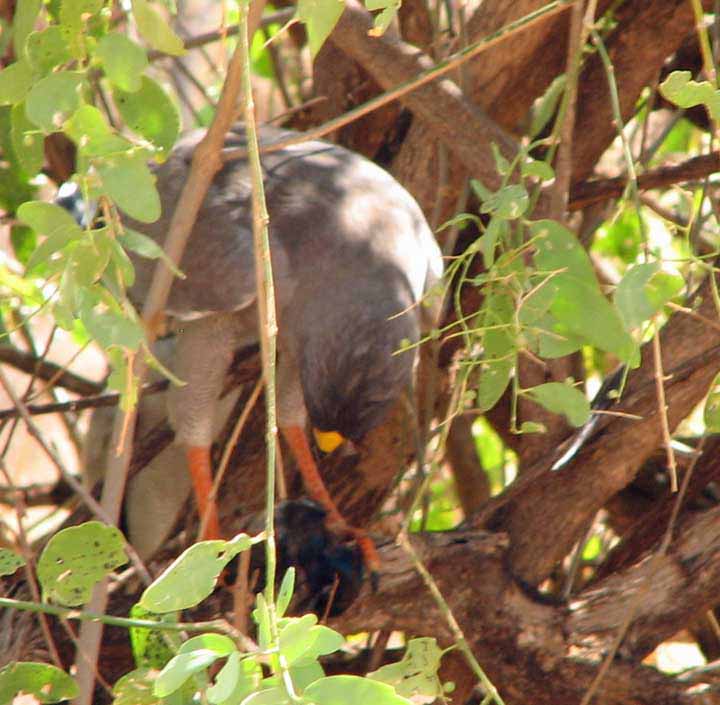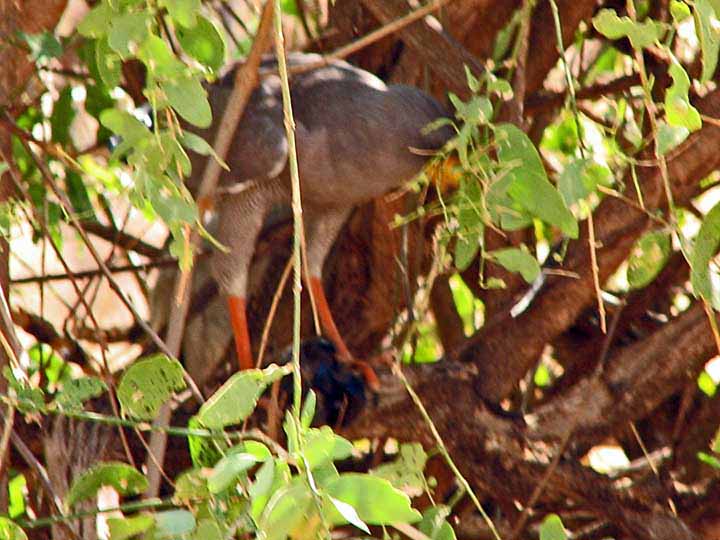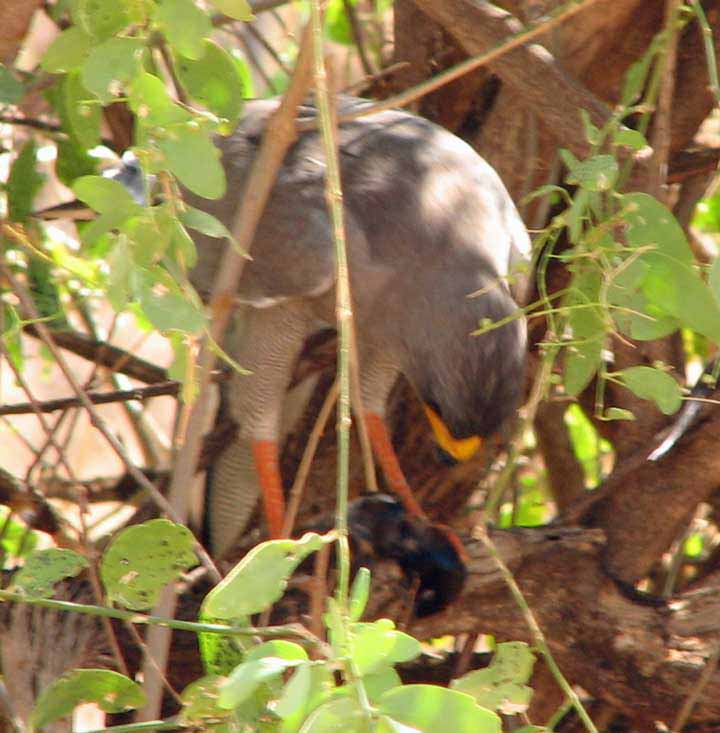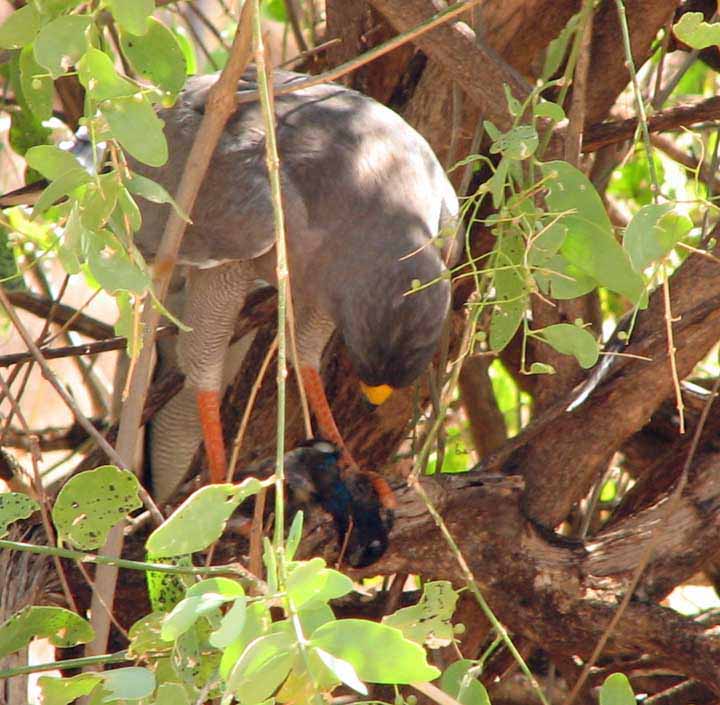 c cc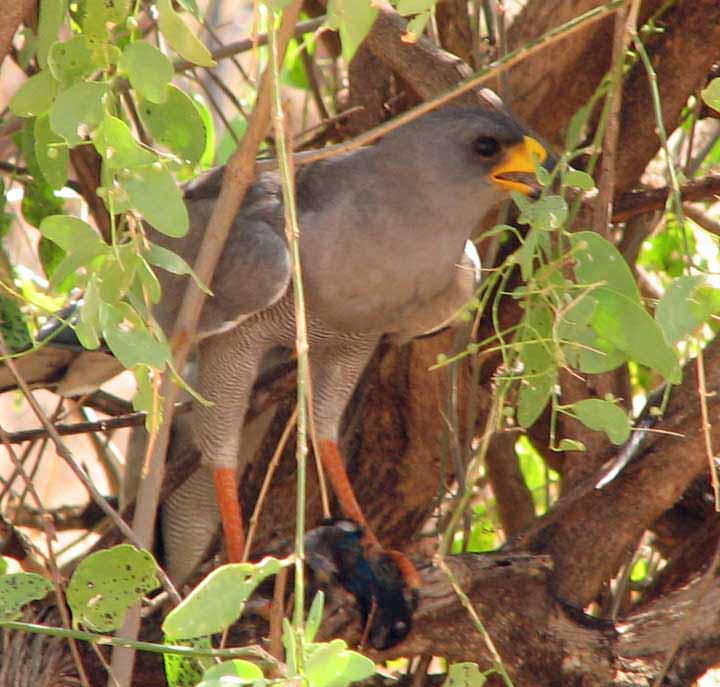 And our first of the Ostriches - a really, really big bird!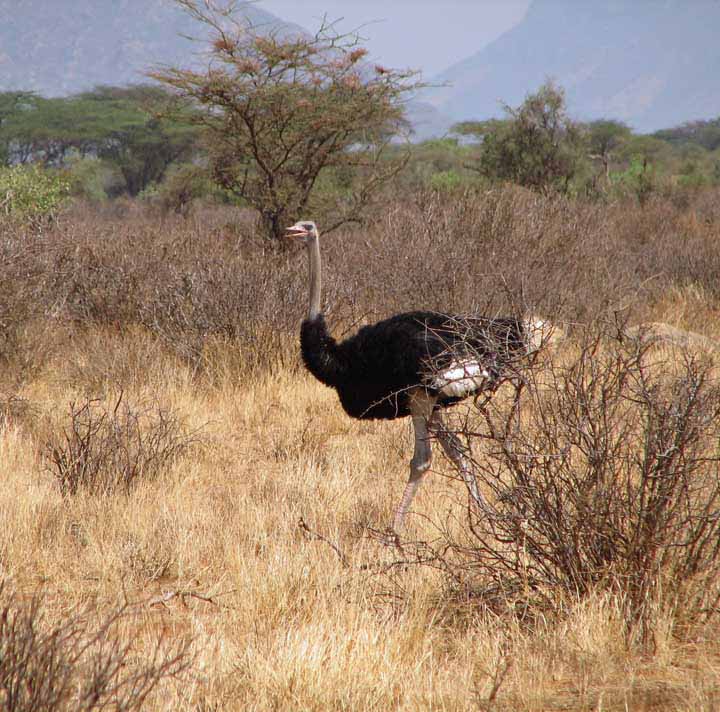 Two males on the run. Hodge tells us there are two types of Ostrich,
and this type has never been successfully domesticated.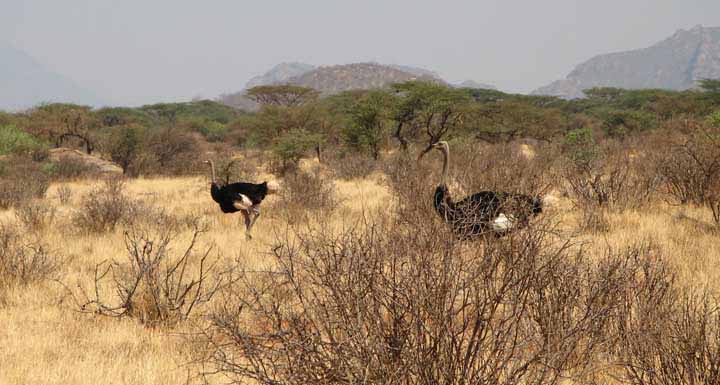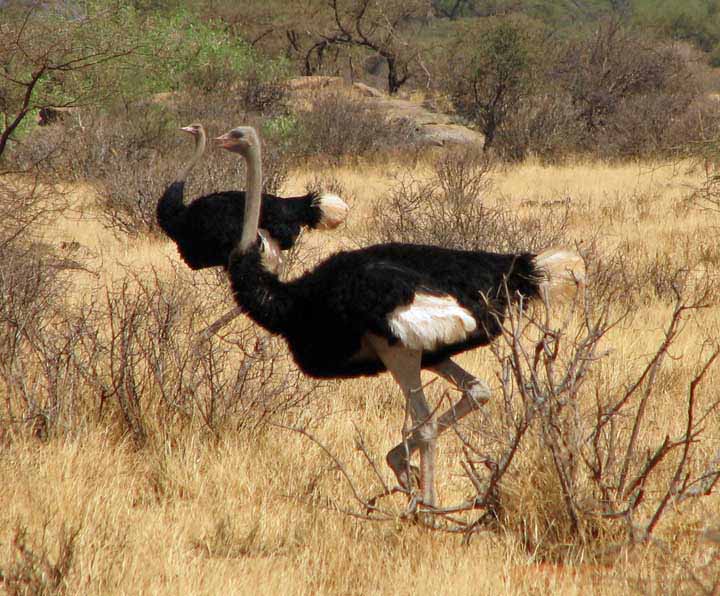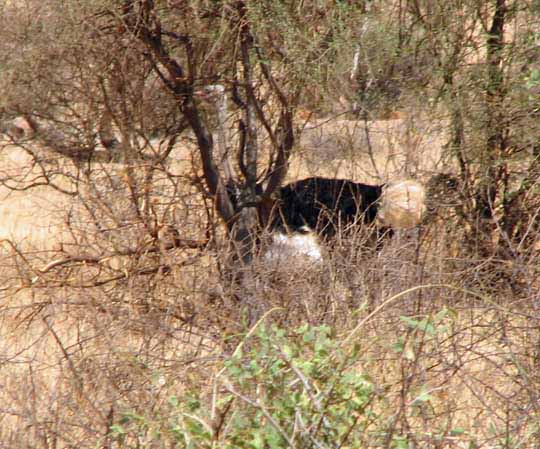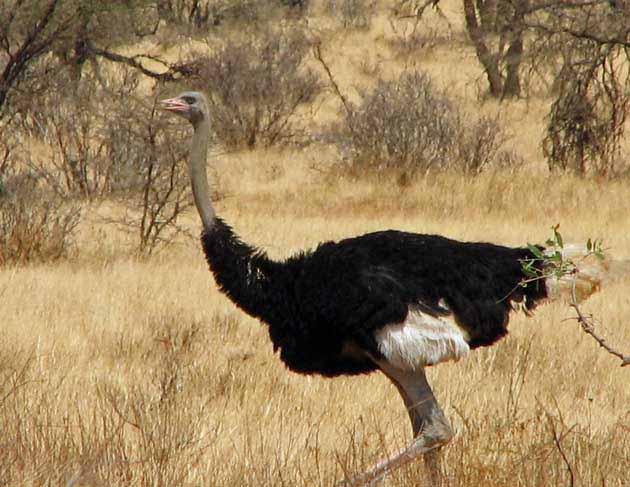 A small herd on the plain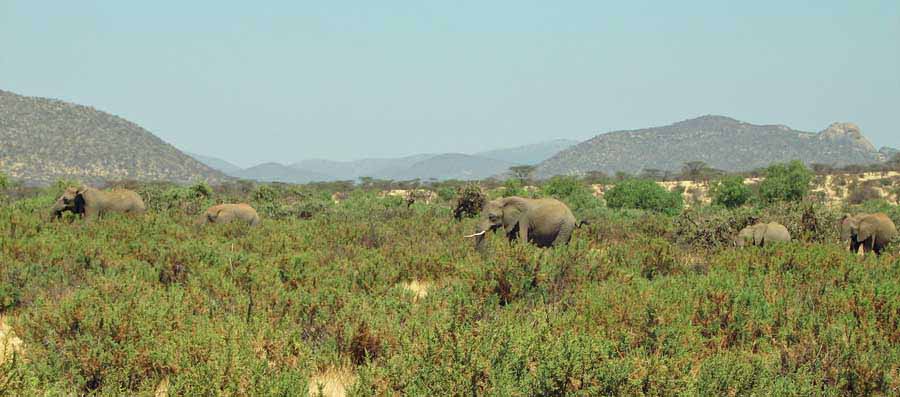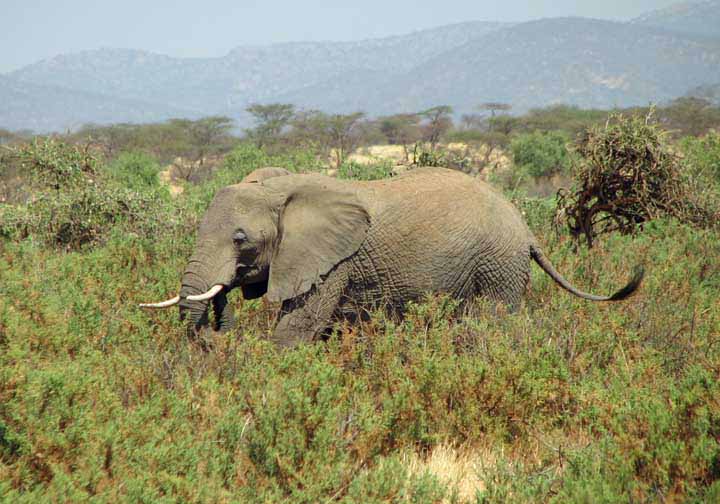 We see a family of wart hogs with a bunch of "little guys". It is hilarious when they run - stumpy short legs look almost like wind-up toys, and when they run, their tails go straight up in the air.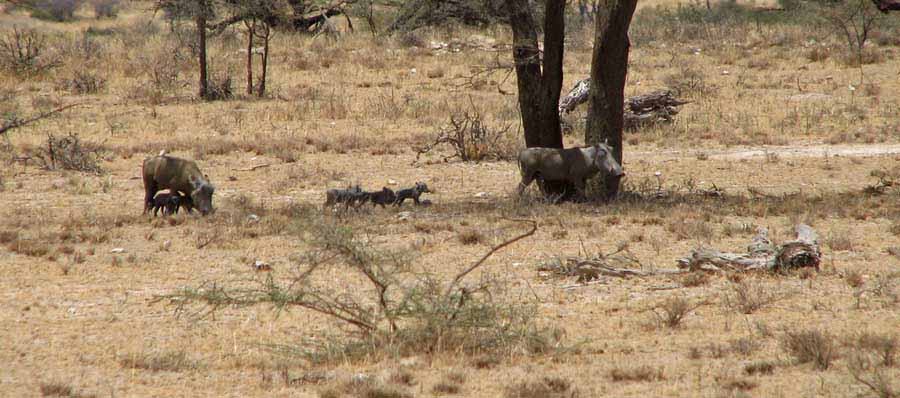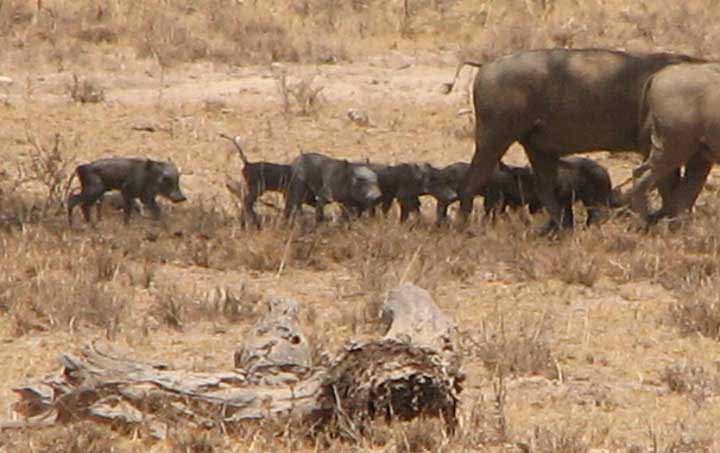 We're about to return to the lodge and I mention that I will be sorely disappointed if I don't see a giraffe while in Africa - remember this our second day and I have no idea what we will see over the next 7 - 10 days. So I whine a bit and Hodge makes a quick left turn away from the road to the lodge, and he finds me some giraffes!
No, I didn't see them either a first, there in the trees.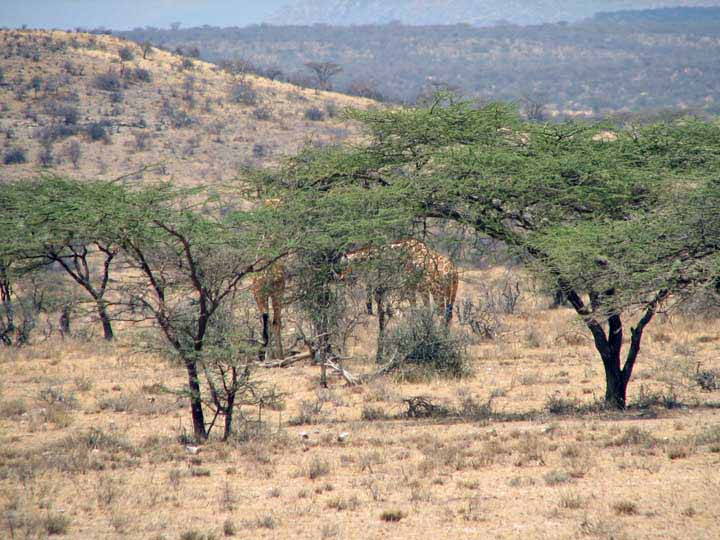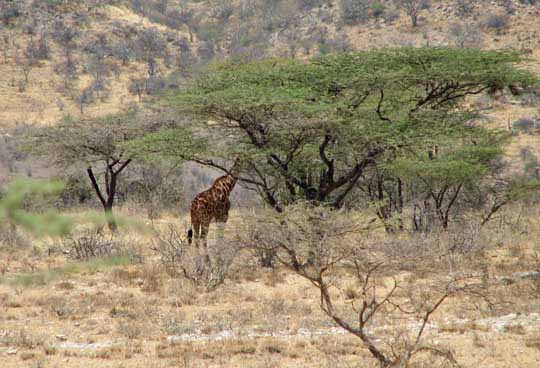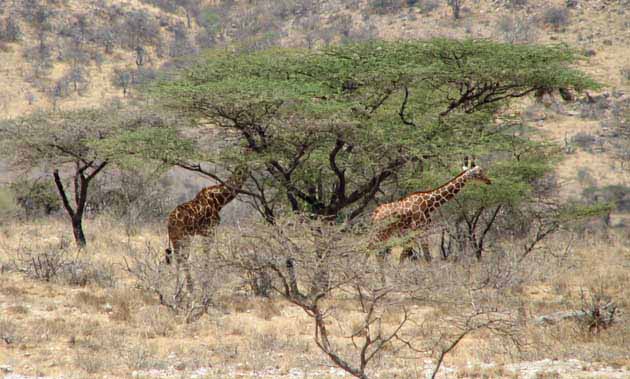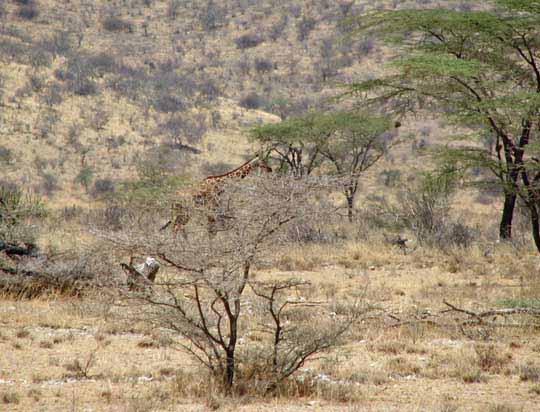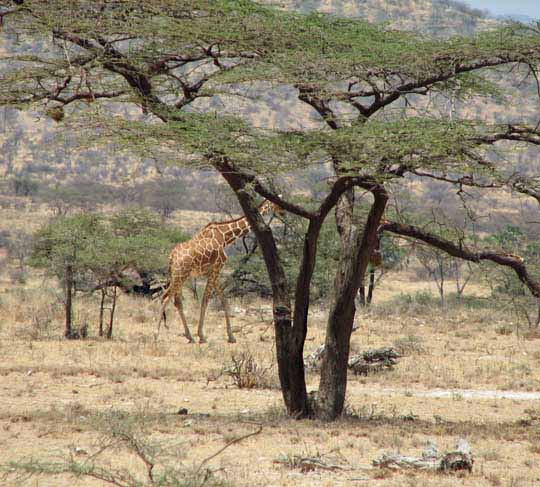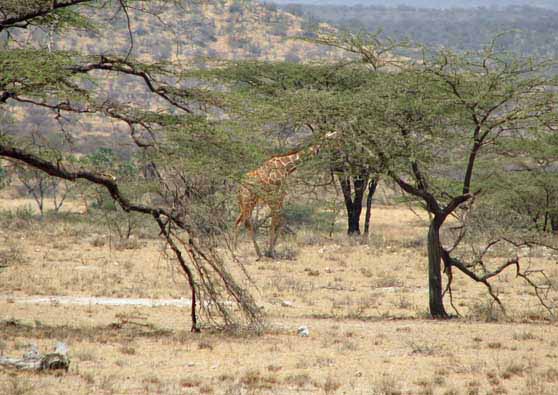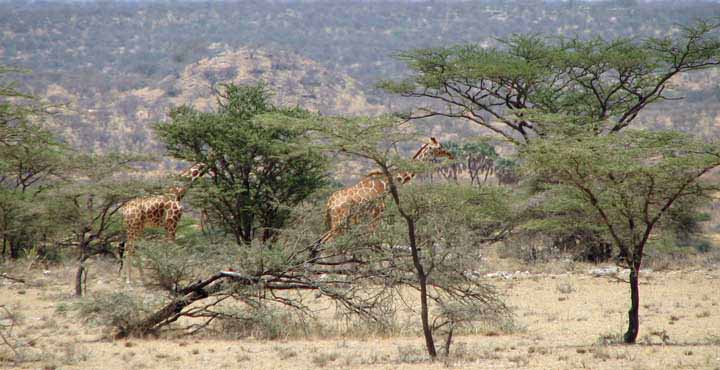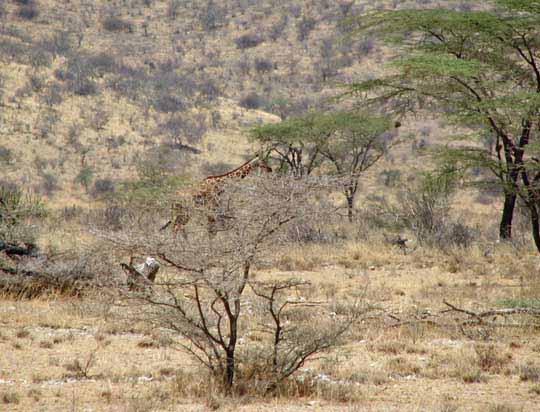 And we head back to the lodge - there in the distance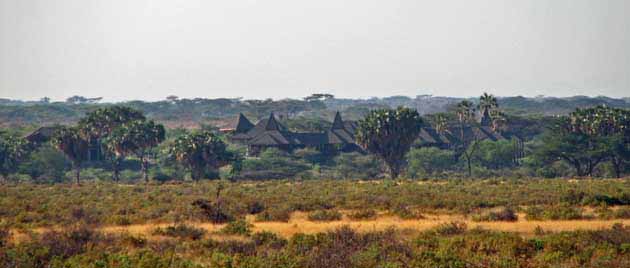 The Samburu Simba Lodge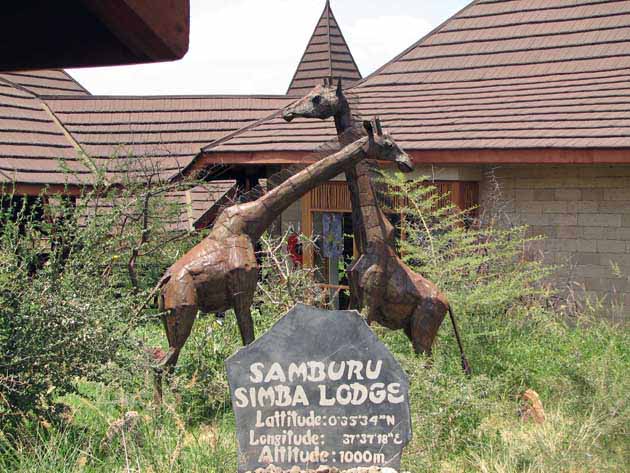 What a great place!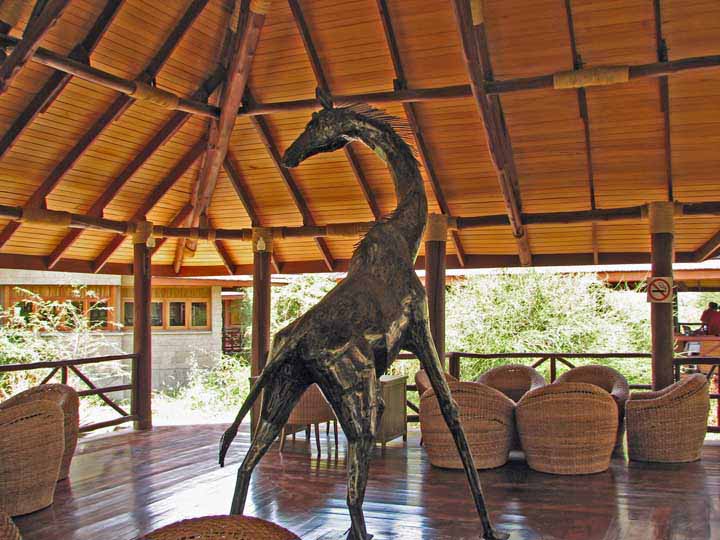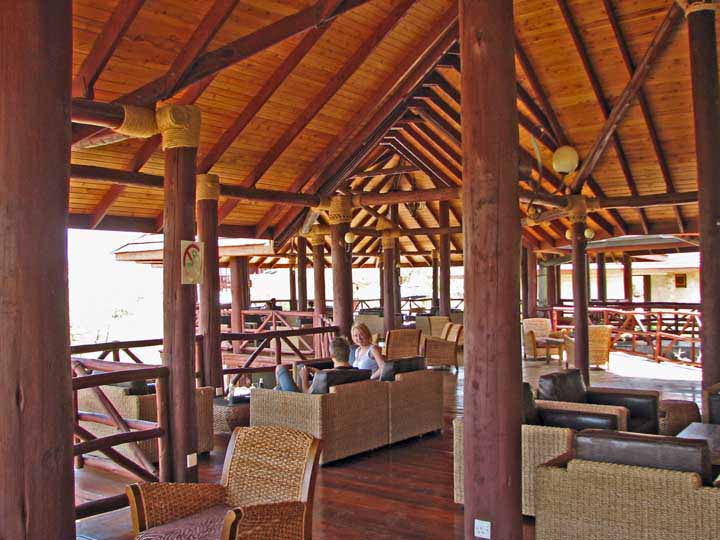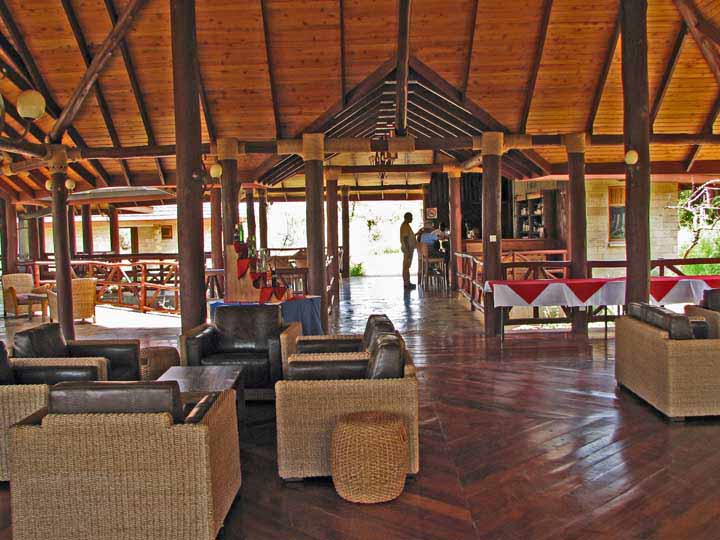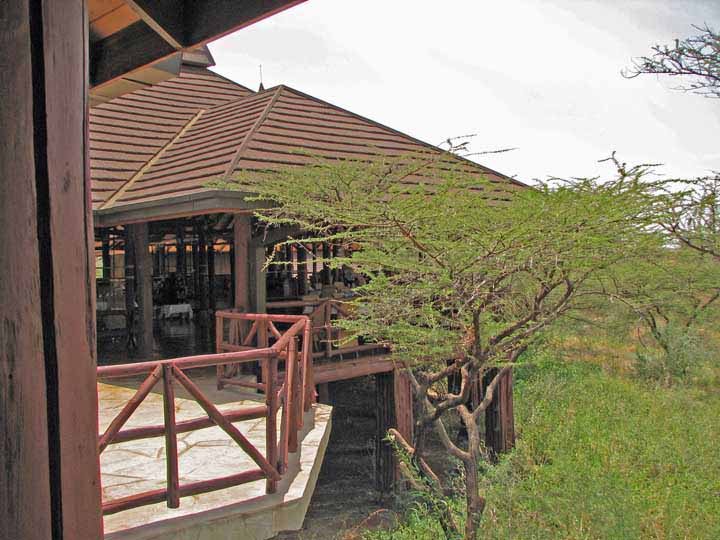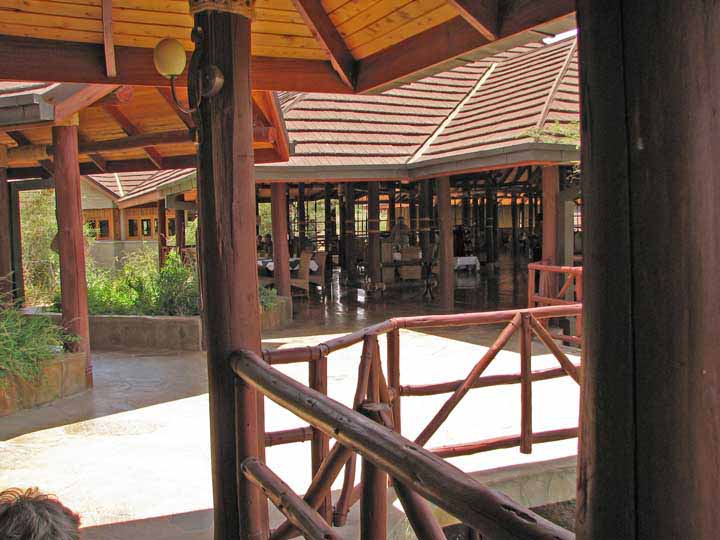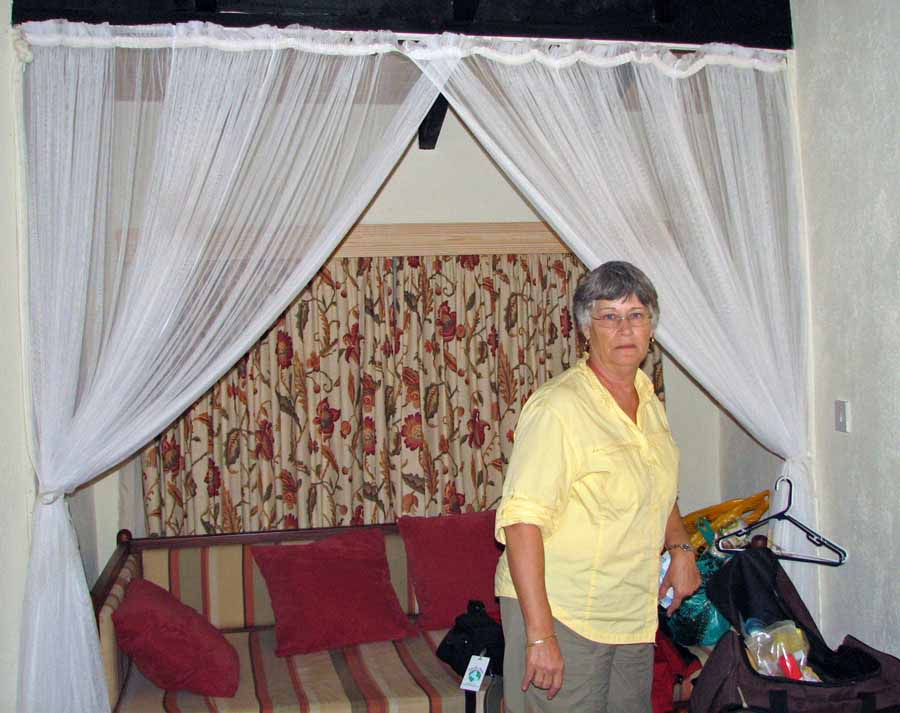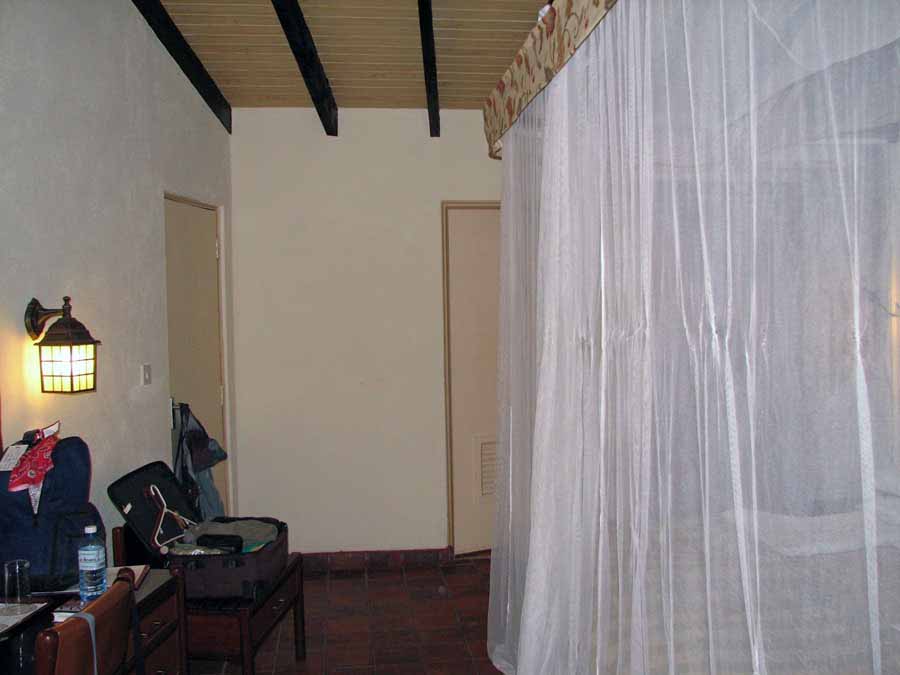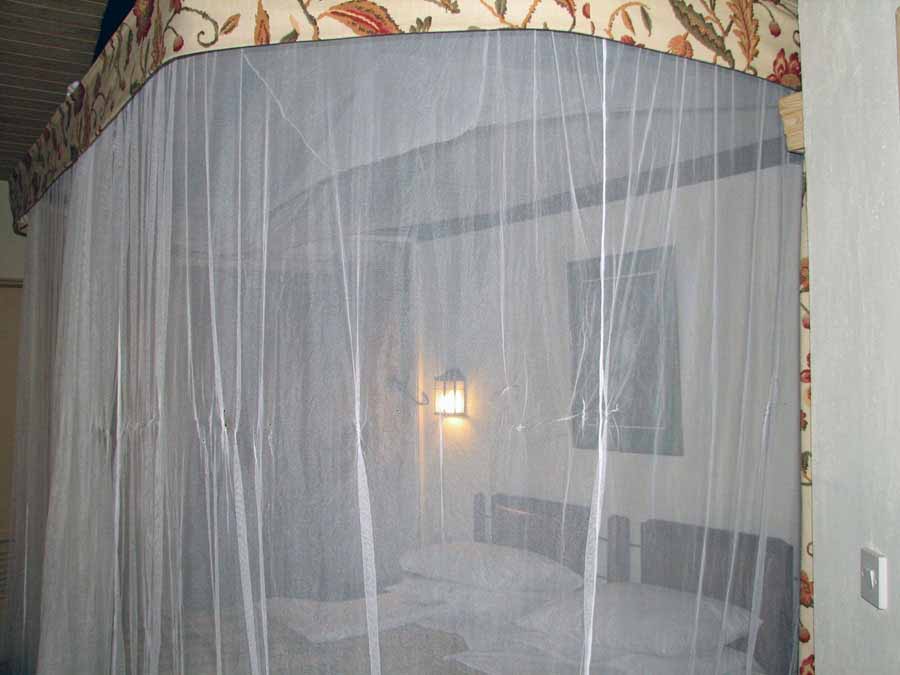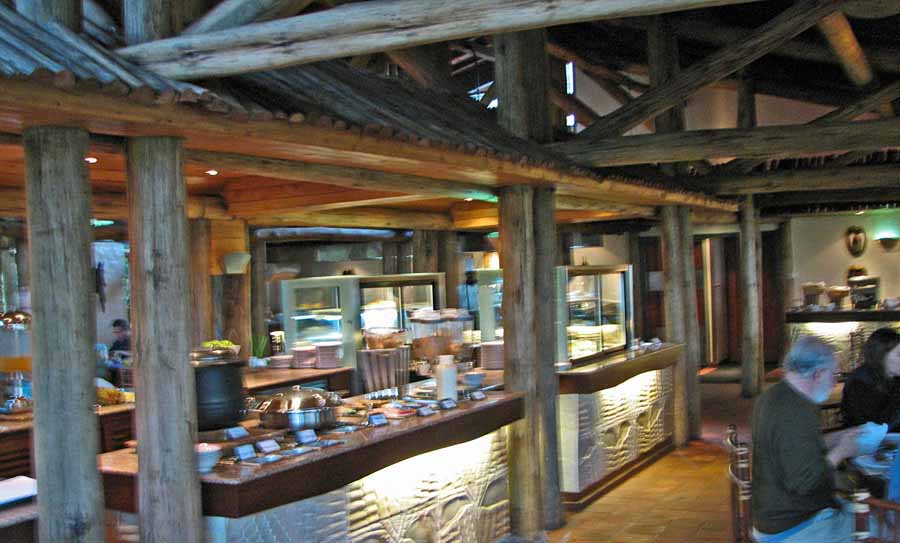 ~~ ~ ~ ~ ~ ~ ~ ~ ~ ~ ~ ~ ~ ~ ~ ~ ~ ~ ~ ~ ~ ~ ~ ~ ~ ~ ~ ~ ~ ~ ~ ~ ~ ~ ~ ~ ~
The Samburu
We had a scheduled stop at a Maasai village on our itinerary. However that afternoon Hodge took us to a Samburu village. There were some complaints as everyone had heard of the Maasai, and no-one had heard of the Samburu. Hodge ignores the faint protests and off we went.
It wasn't until later - much later for some - that we learn to appreciate this visit with the Samburu rather than the Maasai and how fortunate we were to meet these people. OK, part of the visit was intended by the Samburu to take advantage of us ill-informed and naive tourists, but on the whole, this was one of the high-lights of the entire visit.
A bit from our guidebook on the Samburu:
The Samburu People
Loibor Kineji, literally "people of the white goats", is another name/or the Samburu.
Samburu National Reserve is named after the Samburu people, close cultural affiliates of the Maasai, with whom they share a common language called Maa. The two tribes migrated together from their original homeland in Ethiopia or Sudan but split near the Turkana area in the 17th century, with the Samburu settling on the fringe of the Central Highlands and northern deserts, and the Maasai continuing southwards.
Pastoralists by tradition the Samburu cling staunchly to the ways of their forefathers. The social system is based around three male age-sets, namely ilayoik, uncircumcised boys who tend livestock, ilmoran, circumcised warriors who defend the clan, and ilpayiani, elders who are responsible for administration and law making. For the Samburu, the idea of God is strongly associated with large mountains, and elders are customarily buried facing such a location.
The Samburu people are nomadic pastoralists by custom, moving from one temporary camp to the next in search of water and grazing for their livestock. Their homes reflect this lifestyle, being simple and somewhat impermanent structures of mud, wood and thatch.
The main diet of the Samburu, who seldom hunt and eat meat only on special occasions, is fermented mix of cow's milk and blood, sometimes times sweetened with honey.
Jackie and I had brought three or four soccer balls and perhaps 15 boxes of pencils and a number of pencil sharpeners for children. Hodge told us not to waste the balls on the Samburu, which I thought was pretty callous until I later learned how they live. He told us not to offer the pencils to the tribe's Elder or Chief, nor to just pass them out to children we saw; he would tell us when and to whom to give the pencils.
We were greeted by several men, both elders and younger males. One of the younger men introduced himself to us and make a fairly formal introduction of the Tribe Elder.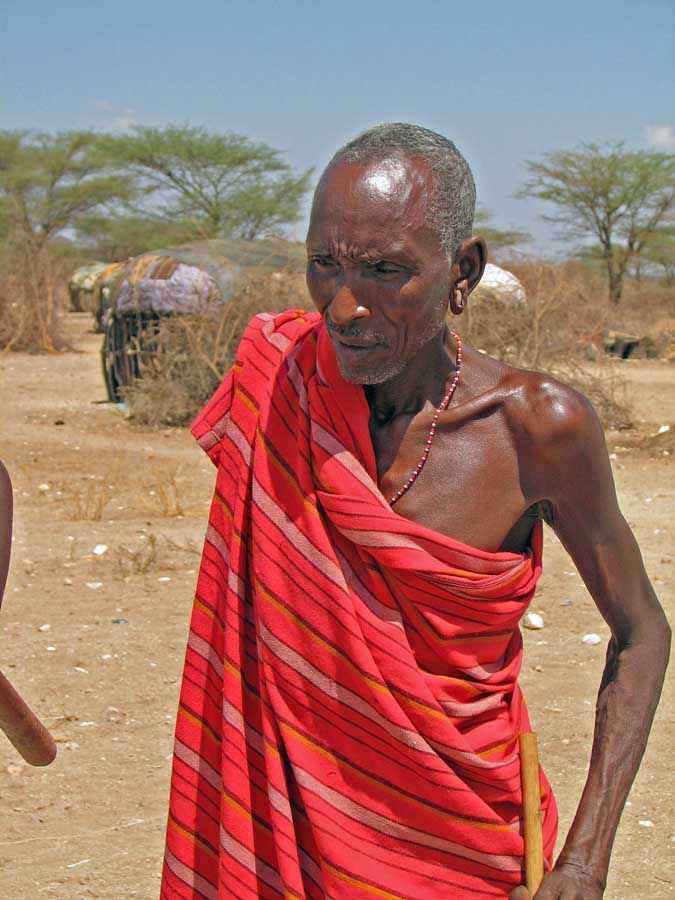 This is the young man who became our guide for the next couple hours. I am embarrassed because I've forgotten his name. Perhaps one of those with whom we traveled remembers and will tell me.
Our village guide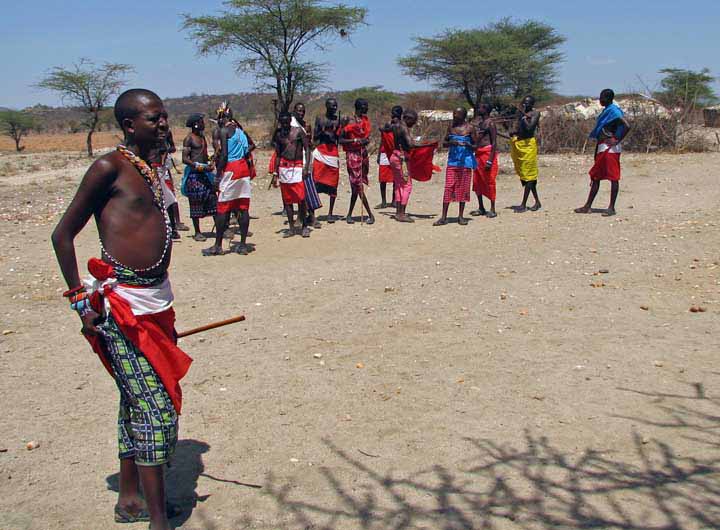 The warriors of the tribe did a traditional dance we normally associate with the Maasai - who ever heard of the Samburu - with their very high vertical jumps into the air. Their jumps were very difficult for me to time to photograph as the pause between pressing the button and the shutter is too long. So, imagine the height they reached....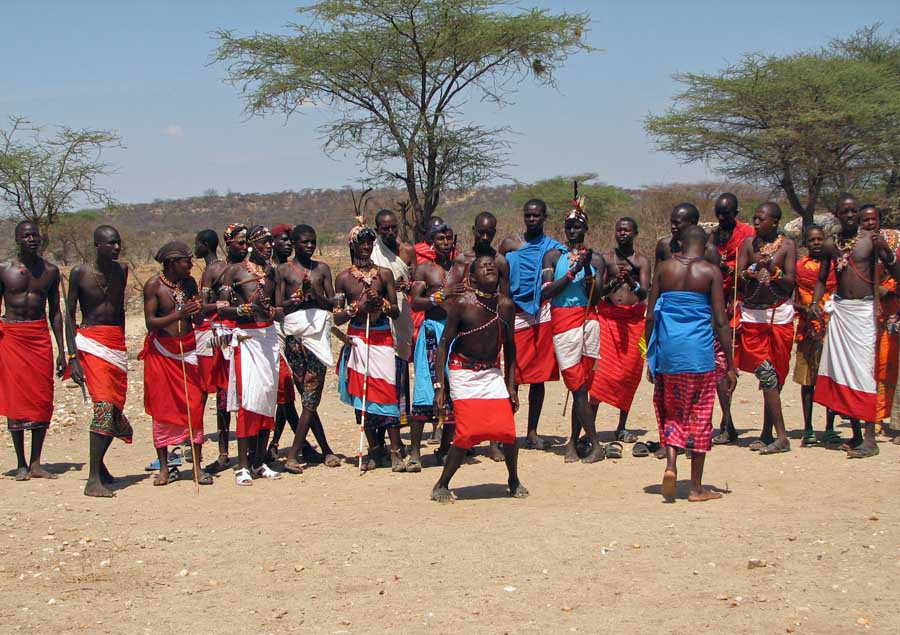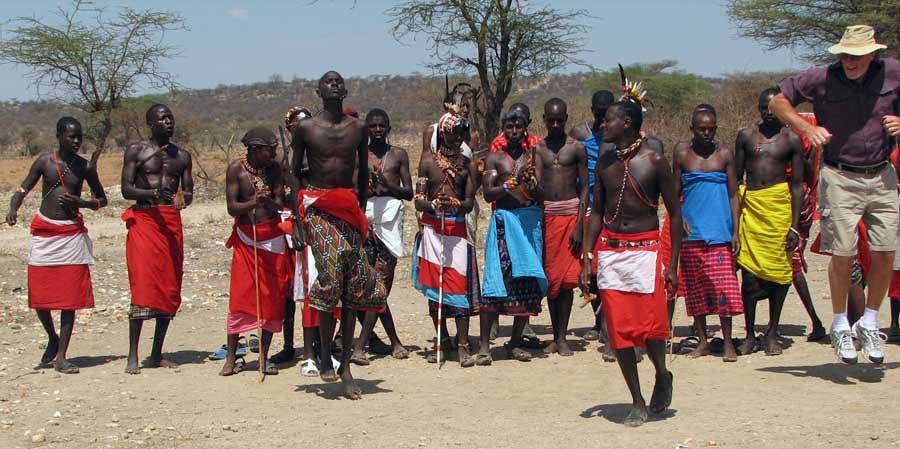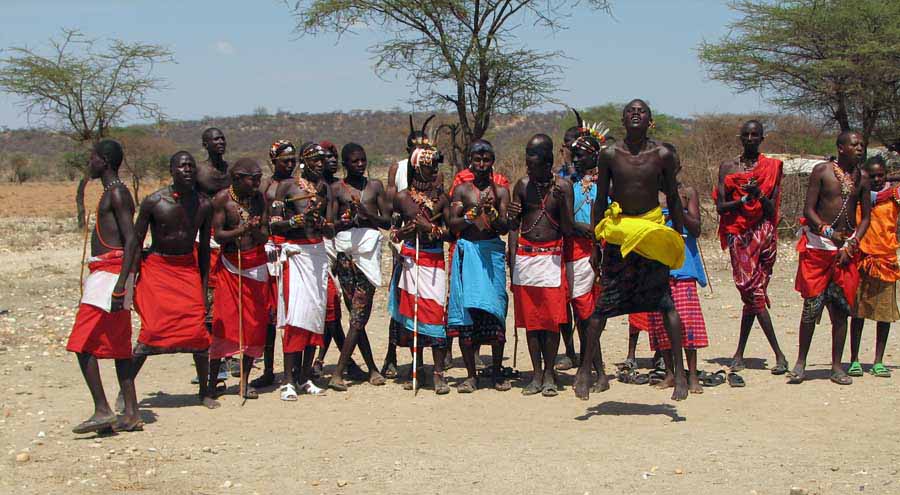 And, of course, they invited the less reserved of our group to join them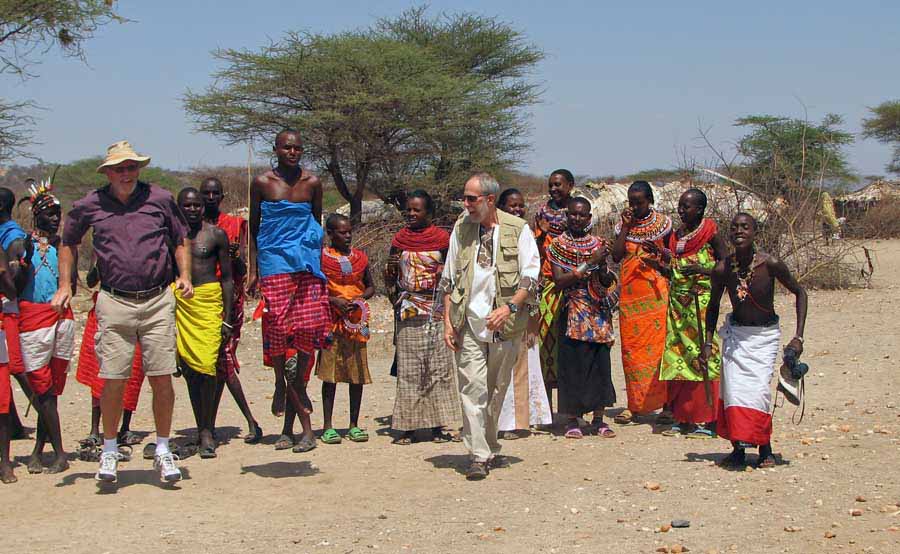 Canadian and Virginian Samburu "Warriors"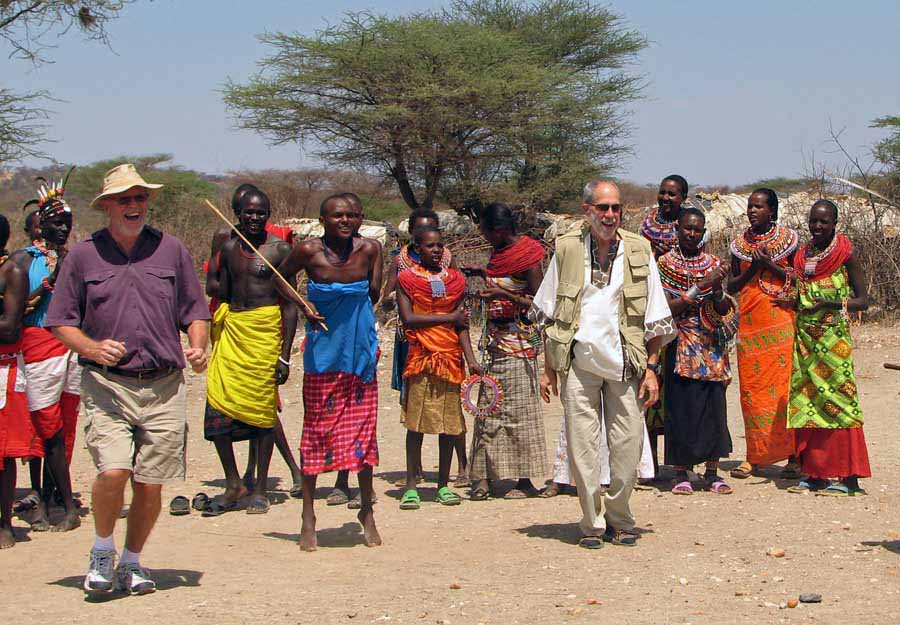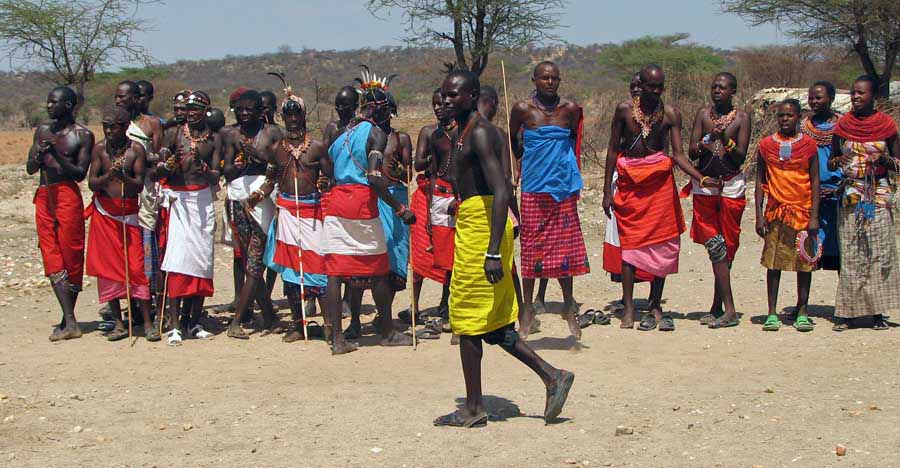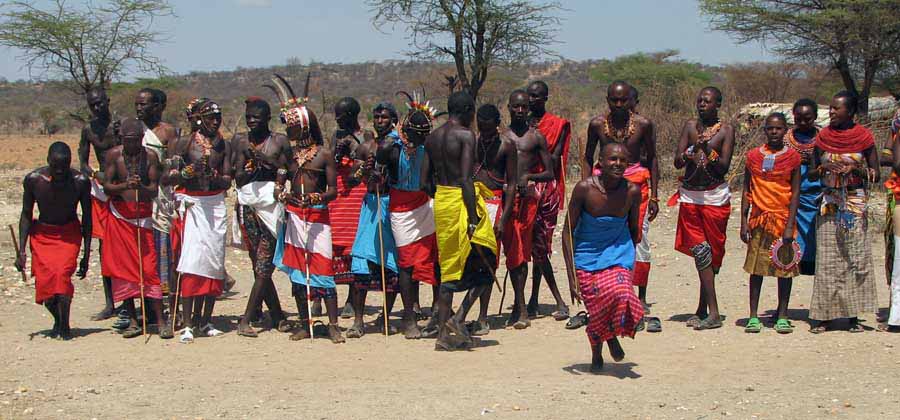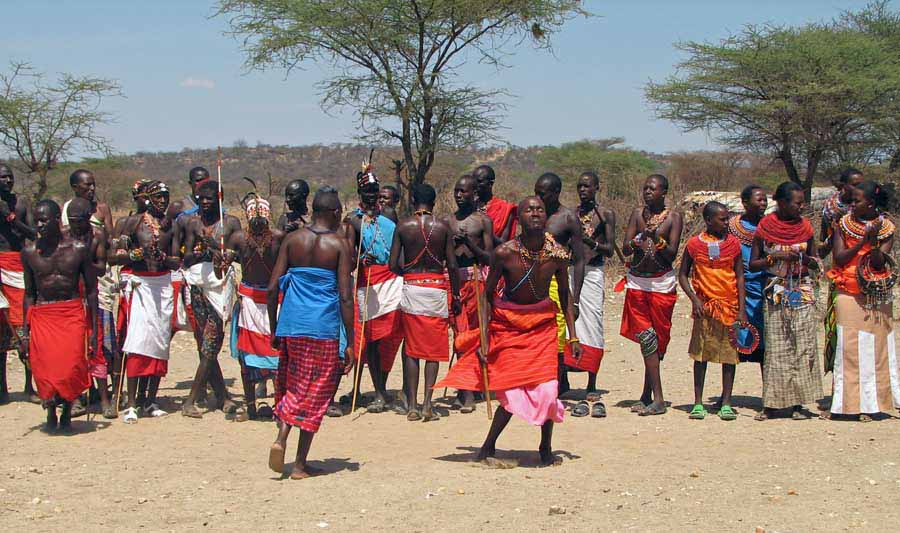 We'll learn more about this stern looking fellow later - we are about to give him the pencils.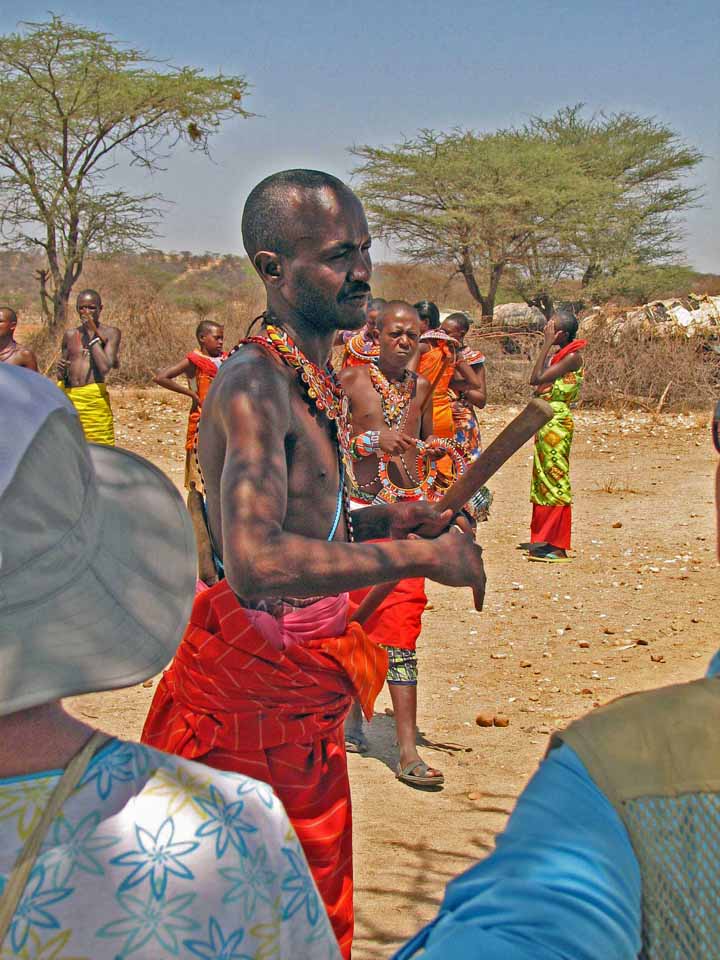 And now its the ladies' turn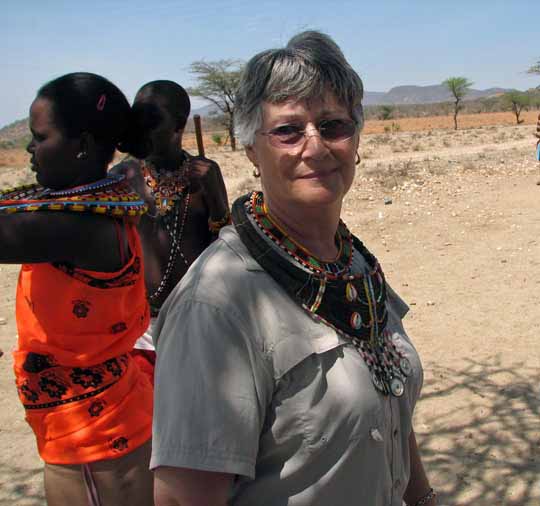 This princess was "given" a necklace, as was each woman in our group. Each man was also given some piece of Samburu jewelry to wear.
The Samburu women gathered, lined up and encouraged our women to join them. Notice our stern fellow, with his stick, giving non-verbal directions.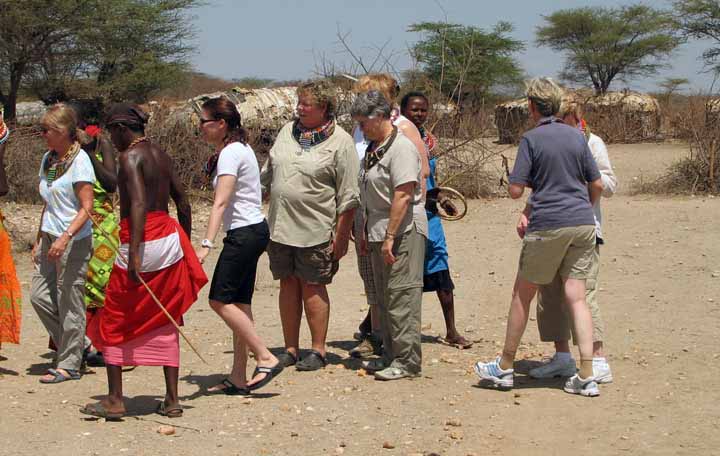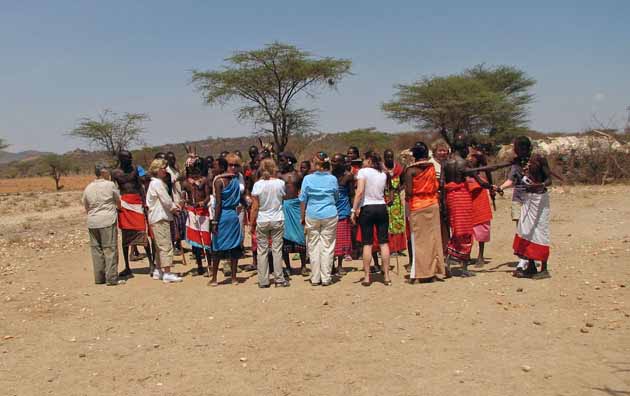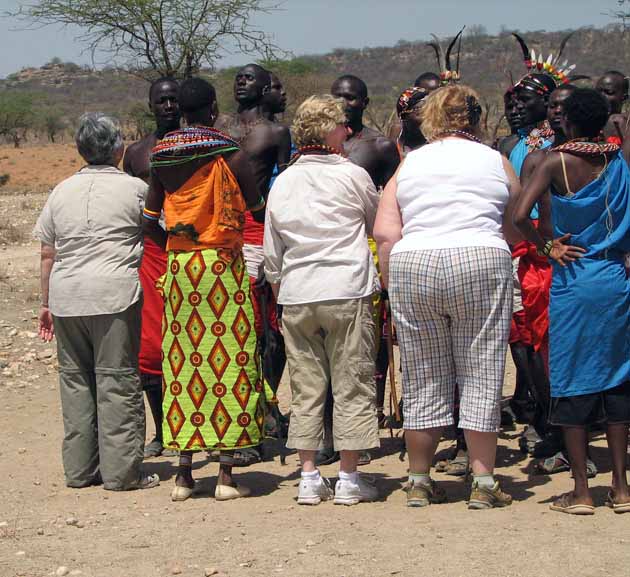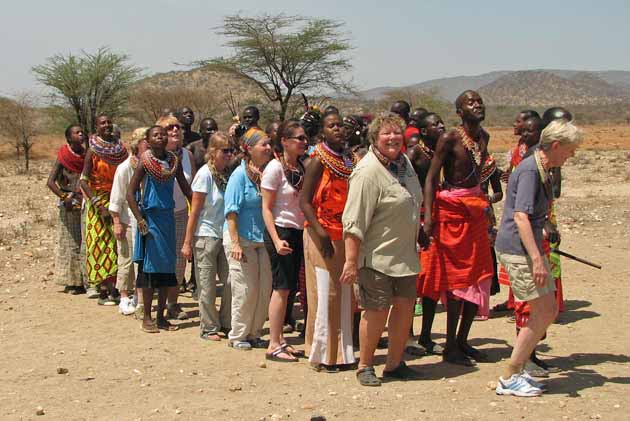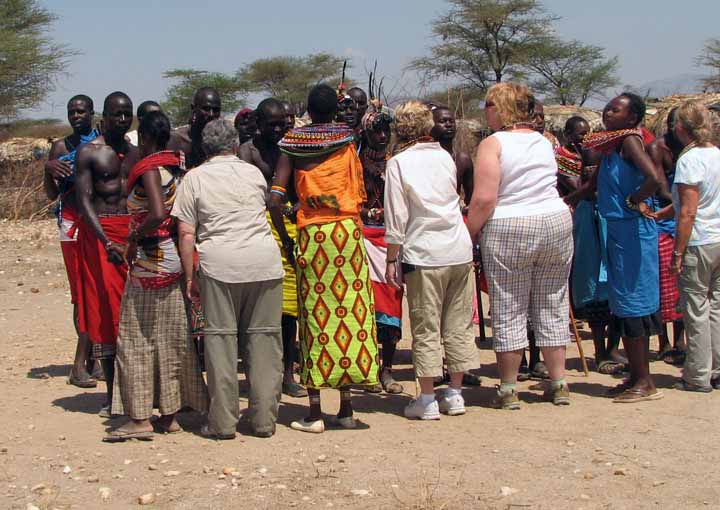 A fine chorus line!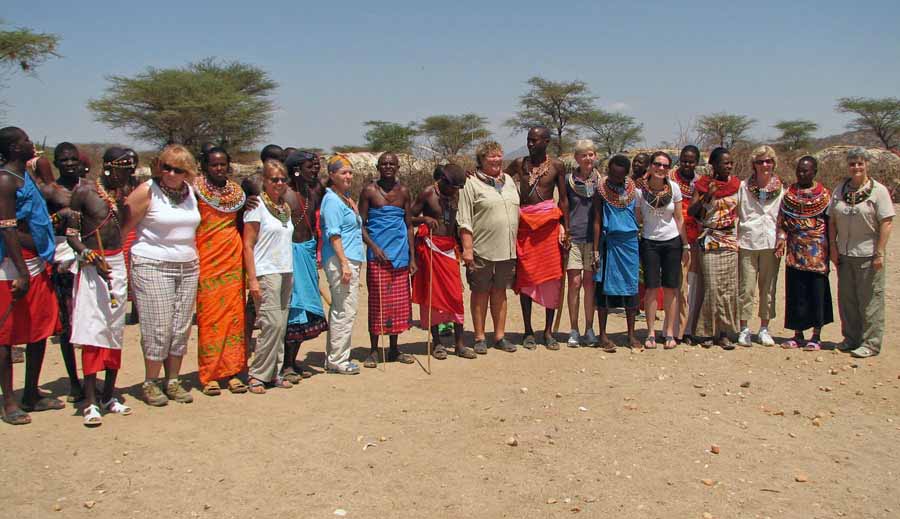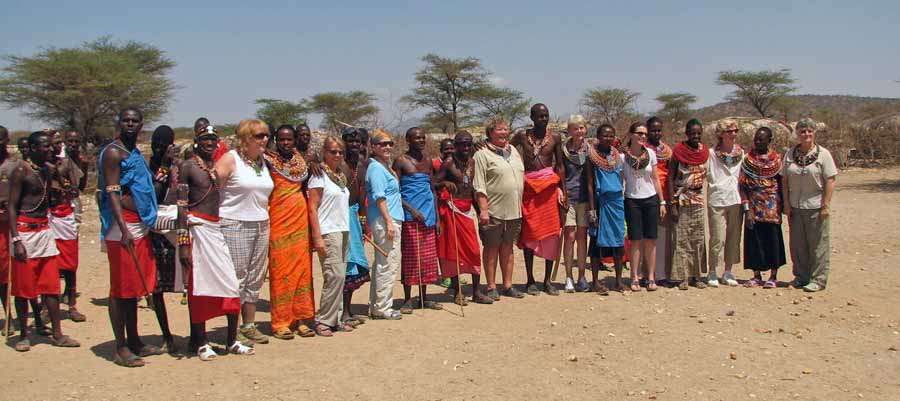 Allison, Faye and Jackie talking with their dance leaders - Rose was Jackie's partner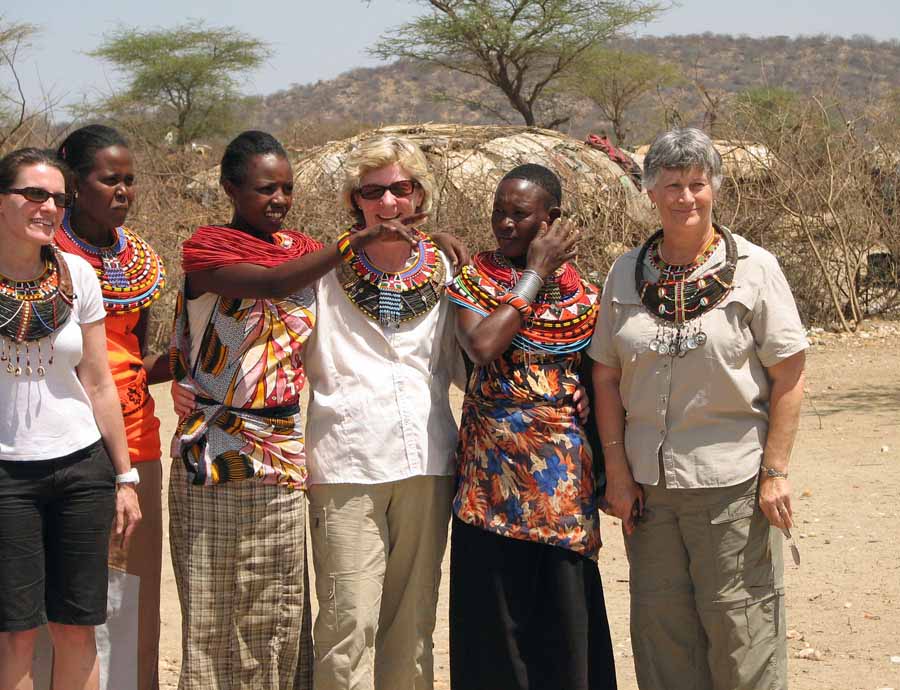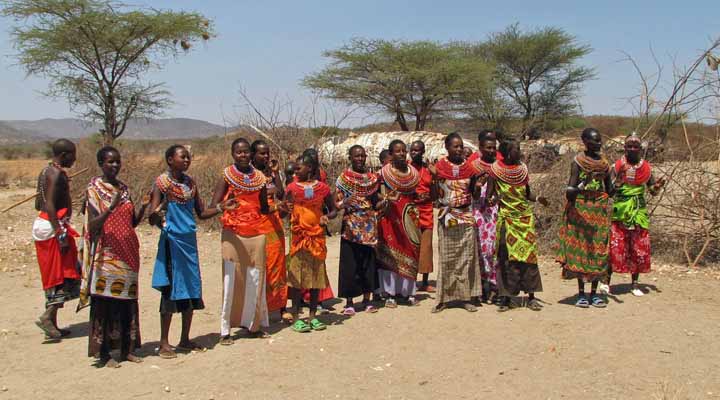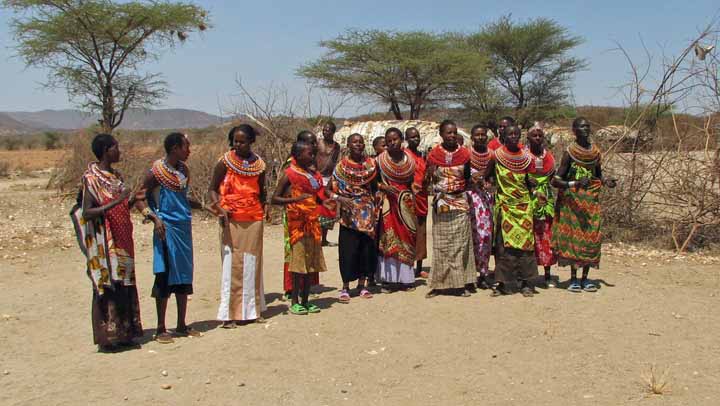 We met this wonderful lady after the dancing died down. Her name was Jackie! She had the most beautiful smile and her young child is cute as only a baby can be. She spoke no English, but we had the chance to "talk" for about five minutes.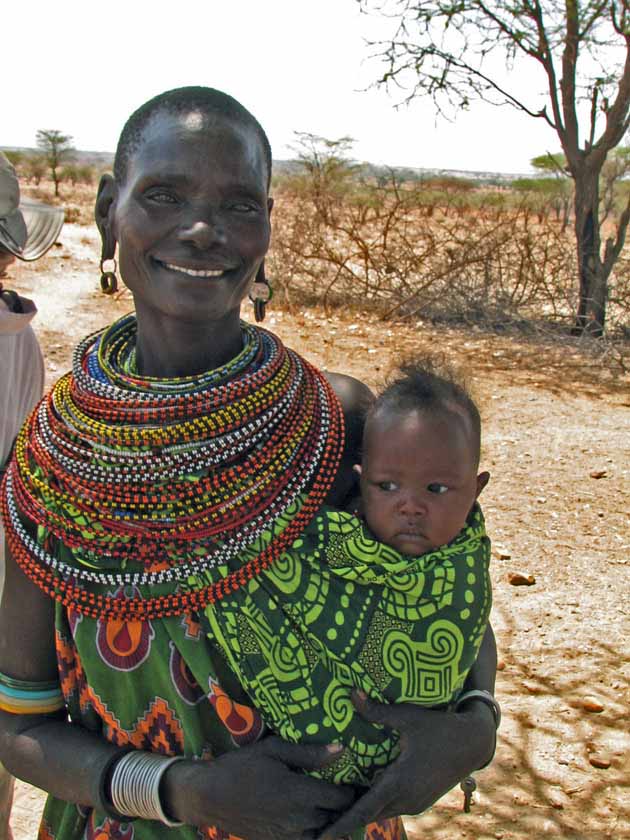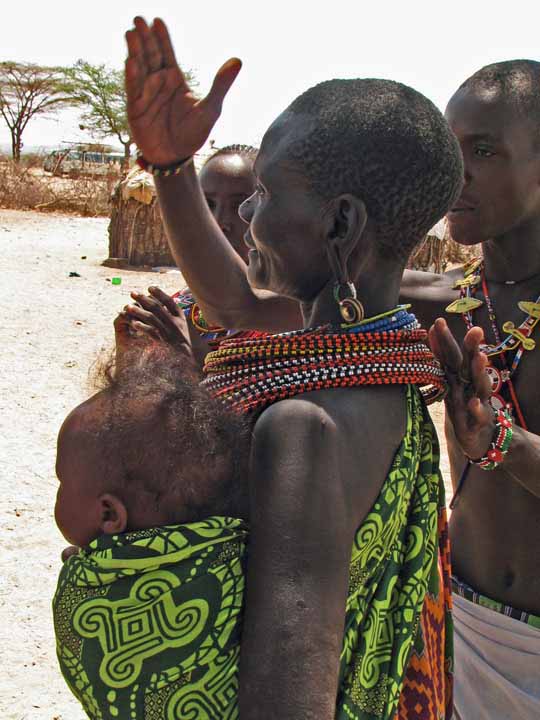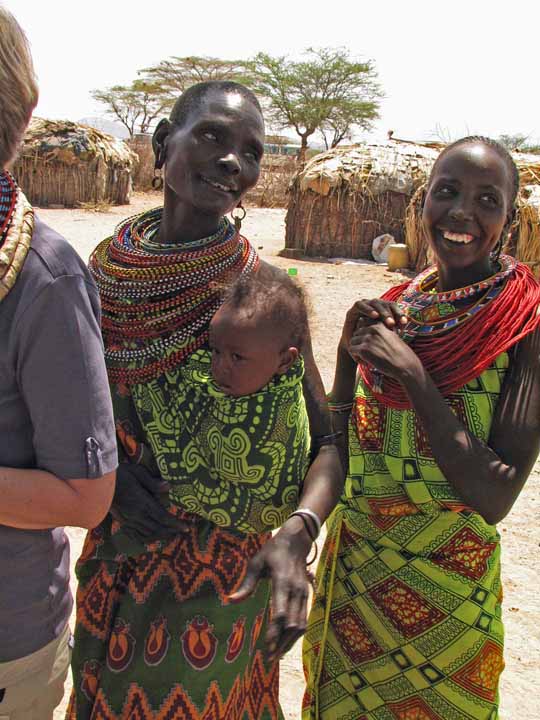 Below we have married and an unmarried Samburu women. Can you tell which is married - unmarried?
No, Allison is not with the tribe, and is married.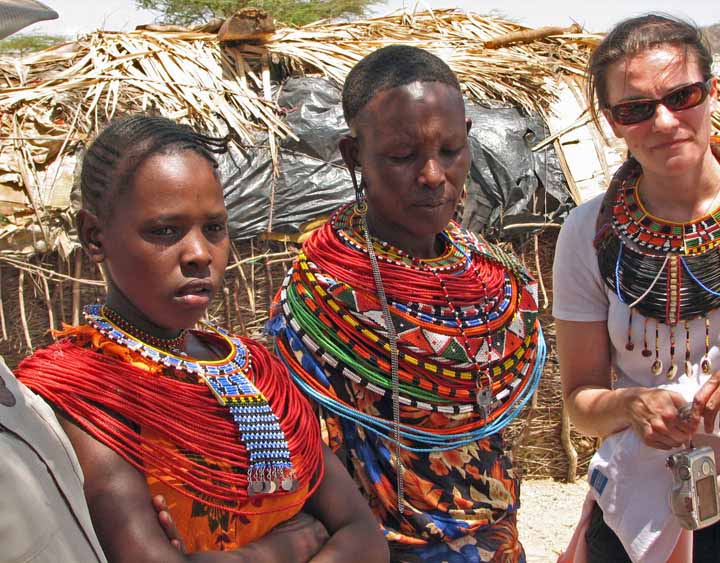 The single woman has red beads. Only the married females are allowed to wear the multi-colored necklaces
These are typical Samburu huts -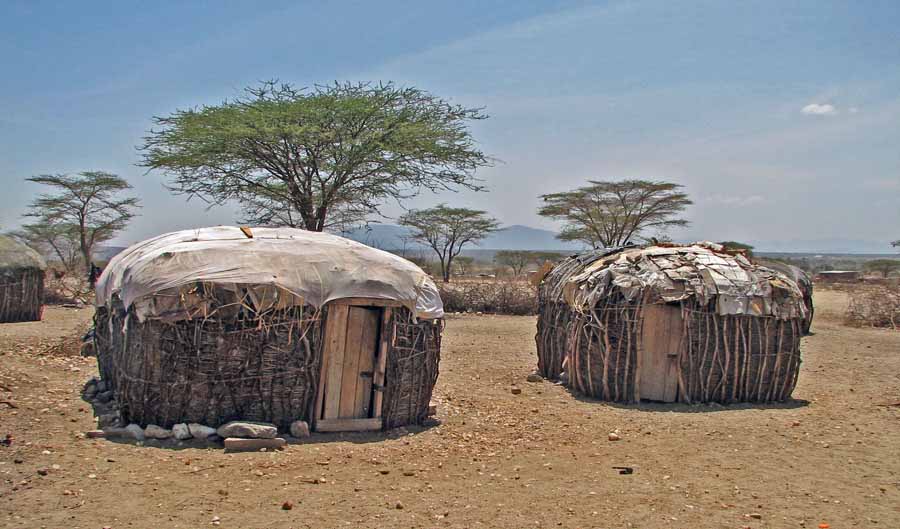 This is a Samburu goat pen. It is made of thorn bushes to keep the goats in and the lions out. A friend on mine from what was Biafra told me his entire village was encompassed with a thorn bush fence for the same reason.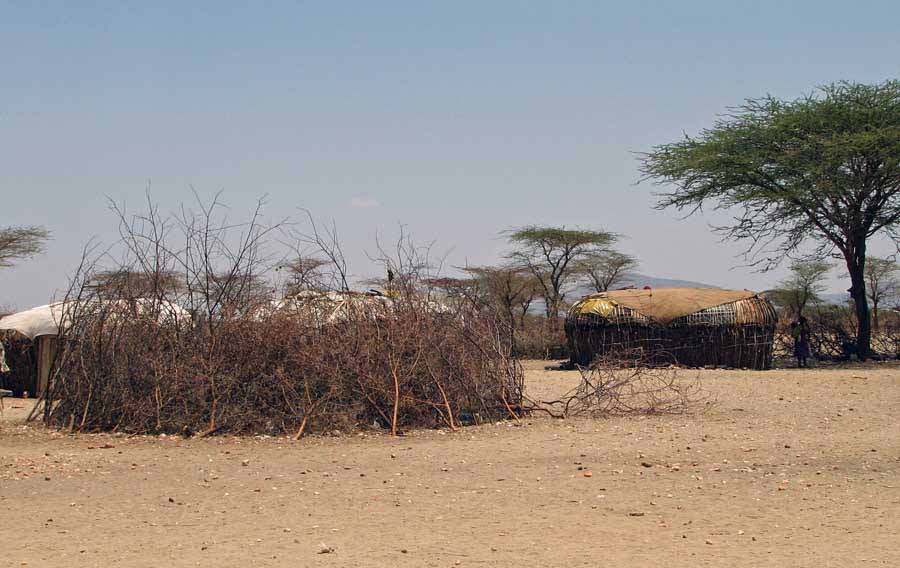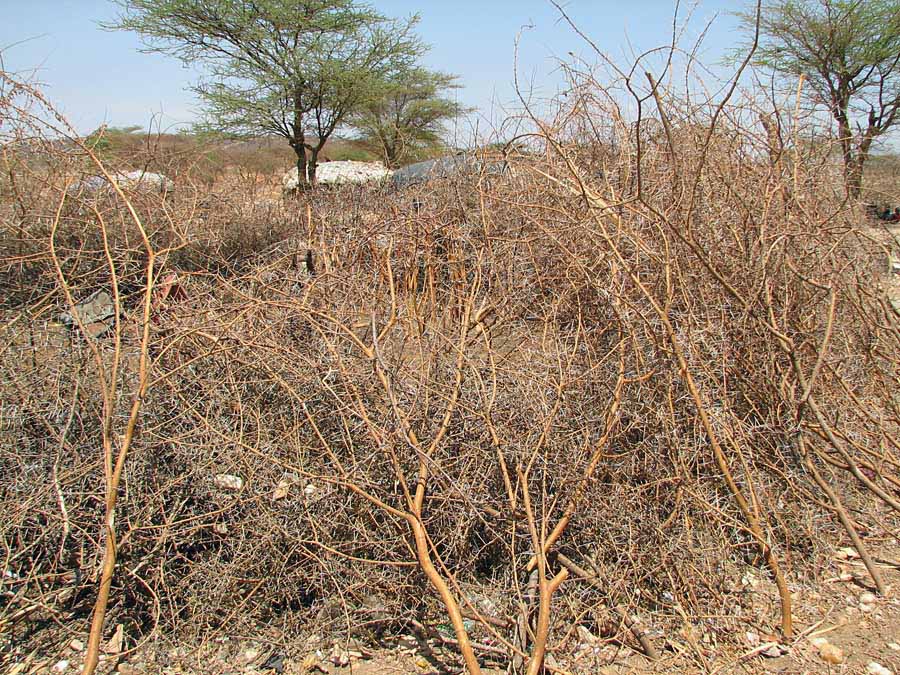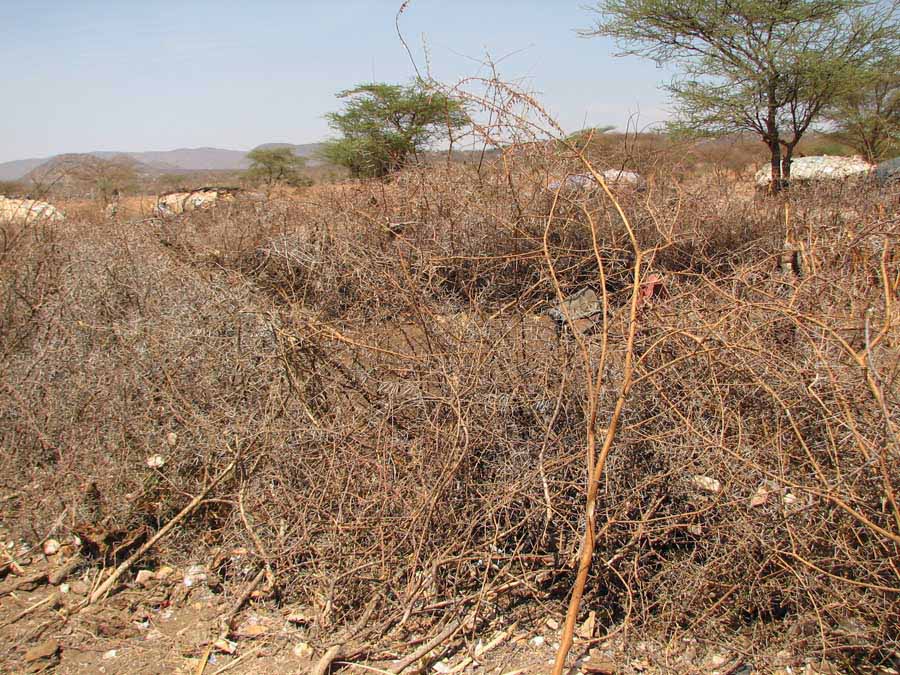 I asked our guide if this thorn bush fence was really needed. He explained that about ten days ago the guard ( a young man not yet a warrior who is posted throughout the night with the goats ) Heard a disturbance - a lion had jumped the thorn bush fence. He went in to chase the lion. It turned on him and slashed his neck with his claws and bit his arm before running off. The young man is now at the "Mission", a Catholic church / clinic , recovering.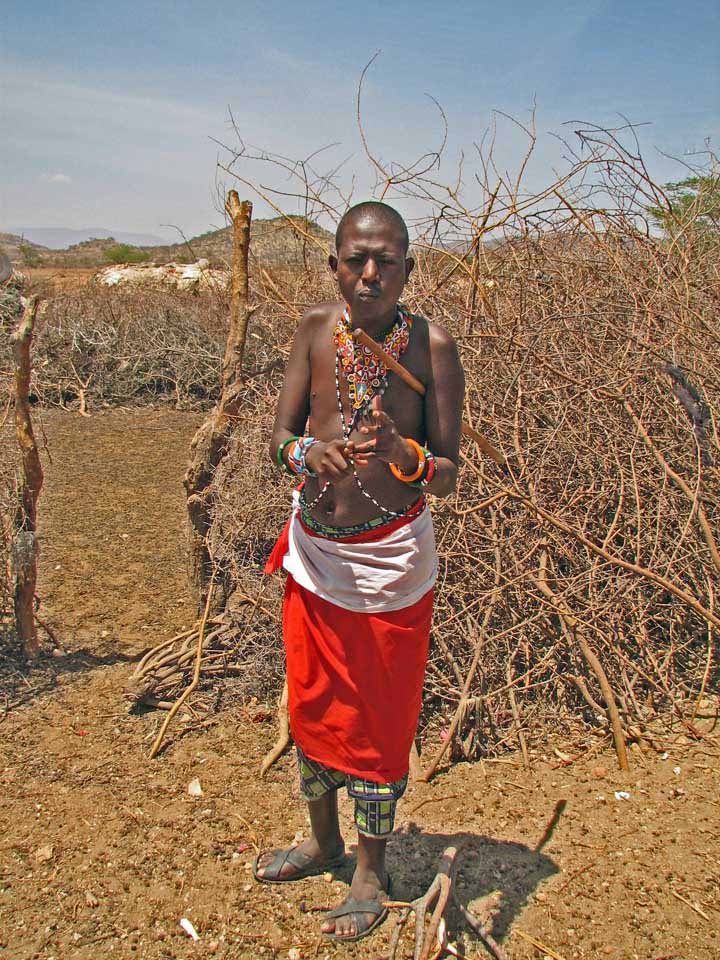 We were invited into the guide's hut.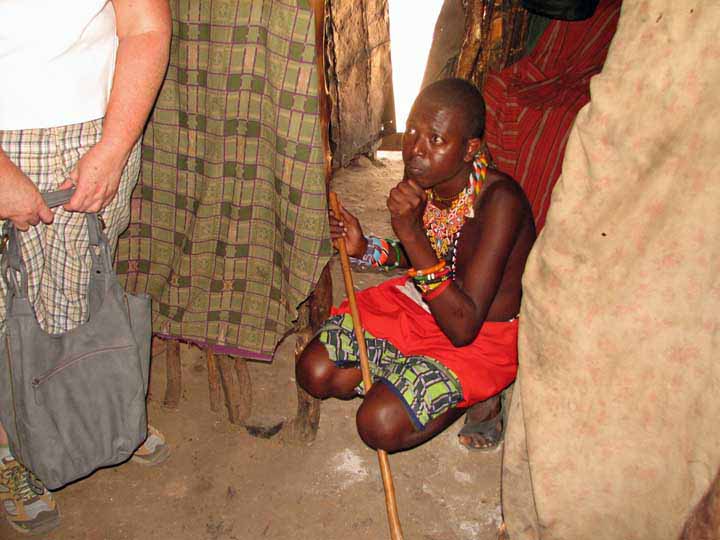 Colorful linins hang just inside he walls and provide both space from the mud/thatch walls and a bit of storage space.
The hut is divided into three basic units - the sleeping are where Jackie stands, and the cooking area, seen to the right, and the entrance area with a baby goat, seen below.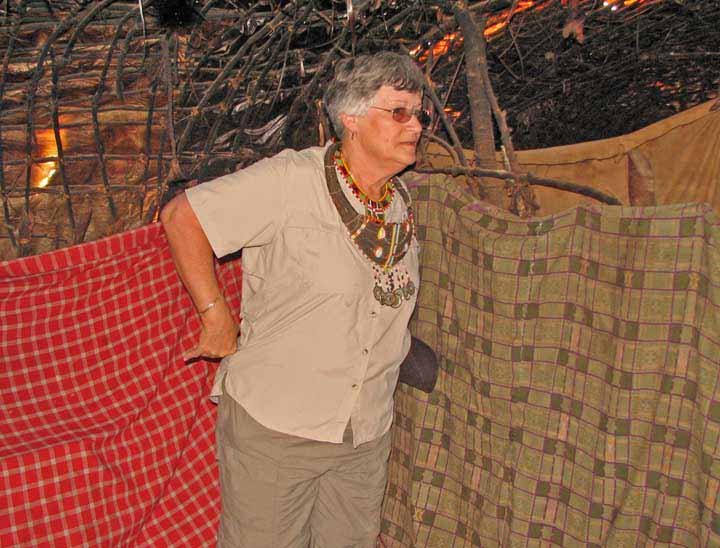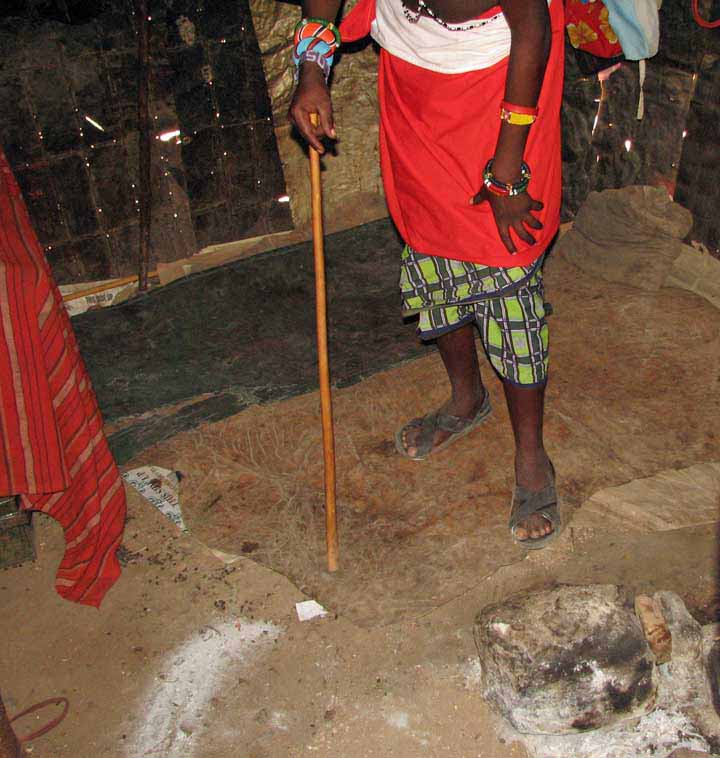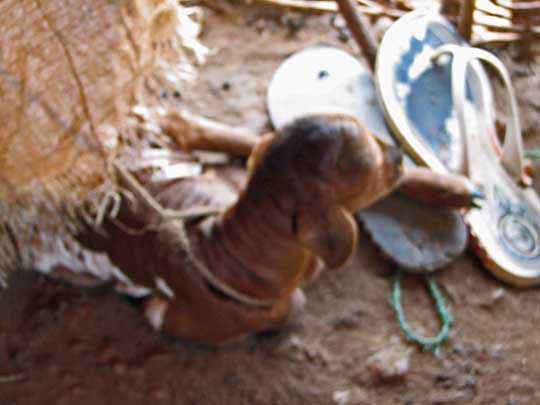 I was unable to take pictures without flash, and I didn't want to interrupt the guide with too many flashes.
A group of goats huddled right outside the entrance.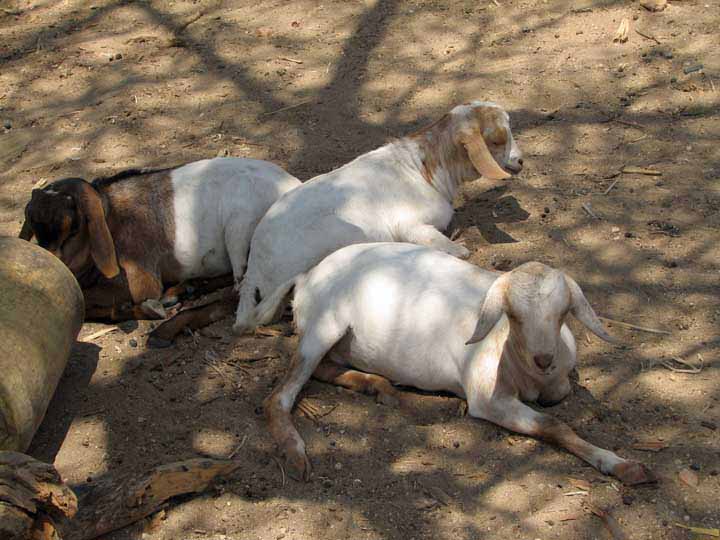 This gentleman was the Fire Maker. Evidently there are two in the village. They are important as they are the only ones permitted to make fire. They first make fire each morning and women come from each hut to collect their fire for their cooking area.
All fires are required to be extinguished after cooking, and no fires are allowed in the camp during the day. When asked why they have this prohibition, we were told it was tradition and to prevent children from being burned.
Then at night, they make the evening fire, and again each hut comes for their fire for the night.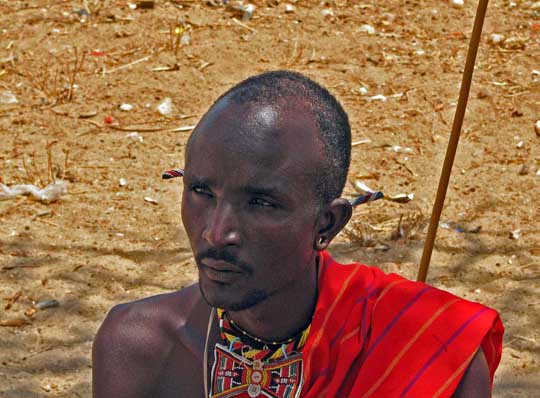 He put on a demonstration of how he made fire, with his assistant, by rubbing a stick between his hands that has a pointed end placed on another flat piece of wood. It was explained that both the stick and the base were each a special type of wood. They started the fire with a bit of dry grass and cow manure.
It took exactly 60 seconds from start to flame!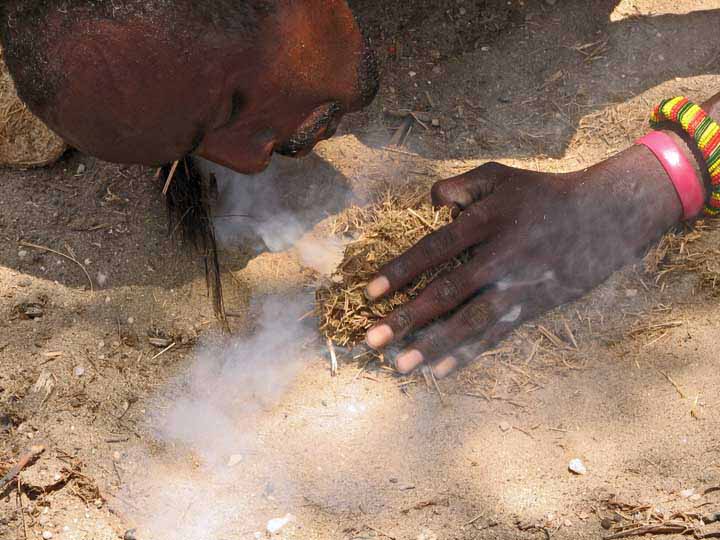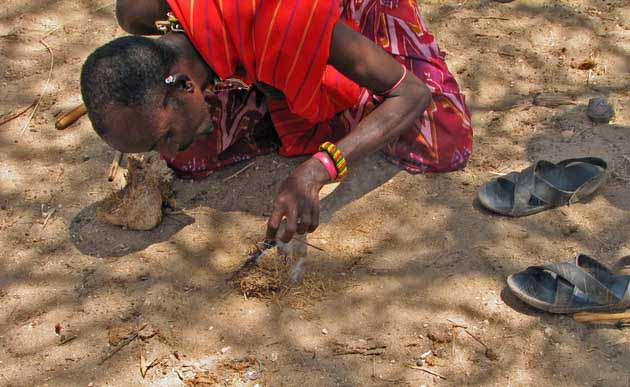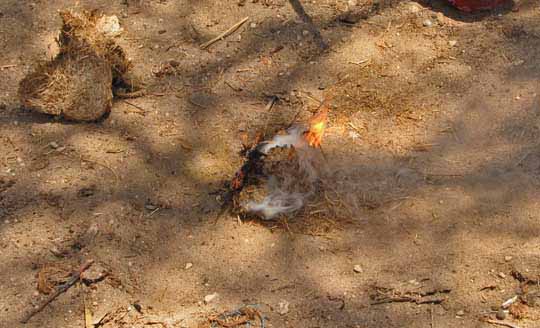 Them we met the children! Lovely, beautiful children.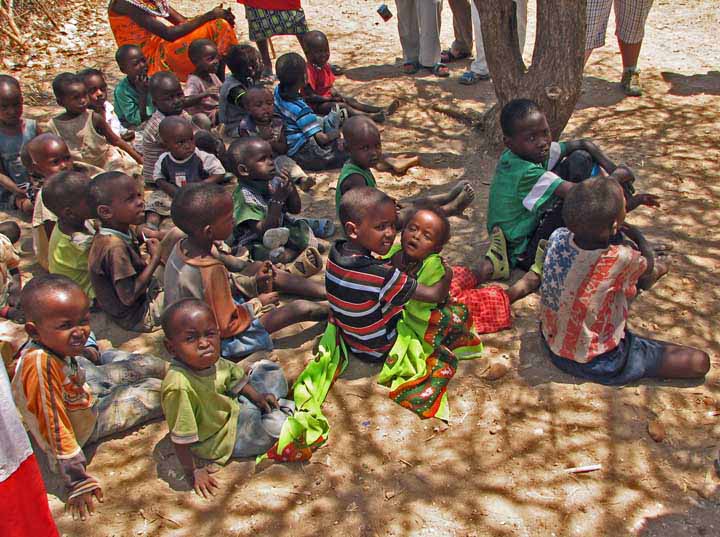 And yes, the stern man with the stick, to whom we gave the pencils, was the "school master". He is responsible for teaching the children, establishing tradition, managing behavior and group activities. He is as stern as he looks, but I didn't see him hit anyone with his stick. He has that "look" your mother or father had - so I guess he didn't need the stick for disciplinary purposes.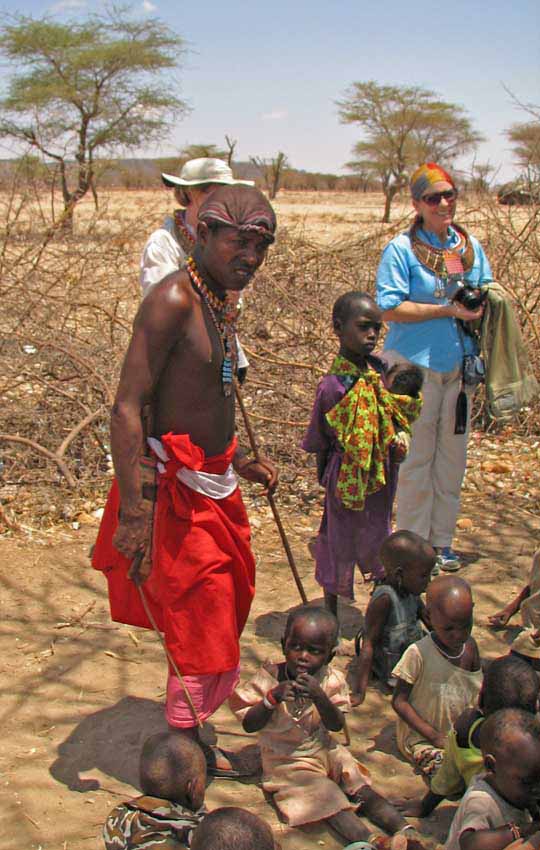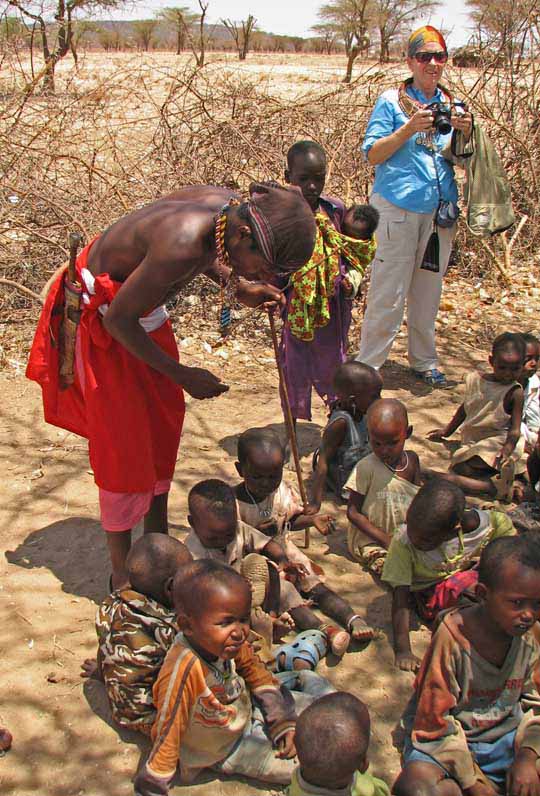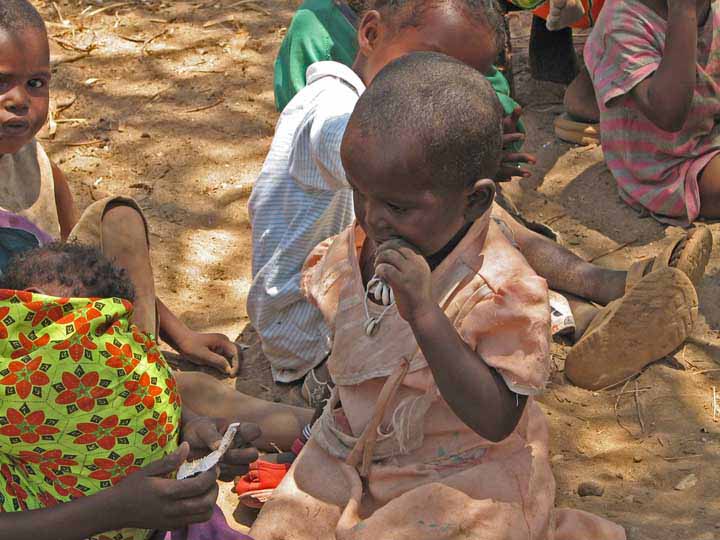 Very, very tired and grumpy - picked up and fell asleep in a minute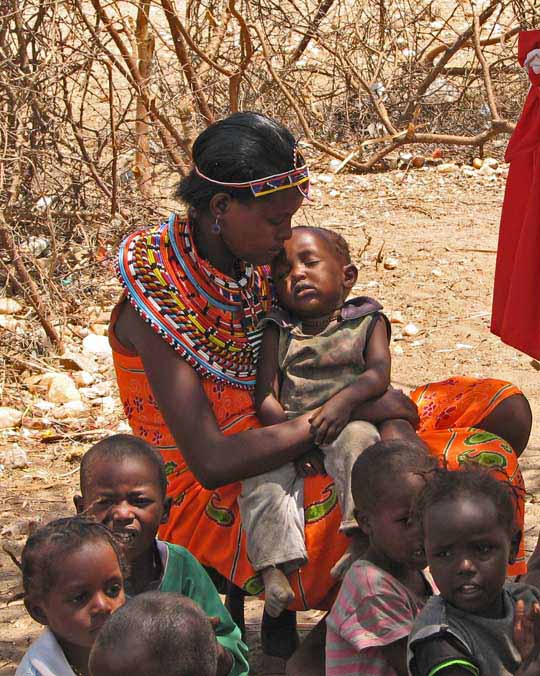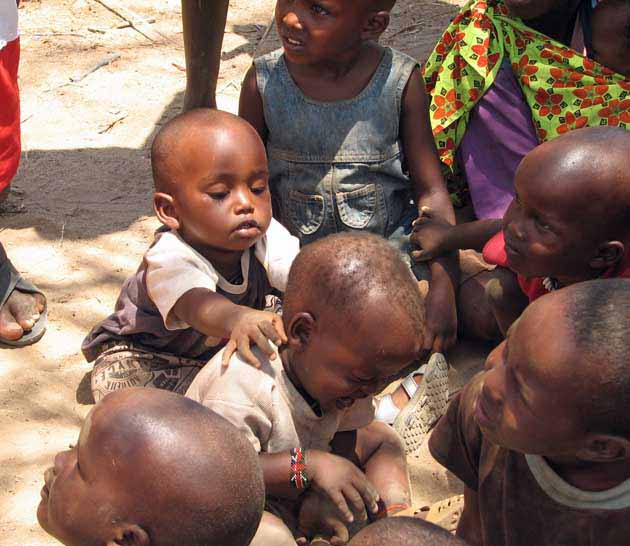 Yes, he is smiling - in his fashion - as he gets ready to pass out pencils.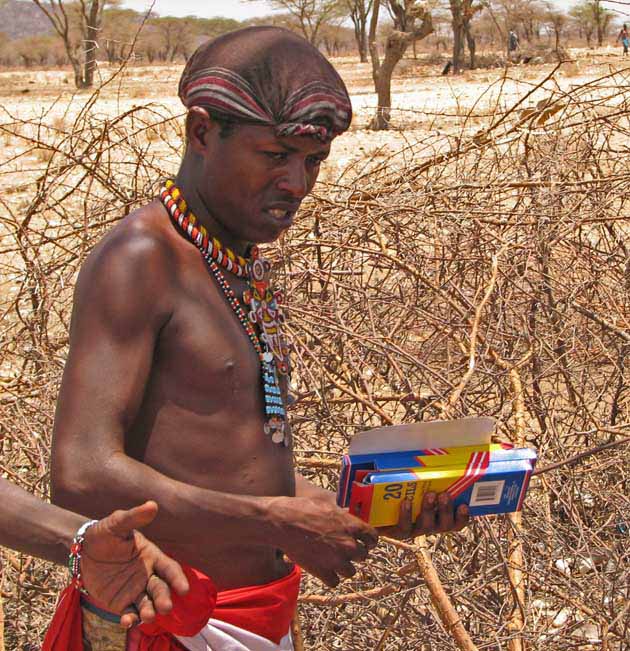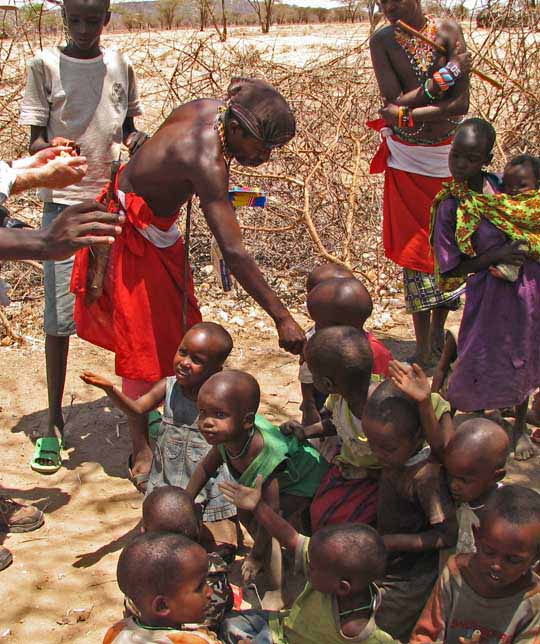 The children sang several songs - in English. They sang both the Alphabet Song and the Numbers Song, as well as a couple numbers in Maas. Kids are cute where ever you find them.
We next met the number two man in the tribe, the tribe's Blacksmith. He is second in command should the Village Elder not be available.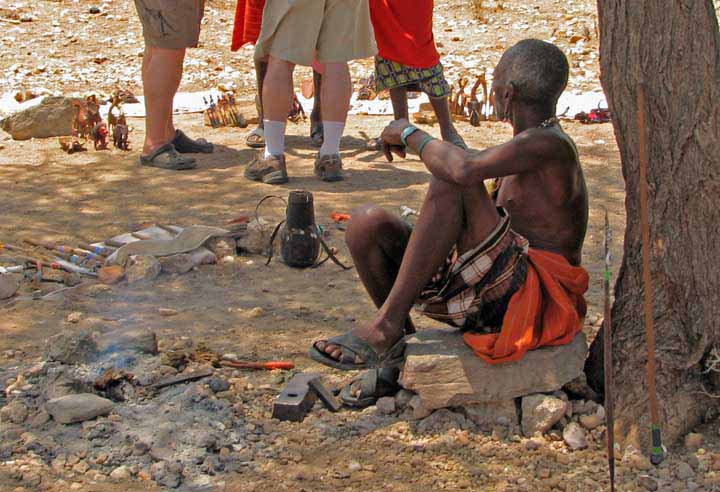 At his location, as you see he is was working some metal as we arrived, there were any number of souvenirs for the tourist visitors. Just prior to this short walk to his location, we were given a short speech on the fact more kids could go to school if they had adequate clothes. We were asked to make donations, and many of us did. Now we had out initial opportunity to purchase items.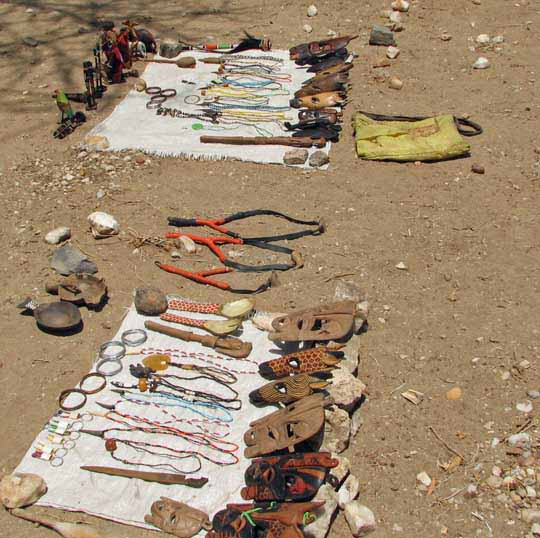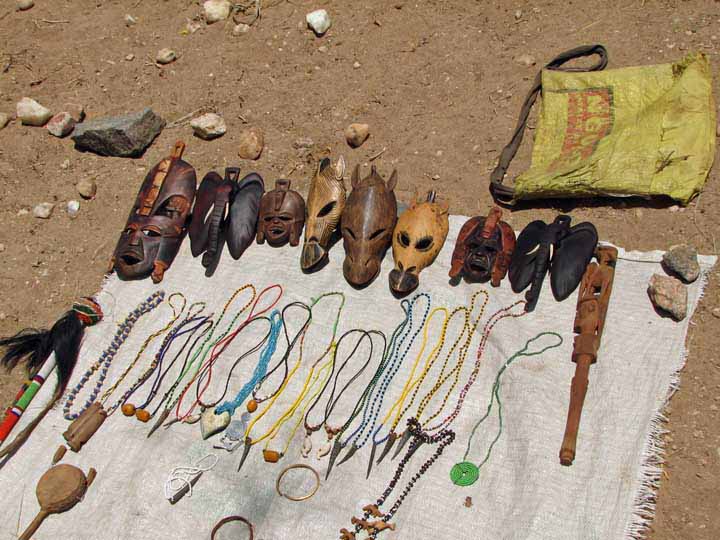 To complete the purchase, I had to go with our village guide acting as an interpreter, to the Blacksmith, and make an offer. The offer was translated, and his response, a much higher price, was translated back to me. I made a counter offer - translated and declined - and then a final offer, which was accepted. Whew! I don't know if anyone else bought at this point, seeing the process.
Scenes as we walked through the village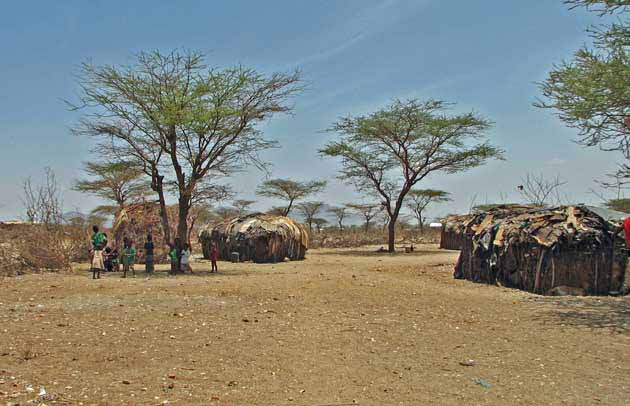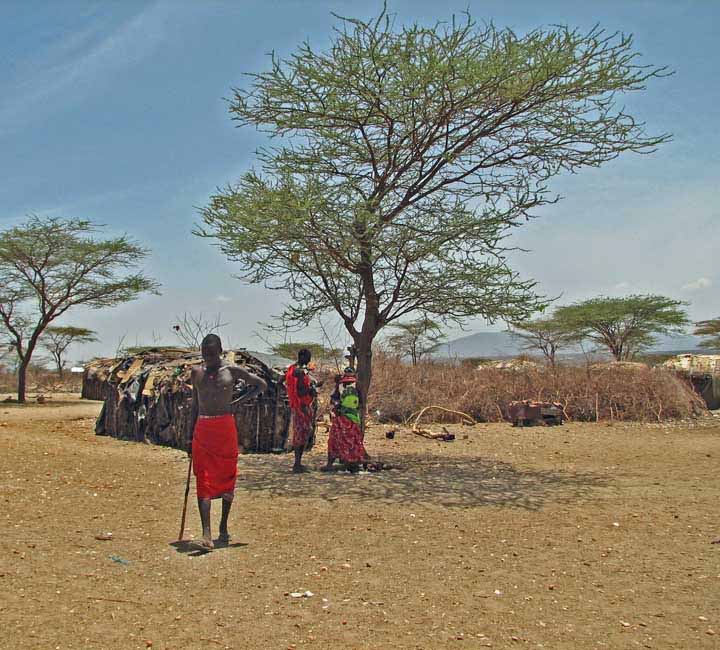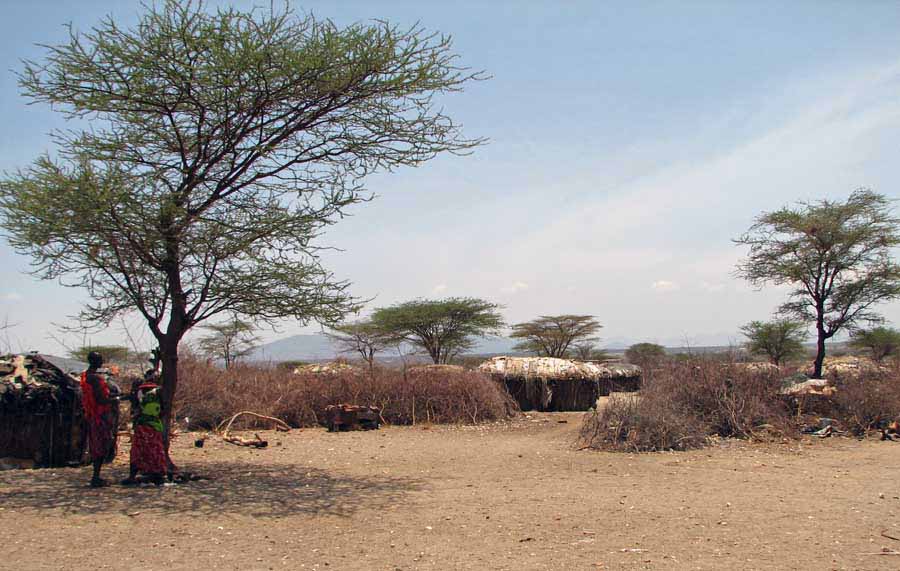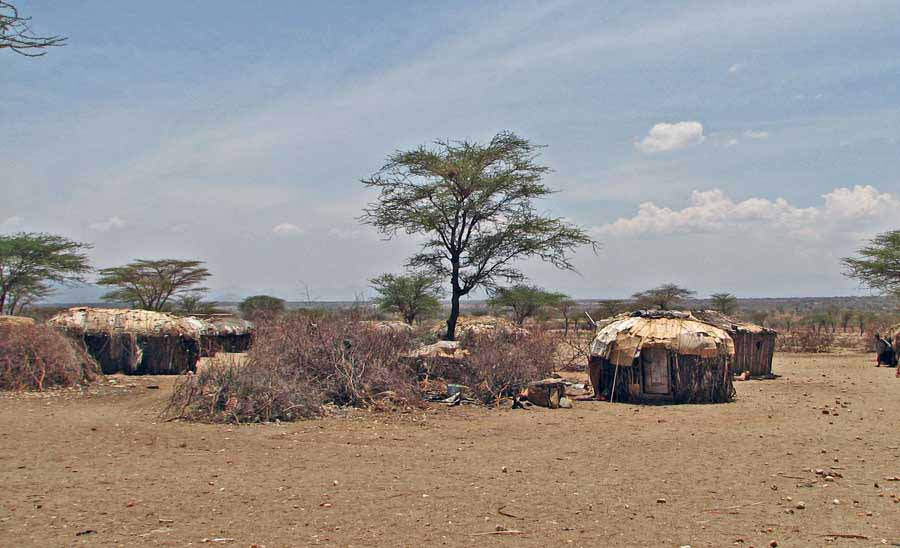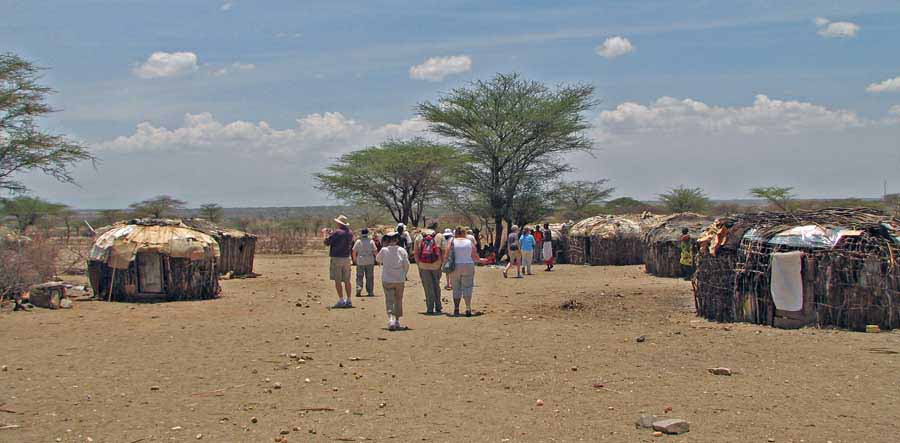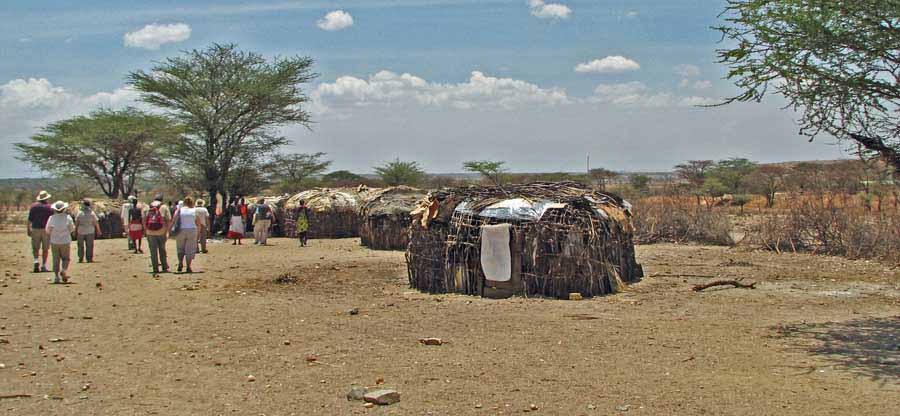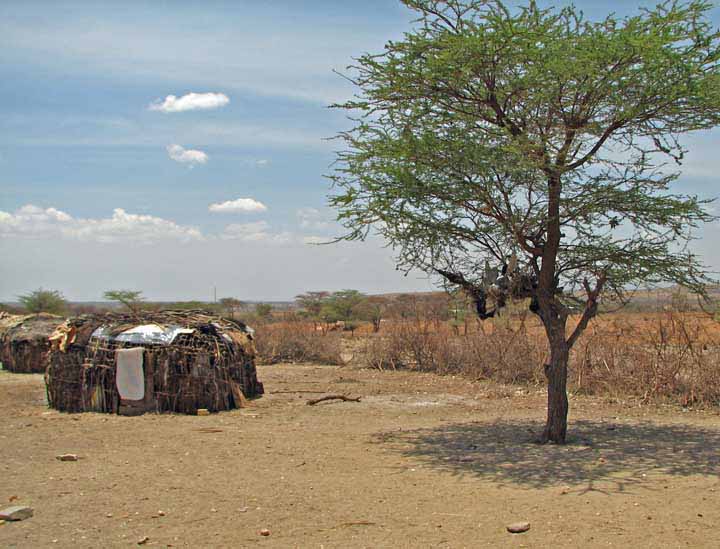 As our walk, and our visit concluded, we were asked if we would like to purchase the necklaces, beads and jewelry which we had worn throughout the visit. In addition, the women had spread out any number of additional offerings.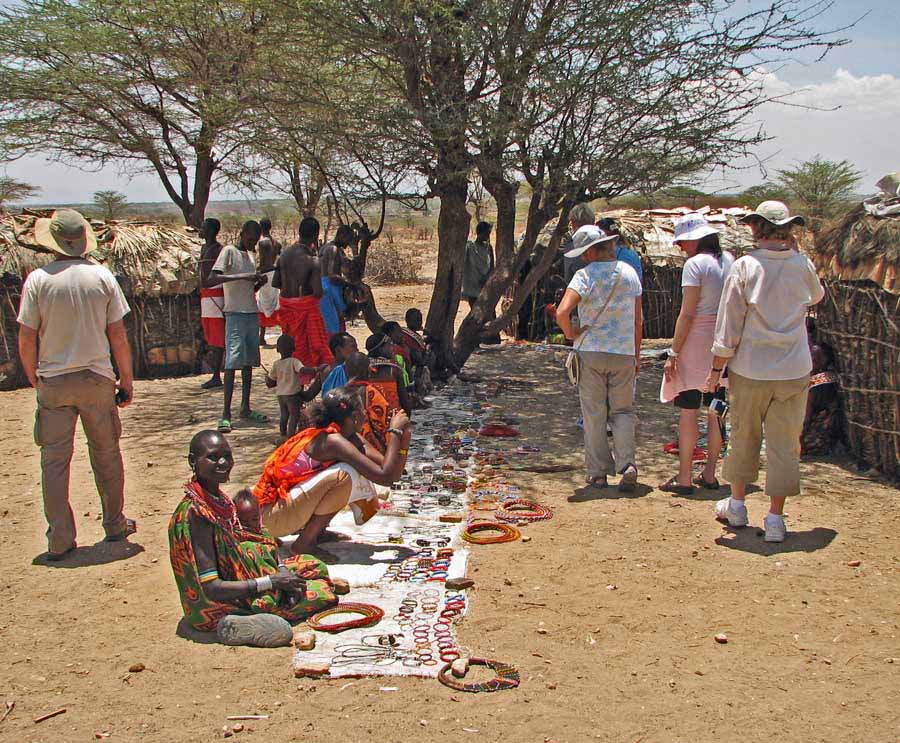 I noticed the men were gathered around a tree as we drove in. I thought it was because there was shade. Actually they were playing what appears to be a board game. The board looks familiar, but I don't know why.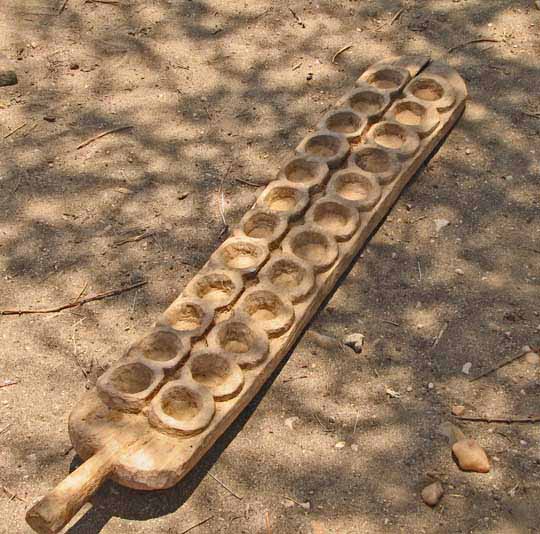 As we walked back to the vans, I got a picture of women from another village carrying their load.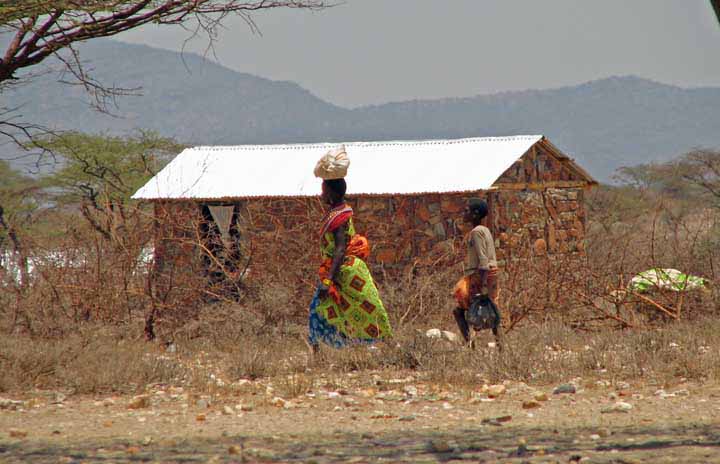 A NOTE on the Samburu Visit:
The more I learn about the Samburu, the more pleased I am that we visited their village, and not one of another tribe, such as the Maasai. Although this was certainly a touristy stop, I feel very strongly that any other tribe's village would have been nothing more than a tourist trap.
The Samburu and the Maasai actually wear the colorful clothes and beads seen in the village in their everyday life. This is another example of their dedication to tradition. Our guide was very matter of fact about how they live. There was no embarrassment or hesitation as he answered our questions. For example - We asked if they practice female circumcism. His answer was yes. We asked why - he answered, "It is our tradition, the way we live."
We asked about his education, as he spoke English exceptionally well. He told us he goes to school for three months and is back home for a month. We asked if everyone goes to school. He said only about 3 go to school. (I never got a really clear answer about girls going to school.) We asked how he got to attend school. He told us he was a very poor cattle herder. One day he lost a cow - the Elder came up to him and said, "Tomorrow you go to school." He told us he was sick for several weeks when he went to school because of the water. He told us he was used to, and enjoyed, the muddy / cloudy water brought from the river, but the pure water at the school made him ill.
He told us the Maasai and the Samburu were together but split up about 170 years ago. He said the Maasai moved to the north and higher elevations because it was too hot for them here, and the Samburu moved here because it was too cold for them in the north. While men in both tribes are tall and thin, and wear the same outfits, he told us how to tell a Samburu warrior from a Maasai warrior. Both wear bright red materials representing the blood they drink, but the Samburu wear their red cloths tied around their waist, while the Maasai wear theirs tied on their shoulder.
As we saw chickens running around the village, and there were goats and cows in the fields everywhere, we asked what the Samburu eat. He told us the women eat the chickens sometime, but the warrior men only eat the blood of the cows, mixed with goat's milk - period. They do very rarely eat meat, but only on very special occasions. No mention of any vegetables or starch.
He, as well as the guide books, emphasized the Samburu were nomadic. When asked how long his village had been at this location, he told us they had been here 10 months, but if it did not rain in the next 30 days, they would move from here. The women tear down the huts and rebuild them at the new site - it takes about three days to build the hut.
Hodge told me we went to the Samburu village rather than the ones indicated on our itinerary because the Samburu actually live the way we saw them, were unchanged over hundreds of years, and live strictly by their traditions - unlike any other tribes left in Kenya.
Dust, cramped huts, dirty water, lions in the night, walking miles and miles for anything, herding cattle and goats all day, burning goat feces for mosquito protection, eating nothing other than blood mixed with goat's milk, moving everything and rebuilding our huts regularly, trying to exist in a seven year drought - Jackie and I agreed that in our best days of our lives, we wouldn't last a week.
~~ ~ ~ ~ ~ ~ ~ ~ ~ ~ ~ ~ ~ ~ ~ ~ ~ ~ ~ ~ ~ ~ ~ ~ ~ ~ ~ ~ ~ ~ ~ ~ ~ ~ ~ ~ ~
Our next safari into the Samburu Game Reserve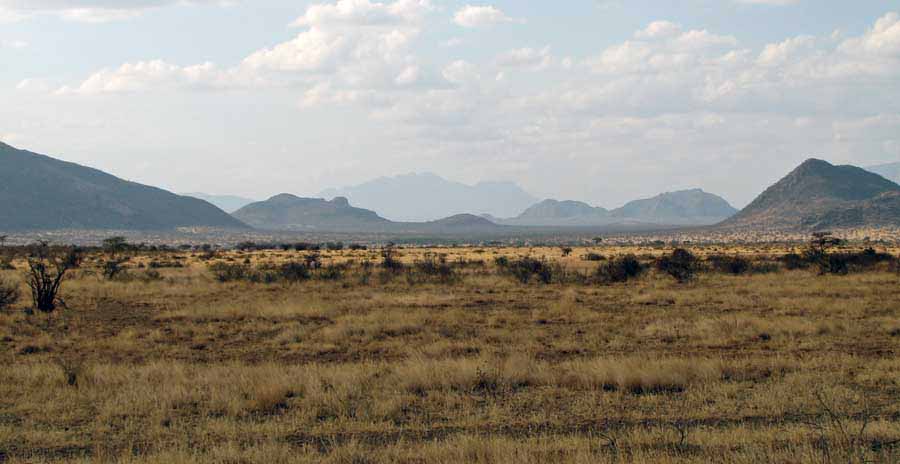 What a stunning background !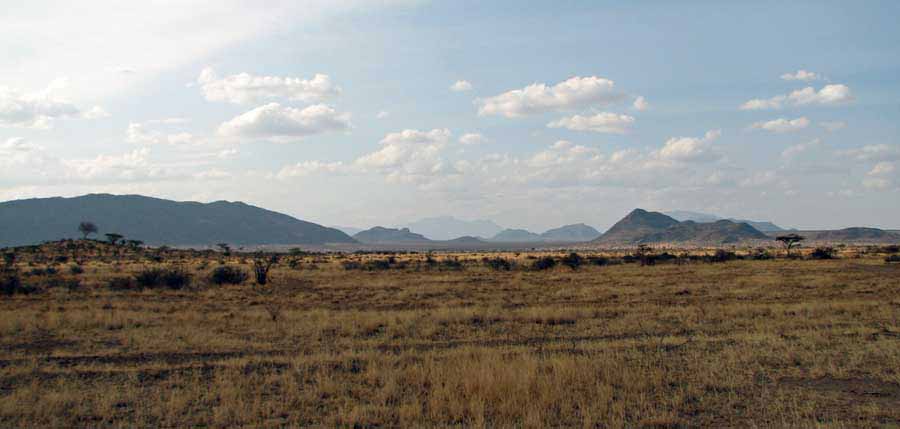 Some more reticulated giraffes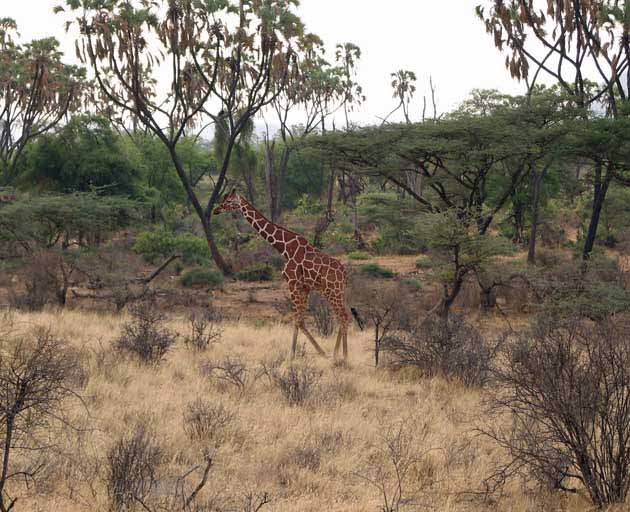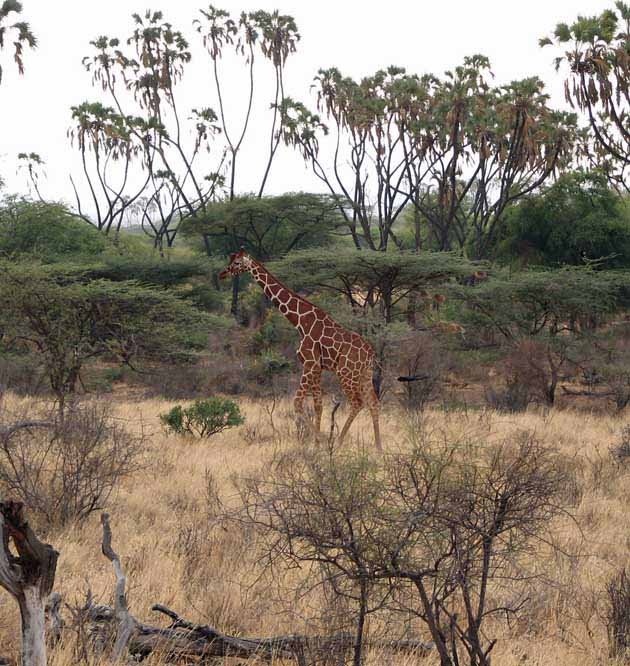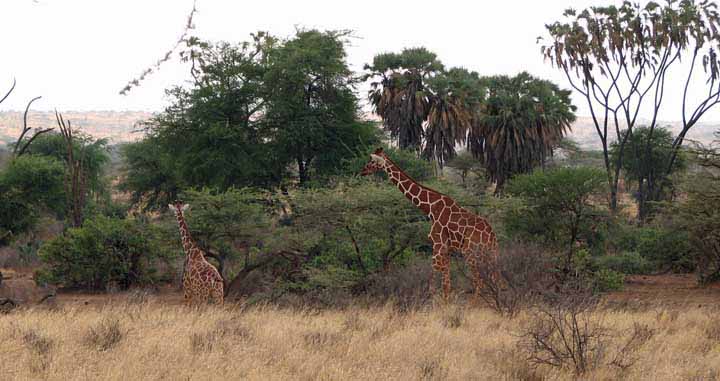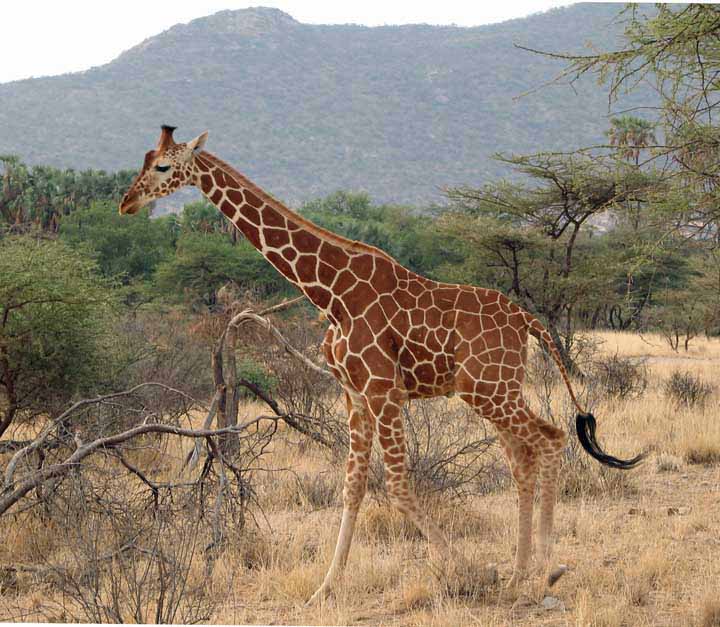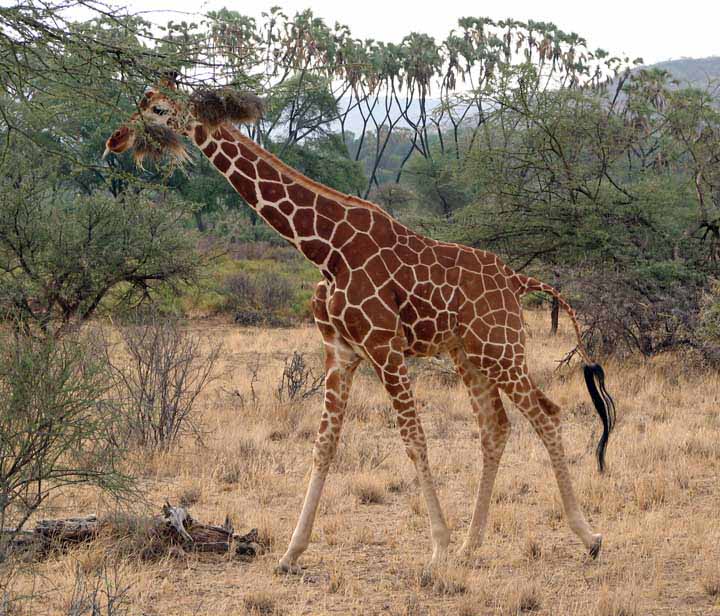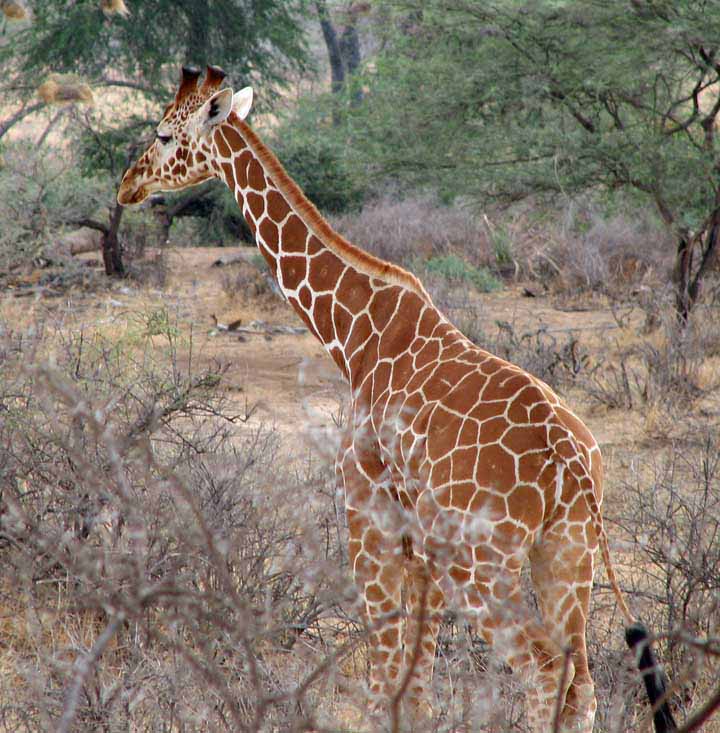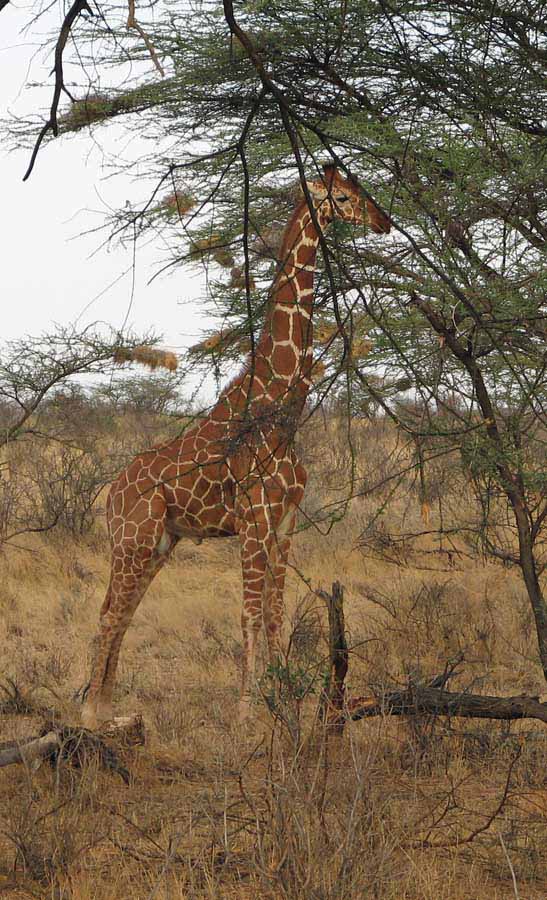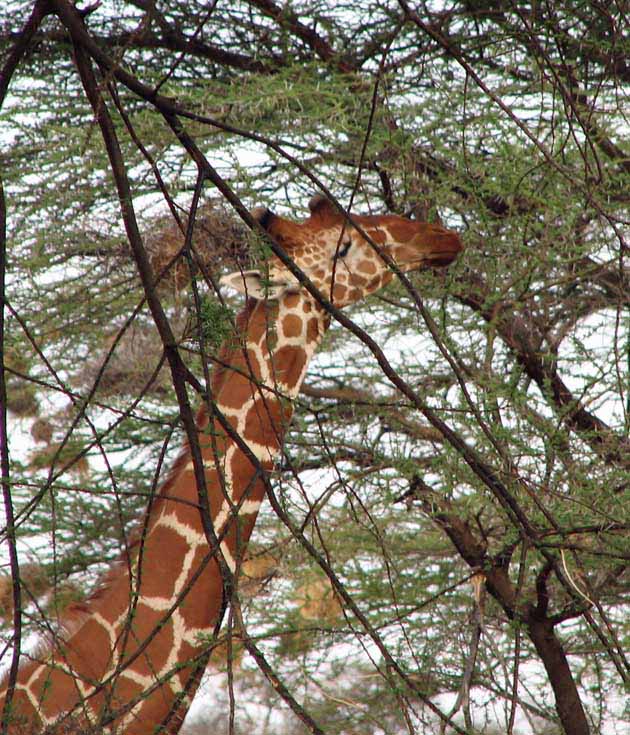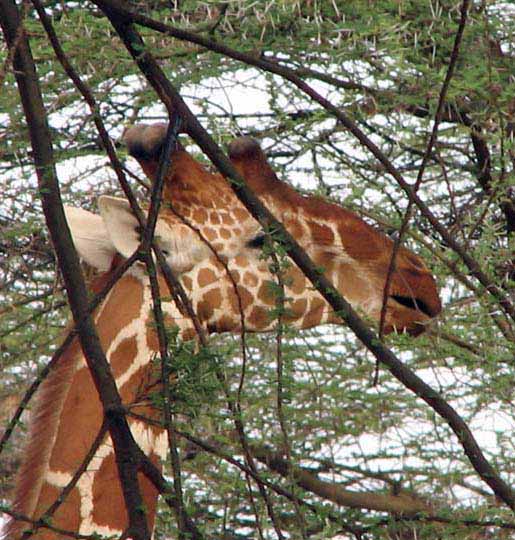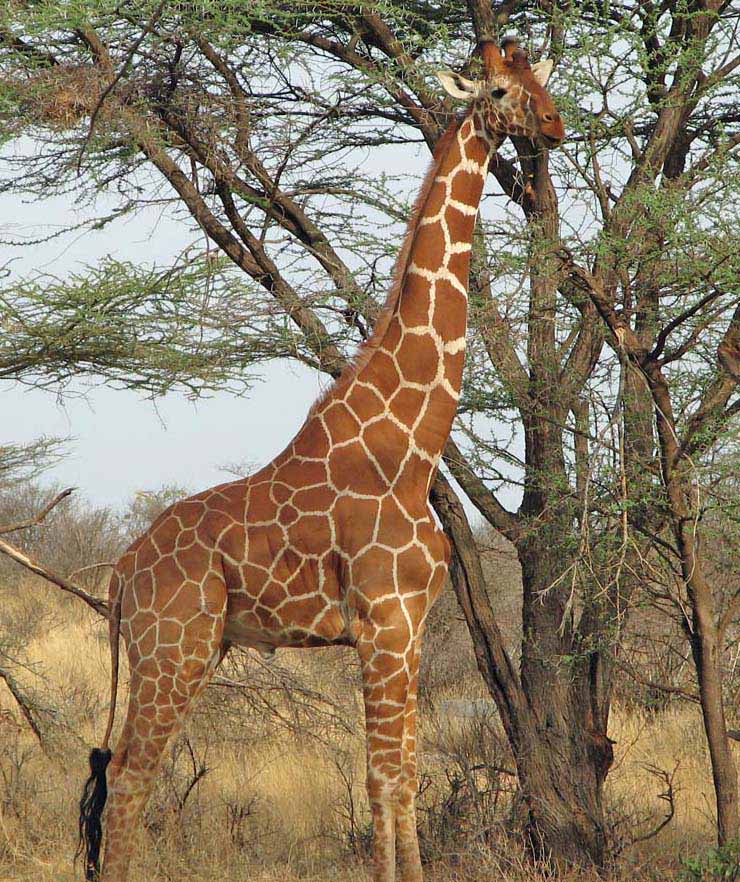 And a few monkeys thrown in for diversity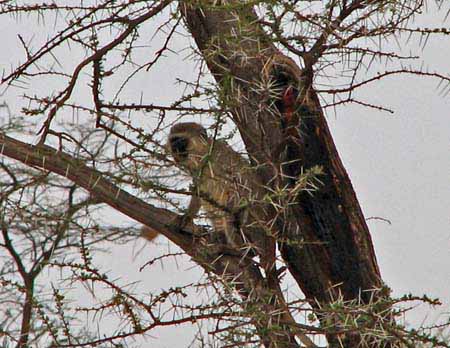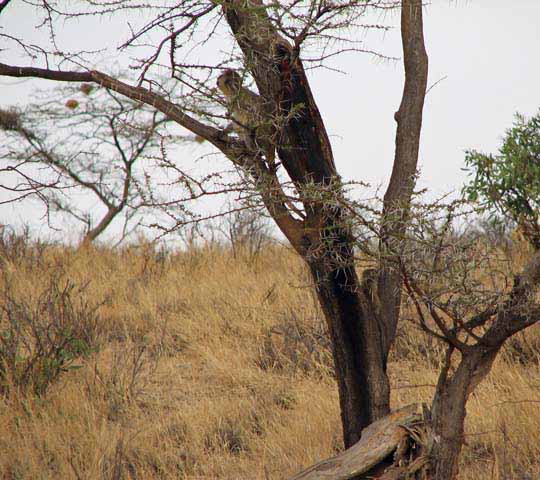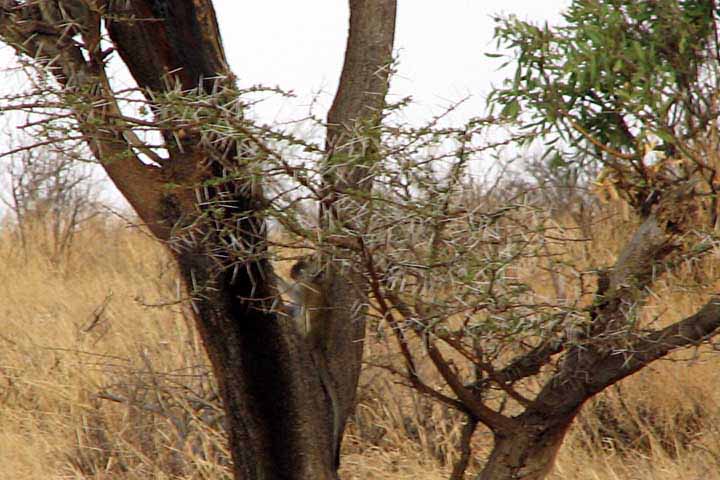 ~~ ~ ~ ~ ~ ~ ~ ~ ~ ~ ~ ~ ~ ~ ~ ~ ~ ~ ~ ~ ~ ~ ~ ~ ~ ~ ~ ~ ~ ~ ~ ~ ~ ~ ~ ~ ~
NOW THIS NEXT PART IS A BIT GRUESOME - MAYBE YOUR KIDS SHOULD SKIP THIS SECTION
A mother cheetah has just his moment brought back a fresh kill for her cub. Hodge tells us that she sits and watches at this point to see if the youngster has learned how to open up the kill.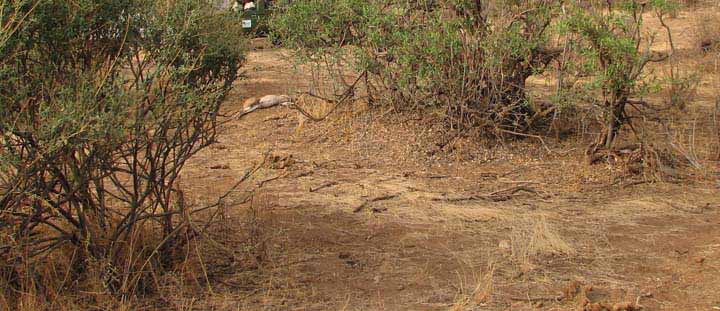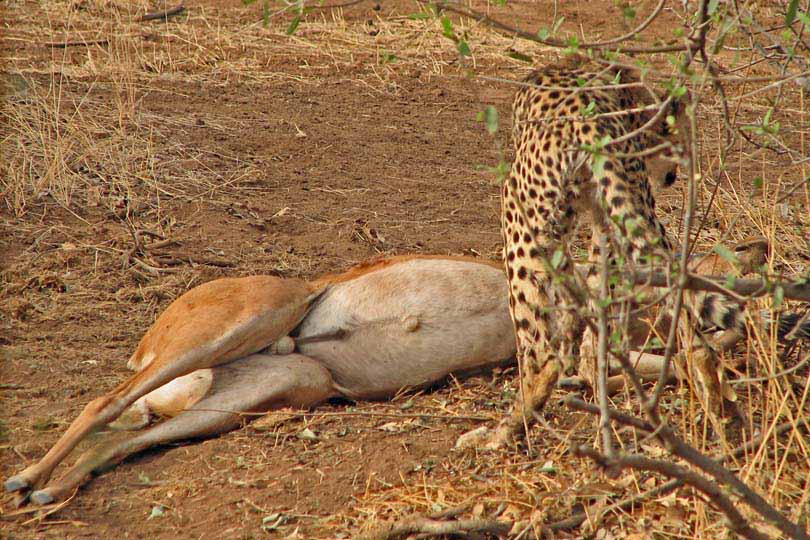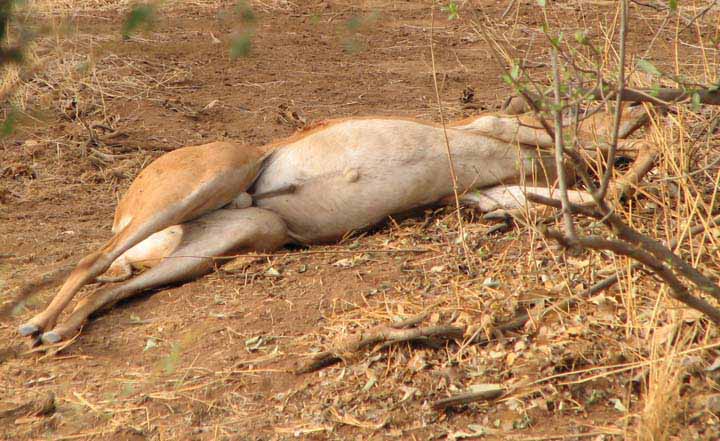 The cub approaches the kill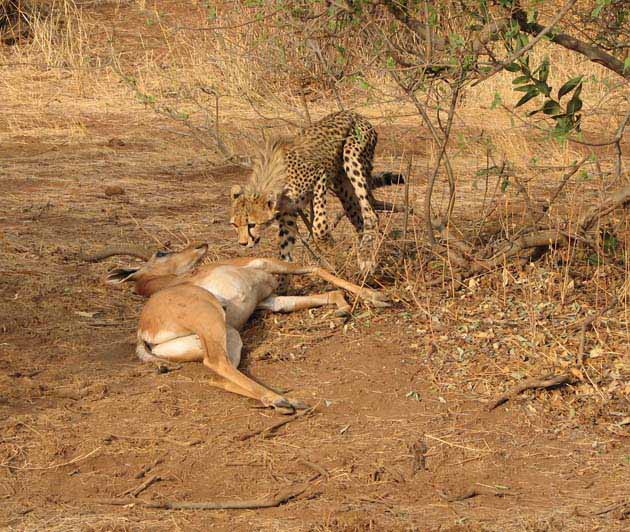 The next pictures really don't require descriptors.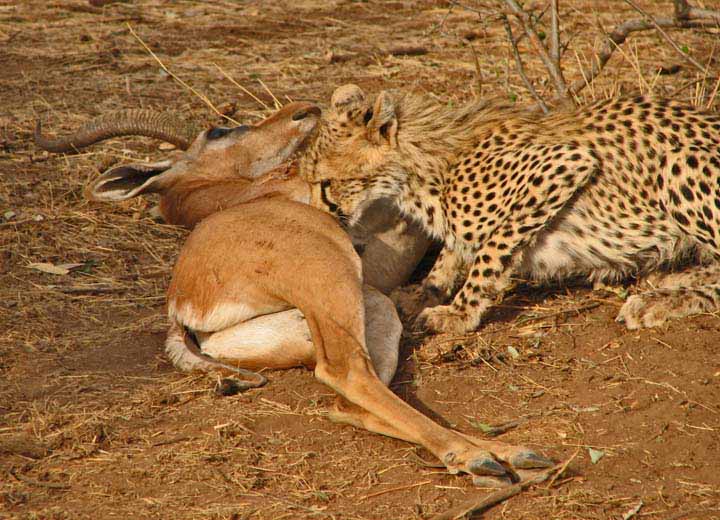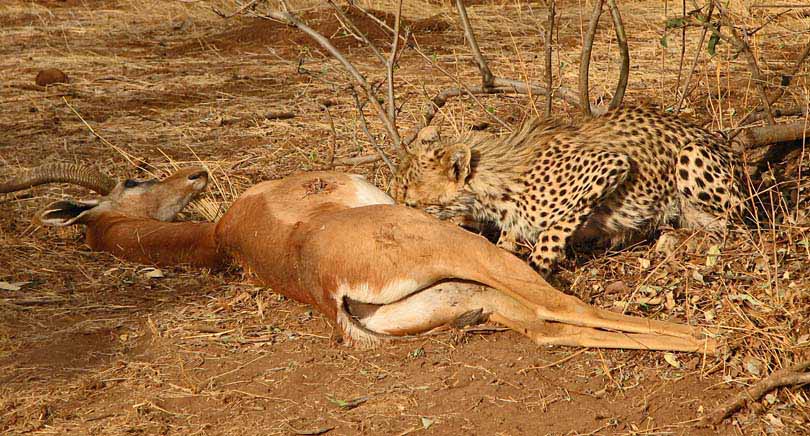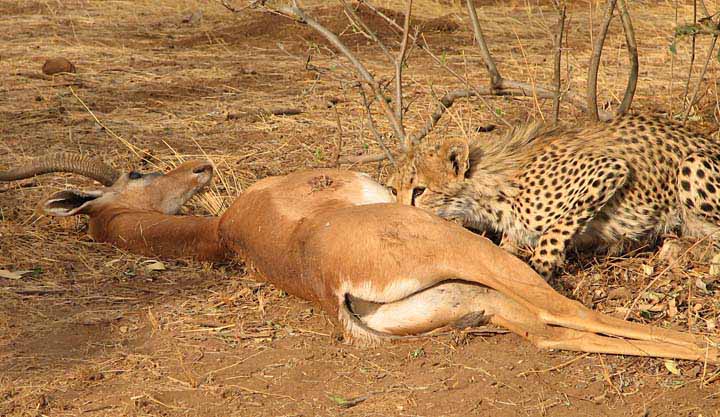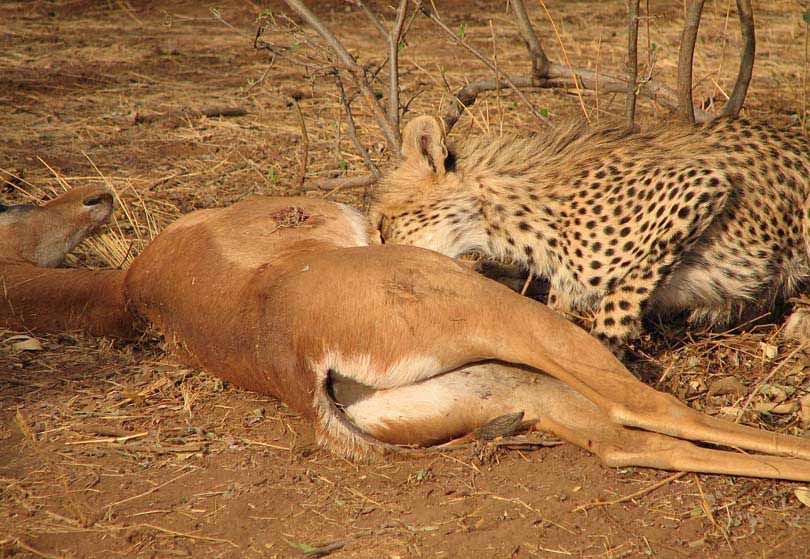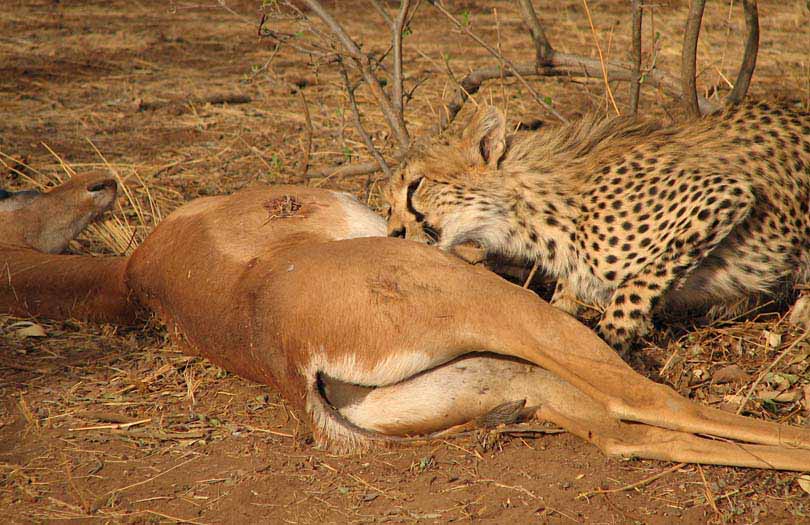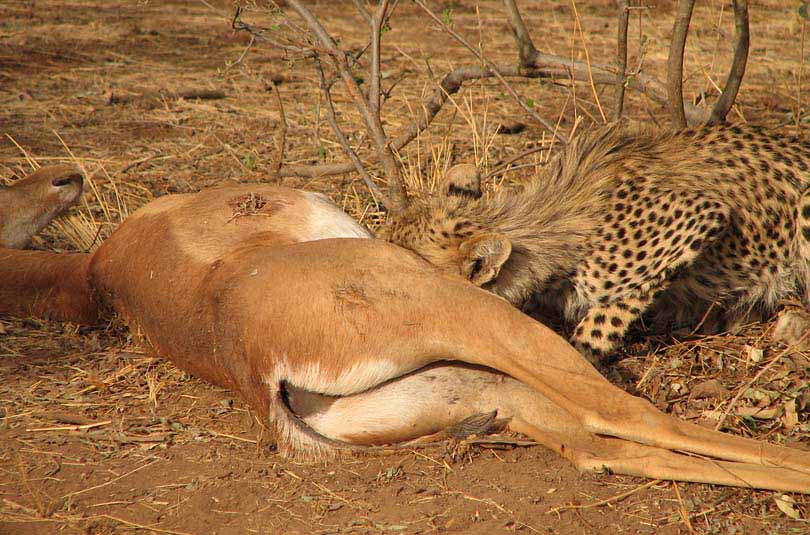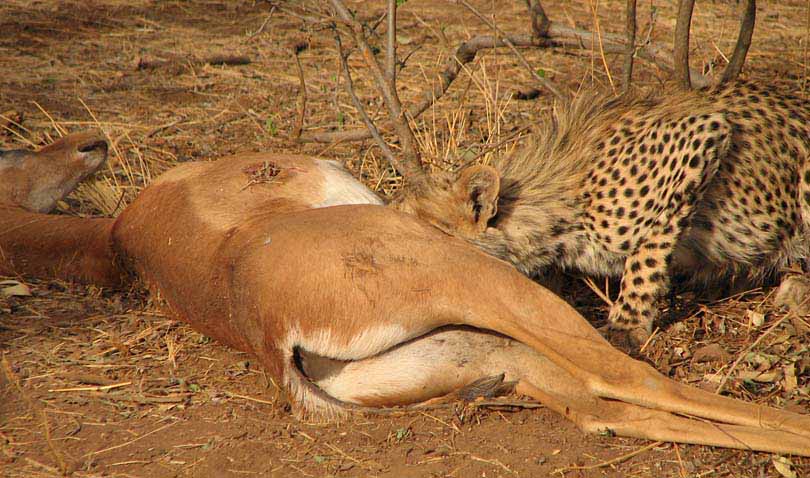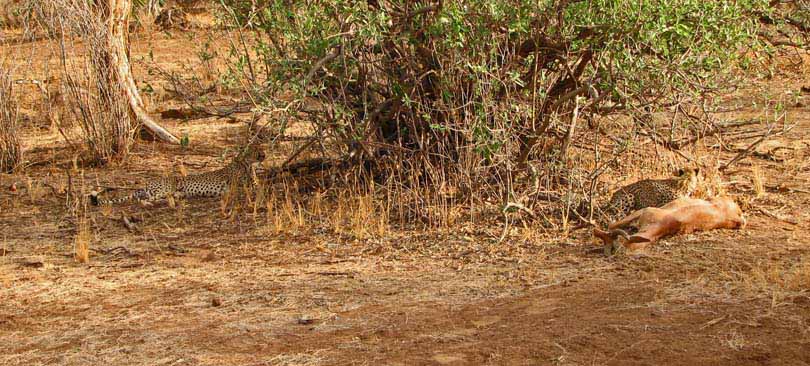 The mother cheetah has lain, panting this entire time. She must have been exhausted in this heat, having made the kill and dragging it back to the youngster.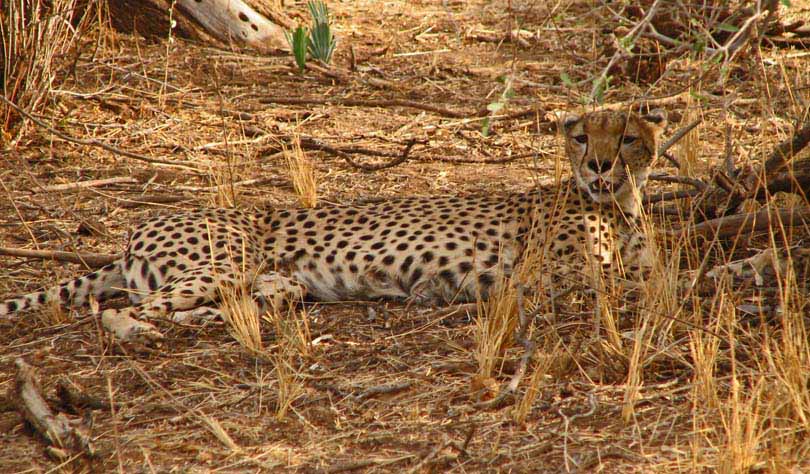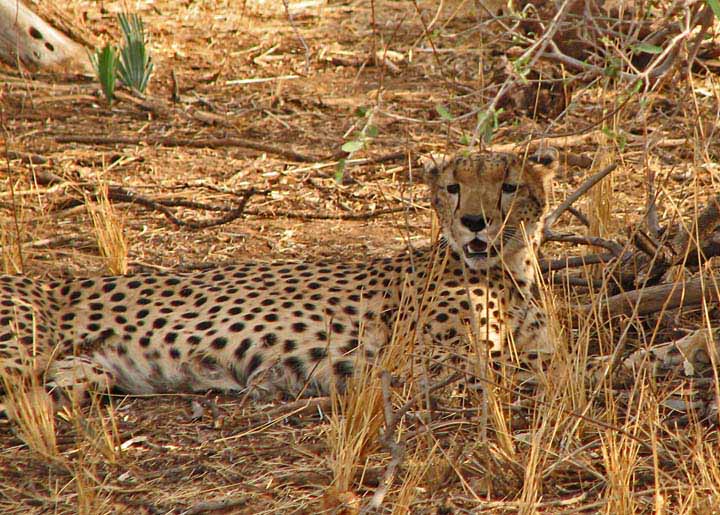 Isn't she stunning?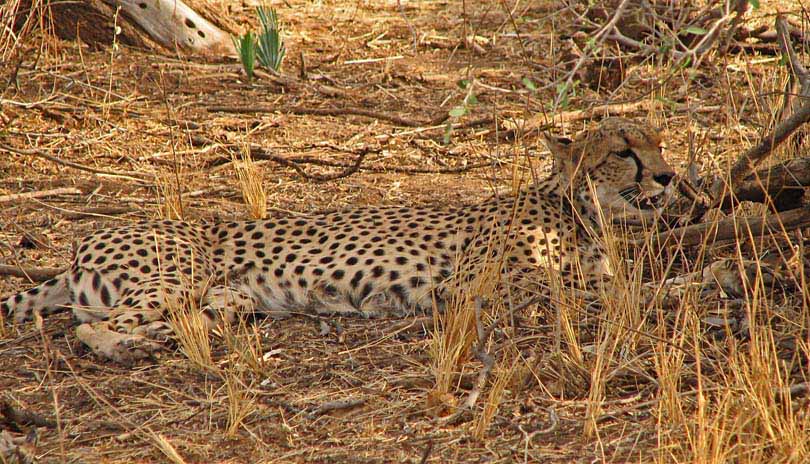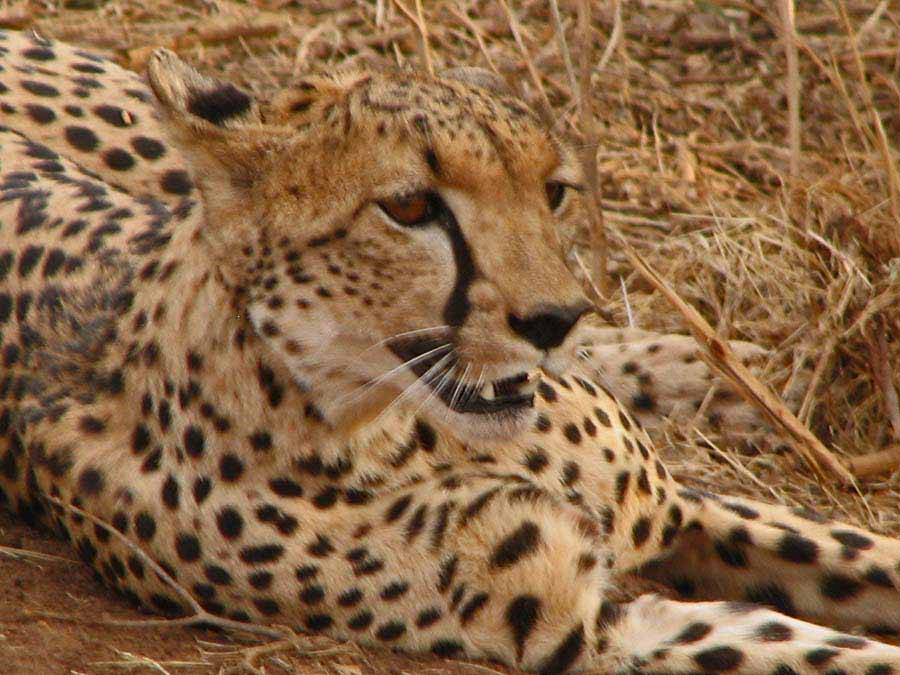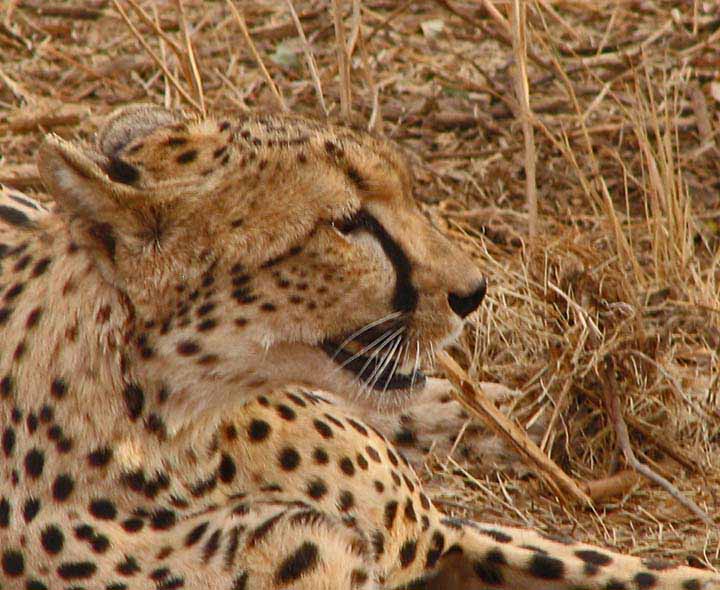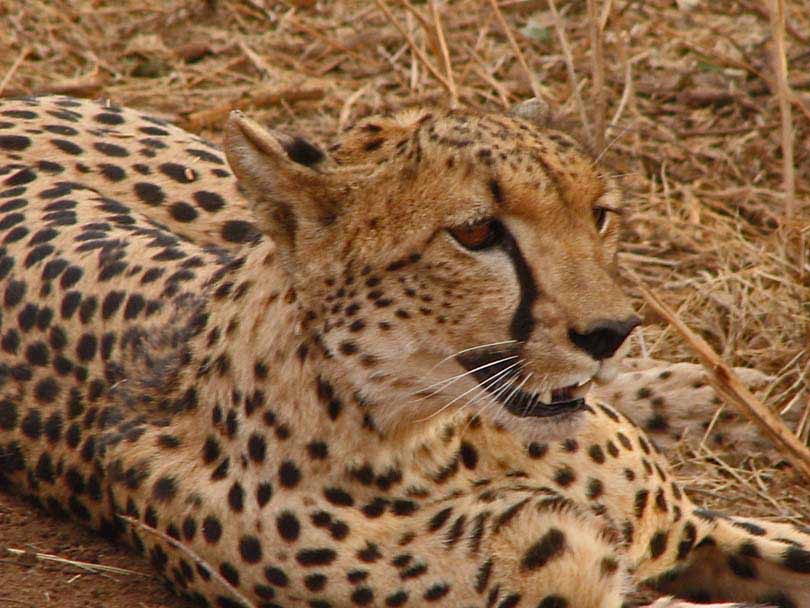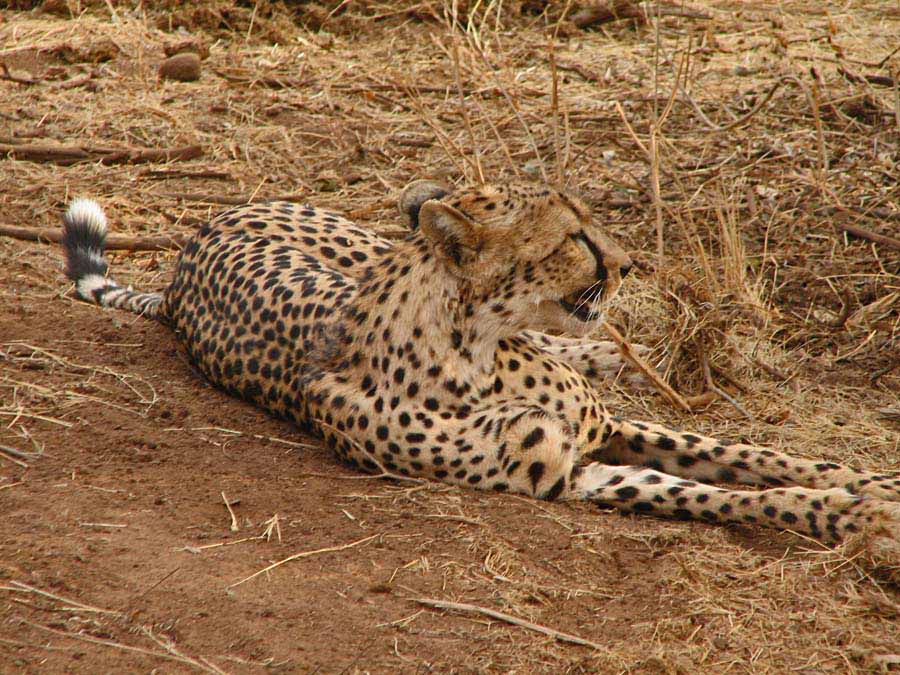 Meanwhile the young cheetah is still trying his best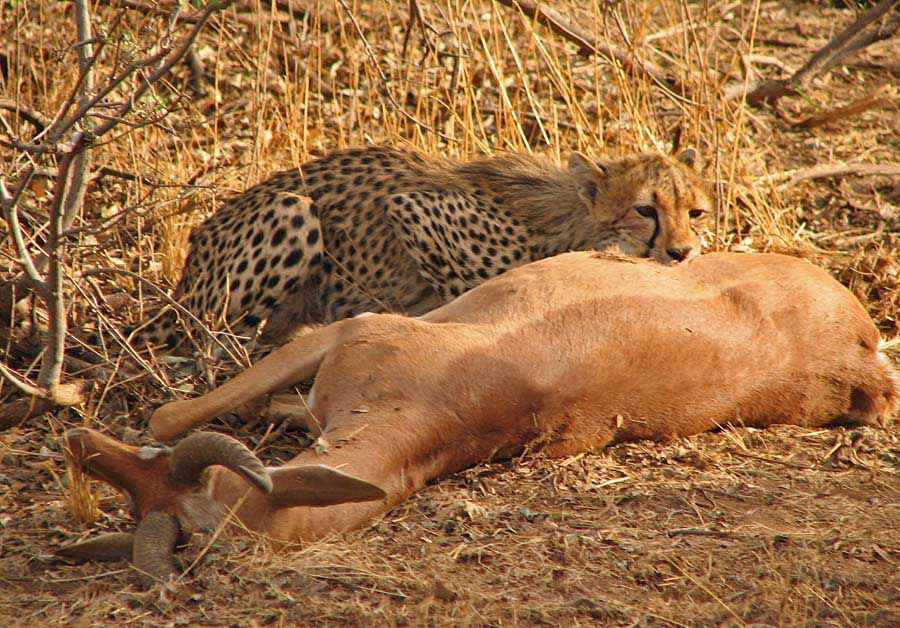 Did he open the reedbuck up?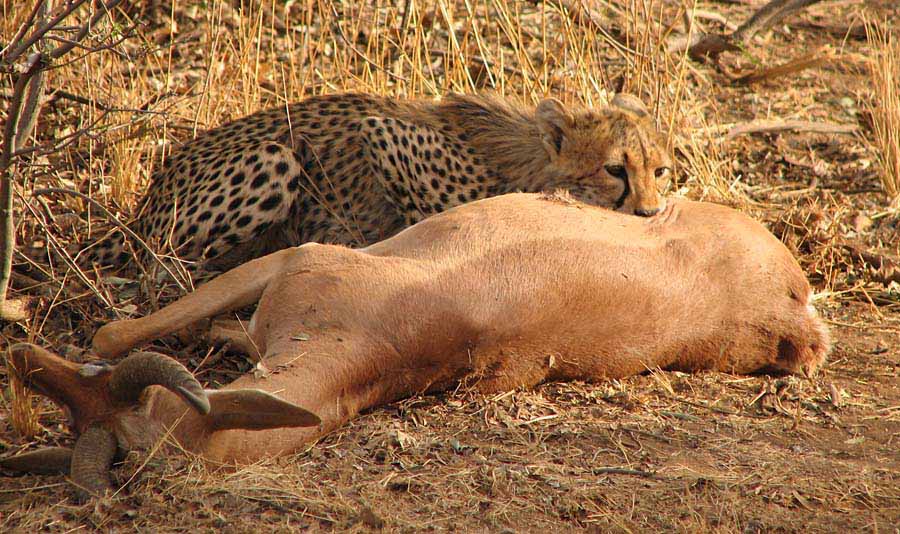 Success!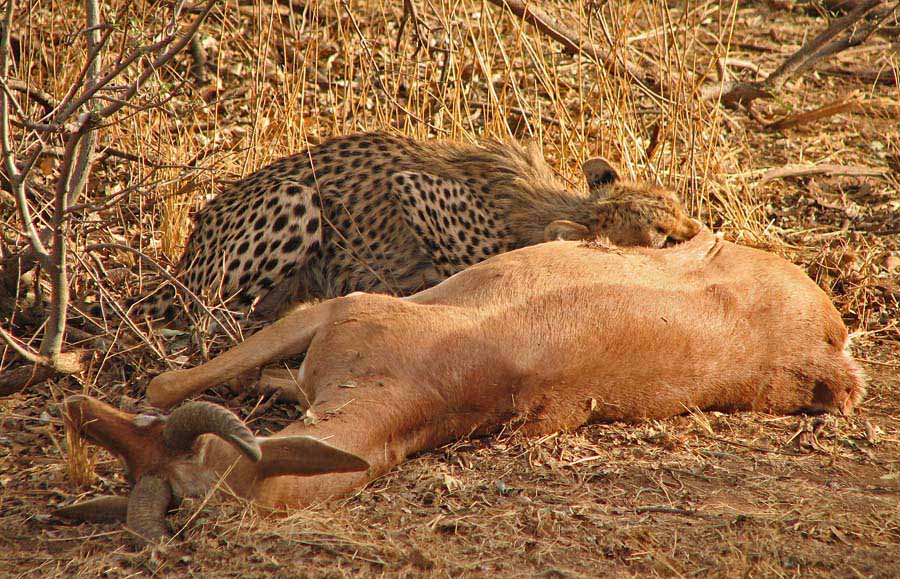 Mom watches and comes over for a look.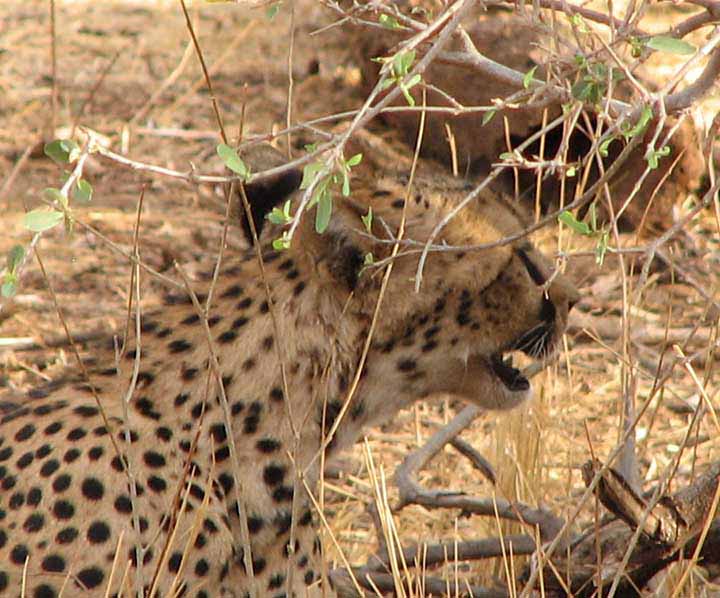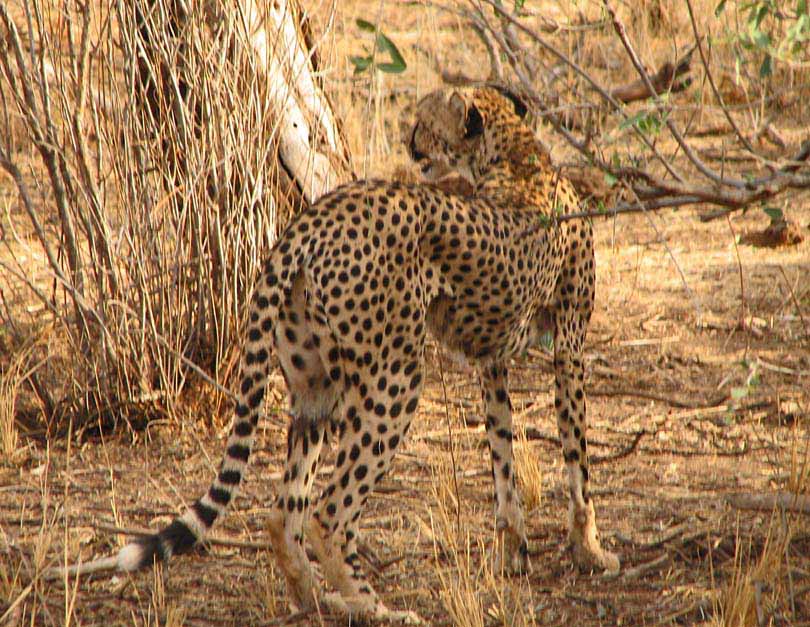 The youngster is settling in for a meal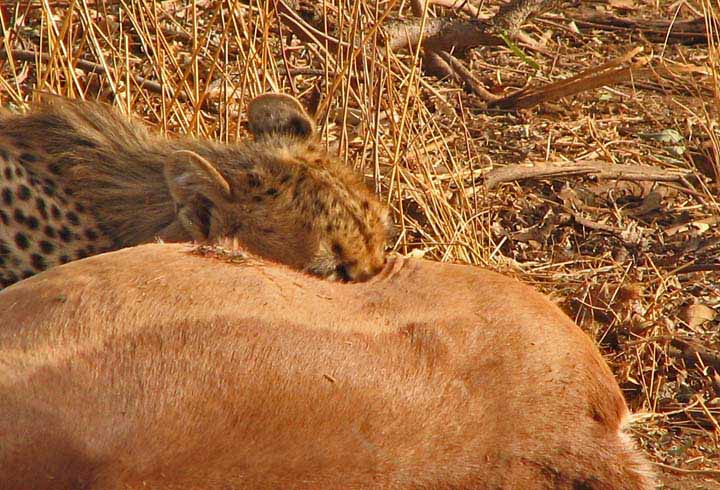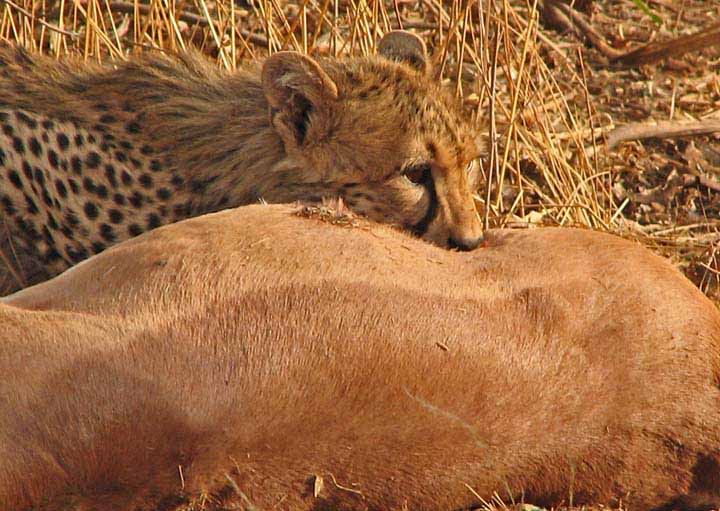 Mom's on her way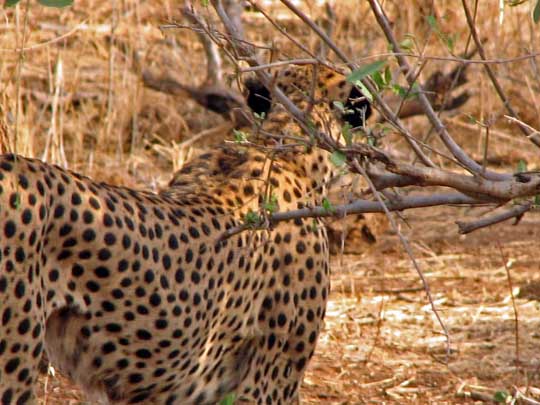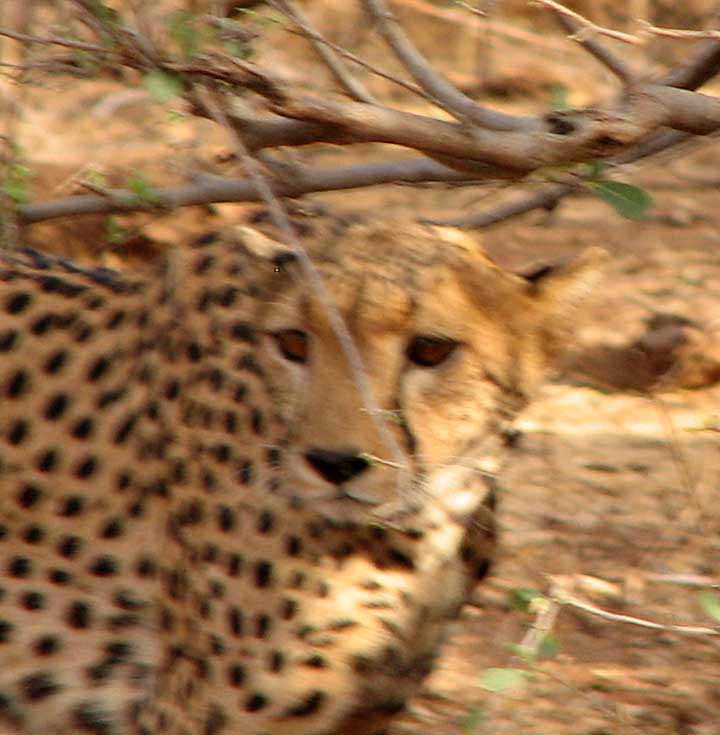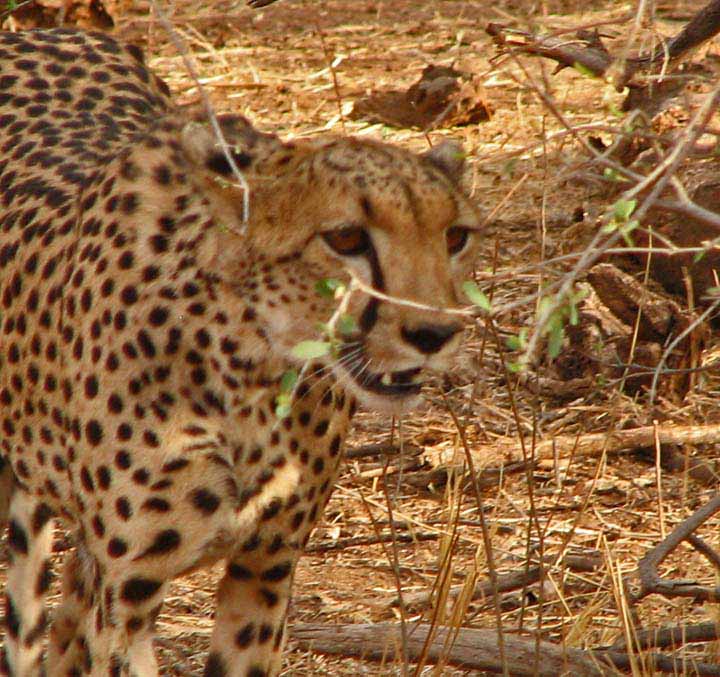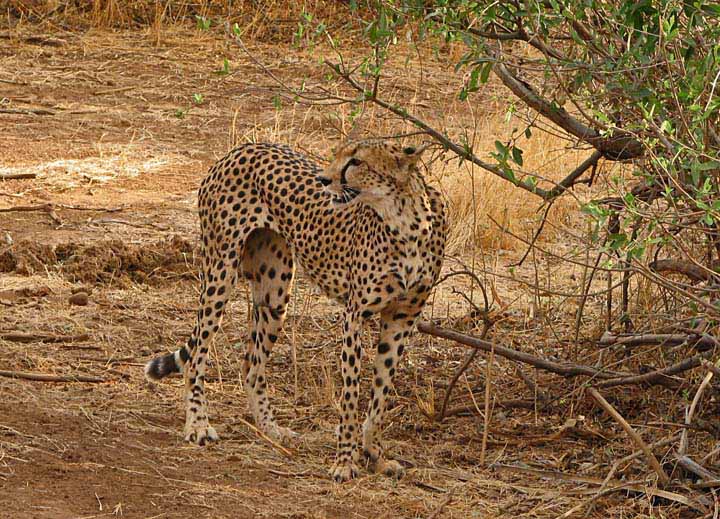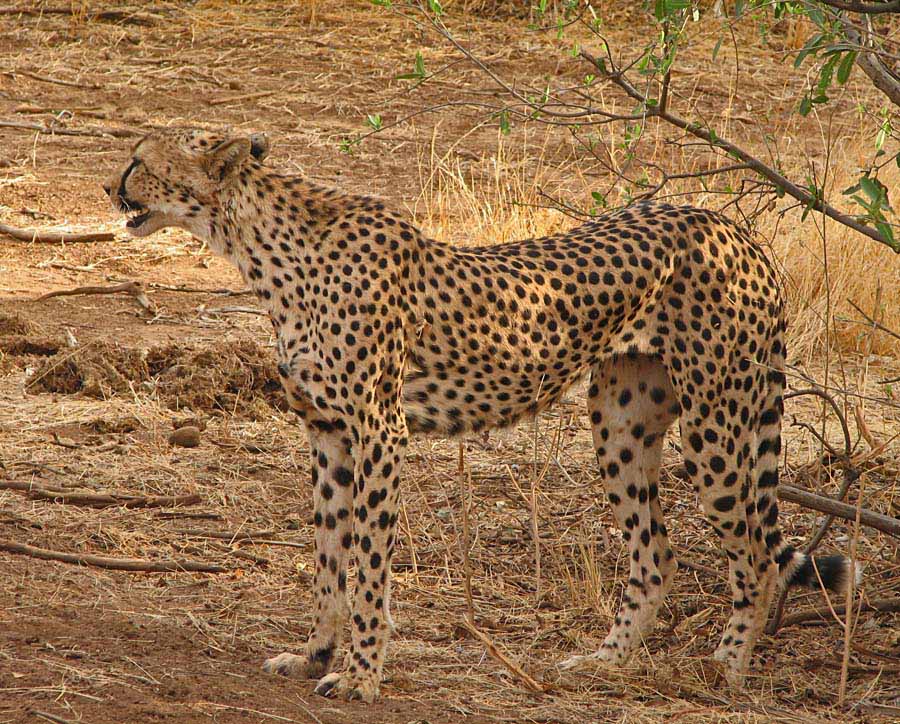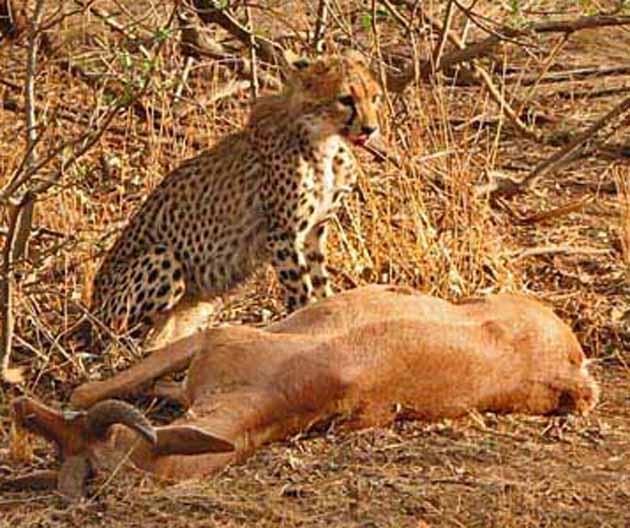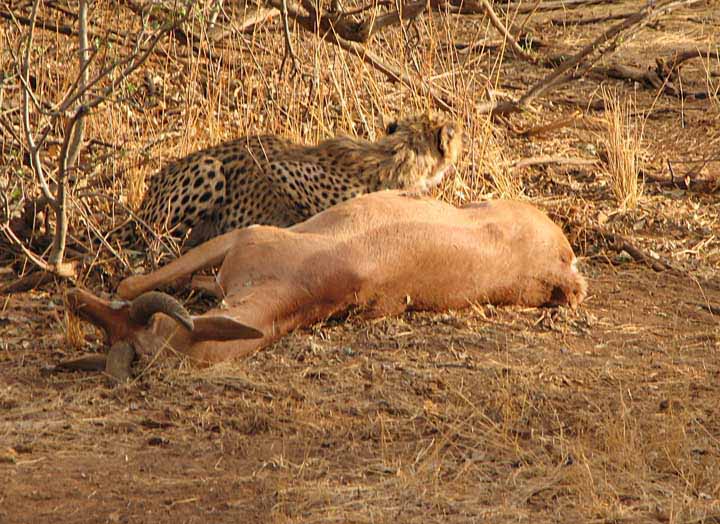 Then she decides to rearrange the dinner table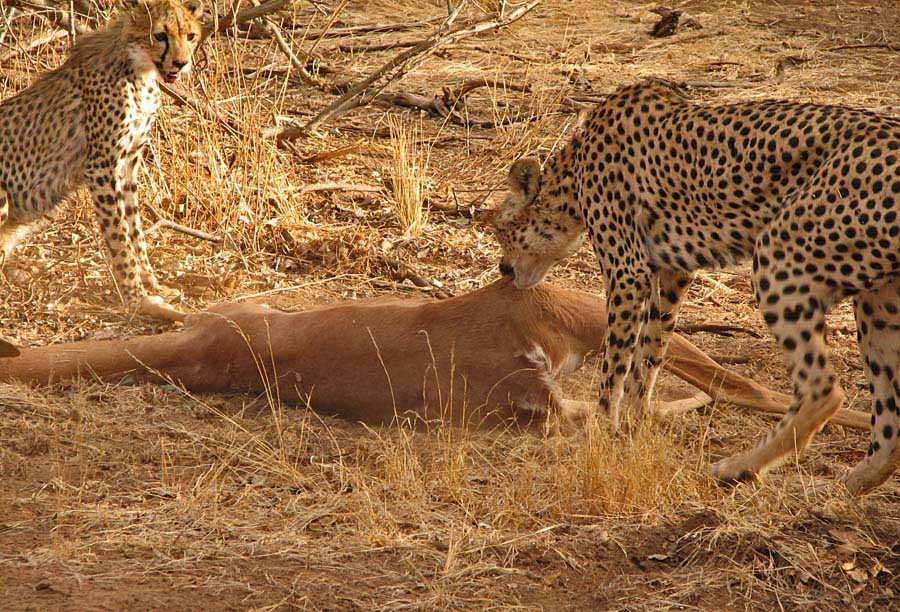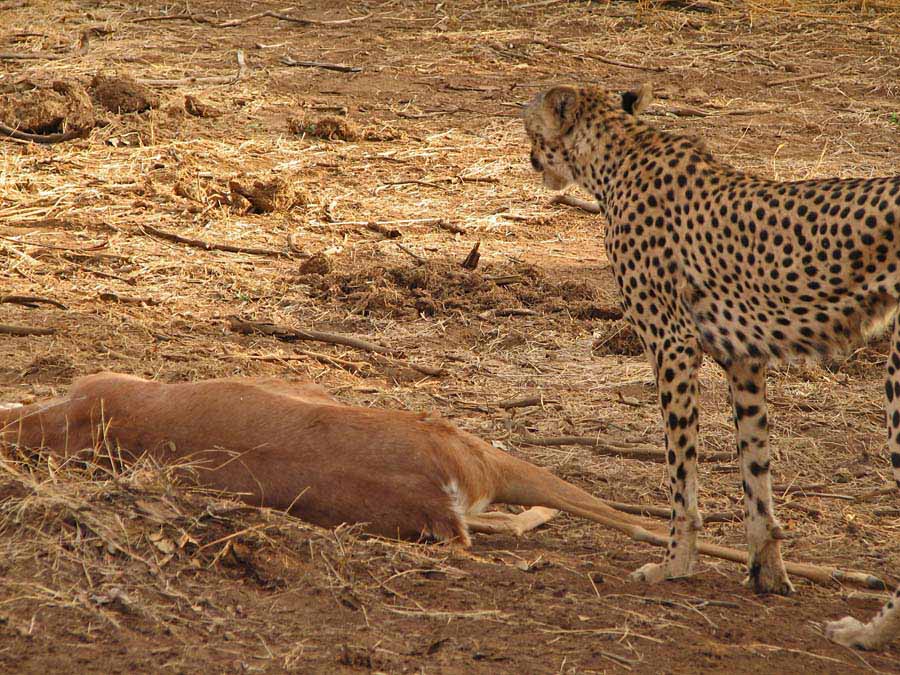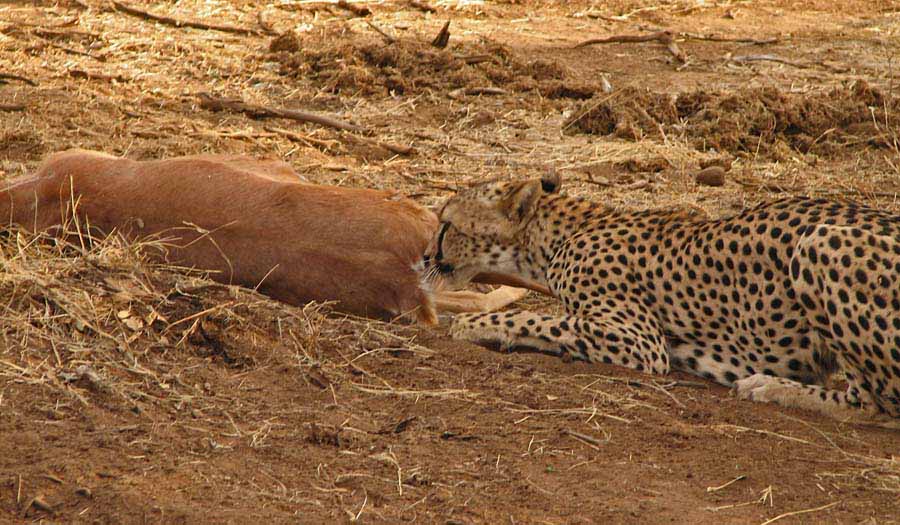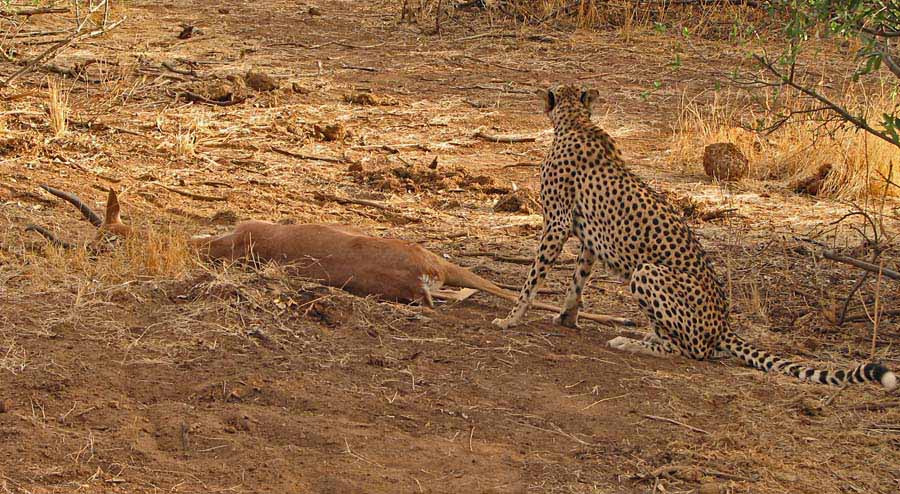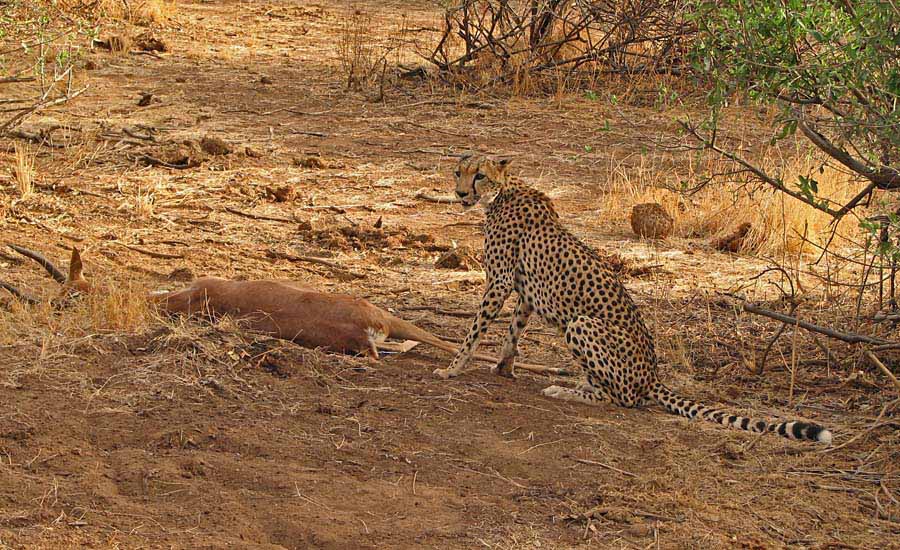 Yes, there are a number of folks watching - doesn't seem to bother mother and cub at all. BUT, I wouldn't want to see what would happen if someone got out of a van!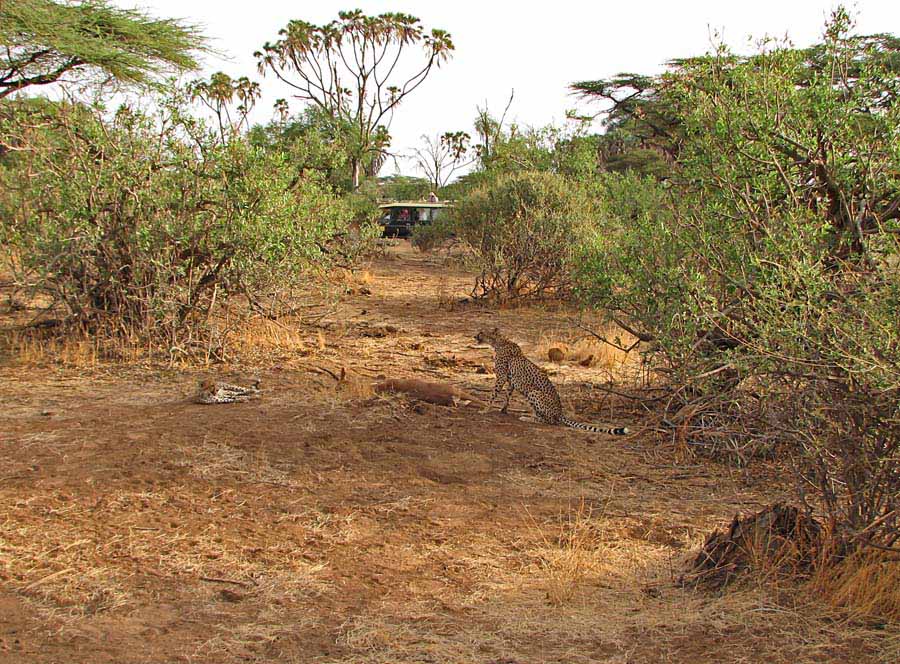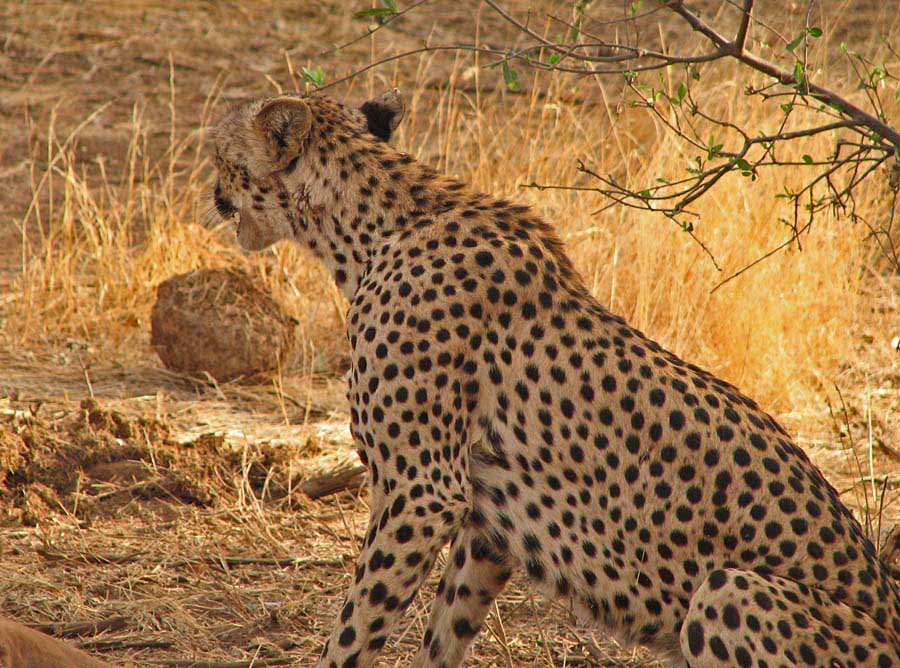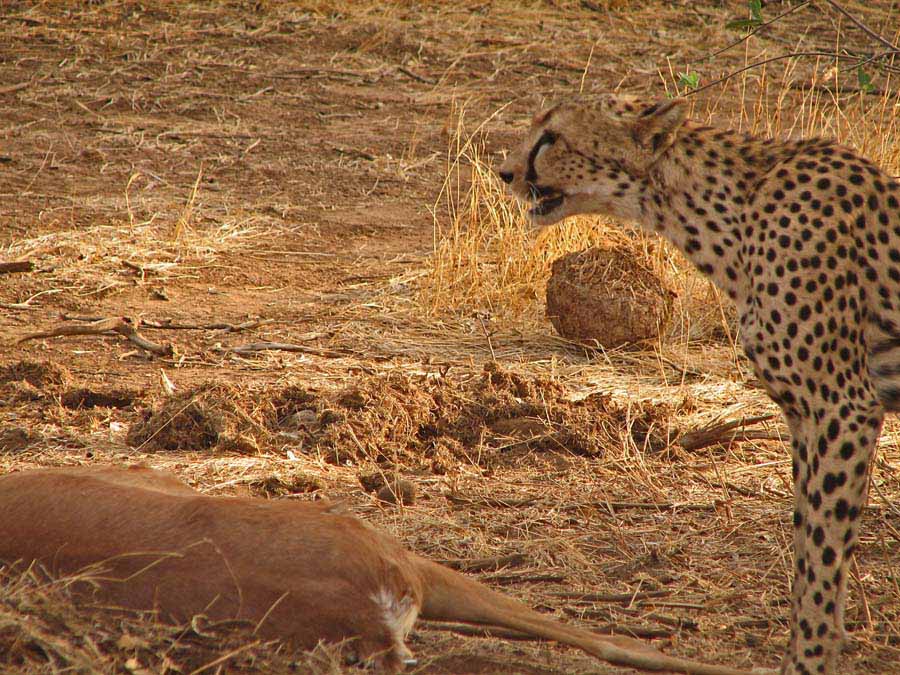 Do we see a bit of pride of accomplishment in her eye?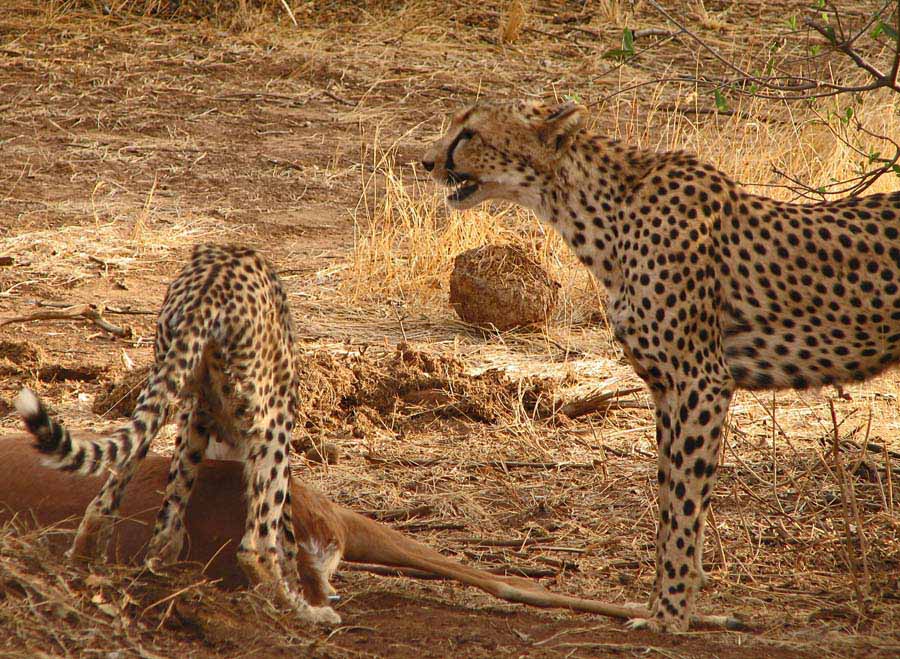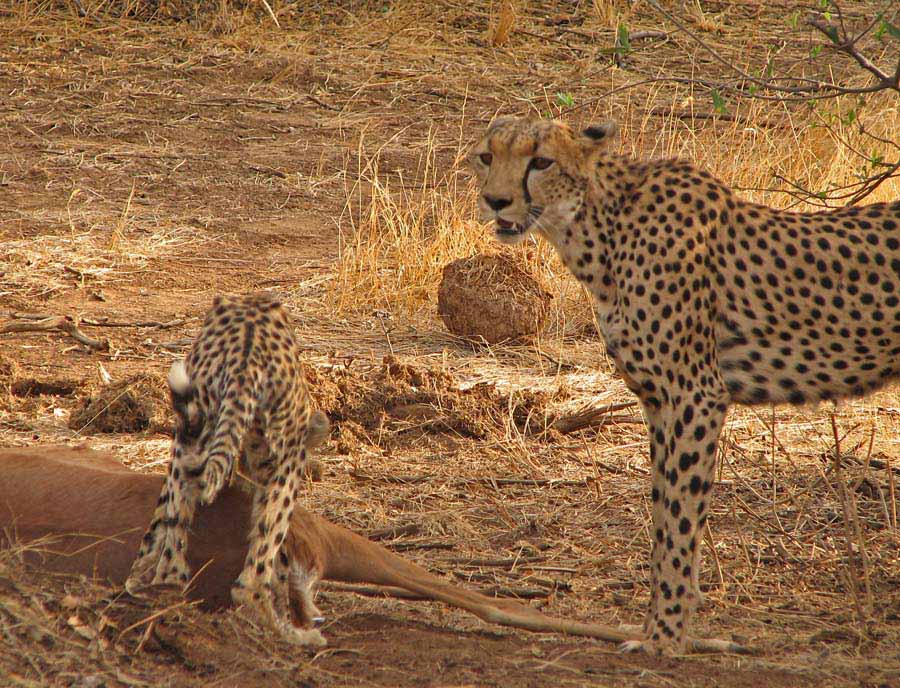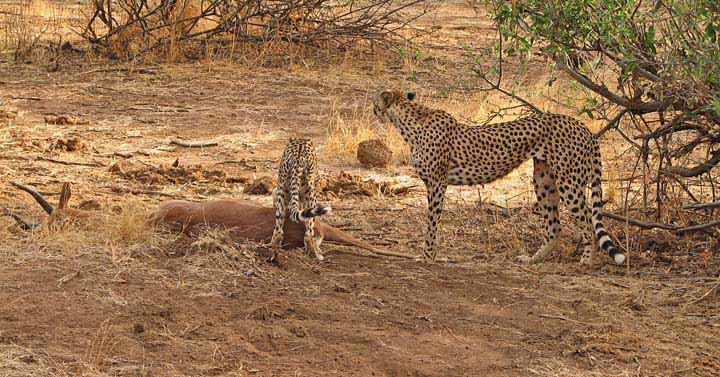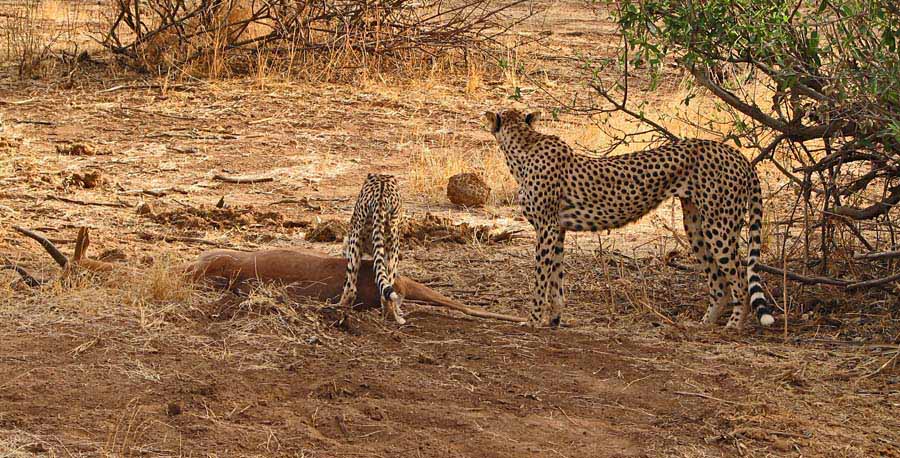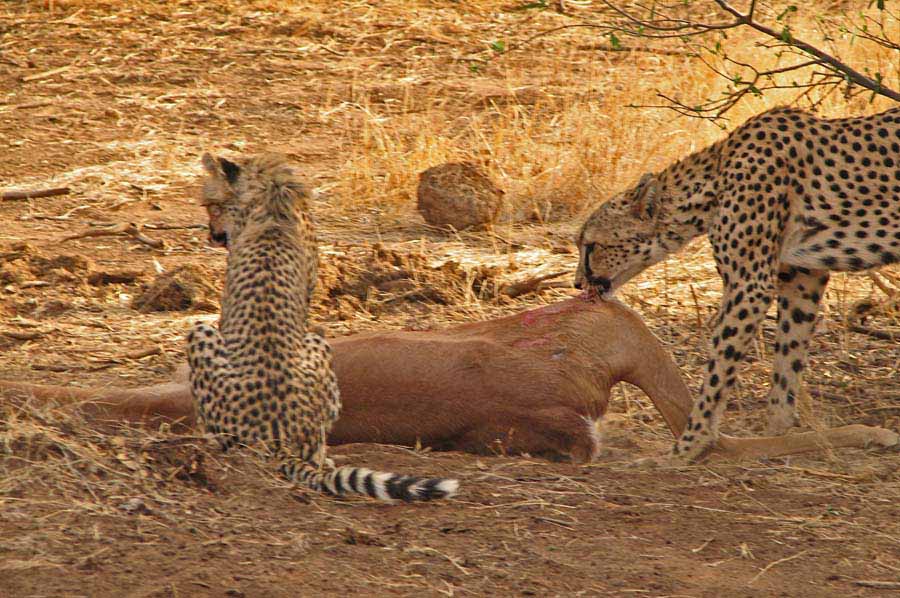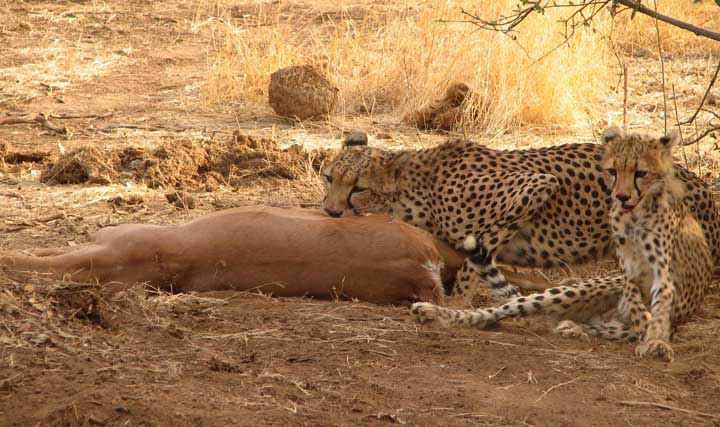 Mom gets a bite.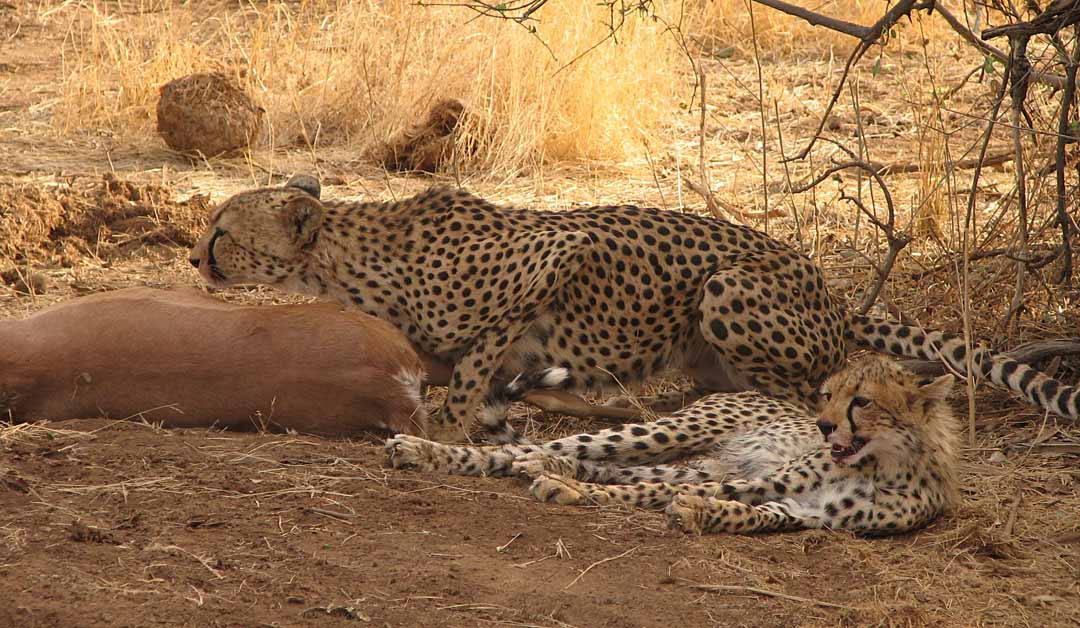 And they continue as we drive away.
Not a bit further down the trail, Charles says, "I swear I've seen ground hogs." We look over a a termite mount and see what he means:
Just what is this?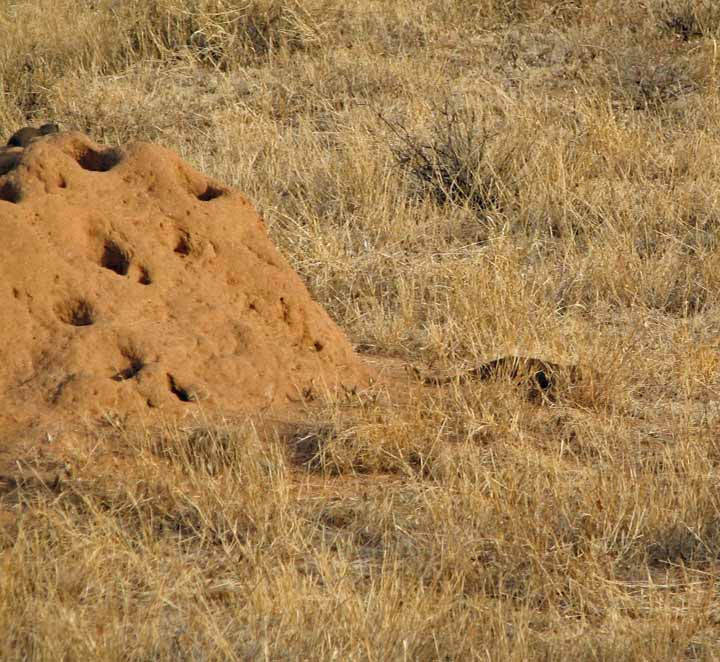 The termite mound is infested with a number of mongoose ( mongooses / mongeeses ? )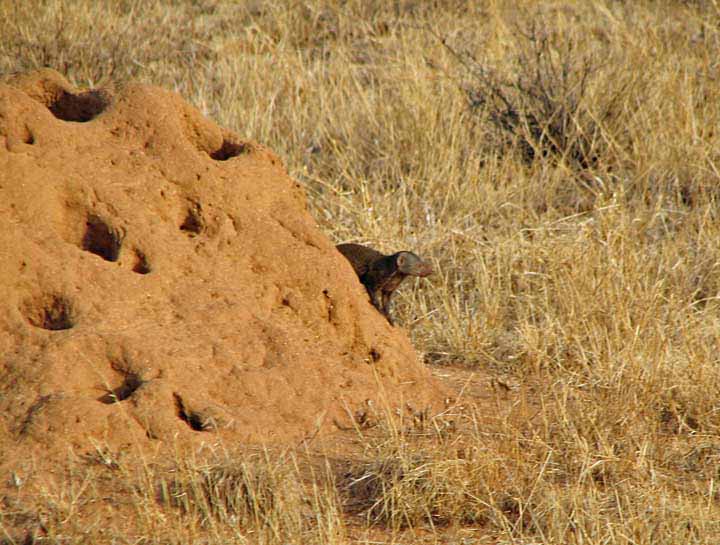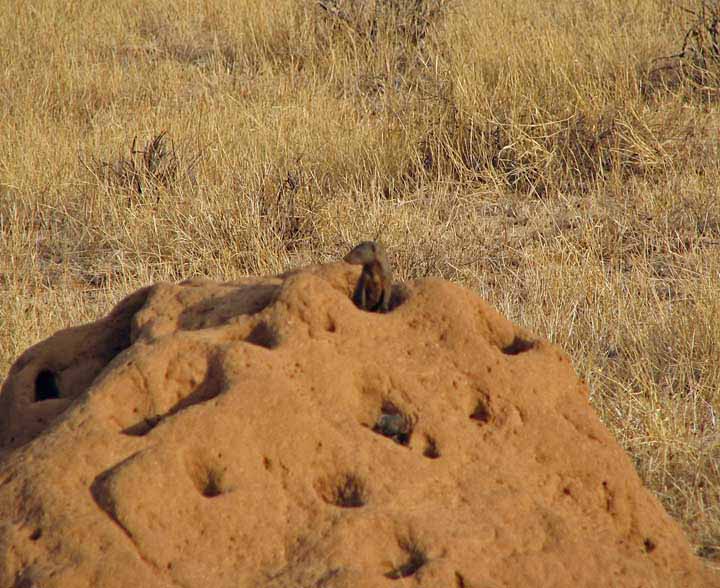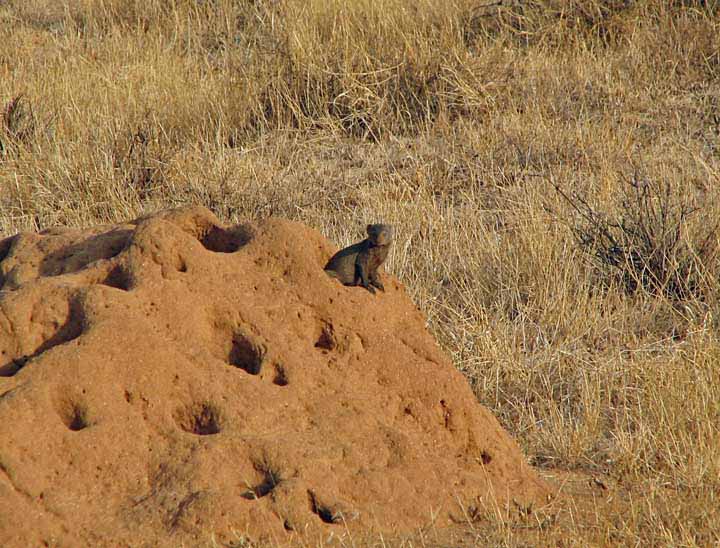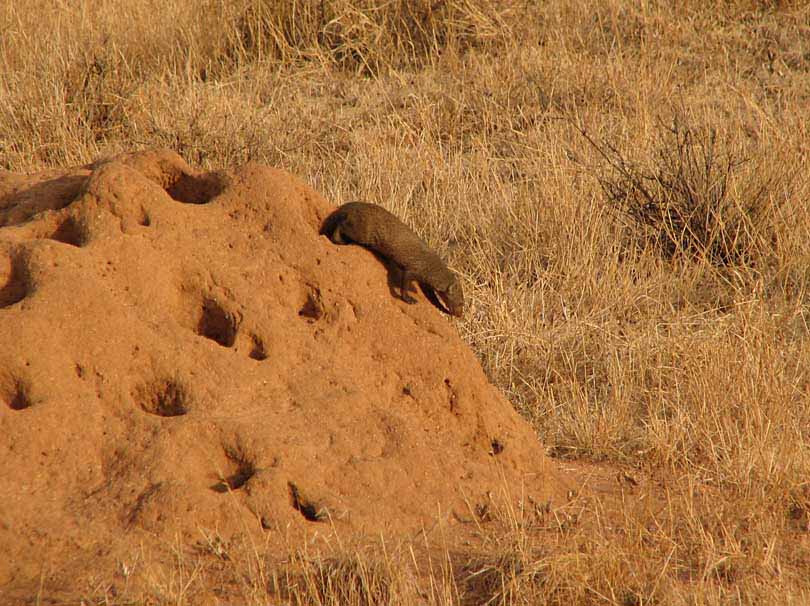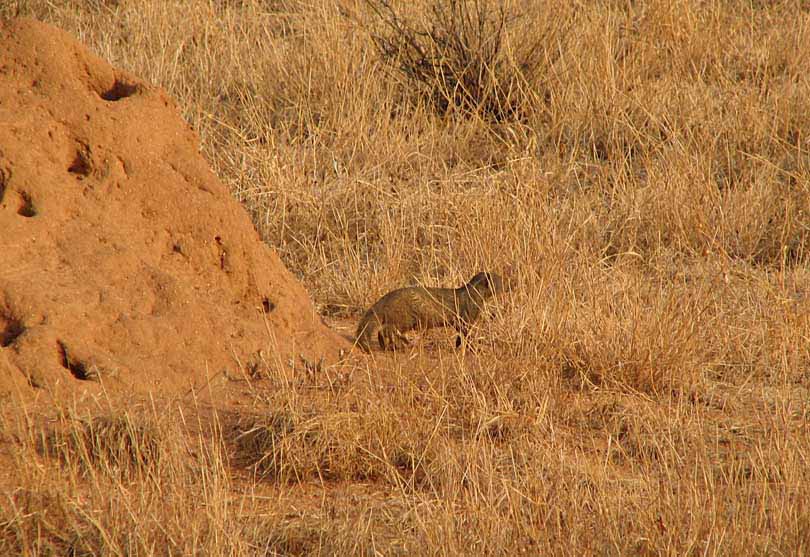 This may be what the cheetah's deer will look like in a day or two. Can't tell what this was.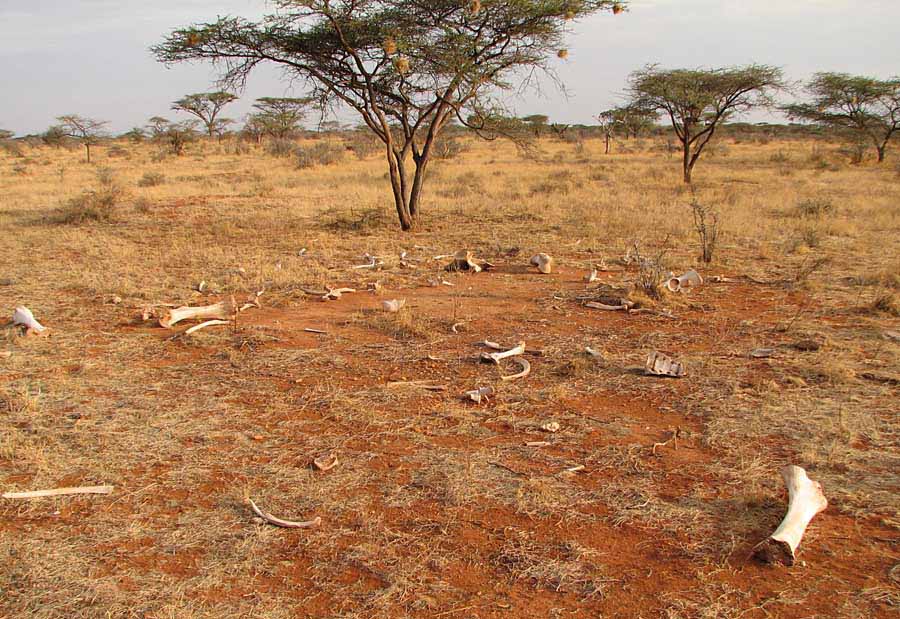 Look Out! Wart hogs on the way through!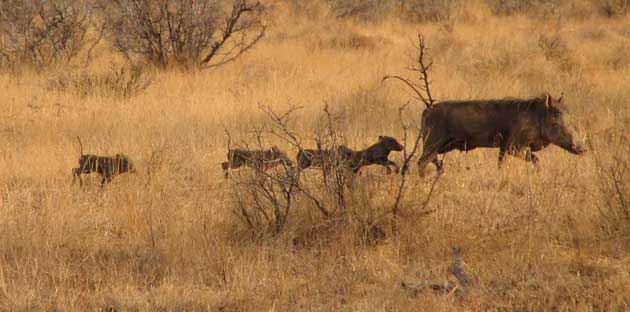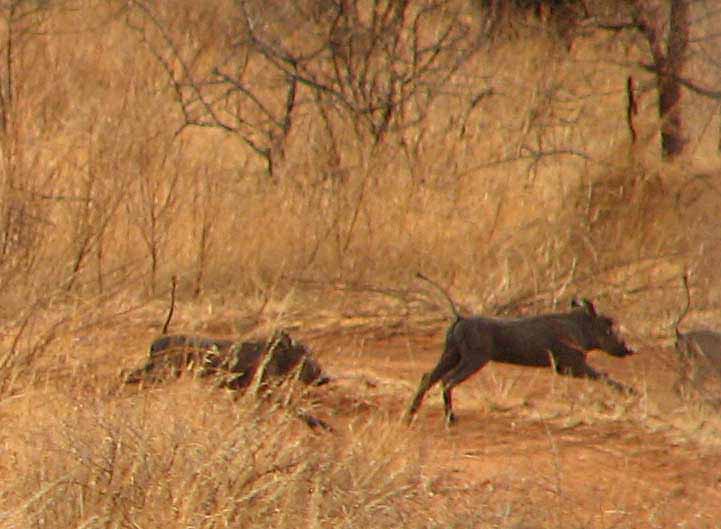 Let there be elephants!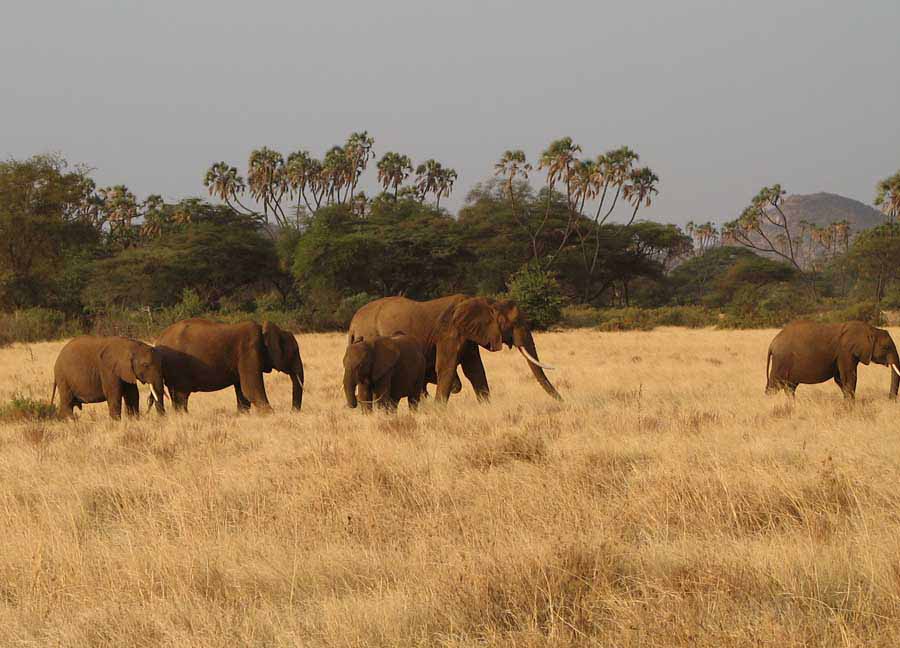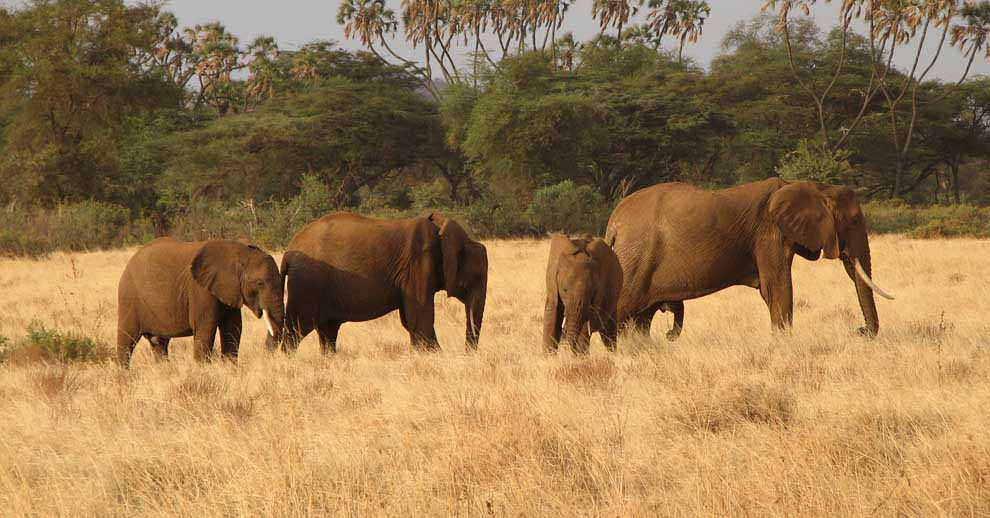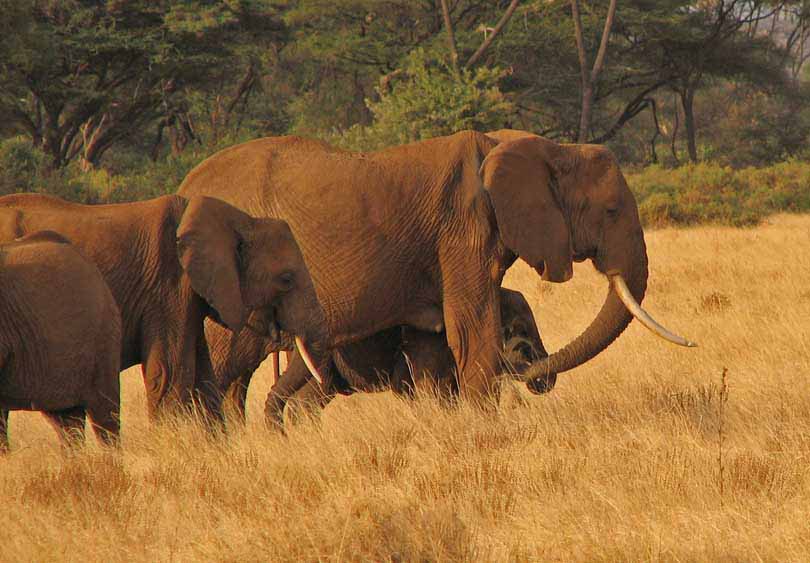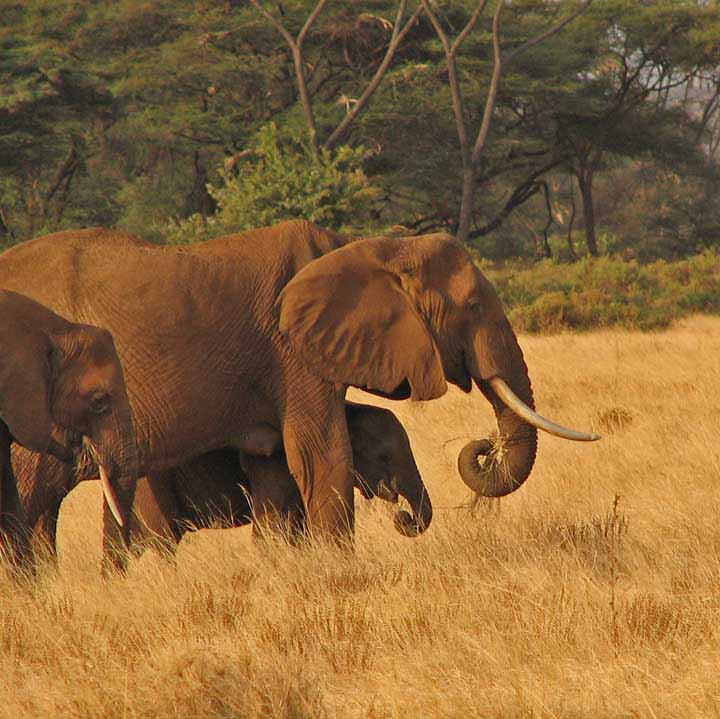 How about a ___________ or two?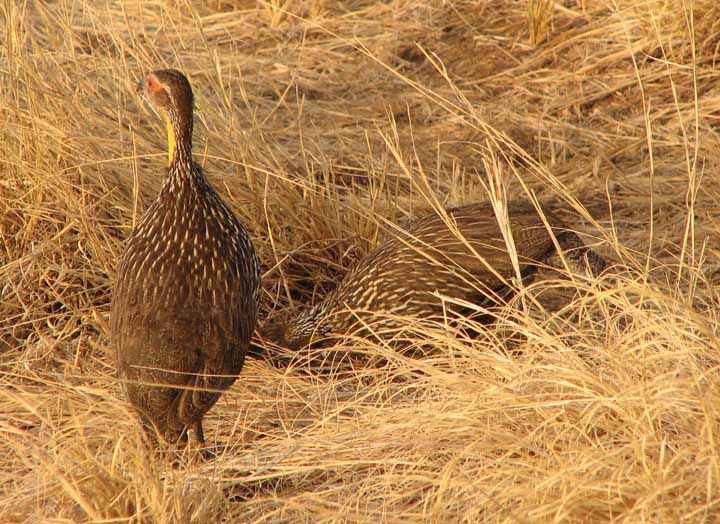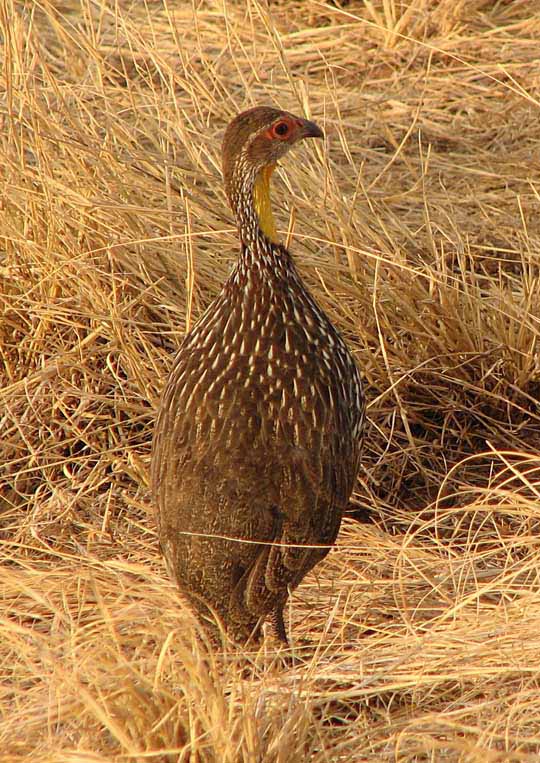 This __________ hawk would like to see these ____________.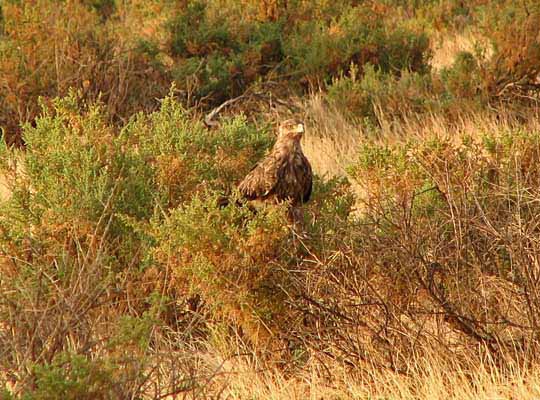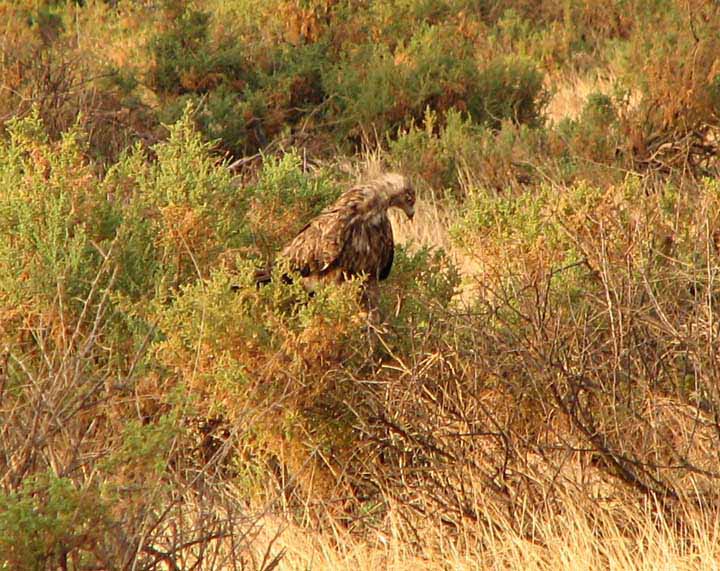 Or maybe this ________ hawk would like the pleasure.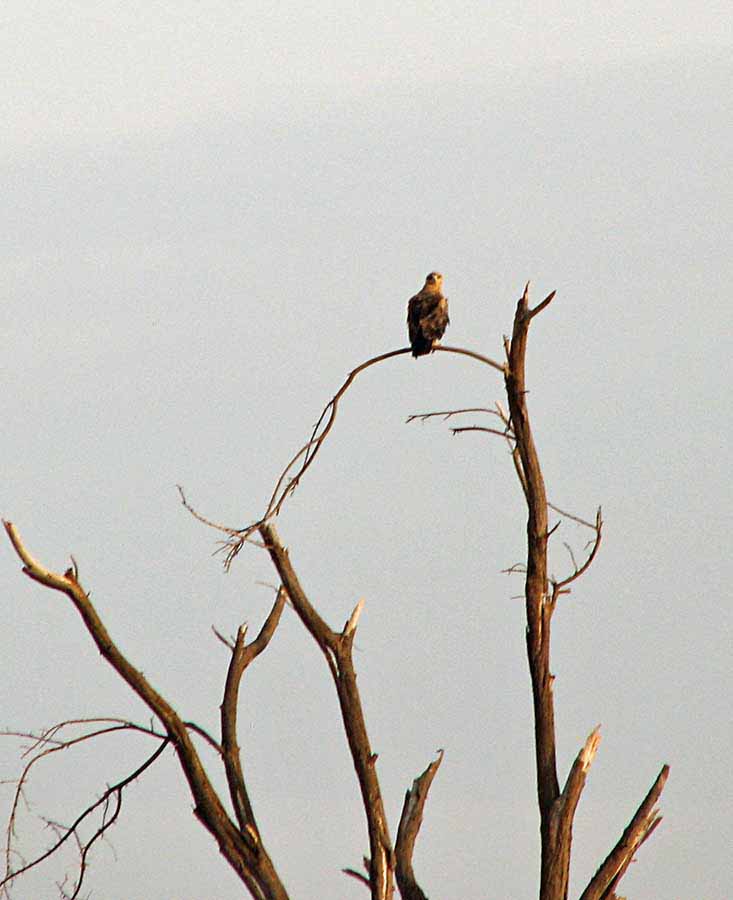 Hodge points out the only type of palm tree in the world that has branches. We thought this one to be a terrific example - yes, one very photogenic tree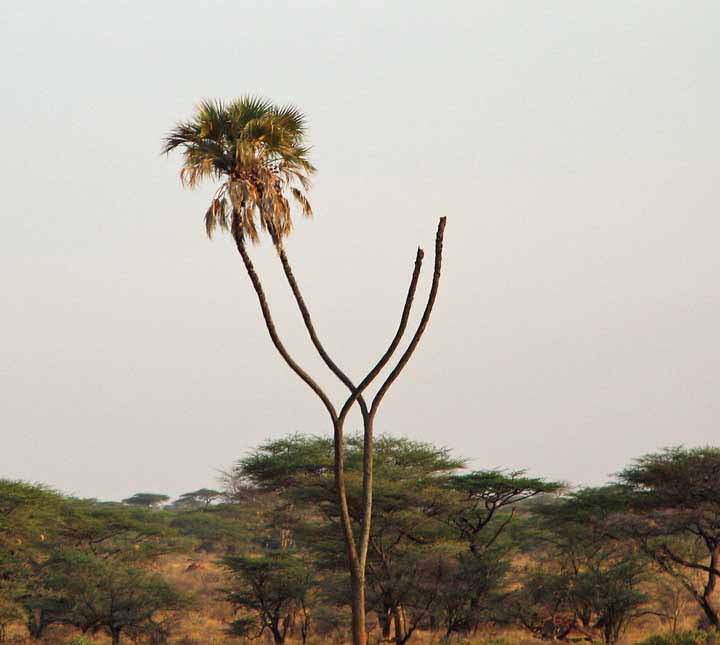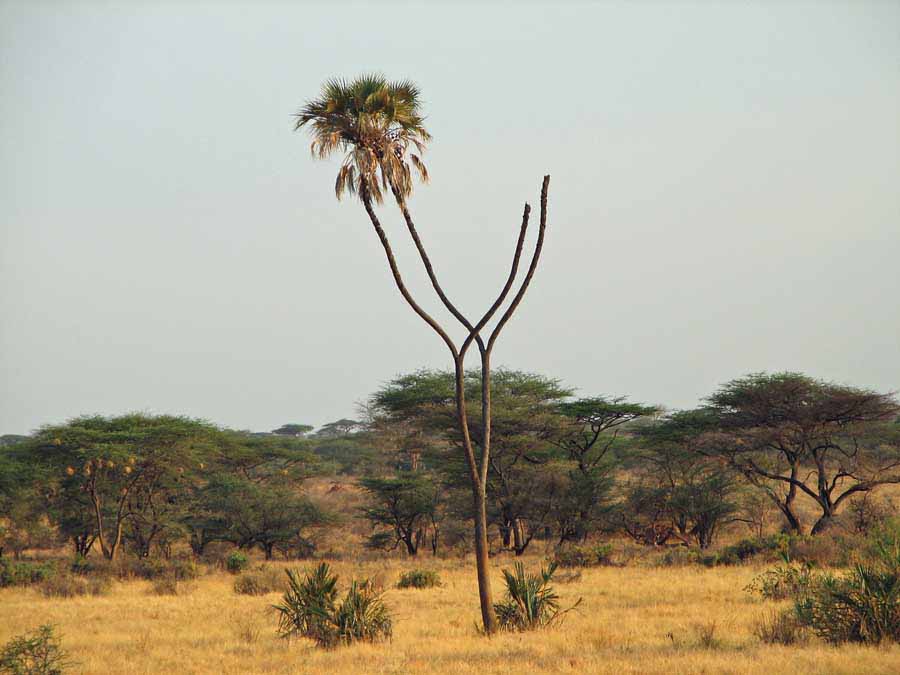 On the other side of the river, where we saw the elephant and the baboons yesterday, a van full of fellow tourists have been stuck in the soft sand.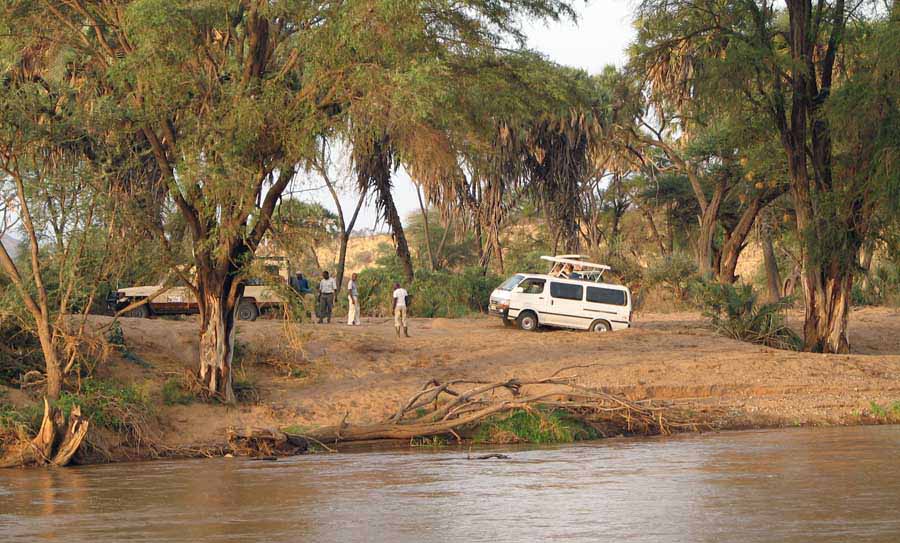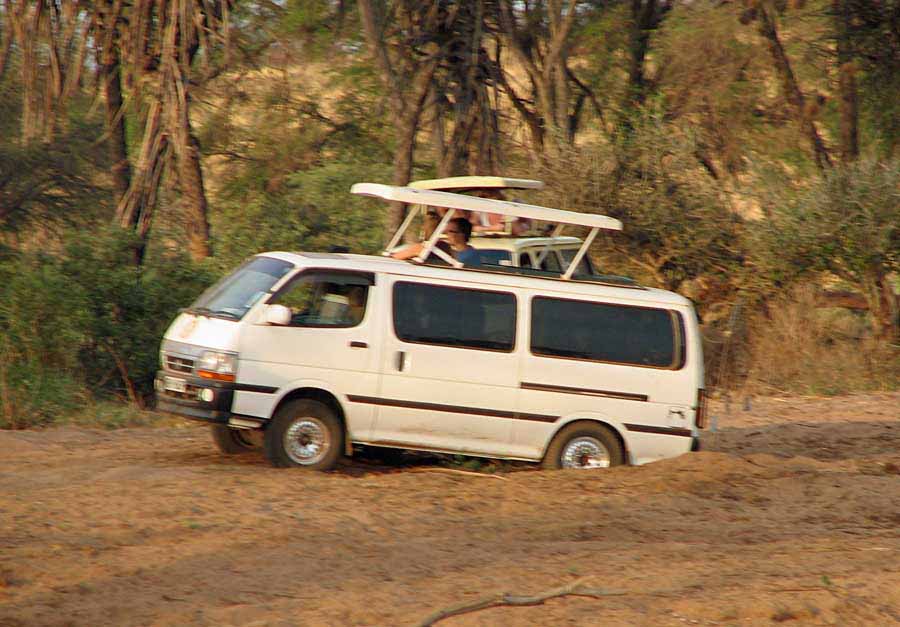 The guides are allowed out, but the tourist must stay in the van
And more elephants along the sides of the river.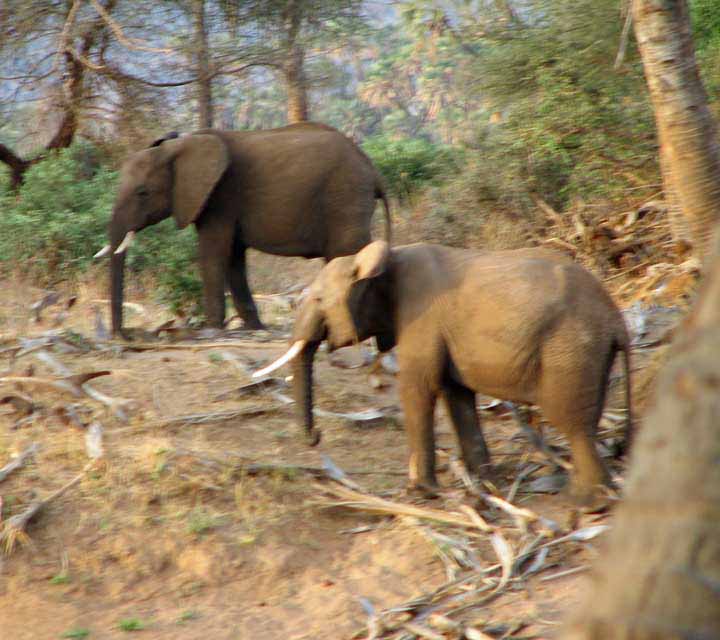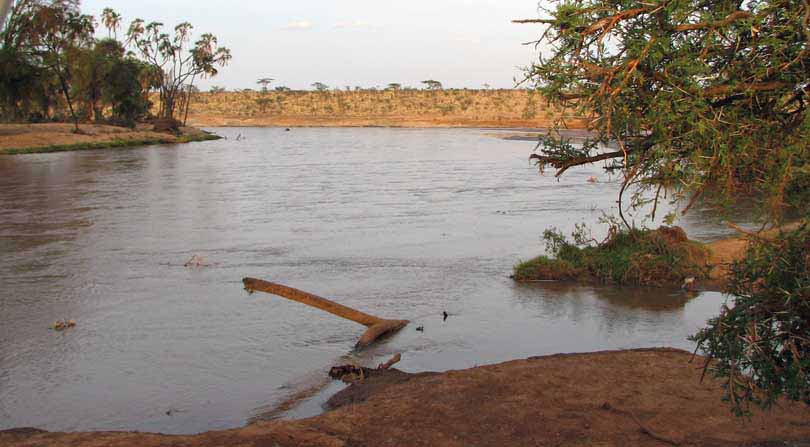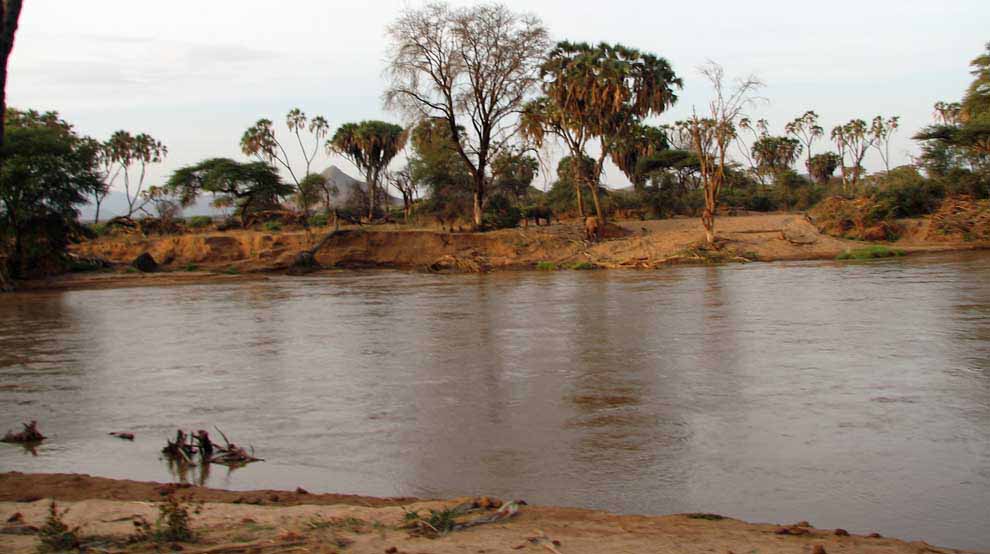 Do you notice something distinctive about this mother elephant? She is very special and very well known.
Can you see why?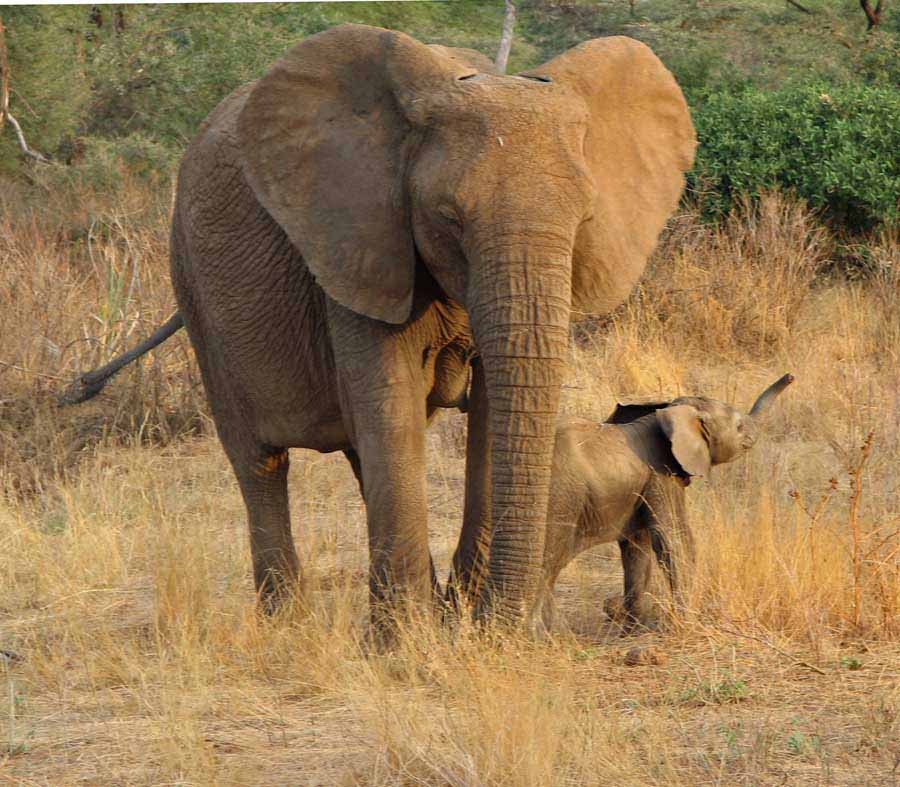 She has no tusks. (and a REALLY cute baby - a month old)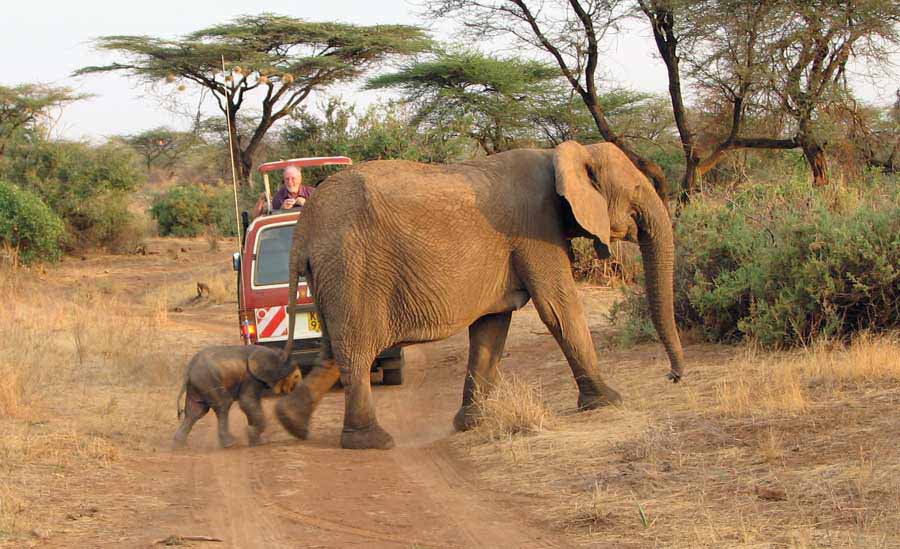 If you do not think this baby is cute you have no soul!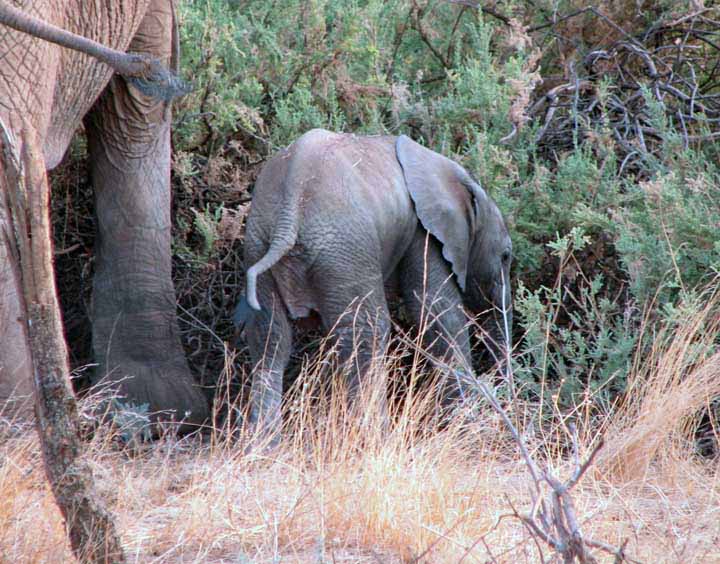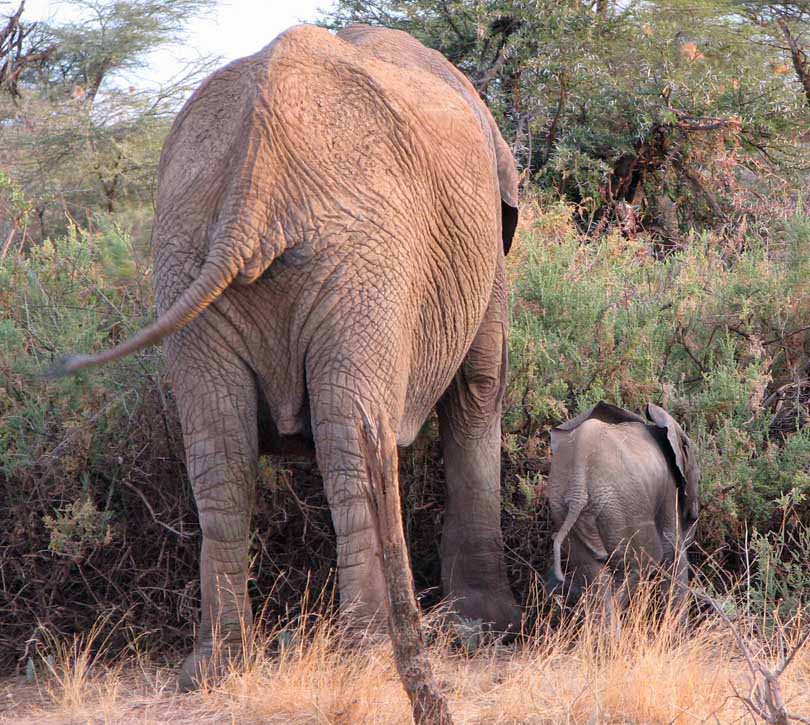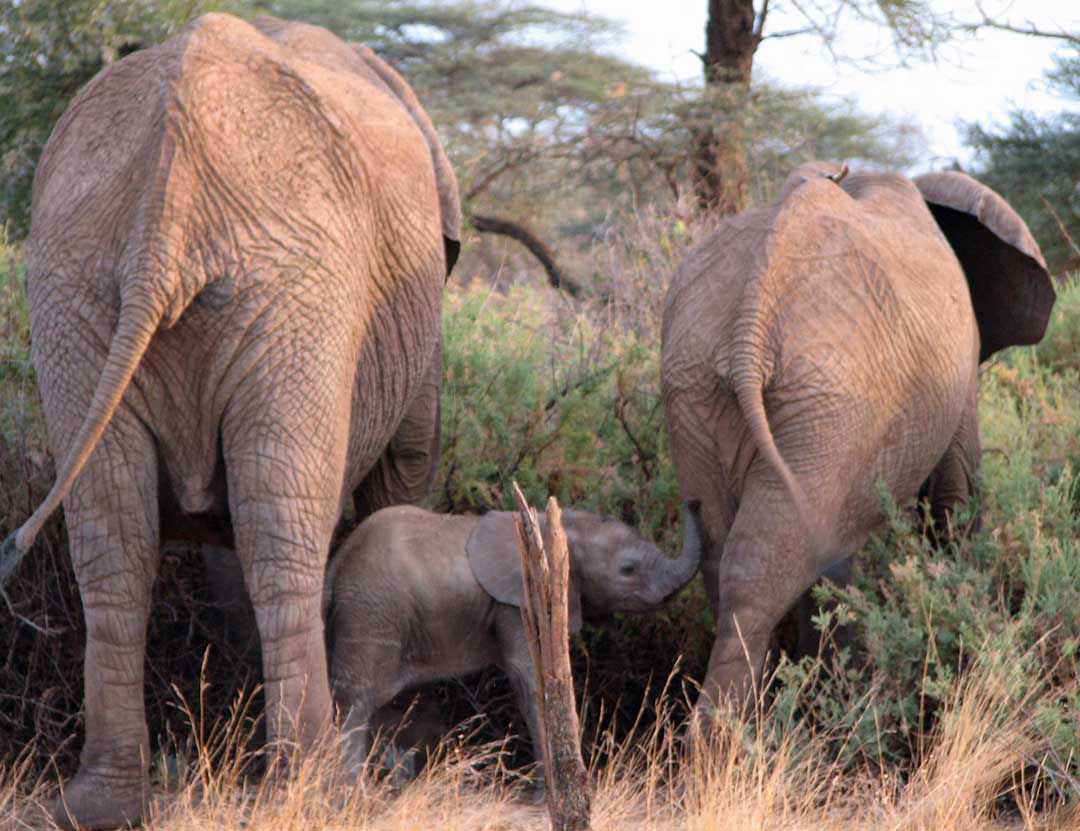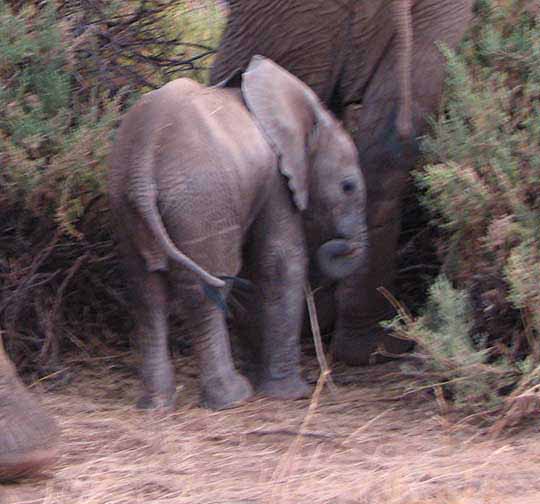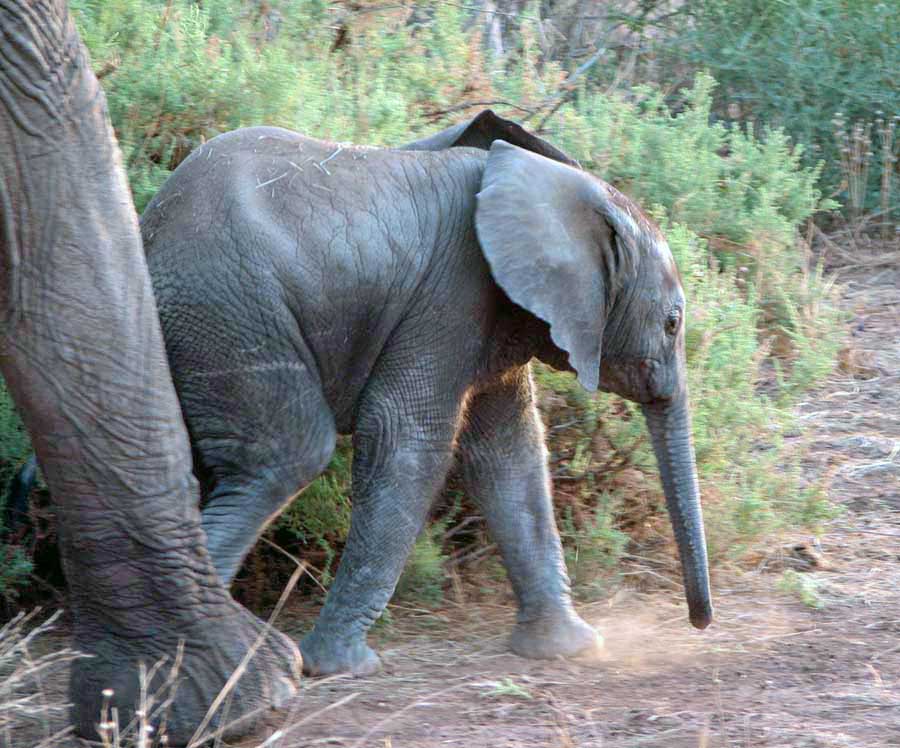 Do you notice the "things" in the tree over the giraffe? Spinner Birds again.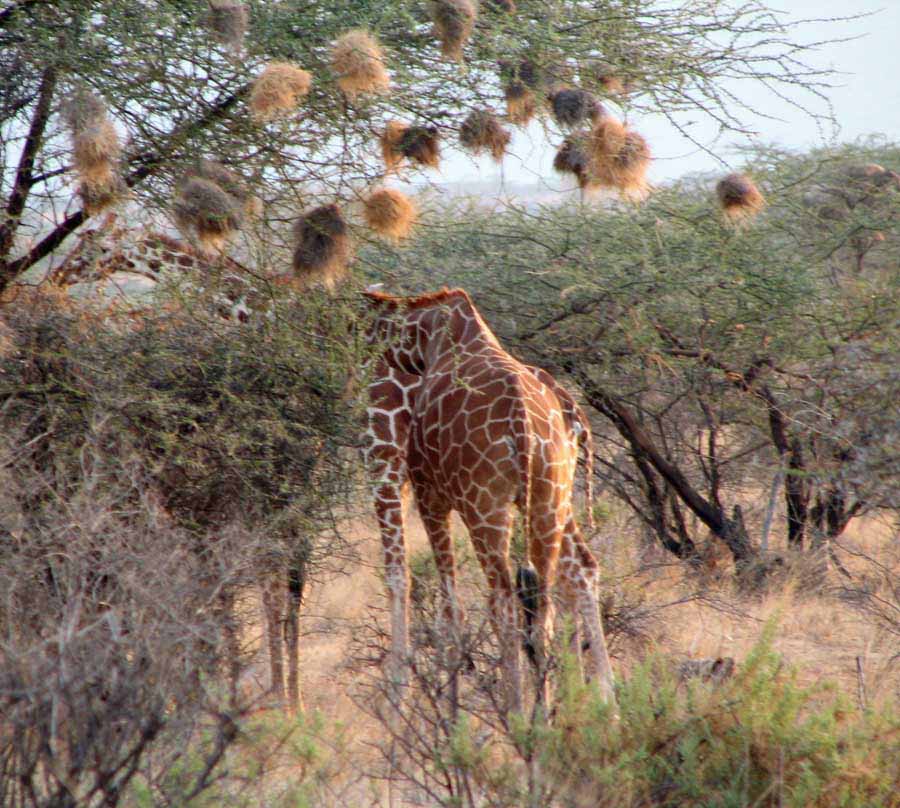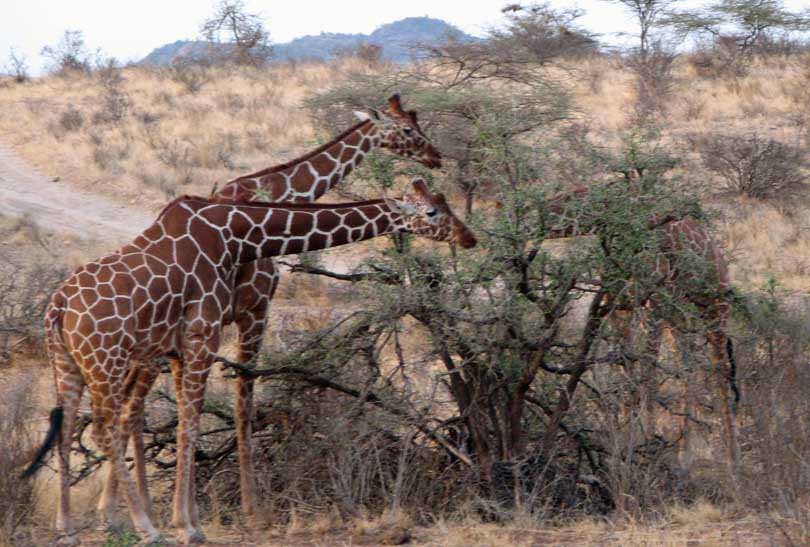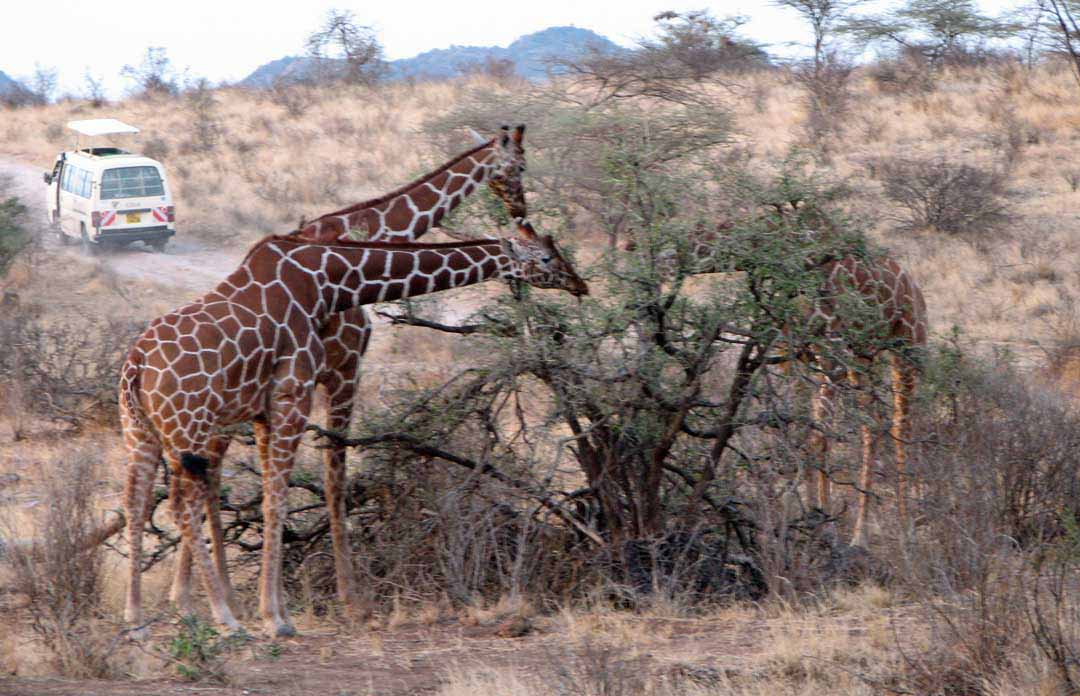 And we drop back by the cheetahs. Moved the table again, but still hungry.
Hodge tells us they will eat their fill and leave the kill. They will not try to hide it nor will they fight any other animal for the kill. When they are hungry, they will kill again. Such is life among the predators and prey.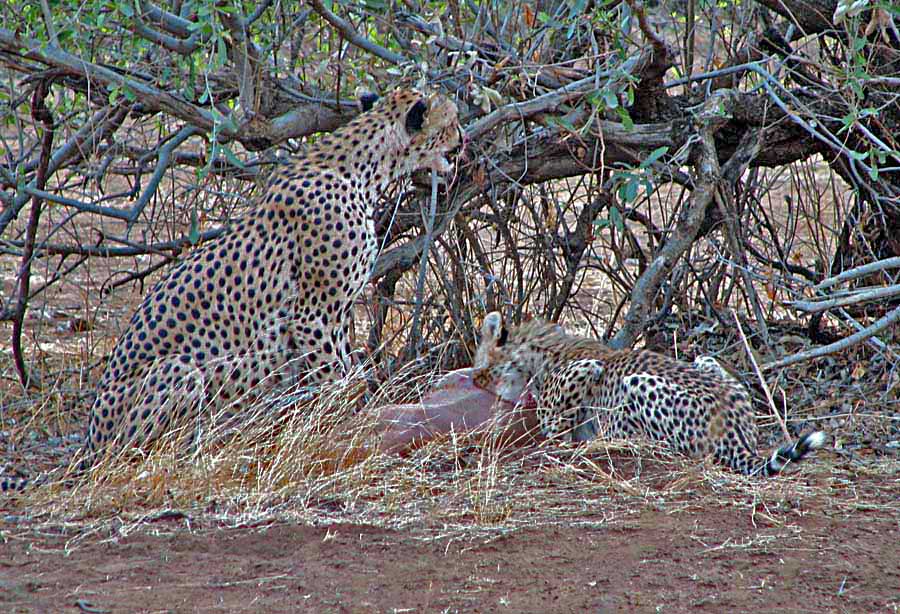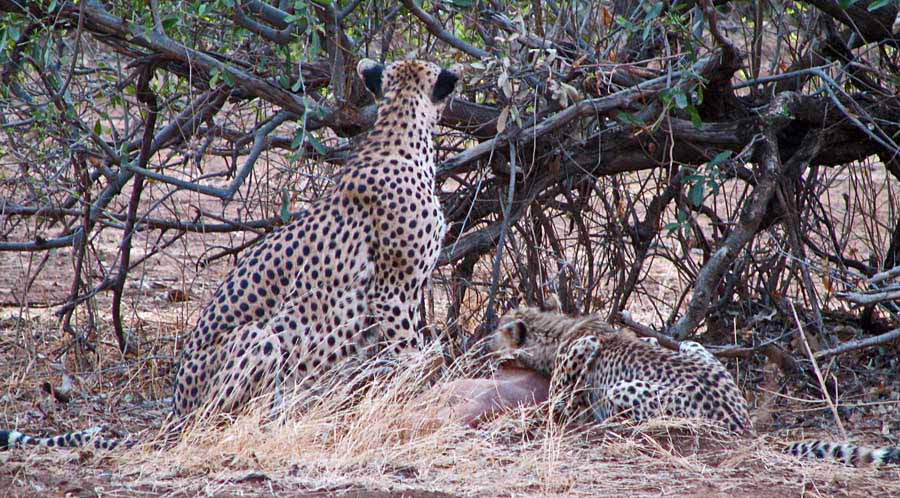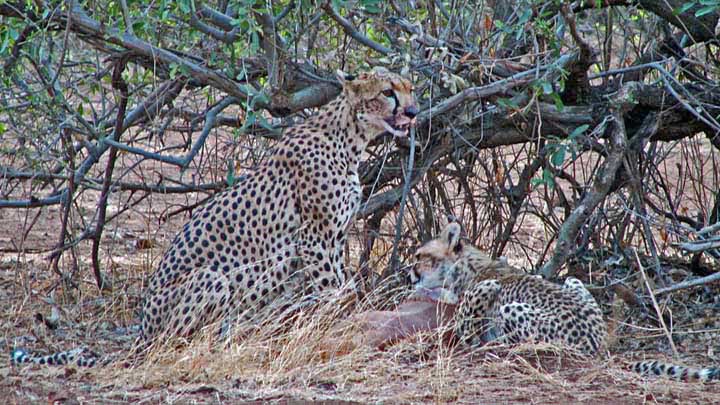 ~~ ~ ~ ~ ~ ~ ~ ~ ~ ~ ~ ~ ~ ~ ~ ~ ~ ~ ~ ~ ~ ~ ~ ~ ~ ~ ~ ~ ~ ~ ~ ~ ~ ~ ~ ~ ~
We end this afternoon's safari and go back to the lodge to have dinner and pack to leave tomorrow.
NOTE: None of these lodges are fenced in. At all lodges have separate cabins (all except for the first one at the watering hole) At ALL lodges, after dinner it is dark, and personnel escort you back to your cabin. This because you are, after all, in the middle of a game preserve full of wild animals. Many of the animals, particularly predators are out at night.
We overheard a conversation between a tourist and either a guide or someone employed at a lodge. The tourist was saying something about how beautiful the nights were, with unusual bird and animal calls and a clear, starry filled sky. She loved her walks in the night outside and around her cabin. She was told in no uncertain terms not to ever go out at night - "Don't you understand we have lions walking around here?"
~~ ~ ~ ~ ~ ~ ~ ~ ~ ~ ~ ~ ~ ~ ~ ~ ~ ~ ~ ~ ~ ~ ~ ~ ~ ~ ~ ~ ~ ~ ~ ~ ~ ~ ~ ~ ~
On to Lake Nakura National Park