AFRICA
Jambo!
This was an unplanned, yet planned, trip. Confused? Us too!
Well, it starts out with our favorite fellow travelers, Charles and Pam Bullock. We had discussed planning to go on a couple new trips together. One journey we discussed was Africa. As Jackie & I had already traveled to Turkey this year, we were not planning to travel again until we had more time to spend with the family and again build up the bank account. Having found a swell deal, and upon the strong recommendation of our doctor who had recently been there, our next trip was planned for winter of next year - to Morocco.
So Pam calls up with a terrific deal on a marvelous trip to Kenya, Africa.
She had a date in mind, but because of earlier commitments, there was no way we could go. She called again and tells us the Kenya trip has been moved to a later date, with a very inexpensive extension to Tanzania. Again, with Pam having learned all the details and serving as our defacto travel agent, we agreed to again join them on an excursion, regardless of our earlier resolution not to travel until the new year. .
This Africa trip involved new shots, malaria pills, mosquito nets, extra/extra strength bug spray, a wide variety of clothes due to the vastly different altitudes and temperatures we faced, and the most costly visas we ever had to acquire.
None-the-less, we prepared to go. No, we really had no idea what to expect as this trip to very unlike any we had taken before, perhaps having parallels with the animal / nature centered visit to the Galapagos.
All I can say is the trip exceeded any expectations we may have harbored.
Over and above the wonderful aspects of this trip, there are some serious warnings we want to pass along to those considering visits to Kenya and Tanzania - particularly Kenya. Please consider them when when reading those pages.
We will break down the trip into fiver major sections, with a subsection within two of those: Kenya and Tanzania. We have some absolutely great videos. I have yet to discover just exactly how to get them to run, so we've included only one - as a trial. If it works, we'll go back and add videos in the near future. The Journal will follow after new software is installed. They are:
Mount Kenya Mountain Park - Serena Mountain Lodge
Samburu Game Reserve - Samburu Simba Lodge
Lake Nakura National Park - Sarova Lion Hill
Masai Mara National Reserve - Keekerok Lodge
Arusha & Tarangire National Park - Tarangire Sopa Lodge
Lake Manyara National Park - Lake Manyara Serena Safari Lodge
Ngorongoro Conservatory - Ngorongro Sopa Lodge
Here are listed the animals we saw. We probably missed some - the accurate list was maintained by
Charles Bullock who was very diligent in record keeping. No, we did not get pictures of all of these animals - memories will have to do, and they will!
Leopard
Lion
White Tailed Mongoose
Slender Mongoose
Sykes Monkey
Vervet Monkey
Olive Baboon
Ostrich
Black Rhinoceros
White Rhinoceros
Warthog
African Scrub Hare
Beisa Oryx
Burchell Zebra
Cape Buffalo
Cheetah
Colobus Monkey
Dik Dik
Eland
Elephant
Gerenuk
Giant Forest Hog
Masai Giraffe
Reticulated Giraffe
Rothschild Giraffe
Jackal
Grant's Gazelle
Grevy's Gazelle
Impala
Bush Buck
Black Tipped Mongoose
Red Dunker
Large Spotted Gernet
Hippopomus
African Ground Squirrel
Blue Monkey
Hyena
Topi
But before we leave this introduction, I'd like to tell you what I see as the two most important pieces of a trip: fellow travelers, guides.
Regardless of where you visit, what you see there, how long you stay and where you stay, if you are not with a group of fellow travelers who accept each other, are excited to be on the trip, have a terrific sense of humor and keep bitch'n and moan'n to an absolute minimum, you've wasted your time and money.
Having said that, one may have all of the above, yet without an excellent guide, not only have you wasted time and money, but opportunities with the excellent companions you have found. I'm uncertain I can adequately describe a terrific guide. But as the old quote says, "I might not be able to define it, but I know it when I see it!"
I do know that they have to be knowledgeable, sociable, facile with the use of language around their guests, and able to adjust and react to their charges. Of course, they have to be pretty expert about where and what you see - often offering insights and details that would difficult, if not impossible, to pick up from a guidebook or documentation. While in our travels the use of English is paramount, the guide doesn't have to be an English major, but knowledgeable enough to explain what you see, the importance of the location or artifact, and able to both understand our humor and joke with us.
Allow me to introduce our guides on this trip. I know a terrific one when I see one, and both are terrific.
Kenya : Mr. Hodge Mutwiri Muguna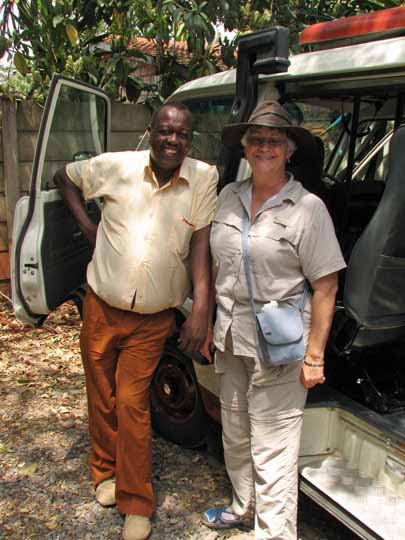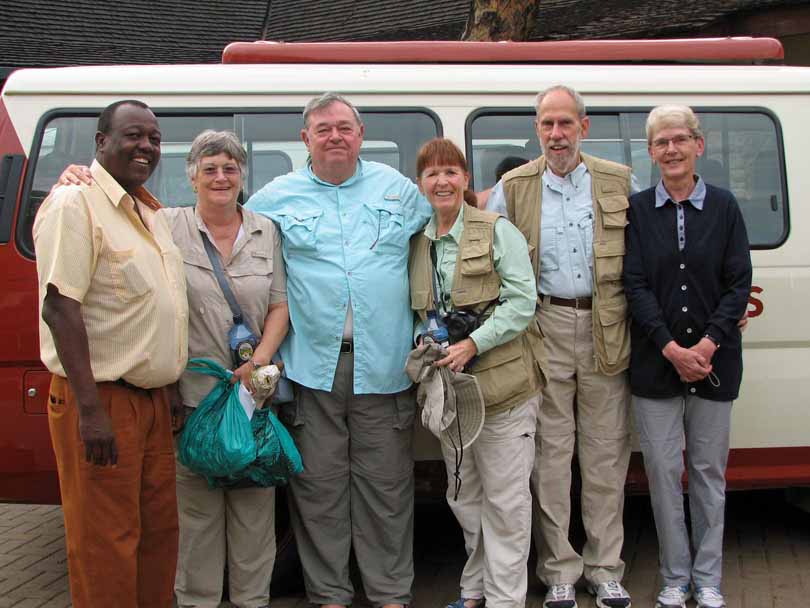 Jackie and Hodge Hodge, Jackie, me, Pam, Charles, Dorit
Hodge, as he asked us to call him, met us at our hotel the first morning of our trip. He wanted to each of us in his van to point out our luggage so he could pack it and know which pieces belong to which person. He smiled then, and never stopped smiling the entire time we were with him. Hodge is of the Meru tribe, a smaller tribe in southern Kenya.
He was exceptionally knowledgably and articulate. I never saw him upset with his charges, no matter how much we pestered him. I did see him angry twice; the first was when we encountered a broken down van in the park on a game road, and the second at a guide/tourist road block we encountered returning on the Moro Road. Both times he was angry at the conditions of the Kenya roads, particularly the park trails and the Moro Road. He was upset because these terrible road conditions were harming tourists, taking an awful toll on the health of the guides, and destroying the vehicles - not to mention spoiling the future of the tourist trade.
He drove like a mad-man, and I mean that in the best possible way, as a complement. While all the other cars, vans, truck, donkey carts, pedestrians, cows and goats went their merry way, he always found a way to not be distracted and to dodge both the most major potholes as well. As beat up and bruised as we became, I am certain that without Hodge's skill, we would have been severely damaged.
He and the other guides would call to each other on their radios throughout our morning and evening safaris. Suddenly, Hodge would sit up straighter, get a broad smile, step on the gas and speed off down the trail. The next thing you know, we would be one of several vans around some special sight, like a young cheetah trying to open a catch to eat. He knew the areas so well, that as our first afternoon trip was winding down, I said I really wanted to see a giraffe. Hodge makes a quick turn and within 15 minutes were in an area where he knows giraffes can be often found - I saw my first giraffe.
Did you know that elephants are either right or left-handed? Do you know how to tell? Do you know the difference between what happens to a lion and his pride and a cheetah and his group when one becomes disabled? Do you know why animals, such as lions or elephants seem to pay no attention to you or your vehicle out in these wild parks and reserves? Do you know what will happen if you get out of a van when watching them? Spend a few days with Hodge and you'll know.
Time with Hodge was time well spent.
Tanzania: Mr. Samuel A. Pallangyo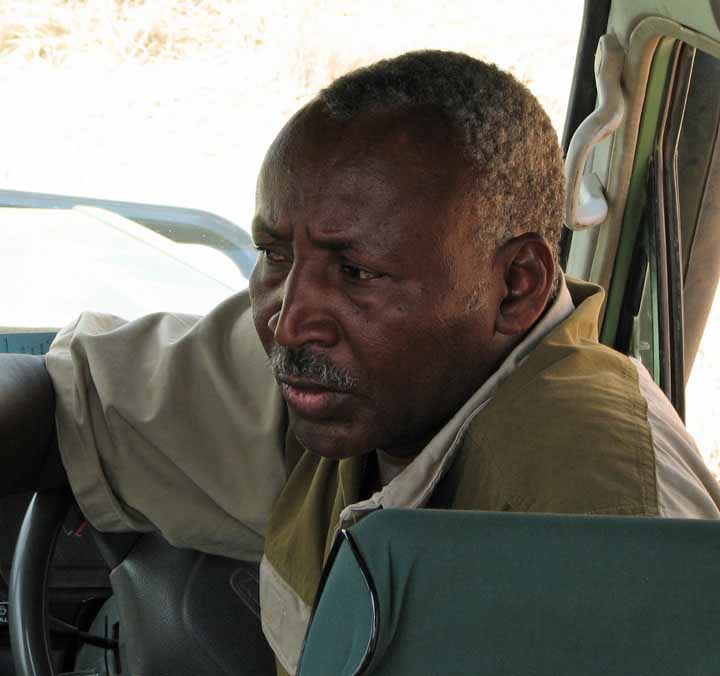 Samuel in his usual posture, quietly explaining something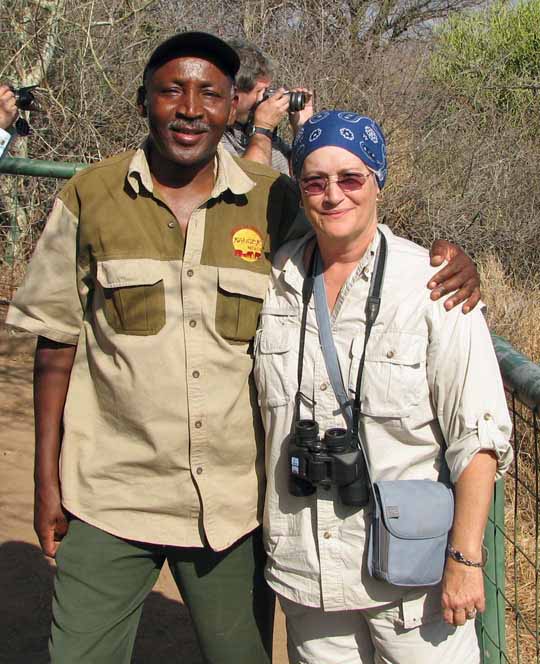 Jackie and Samuel
We had much less time in Tanzania than Kenya. Consequently, we had less time with Samuel than Hodge. We learned Samuel was of the Meru Tribe. Oddly enough this smaller tribe provided both our guides - very unusual!
Samuel has been in the guide business for over 20 plus years. His demeanor shows this wealth of experience - never excited, never loud, never overly concerned with adverse circumstances - like when the rear window of the vehicle fell out and the air inside became a dark cloud of dust. Because the vehicle we were in was larger that the van in Kenya, much more open, particularly with the roof open, Samuel's quiet voice was sometimes hard to hear. Pam got in the habit of telegraphing his comments to us in the back.
He provided any number of unique insights into the animals we saw; telling us how they interacted and their habits. Did you know you can tell the difference between a male and female elephant by the shape of their foreheads? Do you know why during a migration, zebras normally are at the head of a group of wildebeests? Do you know how to tell if lions are on a "honeymoon"? Go out in the field with Samuel and you'll find out.
Samuel got a call while were were out in the field. His daughter had fallen off a cliff and broken her arm while away at college. Because medical care - if you can call it that in Tanzania (or perhaps anywhere in most of central and south Africa) is a "show us your money before treatment" situation, Samuel had a number of immediate chores. He had to calm his daughter. He had to send her money, had to call his wife and at the same time, drive carefully on game roads, guide and explain things to us, talk with the other guides on the radio, and get us to "hot spots" of activity. He did it all.
Samuel is a man with a good heart!
We hope you enjoy our journey. Ready to go? Sowa?
Sowa, Sowa!
~ ~ ~ ~ ~ ~ ~ ~ ~ ~ ~ ~ ~ ~ ~ ~ ~ ~ ~ ~ ~ ~ ~ ~ ~ ~ ~ ~ ~ ~ ~ ~ ~ ~ ~ ~ ~ ~ ~ ~
PLEASE READ: I Use WIKIPEDIA - Here's How